A great Back to School Recipe round-up of healthy, family-friendly meals and snacks sure to make feeding your family easier now that school is back in session.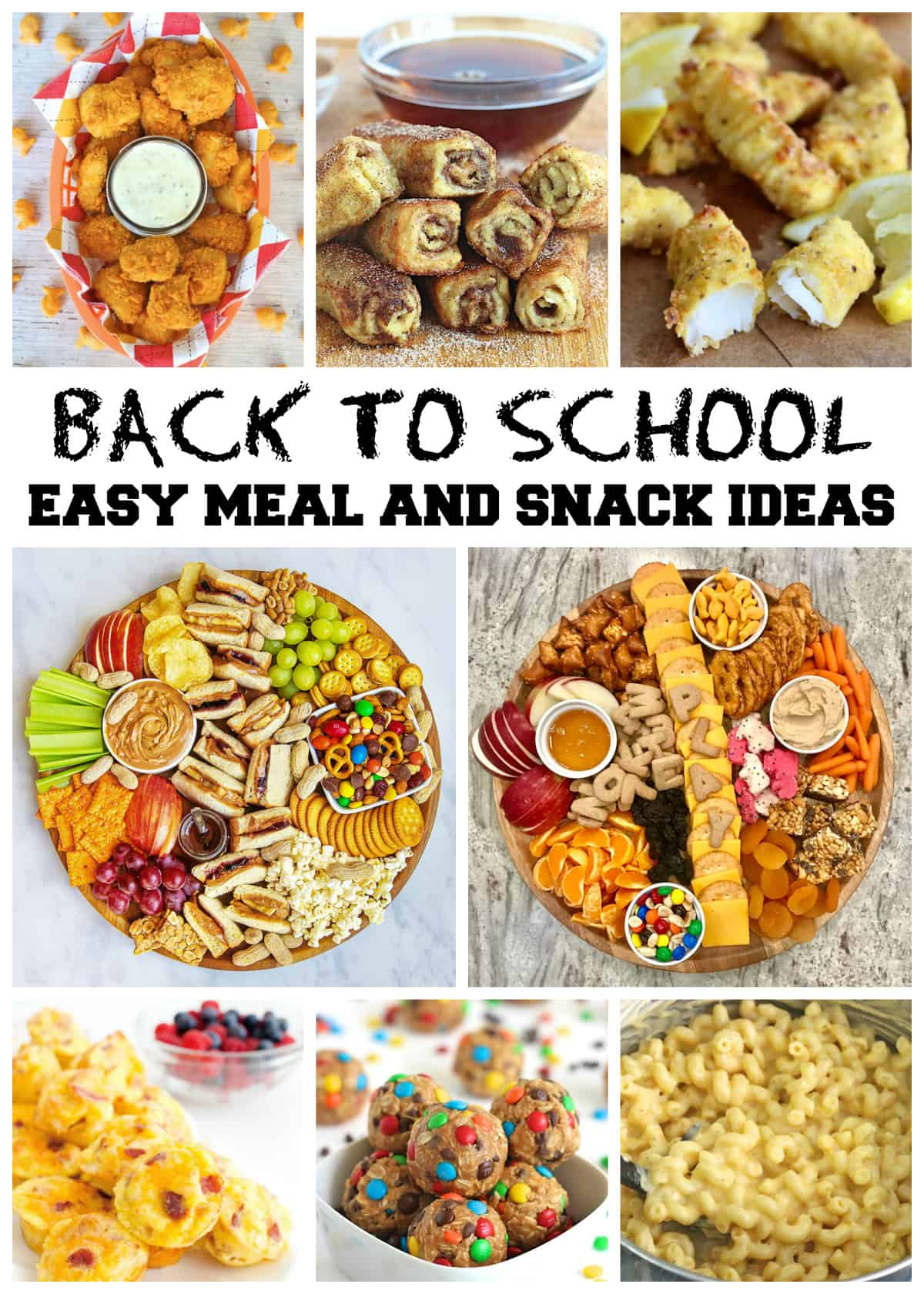 My boys headed back to school yesterday and my mind immediately switched from lazy breakfasts, fun poolside snacks and late dinners to quick breakfasts, healthy after-school snacks and easy family-friendly dinners. If I don't have a plan for the next day (or even better, the whole week), we end up eating boxed cereal for breakfast (which is totally fine sometimes!), driving through somewhere for an after-school snack (ice cream and french fries, anyone?!) and cheese quesadillas every night for dinner (boring!).
So, we've rounded up some of our favorite recipes to make the weekdays a little easier yet still delicious. This year, I'm hoping to come up with a meal plan each Sunday so I'm ready for the week. A few meals that take no time to pull together and some that take a little more time, but provide for leftovers that can be eaten over a few nights or even packed in the boys' lunchboxes.
And speaking of lunchboxes, if you're looking for lunchbox inspiration, be sure to check out my post for 6 Great School Lunchbox Ideas…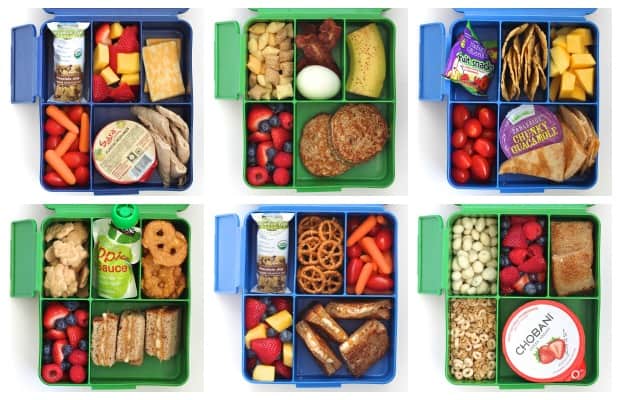 You'll find breakfast, lunch, dinner and snack ideas here. Remember you can always prep meals on the weekend or even the night before. Think about your week ahead and plan accordingly. If we have a super busy week ahead, I'll make a double batch of pancakes on Sunday so we have leftovers to reheat in the toaster throughout the week. I'll also plan on a few slow cooker or casserole dinners that make a lot so we have leftovers for the next night. I like to wash all our fruit for the week on Sunday as well as clean and cut up any veggies to make cooking meals easier. I usually buy pre-washed containers of greens and baby carrots so we have no excuses when it comes to adding veggies to our meals. I hope some of these tips and recipes are helpful and make your back to school meal prep a little easier…
BREAKFAST RECIPES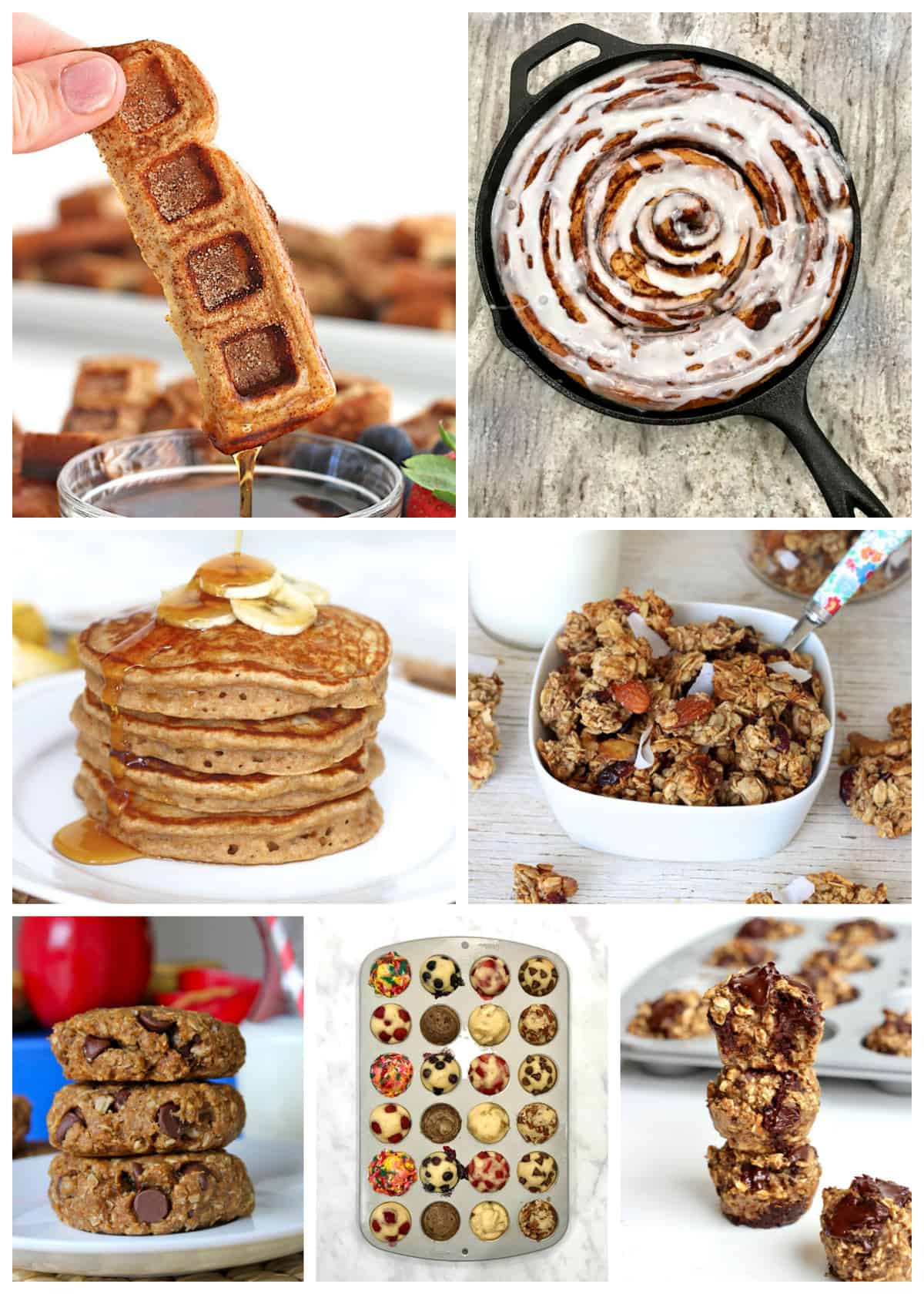 Breakfast Cookies – One of my most popular recipes and rightfully so! Nutritious and delicious!
Whole Wheat Banana Pancakes – So moist and fluffy! I'll make a double batch over the weekend and store them in a resealable baggie in the refrigerator so we can just pop them in the toaster for breakfast throughout the week. A family fave!
French Toast Roll Ups – A special breakfast treat that's easy to make and easy to eat. Kids and adults love them!
Chunky Homemade Granola – I'll bake a batch of this granola over the weekend for us to eat with milk or put on a yogurt parfait with berries and honey. It's great to snack on too!
Bacon Egg and Cheese Bites – A quick and easy breakfast that is oh so tasty! They can even be made ahead of time for an on-the-go breakfast.
Whole Wheat Peanut Butter Banana Oat Bars – A healthy breakfast or snack you can feel great about feeding your family!
Whole Wheat Peanut Butter Banana Chocolate Chip Muffins – Muffins always make the mornings better and these have all our favorite flavors combined!
Gingerbread Banana Muffins – Made with whole wheat flour, Greek yogurt and no oil or butter. I love baking with Greek yogurt to make recipes healthier.
Whole Wheat Baked Banana Donuts – Because we all really just want donuts for breakfast, so why not bake them for a healthier breakfast treat?! 😉
5-Ingredient Flourless Banana Chocolate Chunk Oatmeal Mini Muffins – Mini Muffins that are easy, healthy, and most importantly, delicious!
Easy Overnight Sweetie Rolls – Melt in your mouth cinnamon sugar pecan sweetie rolls drizzled in a simple sweet glaze. An easy make-ahead breakfast!
Family-Size Skillet Cinnamon Roll– A scrumptious and shareable twist on everyone's favorite morning sweet treat!
One-Bowl Muffins (Many Ways!)– Lets you easily bake several delicious muffin variations at once. The add-in options are endless!
French Toast Waffle Sticks – Two breakfast classics come together for an easy to make and fun to eat breakfast. No forks needed!
LUNCH AND DINNER RECIPES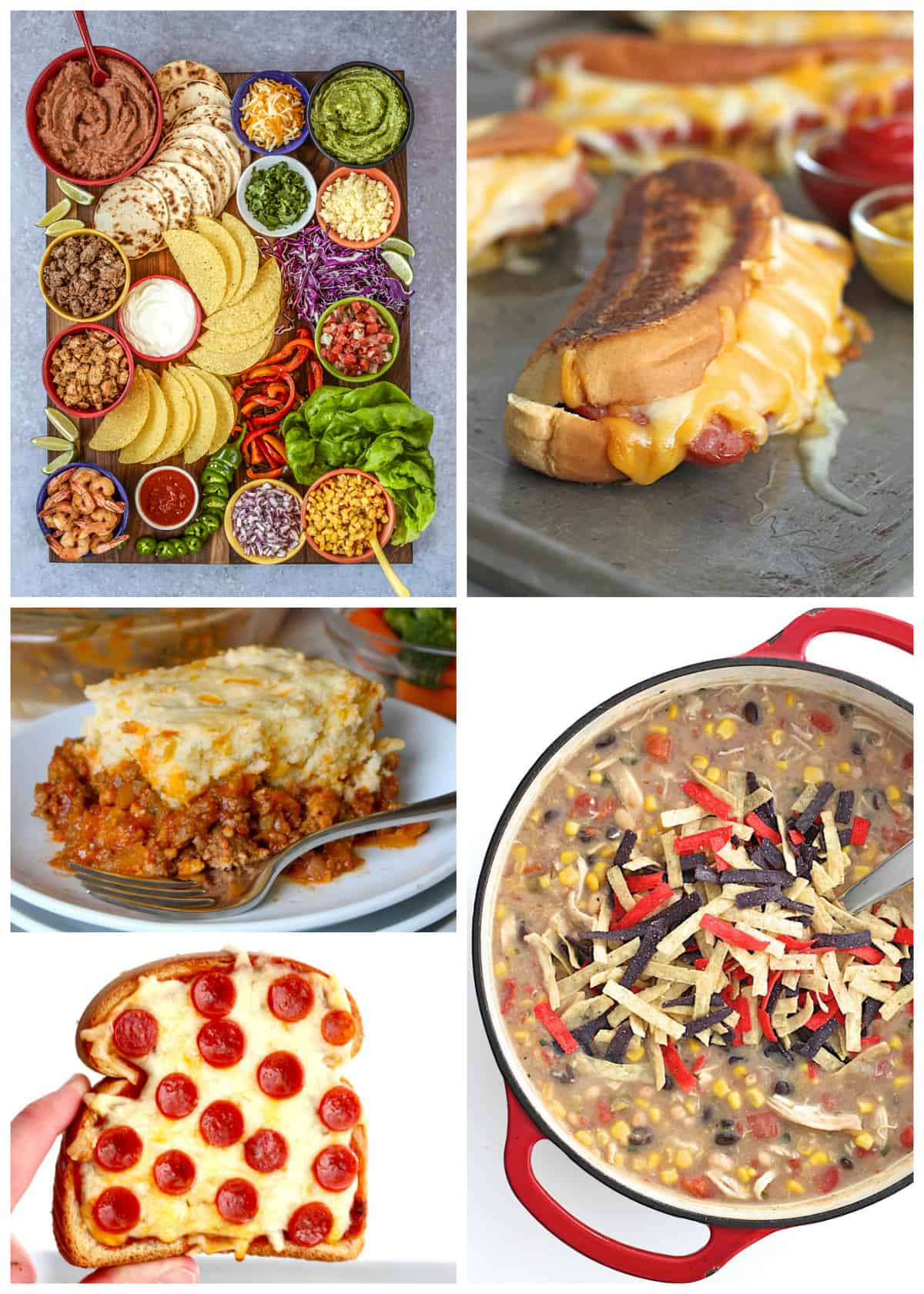 Stovetop Macaroni & Cheese – Easy and delicious make and cheese everyone loves!
Turkey Quinoa Chili – Our favorite healthy chili that makes great leftovers! I serve it with cornbread or chips and guacamole.
Whole Wheat Greek Yogurt Pizza Crust – A healthier pizza crust that you can top with your favorite toppings.
Baked Pizza Taquitos – These popular taquitos are so easy and we all love them! Serve with veggies and ranch or a big salad and dinner is done!
Chicken Parmesan Casserole – An easy spin on chicken parm that's easy for kids to eat.
Turkey & Black Bean Baked Tacos – Make Taco Tuesday extra tasty with these easy baked tacos!
Goldfish Chicken Nuggets – Your kiddos will go crazy over these and I'm not gonna lie, I love them too! 🙂
Baked Corn Dogs – A healthier spin on a childhood favorite! You could even use chicken sausages in place of the hot dogs.
Broccoli Cheddar Chicken Soup – A great and comforting way to get everyone to eat their broccoli!
Sloppy Joe Casserole – An easy twist on traditional sloppy joes for a hearty weeknight meal!
Baked Chicken Nuggets – Baked is the way to go! The boys love it when I put these in their lunchboxes too!
Baked Sweet Potato Soup – Enjoy family dinner and talk about your days over this comforting and delicious soup!
Hummus Pasta Salad – A light and easy dinner that makes great lunch leftovers the next day!
Sweet and Spicy Stir-Fry – It's healthier than fried rice yet still has brown rice stirred right into it. Just leave out or tone down the spice if your kiddos don't like spicy food. A flavorful way to get those veggies in them!
Homemade Chick-fil-A Chicken Tortilla Soup – A homemade take on Chick-fil-A's chicken tortilla soup that tastes even better than the original and that you can enjoy year-round and even on Sundays!
Build-Your-Own Taco Board – Now this is taco night, done right! What better way to enjoy a meal together than with a big board covered in colorful fillings for each person to fix their own tacos?! This is the Build-Your-Own Taco Board in my Beautiful Boards cookbook. All of the delicious details, including recipes for how to prepare the meats as well as recipes for homemade guacamole, pico de gallo and salsa, can be found on pages 122-124 in Beautiful Boards. You can order it HERE!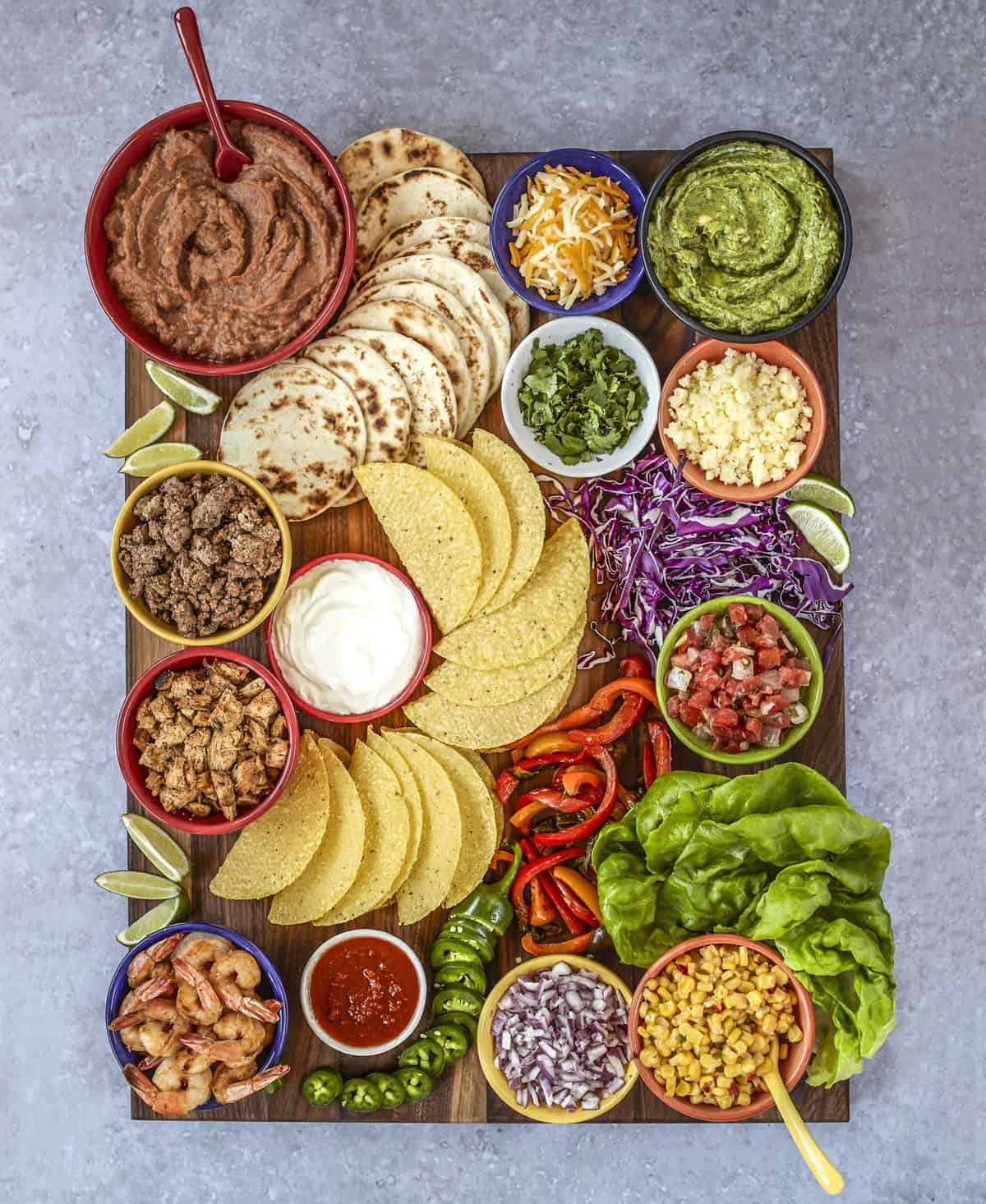 This beautiful board was built on our 24″ x 18″ walnut wood board. You can browse our entire wood board collection at boardsbythebakermama.com.
Baked Fish Sticks – These are no ordinary frozen fish sticks! They're crunchy on the outside and moist and flakey on the inside. So so yummy!
Pizza Toast– Quick and easy Pizza Toast is one of our favorite recipes to make for a busy weeknight dinner or a satisfying after-school snack. Everyone loves them!
Grilled Cheese Roll Ups – Everyone loves these because they're quick to make, easy to eat and fun to dip in sauce or soup.
SNACK RECIPES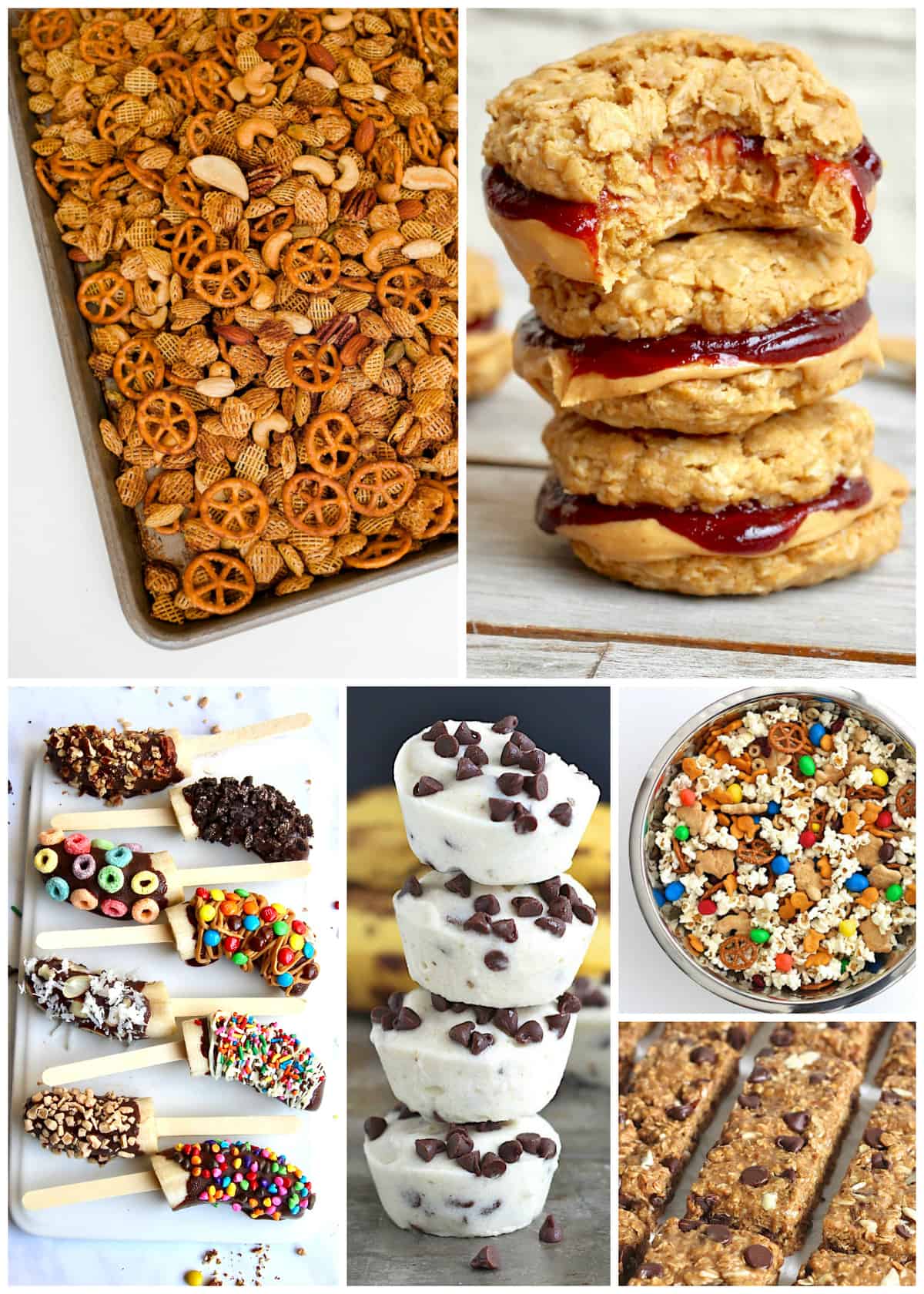 5-Ingredient Granola Bars – these are seriously delicious and so easy to make. Oh, and did I mention they're no bake!
No-Bake Monster Cookie Balls – a fun and yummy treat that we keep stocked in the fridge.
Susu's Cereal Snack Mix – A salty and scrumptious snack mix treat everyone loves!
Two-Ingredient Banana Chocolate Chip Ice Cream Bites – Got overripe bananas?! Turn them into these yummy banana chocolate chip ice cream bites and keep them in the freezer for a healthier sweet treat that tastes like ice cream!
Pantry Popcorn Mix – Toss handfuls of your favorite pantry snacks in a big bowl with fresh popped popcorn and you've got a quick, tasty snack mix.
Chocolate Covered Banana Pops – They make for such a great healthy snack and super fun and customizable sweet treat!
You can also find more snack and meal ideas that are sure to be just as great for the school year in my Summer Lunch and Snack Boards post.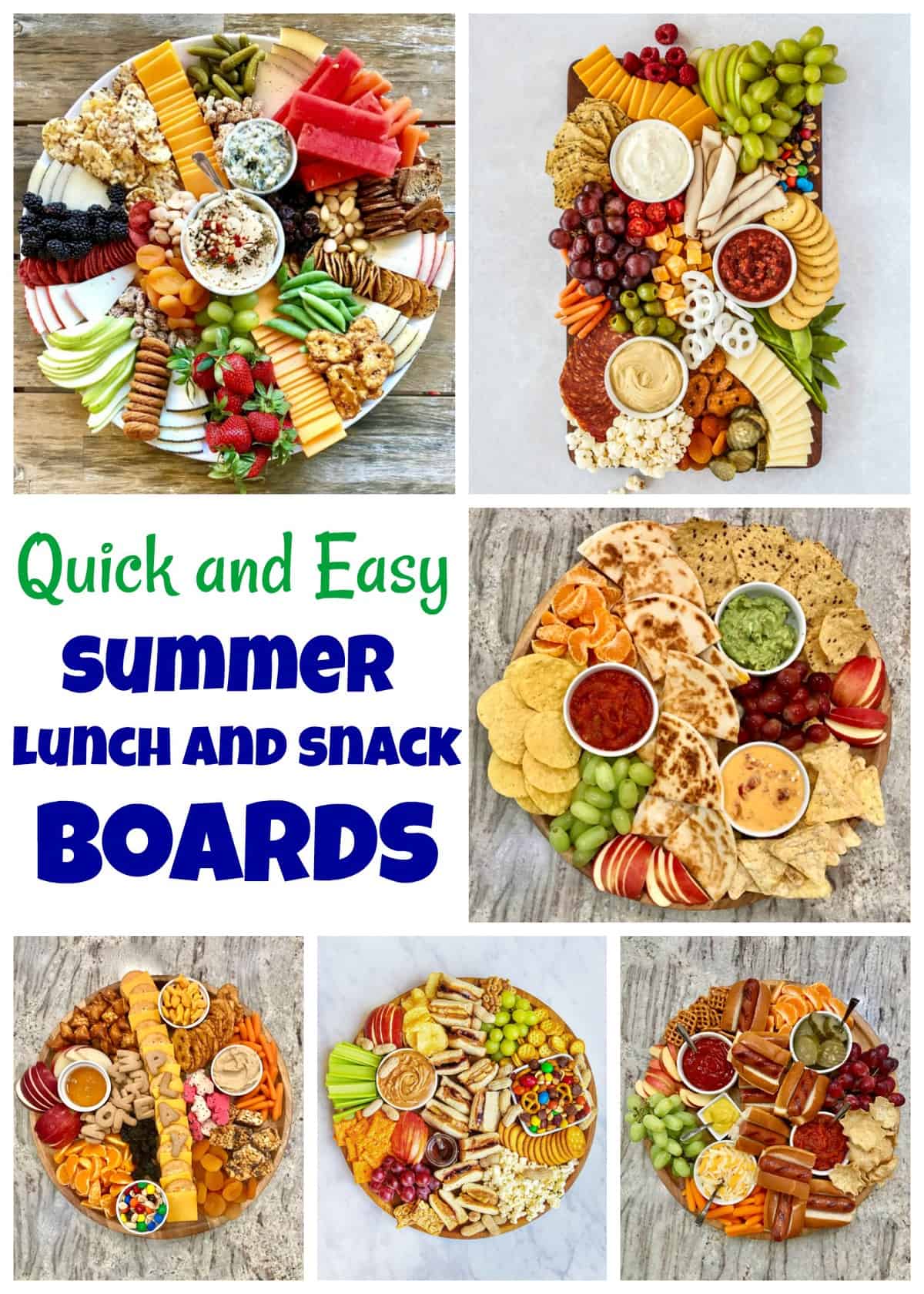 Happy Back to School! Wishing you and your kiddos a great year!
Looking for something more to let them know they are appreciated? Show your gratitude to your new teacher with one of these thoughtful gifts from my Teacher Gift Guide. There's something for everyone!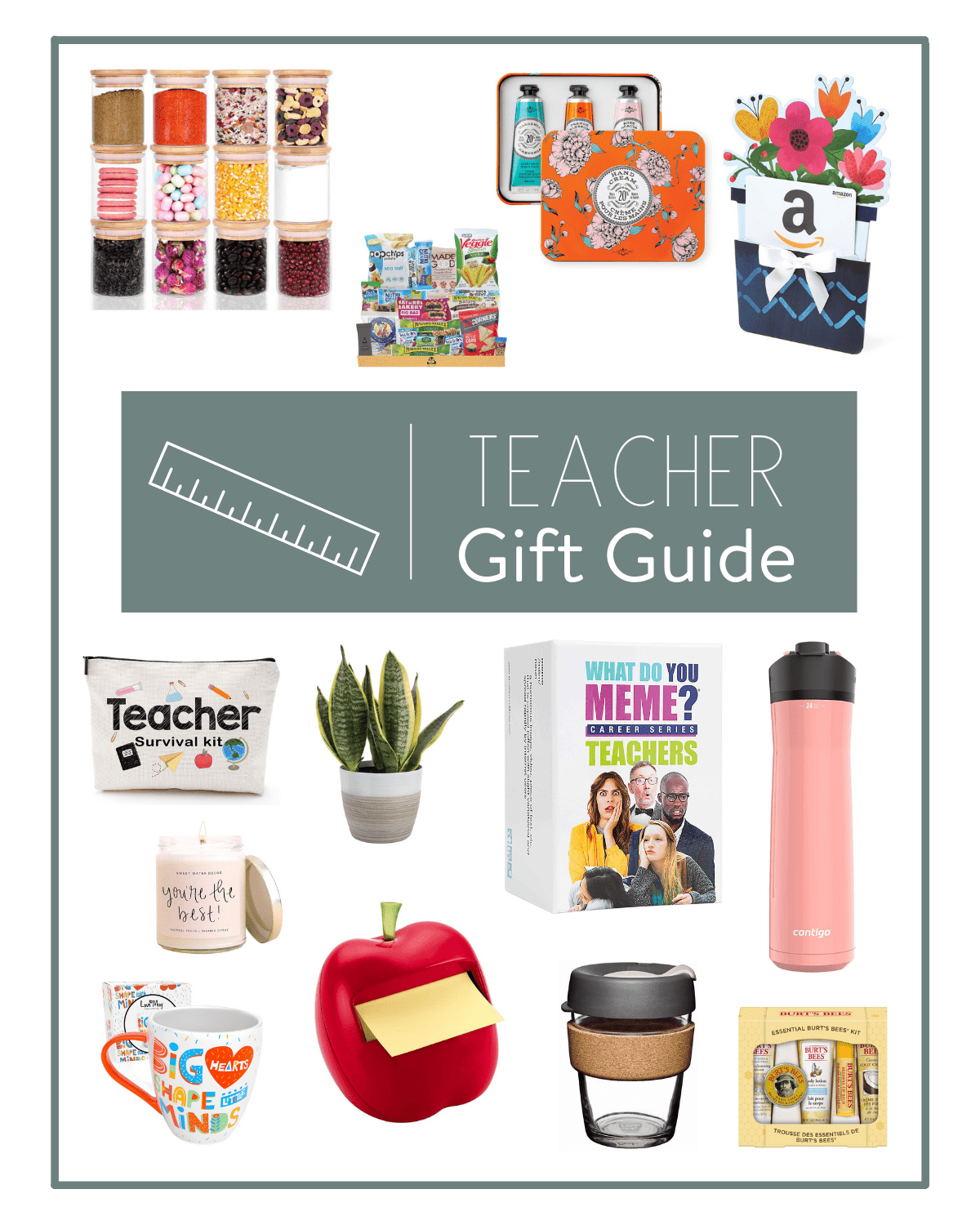 xoxo,