Whole Wheat Baked Banana Donuts with Peanut Butter Glaze are an easy and healthier breakfast treat that's oh so yummy to eat!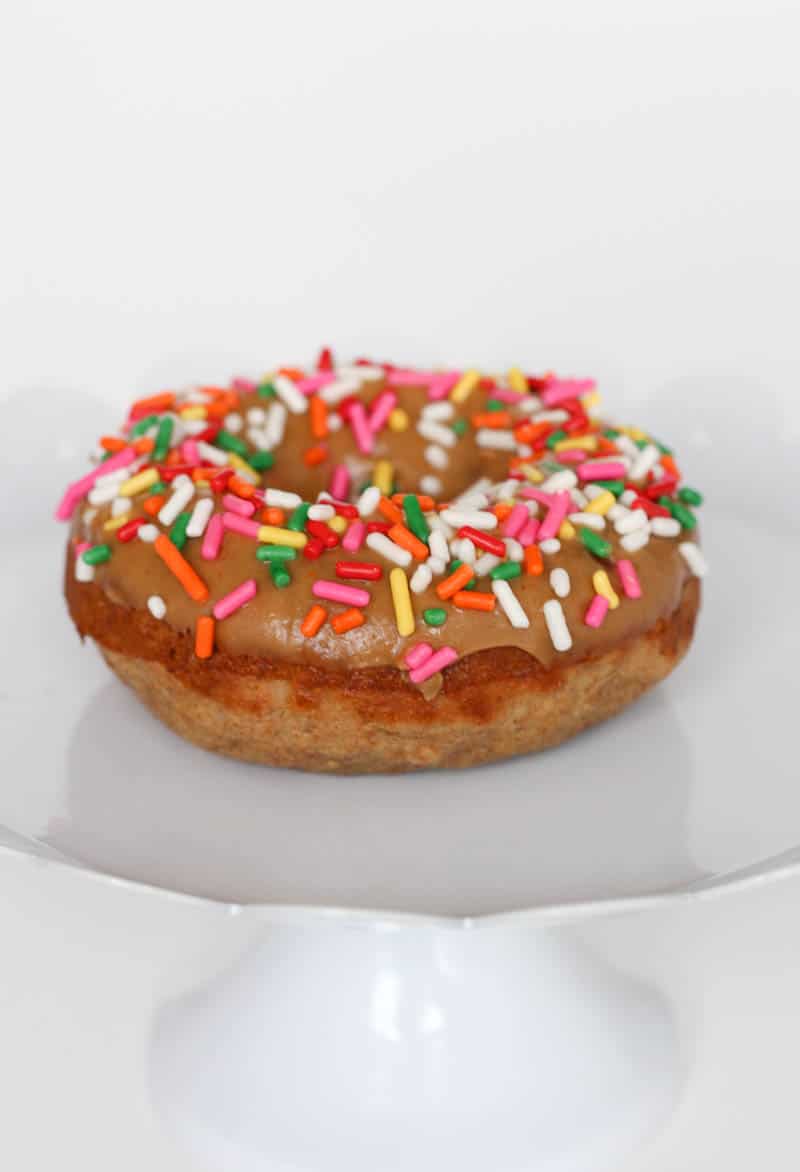 Our love for donuts is undeniable! We're regulars at our favorite donut shop, we've been known to fry some dang delicious donuts right here at home, and I can bake donuts faster than it takes us to load the car to go get them. There's just something about those round sweet treats with a hole in the middle and glaze on top that makes us oh so happy!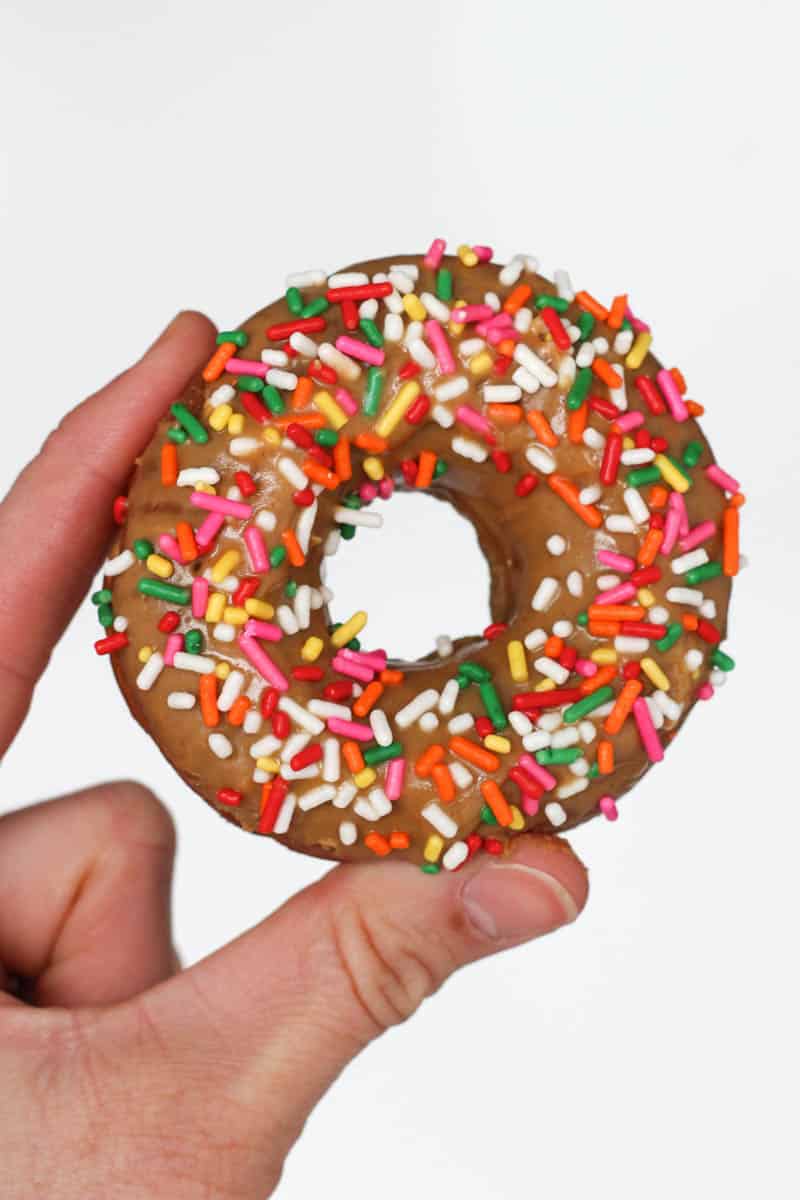 And yes, that happiness can still come from a healthier donut. These baked banana donuts are made with whole wheat flour, very little sugar and no butter or oil. The glaze is pure peanut butter and the sprinkles are optional, but why not?! Sprinkles for the win!
The donuts come out moist and perfectly sweet from a little brown sugar and the natural sweetness of the mashed bananas. The peanut butter glaze adds a little saltiness to the sweetness for a great donut you can enjoy without any guilt.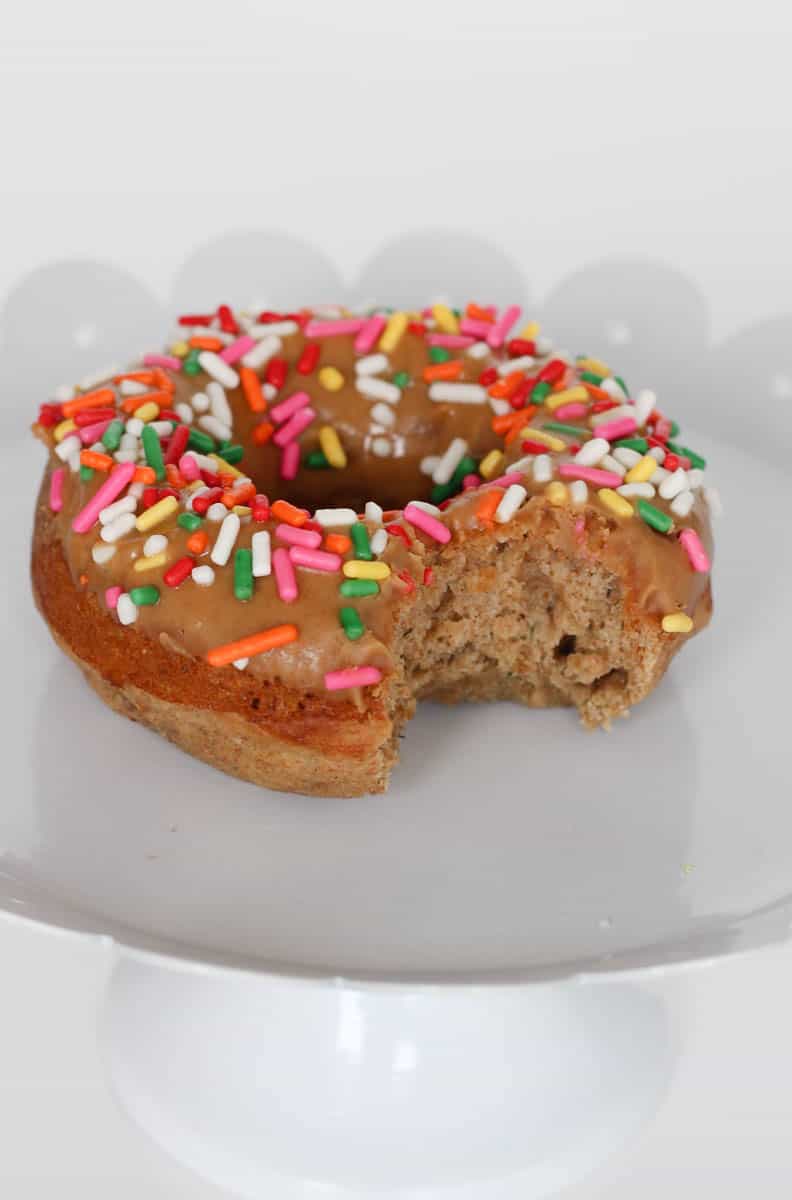 The boys love helping me bake these donuts. From mixing the batter to dipping the donuts in the glaze, we can have them ready to eat in just 20 minutes. They're absolutely amazing served warm yet still just as enjoyable at room temp. We'll eat them for breakfast in the morning, as a snack in the afternoon or even for dessert after dinner. We love them!
If you don't have a donut pan, you've gotta get one. You'll use it over and over again, especially once you've baked and eaten these donuts. And if you already own a donut pan, you're set to go! Enjoy!
xoxo,


Print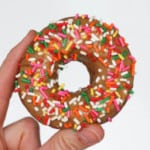 Whole Wheat Baked Banana Donuts with Peanut Butter Glaze
Author:

Prep Time:

20 mins

Cook Time:

8 mins

Total Time:

28 mins

Yield:

12

Category:

Breakfast
---
Description
Whole wheat banana donuts that are baked not fried and dipped in a pure peanut butter glaze for a easy and healthier breakfast treat that's oh so yummy to eat!
---
1 cup

whole wheat flour

1/4 cup

light brown sugar

1/2 teaspoon

baking soda

1/4 teaspoon

salt

1

large egg

1/2 cup

fat free milk

1/2 teaspoon

vanilla

2

large ripe bananas, mashed

1 cup

creamy peanut butter
sprinkles, if desired
---
Instructions
Preheat oven to 425°F. Spray a regular size donut pan (that makes 6 donuts) with non-stick cooking spray and set aside.
In a large bowl, whisk together the flour, brown sugar, baking soda and salt. In a separate bowl, whisk together the egg, milk and vanilla. Stir the wet ingredients into the dry ingredients until just combined. Fold in the mashed bananas.
Place batter in a large resealable plastic bag and snip off one of the corners. Pipe batter into prepared donut pan, filling each ring about 2/3 full. If you have two pans, you could go ahead and use all of the batter at once. If not, you will need to bake the donuts in two batches.
Bake for 7-8 minutes or until donuts are set and spring back up when touched. Let cool in pan 5 minutes before removing to a wire rack. Repeat process with remaining batter until you have 12 donuts.
While donuts are cooling, microwave the peanut butter in a shallow bowl for about 45-60 seconds or until melted and smooth. Dip the top of each donut into and out of the melted peanut butter twice and then turn upside down on a wire rack that's set over a baking sheet so the peanut butter can drip down the sides of the donut and the excess onto the baking sheet. Sprinkle with sprikles, if desired.
Serve right away or let rest until the peanut butter sets, about 30 minutes. Store in an airtight container in the refrigerator.
---