Make guacamole in your blender in a matter of minutes. Seriously, this recipe is The Best Blender Guacamole you will ever eat!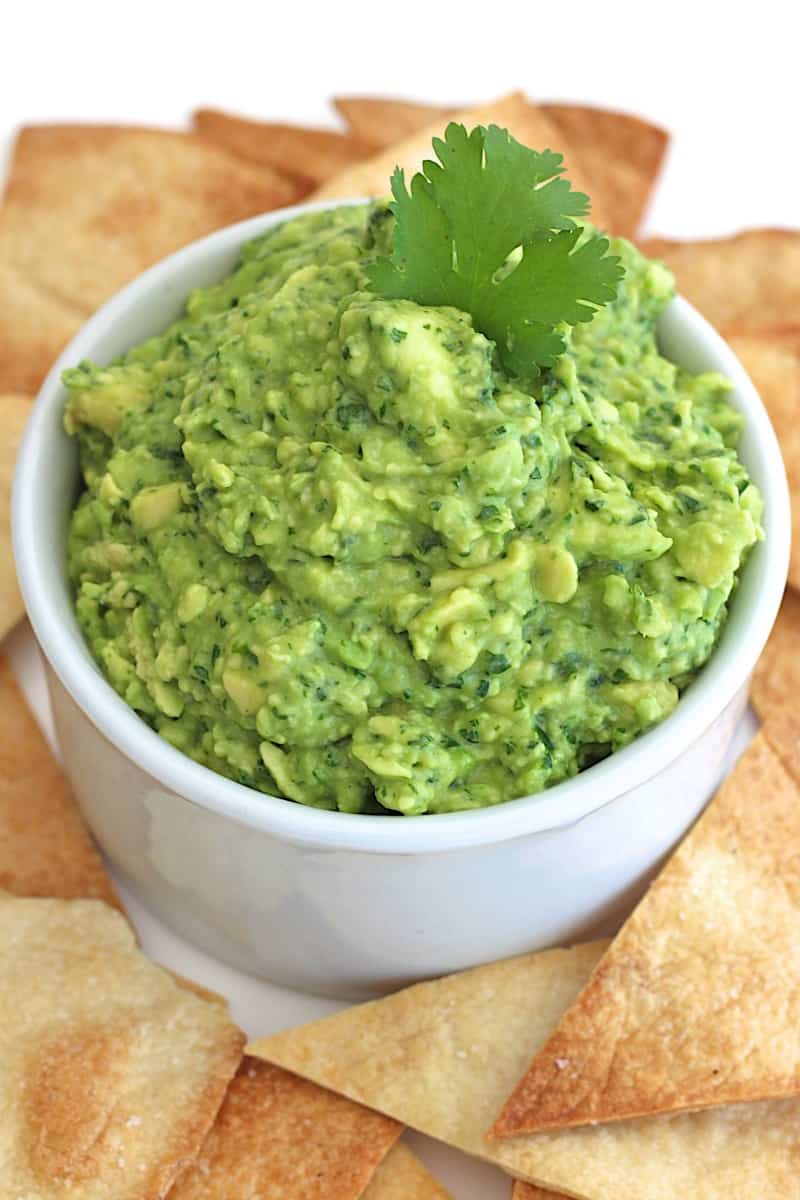 I couldn't let Cinco de Mayo come and go without sharing our favorite guacamole recipe! It's got lots of cilantro, a little onion, juice of a lime, a hint of garlic, as much jalapeno spice as you'd like and some salt all combined with the star ingredient, avocado! It's super easy and so amazing! There's a story behind it though…
Brandon has always been our resident guacamole maker. He makes the BEST guacamole, y'all! Better than any guacamole I've had anywhere else. It's always the perfect texture and taste. He rolls up his sleeves, chops and then hand grinds all of the ingredients (except the avocados, of course) with a mortar and pestle into a paste like they do table-side at some Mexican restaurants.
Well, Brandon travels a lot and I hate to admit it, but I used to buy guacamole from our local market when he wasn't here to make it. The thought of chopping and grinding the ingredients into a paste by hand with a mortar and pestle was just too daunting. I mean it would take me a whole 10 minutes longer than the recipe I'm about to share with you, but I'm here trying to keep our 4 kids (and myself!) alive and I need those 10 minutes and the energy it would take to make myself a margarita or something, you know what I mean?! Lol!
I love having guacamole always on hand to snack on, scoop on salads or as a side to the Mexican dishes we eat at least 3 nights of the week. We love Mexican food! The store-bought guac just wasn't cutting it any longer, so I had to come up with a recipe that I could easily make and obviously love!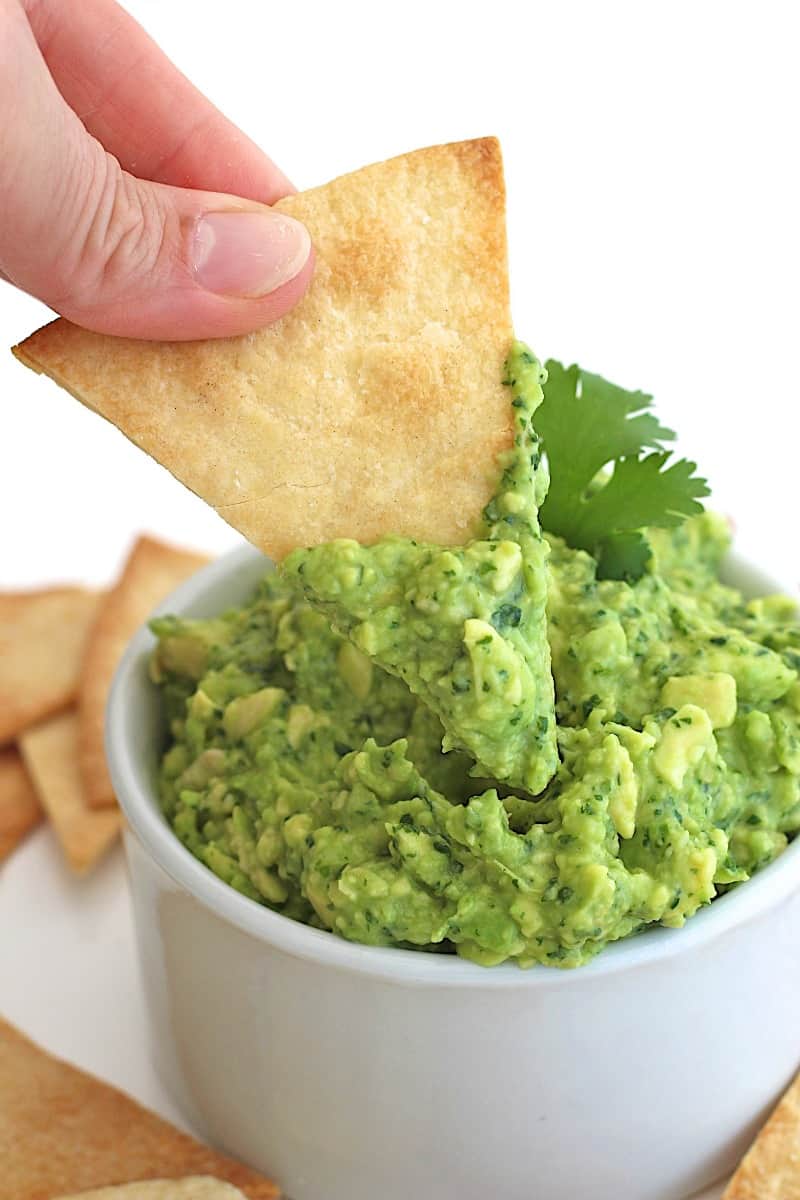 So I stole Brandon's recipe (except I added fresh garlic, don't tell him!) and instead of hand chopping everything and then blending it into a paste with a mortar and pestle, I tossed the ingredients in the blender and wholla! It turned out AWESOME! Like so perfectly amazing, I challenged Brandon to a "Guac-Off" to see if he could tell the difference between his guacamole and mine.
So we both made our guacamoles, mine in the blender and Brandon's with the mortar and pestle. And guess what??, they looked almost identical and tasted very very similar. Both were great, but we both agreed it would be a little easier to make my version, so mine won! Yessss! I should have named it Gold Medal Guacamole! 😉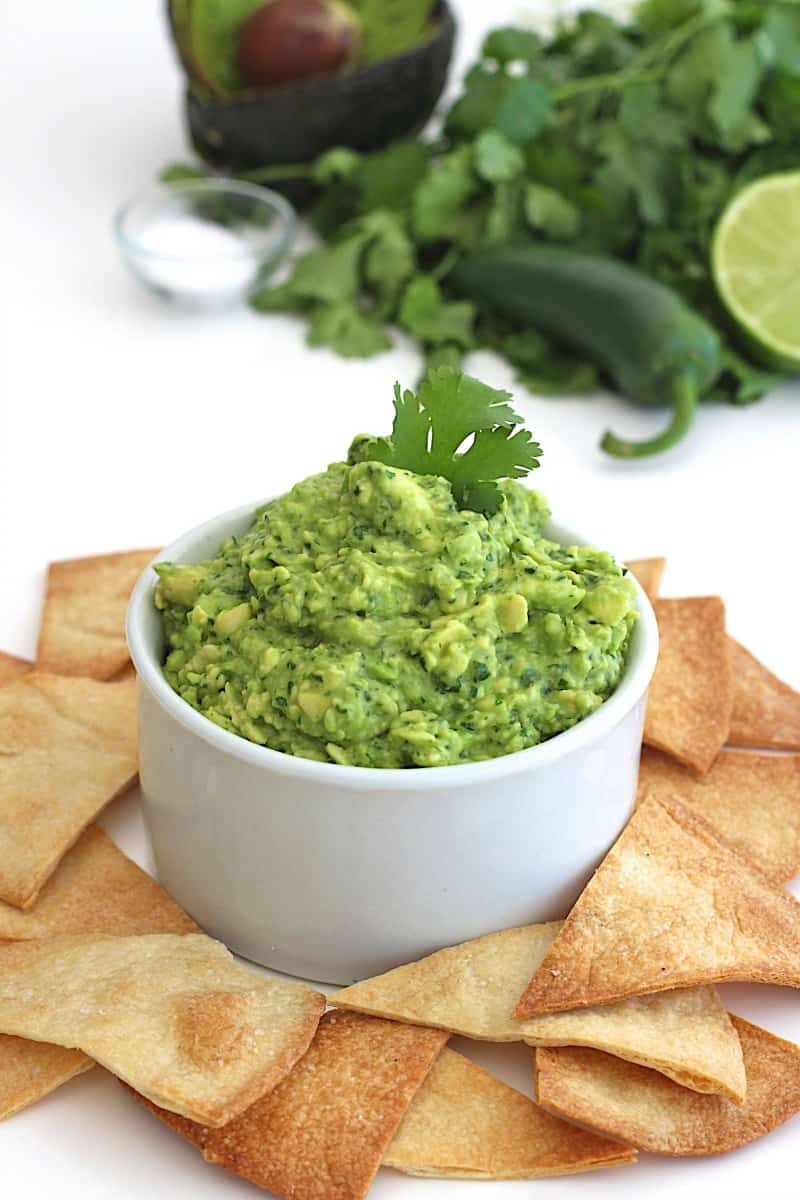 Just 7 simple ingredients and a blender is all you need. Oh and chips, lots and lots of chips!
More Winning Recipes for Football Season
You'll score big with my Winning Recipes for Football Season! We've rounded up our favorite game day recipes that are sure to win everyone over at your football watch party!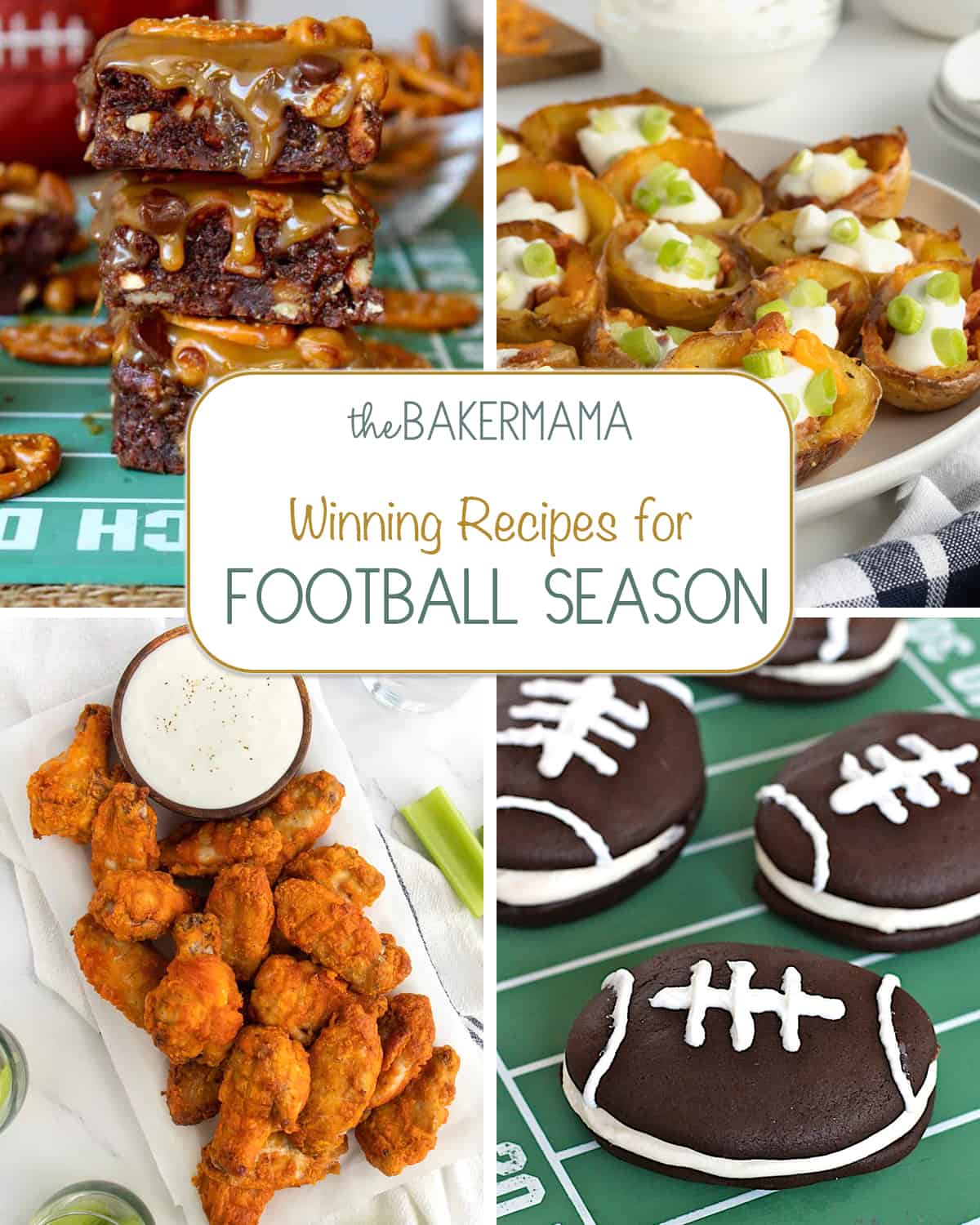 What Do I Need to Make Blender Guacamole?
cilantro leaves (about 1 bunch)
White onion
Fresh lime
Garlic, peeled
Jalapeno, stem removed (with or without seeds, you decide the spice)
Kosher salt
Large ripe avocados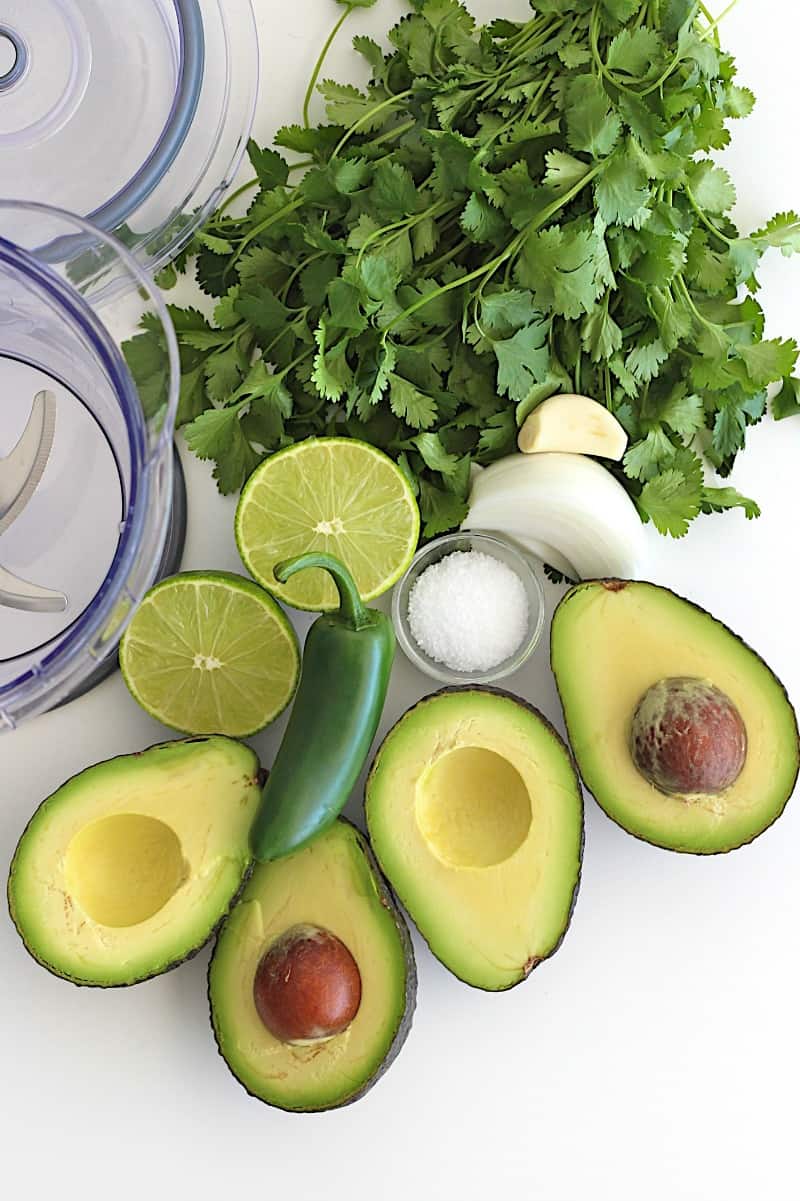 The most tedious part of the recipe is separating the cilantro leaves from the stems. Probably my most hated cooking task of all. The day I find cilantro leaves already cleaned and stemmed at the store, I'll be doing the happy dance up and down every aisle and hugging and kissing every person I encounter along the way. Ugh! Such an annoying task, but has to be done. Cilantro is a must when it comes to great guacamole!
Okay, so once you've cleaned and removed the leaves from the stems of the cilantro, you're ready to blend and just minutes away from dipping into a guacamole you'll be so proud to say you made!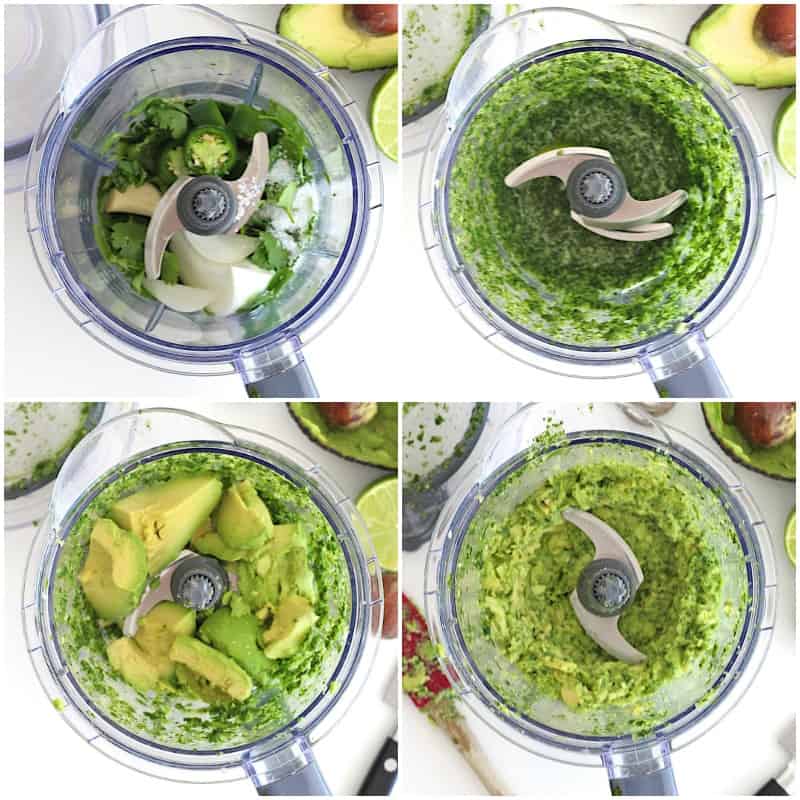 The first 6 ingredients are well blended into a paste and then when you add the avocados, you'll just pulse the blender a few times, scrap down the sides with a spatula, and then pulse a few more times until smooth yet still a little chunky.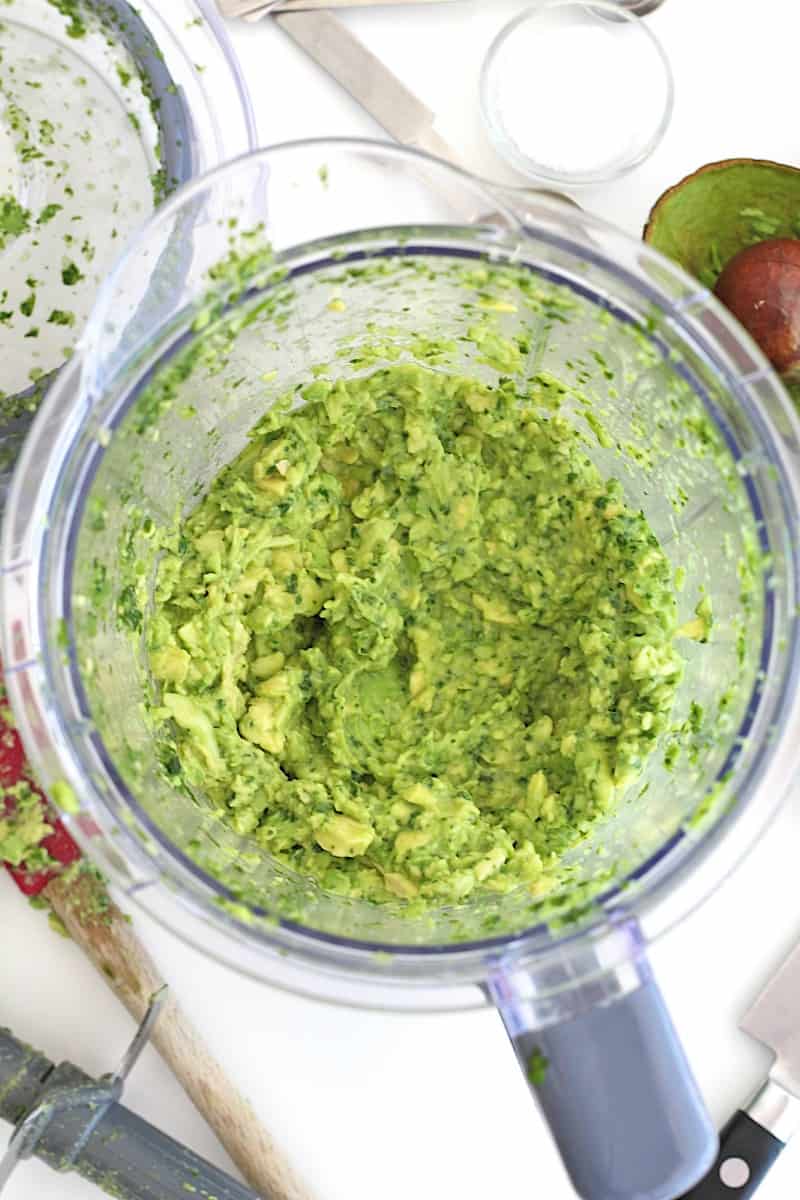 Just look at those specks of cilantro and chunks of avocado. Pass the chips! I'm dipping in!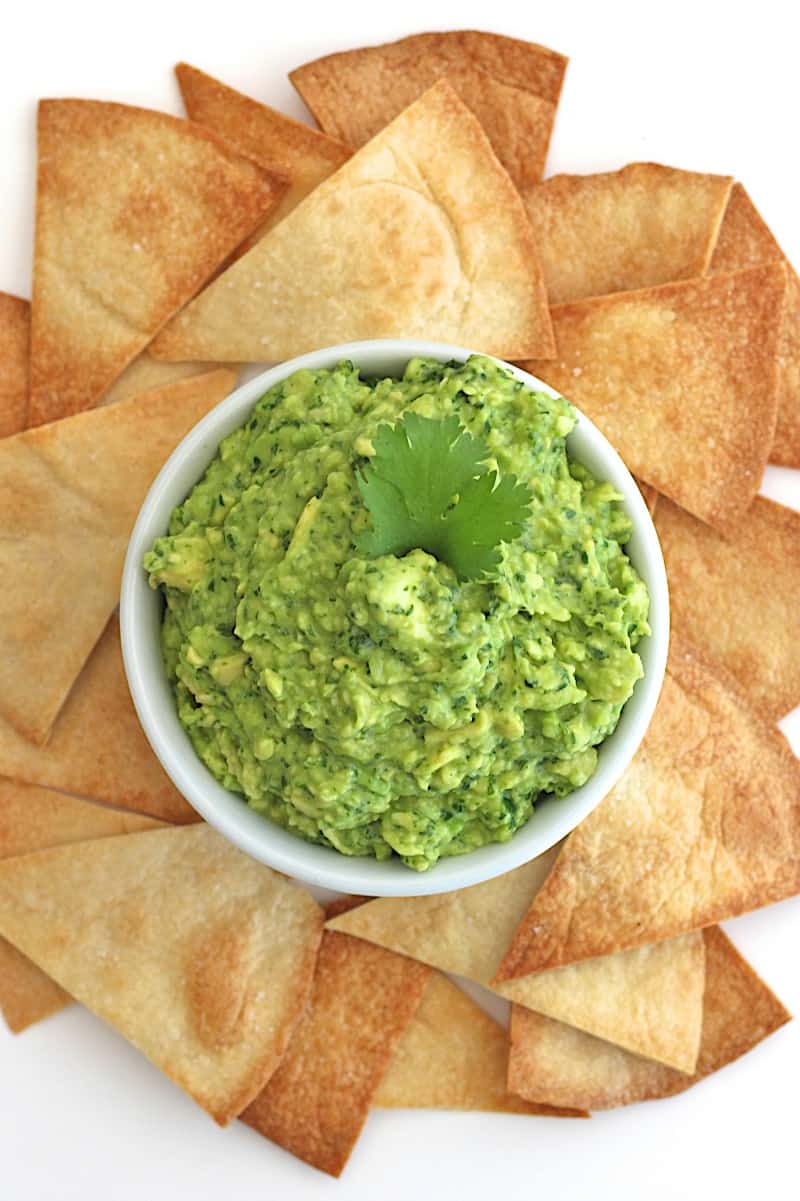 Simple fresh ingredients, a few quick steps and a whole lot of deliciousness is what you'll get from this guacamole recipe. It's become a weekly staple in our house and I hope it becomes one in yours too! If you make this Best Blender Guacamole, be sure to snap a picture and tag me on Instagram @thebakermama so I can see! 😍 I just love seeing how inspired and creative y'all get with the ideas I share. Enjoy!
xoxo,


Print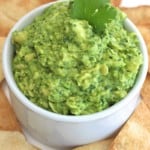 The Best Blender Guacamole
Author:

Prep Time:

10 mins

Total Time:

10 mins

Yield:

about

2 cups

1

x

Category:

Appetizer
---
Description
Make great guacamole in your blender in a matter of minutes. This guacamole is seriously the best!
---
2 cups

cilantro leaves (about

1

bunch)

1/4

of a medium peeled white onion

2 tablespoons

fresh lime juice (about

1

large lime)

1

clove garlic, peeled

1

medium jalapeno, stem removed (with or without seeds, you decide the spice)

1 teaspoon

kosher salt

3

large ripe avocados, pitted and peeled
---
Instructions
Place first 6 ingredients in a blender or food processor and blend 1-2 minutes, scraping down the sides of the container with a spatula a few times, until a smooth paste forms. Add avocados and pulse 8-9 times, removing lid and running a spatula down the sides after every 3 pulses. Guacamole should be smooth with several small chunks of avocado. Remove guacamole to a large bowl and serve with chips.
---
Notes
Store in an airtight container in the refrigerator with plastic wrap pressed directly on top of the guacamole to minimize browning.