Healthy whole wheat peanut butter oatmeal cookies packed with shredded apples and mashed bananas. Great for breakfast or an afternoon snack!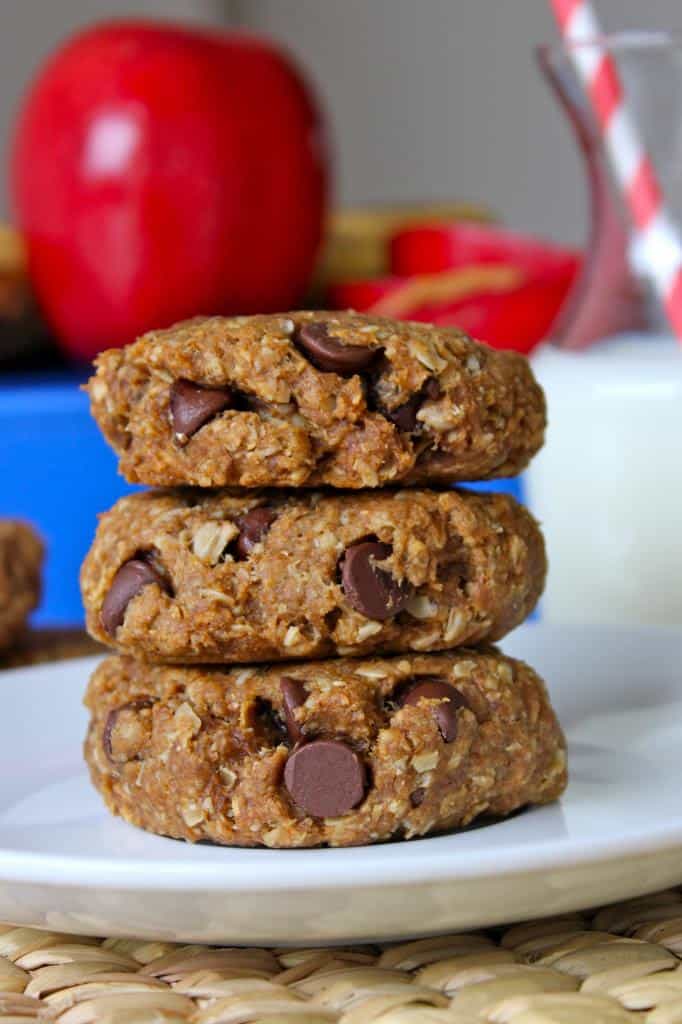 I love my Mom!
My Mom is cool!
But now it's time for having fun in school!
Baker-man and I have been singing this little rap (from his favorite kids' show) for several weeks now in prep for the big day, which was today! Baker started preschool this morning and he'll be going 5 mornings a week! Yikes! What's a mama to do?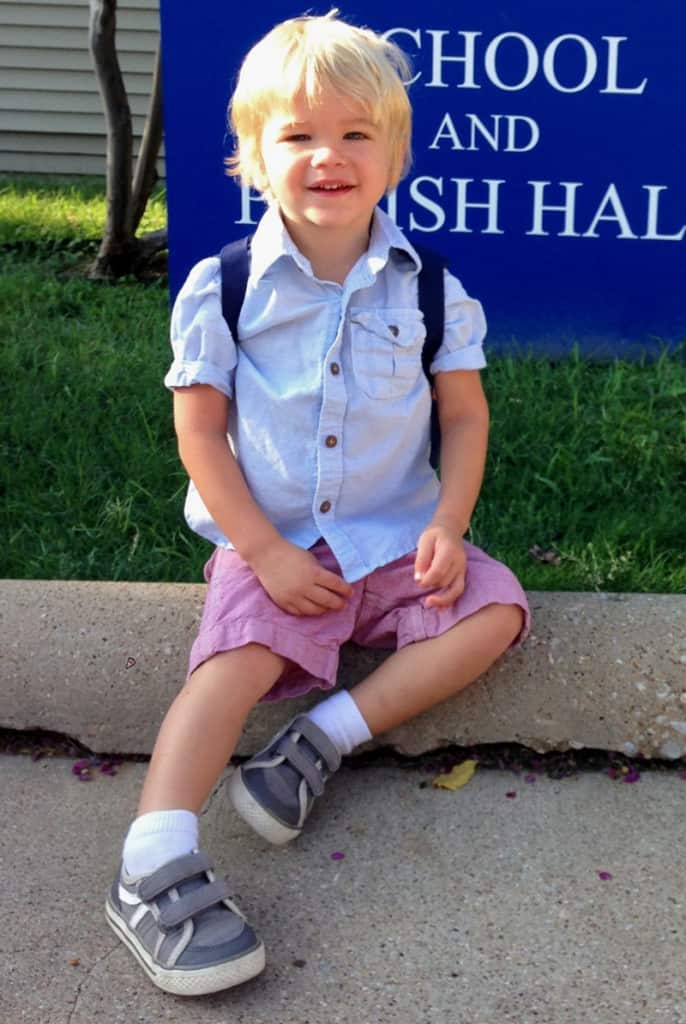 I know he's going to love it and learn a lot, but the babies and I are sure going to miss him here at home!
I like to think Baker thinks I'm cool and I'm pretty sure he thought I was super cool when I served him cookies for breakfast this morning! You should have seen the excitement on his face when he saw that cookie sitting on his breakfast plate!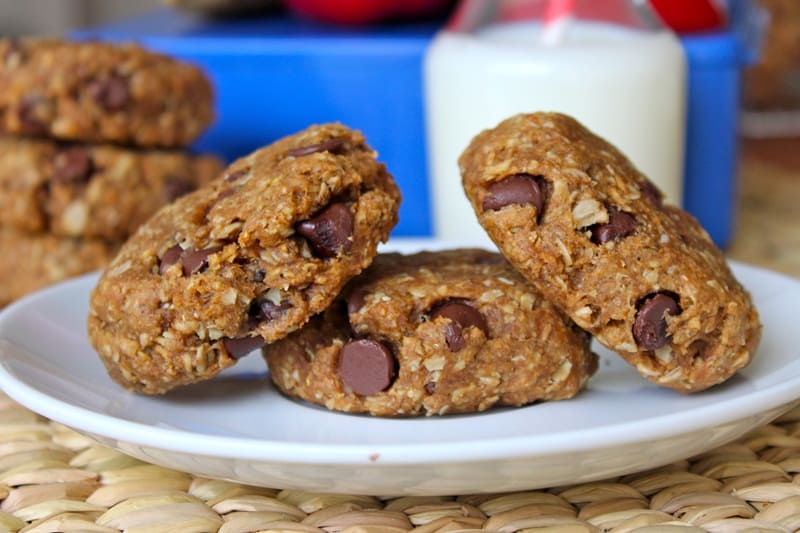 Little does he know these cookies are actually pretty healthy. They have some of our breakfast favorites baked right into them! We quite often eat peanut butter banana apple sandwiches on whole wheat bread for breakfast or a snack so I just baked these goodies into a chewy oatmeal cookie and added some chocolate chips to make them extra special for his first day of school! He was all smiles, energized, and ready to go!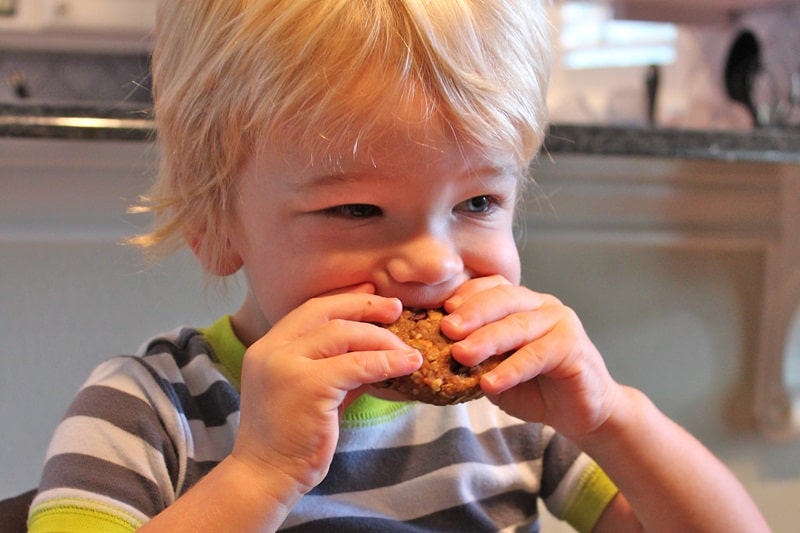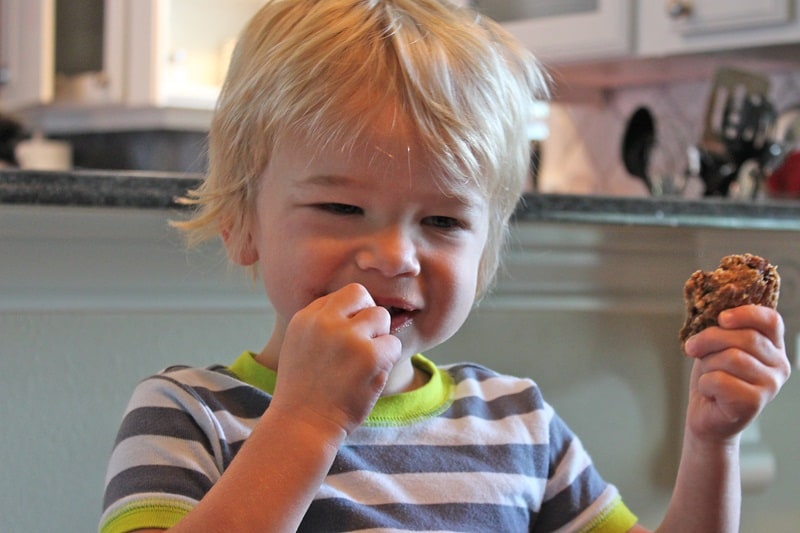 We had a big time baking them over the weekend so let us show you how simple they are to make! You and your kiddos could easily bake up a batch this afternoon for the perfect after-school snack!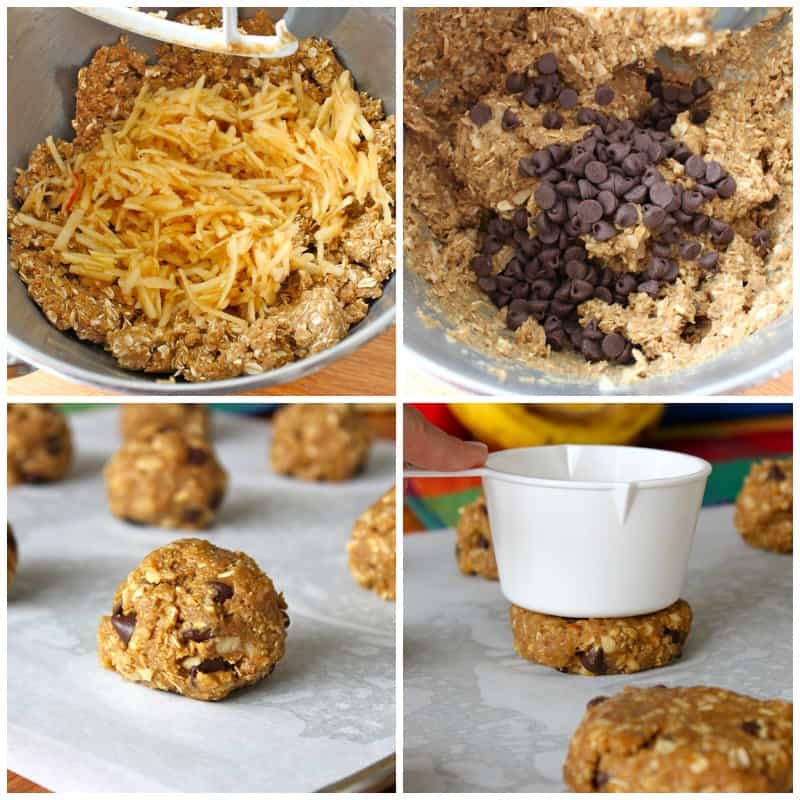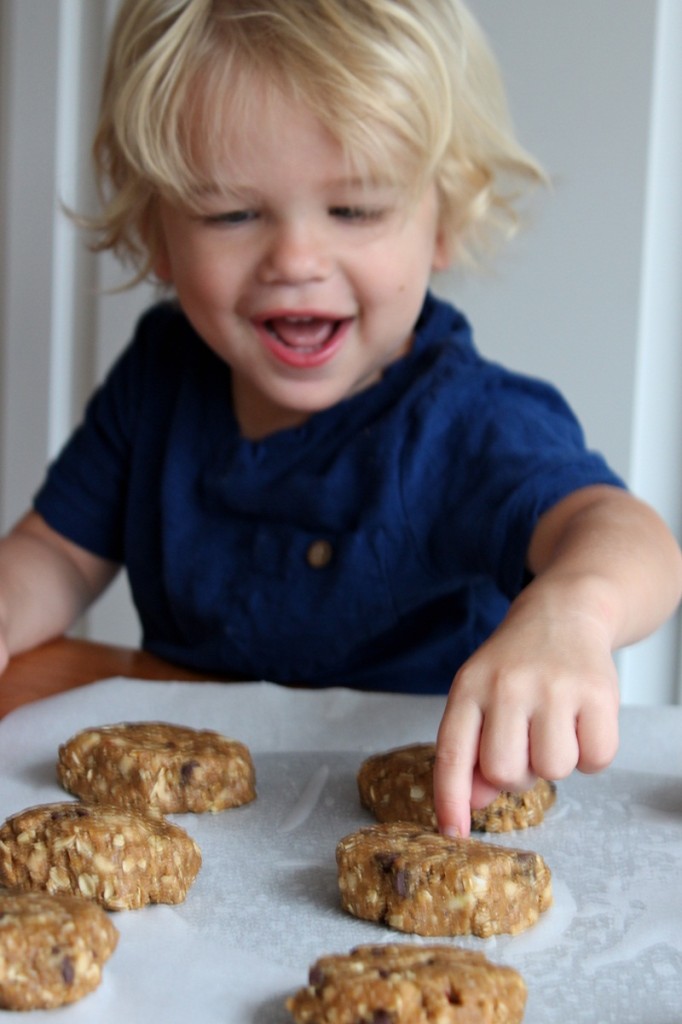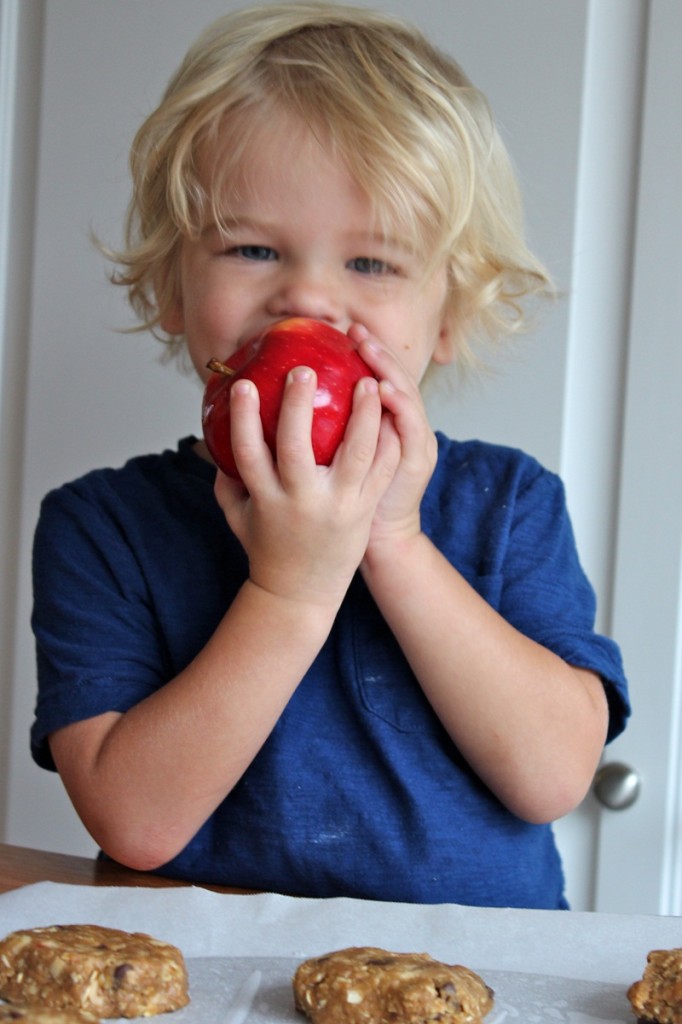 Bake the cookies for 10-12 minutes until slightly browned. Let cool on cookie sheets for 10 minutes before transferring to wire racks to cool completely.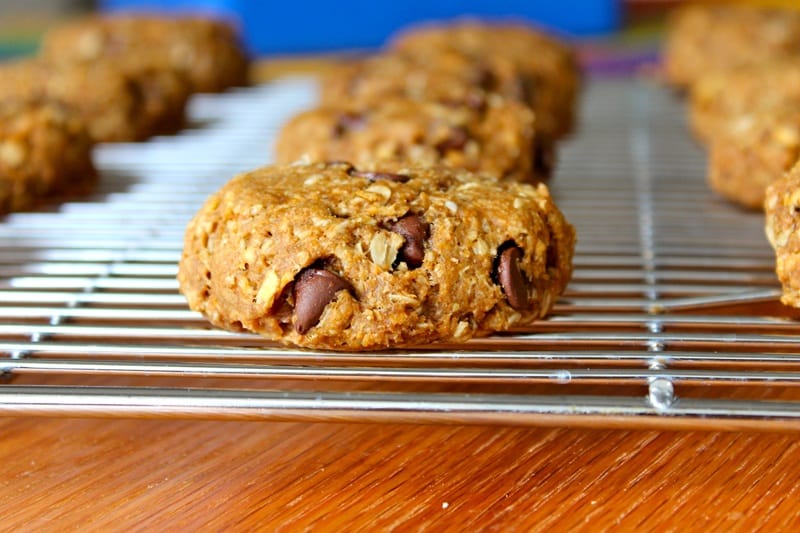 Be cool and bake a batch for your family! They'll love them!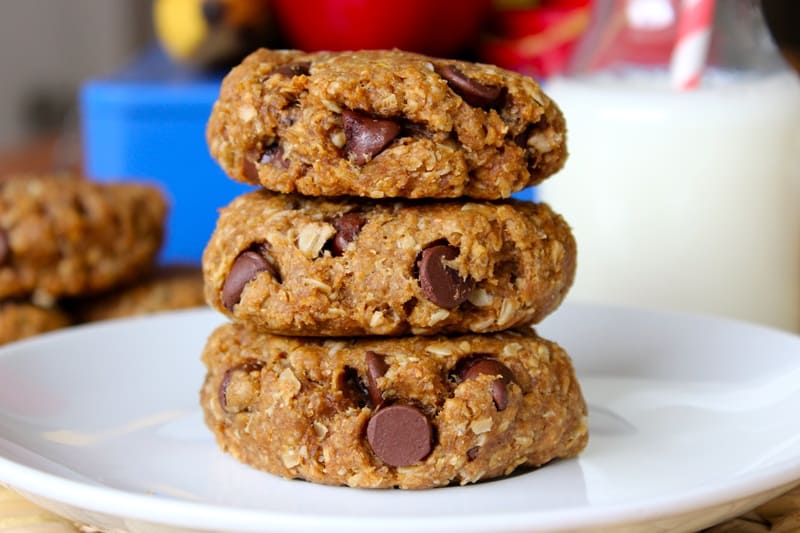 Enjoy!
~Maegan
This recipe was created as part of my partnership with Gold Medal Flour however thoughts and opinions are certainly my own!

Breakfast Cookies
Author:
Maegan - The BakerMama
Ingredients
1-1/2 cups whole wheat flour
2-1/2 cups old-fashioned rolled oats
2 teaspoons baking soda
½ teaspoon salt
½ teaspoon cinnamon
1 cup creamy peanut butter
½ cup dark brown sugar
1 large egg
1 teaspoon vanilla
1 cup mashed banana (about 2 medium)
1 cup shredded peeled apple (about 2 medium)
½ cup chocolate chips, optional
Instructions
Preheat oven to 350°F. Line two baking sheets with parchment paper. Set aside.
In a medium bowl, whisk together the flour, oats, baking soda, salt, and cinnamon. Set aside.
In the bowl of an electric mixer, blend the peanut butter and brown sugar until creamy. Add the egg and vanilla and mix until well combined. Mix in the mashed banana. Slowly add the flour mixture until just combined. Stir in the shredded apple and chocolate chips.
Form 3-4 tablespoons of dough into large balls and place a few inches apart on the prepared baking sheets. Flatten each ball of dough with a cup measurer that has been sprayed with non-stick cooking spray.
Bake for 10-12 minutes until slightly browned. Let cool on cookie sheets for 10 minutes before transferring to wire racks to cool completely.
Notes
Store in an airtight container in the refrigerator for up to 4 days. Let cookies come to room temperature or heat in the microwave for 10-15 seconds if you don't like cold cookies.