Healthier banana chocolate chip muffins made with whole wheat flour, peanut butter and honey for a filling breakfast or snack that you can feel great about eating.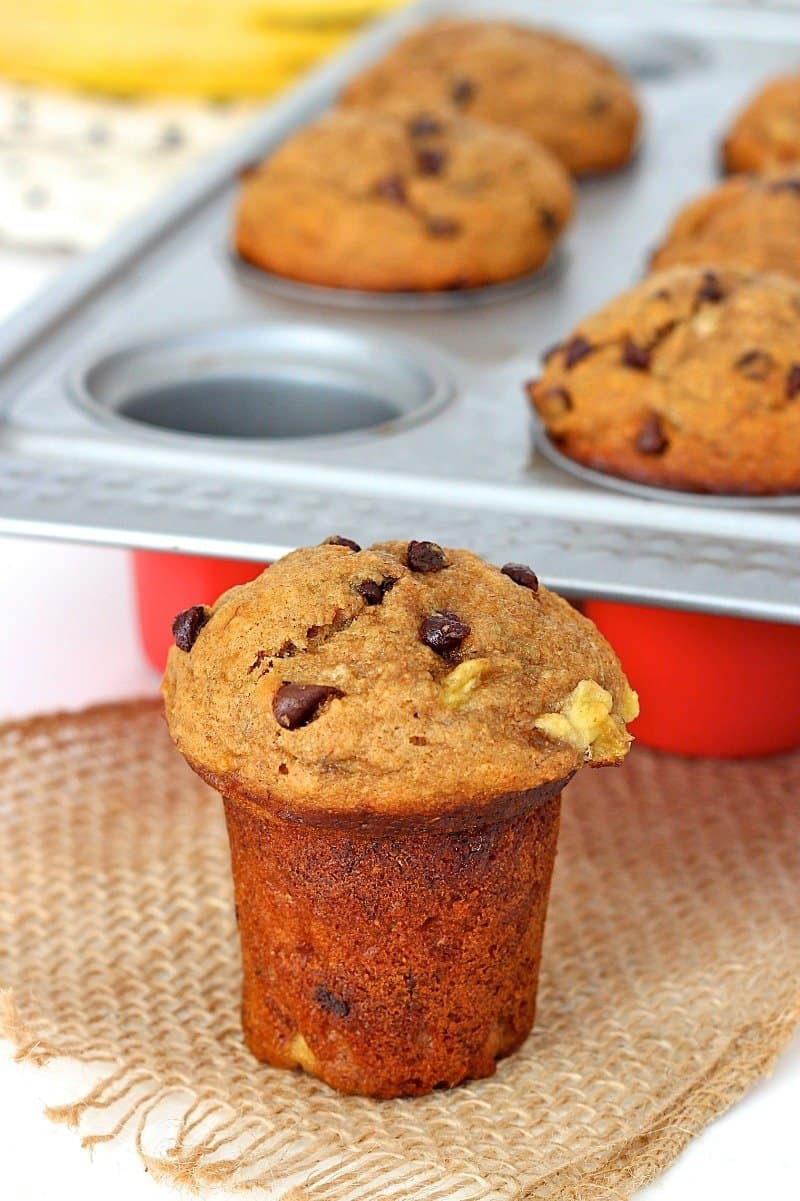 We recently moved all three boys into one room with bunk beds and boy are they loving it! Brandon and I are still adjusting to the extra time it takes to get them to go to sleep and especially to the fact that they're waking up way earlier than they ever have before. Boo! We're talking like 6am, y'all! They used to sleep until 8:30 or 9am (we've been spoiled!) so this is definitely a huge adjustment for us. We've decided to stick with it and just hope that they start sleeping in more and more each morning so that we can use the extra room in our house now for an office and a guest bedroom.
We got one of those OK to Wake alarm clocks for kids where at 7am the green light comes on and they know it's okay to get up, but before then they have to stay in bed and try to go back to sleep. It's been working most mornings, but every now and then one of them wakes super early and gets them all roweled up and raring to go.
One morning they were up and at 'em a little before 6am and as soon as they came out of their room, they were begging for breakfast. Muffins to be exact! They wanted muffins. At 6am! I couldn't even process the request at that hour (the sun wasn't even up!) so I had them settle in on the couch while I started brewing my coffee and pep talking myself into baking muffins for them.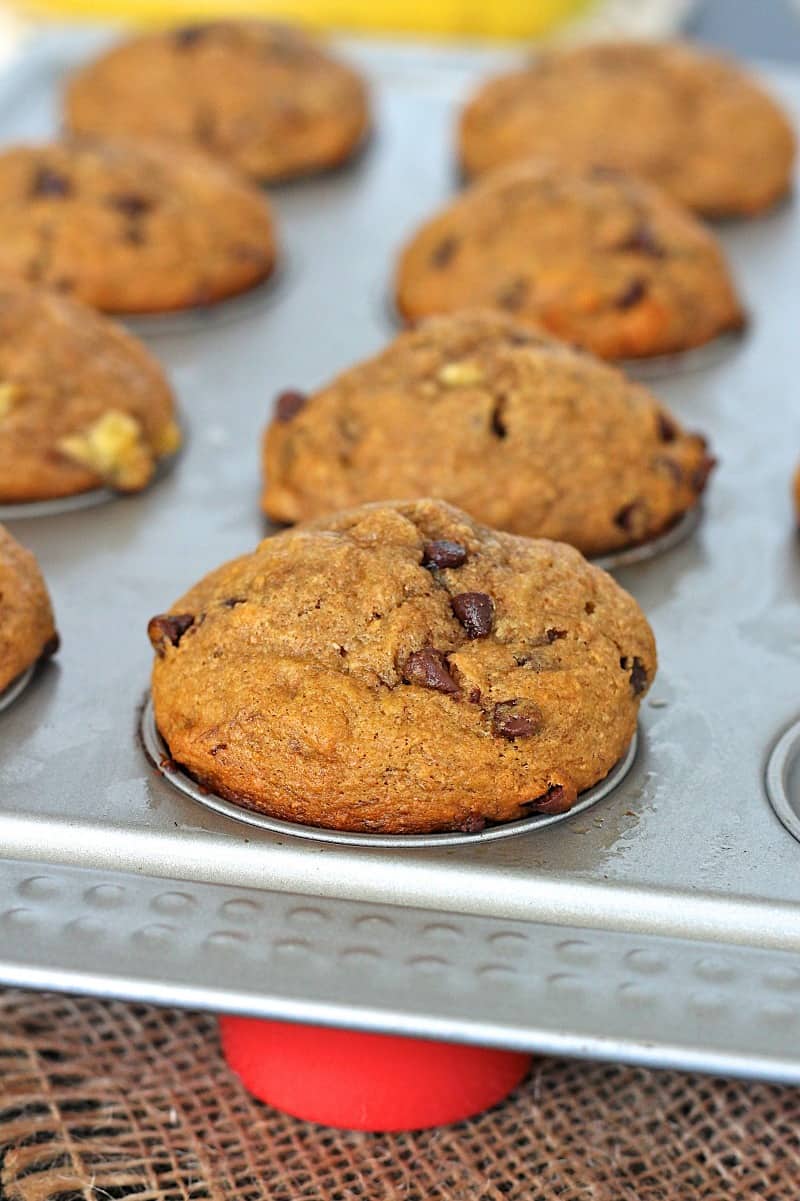 Then it dawned on me that if they're going to get up that early, they're going to start making their own breakfast. So I turned off the cartoons and told them to get in the kitchen so they could start making their muffins. Not a punishment at all for these 3. They LOVE helping in the kitchen!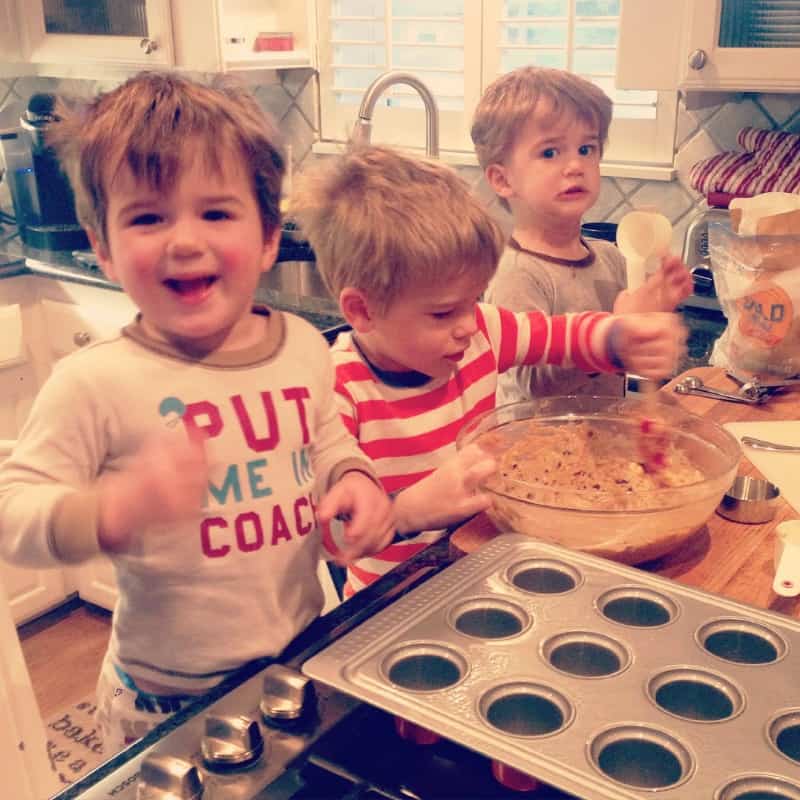 And they're actually pretty good at measuring the ingredients, cracking the eggs and scooping the batter. Now if I could just get them as excited about cleaning up the darn dishes! 😉
This morning we made a healthier version of banana muffins with peanut butter and of course they wanted to throw in some chocolate chips. 🙂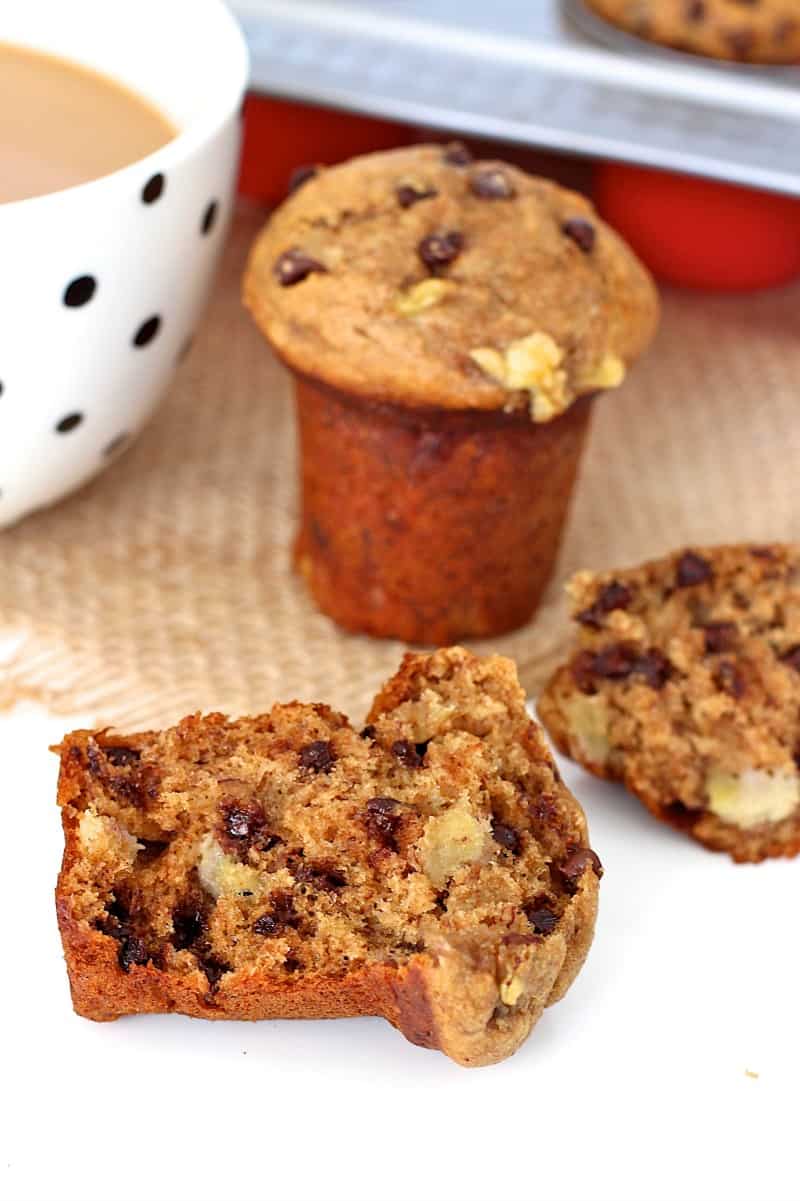 They're made with whole wheat flour, peanut butter, extra bananas for moisture, a little honey for sweetness and mini chocolate chips all throughout! M'm! M'm!
This recipe is so quick and easy that Baker (our almost 4 year old) pretty much has the recipe memorized and literally begs me almost every morning to let him make them for us. Makes this mama proud! 🙂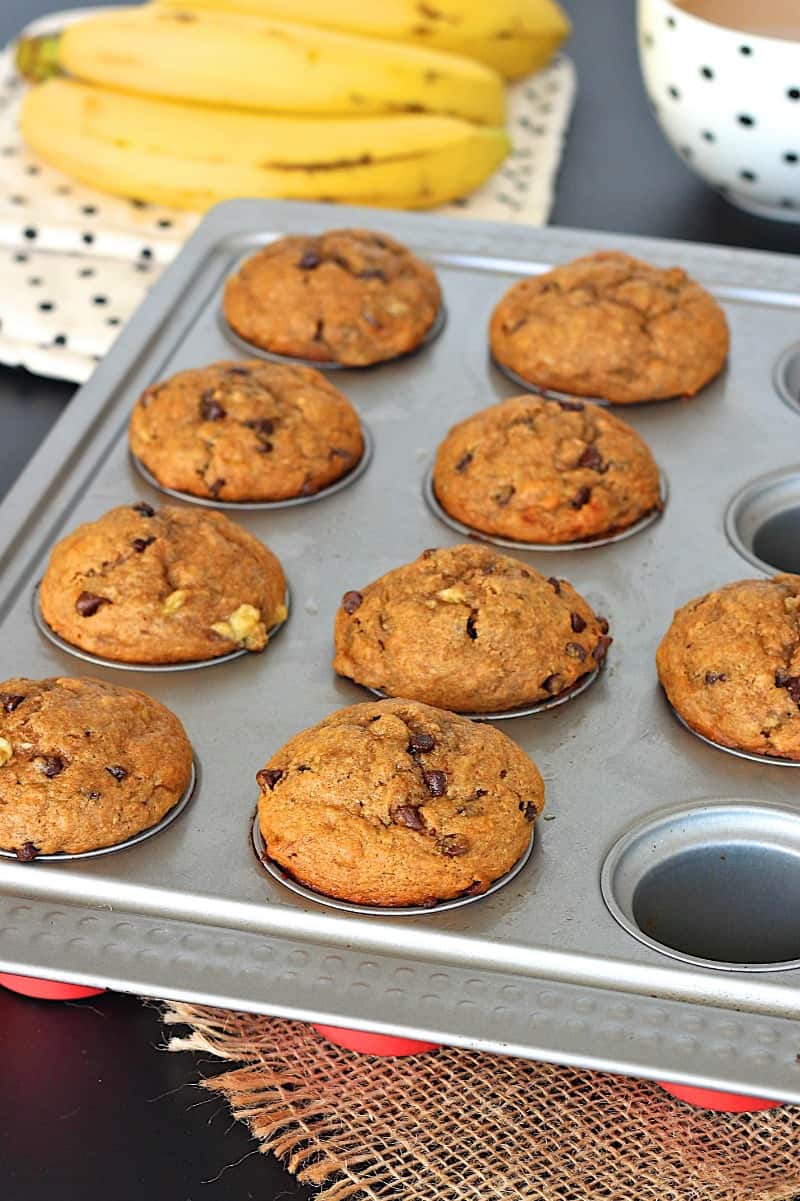 These muffins are a no-brainer! You can have them ready to eat in less than 30 minutes, they're healthy yet still sweet, moist and full of flavor. I hope they become as much of a family fave in your house as they are in ours! Enjoy!
xoxo,

Whole Wheat Peanut Butter Banana Chocolate Chip Muffins
Healthier banana chocolate chip muffins made with whole wheat flour, peanut butter and honey for a filling breakfast or snack that you can feel great about eating.
Author:
Maegan - The BakerMama
Ingredients
1 cup whole wheat flour
1 teaspoon baking soda
½ teaspoon salt
½ cup creamy peanut butter
½ cup honey
1 egg, lightly beaten
1 teaspoon vanilla
1-1/2 cups mashed banana (about 3 ripe bananas)
½ cup mini chocolate chips
Instructions
Preheat oven to 350°F. Grease a 12-cup muffin pan with nonstick cooking spray and set aside.
In a large bowl, whisk together the flour, baking soda and salt. In a medium bowl, stir together the peanut butter, honey, egg, vanilla and mashed bananas. Add the wet ingredients to the dry ingredients and stir until well combined. Fold in the mini chocolate chips.
Scoop batter evenly among prepared muffin cups, filling each one about ¾ full. Bake for 15-18 minutes or until muffins have risen and a toothpick inserted in the center comes out clean. Let cool in pan 5 minutes before removing to a wire rack to cool completely.