Chewy, crunchy, oh so tasty 5 Ingredient Granola Bars made in about 5 minutes and you can make them with peanut butter or almond butter. No baking required!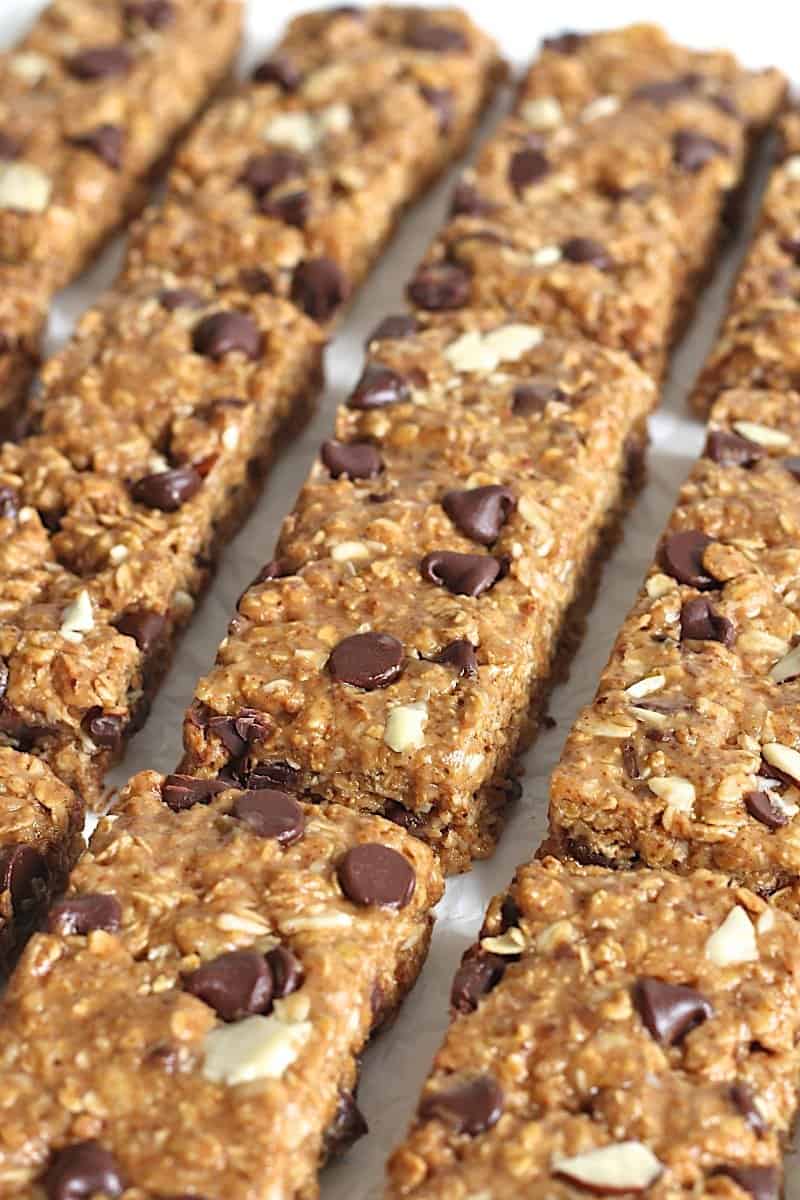 For another episode of: "My Granola Bar Addiction", I bring you the easiest ones yet. And dare I venture to say the tastiest?! These no-bake granola bars are just too easy to make and boy do they taste greeeeeat!
I was craving homemade granola bars one morning and my craving wasn't about to wait for me to bake a batch. So with limited ingredients on hand, I stirred together these 5-ingredient granola bars in about 5 minutes and they turned out awesome! Between breakfast that morning, snacktime that afternoon and some girlfriends coming over to watch The Bachelorette that night, they were gone by the end of the day. So what's a mama to do when her boys wake up begging for another one the next morning?!…mix together another batch…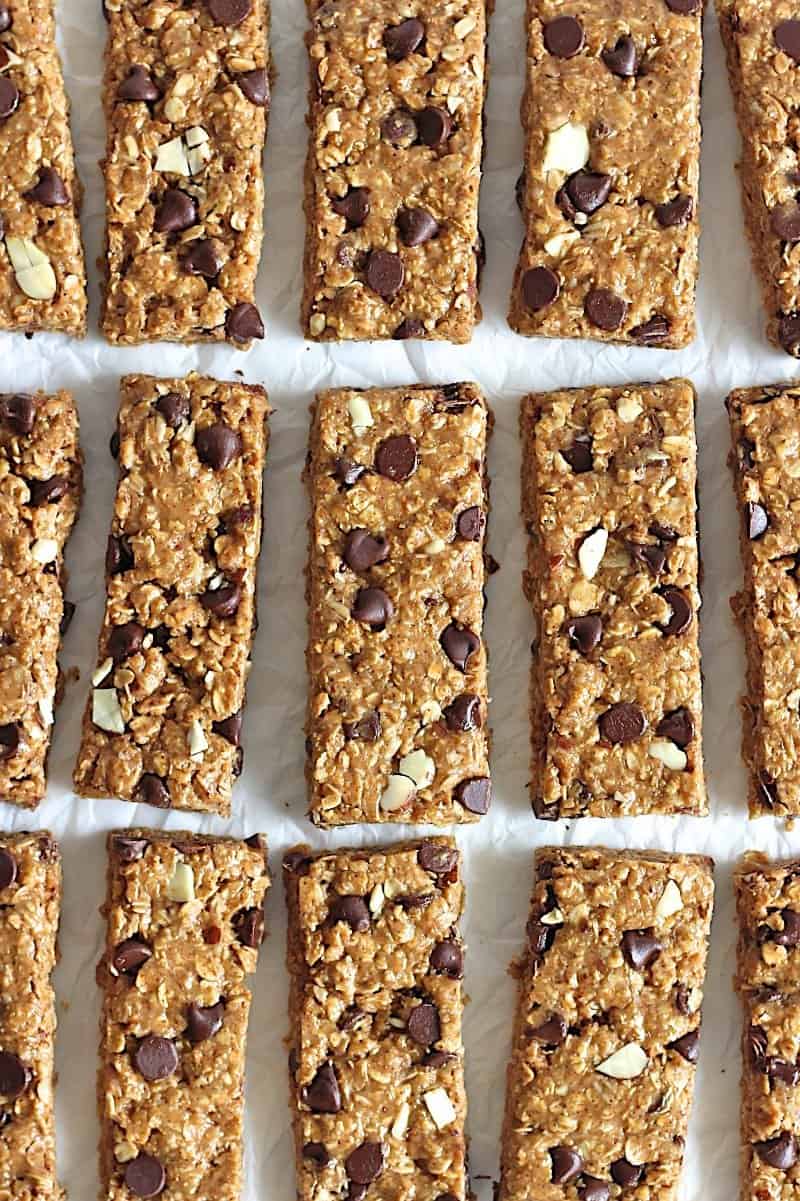 The first time I made them with peanut butter, the next time I used almond butter, the next time peanut butter and here I sit eating from yet another batch with almond butter. You choose: peanut butter or almond butter. Both versions taste great! The almond butter is less sweet than peanut butter and the texture is thinner so you have to use a 1/2 cup more of it. So if you're using peanut butter, use 1 cup and if you're using almond butter, use 1-1/2 cups. Get it? Got it? Go!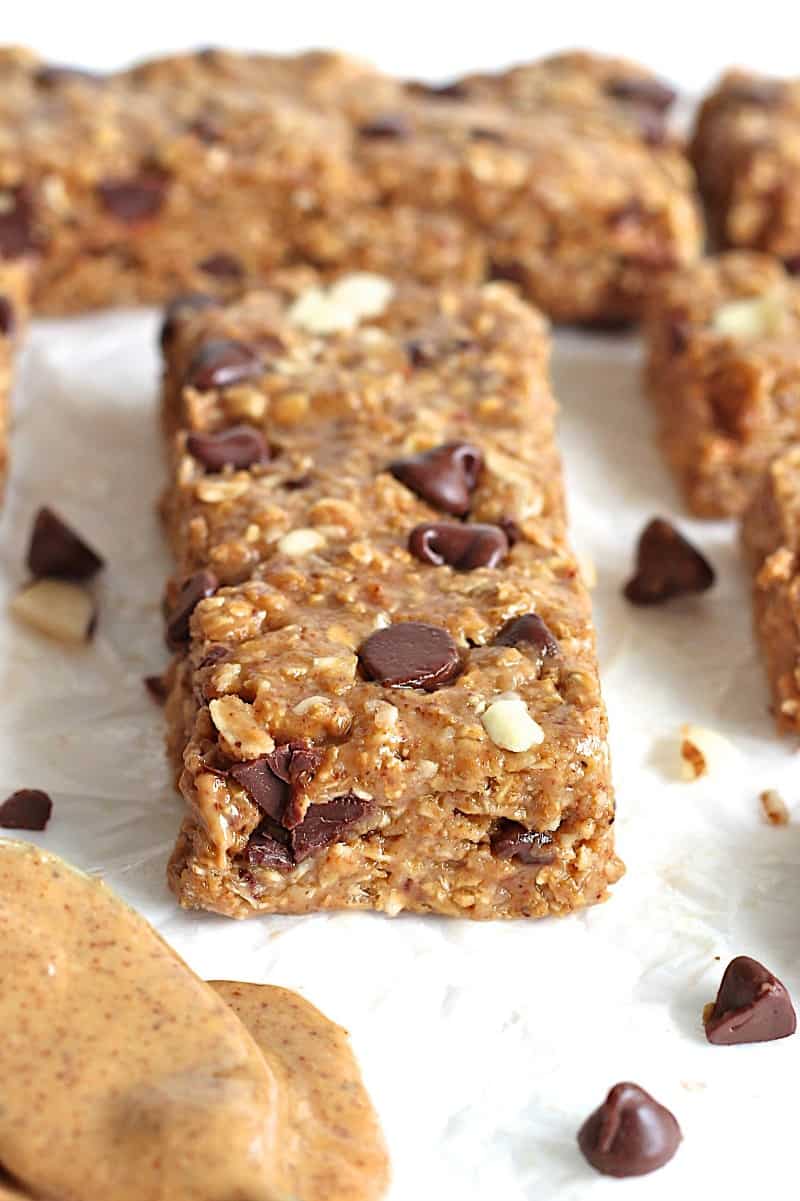 Besides peanut butter or almond butter, all you'll need is honey, pre-made granola, old-fashioned oats and chocolate chips. I use Cascadian Farm's dark chocolate almond granola, but feel free to use your favorite flavor of granola. The pre-made granola adds such great crunch and texture to the granola bars, but if you want to keep it super simple and you're willing to forgo the crunch, you could use all oatmeal and they would still taste great!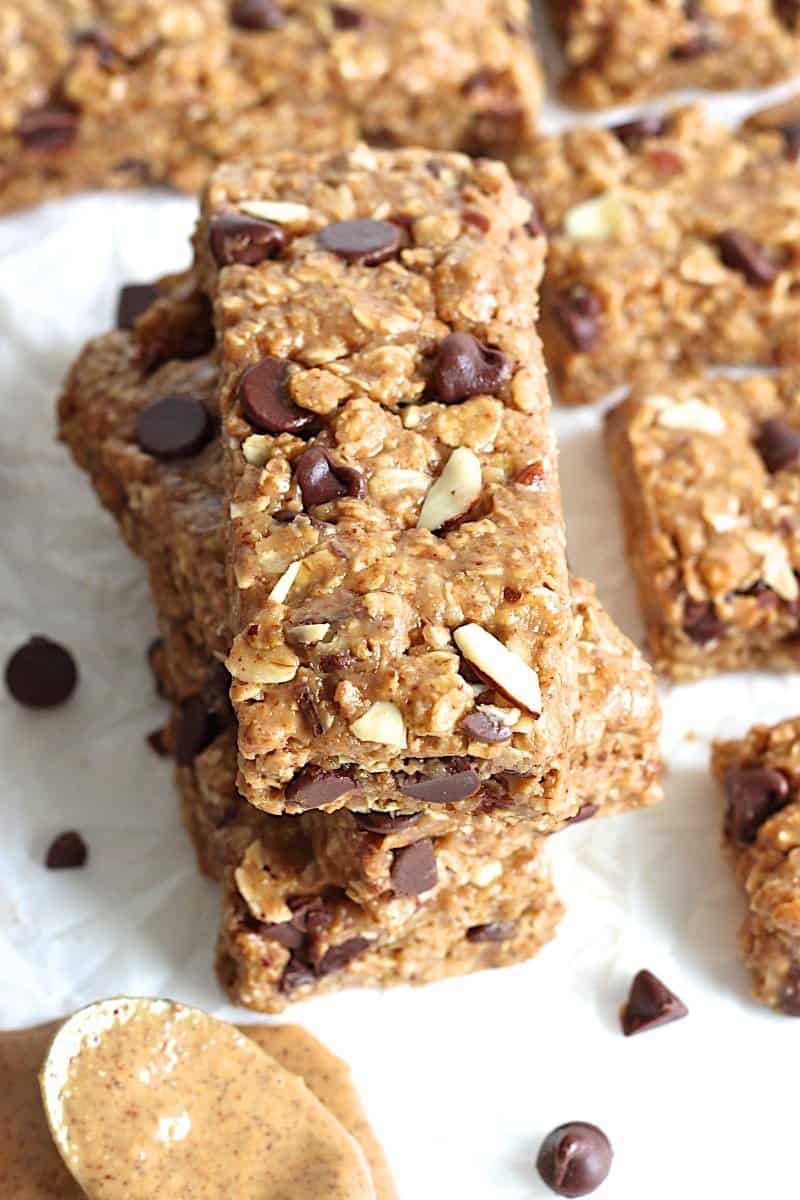 My boys are just as in love with these granola bars as I am so they'll definitely be on tap until we tire of them, which I have a feeling might never happen. In fact, the boys were patiently waiting for me to photograph a batch for the blog before we ate them for snack yesterday afternoon. Well, most of the boys! Bryce was anything but patient as he stood by trying to poke his hand or head in every shot in hopes that I would wrap it up so he could finally eat one. Little stinker. He sure knows how to rush a photoshoot. 😉 How could I resist this face as he was begging for just a little bite?!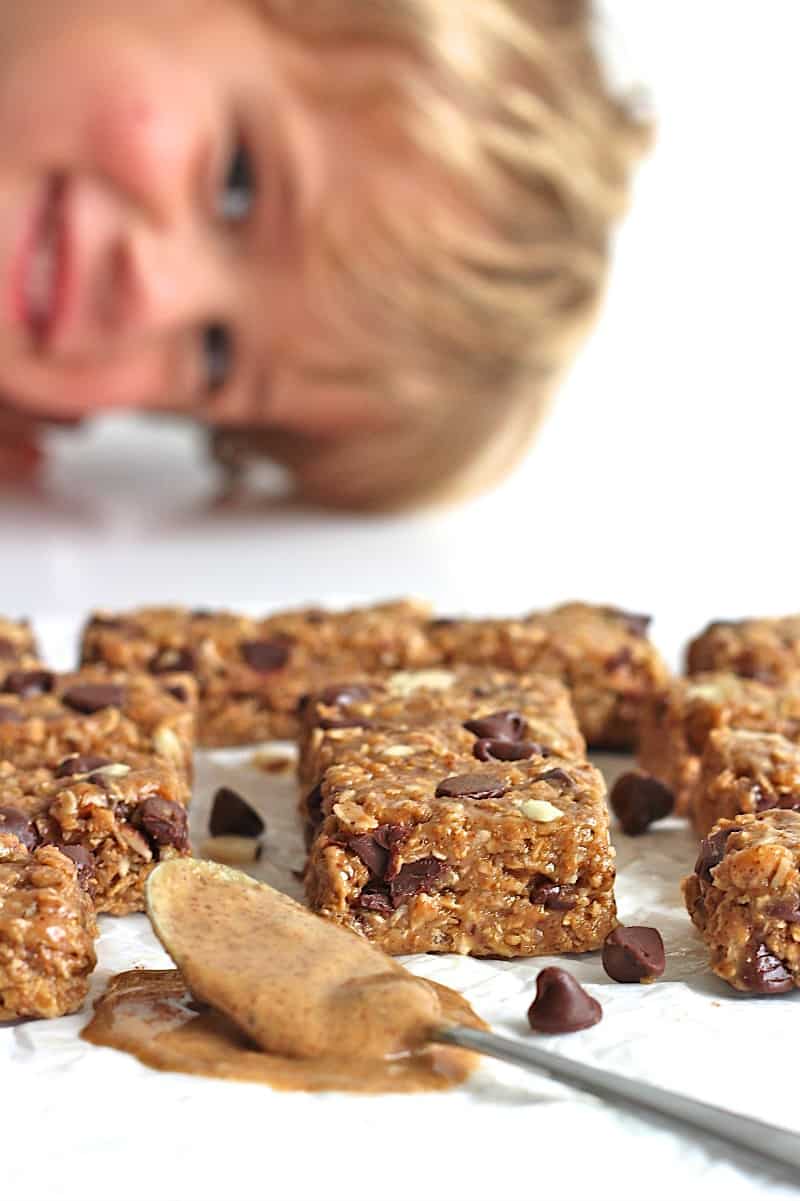 Alright, that's all there is to 'em! 5 ingredients and 5 minutes is all it takes to make these tasty granola bars. Enjoy!
xoxo,


Print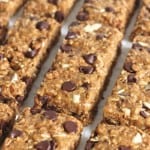 5-Ingredient Granola Bars
Author:

Prep Time:

5 mins

Total Time:

5 mins

Yield:

15-30

Category:

Dessert
---
Description
Just 5 ingredients and about 5 minutes is all it takes to make these chewy, crunchy, oh so tasty granola bars and you can make them with peanut butter or almond butter. No baking required!
---
1 cup

natural peanut butter or

1

–

1/2

cups natural almond butter

3/4 cup

honey

4 cups

pre-made dark chocolate almond granola (or your favorite pre-made granola flavor)

1 cup

old-fashioned oatmeal

3/4 cup

dark chocolate chips, divided
---
Instructions
Line a 9 x 13-inch baking dish with parchment paper or foil and spray with non-stick cooking spray. Set aside.
In a large mixing bowl or the bowl of an electric mixer fitted with the paddle attachment, beat together the peanut butter (or almond butter) and honey. Stir in the granola and oatmeal until well combined. Stir in 1/2 cup of the chocolate chips.
Spread the mixture evenly into the prepared baking dish. Sprinkle with remaining 1/4 cup chocolate chips. Use a spatula or your hands with parchment paper under them to press down firmly all over the top of the mixture making sure the top is smooth and the mixture is as compact in the dish as possible.
At this point, you can lift the bars out of the dish (using the edges of the foil or parchment paper) and immediately cut into bars with a sharp knife or you can cover the dish with plastic wrap and place the bars in the refrigerator to firm them up even more, about 30 minutes, before cutting them into bars. Store cut bars in a sealed container in the refrigerator for up to 2 weeks.
---
Notes
Yields 15 large bars or 30 small bars.
These granola bars can be baked at 350 for 13-15 minutes, if desired.