A homemade take on Chick-fil-A's Chicken Tortilla Soup that tastes even better than the original and that you can enjoy year-round and even on Sundays!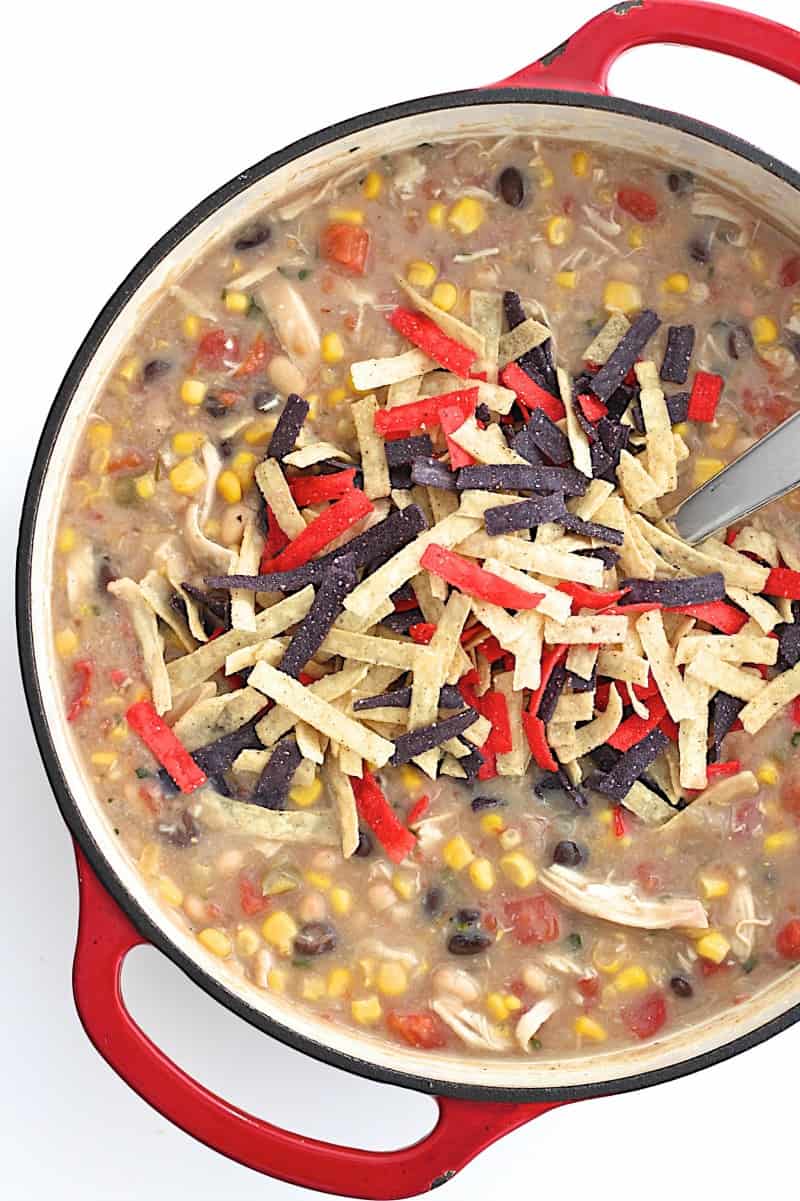 Have y'all tried Chick-fil-A's chicken tortilla soup? I'm obsessed! It's delicious. The only bummer is that it's a seasonal menu item that they only sell during the winter months. Why oh why??
I crave soup year-round and since I love their chicken tortilla soup so much, I had to come up with a homemade version before they take it off the menu again.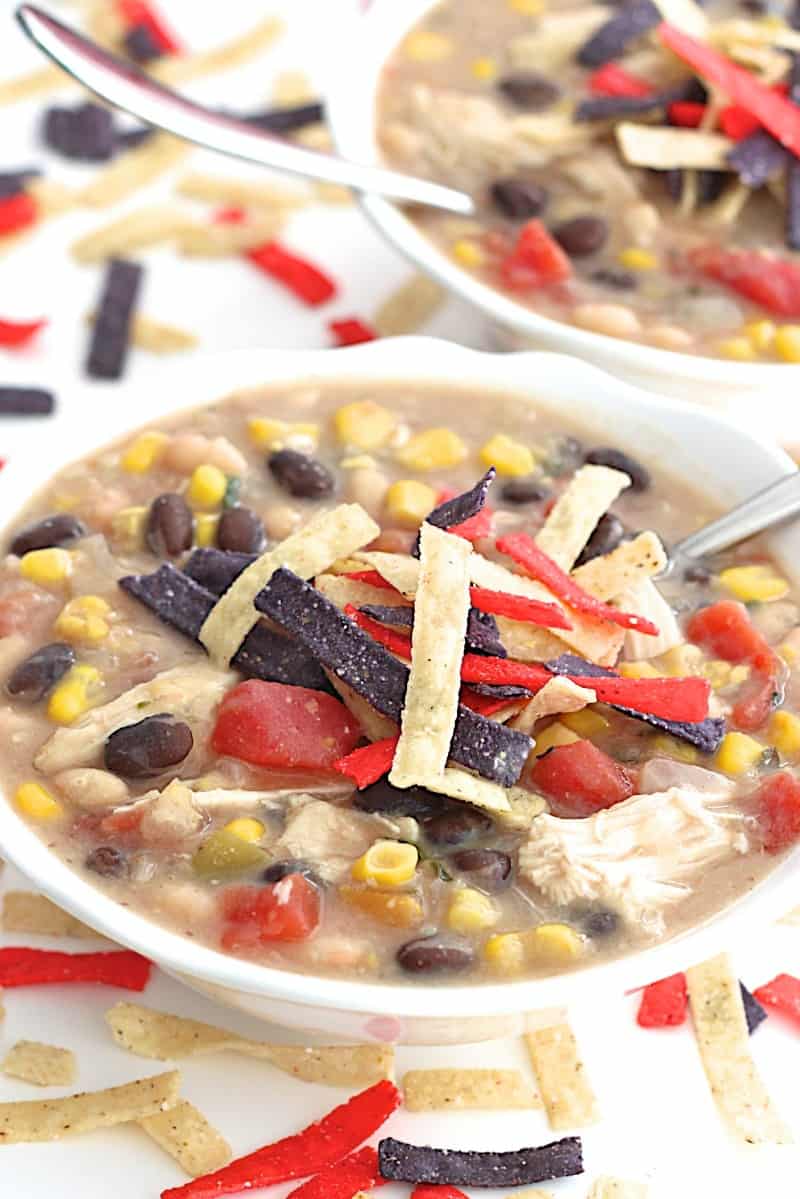 It's a hearty yet healthier soup loaded with beans, veggies and chicken with the perfect blend of spices. I was on a mission to recreate its tastiness exactly, but guess what?! I'm pretty confident I made it even tastier. 🙂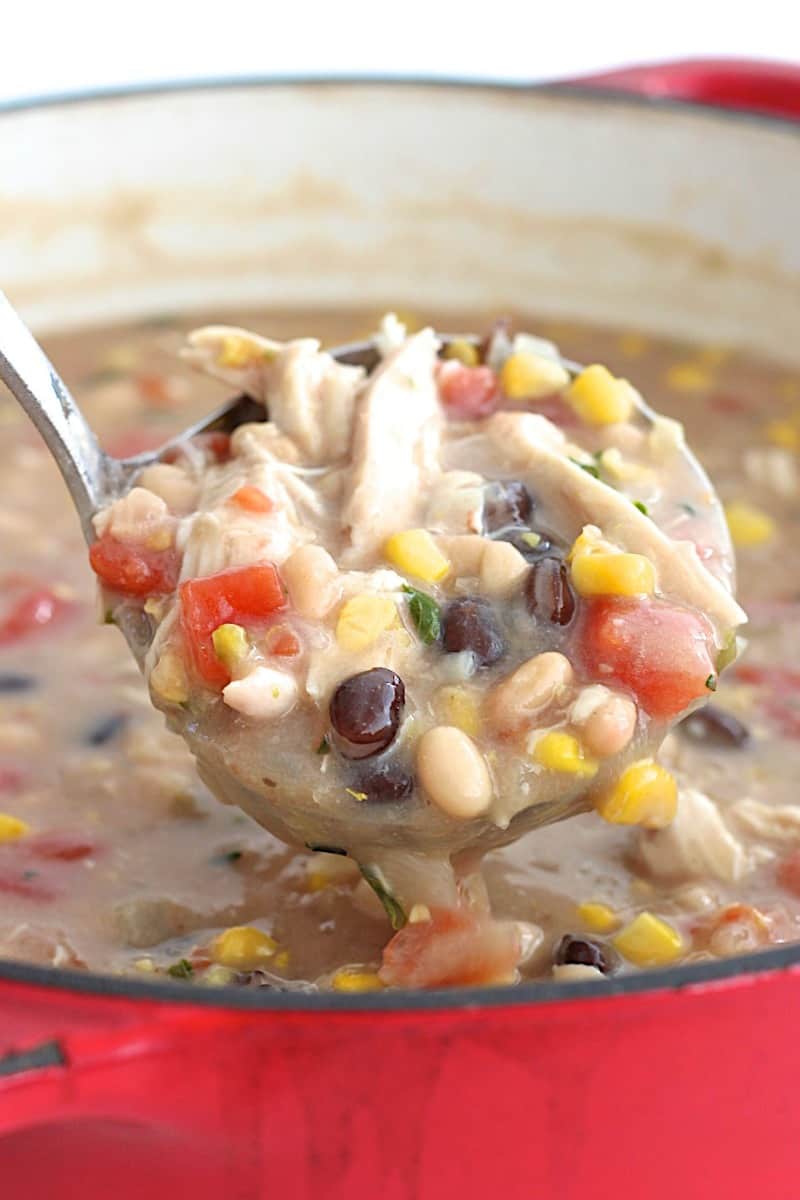 Depending on where you live in proximity to a Chick-fil-A, this homemade version might be quicker and easier to make than driving there to get it. Or at least it is for me, especially if I have all four kiddos in tow.
It's a one pot wonder that can be ready to enjoy in about 20 minutes.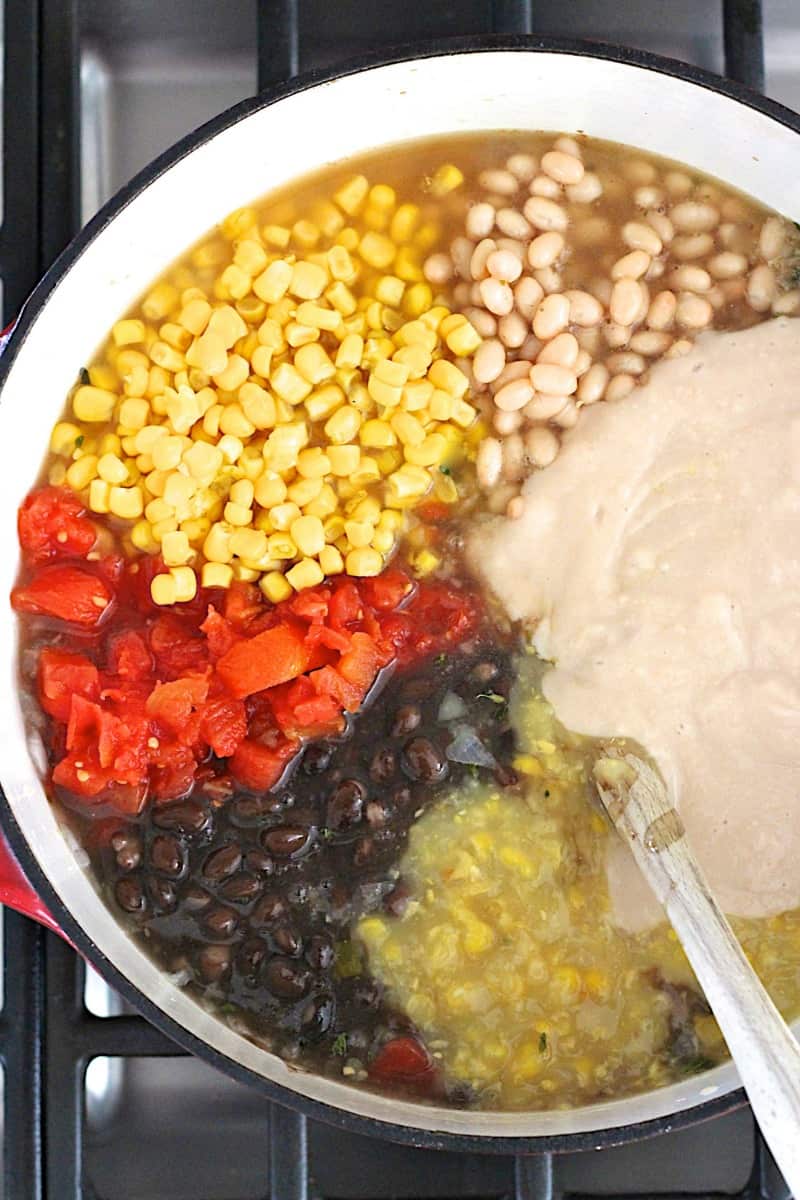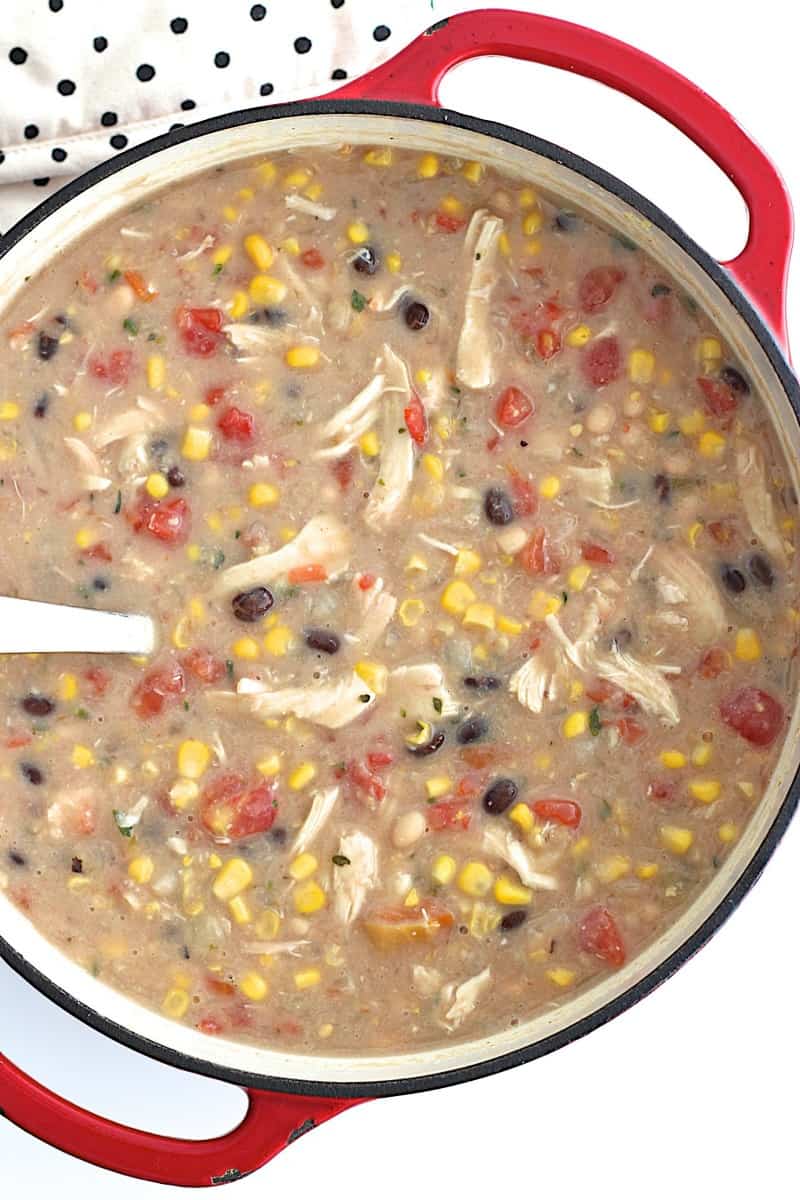 The creaminess of the soup comes from pureeing two cans of cannellini beans along with a can of cream-style corn instead of adding fatty cream or cream of "something" soup. This chicken tortilla soup is packed with protein, fiber, flavor and most importantly comfort.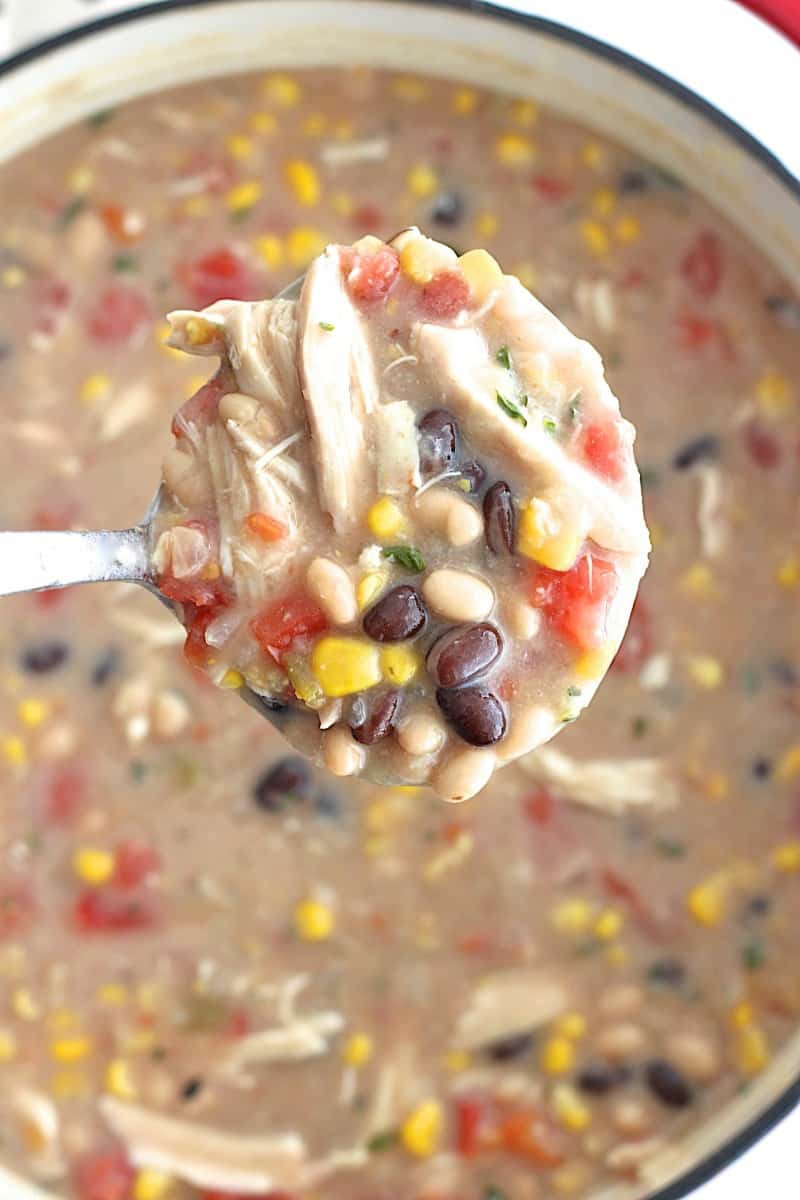 Since the boys always get chicken nuggets when we go to Chick-fil-A, they had never tried the yumminess that is their chicken tortilla soup. So when I recreated and perfected it at home, they quickly realized what they've been missing out on and why Mama is so excited to frequent Chick-fil-A in the winter months. 😉 They love my homemade version and now beg for it, especially with tortilla strips on top!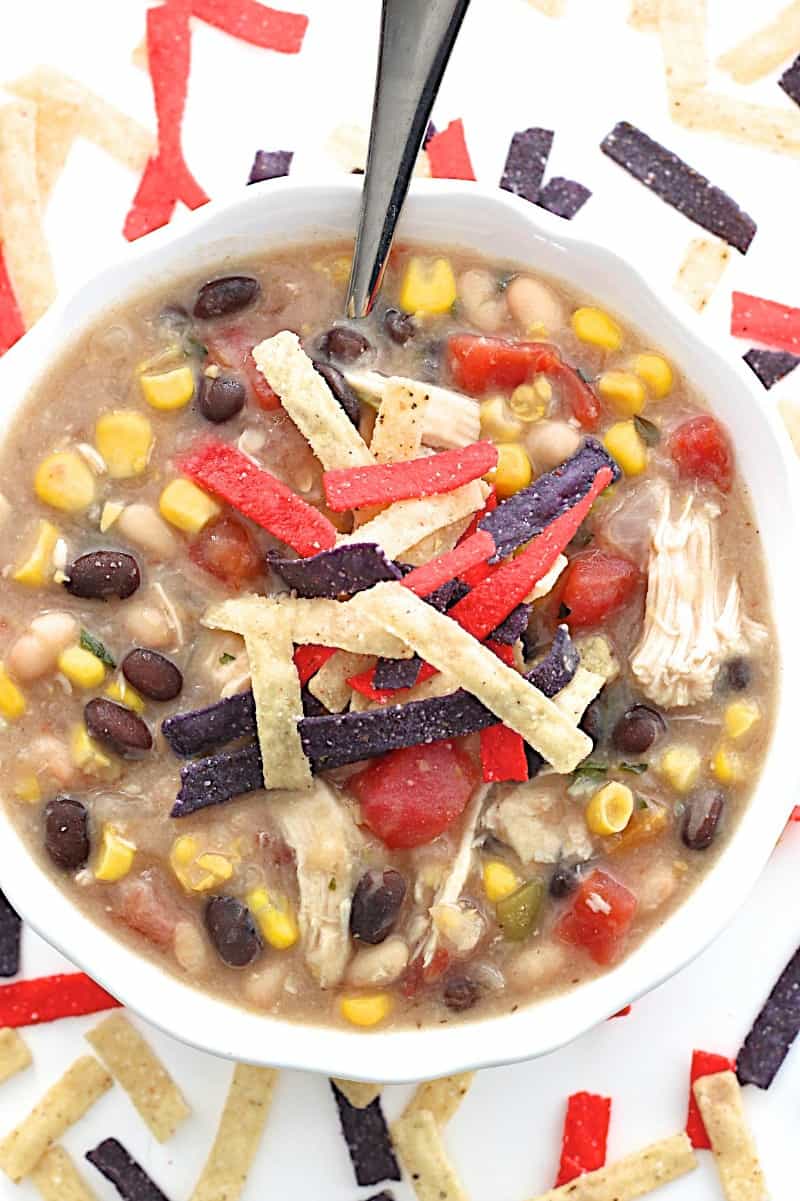 So get your soup on year-round and save yourself a trip through the drive-thru with this yummy chicken tortilla soup! Enjoy!
Homemade Chick-fil-A Chicken Tortilla Soup
A homemade take on Chick-fil-A's chicken tortilla soup that tastes even better than the original and that you can enjoy year-round and even on Sundays!
Author:
Maegan - The BakerMama
Ingredients
1 tablespoon canola oil
1 medium white onion, chopped
2 cloves garlic, minced
2 teaspoons cumin
2 teaspoons dried oregano
1 teaspoon kosher salt
3 (15 ounce) cans cannellini beans, separated
2 (10 ounce) cans diced tomatoes with green chilies (such as Rotel)
1 (15 ounce) can cream-style corn
1 (15 ounce) can whole kernel corn
1 (15 ounce) can black beans
1 rotisserie chicken, meat removed from bones & shredded (about 4 cups)
juice of 1 lime
more salt to taste
Tortilla strips or chips, for serving
Instructions
Heat canola oil in a large pot over medium heat. Add chopped onion and minced garlic. Let saute for about 5 minutes until onions become translucent. Stir in cumin, oregano and salt.
Meanwhile, puree 2 cans of cannellini beans in a blender until smooth. Do not drain beans of liquid before blending.
Add pureed beans, remaining can of cannellini beans, 2 cans diced tomatoes with green chilies, cream-style corn, whole kernel corn, black beans, and shredded chicken to onion mixture in pot. (Do not drain any cans of their liquid) Stir to combine. Let soup simmer over medium heat until heated all the way through. Add juice of 1 lime and season with salt to taste before serving. Serve with tortilla strips or chips.
Notes
Feel free to use just white meat from the rotisserie chicken and low sodium canned ingredients, if desired.