A healthy and hearty turkey quinoa chili with butternut squash and edamame for a comfort food fix that you can feel great about eating. You'll love it!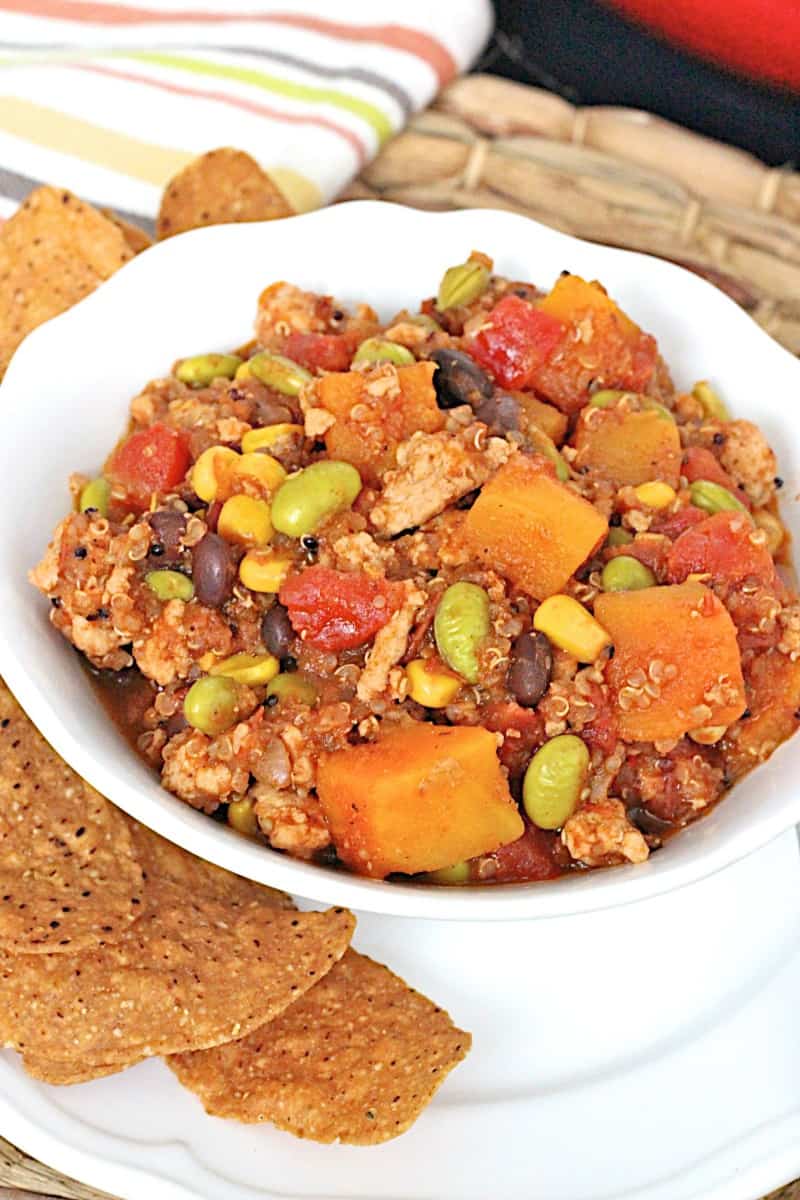 This is my kinda chili, y'all! I was craving chili one day, but wanted it to be super healthy with lots of veggies and protein so we could call it a meal and feel great about eating it.
I pretty much packed it with all of my favorites! Lean turkey, hearty quinoa, sweet butternut squash, protein-packed edamame, black beans, corn, and tomatoes along with all the familiar flavors of classic chili. Mmmm…mmmm!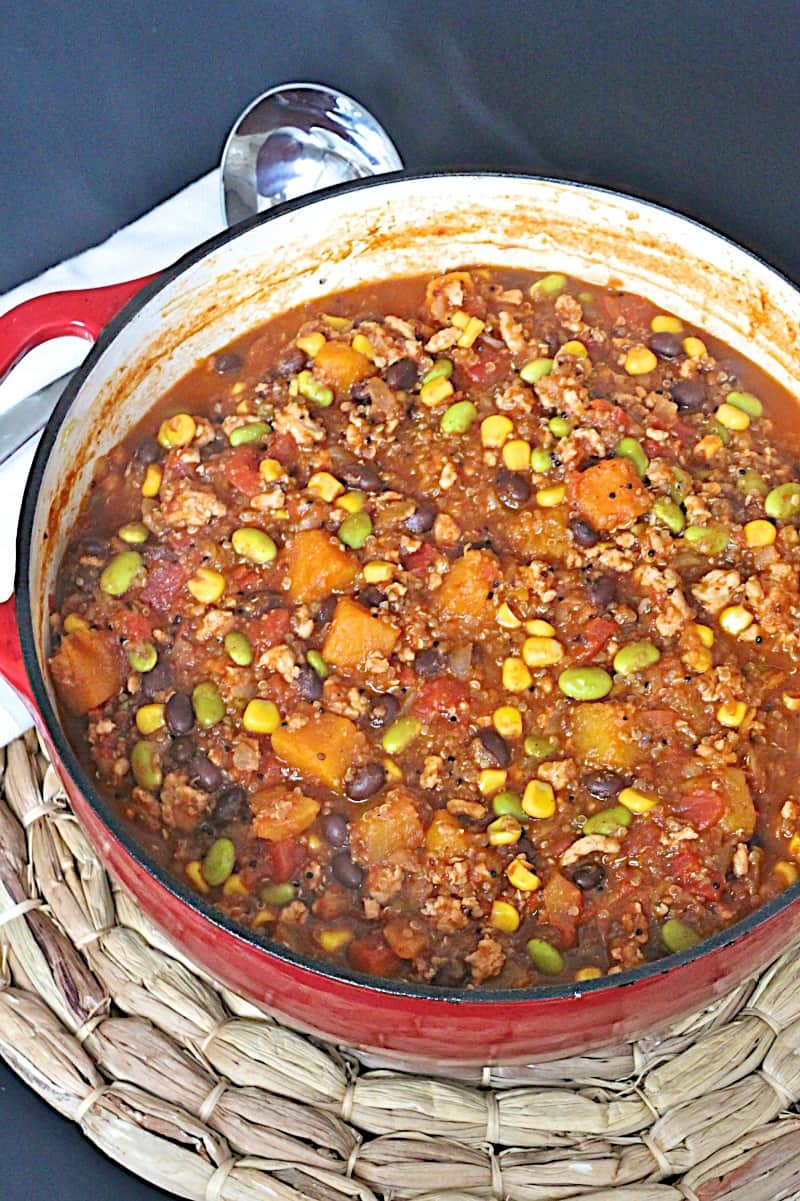 We love it so much that I've made it every week since I first created it. The boys devour, I enjoy the leftovers for lunch throughout the week, and I've even made it for a few families that just had babies and it's gotten nothing but rave reviews! Woo-hoo!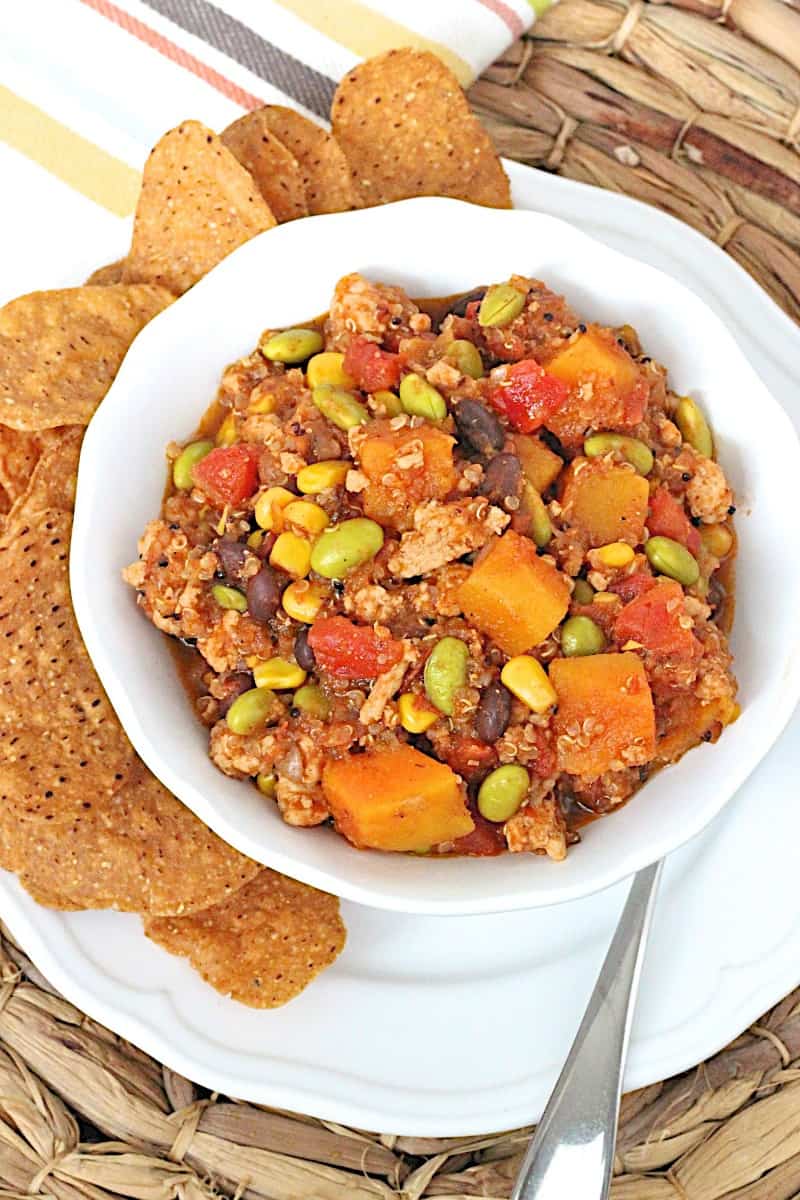 Enjoy!
~Maegan
[printfriendly]
Turkey Quinoa Chili with Butternut Squash and Edamame
Ingredients:
1 medium yellow onion, chopped
2 cloves garlic, minced
1.25 pounds lean ground turkey
2 tablespoons chili powder
2 teaspoons cumin
1/2 teaspoon salt
1/4 teaspoon black pepper
1 (28 ounce) can crushed tomatoes
2 (10 ounce) cans diced tomatoes with green chilies (I used Rotel)
1 (15.5 ounce) can black beans
1 (11 ounce) can sweet corn kernels
1 cup low sodium chicken broth
2 cups cubed butternut squash
3/4 cup uncooked quinoa
1-1/2 cups frozen edamame beans
Directions:
In a large pot, sauté the chopped onion and garlic over medium heat for 3-5 minutes or until onions are translucent. Add the ground turkey and continue to cook until turkey is browned. Stir in the chili powder, cumin, salt and black pepper.
Add the crushed tomatoes, diced tomatoes, black beans and corn without draining the cans. Pour in the chicken broth and stir to combine. Add the butternut squash and quinoa and let simmer over low heat for 30-45 minutes or until butternut squash is tender and quinoa is translucent. Stir in the edamame and let simmer for an additional 10 minutes to cook the edamame.
Servings: 8-10
Prep Time: 15 minutes
Baking Time: 1 hour
Total Time (start to finish): 1 hour 15 minutes
[printfriendly]