These lunch and snack boards are such a fun way to feed everyone during the summer months. They can easily be made with little to no cooking and offer a great variety to make everyone happy!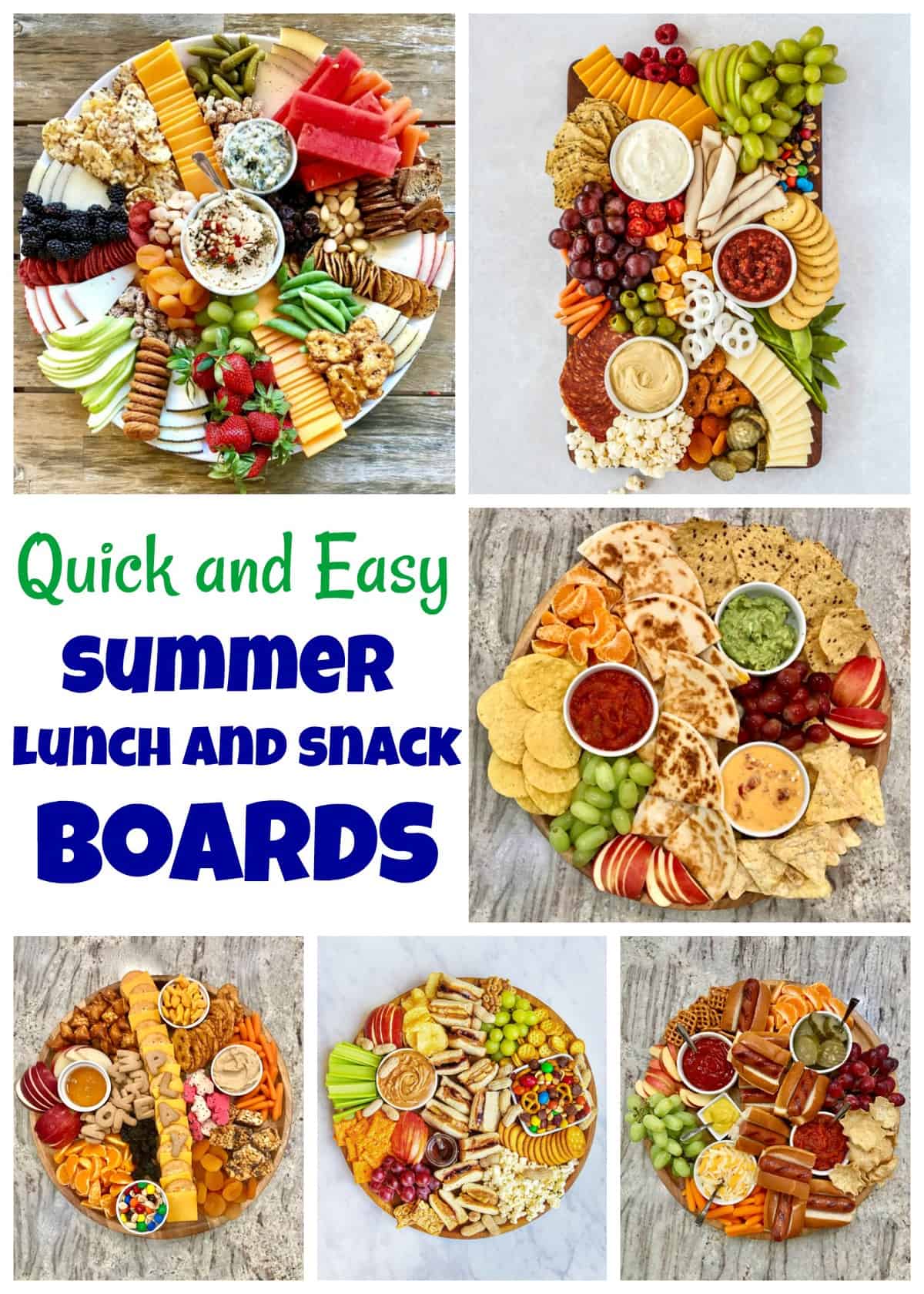 Hello, summer! I don't know about y'all, but in an effort to avoid hearing "I'm so hungry!" or "May I have another snack, please?!" every 30 minutes during these long summer days, I try to plan out our meals so that they're fun, filling and fueling.
These quick and easy lunch and snack boards I've created over the years make it so simple to satisfy everyone's hunger and the best part is that they double as an activity. They're all made with ingredients that are often staples in our fridge and pantry and offer a good variety of treats and healthy options. I encourage you to use these boards as inspiration for feeding your family this summer. Build your boards with foods that you have on hand and have fun with them. They're sure to be a summertime staple!
When your crew can't agree on what to have for lunch, this PB&J and Mini Corndog Snack Tray is sure to please everyone. Just add a little of this and a little of that from your fridge and pantry and ta-da! So easy and makes everyone happy happy!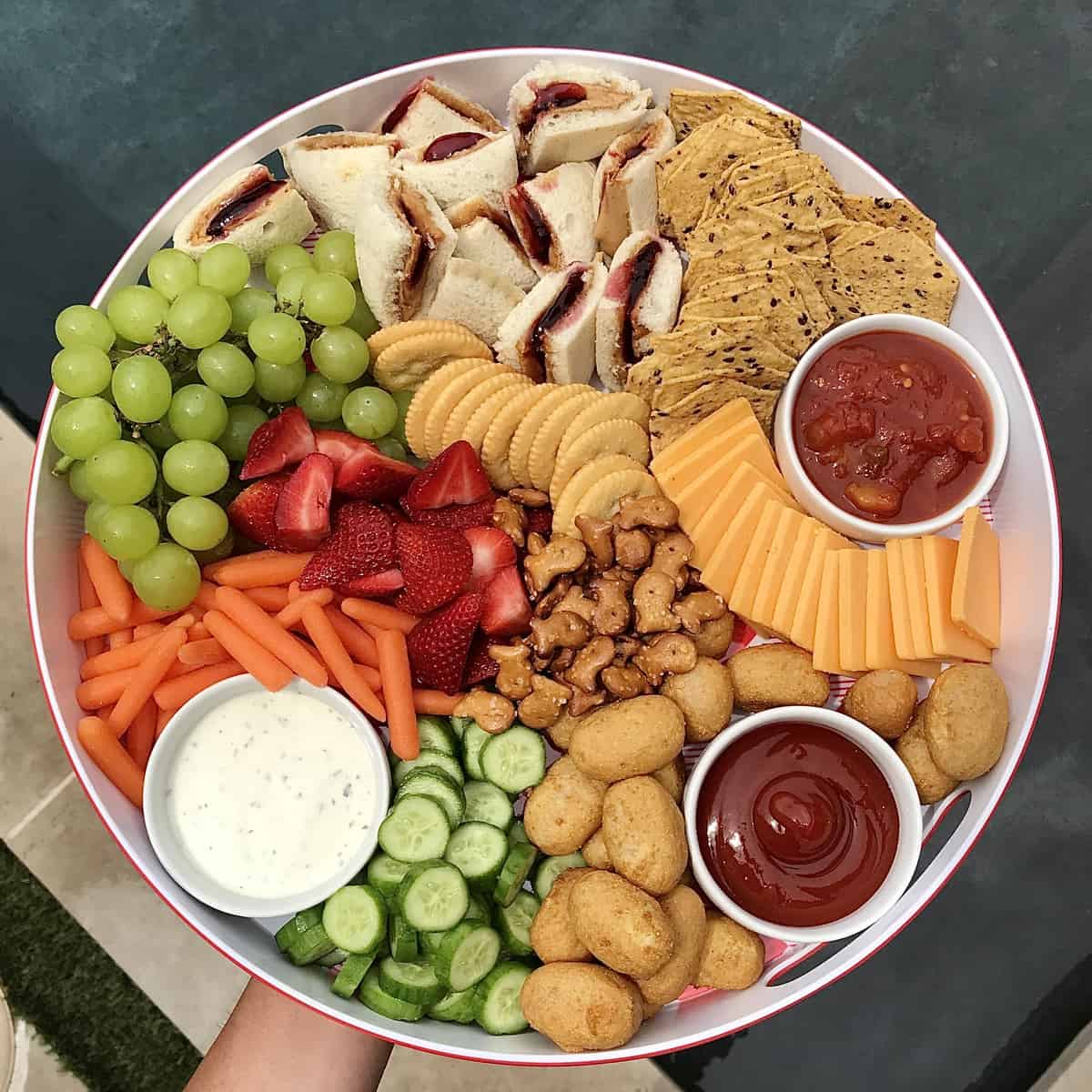 When the day calls for a snack lunch, this board has you covered! Quartered grilled cheese and PB&J sandwiches, a variety of fruits and veggies, and some yummy crunchy snacks like heart-shaped crackers, goldfish, Pringles, roasted plantain chips, popcorn chips, jumbo Inca corn, yogurt-covered pretzels and honey sesame almonds. So much yum & something for everyone!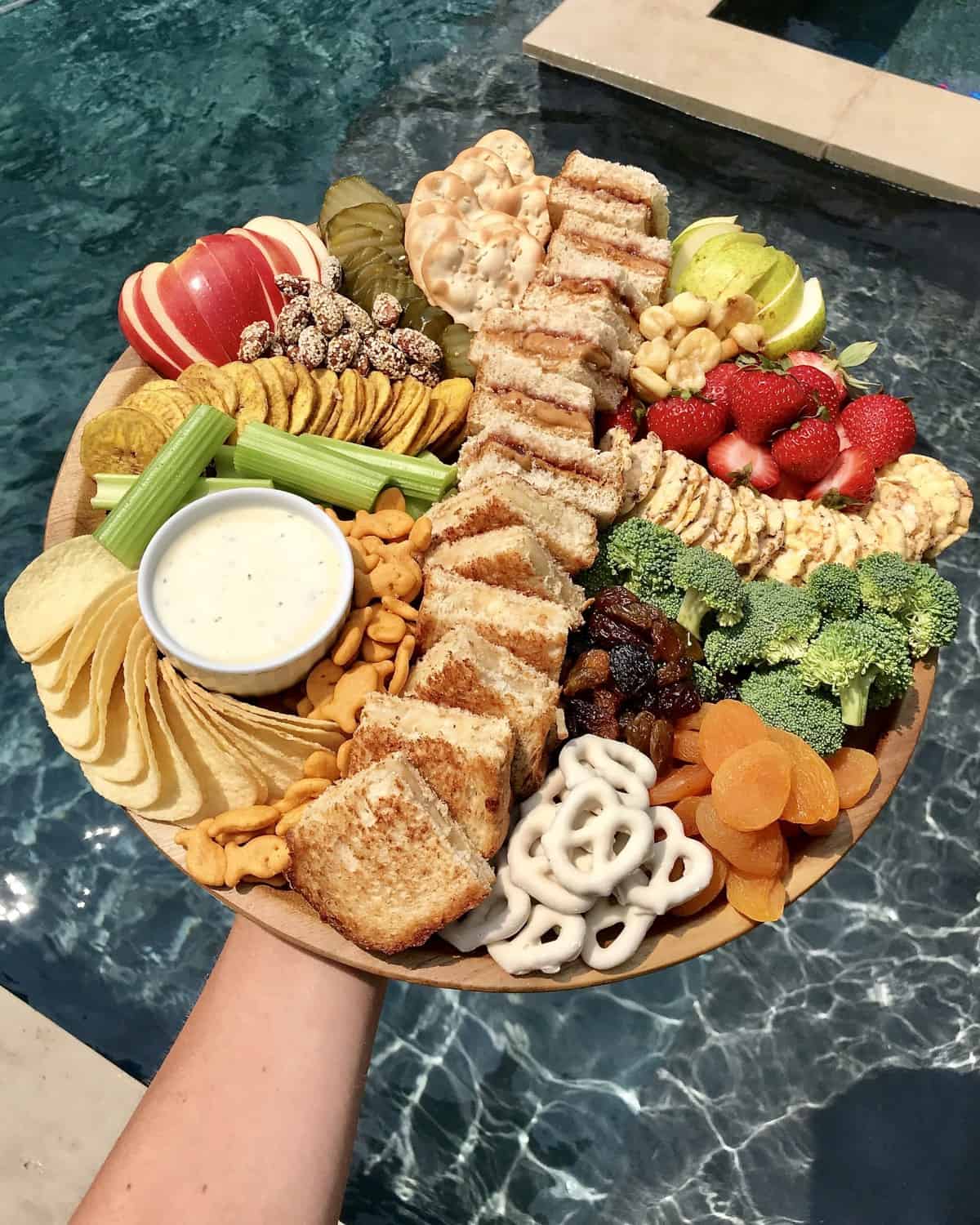 I keep our snack stash stocked with lots of goodies from Trader Joe's to make this board often. Trader Joe's such a great store to shop for a fun and healthy variety of snack foods to keep on hand. You can get all of the details, including a shopping list here. No cooking required and everyone's satisfied!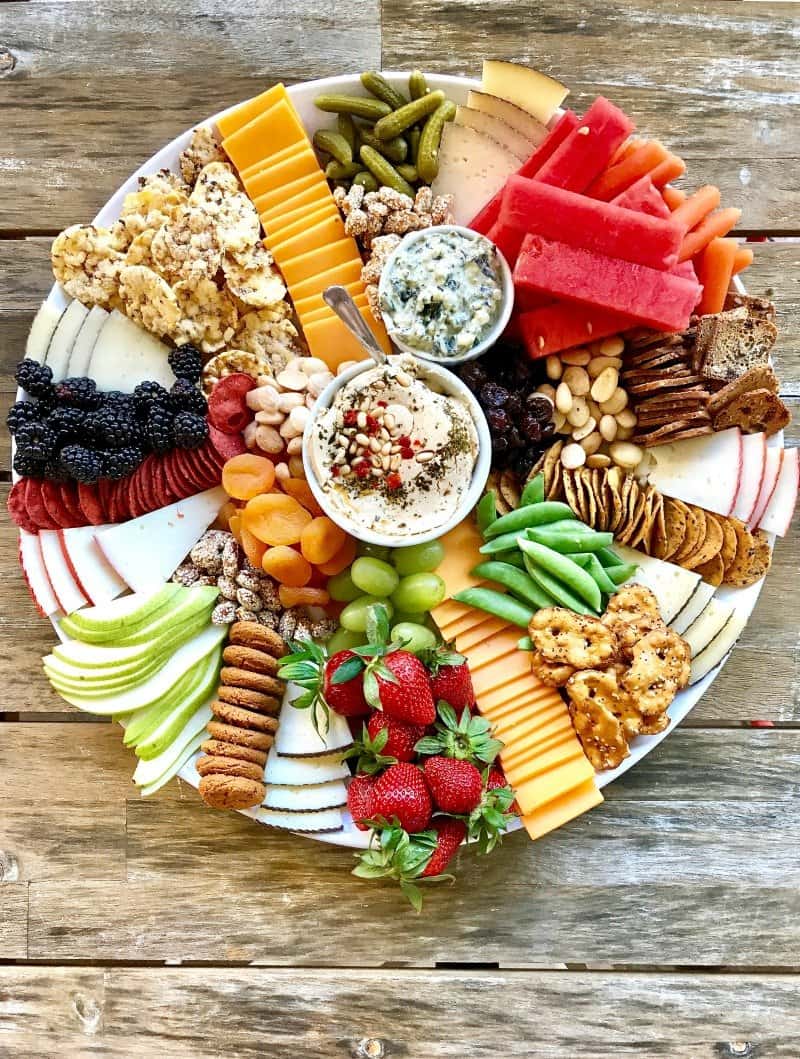 Pizza Toast and a mini fruit and veggie board is such a perfect lunch. Pizza Toast is obviously not real deal pizza, but it's delicious, easy and certainly satisfies for a quick lunch that we all enjoy! And if you haven't tried letting your kids serve themselves from a selection of veggies and fruits on a board, it's worth the try. Our kiddos gobble them up when they get to serve them to themselves.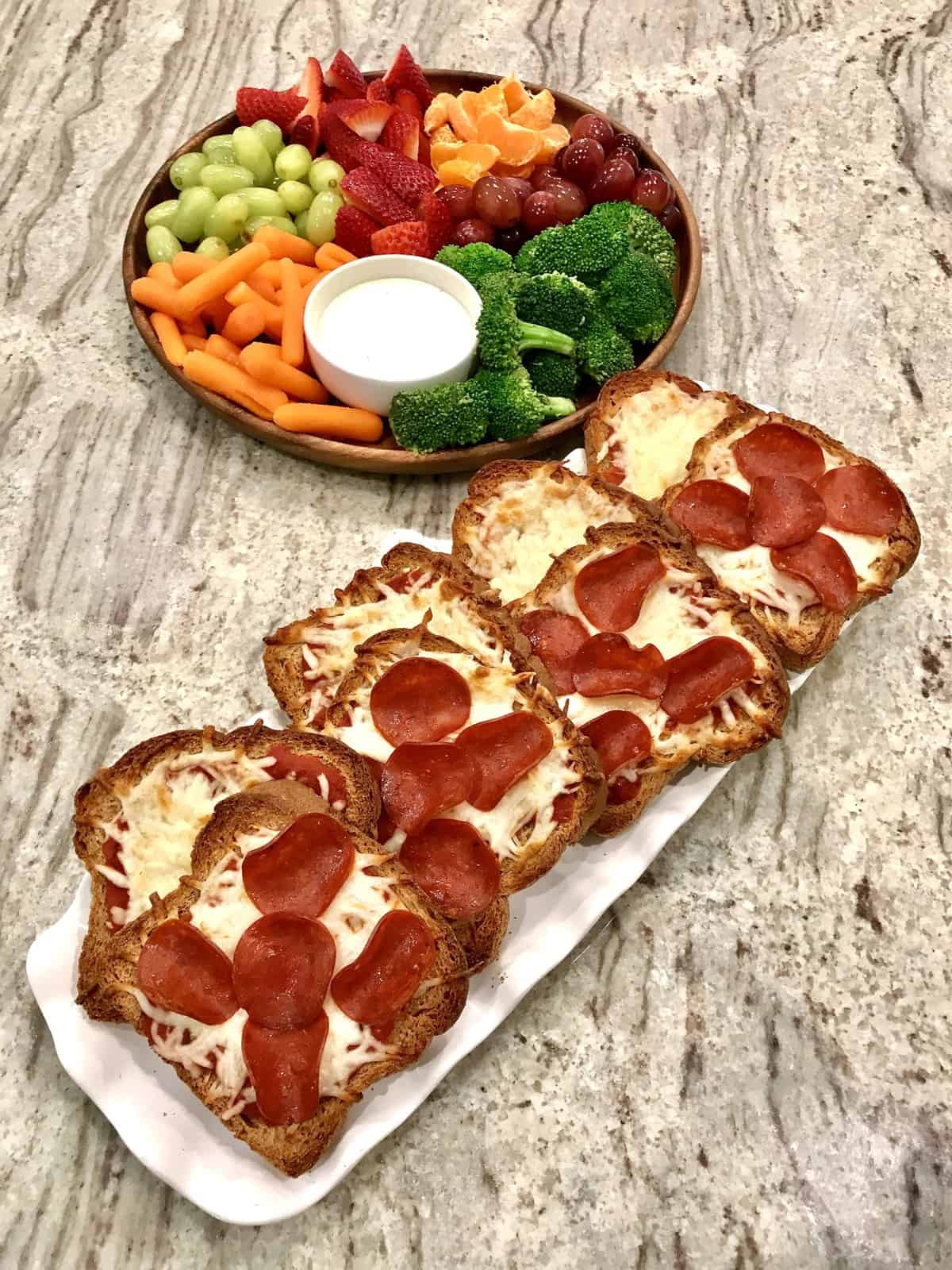 Peanut butter and banana sandwiches, Popcorn, Pretzels and Peaches. This lunch is sure to Please your crew!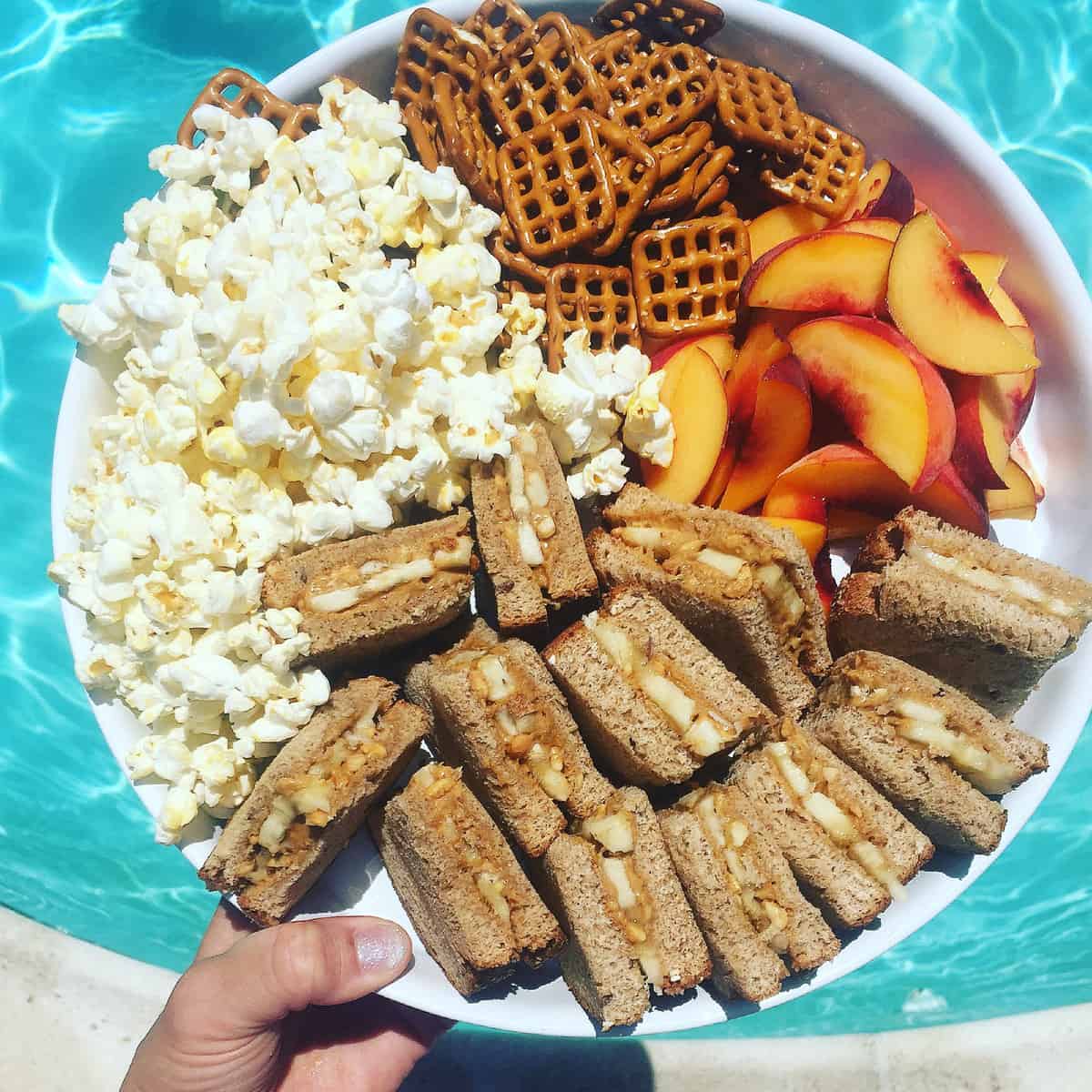 Take snack time outside this summer with a Picnic Snack Tray! An easy, fun and yummy way to make summer extra special!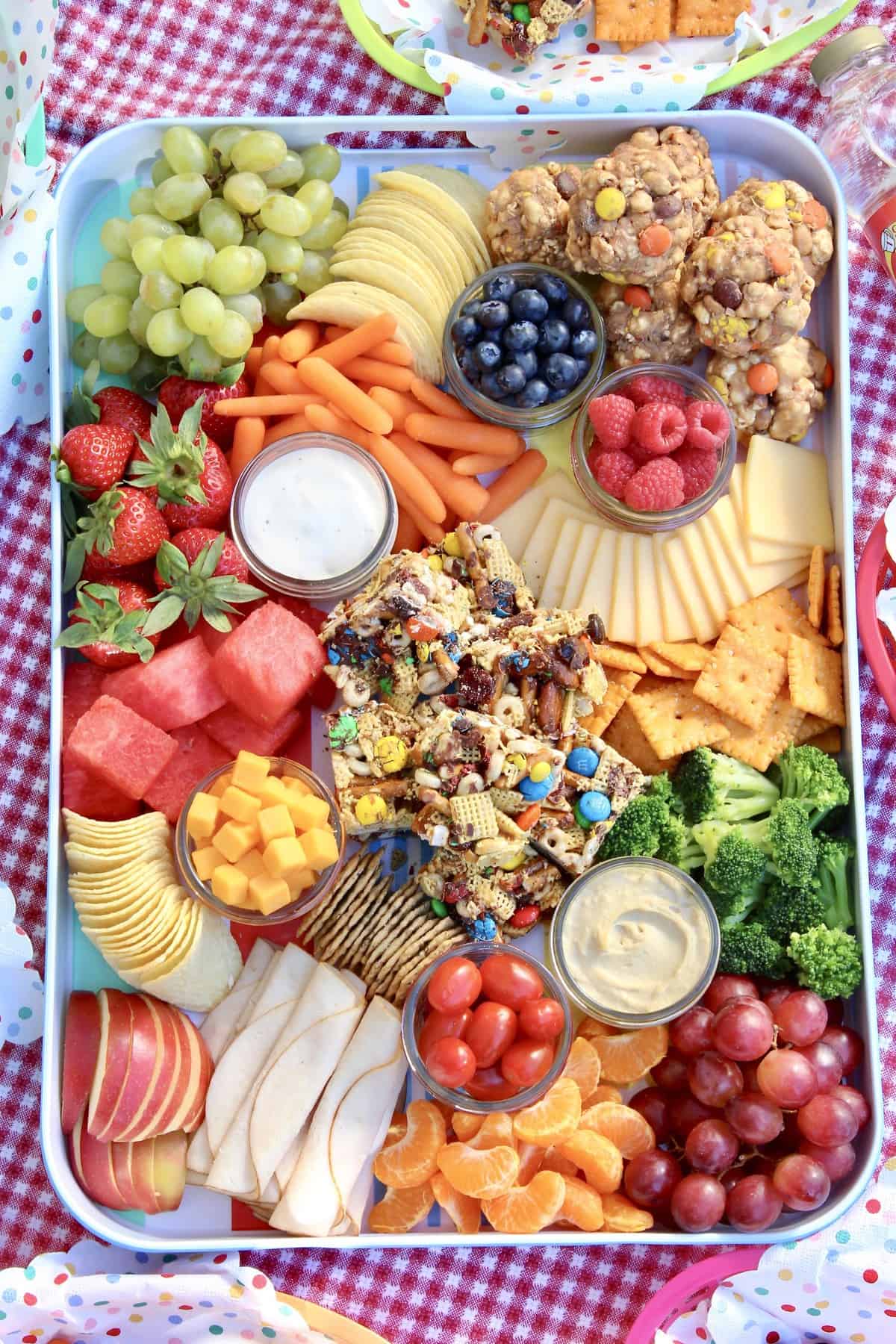 Hot diggity dog, everyone will go crazy for this Hot Dog Board that offers grilled hot dog halves with an amazing selection of toppings and snacks to go with them. It's an easy, fun and delicious way to serve hot dogs!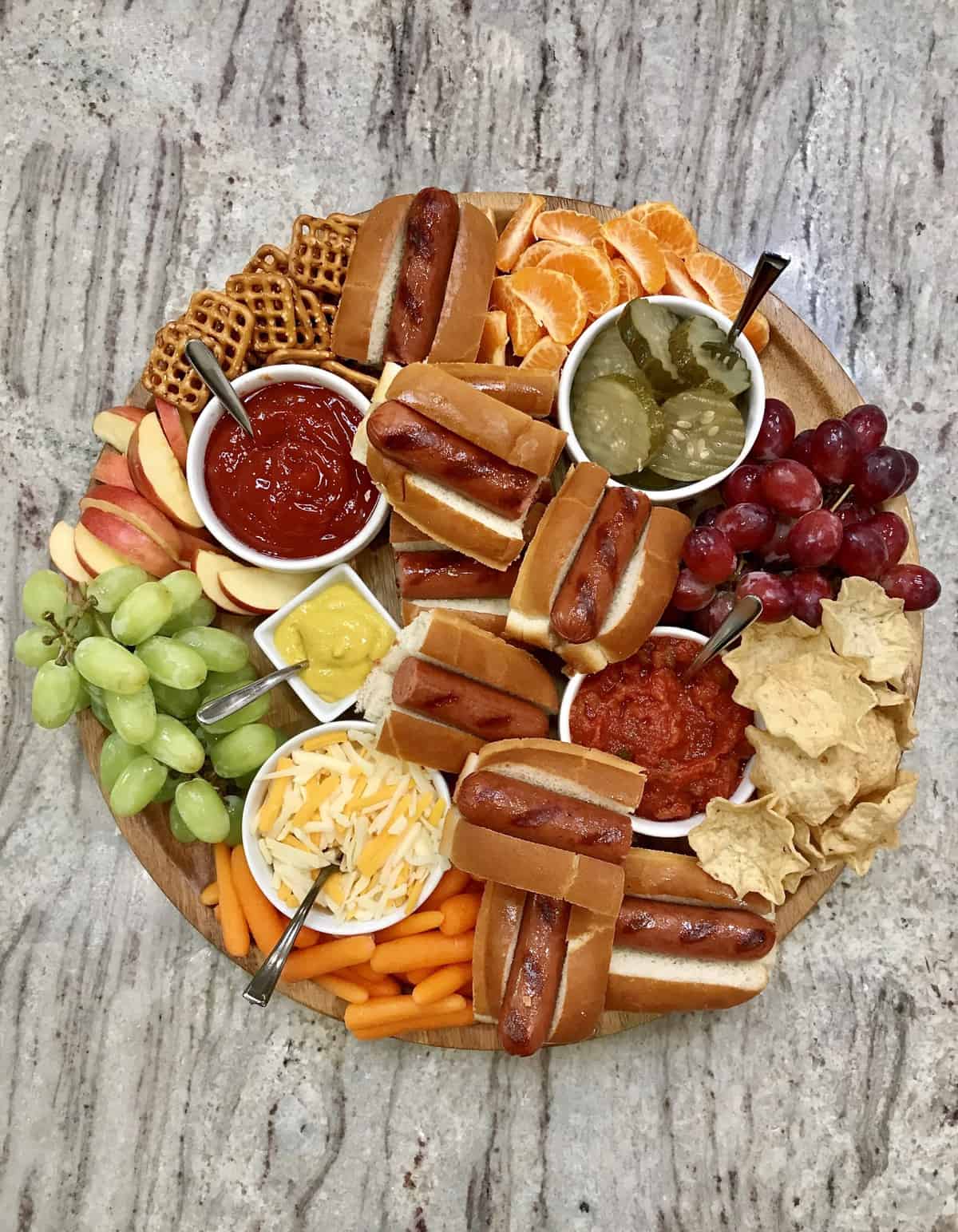 Make it a Hot Dog Tray with chips and dips along with healthy fruits and veggies. So simple yet satisfies everybody!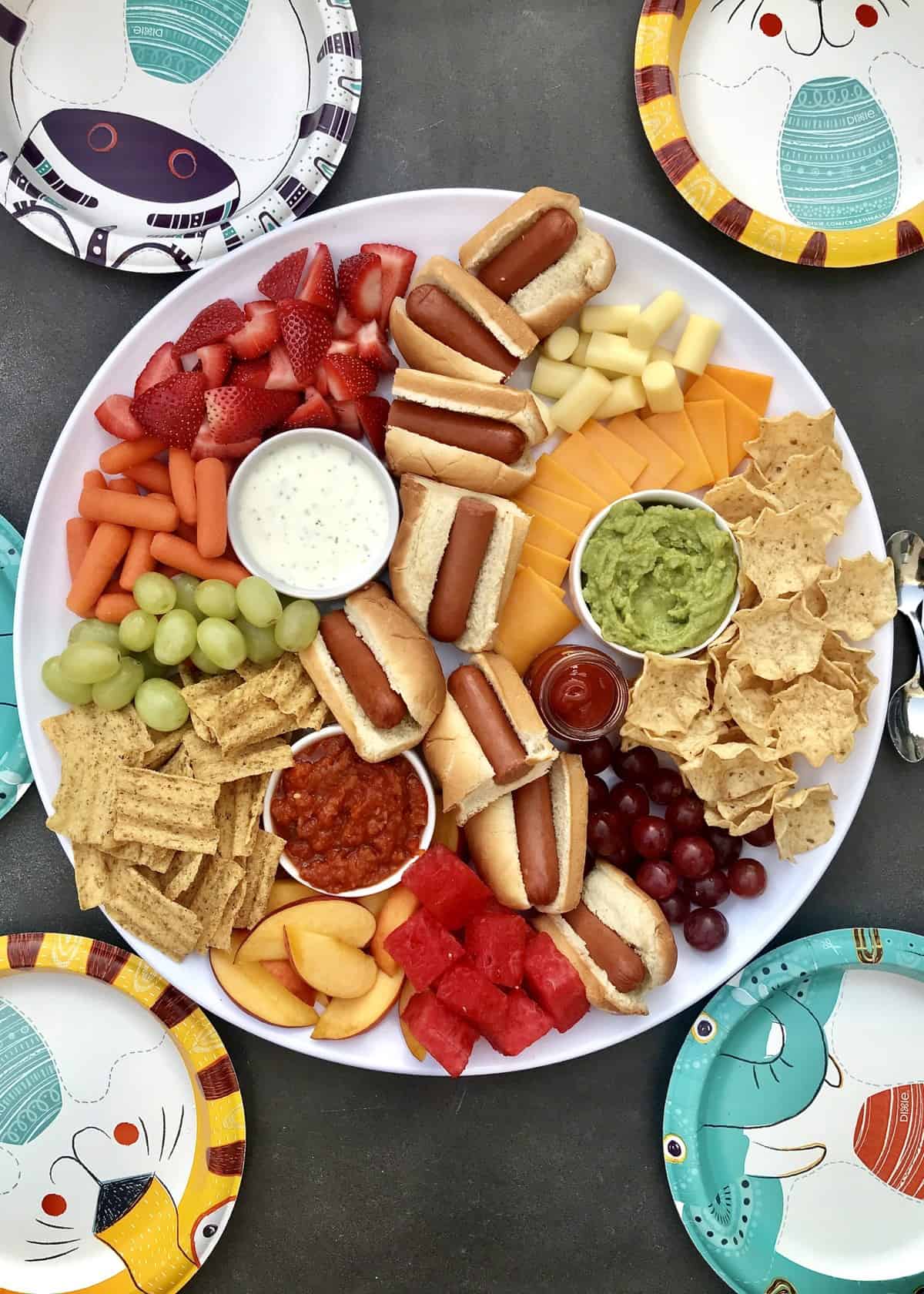 If your crew is craving the comfort of a grilled cheese with some tomato soup to dip it in, this Grilled Cheese Board from my Beautiful Boards cookbook is the ultimate when it comes to comfort food. With classic grilled cheese strips, bacon & cheddar grilled cheese quarters, and brie & fig jam grilled cheese crostinis, it's so fun to eat and satisfies everyone around it. Perfect for a rainy summer day! You can find all the details, including the awesome grilled cheese sandwich recipes & my tips for making a great grilled cheese, in my Beautiful Boards cookbook (pages 128-129).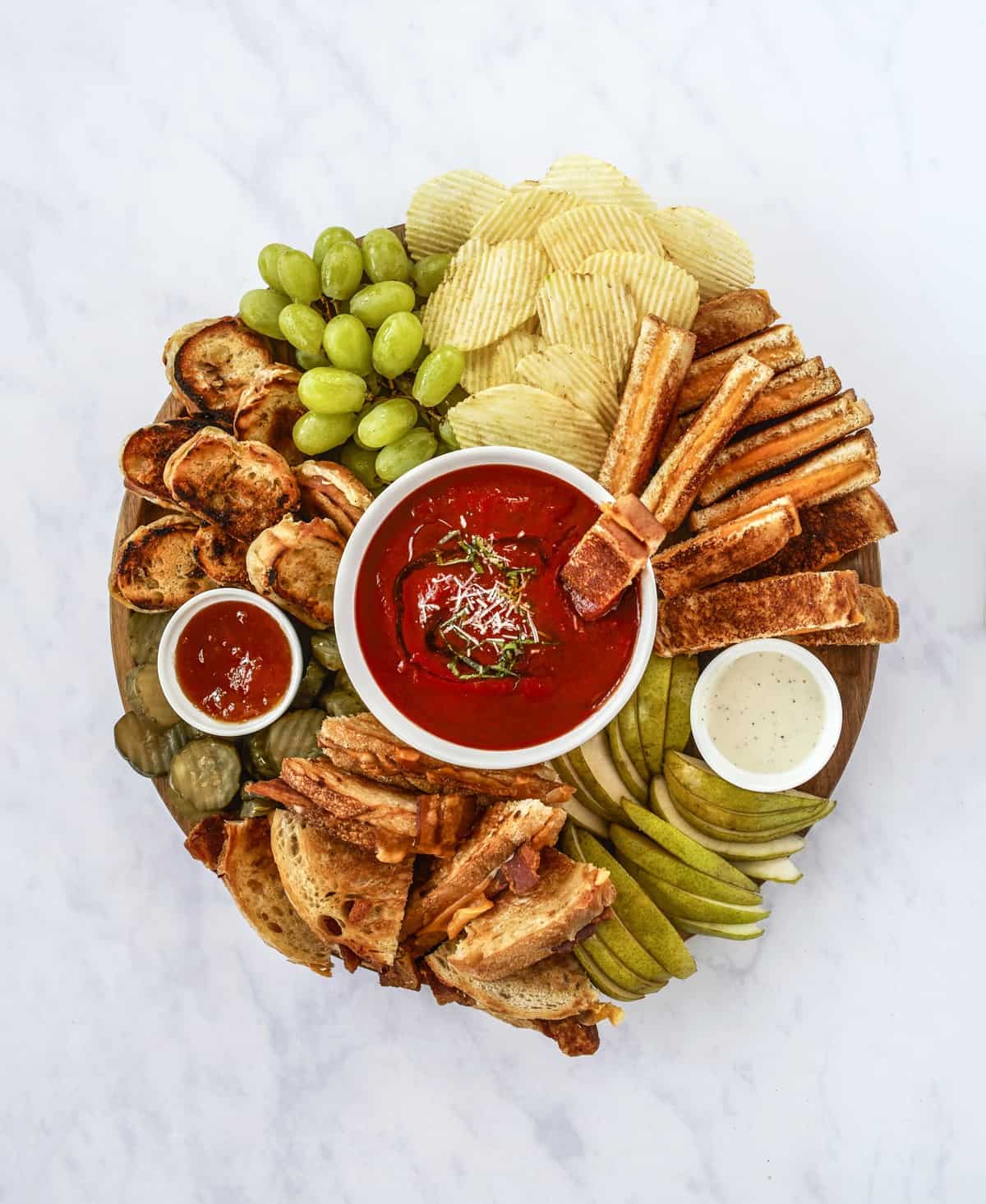 Kids and grown-ups alike will love this PB&J Snack Board with classic peanut butter and jelly sandwiches and an amazing selection of snacks to go with them. I had to include our favorite Peanut Lovers' Snack Mix on it. It's a simple mix of pretzels, peanuts, chocolate candies, dried cranberries and peanut butter morsels. We keep a jar of this snack mix on hand at all times. It's such a treat that satisfies all our snack cravings from sweet to salty and crunchy to chewy.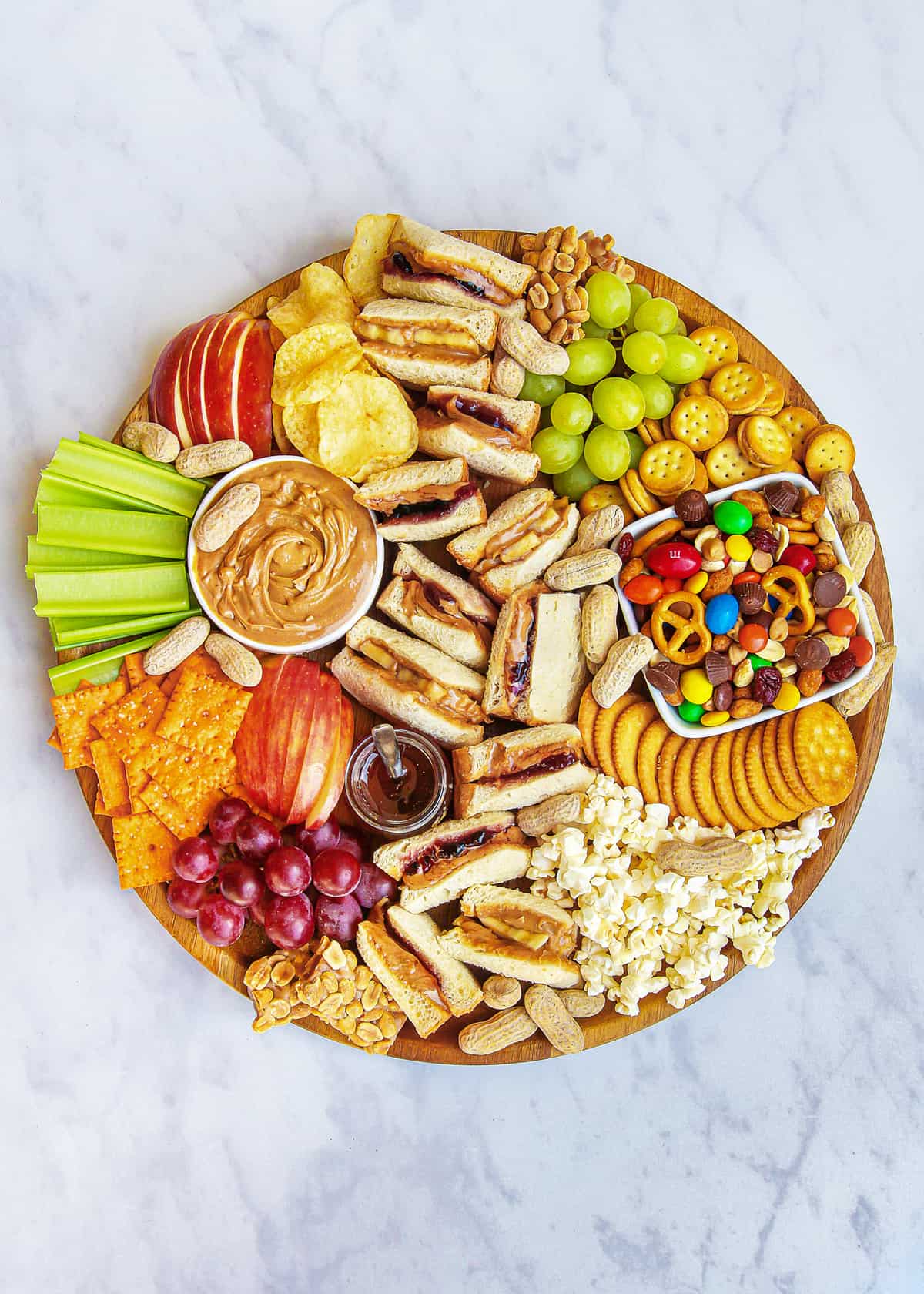 One of our favorite dinners is a Build-Your-Own Taco Board and this Quesadilla Board often follows as lunch the next day as we already have everything on hand to accompany the quesadillas, most importantly, The Best Blender Guacamole and Homemade Salsa.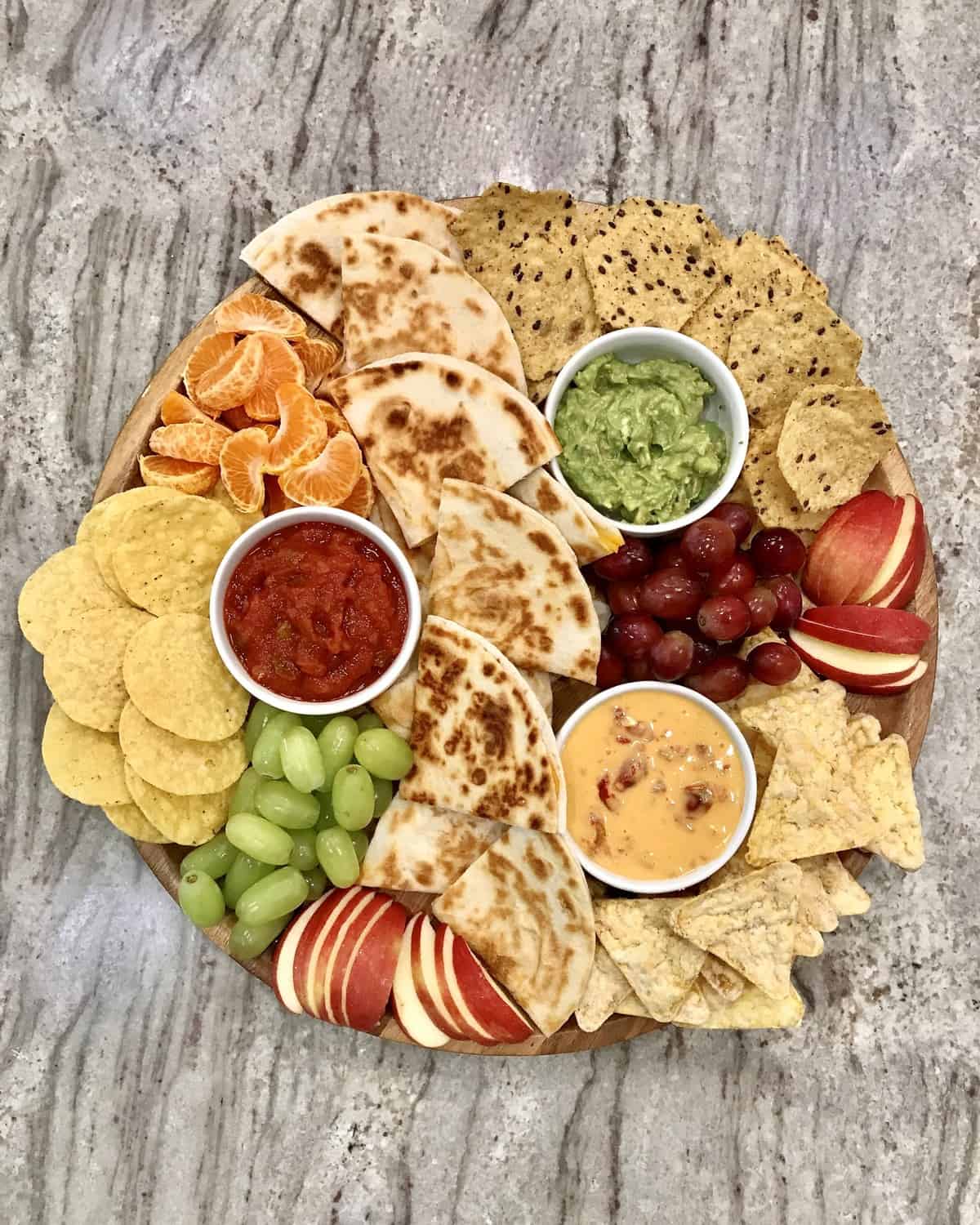 Top-Your-Own Mac & Cheese, please & thank you! We sure love my Stovetop Mac & Cheese with a variety of toppings to choose from to add to it for a yummy lunch. Makes the meal an experience that we all enjoy.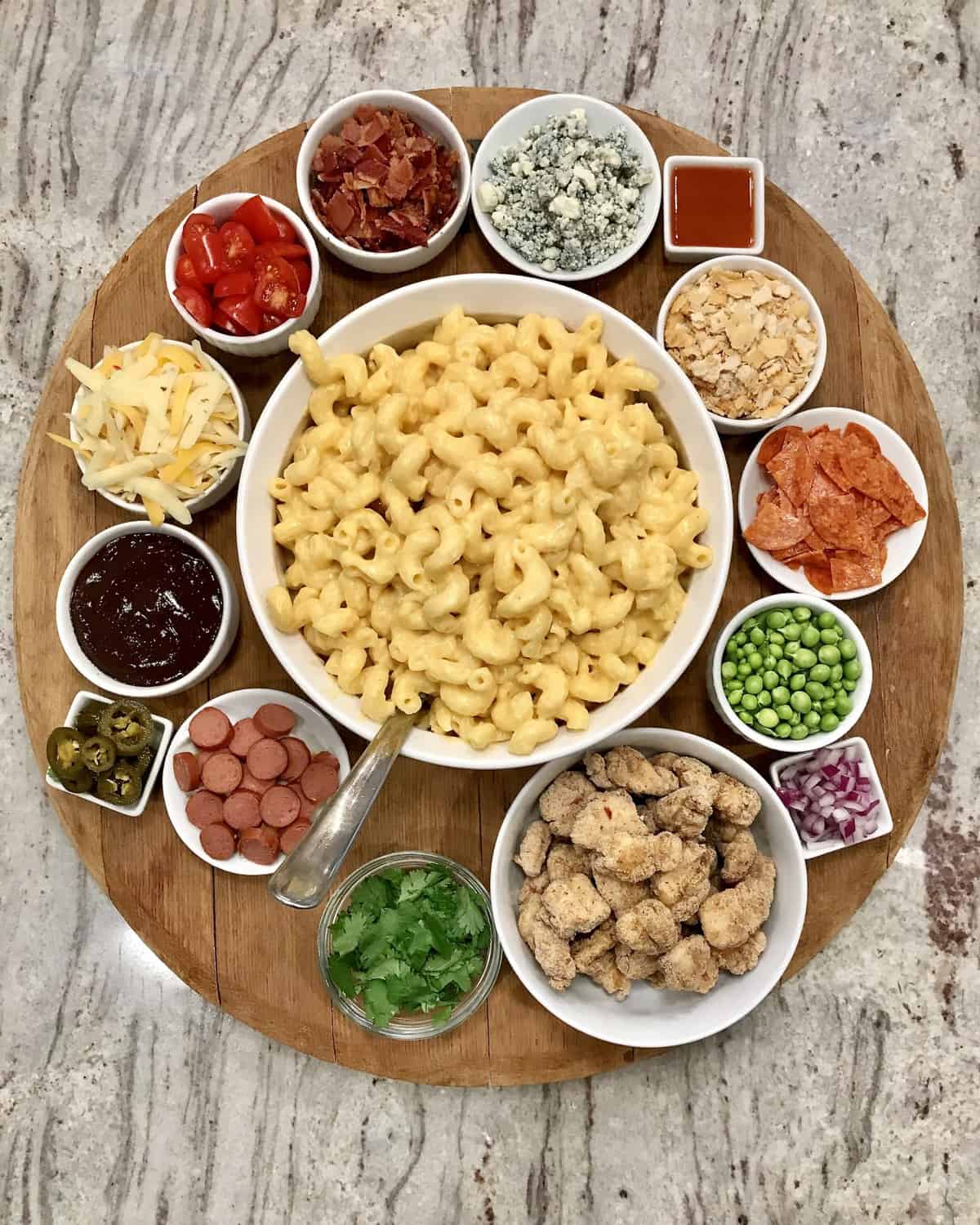 Use whatever you have on hand in the fridge or pantry to create a fast, simple and healthy snack or lunch board. It's a great way to reinvent leftovers or introduce foods that might not otherwise be tried. It's also the best way to feed people without having to cook. A board like this can be ready to serve in 15-20 minutes. This Everyday Snack Board is from my Beautiful Boards cookbook!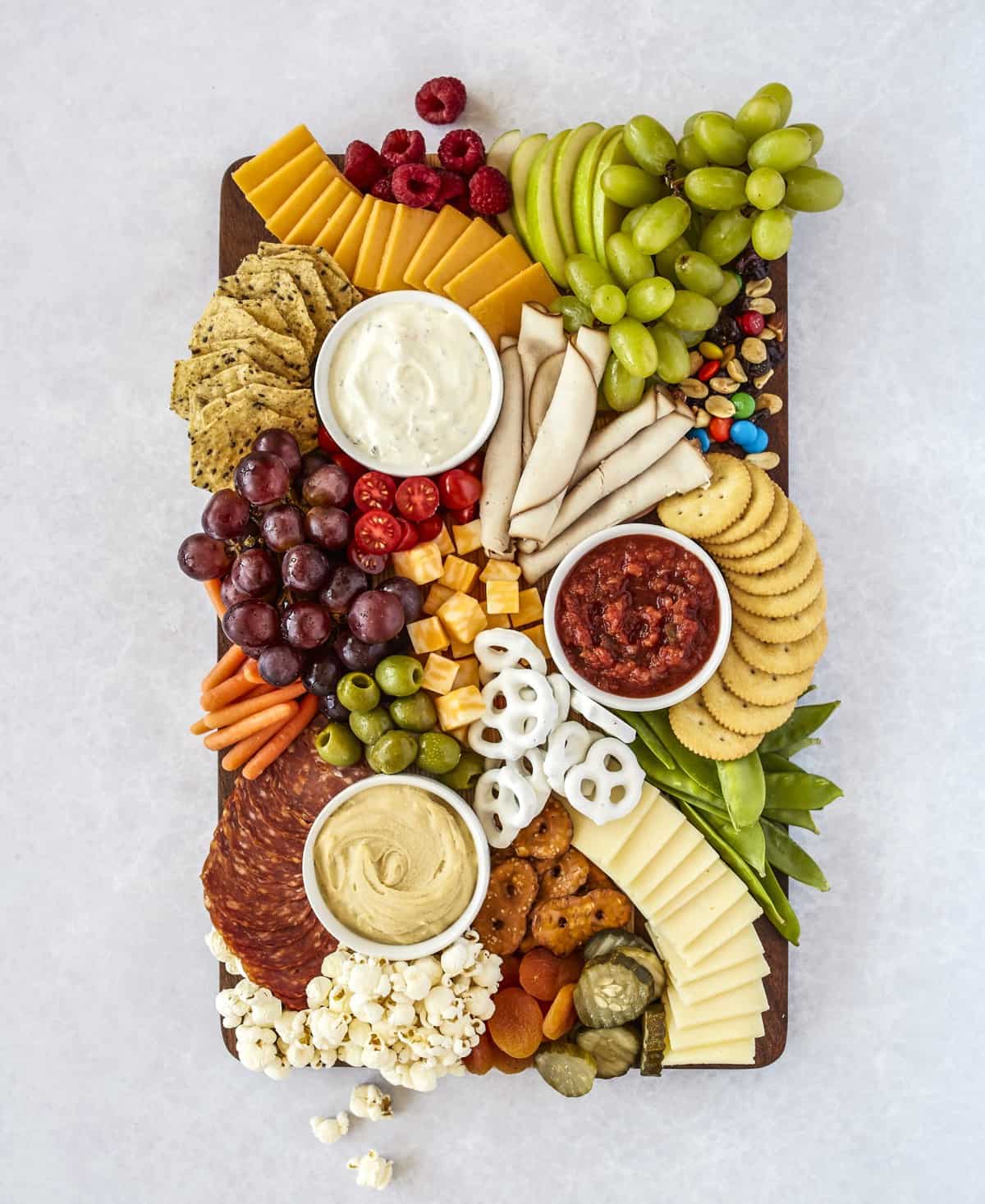 Another everyday snack board filled with snacks that can all be found at Trader Joe's. What can I say, I'm obsessed! Salsa, hummus, ranch, spinach + kale greek yogurt dip, pepperoni, turkey, cheddar cheese, swiss cheese, green grapes, red grapes, pita chips, corn chip dippers, pretzel sticks, fig + olive crisps, baby carrots, sugar snap peas, apple slices, sesame honey almonds, candied pecans, dried apricots, dried cherries, yogurt covered pretzels. Yum, yum and more yum!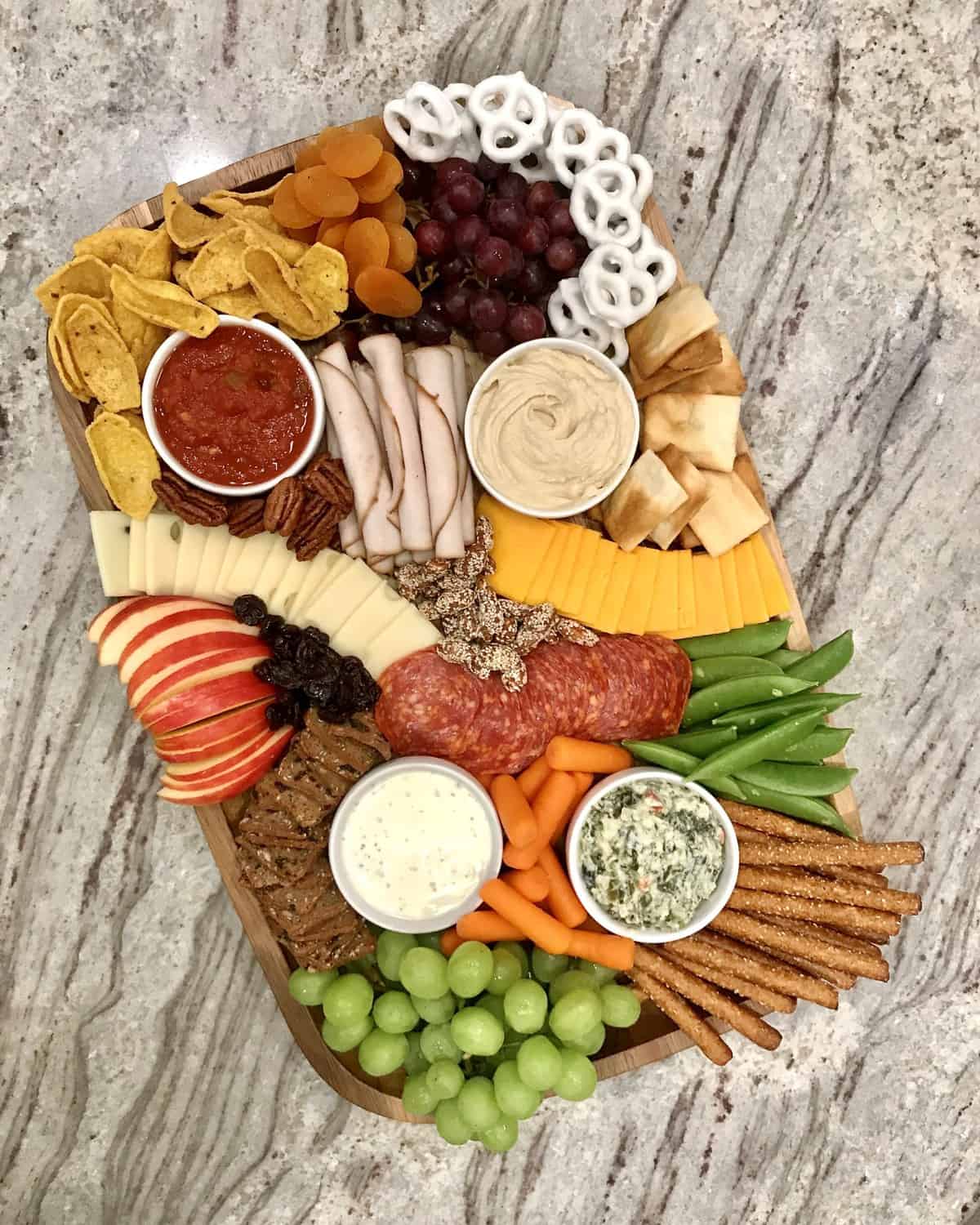 I can't stop, won't stop with the snack tray lunches because we all love them and everyone fills up with a good variety of food so they're not begging for a snack 30 minutes later. We just put a little of this and a little of that from the fridge and pantry on this tray. And, of course, this one is one of our favorites because the No-Bake Monster Cookie Balls are such a yummy treat!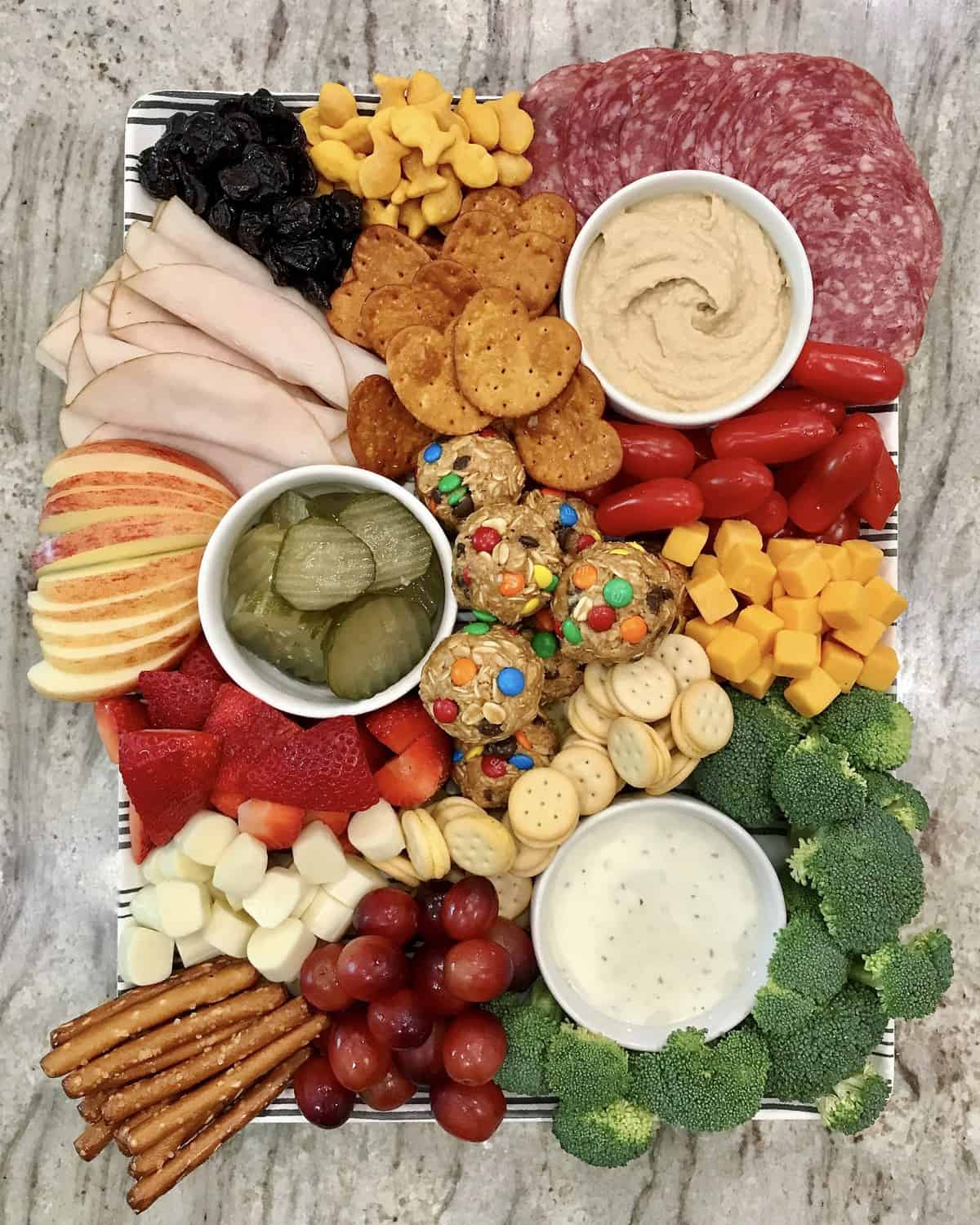 Another easy Everyday Snack Board to serve for lunch while using what you have on hand. I let the kids help gather foods from the refrigerator and pantry to put on this board. It gives them an activity and gets them even more excited about snacking on it for lunch.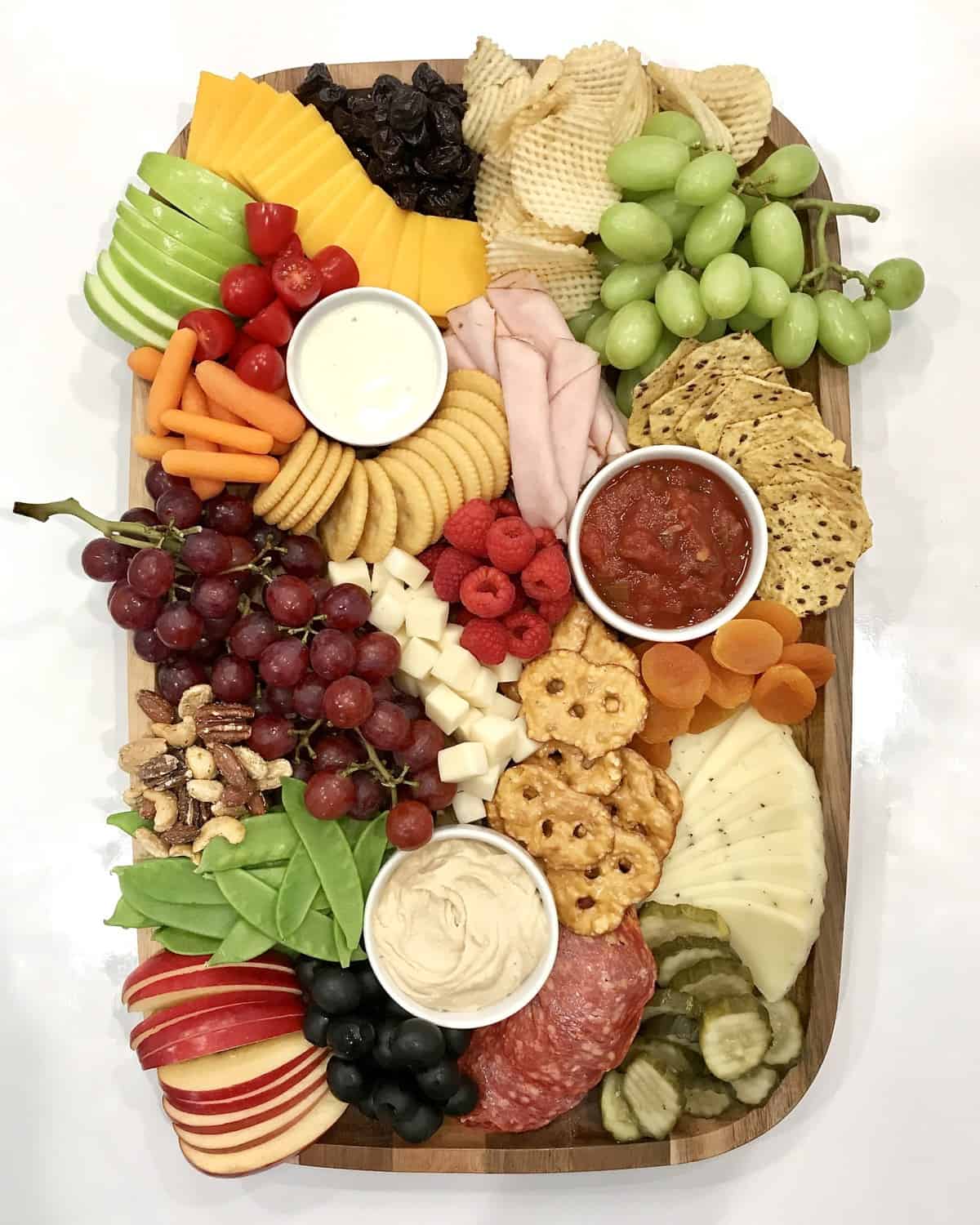 When the kids have friends over to play, I make a snack board with what we have on hand rather than let them raid our pantry for snacks at their own free will. I always keep these adorable and delicious cinnamon storybook cookies on hand for afternoons like this. I just leave this out on the island and let them run by and grab a snack as they're chasing each other around. Fun times! Yum times!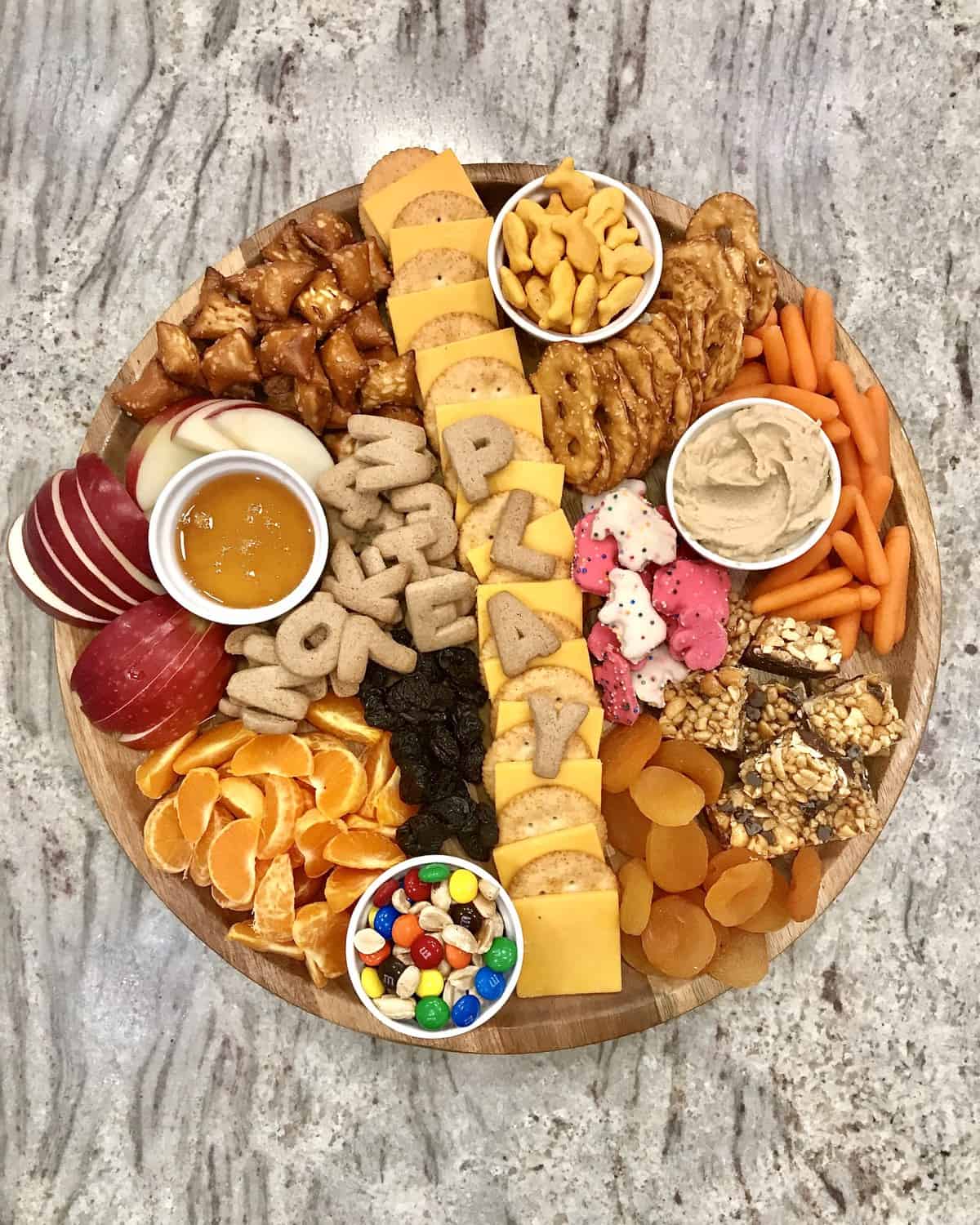 This Playdate Snack Board is an activity in itself with the build-your-own "ants on a log" or "fish in a river" and the alphabet cookies to spell and play word games with. My crew is obviously obsessed with this board and I am too. So much fun & yum! This snack board is from my Beautiful Boards cookbook…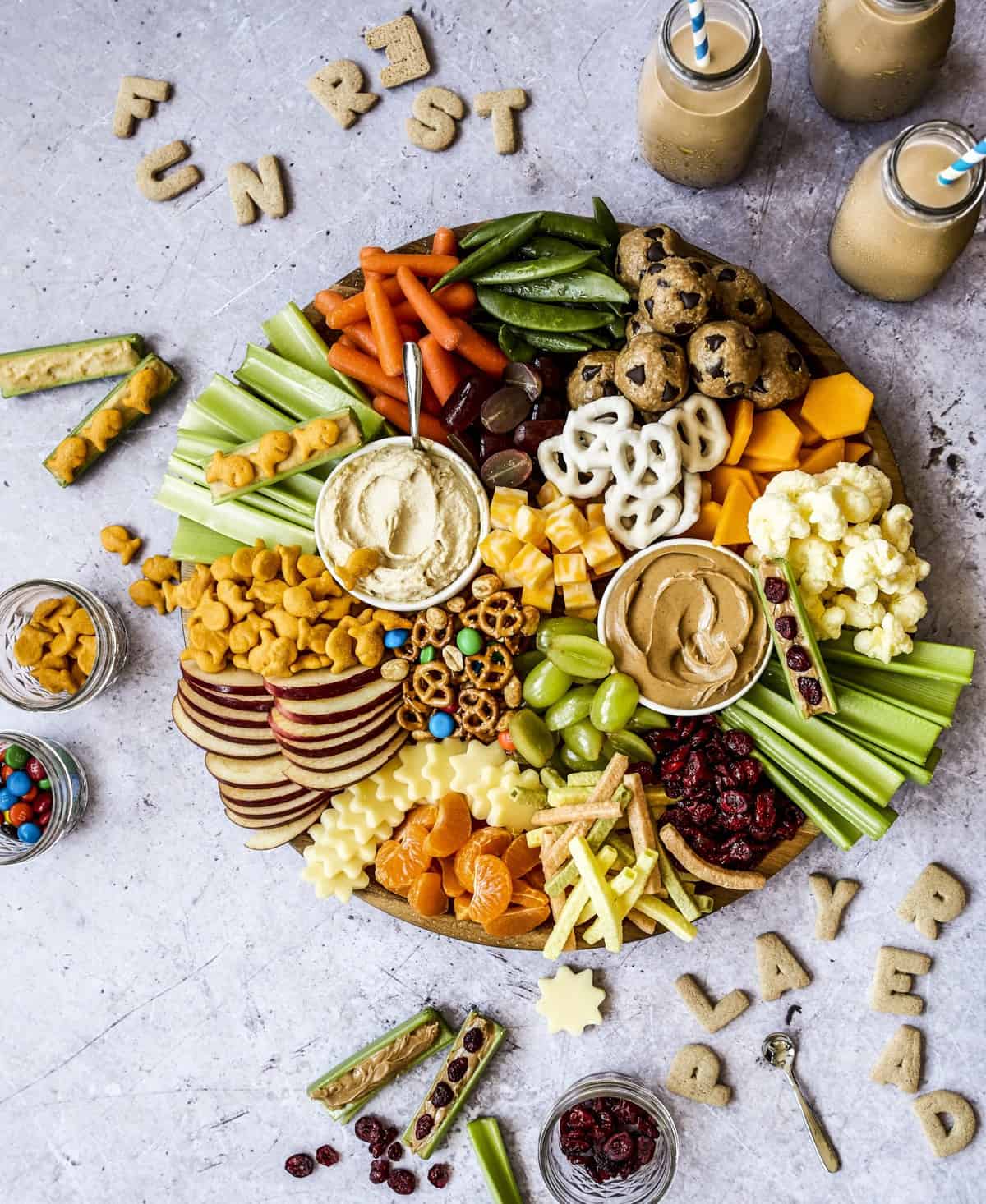 There you have it, friends. Lots of yummy lunch and snack board inspiration to get you through these summer days!
I hope you and your loved ones have as much fun enjoying these lunch and snack boards as much as we do! When you make one, be sure to snap a picture and share it with me on Instagram @thebakermama so I can see.
I just love seeing how inspired and creative y'all get with the recipes and ideas I share. Enjoy!
xoxo,