Make taco night or any night great with an awesome build-your-own Mexican-inspired board. From tacos to burrito bowls to even a make-your-own margarita board, there's so much inspiration you can get from this round-up of festive and delicious boards for your next family night or fiesta!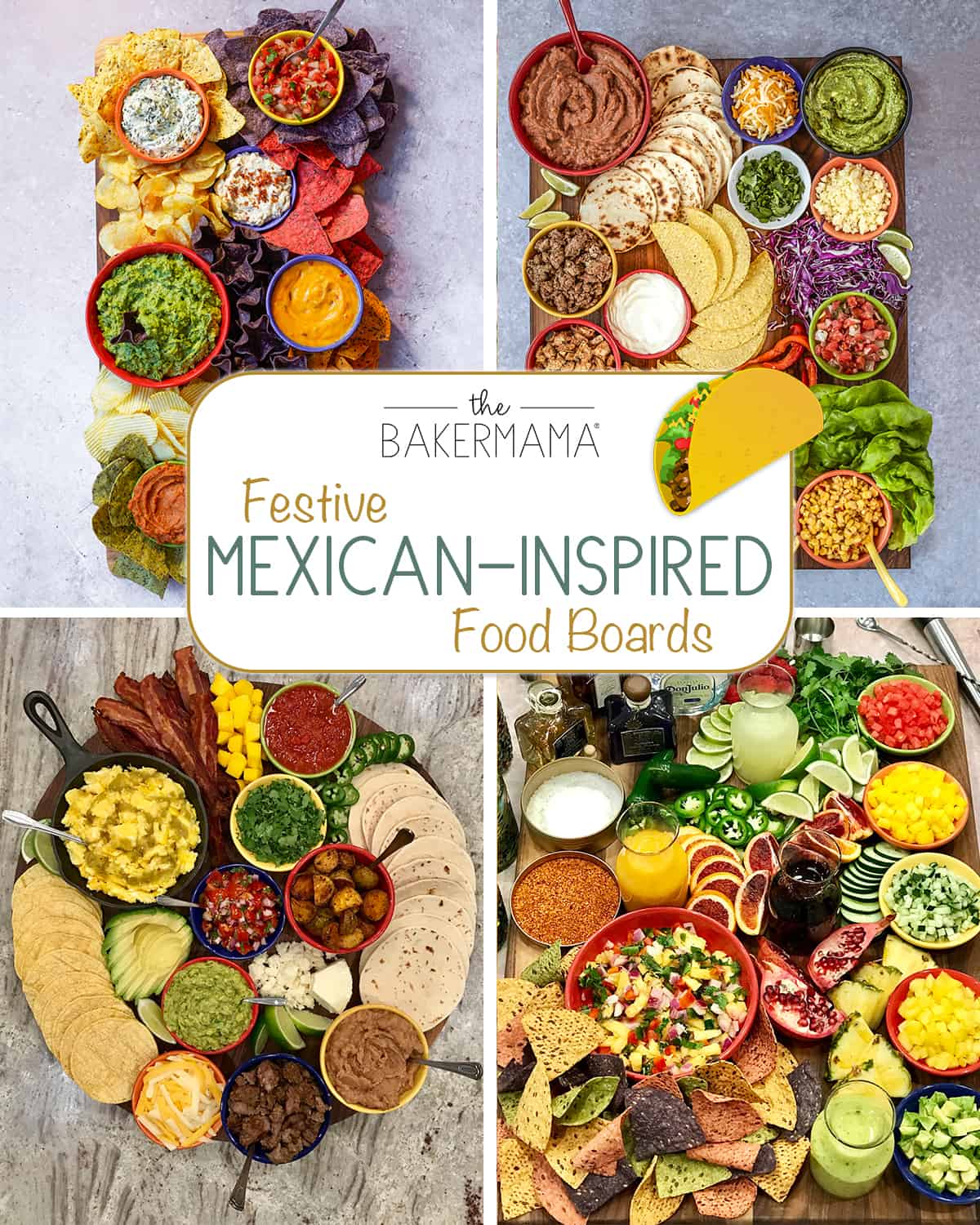 Taco Tuesday is Just the Start
Taco Tuesday is almost here and you better believe we'll be celebrating with tacos, margaritas and all the chips and dips! Since we enjoy build-your-own Mexican-themed boards often, it's the perfect time for me to share a round-up of our favorite ways to eat tacos, quesadillas, taco salads, burrito bowls and even margaritas on a board.
Build-your-own boards are the best, especially when there are a lot of different options that would make everyone happy! Each person gets to build their meal, snack or drink just the way they like it. I hope you take inspiration from these boards and use it to build a board that you and your loved ones would enjoy most.
Add foods that you always eat with tacos or mix-ins that are a must for your perfect margarita. Build your board small to feed just a few or big to feed a crowd. The beauty is that you can use whatever you want and it's sure to be enjoyed by all! These boards are all so perfect to enjoy on Cinco de Mayo, Taco Tuesday, or any day really!
Now this is taco night, done right! What better way to bring people together than with a big board covered in colorful fillings for each person to fix their own tacos?! This is the Build-Your-Own Taco Board in my Beautiful Boards cookbook. All of the delicious details, including recipes for how to prepare the meats as well as recipes for homemade guacamole, pico de gallo and salsa, can be found on pages 122-124 in Beautiful Boards. You can order it HERE!
This beautiful board was built on our 24″ x 18″ walnut wood board. You can browse our entire wood board collection at boardsbythebakermama.com.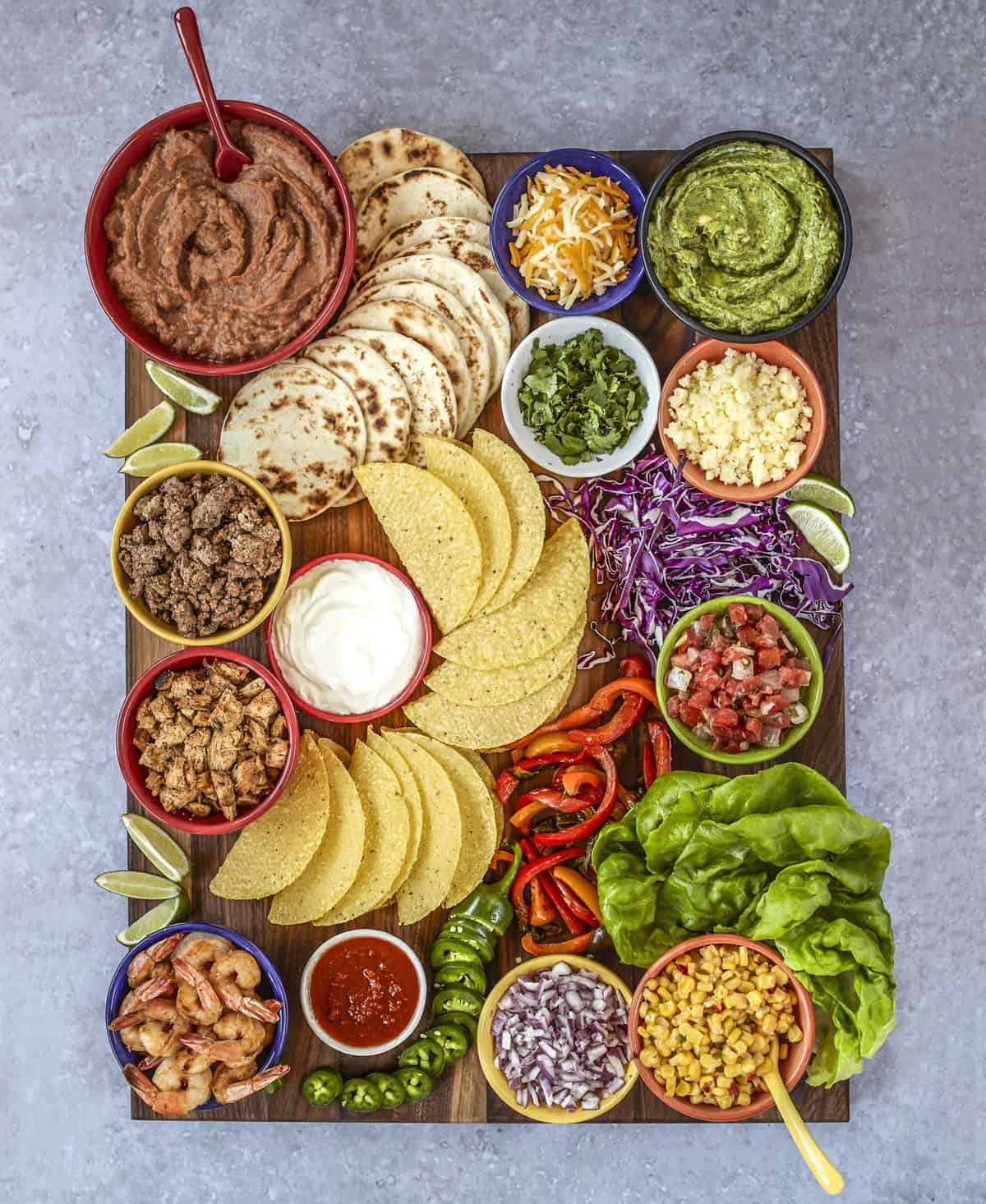 Watch Me Make a Taco Board!
Step into the kitchen with me as I make a fiesta-worthy taco board.
For the love of tacos, it's a Build-Your-Own BREAKFAST Taco Board with a tasty variety of toppings for everyone to build their own tacos with. Taco 'bout a fun and yummy way to start the day!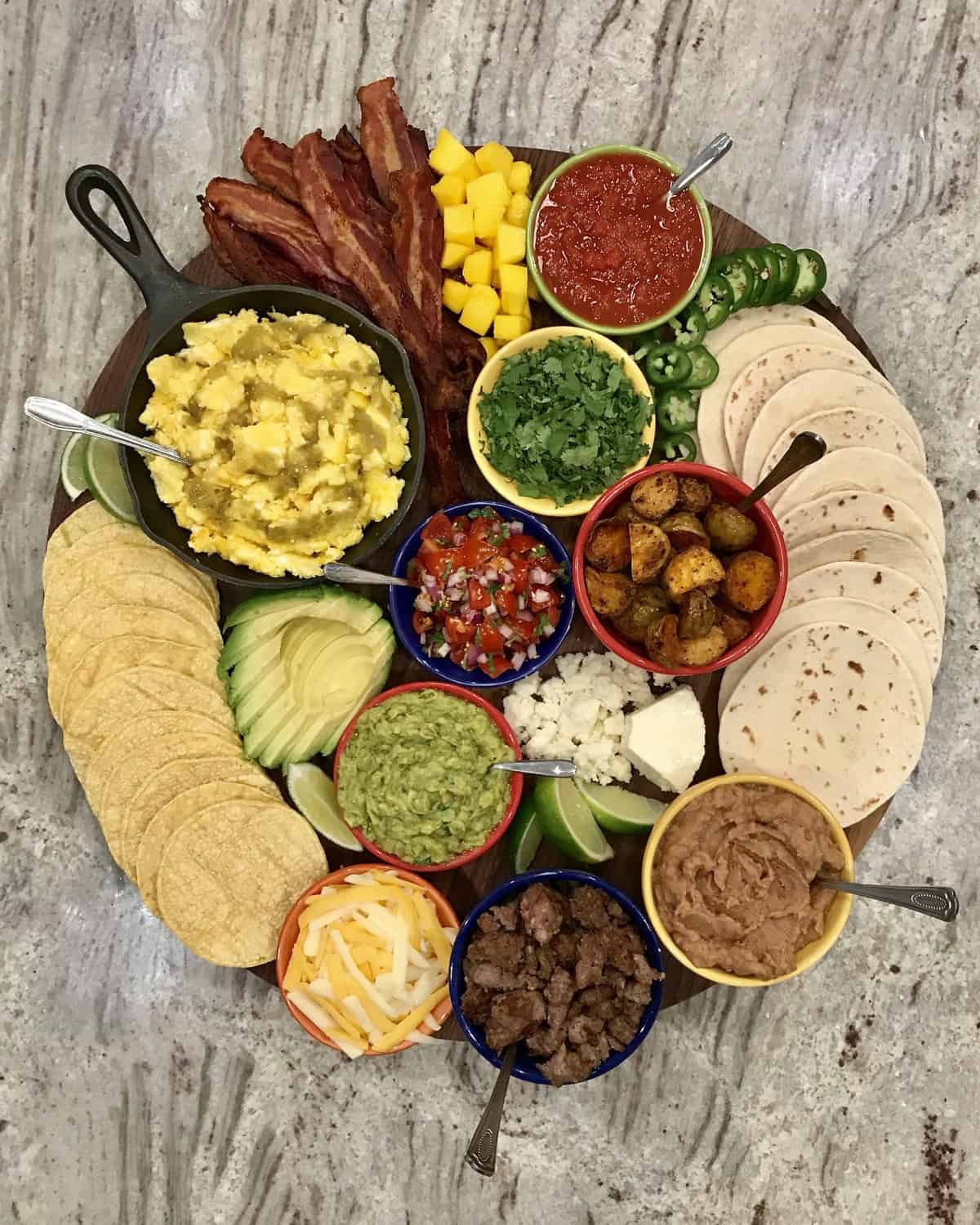 Beef is usually a crowd favorite for us when it comes to tacos. It's so easy to make taco meat with ground beef and we all enjoy it, especially on a hard taco shell. The only thing missing from this board, that we really like on our tacos, is shredded lettuce & chopped cilantro which we just didn't have on hand. We still built and enjoyed some tasty tacos though! I added some quesadillas and a trio of dips with chips to this board too. It was a huge hit! Watch THIS VIDEO to see how I built the board.
Build-your-own salsa verde chicken tacos with mini flour tortillas, refried black beans, shredded pepper jack cheese, mexi-corn, shredded greens, chopped tomato, diced red onion, avocado slices, pickled jalapeños, limes, salsa and Cholula hot sauce along with some Mexican-seasoned rice and chips.
To quickly & easily make the salsa verde chicken, heat 1 tablespoon of oil in a large skillet over medium-high heat then add 1 lb. of lightly salted boneless, skinless chicken tenders and cook for 2 minutes on each side. Reduce the heat to a simmer and add 1/2 cup salsa verde (I use mild so all the kids will eat it), toss to coat the chicken completely then cover the pan and cook 5-7 minutes or until chicken is tender and shreds easily with a fork. Add additional salsa, if desired.
Place the warm chicken, beans, rice & tortillas on the board just before serving. Enjoy!
Taco Tuesday: salad edition! This is one of our family's favorite weeknight dinners. Everybody gets to build their salad just the way they like! It's so great to see the kids enjoy it and usually try something new each time.
Everyone loves burrito bowl night! We'll even make this board for lunch on the weekends. We start building our bowls with rice, lettuce, beans and/or chicken and then top it off with our choice of avocado, cheese, tomatoes, shredded carrots, jalapeños, green onions, red onions, a variety of salsas and maybe a squeeze of lime and a shake of hot sauce with our favorite chips on the side. Each of our bowls is built differently yet we're all deliciously satisfied!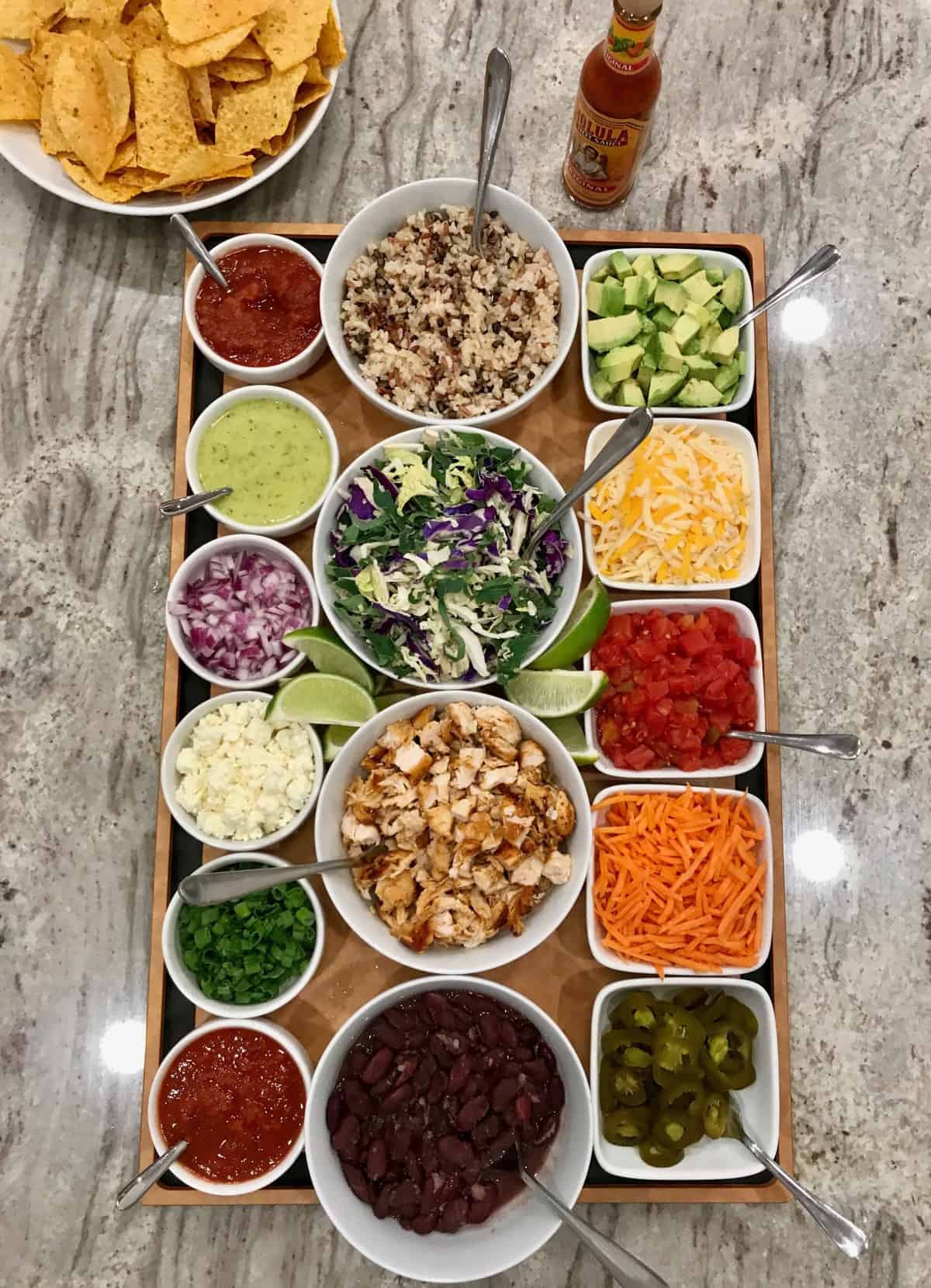 We love this one because each of us can choose whether we want a hard taco, soft taco or taco salad with chips, along with whichever toppings our taco loving hearts so desire. Everyone's happy!
Quesadillas are a lunch favorite for both the kids and adults. This board lets everyone have several quesadilla wedges along with some chips, dips and fruit. A fun and yummy lunch for all!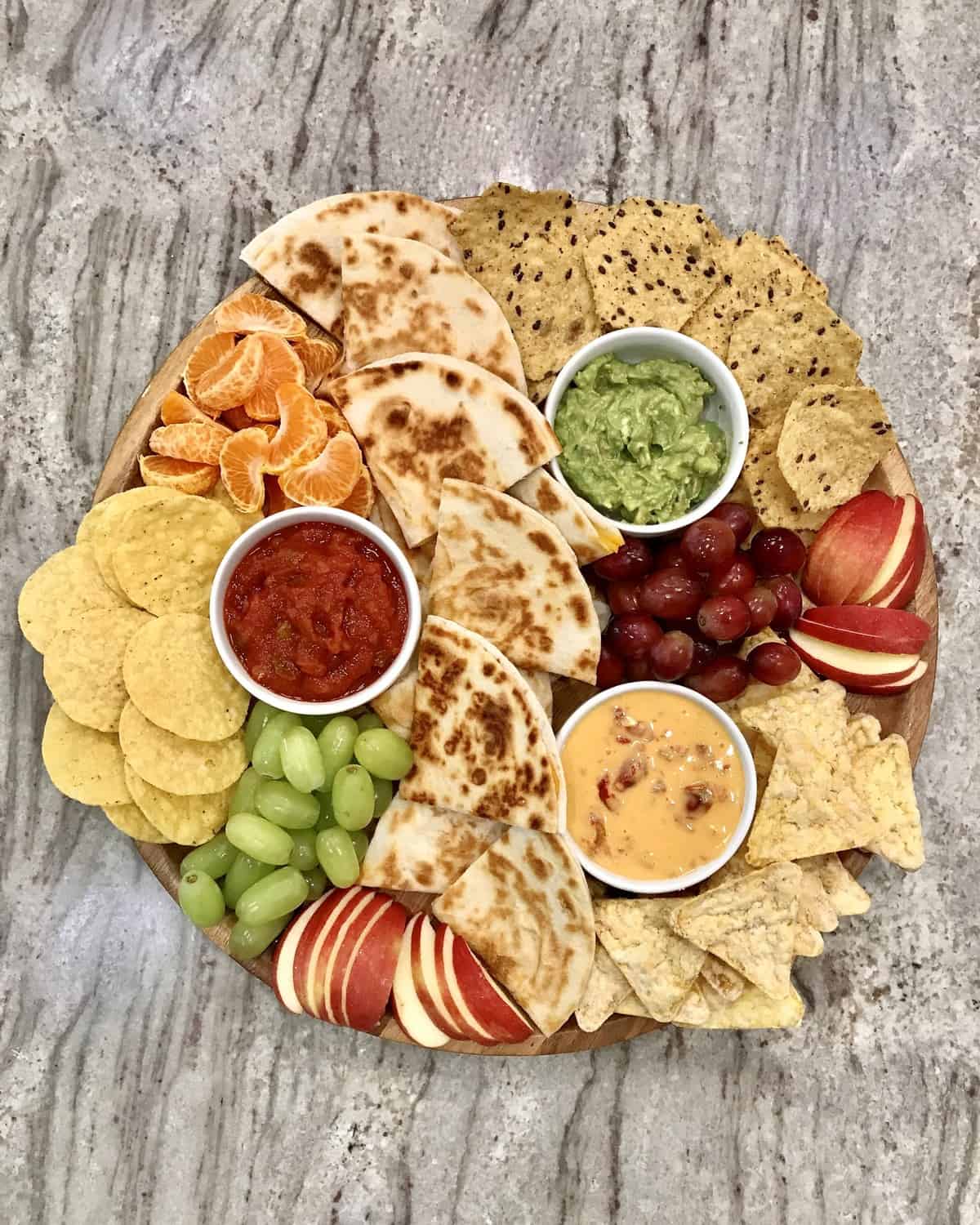 Let everyone mix their margaritas just the way they want with a variety of tequilas, mixers and garnishes. Pick and choose ingredients you know you and your crew would enjoy or want to try. Whether it be Cinco de Mayo, National Margarita Day (February 21st), Taco Tuesday, Margarita Monday or a Friday fiesta with friends, this board is so perfect for so many occasions!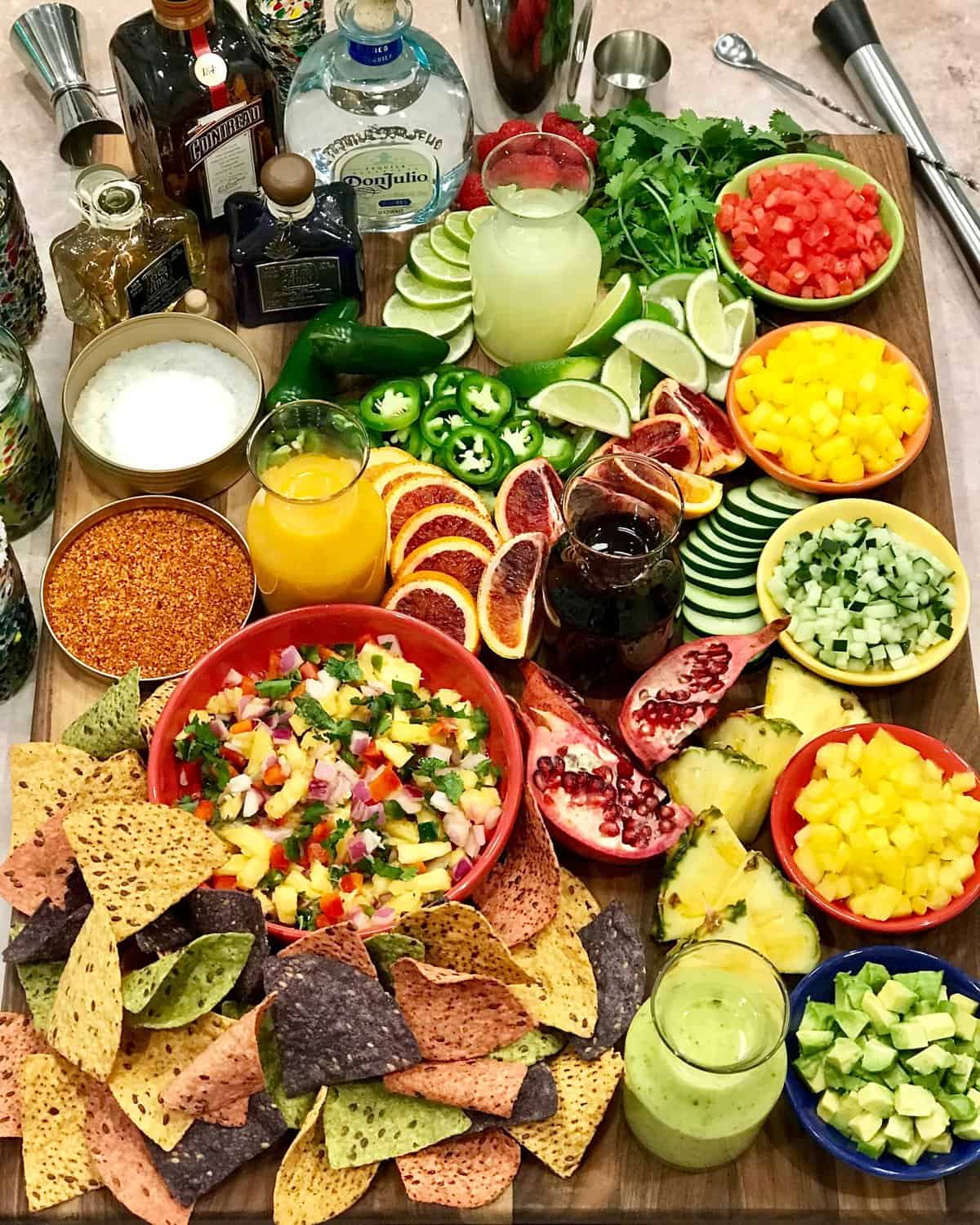 Who doesn't love chips and dip?! This Chips & Dips Board, from my Beautiful Boards cookbook, is so great for a crowd and is easily customizable to best feed the number of people and the occasion. Just get a board, as many dips as you see fit, and a variety of your favorite chips. Place the dips in serving bowls across the board and then surround them with the chips. So great for an appetizer or to have set out during a football game watch party for everyone to snack on.
All of the details, including several of these yummy, easy dip recipes are in my Beautiful Boards cookbook. You can order it HERE!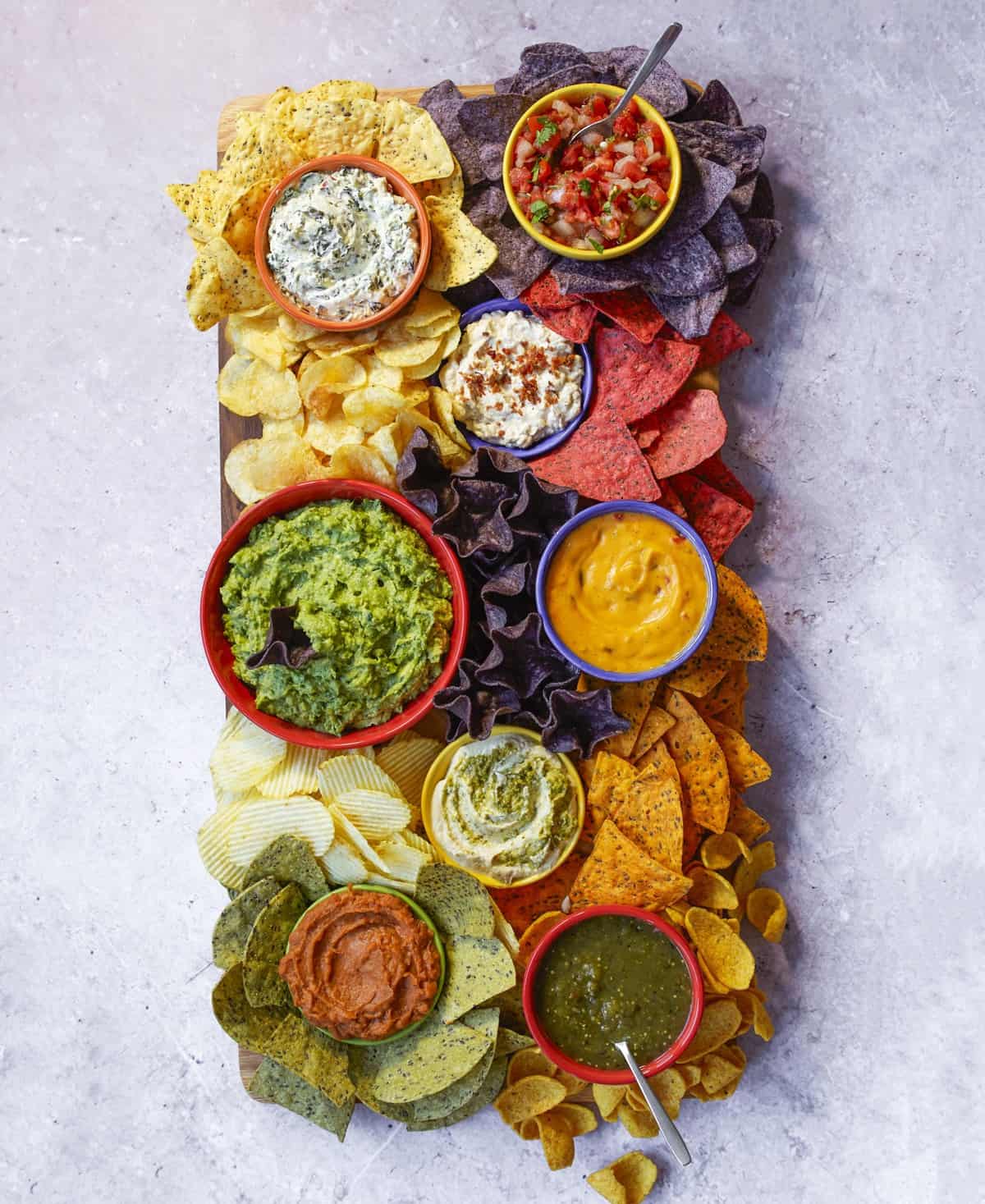 No board, no problem! Just use a tray or whatever you have on hand! We love making Skillet Queso Fundido and putting it on a sheet pan with a variety of other dips and lots of chips around it. The Best Blender Guacamole, Easy Homemade Salsa and Home Baked Tortilla Chips are just some of our favorites!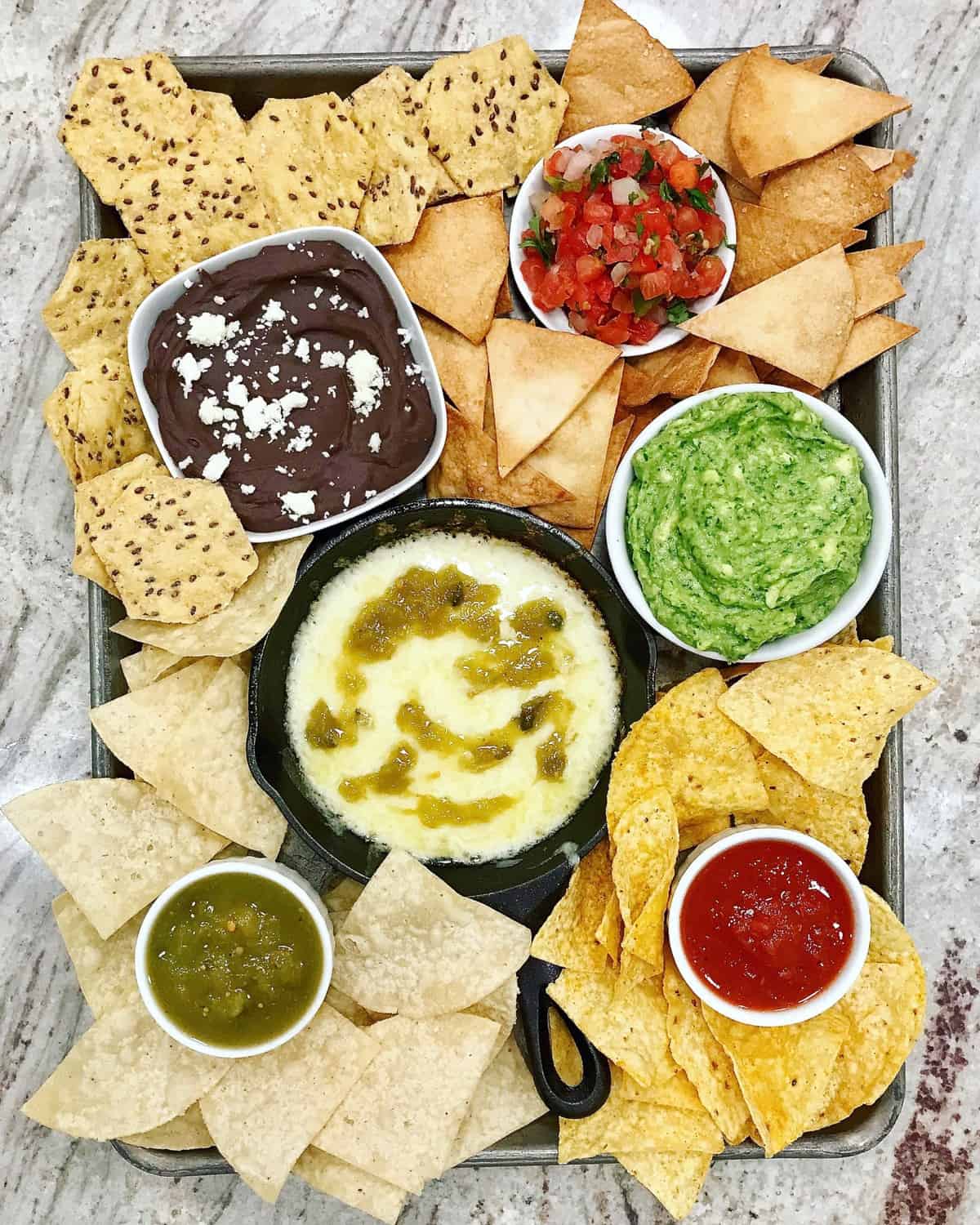 For even more delicious chip and dip recipes, be sure to browse my round-up of favorite chip and dip recipes that are easy to make and everyone enjoys..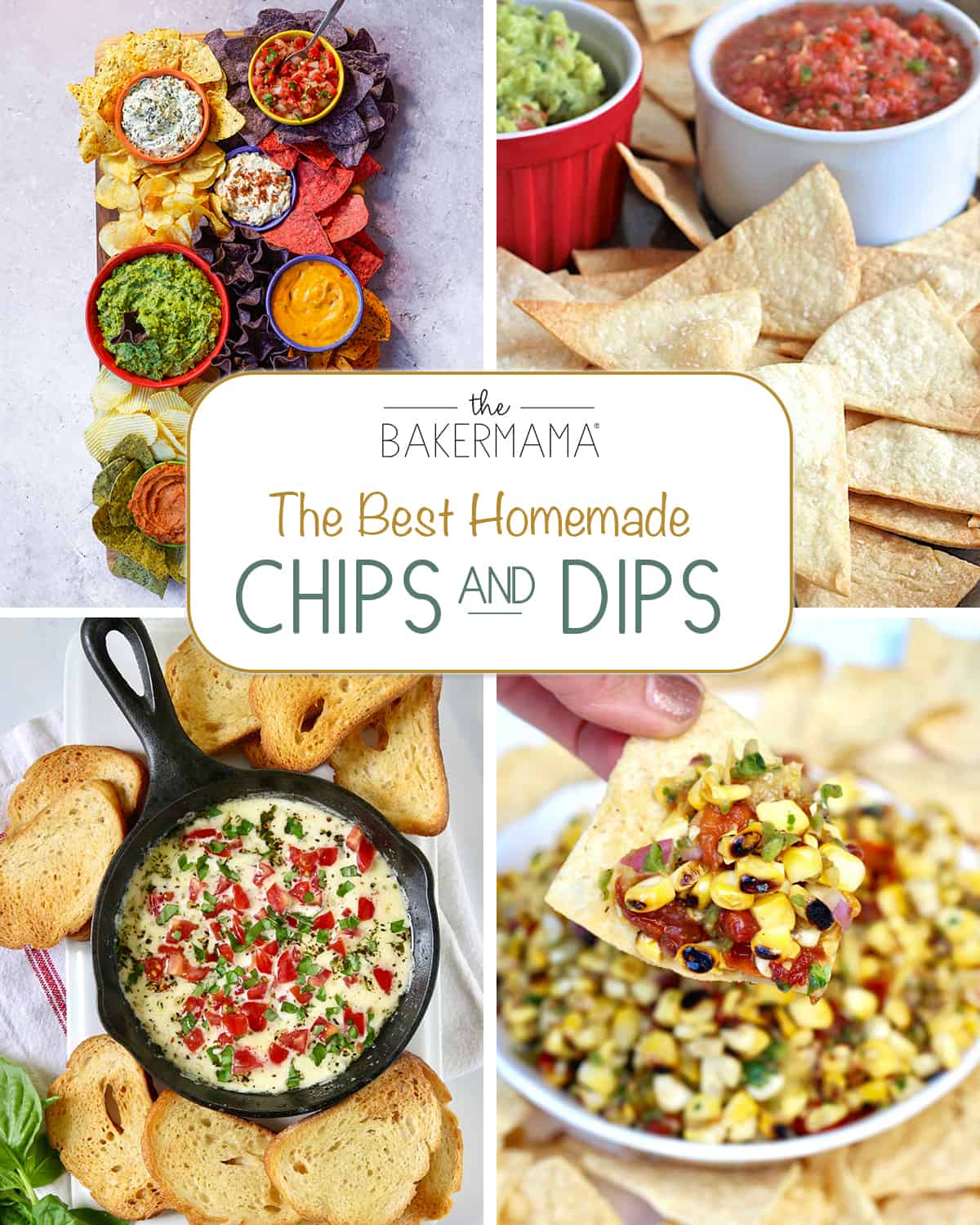 And if you love Mexican and Tex-Mex flavored foods as much as we do, you should check out my round-up of these great recipes for a Mexican fiesta. From tacos to nachos and even dessert tacos, there are several easy and tasty recipes to make your fiesta fabulous…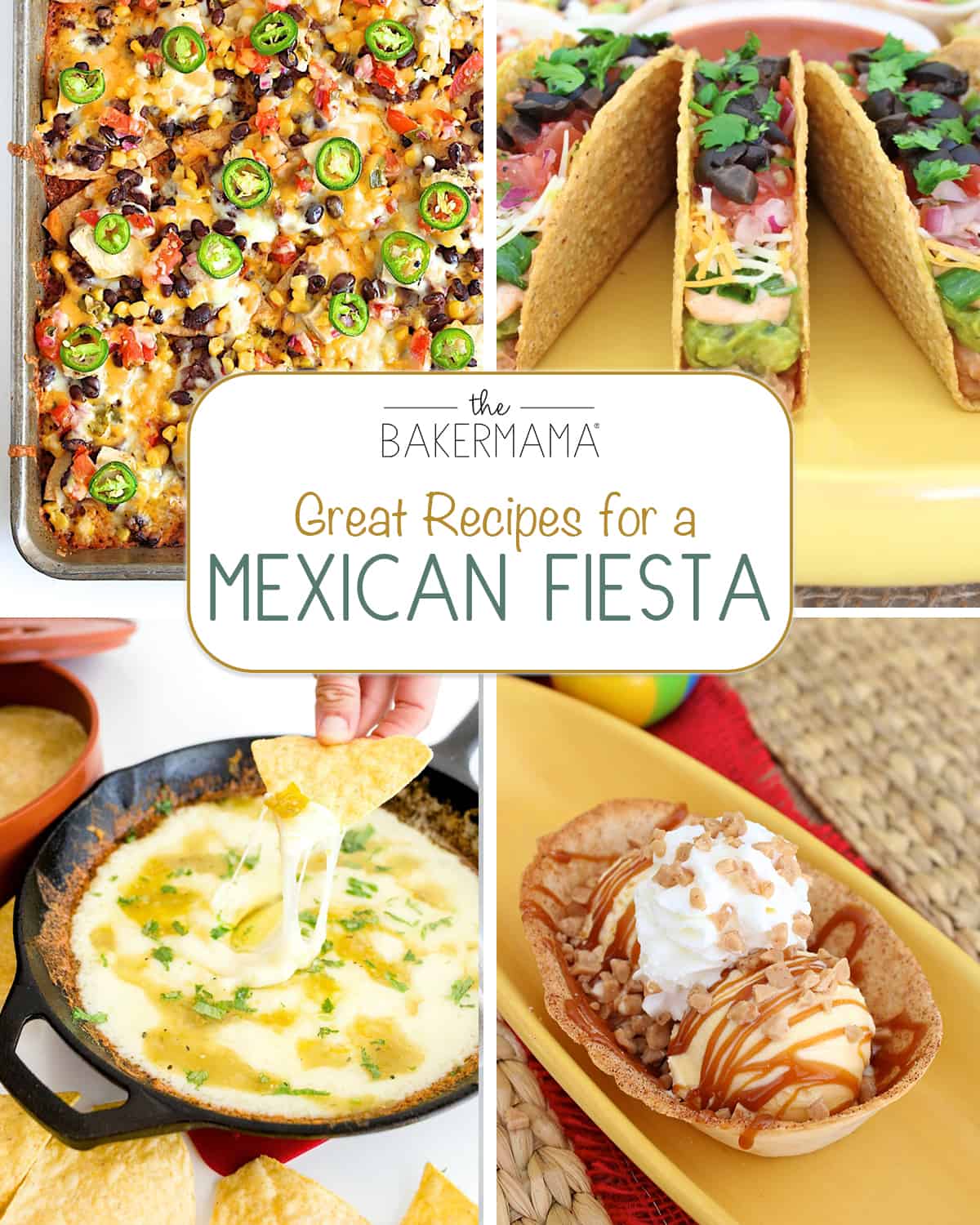 There you have them, friends! Our favorite taco and Mexican-inspired build-your-own boards. I hope these give you lots of inspiration for your next family meal or fiesta with friends. And most of all, I hope you enjoy them as much as we do!
If you recreate any of these, be sure to snap a picture and tag me on Instagram @thebakermama so I can see!
I just love seeing how inspired and creative y'all get with the ideas I share.
xoxo,