Easy to make and fun to eat, these delicious French Toast Roll Ups are a creative breakfast treat for any day of the week!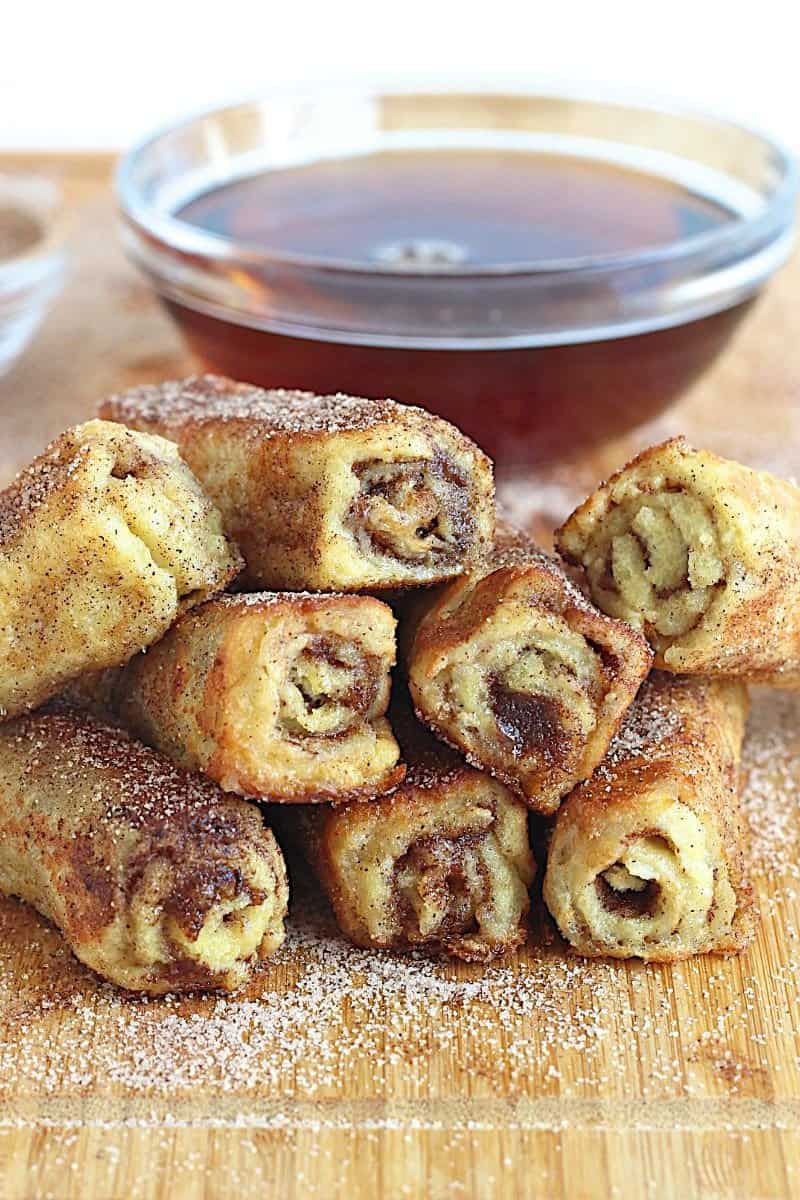 Attention all french toast fans! You're gonna flip over these french toast roll ups.
They taste just like classic french toast, but you dip them in syrup and eat them with your hands. Soooo easy to make and everyone will go crazy about how fun and delicious they are to eat!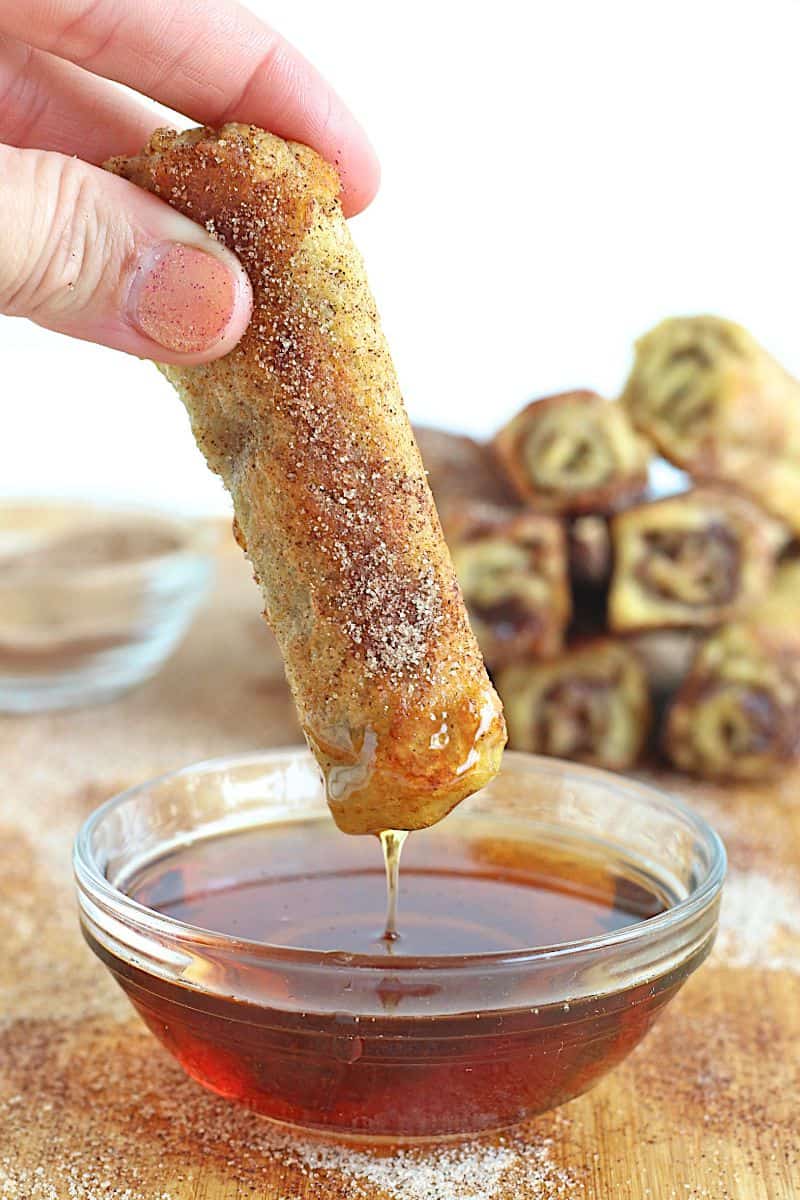 With school starting soon and busy fall weekends ahead, these french toast roll ups are bound to make an appearance at our breakfast table many a more times. How perfect they would be for a party or big brunch spread as well? So much easier than trying to serve french toast that has to be eaten with a fork and knife.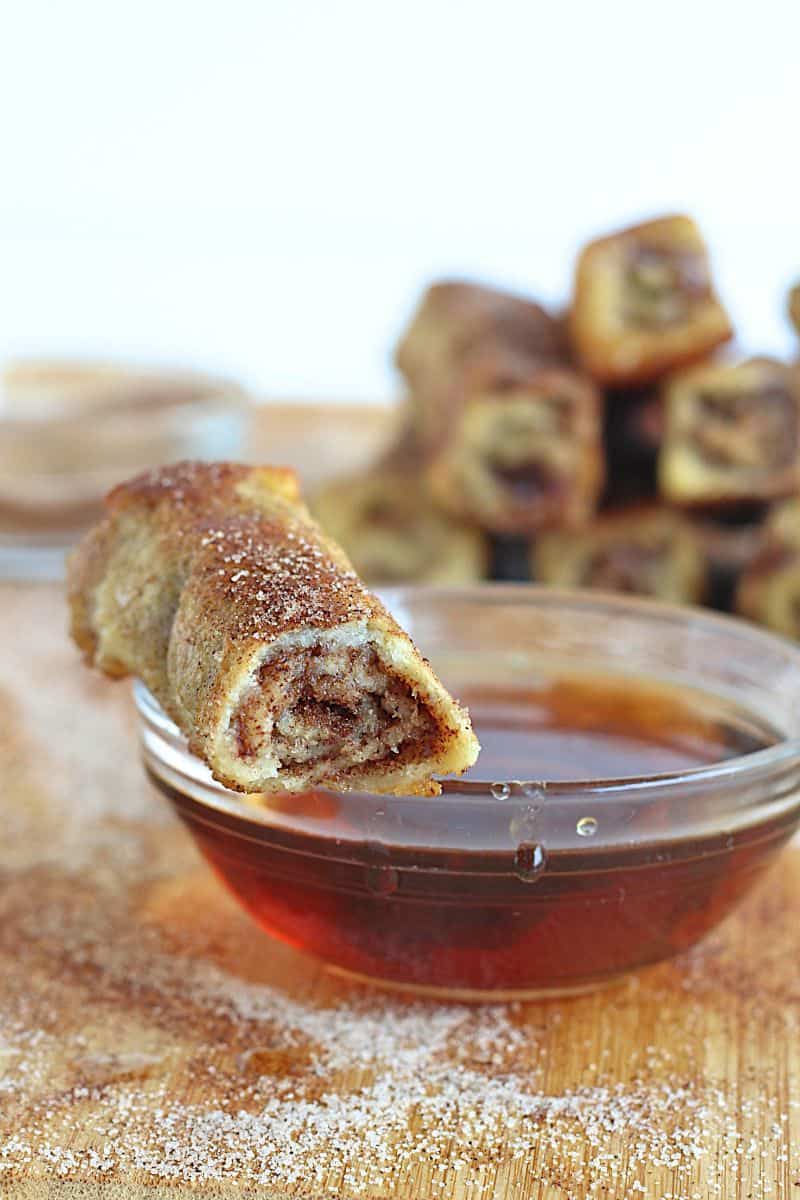 WATCH HOW THEY'RE MADE:
A good soft slice of bread is trimmed of its crust, rolled thin and spread with a cinnamon sugar filling before being rolled up tightly, dipped in an egg bath, sauteed in butter until golden and slightly crisp on the outside, and finally sprinkled generously with cinnamon sugar. Mmmm….

They taste amazing on their own, but a little dip in some maple syrup makes them extra sweet and scrumptious.
We can't get over how tasty these french toast roll ups turned out. The boys love helping me make them and they get even more excited about dunking and eating them. You wouldn't believe how many batches we've devoured since I first made them. Yum! Yum! Yum!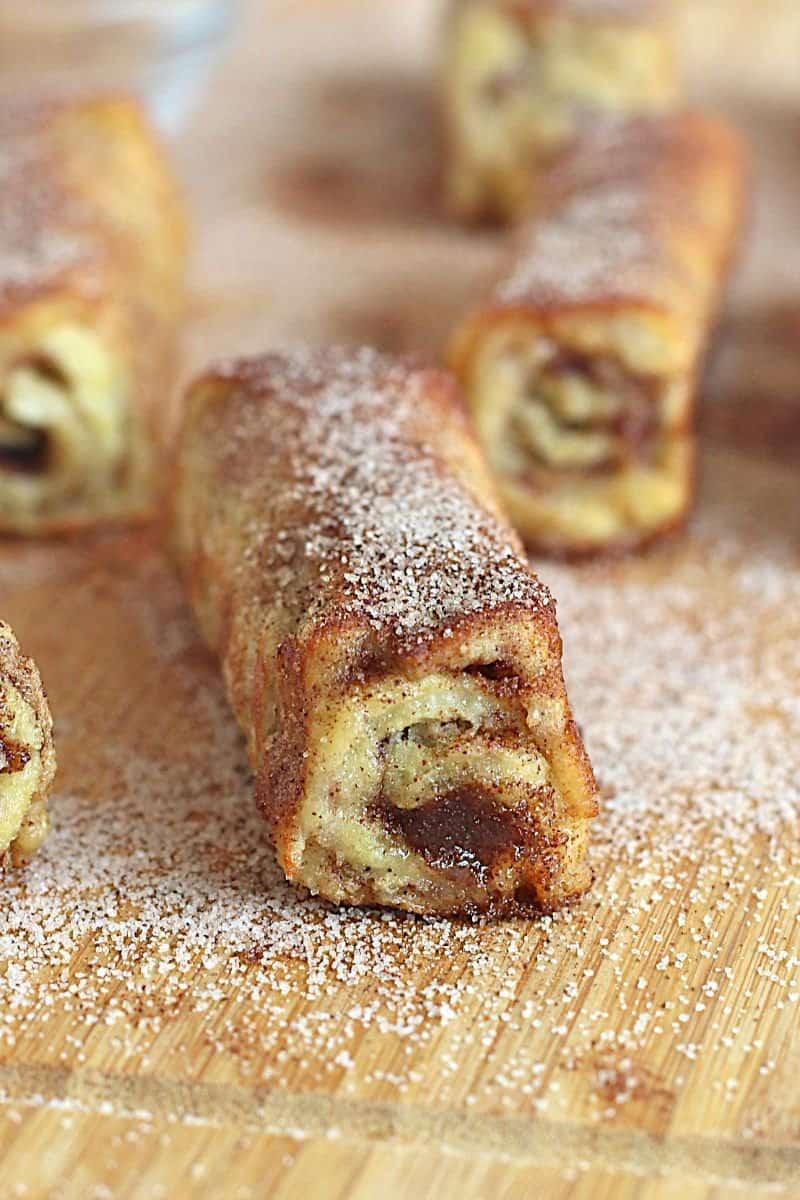 I hope you get a chance to make and enjoy these french toast roll ups soon and often. I know you'll love 'em!
xoxo,


French Toast Roll Ups
Easy to make and fun to eat, these delicious french toast roll ups are a creative breakfast treat for any day of the week!
Author:
Maegan - The BakerMama
Ingredients
3 tablespoons unsalted butter, melted
3 tablespoons granulated sugar
2 tablespoons brown sugar
1 tablespoon ground cinnamon
2 large eggs
¼ cup milk
2 tablespoons granulated sugar
2 teaspoons ground cinnamon
8 slices soft white bread, crusts cut off
3 tablespoons butter, for saute pan
maple syrup, for serving
Instructions
In a small microwave-safe bowl, melt 3 tablespoons butter until just melted. With a fork, stir in 3 tablespoons granulated sugar, 2 tablespoons brown sugar and 1 tablespoon cinnamon until a smooth spreadable mixture forms. Set aside.
In a shallow bowl, whisk together the eggs and milk. Set aside.
In another small bowl, stir together 2 tablespoons granulated sugar with 2 teaspoons cinnamon. Set aside.
After trimming the crusts from each slice of bread, roll one slice out to about ⅛-inch thickness with a rolling pin. Spread each slice with a thin layer of the butter mixture and roll up tightly. Repeat with remaining bread slices and butter mixture.
Place 3 tablespoons butter in a large non-stick saute pan and let melt over medium heat. (If using a small saute pan, use just 2 tablespoons butter and saute the roll-ups in two batches) Dip one roll at a time in the egg mixture and place in the saute pan. Allow roll ups to saute for 1-2 minutes per side until golden brown and slightly crisp on the outside. Remove to a work surface and sprinkle each roll up generously with the cinnamon-sugar mixture.
Serve immediately with maple syrup.

PRODUCTS USED TO MAKE THIS RECIPE:

(may include affiliate links)