Make your summer cookout delicious from start to finish with my Summer Grilling Favorites. Irresistible appetizers, fresh salads and sides, cold drinks and tempting desserts — it's all here to enjoy!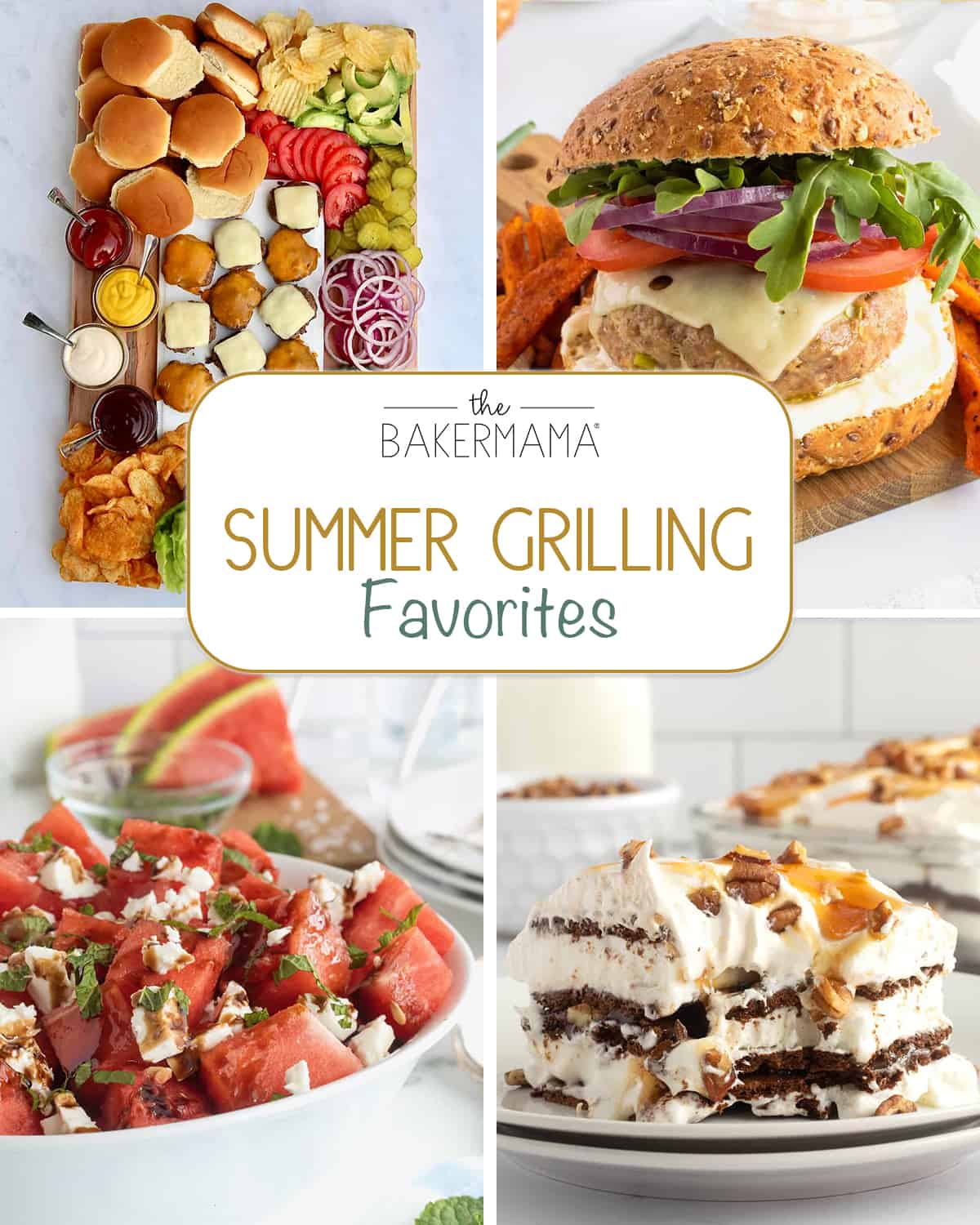 Appetizers
Grilled Brie with Strawberries combines creamy cheese, sweet strawberries, and tangy balsamic vinegar in a delicious appetizer that's perfect for summer entertaining.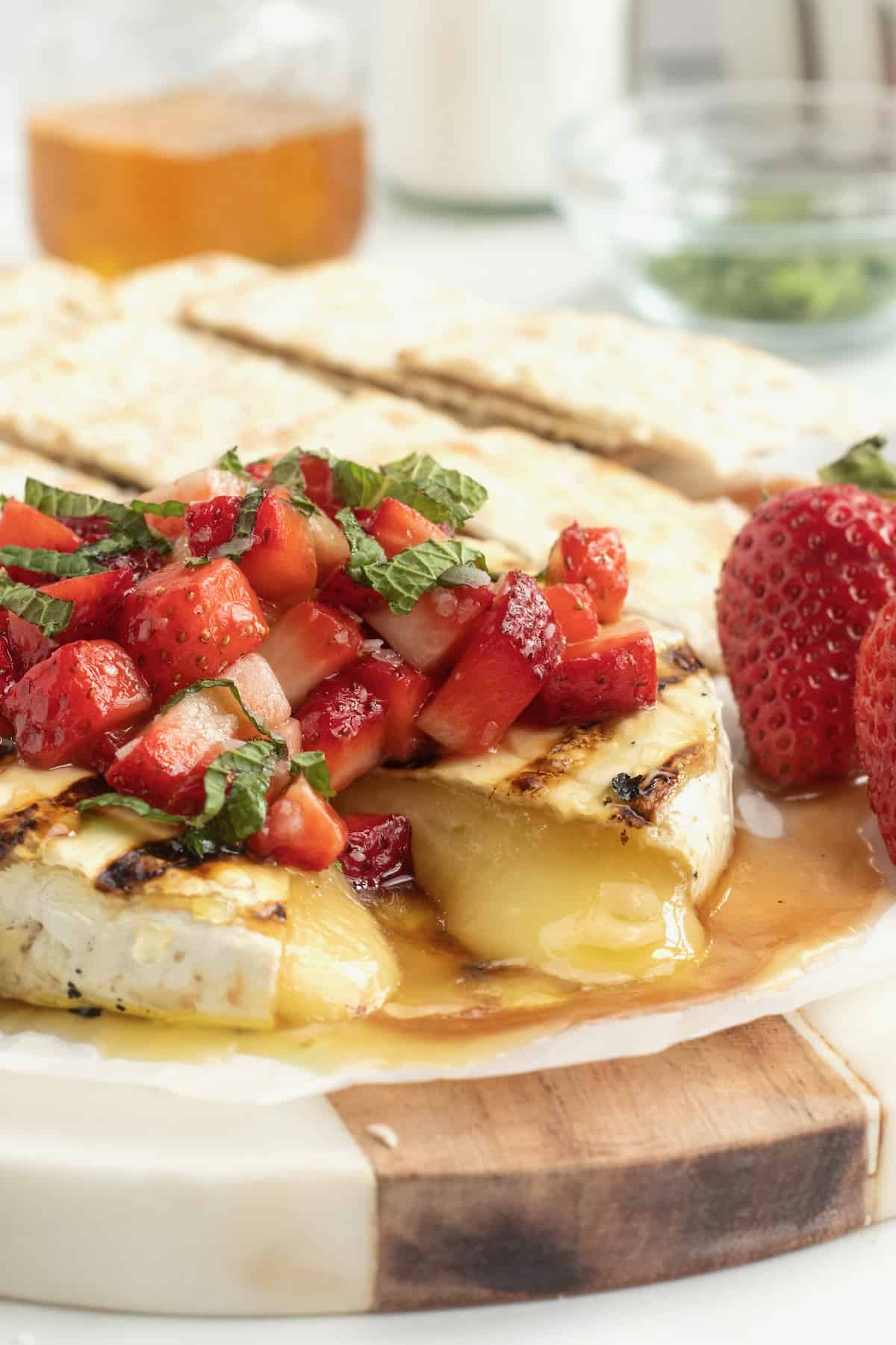 Delight your guests with a gorgeous and delicious Fresh Summer Cheese Platter. Layered with creamy cheeses, savory meats and sweet summer fruits and served with crispy crostini, it's a feast for the senses!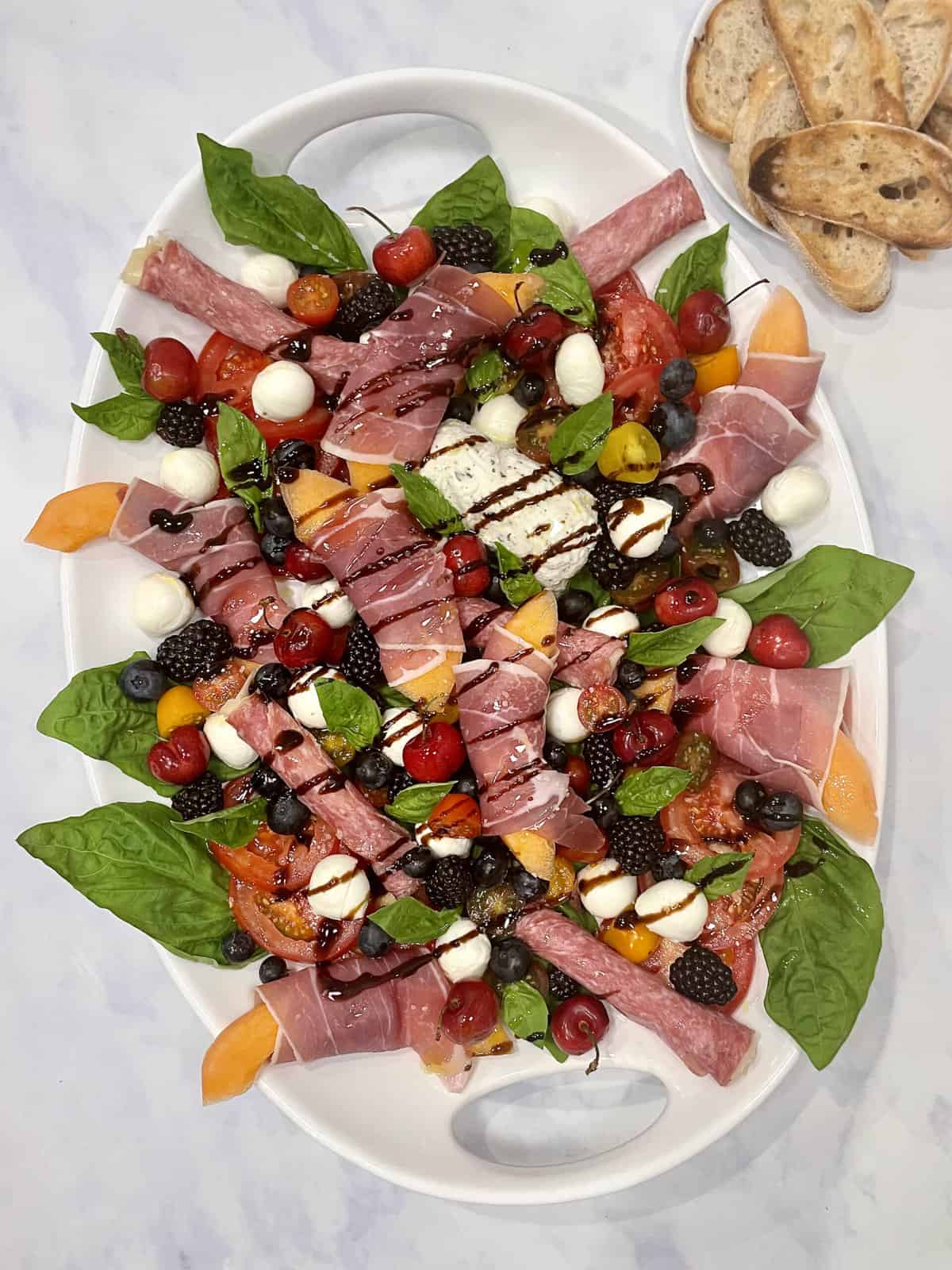 Grilled corn and roasted tomatoes come together is this fresh and flavorful Grilled Corn Salsa that makes for such a great summer dip or side dish!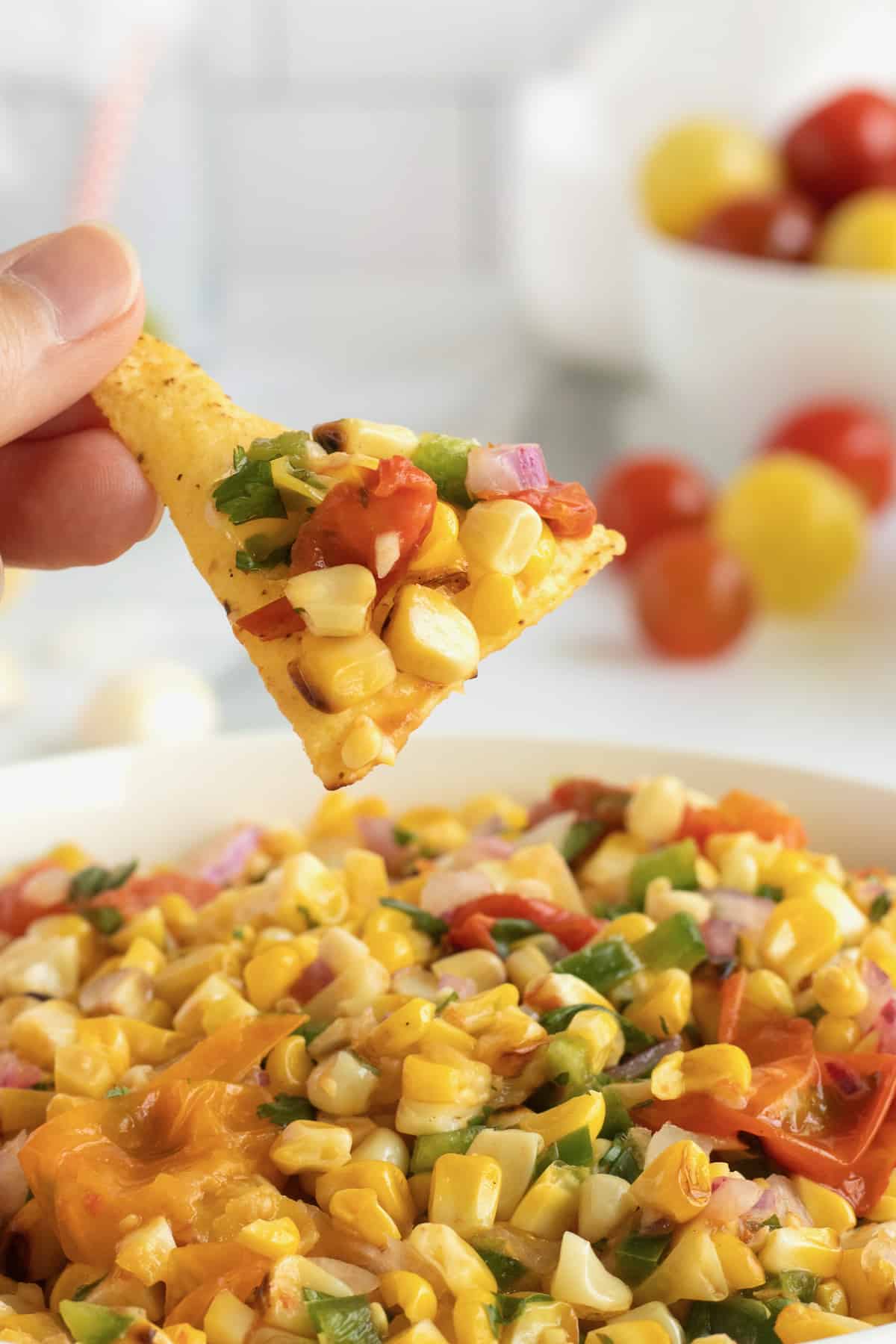 Take hot wings to a whole new level with these mouth-watering Grilled Buffalo Blue Cheese-Stuffed Drumsticks. Chicken drumsticks oozing with blue cheese and slathered in spicy hot wing sauce that are out of this world!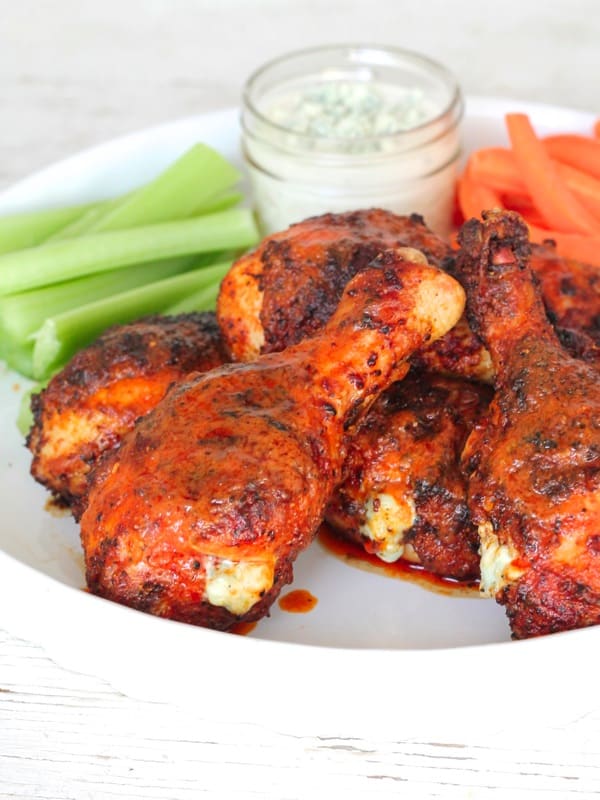 Grilled Brie with Peaches and Pesto takes sweet, juicy peaches, nutty pesto and melty, mellow brie and turns them into your new summer grilling obsession.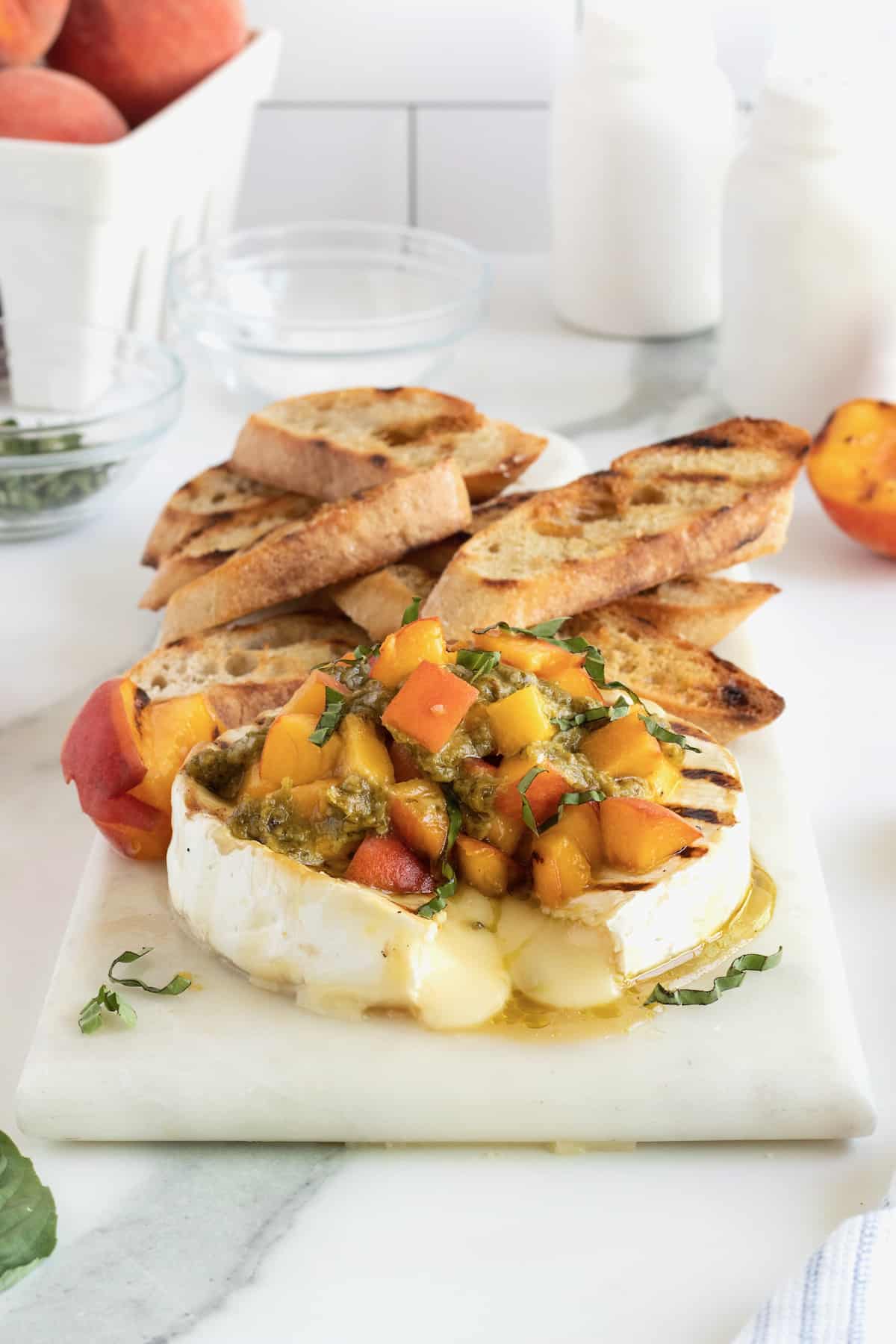 Main Dishes
Change it up at the grill this summer with easy and delicious Turkey Burgers. Gruyere, green onion and Dijon mustard make every bite flavorful and moist!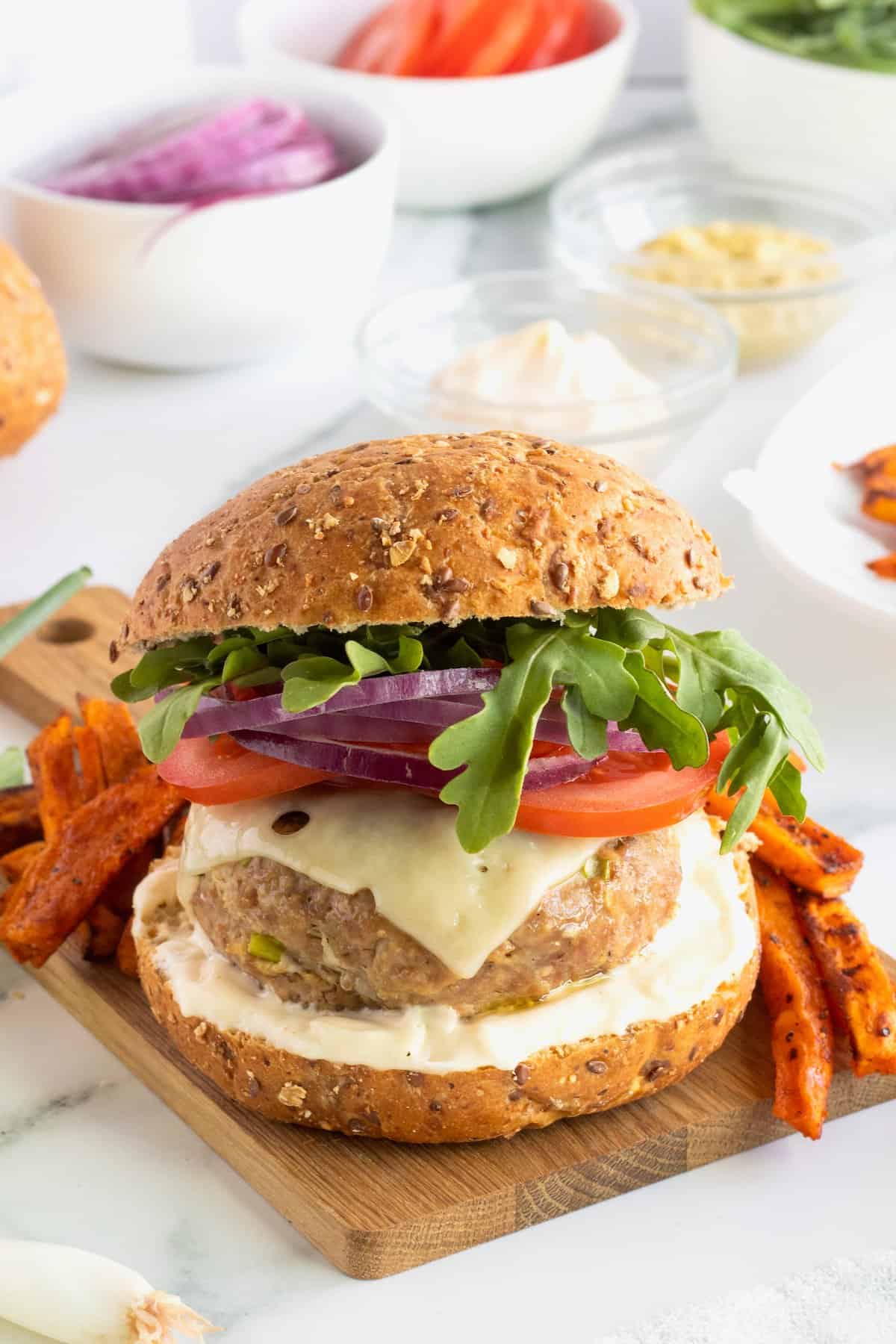 Fire up the grill for these awesome Bacon-Wrapped Grilled Chicken Skewers that will instantly become the stars of your game day grub!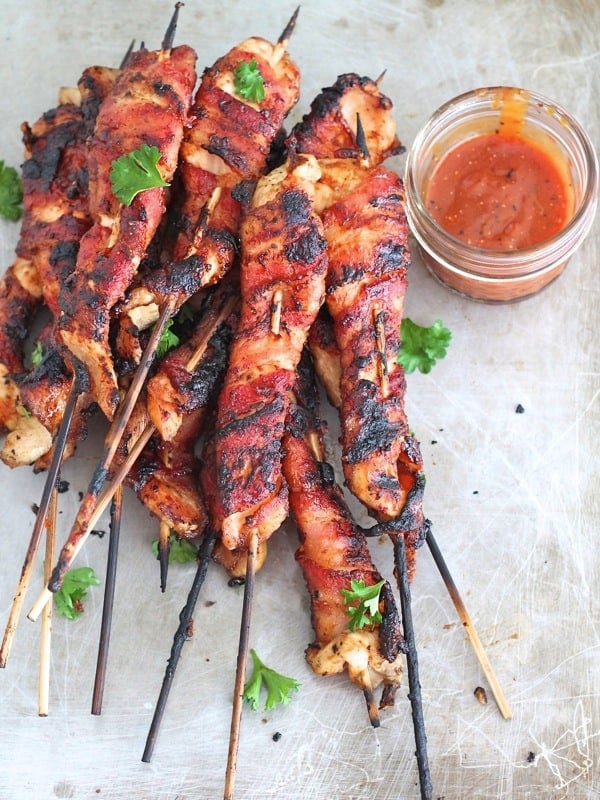 A Build-Your-Own Burger Board is such a great way to let your crowd enjoy their burgers just the way they like them with a great variety of toppings and spreads to choose from.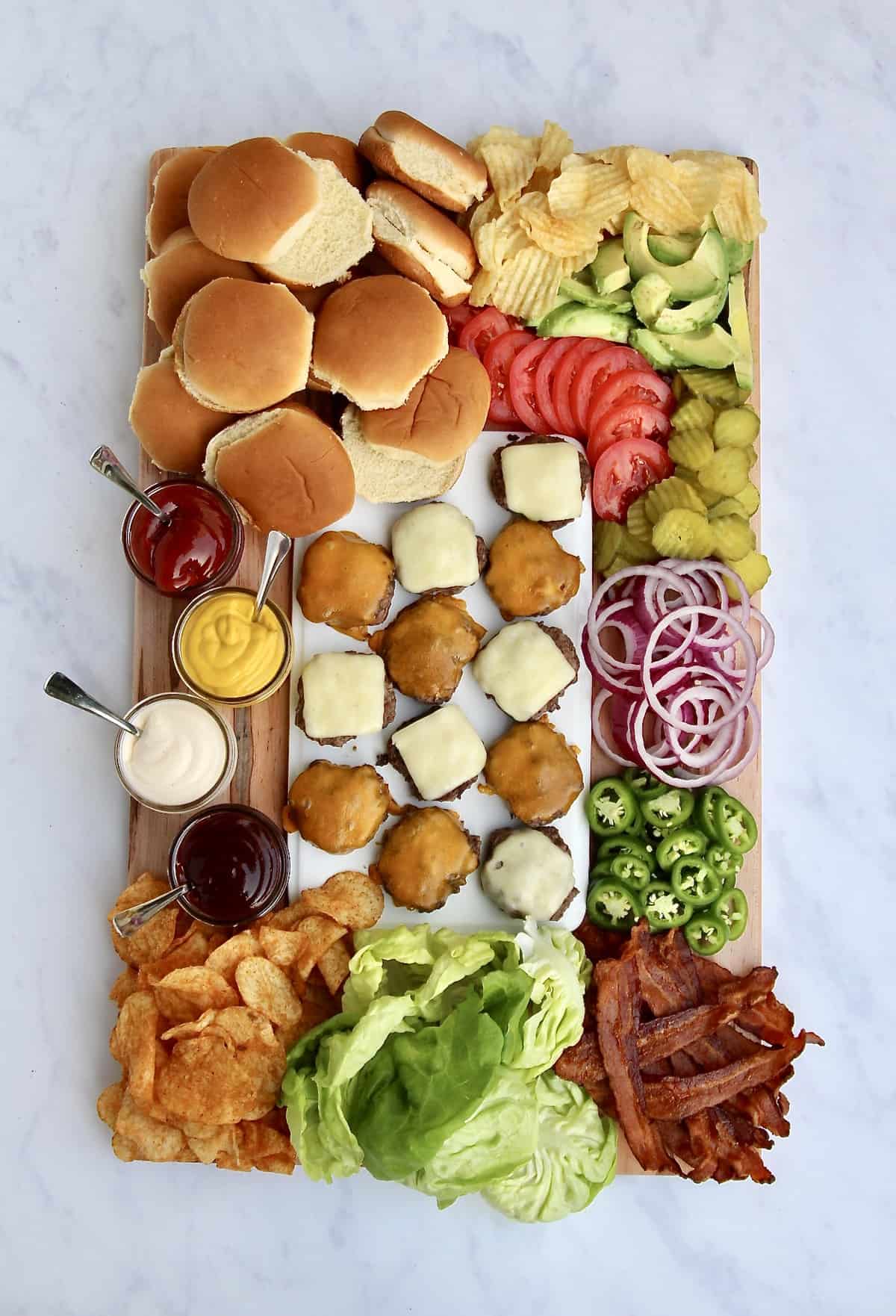 This Chicken Pesto Peach Panini is the perfect summer panini filled with pesto, sweet peaches, juicy chicken and lots of melting cheese. Fresh, fabulous and so full of flavor!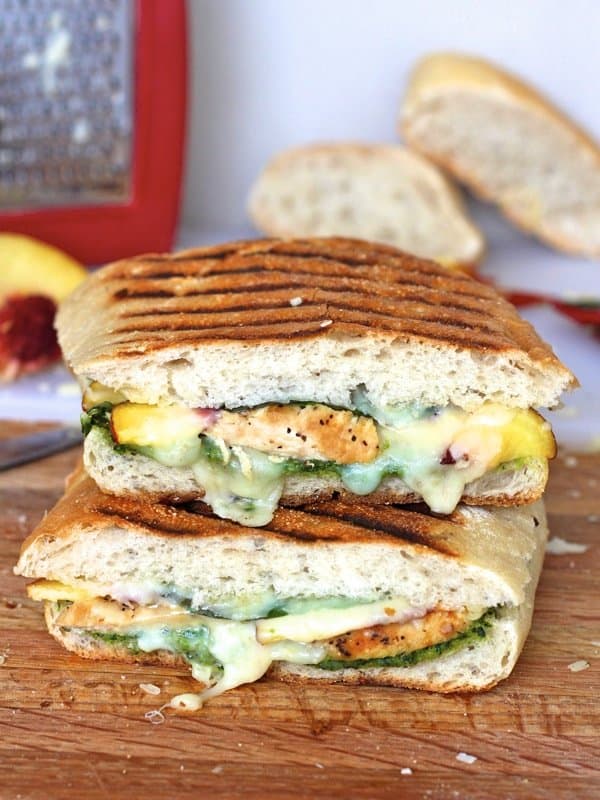 Sides and Salads
These sweet and savory Easy Baked Beans are a no-brainer for your summer cookout. Made with thick bacon, fresh green pepper and plenty of brown sugar, they make a delicious side everyone will love.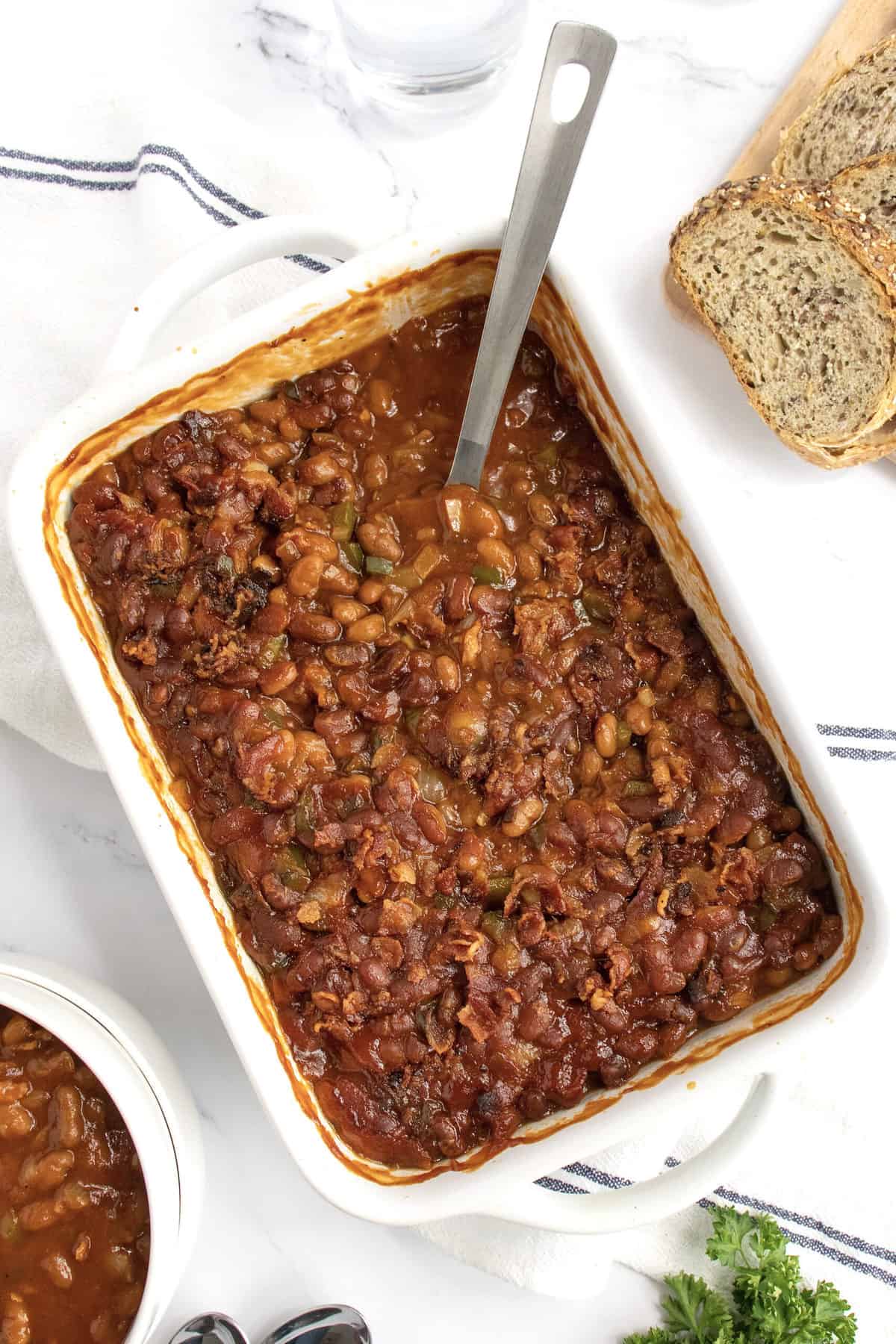 From salsas to salads and everything in between, grilled corn adds wonderful flavor and texture to our favorite foods. In Basics by The BakerMama, I teach you how to grill corn to perfection every time!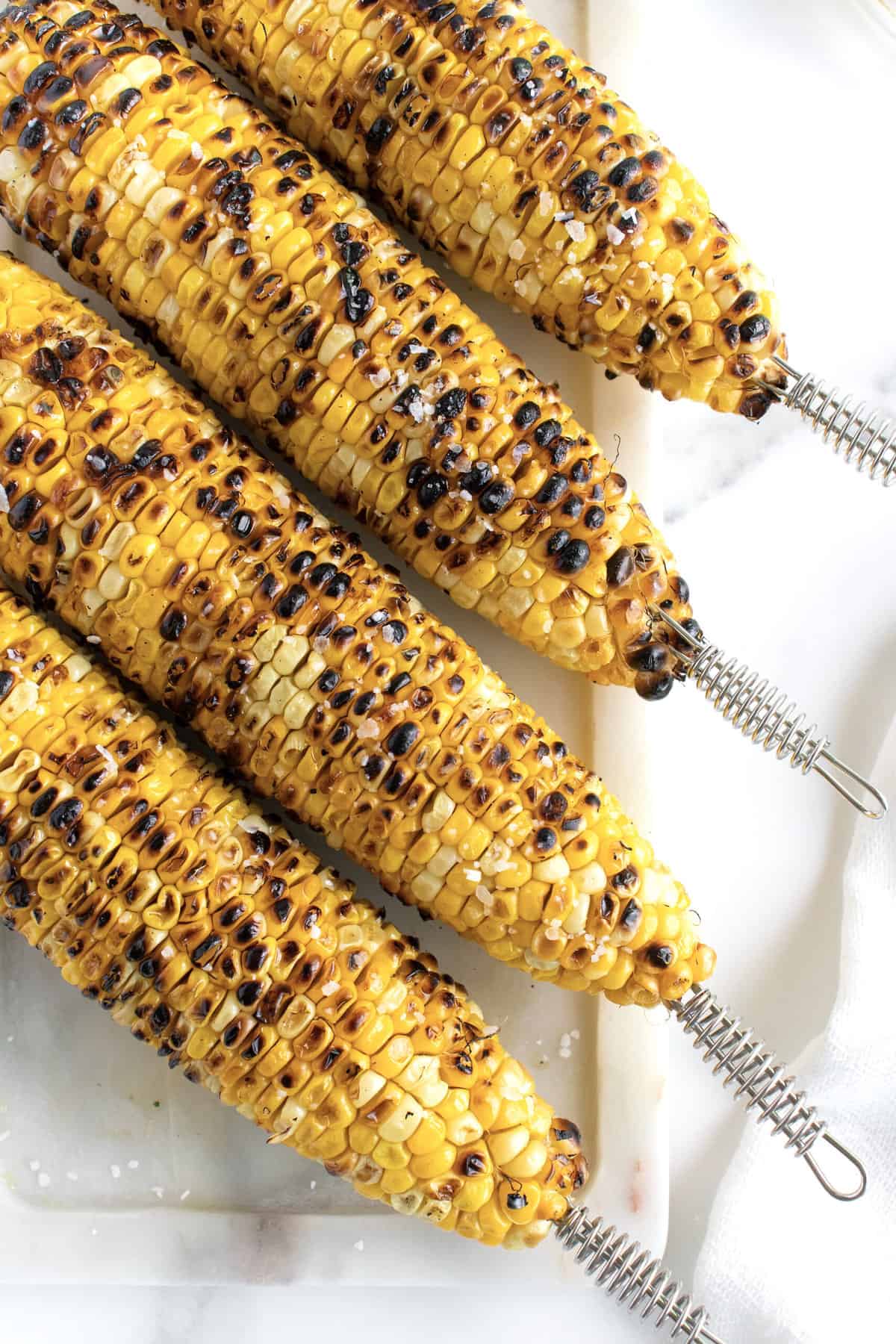 This Watermelon Feta Salad with Mint and a Balsamic Glaze is so light and refreshing. It's the perfect side dish to take to a summer get-together!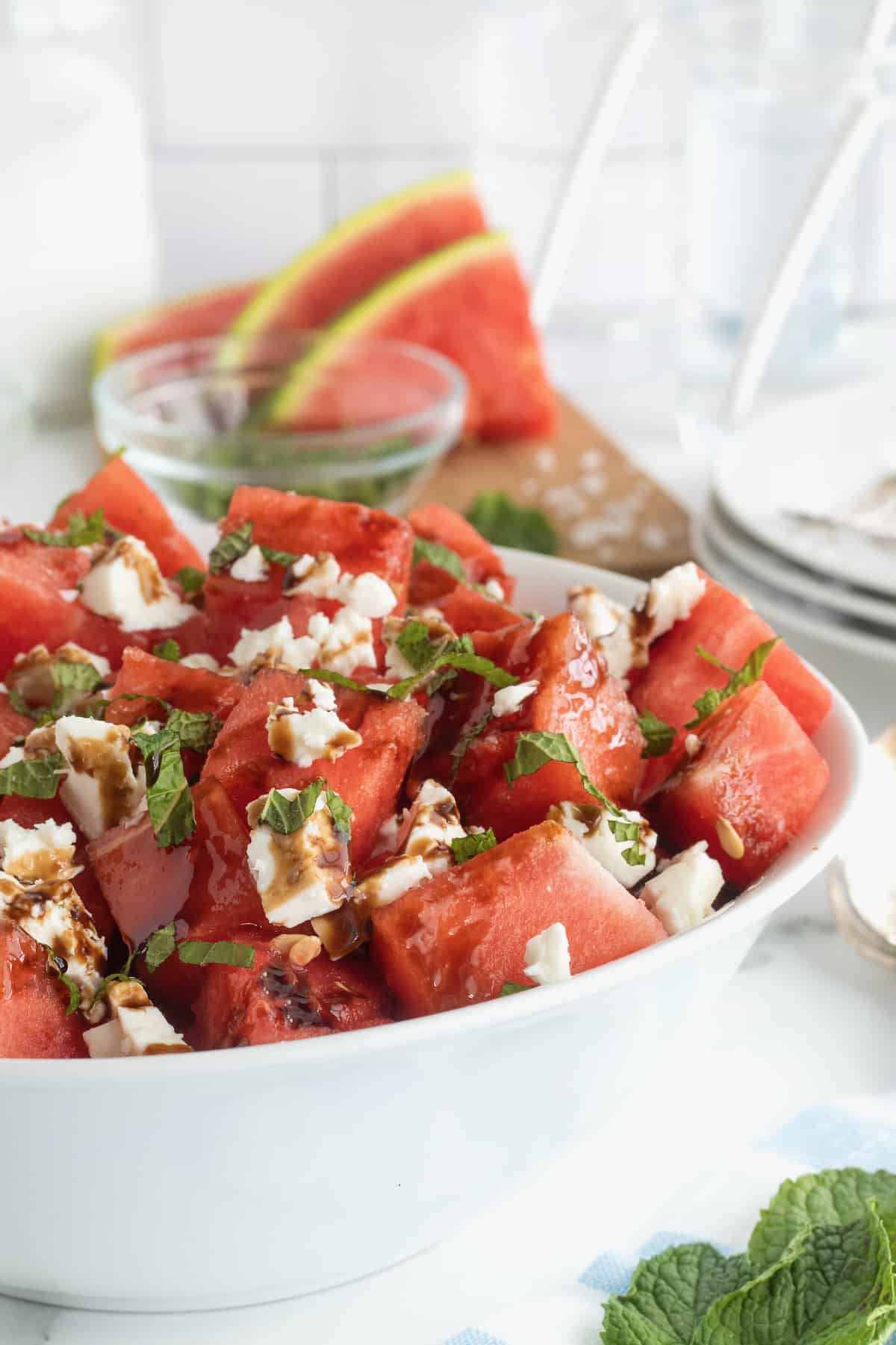 For a zesty summer side dish, this Pesto Parmesan Grilled Corn hits all the right notes. Sweet corn, nutty pesto, savory parmesan cheese, and fresh basil. It's perfection!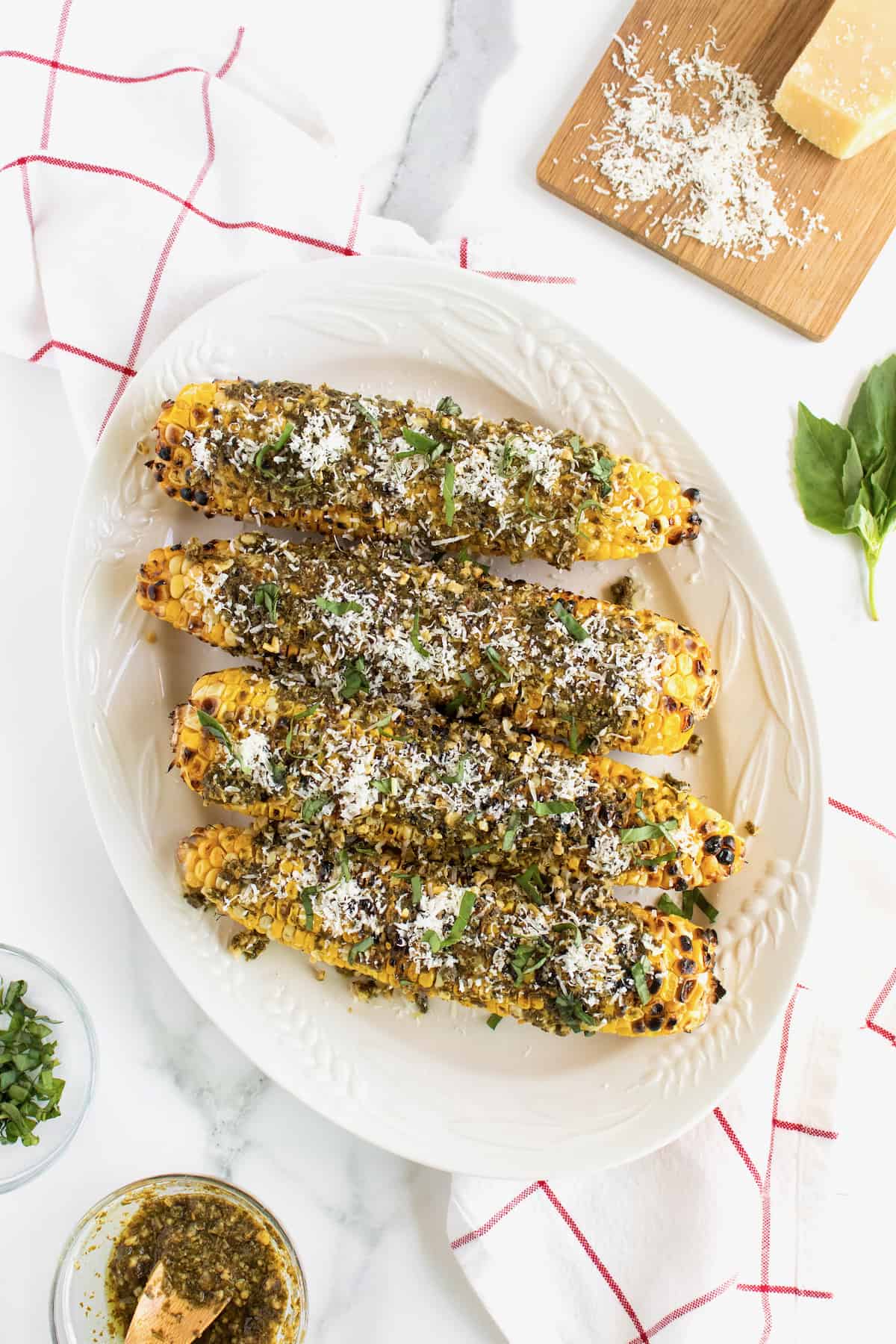 Crumbled cornbread, fresh veggies, ranch dressing and bacon take this delicious Layered Cornbread Salad to new heights. Better make a double recipe because everyone will be coming back for seconds!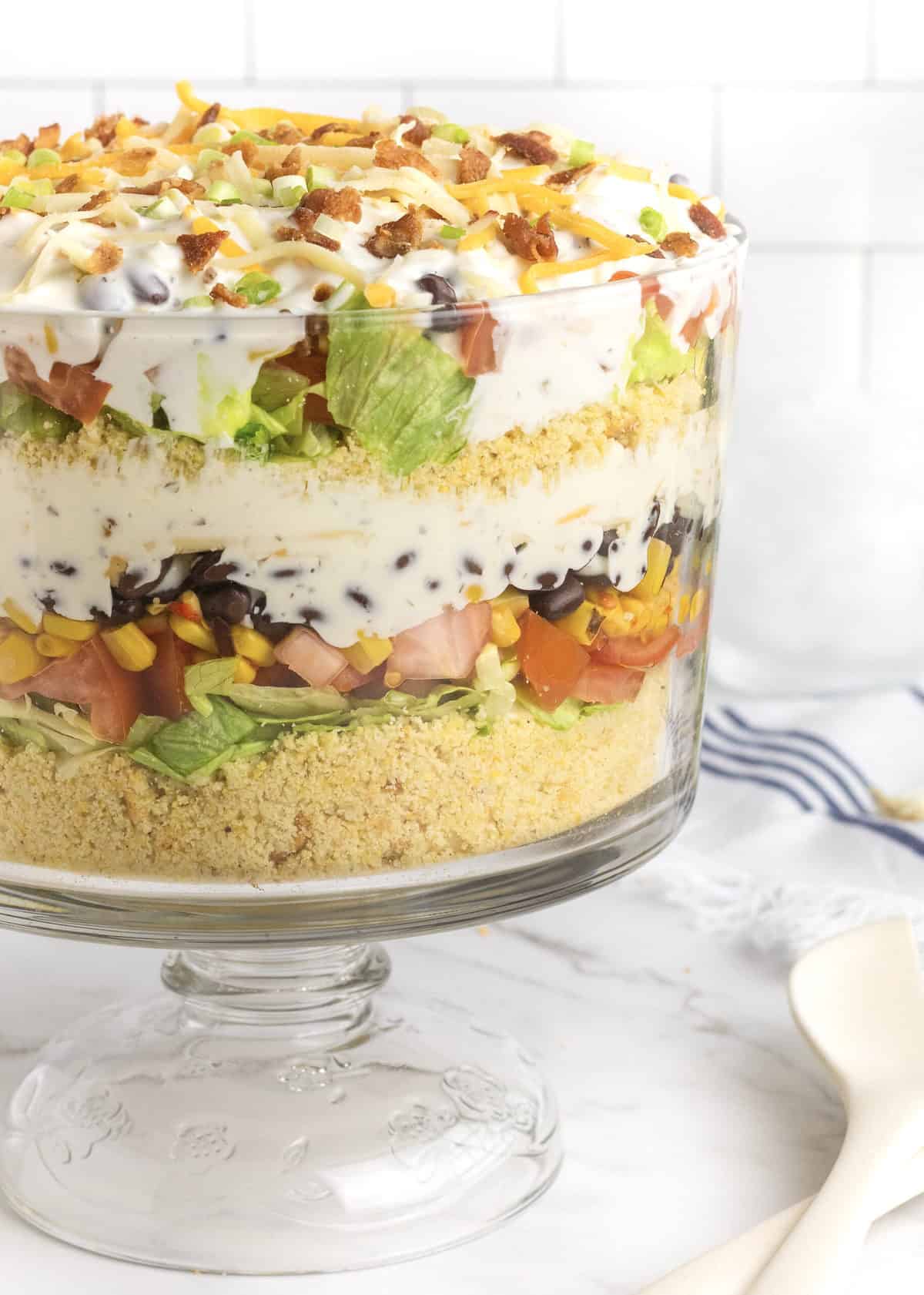 The perfect summer side dish, this Grilled Corn Salad with Strawberries, Feta and Mint makes mouths water! A delicious combination of sweet, salty, and savory flavors, it's sure to please everyone at your table!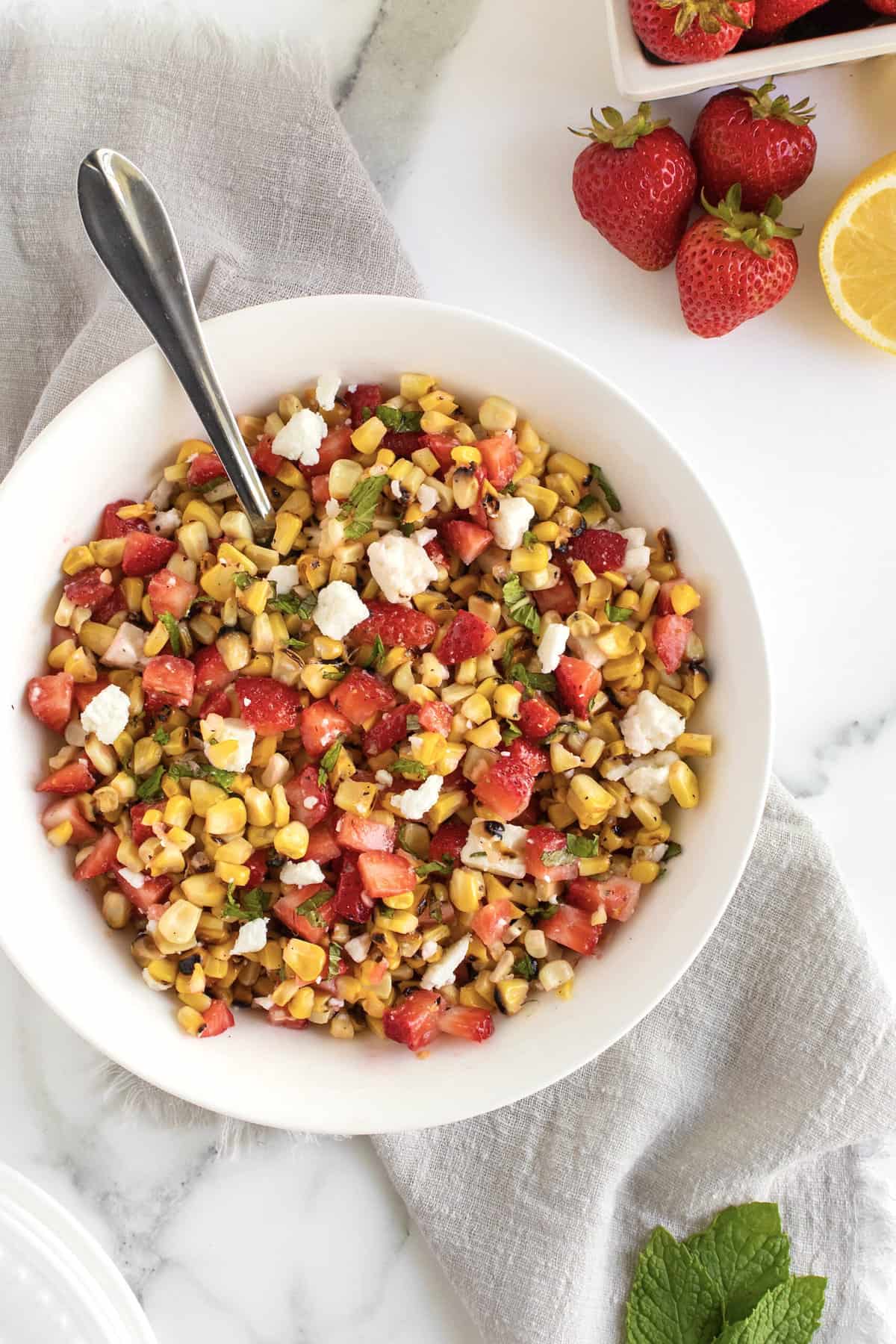 Crispy, crunchy, subtly sweet and a bit salty, too, this Broccoli Salad delivers big on texture and flavor! It's so satisfying and delicious, it will make a broccoli lover out of even the most reluctant veggie eater.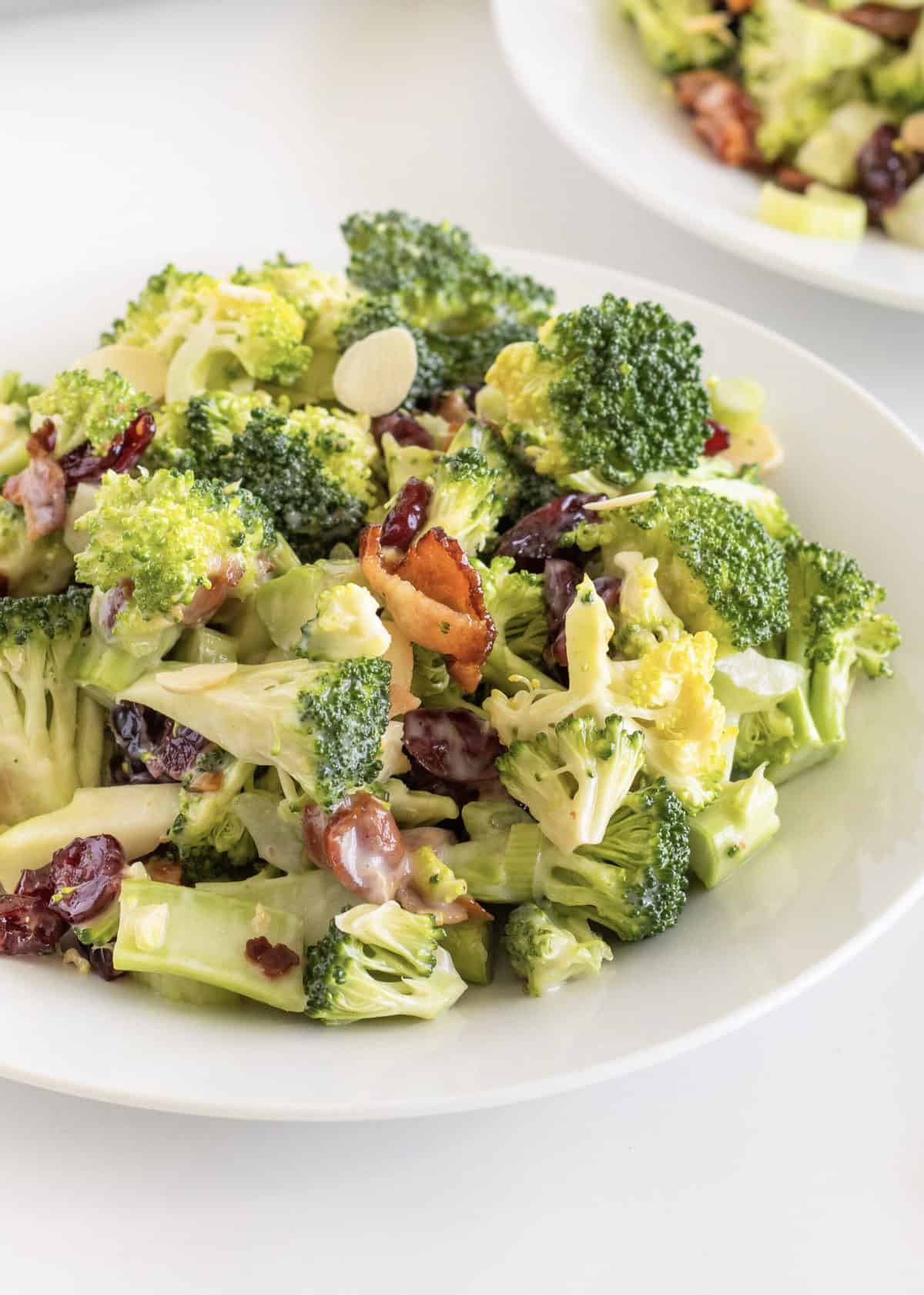 Warm grilled avocado and tomato atop a fresh and filling salad with the most amazing chipotle cilantro lime vinaigrette for an unbelievable Grilled Avocado and Tomato Salad!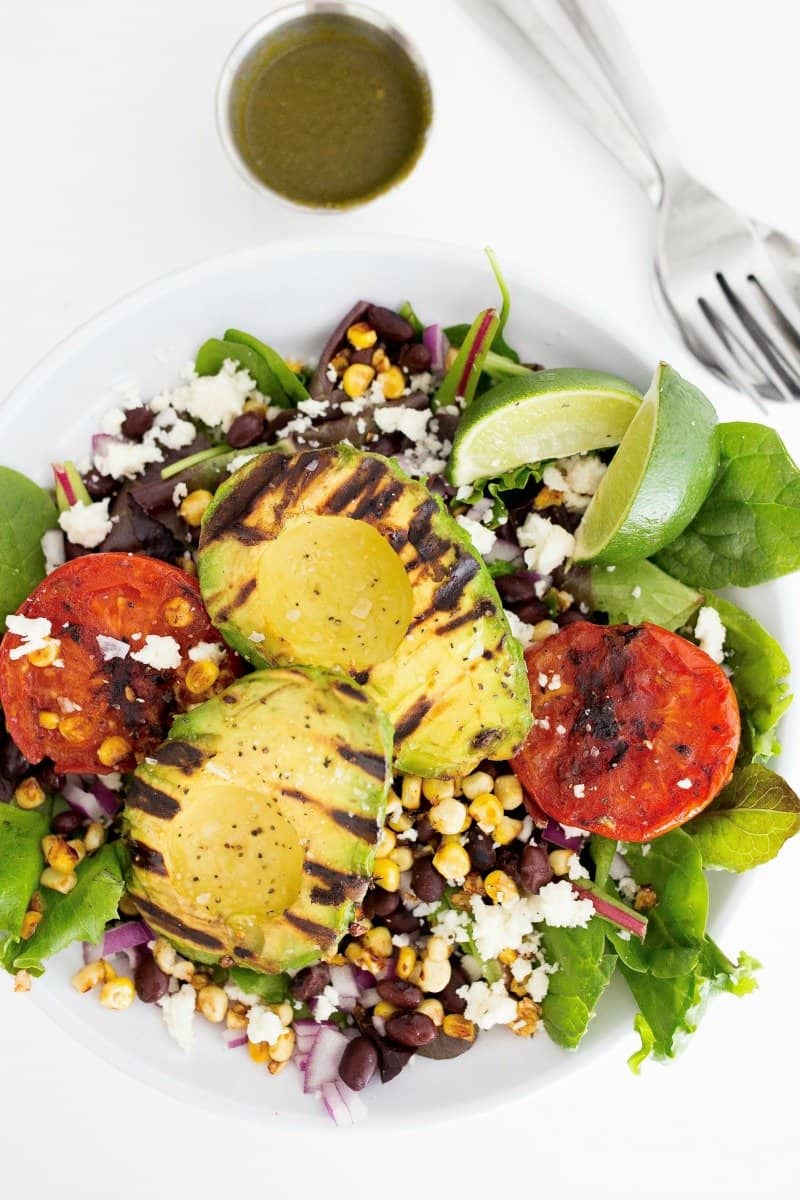 Desserts
Ice cream sandwiches layered with rich caramel, crunchy pecans and whipped topping. An indulgent and impressive Caramel Pecan Ice Cream Sandwich Cake that's so easy to make.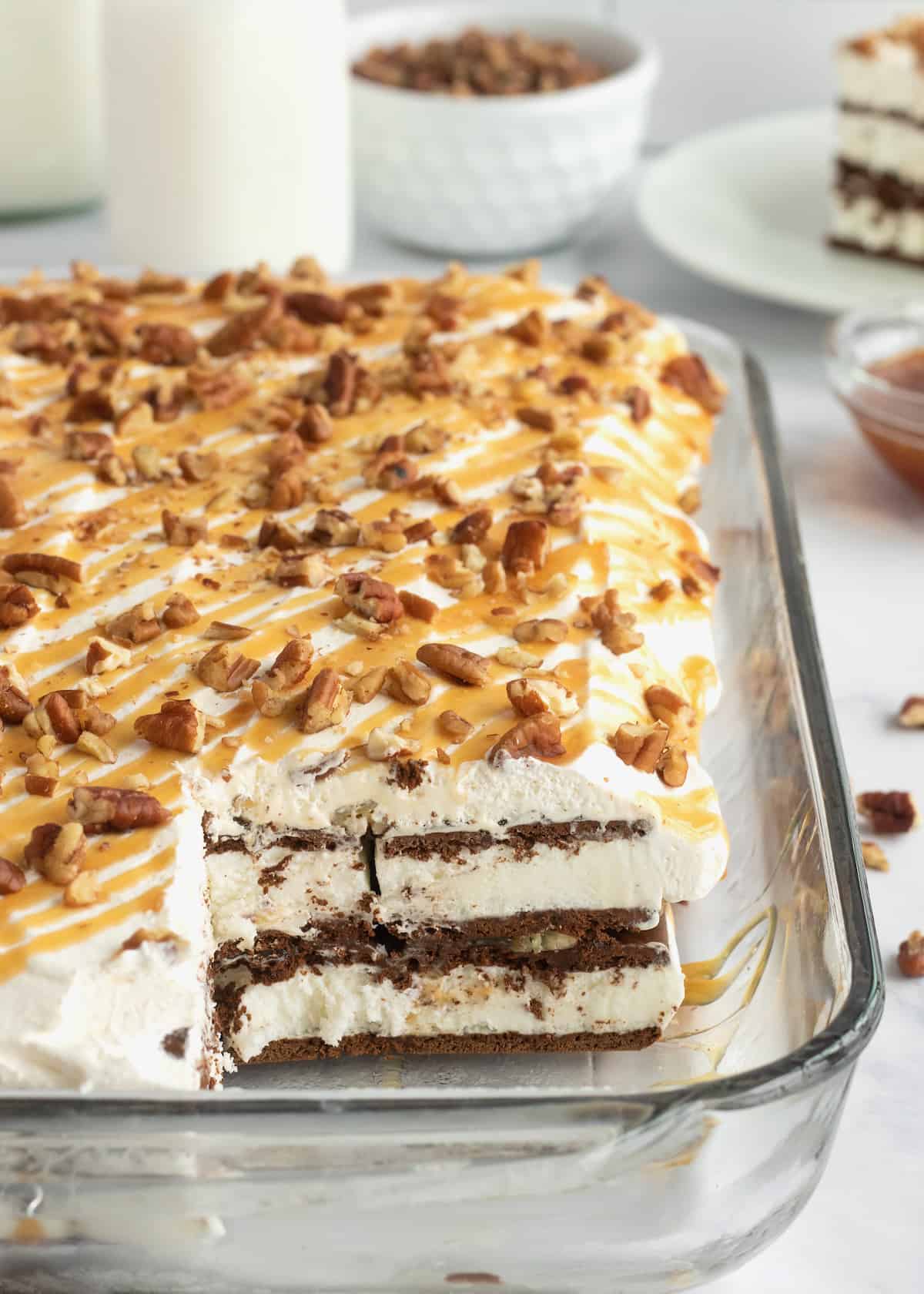 Sweet juicy peaches baked under a scrumptious cinnamon sugar topping make this Fresh Peach Crumble an instant favorite! Served warm with a scoop of vanilla ice cream, it's a the perfect summer dessert!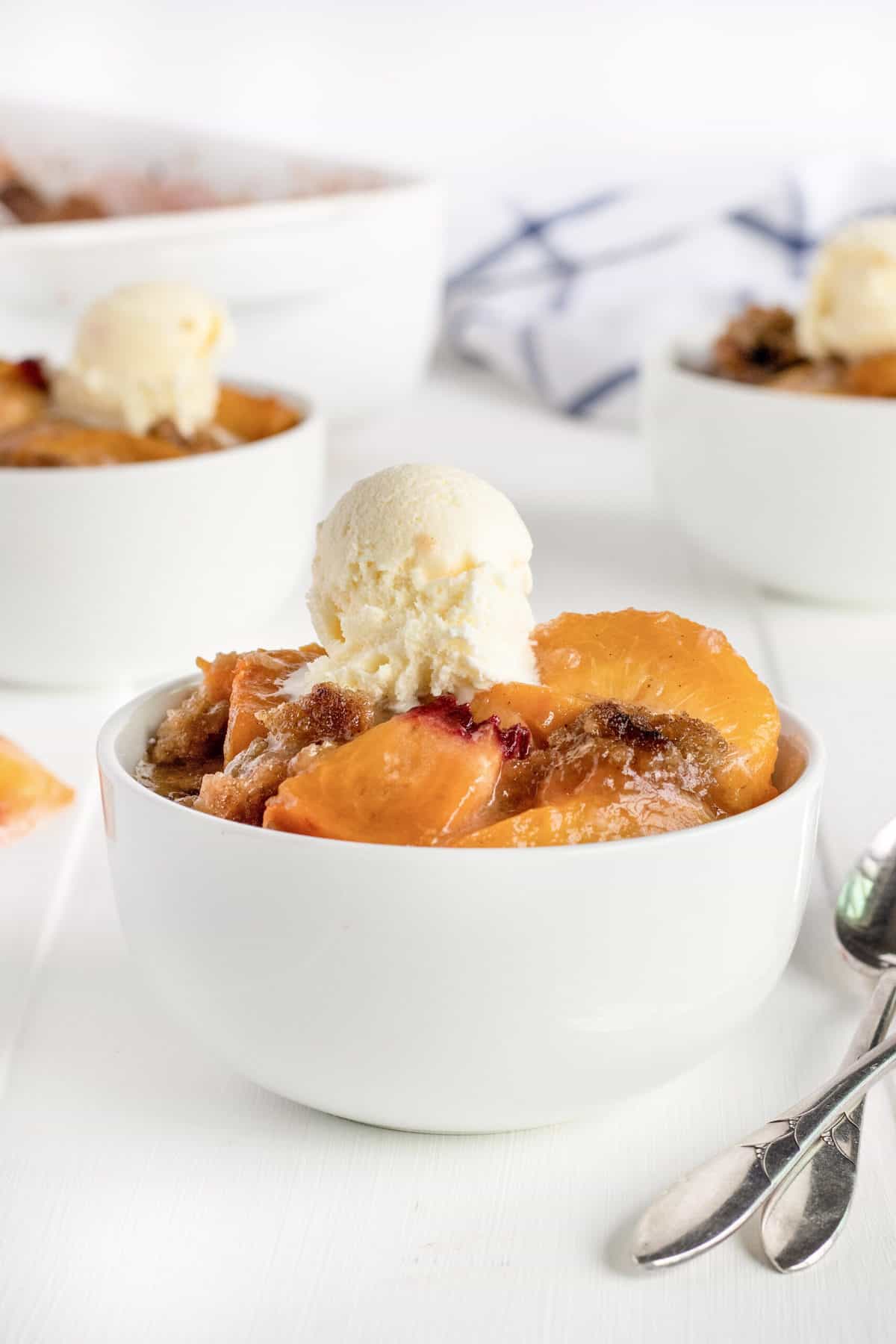 Make s'mores night even s'more fun with a loaded S'mores Board or S'mores Tray that lets each person build their own s'mores creation – the possibilities are endless!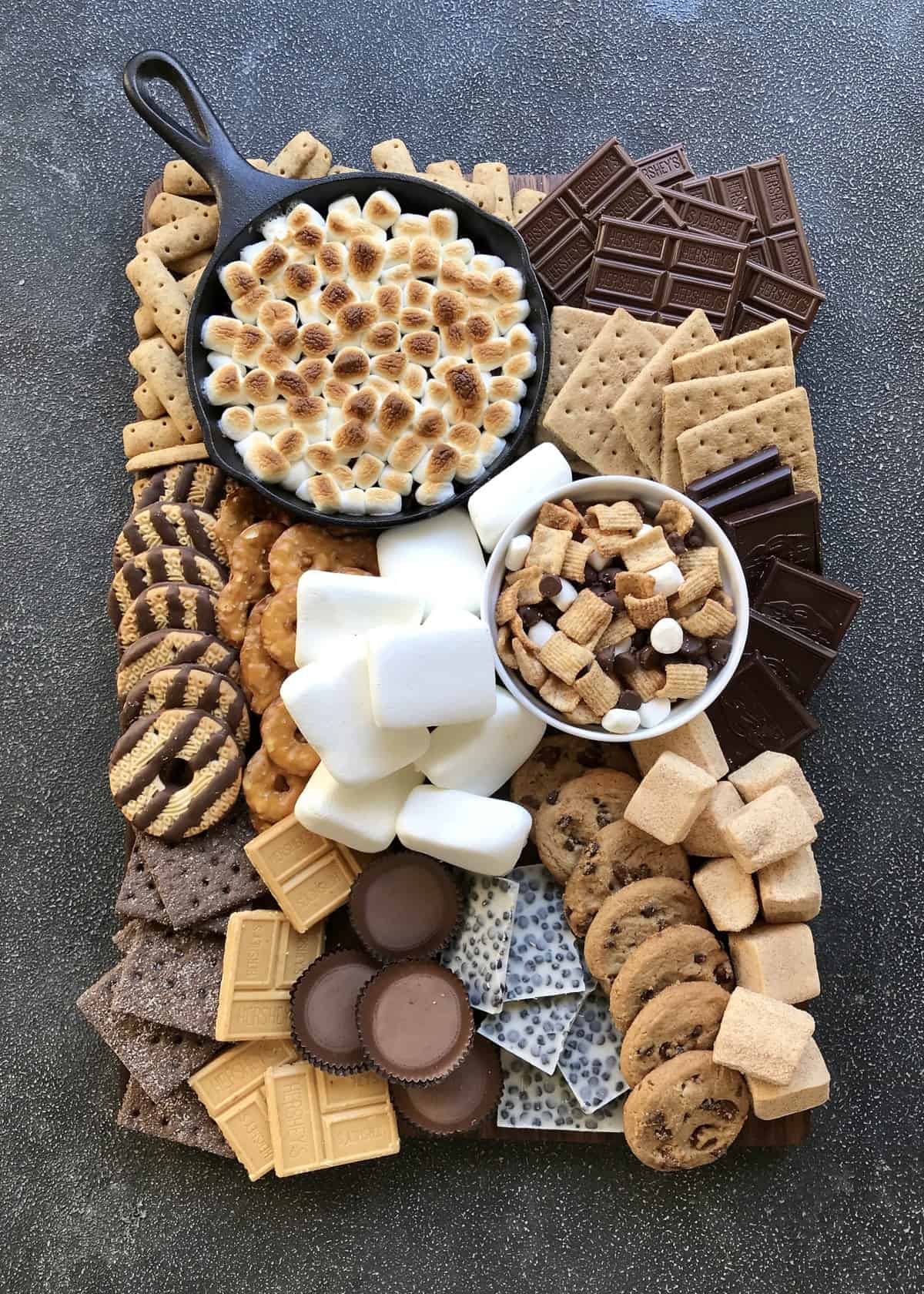 Nothing celebrates the sweetness of summer like a beautiful and delicious Fresh Strawberry Pie. From the flaky crust to the tender strawberry filling, it's the mouth-watering flavor that summer memories are made of!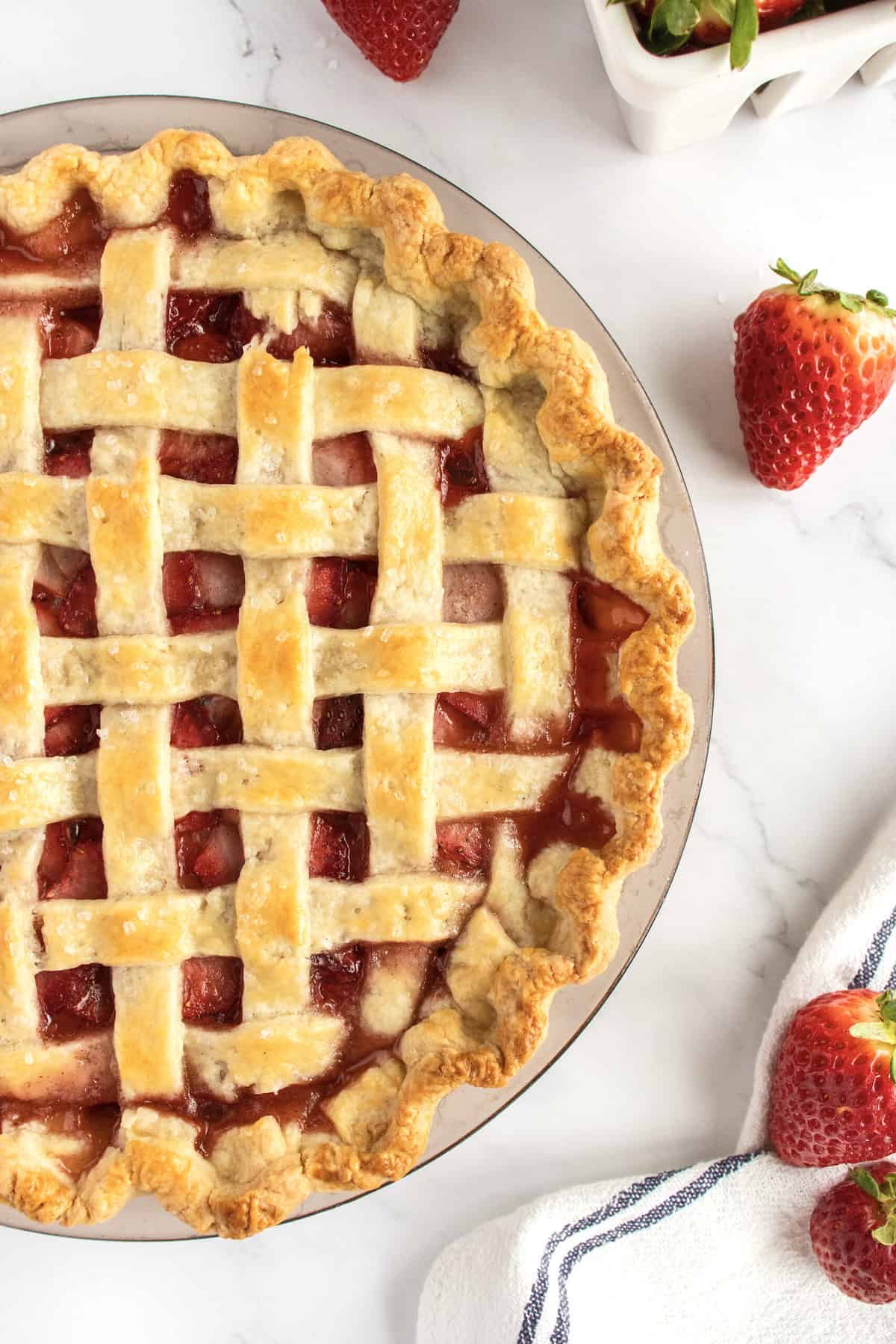 Drinks
Ice Chest Tea is the perfect drink to serve to a crowd. It's refreshing and everyone loves it!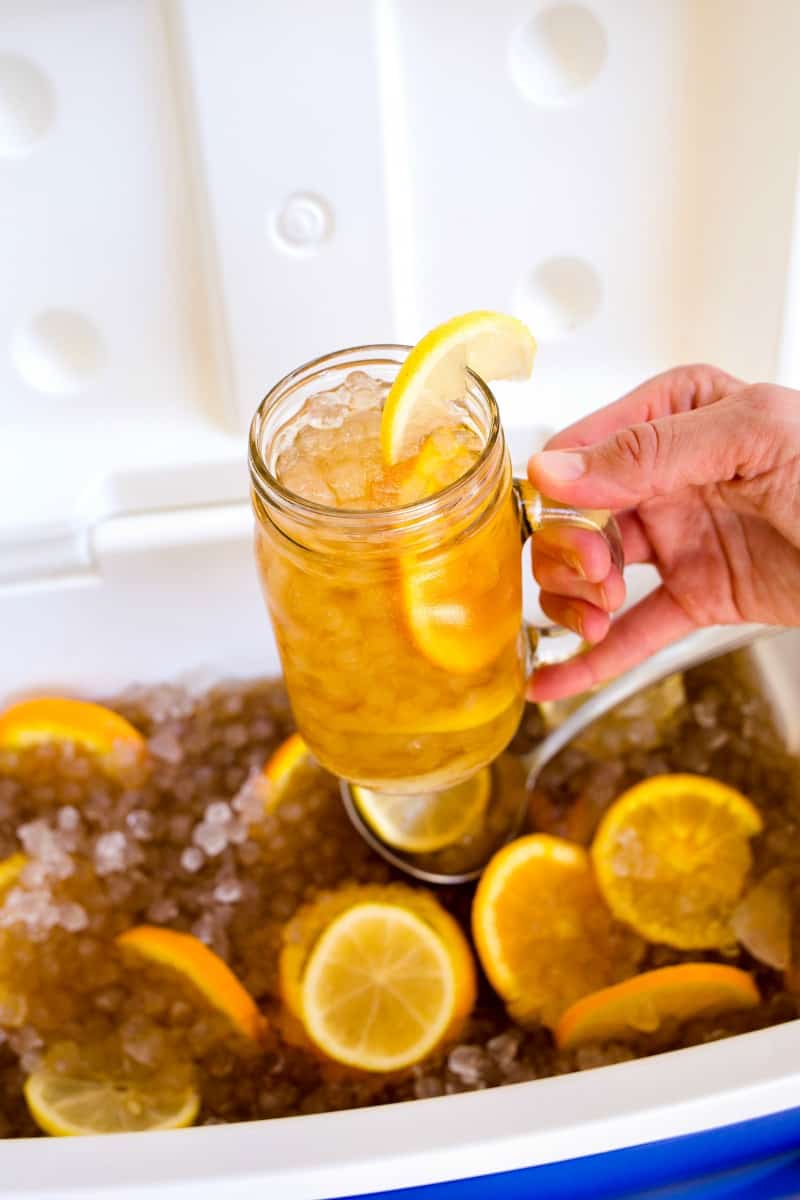 Sweet mint and tart lemons make this Fresh Mint Lemonade the perfect antidote to the heat of a summer day! Make a pitcher, kick back and enjoy this refreshingly simple drink. A true summer favorite!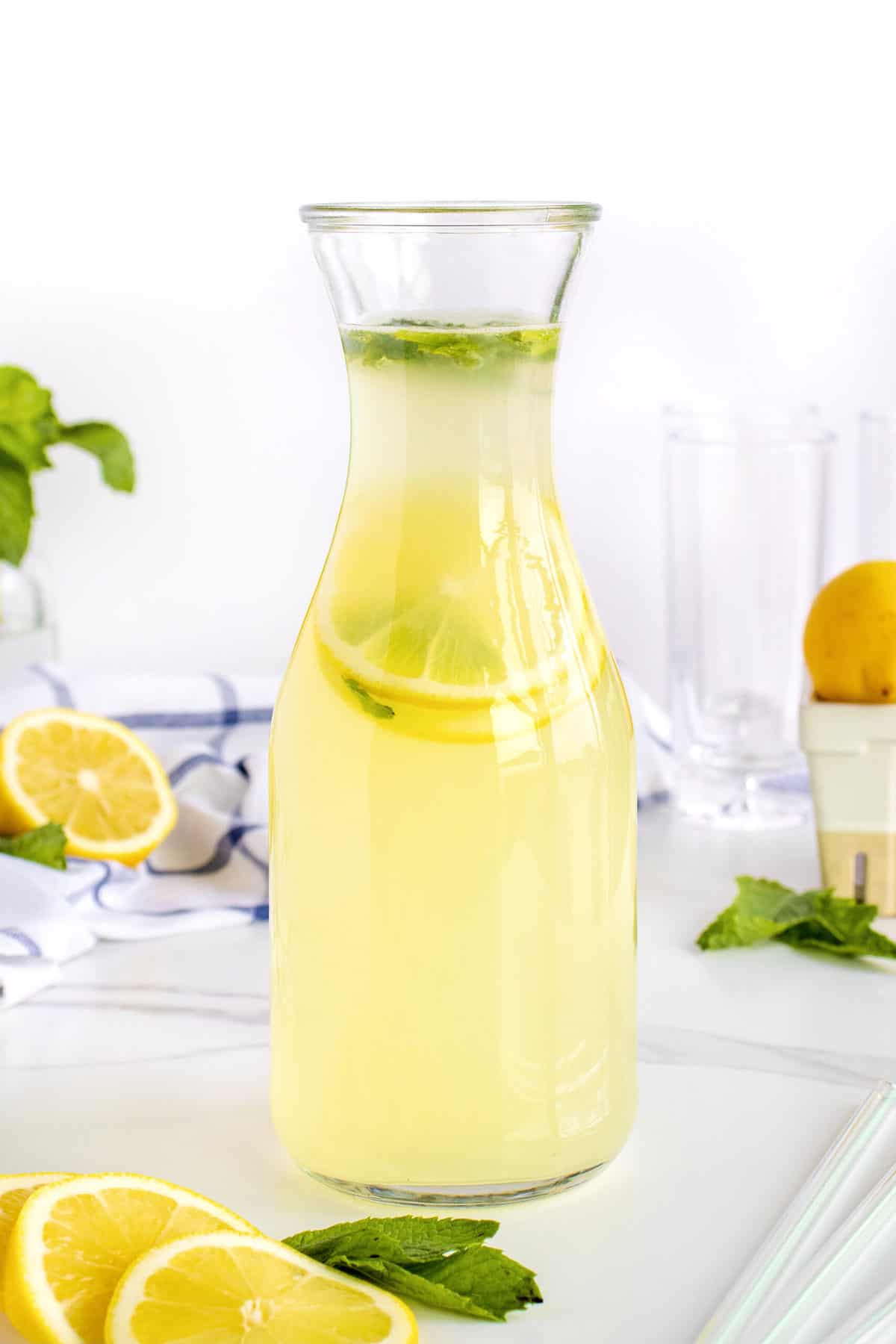 Zesty Lemonade is a classic vodka lemonade kicked up with the addition of rich limoncello and spicy chile liqueur. A refreshing poolside cocktail that may be a bit too easy to drink!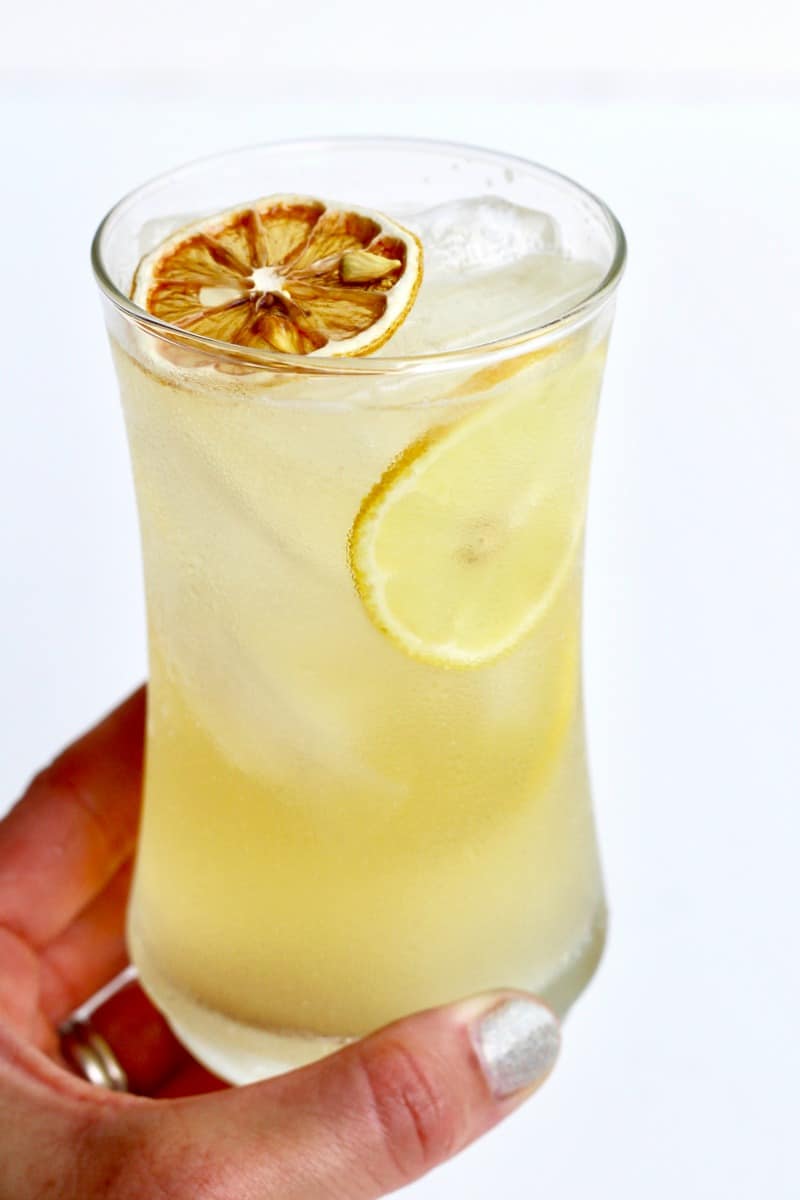 Making Brandon's Best Margarita is as easy as 1-2-3! Pour, shake, and strain your way to the most refreshing, flavorful margarita you don't have to leave home for. Cheers!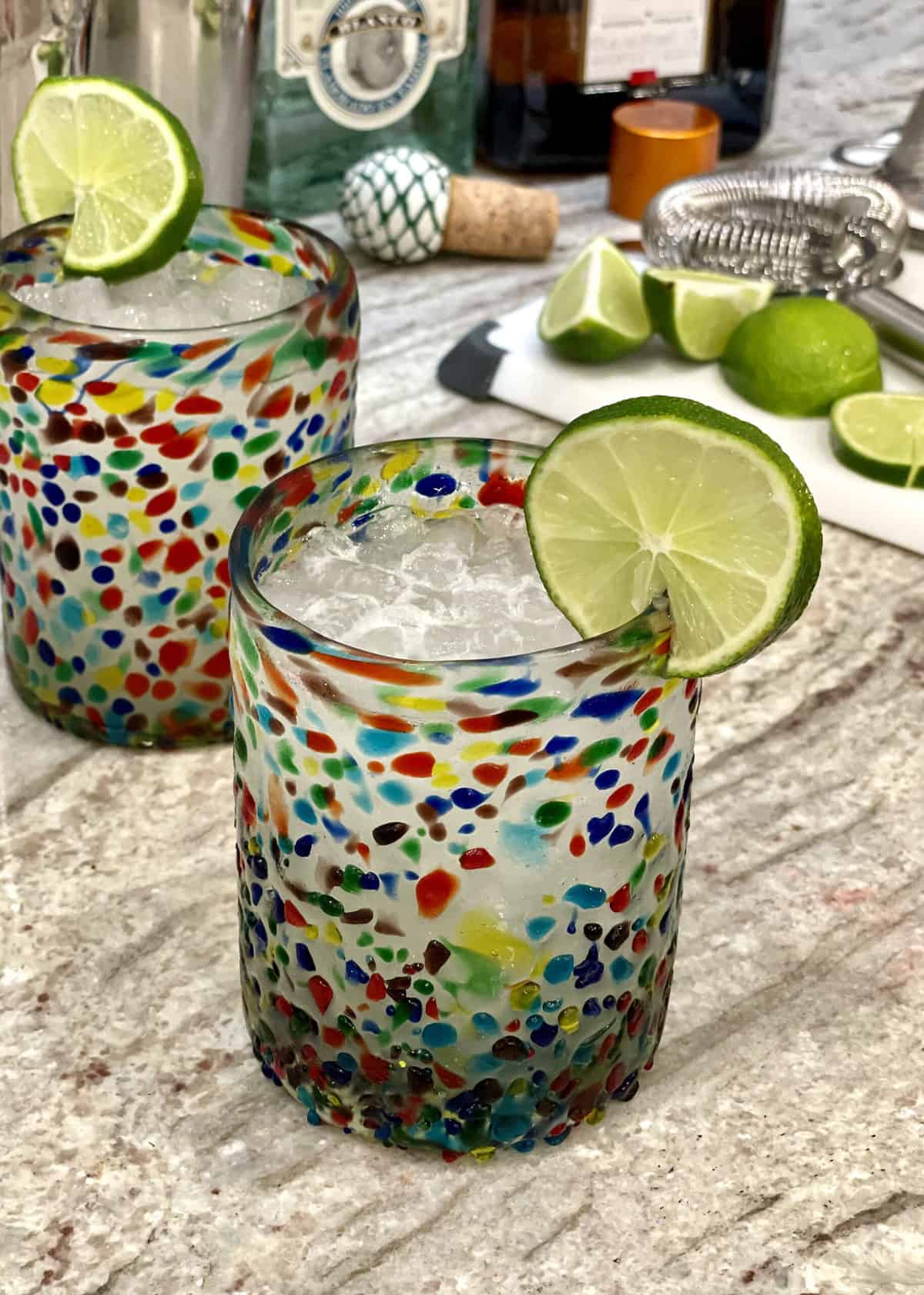 Spread the Love
Find lots of inspiration for summer grilling with my Grilled Hamburger and Hot Dog Spread found on pages 58-59 in my Spectacular Spreads Cookbook.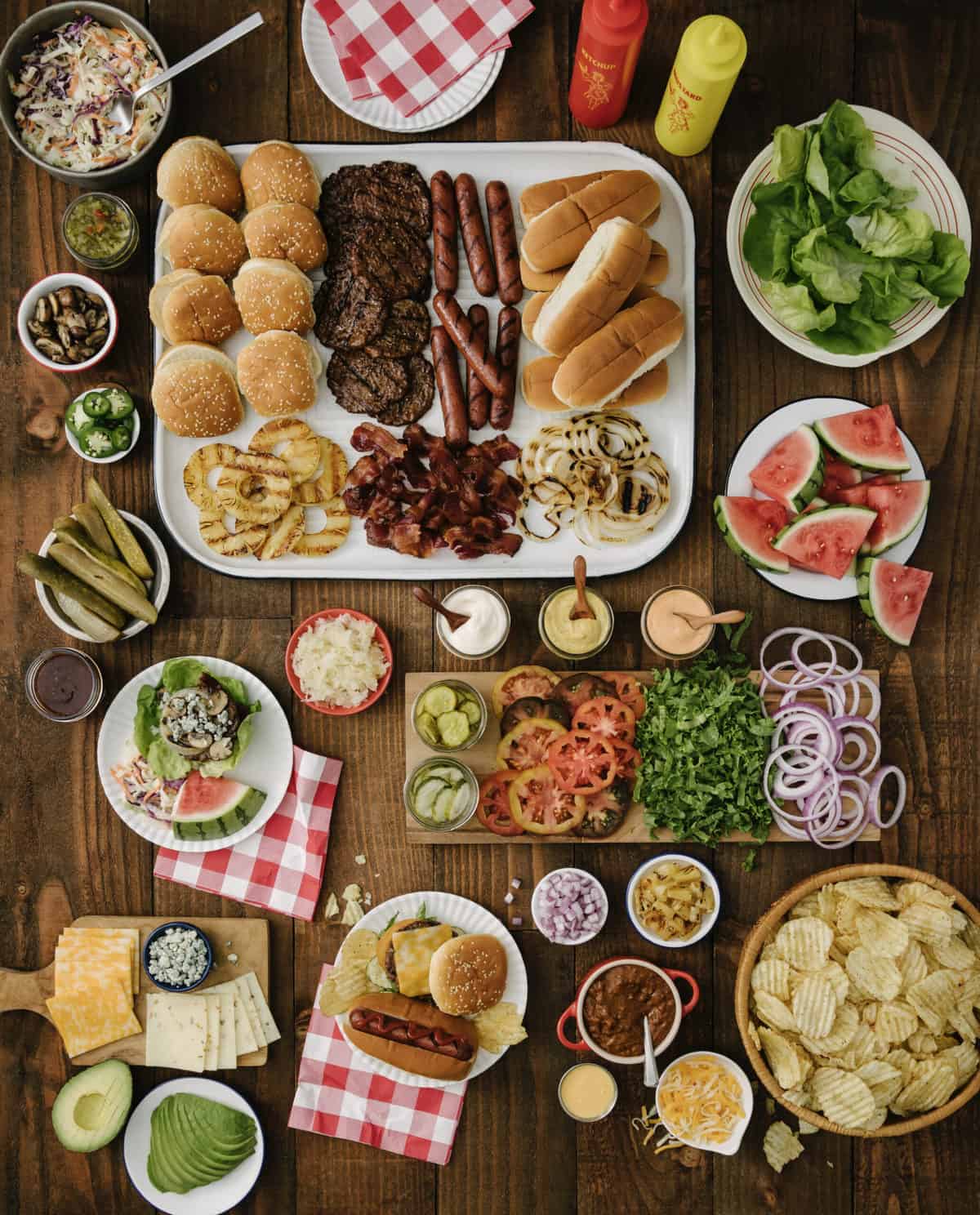 If you make any of our Summer Grilling Favorites, be sure to snap a picture and tag me on Instagram @thebakermama so I can see!
I love seeing how inspired and creative y'all get with the ideas I share.
xoxo,