Fire up the grill for these awesome chicken skewers wrapped in crispy caramelized bacon that will instantly become the stars of your game day grub!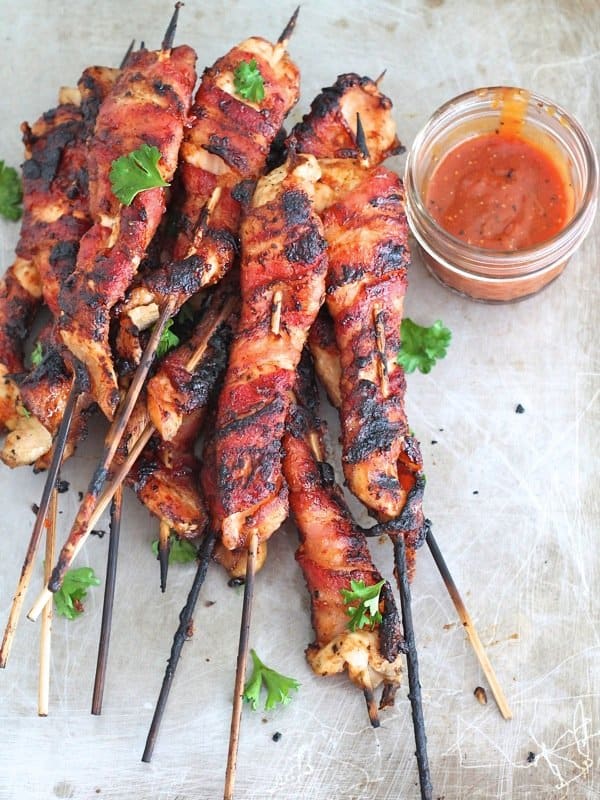 This post was created as part of my partnership with Tyson® Foods and I have been compensated. However, all thoughts and opinions are certainly my own.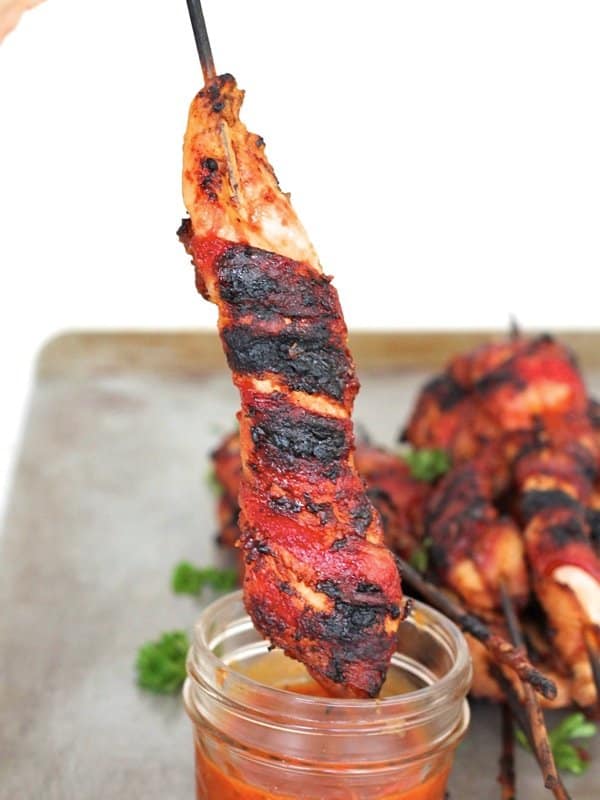 It's football season, y'all, and that means we're grilling up game day grub every weekend! Whether we're tailgating before going to the game or have a crowd on our couch watching the games, we've always got the grill fired up and a winning spread to keep everyone energized to cheer on their favorite team!
A few weeks ago, I picked up some Tyson Fresh Chicken breast strips that were already trimmed and ready to go! They pretty much screamed they wanted to be skewered and that's exactly what we did with them. But, we took them a tasty step further and wrapped them in bacon first. Oh yeah! Can't go wrong with bacon, right?!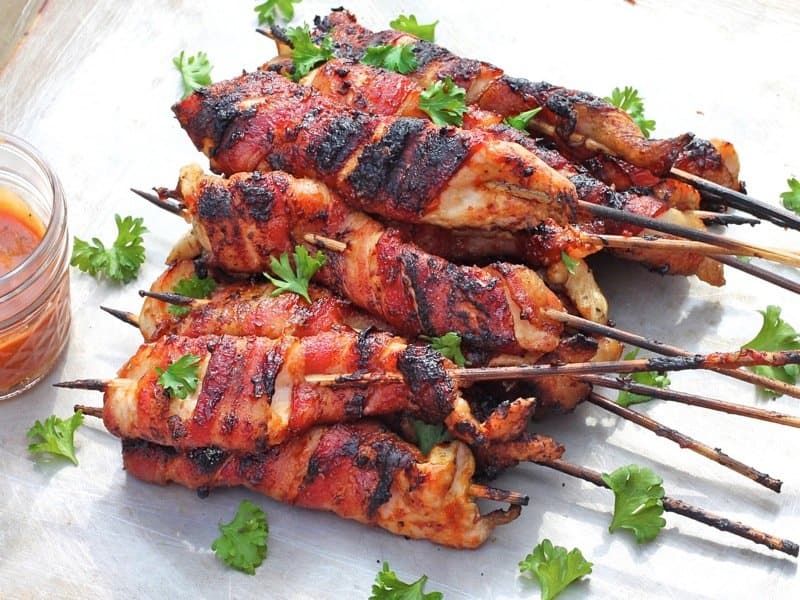 It took no time to prep them and even less to grill them to perfection.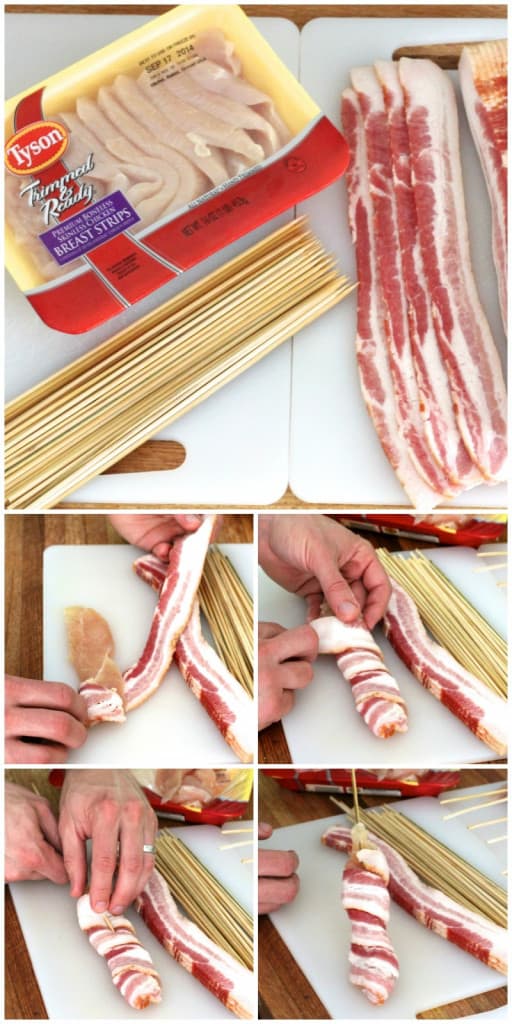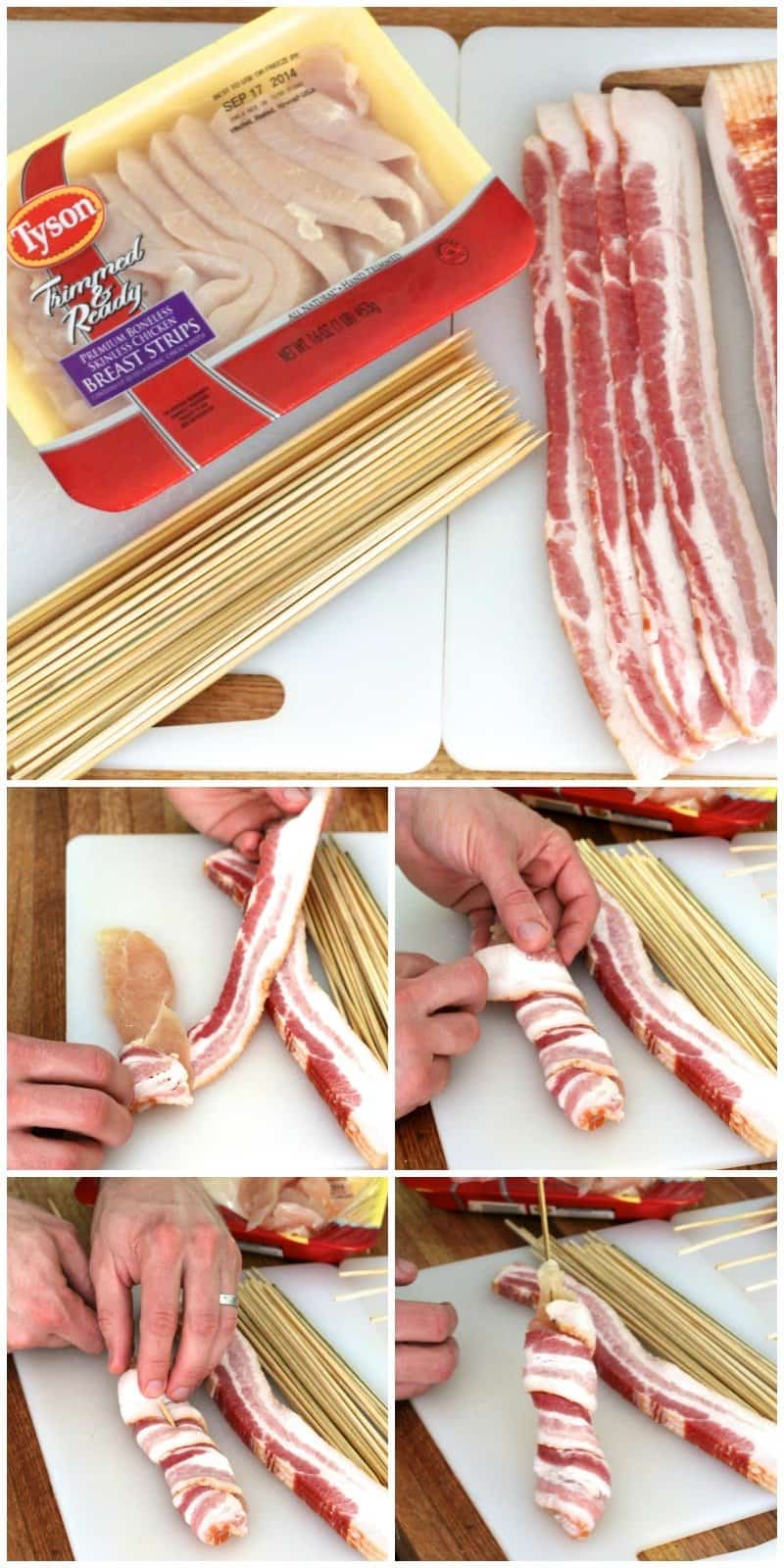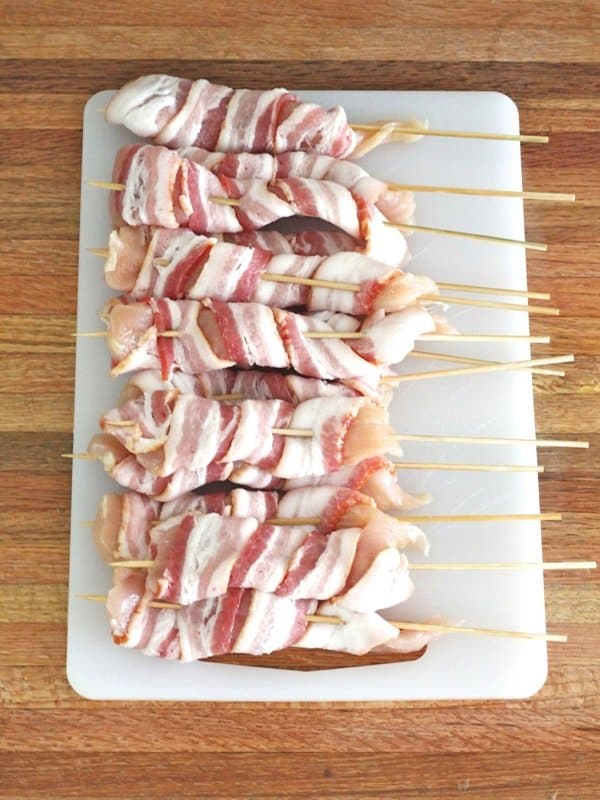 We basted them with a simple sauce of ketchup, mustard, maple syrup and black pepper and it just brings everything terrifically together. The sauce caramelizes on the crispy bacon while the chicken stays nice and juicy.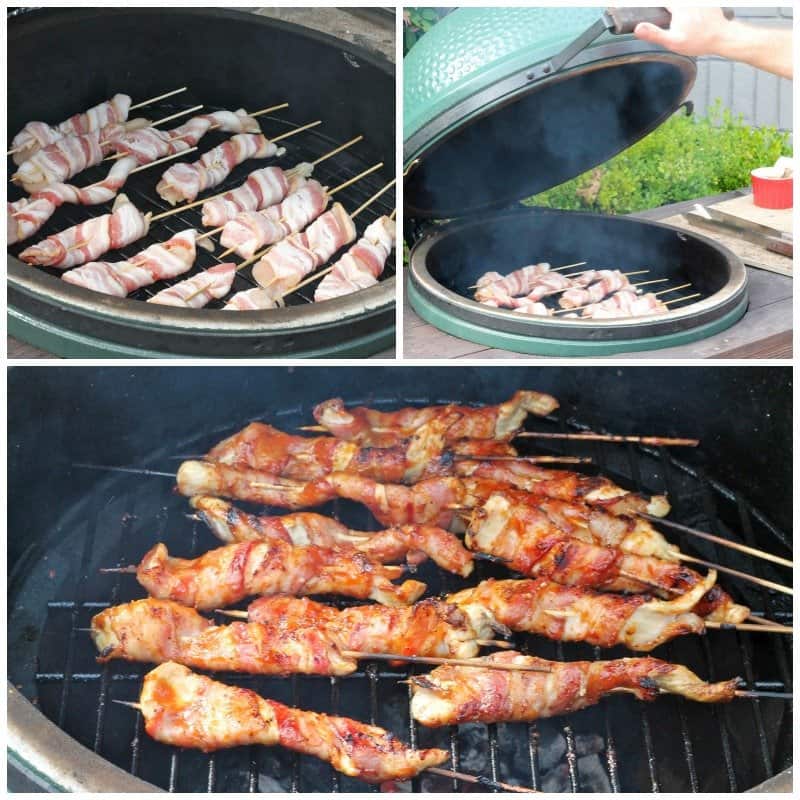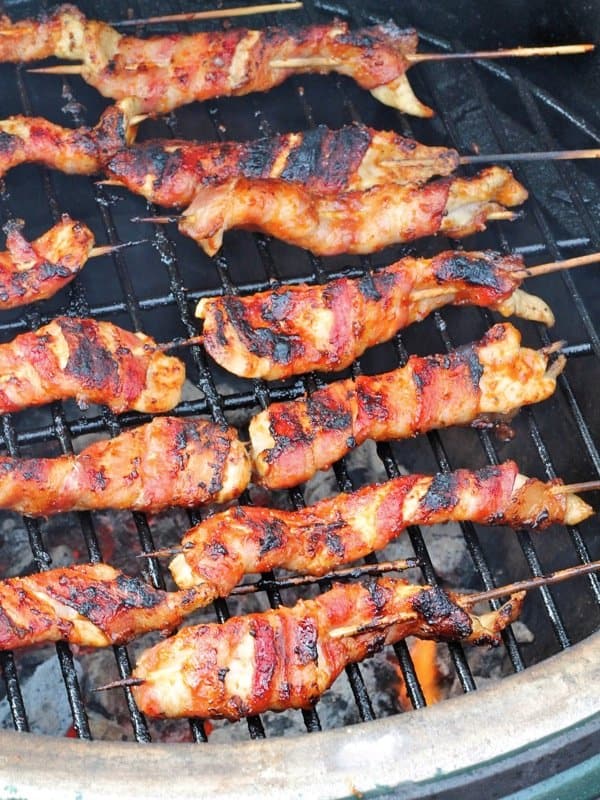 These Tyson Fresh Chicken breast strips are so handy and of such high-quality. The fact that they're already trimmed, saves us so much time and effort and we feel great serving it to our friends and family because it's all natural* with no added hormones or steroids**. You can definitely tell the difference! And I love that it's been raised by family farmers for the past 75 years.
We've already added these tasty skewers to our game day menu twice and we all love them so much that I have a feeling they've become a staple. Even the kiddos think they're fun and yum to eat! We're all about it since they're easy to prep and quick to grill.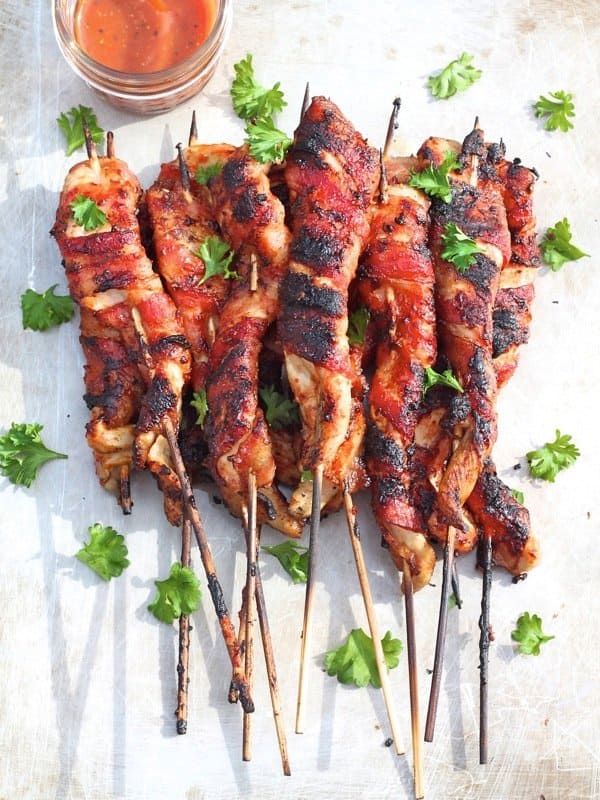 Everyone goes on and one about how awesome they are and literally fights to make sure they have plenty on their plate before they all get devoured. With this guy being one of those fans and fighters! 😉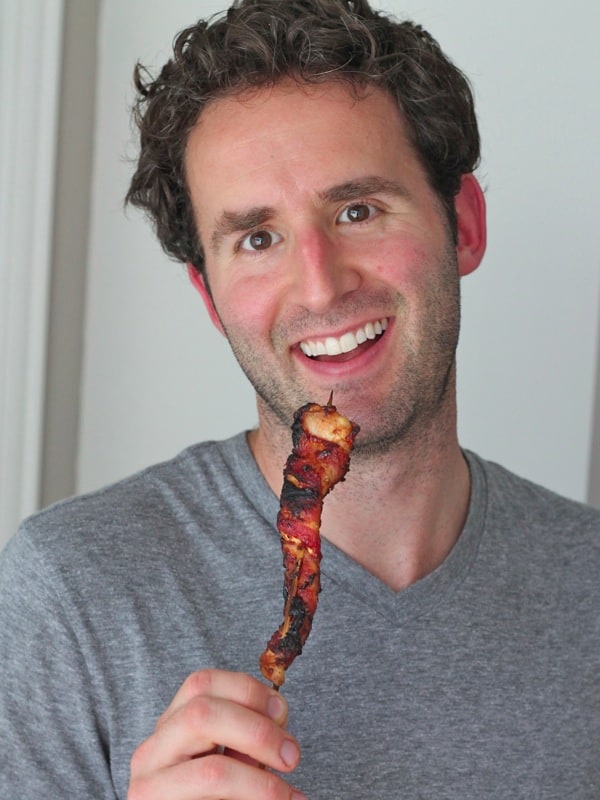 So go fire up the grill so you can serve up this greatness on game day or any day for that matter! And for more great grilling inspiration and great chicken recipes, check out: PickTysonFresh.com.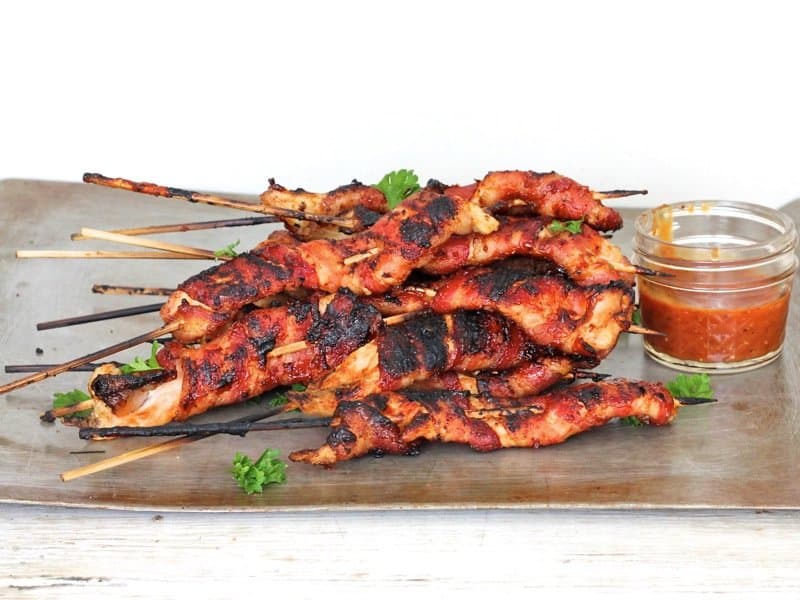 Clear skies, full grill, can't lose!
Enjoy, y'all!
~Maegan
 A big thank you to Tyson for sponsoring this post so I can share this and other great recipes for you and your family to make and enjoy!

Bacon-Wrapped Grilled Chicken Skewers
Fire up the grill for these awesome chicken skewers wrapped in crispy caramelized bacon that will instantly become the stars of your game day grub!
Author:
Maegan - The BakerMama
Ingredients
1 (16 ounce) package Trimmed & Ready Tyson boneless, skinless chickenbreast strips
15 slices of thick-cut bacon
15 wooden or metal skewers
3 tablespoons ketchup
2 tablespoons maple syrup
1 tablespoon yellow mustard
½ teaspoon ground black pepper
Instructions
Heat your grill to medium-high heat.
Wrap each strip of chicken with a slice of bacon. Skewer each bacon-wrapped chicken strip onto a wooden or metal skewer, making sure to weave the skewer through both the bacon and the chicken.
In a small bowl, whisk together the ketchup, maple syrup, mustard and black pepper.
Place skewers on your well-oiled grill (to prevent sticking) and grill one side for about 3 minutes or until bacon starts to crisp. Turn over and baste the grilled side with half of the sauce while the other side cooks. After about 3 minutes, turn the skewers back over and baste the other sides. Continue to flip and baste until the bacon is caramelized and crispy and the chicken is cooked all the way through. Chicken is cooked when it reaches an internal temperature of 165°F.
Remove from grill and enjoy!
*Minimally processed. No artificial ingredients.
**Federal regulations prohibit the use of added hormones or steroids in chicken.