Take the guesswork out of your Christmas menu planning with these Holiday Meal Must-Makes! From apps to sides to main dishes, cocktails and desserts, these festive holiday dishes are sure to please!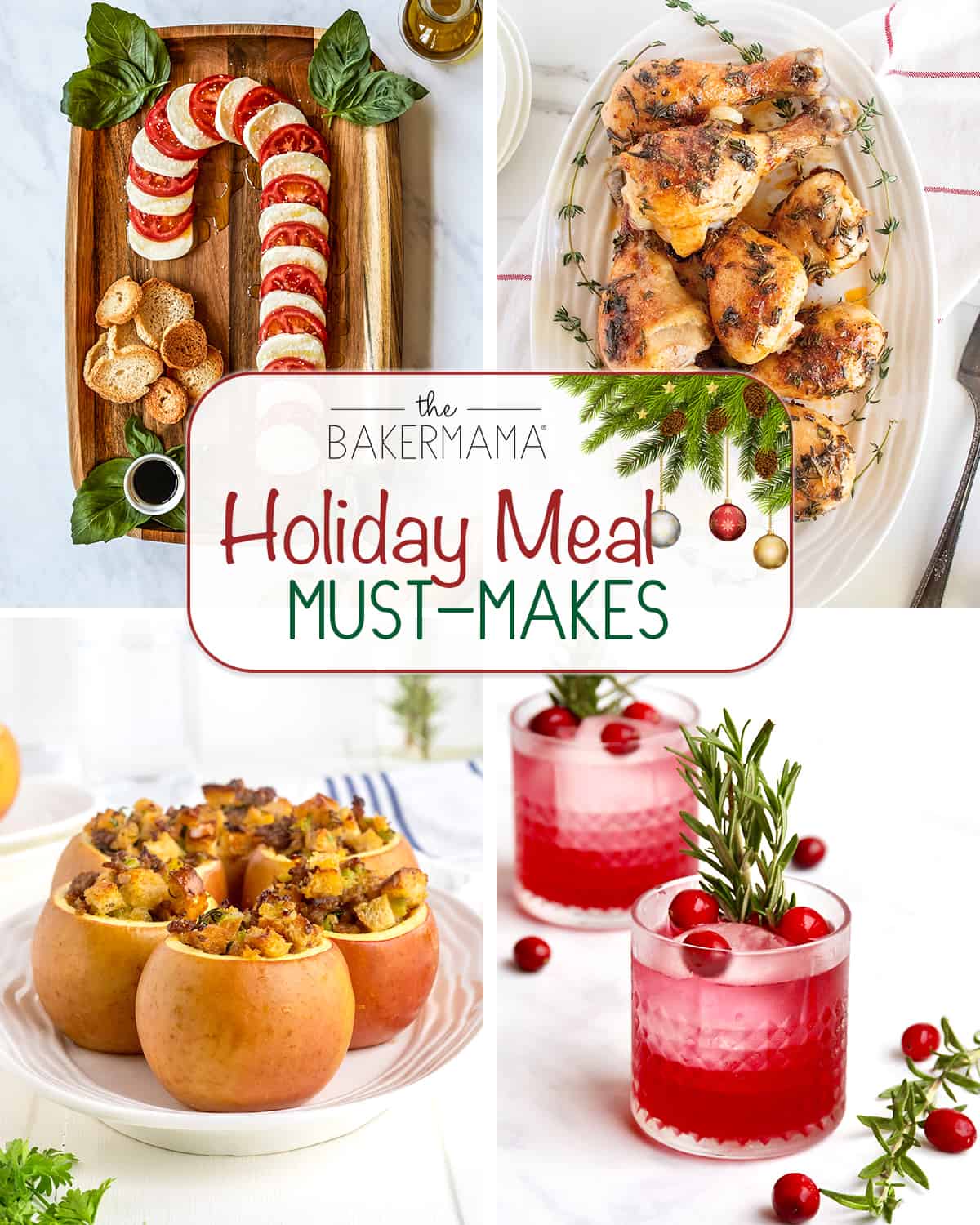 Appetizers
Nibble, dip, and nosh through these appetizers that are perfect for keeping the pre-dinner hunger pangs at bay.
A beautiful and delicious Caprese Wreath makes a festive addition to your holiday meals. Simple and easy to make, it's an elegant appetizer everyone will love.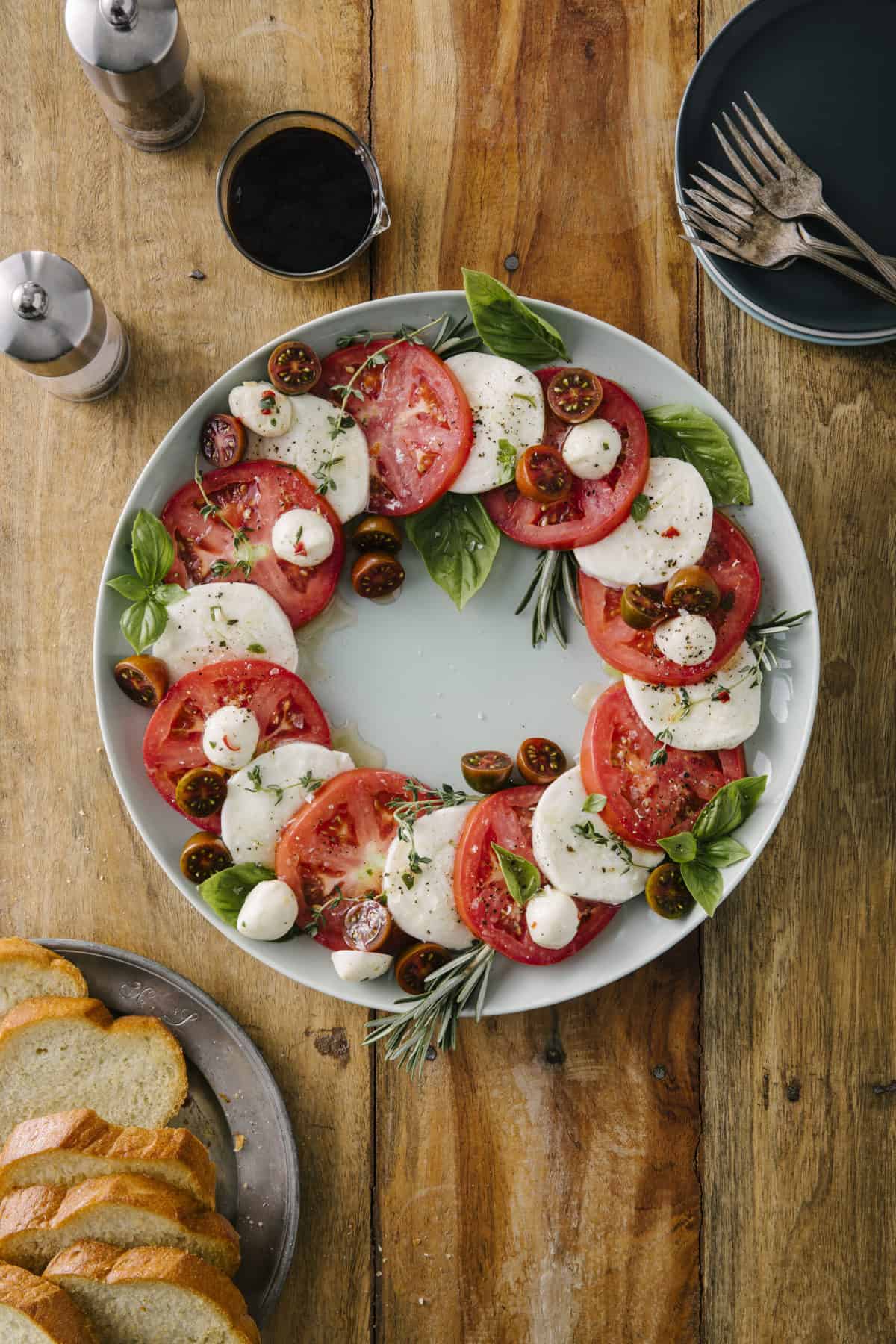 This Candy Cane Caprese Board from The BakerMama's Beautiful Boards cookbook is such a simple and stunning way to serve an appetizer during the holidays.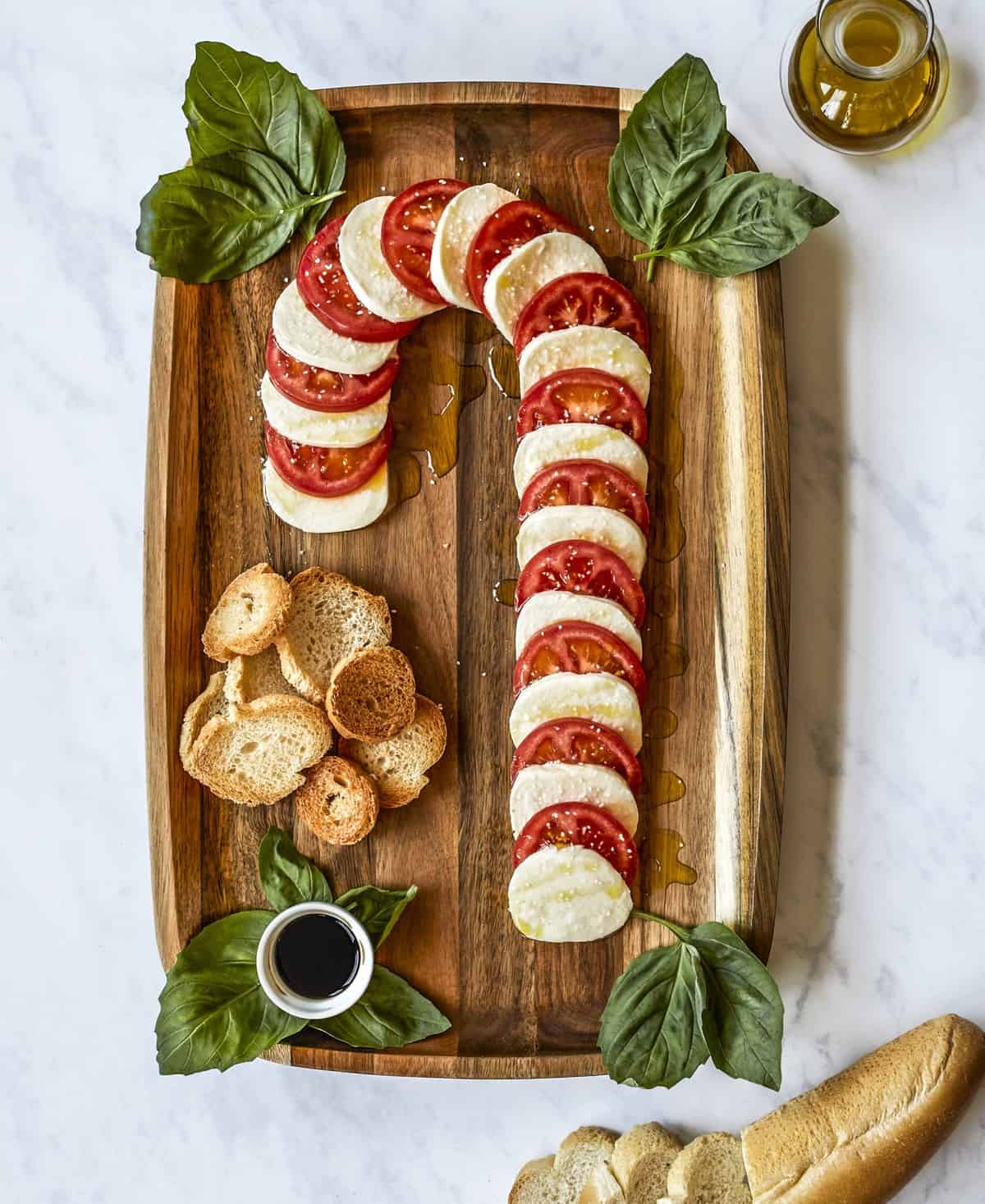 This simple and oh-so-cute Santa Snack Board, made out of hummus, veggies, cheese and crackers, is sure to put you at the top of the nice list!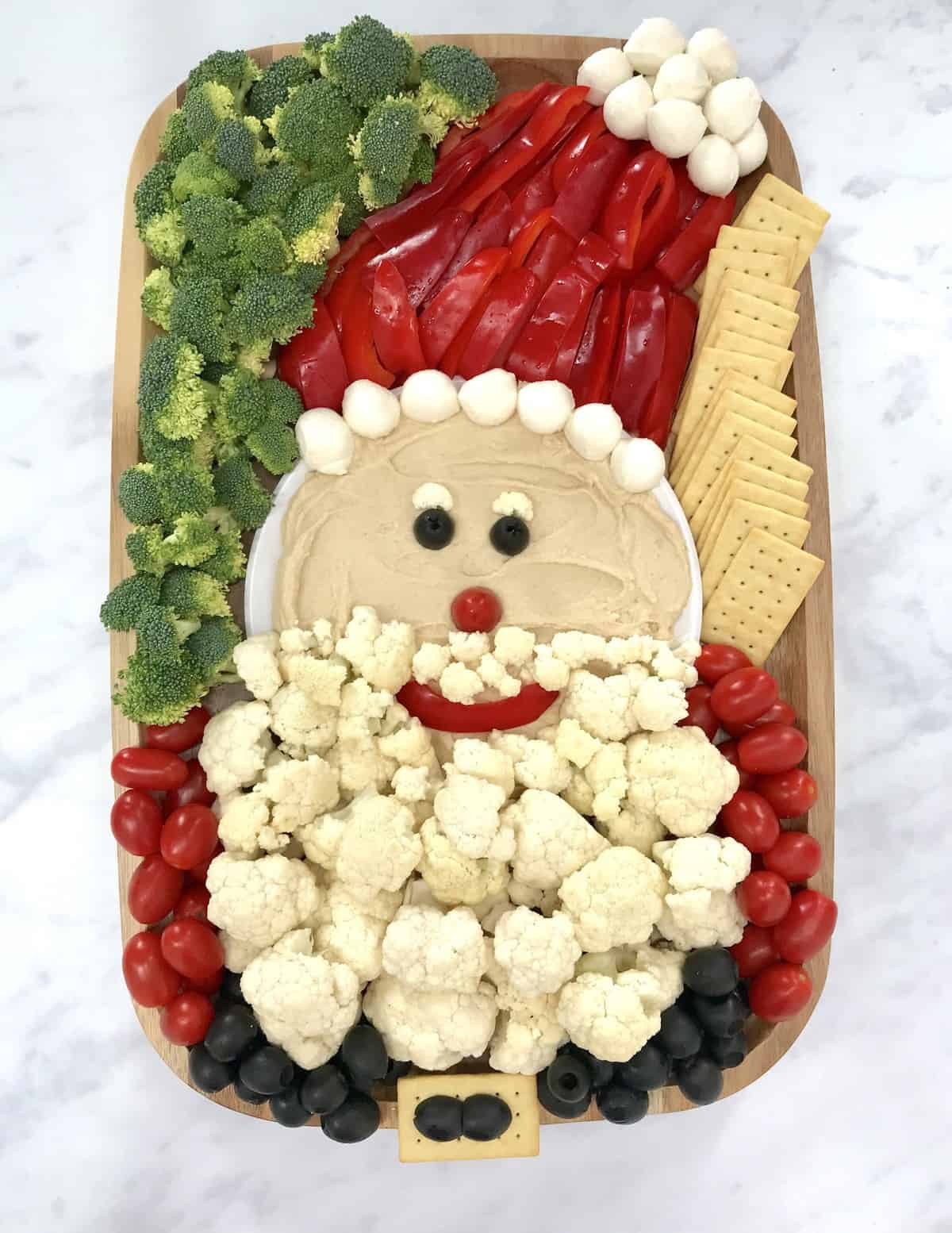 Oh, by golly, it's a Holly Jolly Kid's Snack Board! This adorable snack board is as engaging as it is tasty (and healthy too!). The kids will love building and snacking on this festive board made with simple, wholesome ingredients. Holiday memories that will last a lifetime!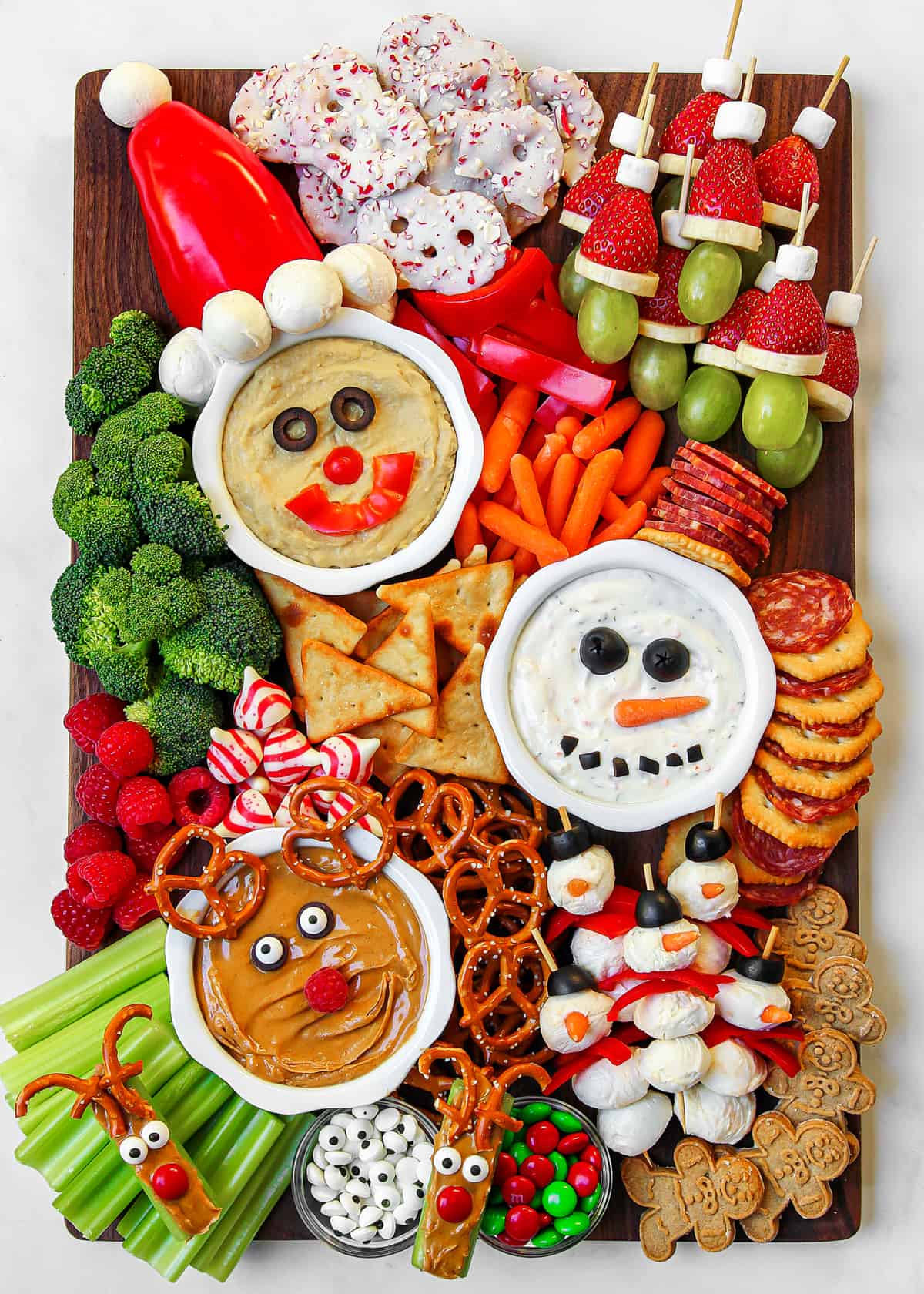 An easy and festive Christmas Tree Snack Board that is sure to be enjoyed by all at your holiday gatherings!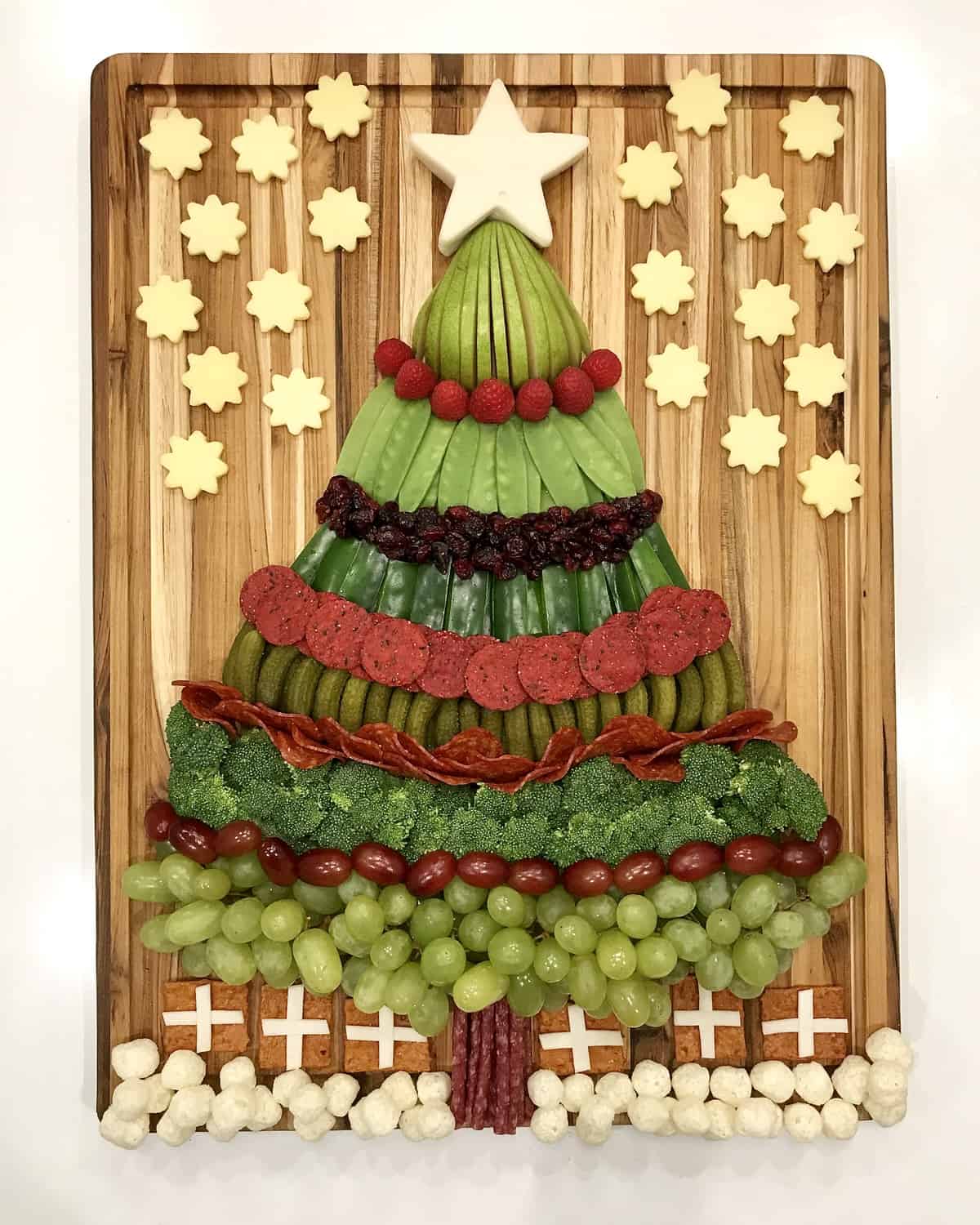 Or this fun and festive Kid's (or kids at heart!) Christmas Tree Snack Board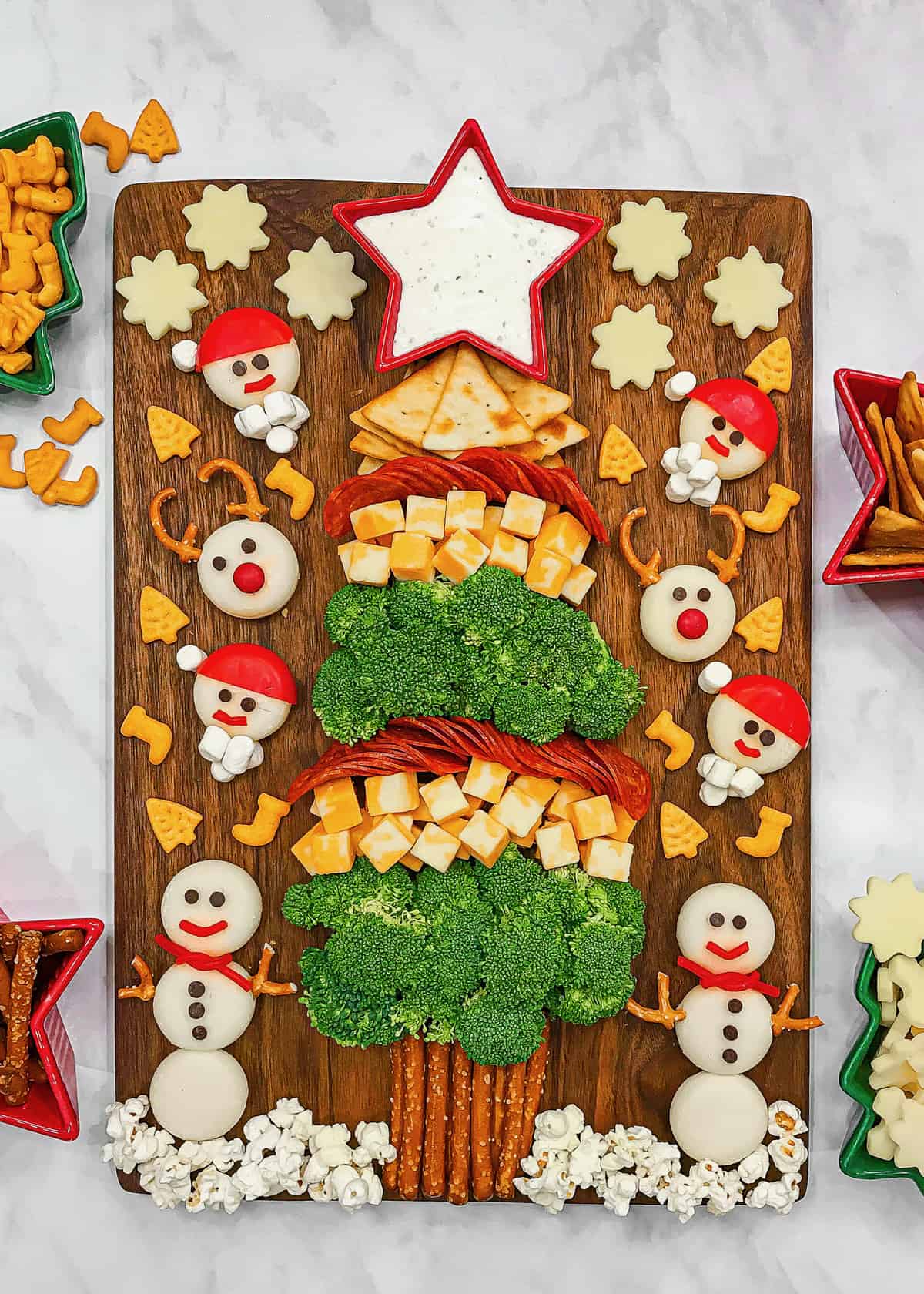 This easy Christmas Tree 7 Layer Dip is sure to make your holiday fiesta even more festive!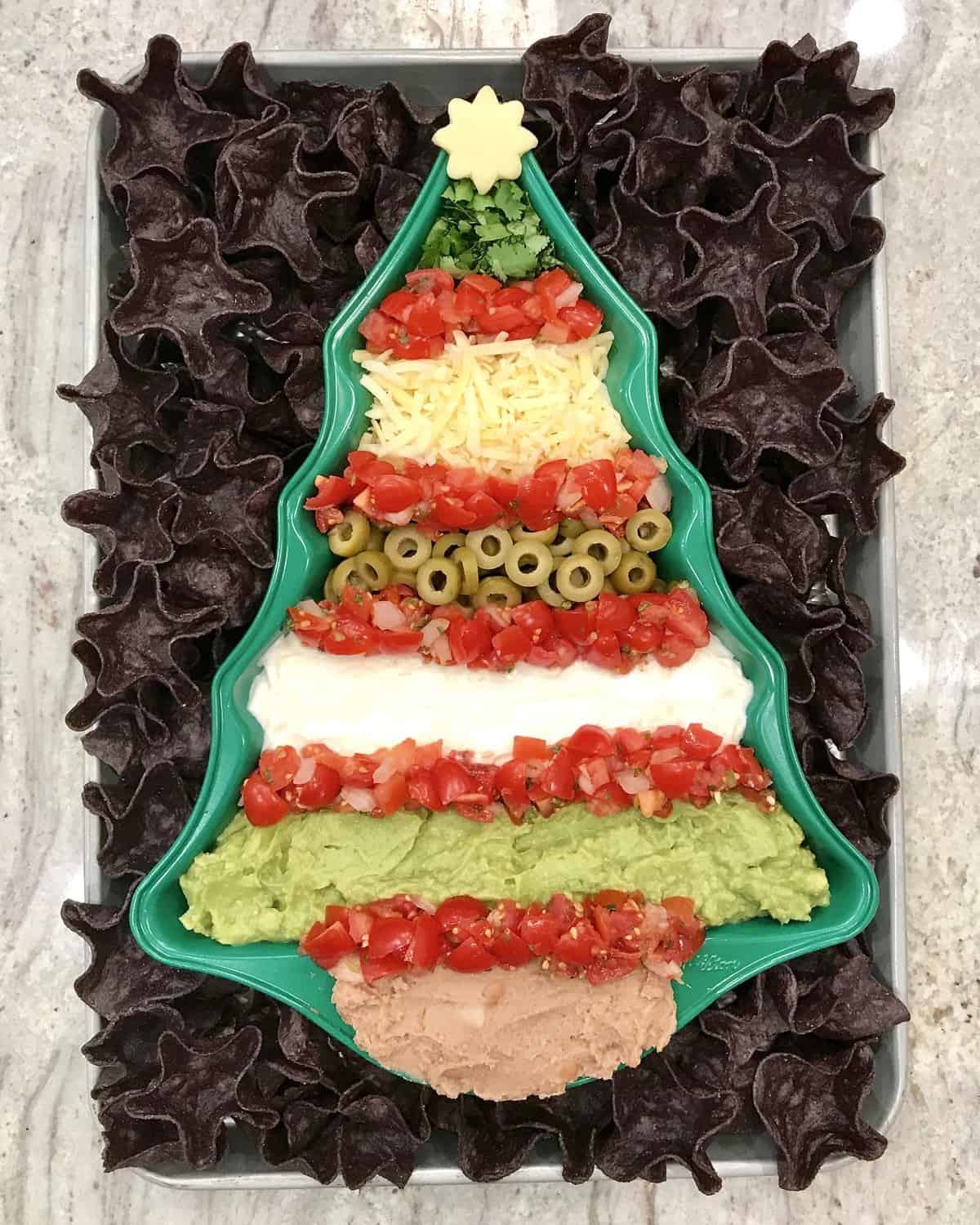 Build the ultimate Holiday Grazing Board, that's perfect for an afternoon snack or appetizer with your family over the holidays.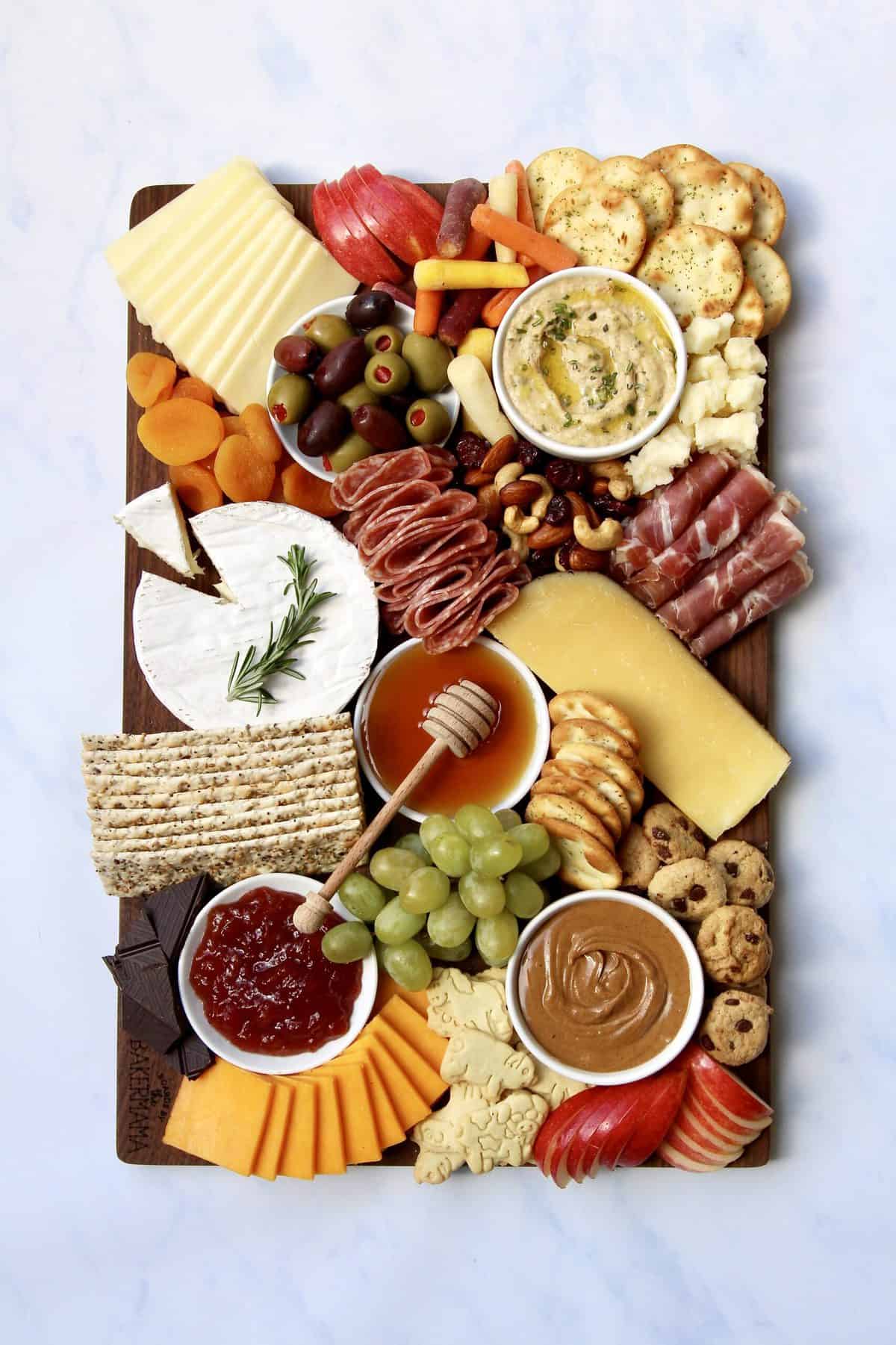 Fuel up for the big guy's is it with all the deliciously festive snacks in this spread from pages 225-229 of my Spectacular Spreads cookbook. Kids and kids-at-heart will be charmed by Rudolph Cheese ball, Santa's hat made of pepperoni bites–this spread is merry and bright and an absolute delight.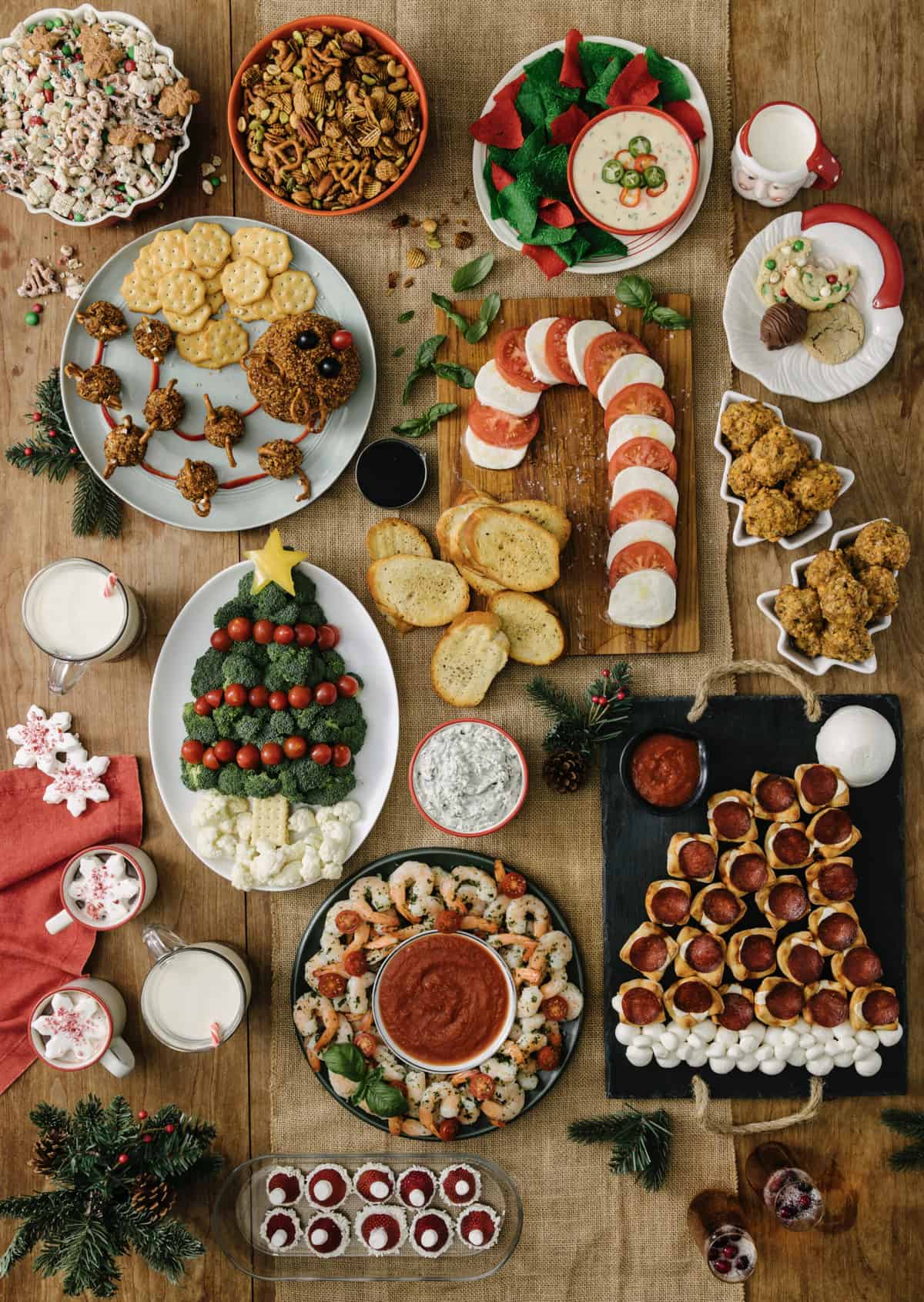 Main Dishes
Wow your guests every time with one of these celebration-ready, spotlight-stealing main dishes.
Move over, turkey! Serve up Honey Herb Roasted Chicken Drumsticks for an easy, attractive and delicious main dish with fresh herbs and golden honey, these drumsticks can't be beat!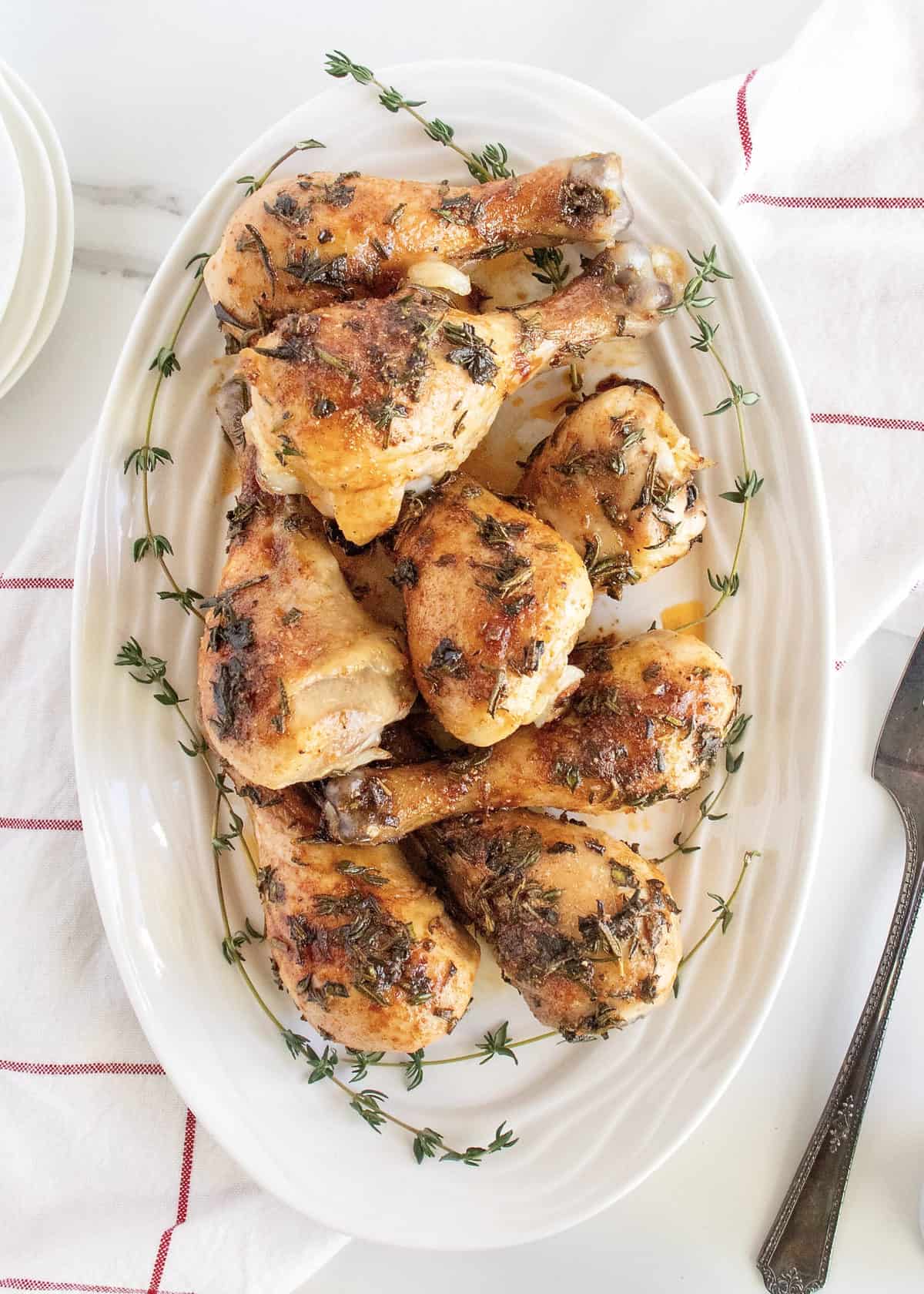 This stunning Beef Tenderloin Board features a perfectly roasted beef Tenderloin with crisp roasted vegetables, golden browned dinner rolls, and a great selection of sauces. It's sure to bring everyone to the table for a deliciously memorable holiday feast.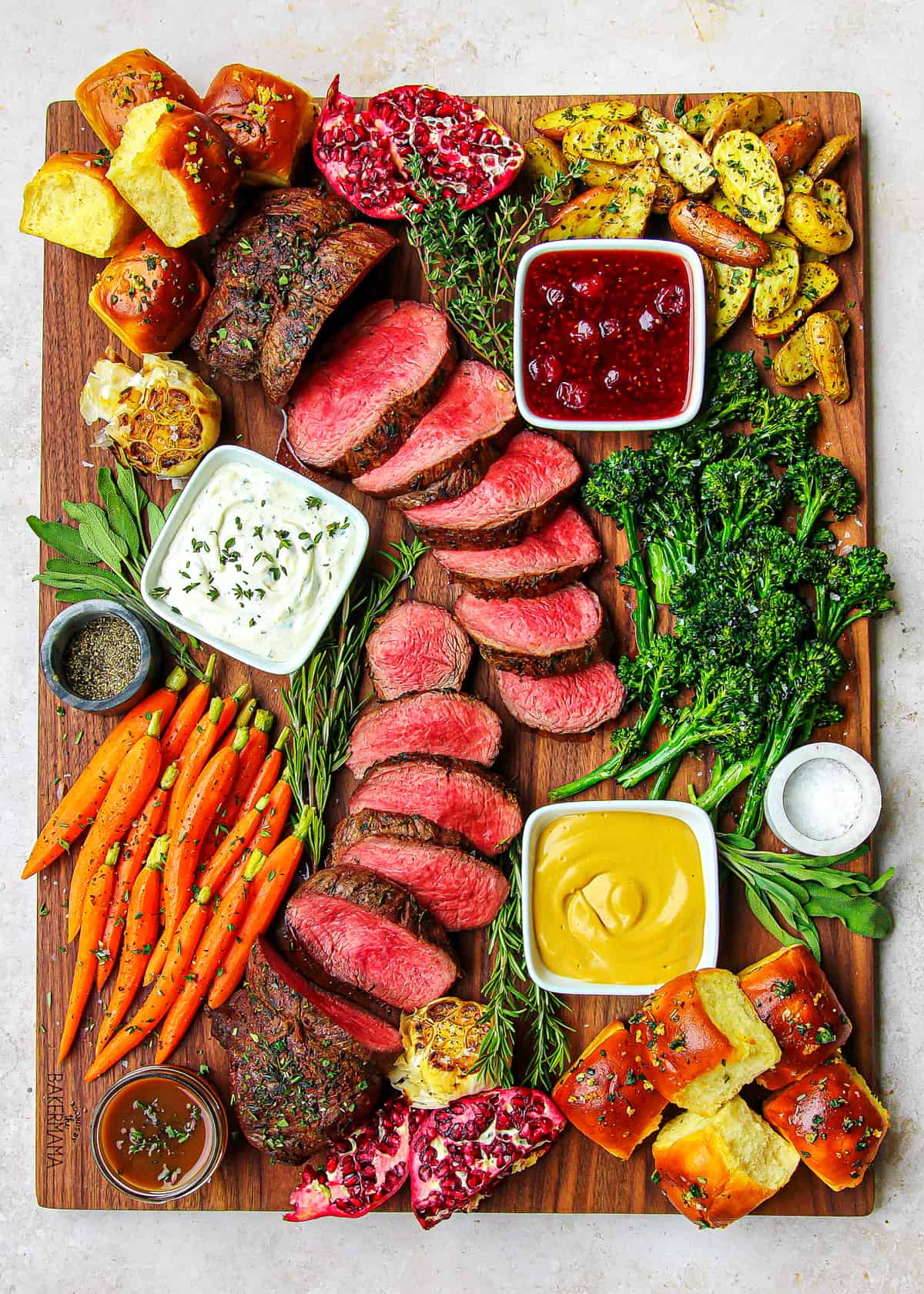 Side Dishes
Serve up some wow-worthy side dishes that will have them coming back for more!
Christmas Tree Dinner Rolls are such a festive and extra delicious way to serve dinner rolls during the holiday season!
Made with crisp green beans and a scrumptious homemade sauce and topped with crispy baked onions, my Fresh Green Bean Casserole is so fresh and so delicious!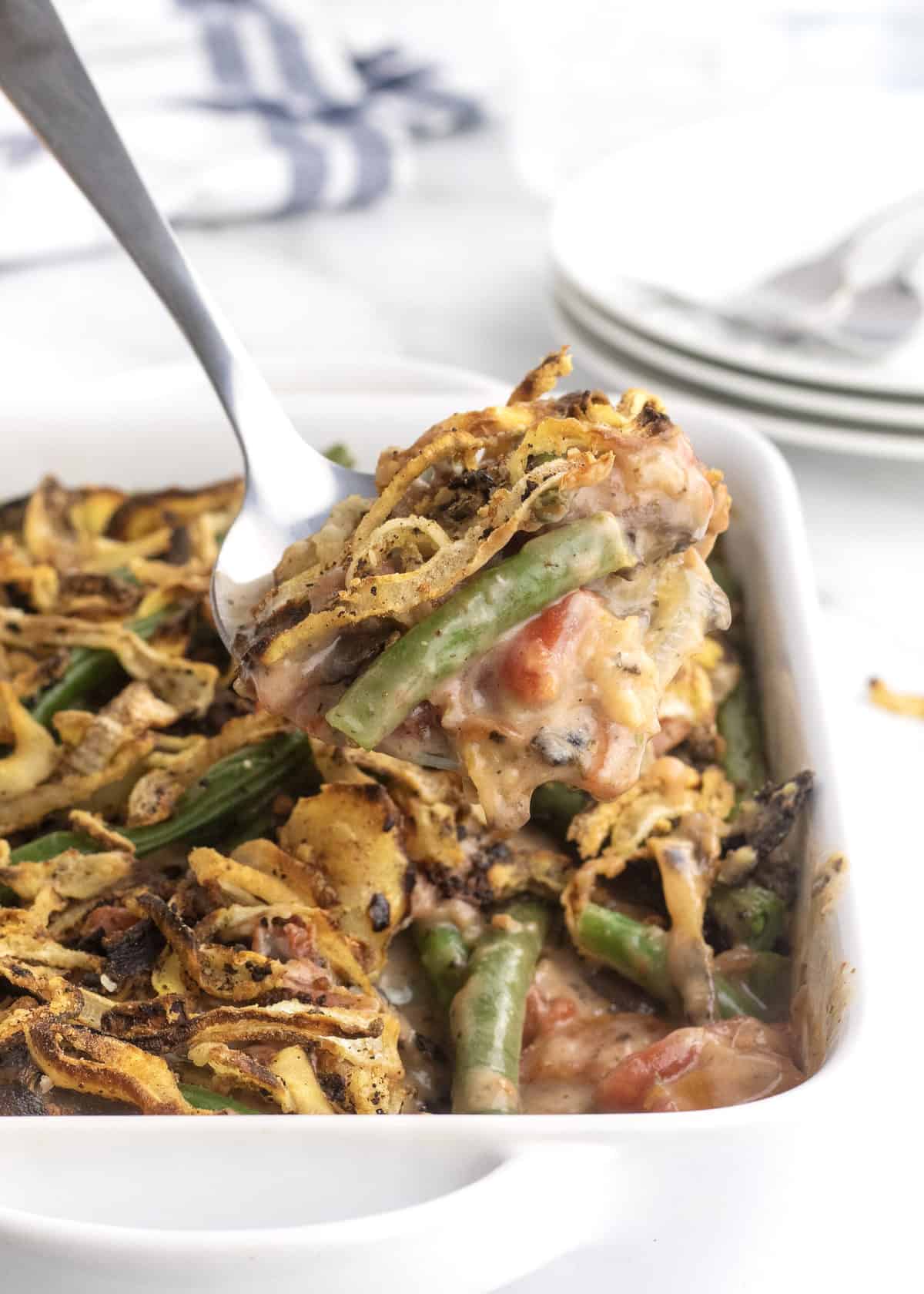 Easy Cheesy Broccoli Rice Casserole is a classic and comforting side dish that's great with a weeknight meal or holiday buffet.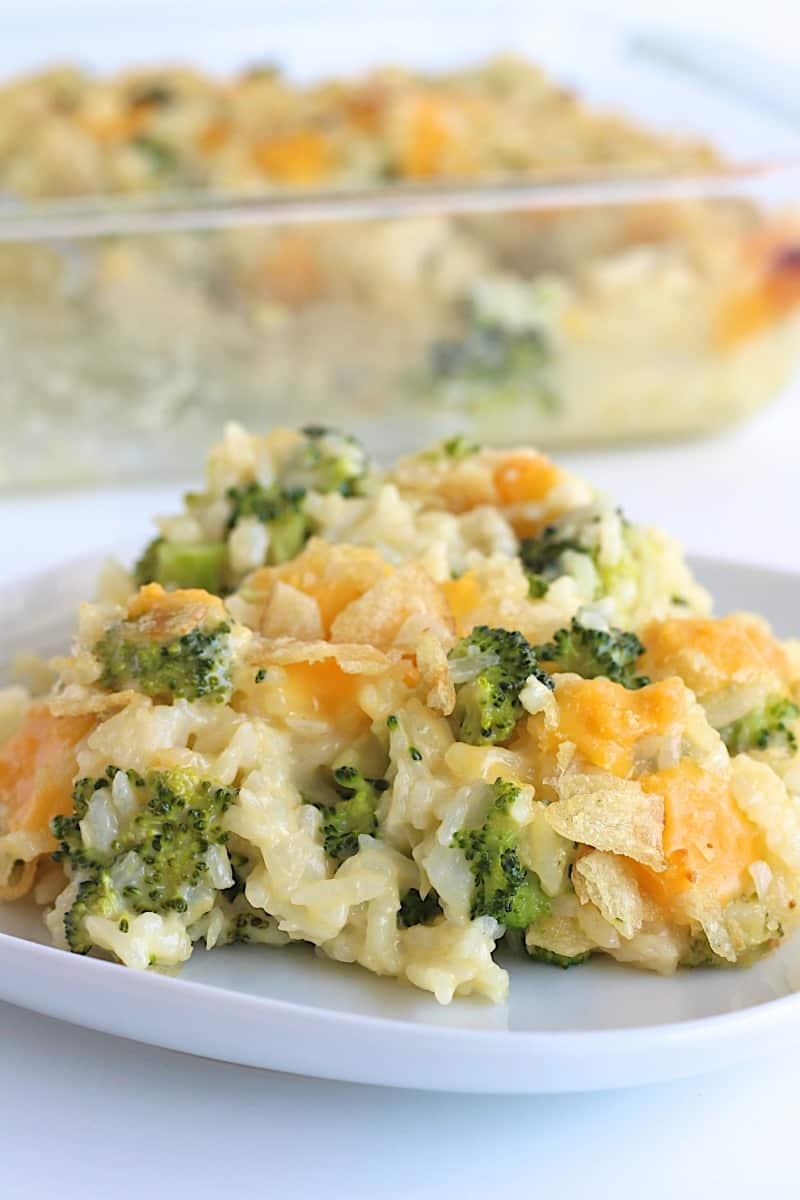 Serve your Christmas salad in wreath form for a festive addition to the holiday meal! A Christmas Salad Wreath is sure to be a holiday hit!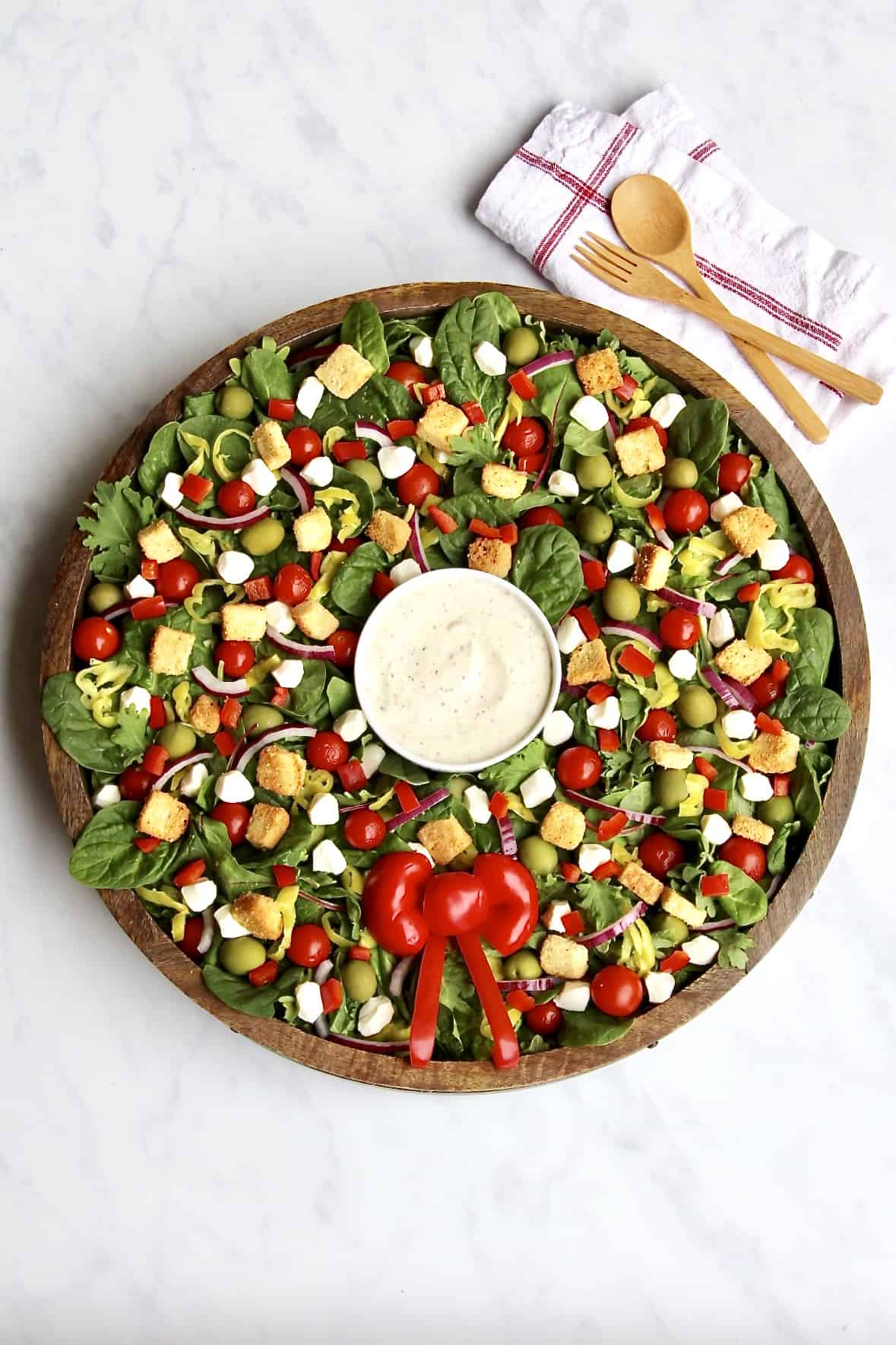 Serve a veggie dish they'll never forget with this Whole Roasted Garlic and Herb Cauliflower with Pomegranate Seeds. It's as beautiful as it is delicious–a tantalizing Holiday side.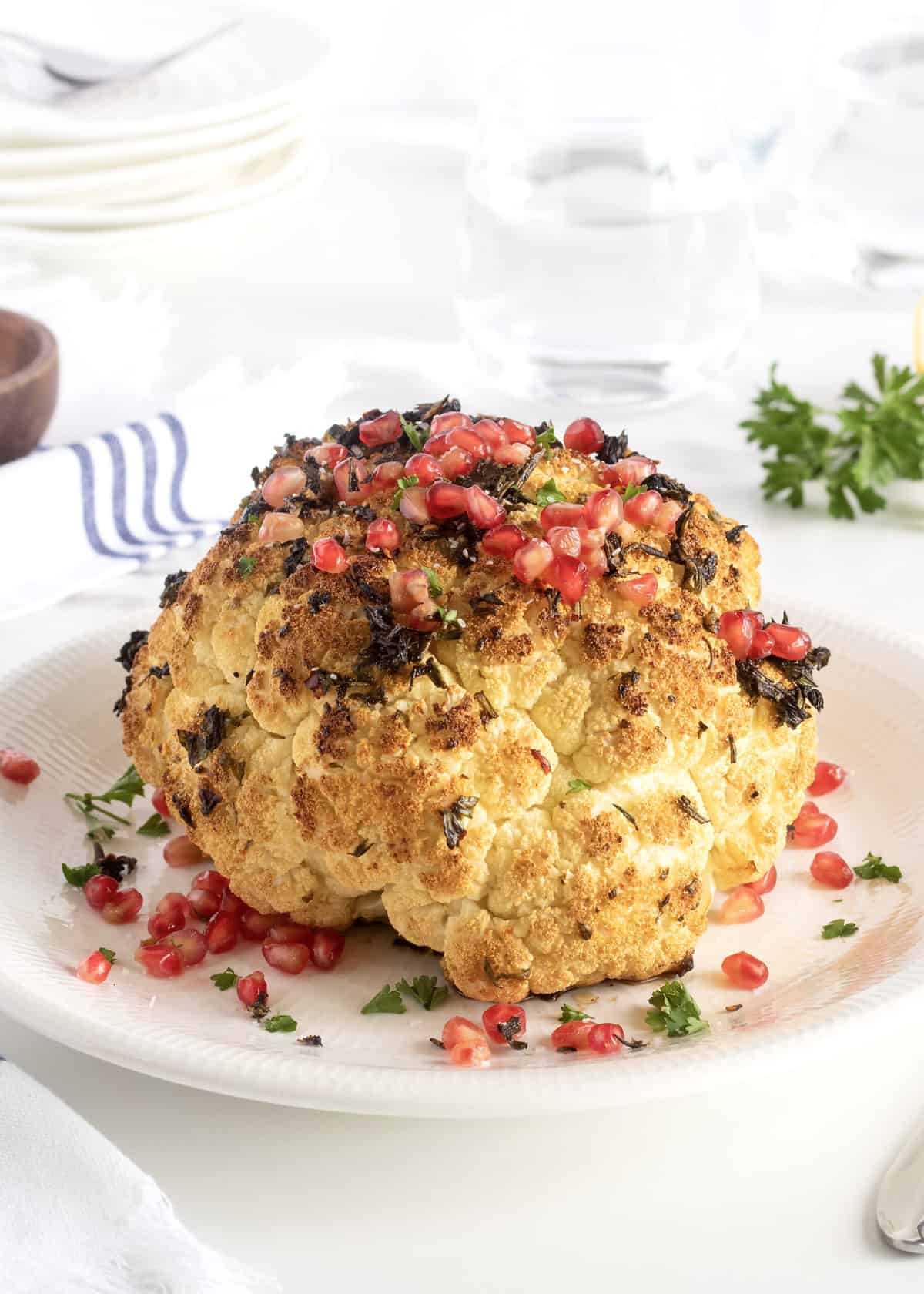 Wrapped in crispy bacon and topped with a sweet and savory glaze, these Green Bean Bundles take your Holiday veggie dish to the next level.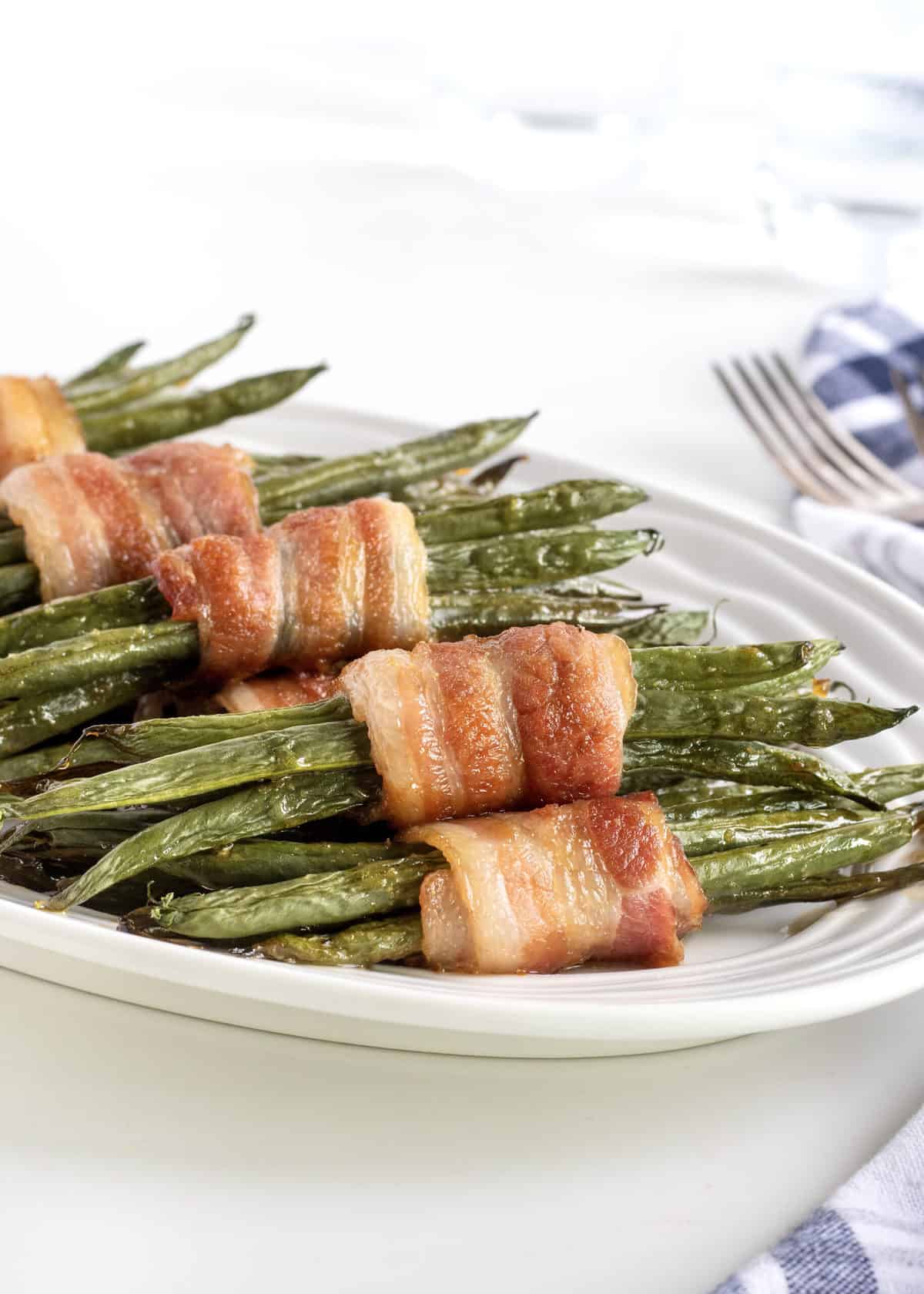 With sweet Italian sausage baked into rosy, golden apples, these Sausage Dressing Stuffed Baked Apples add an elegantly delicious touch to your Holiday meal.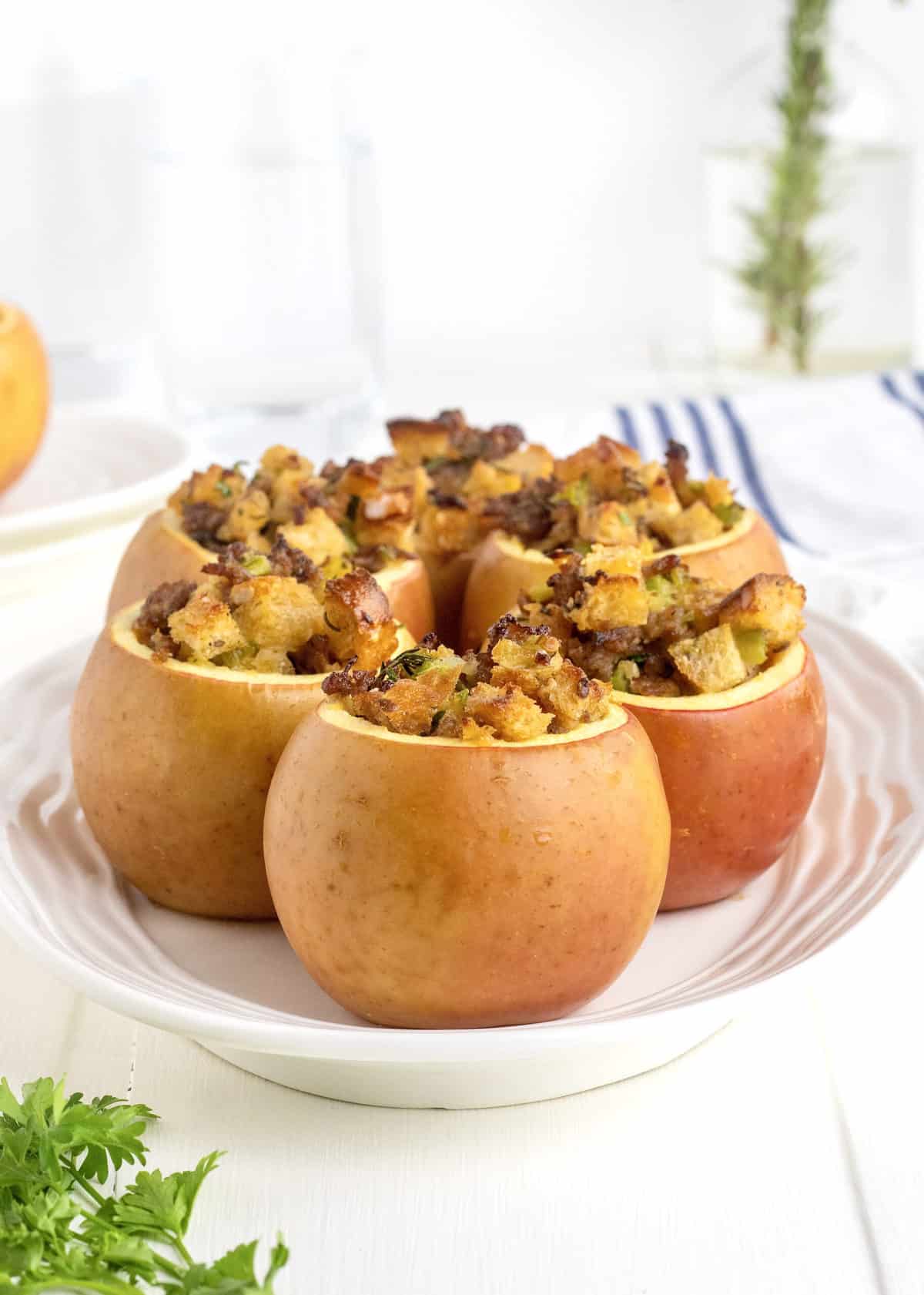 Crispy, crunchy, subtly sweet and a bit salty, too, this Broccoli Salad delivers big on texture and flavor! It's so satisfying and delicious, it will make a broccoli lover out of even the most reluctant veggie eater.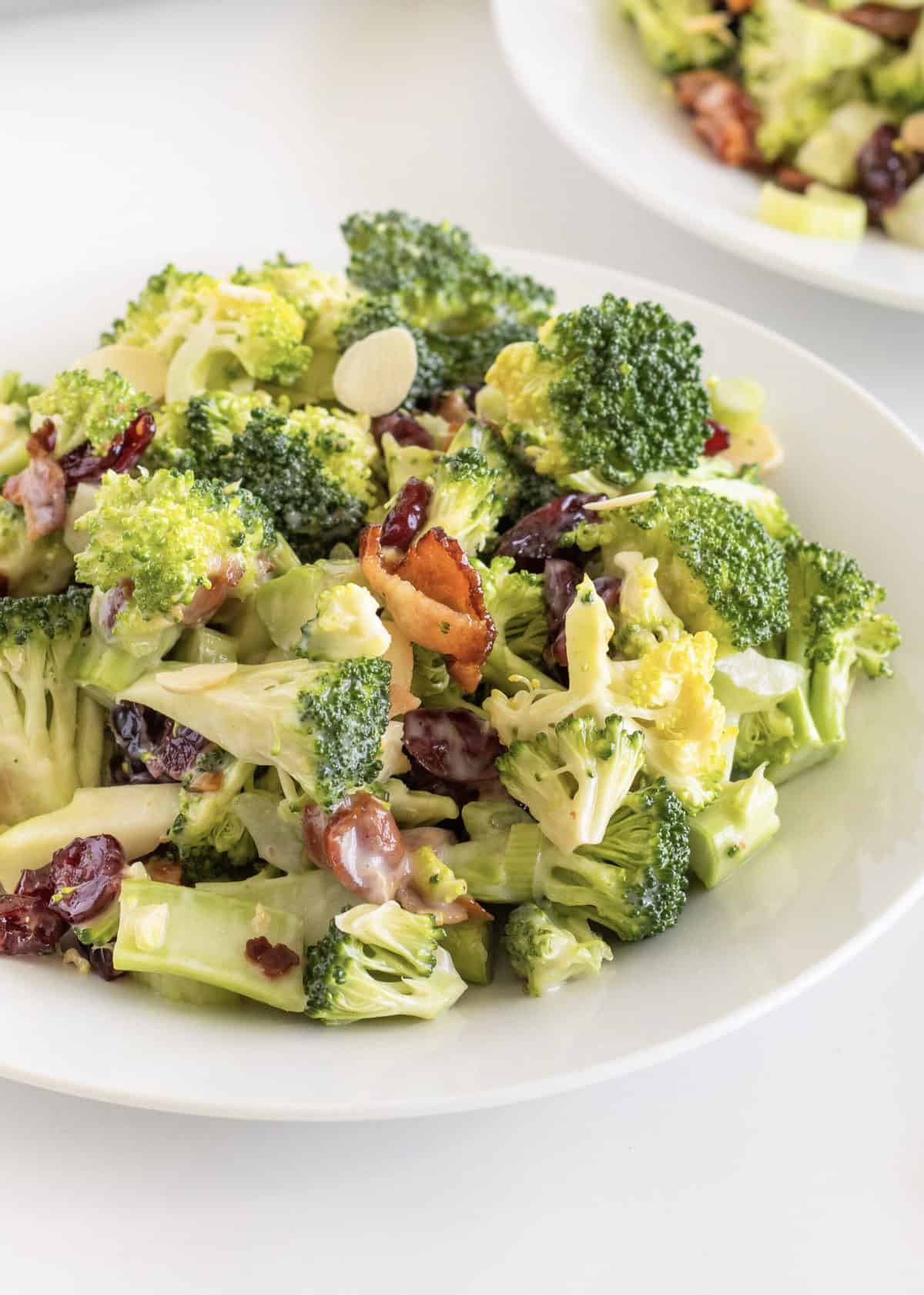 These Roasted Brussels Sprouts are crisp and slightly charred on the outside, tender on the inside, and perfectly seasoned. An absolute heavenly Holiday side!
Whether you want to add more flavor layers to your favorite recipes or just enjoy it on its own, Roasted Garlic packs a punch that is sure to elevate your Holiday meal! This lightly sweet, caramelized garlic flavor is something everyone is sure to love!
Roasted grapes to bring a new dimension of flavor! With a jammy inside and a caramelized skin, roasted grapes are the perfect addition to salads and cheese boards and are sure to be a great addition to your Holiday dishes!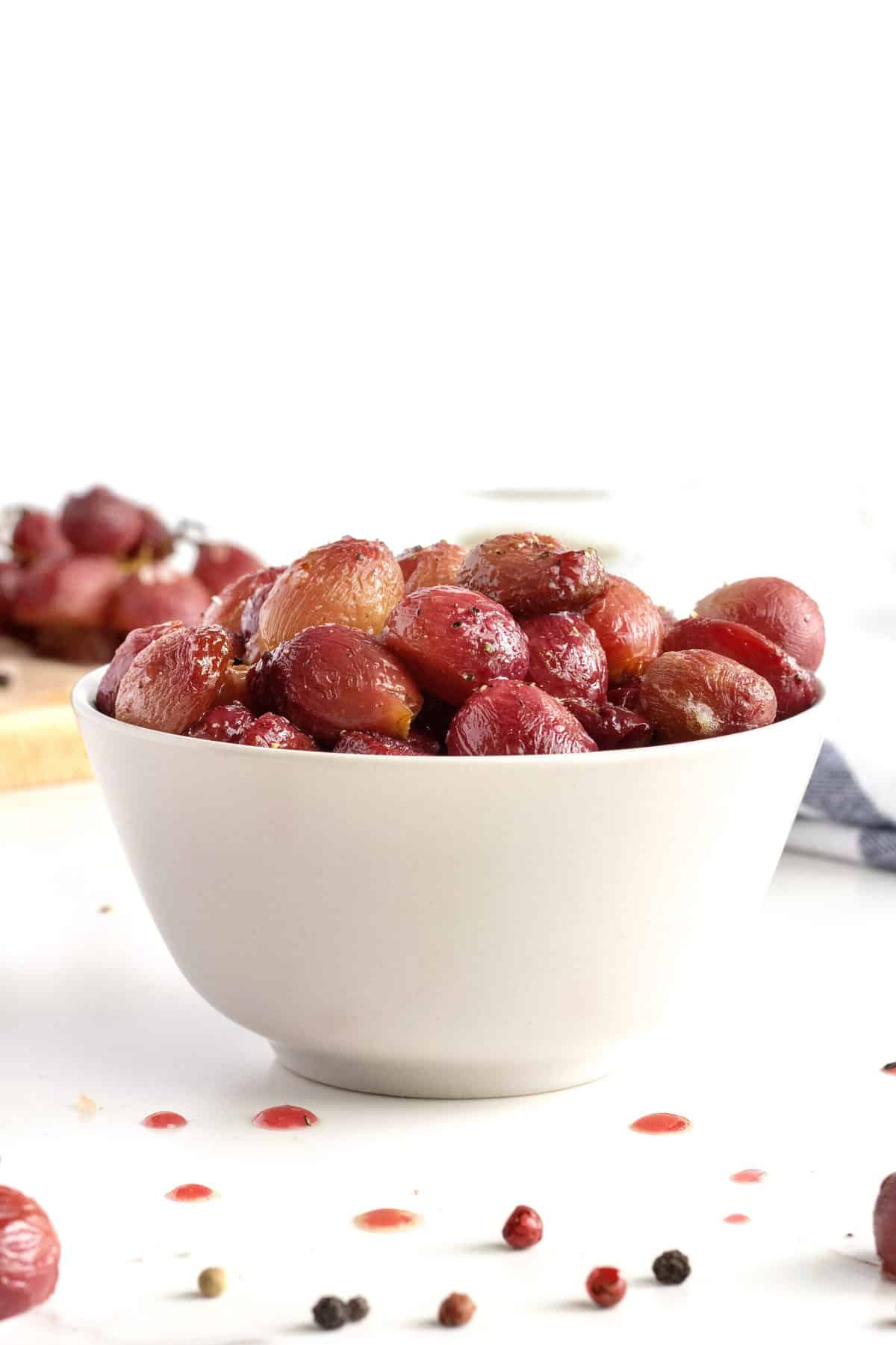 Cocktails
Holiday cheer, on the rocks! These festive cocktails kick the celebrations into high gear!
This Cranberry Orange Spiked Sweet Tea is the perfect cocktail for the holidays! It's deliciously sweet, citrusy and spiced just right.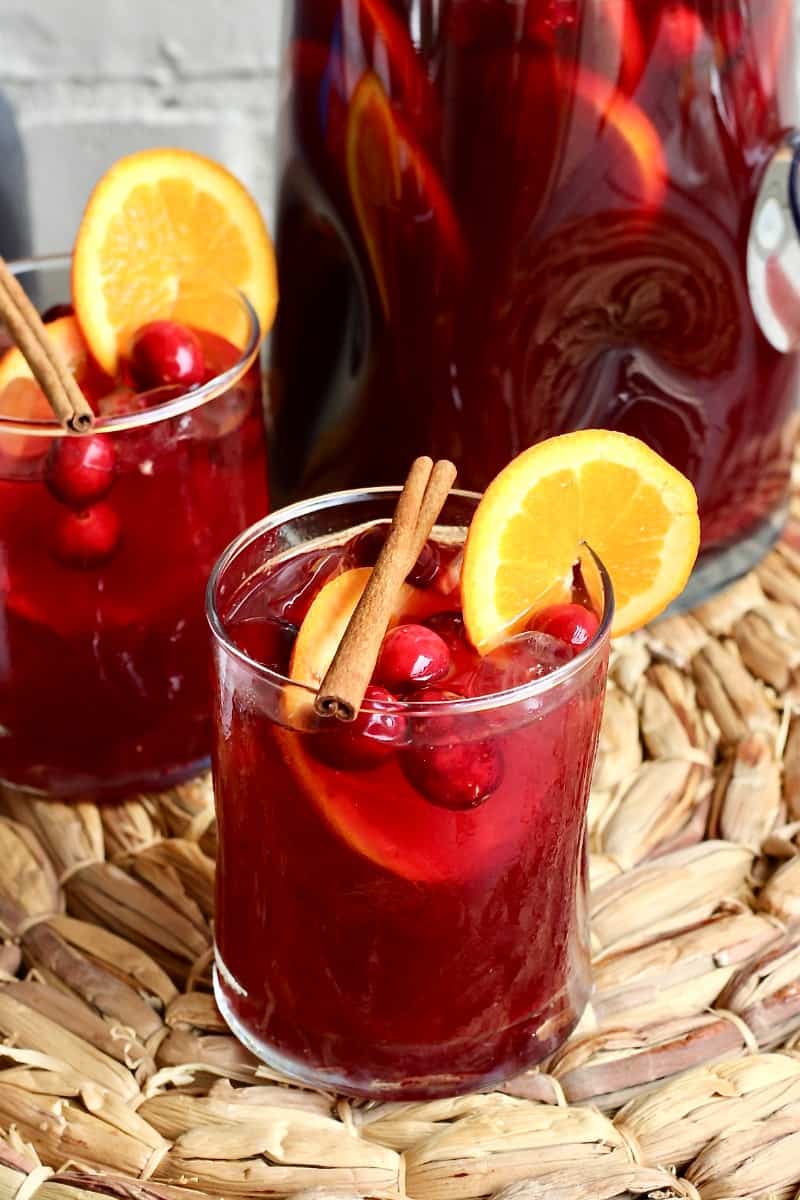 This Cranberry Cheer Cocktail is a festive cocktail that's so great for the holidays or any days. It's a bright and flavorful drink with the perfect balance of tart and sweet.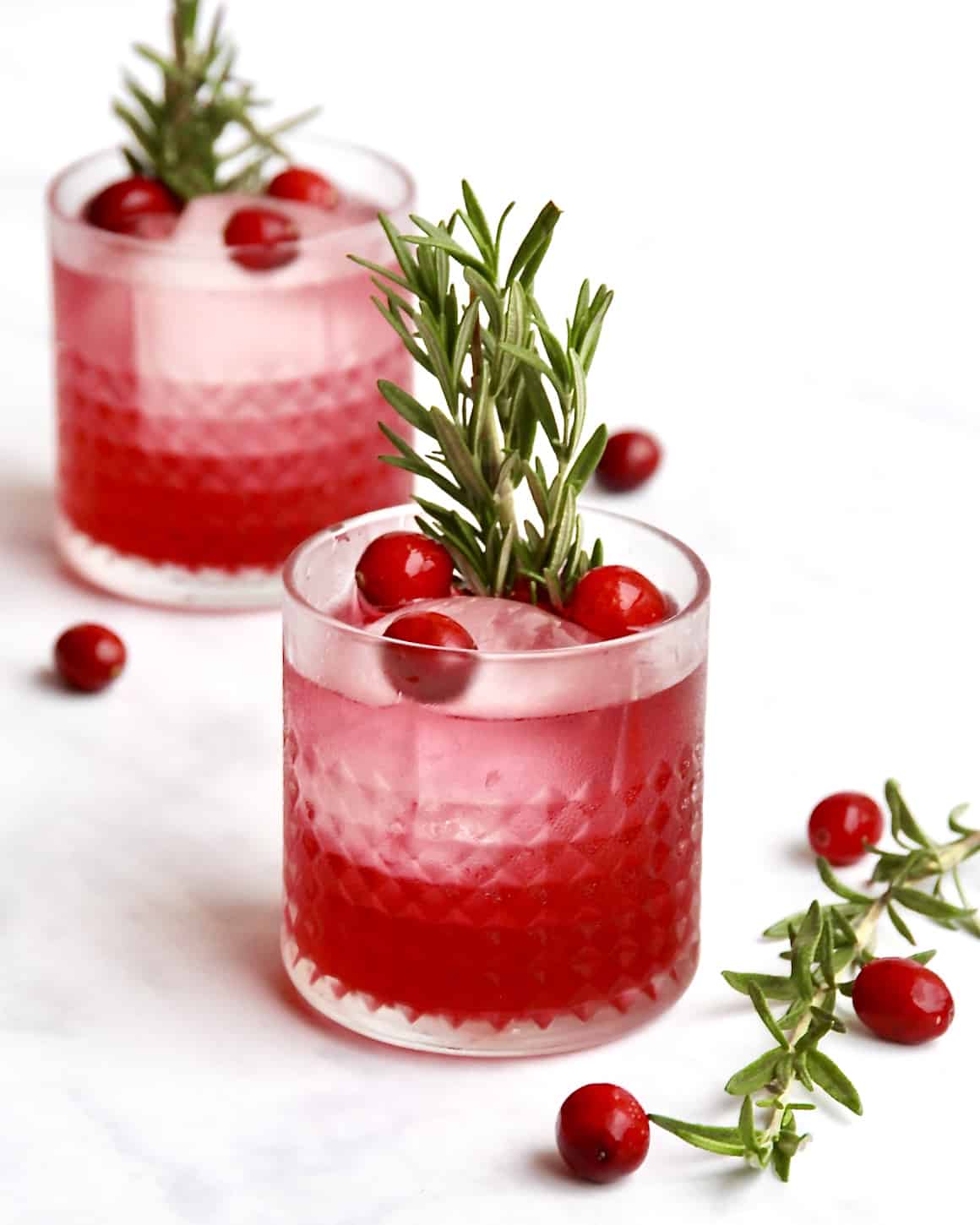 Here's to graduating from the kids' table! Bourbon, ginger beer and a dash of cinnamon make this Apple Cider Smash a perfect Holiday cocktail.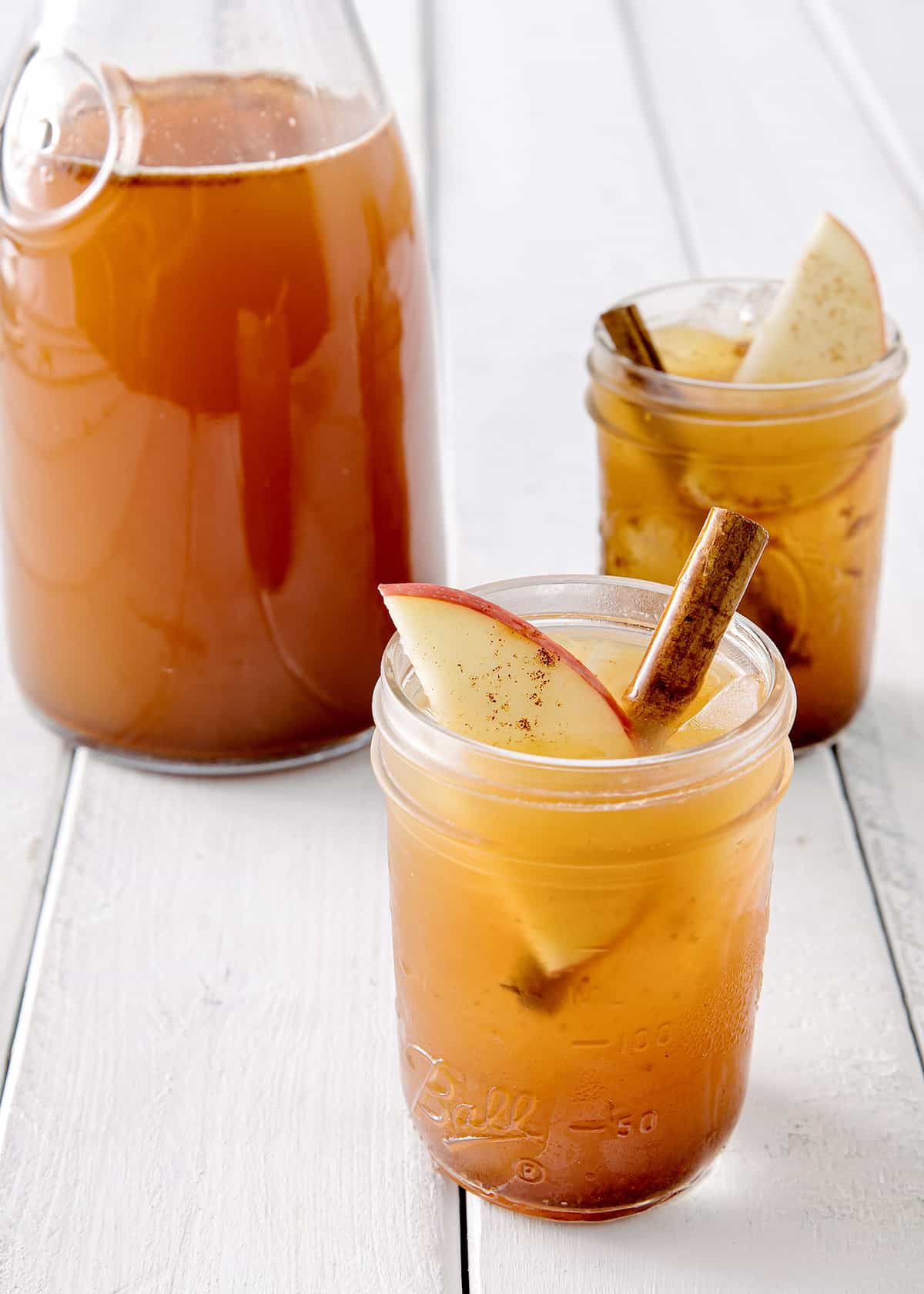 Dessert
The grand finale of any holiday meal are the special desserts! These treats are deliciously fun and festive!
Deck the halls and swap some sweet treats with this festive Holiday Cookie Exchange Spread from pages 217-223 of my Spectacular Spreads cookbook. It's such a fun way to gather together and share the cookie love, and munch on an assortment of warm, savory snacks and colorful appetizers.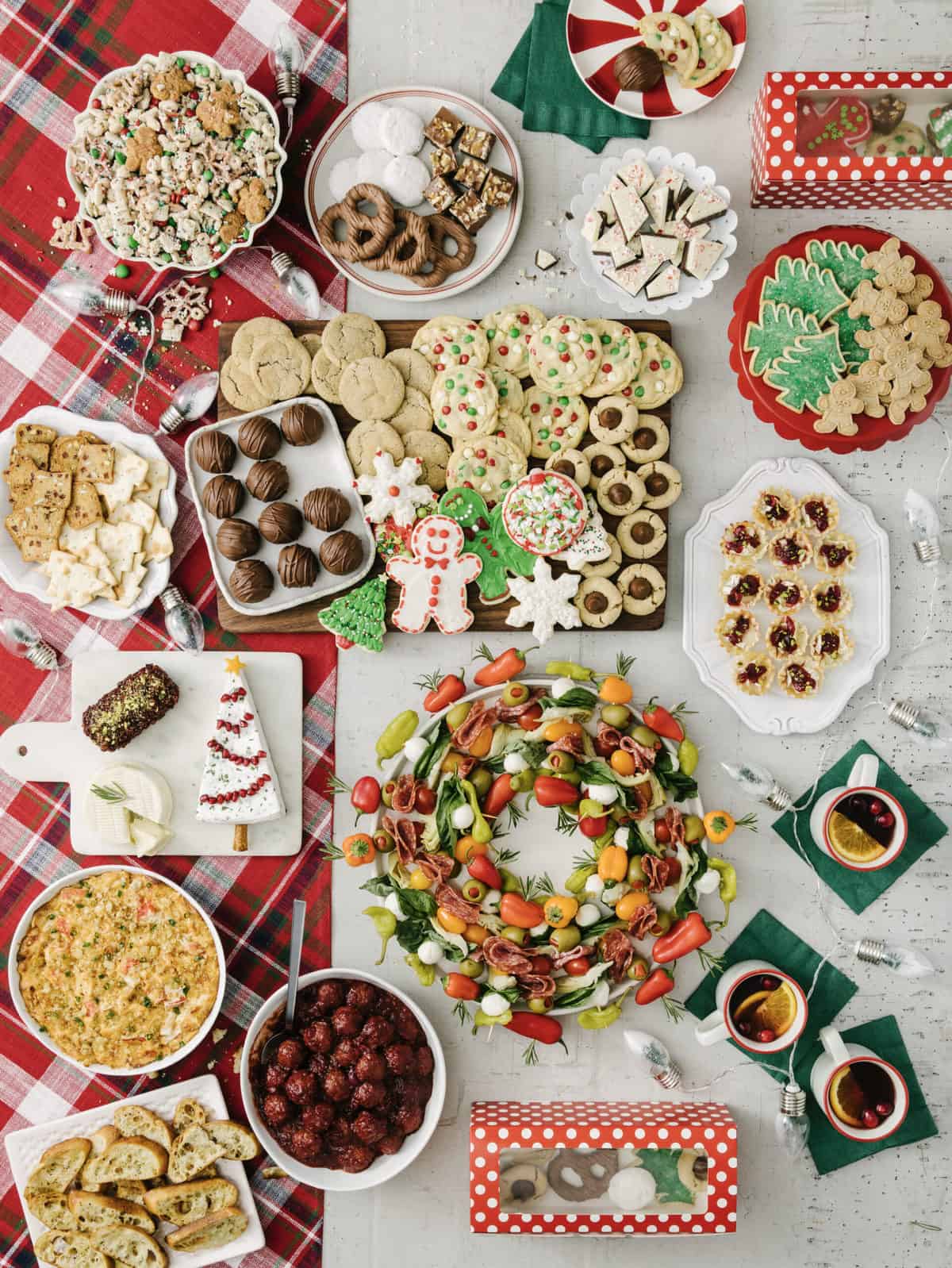 Bring out the jolly with my Easy and Sweet Holiday Treats. This collection of festive snacks and desserts is sure to get Santa's even stamp of approval!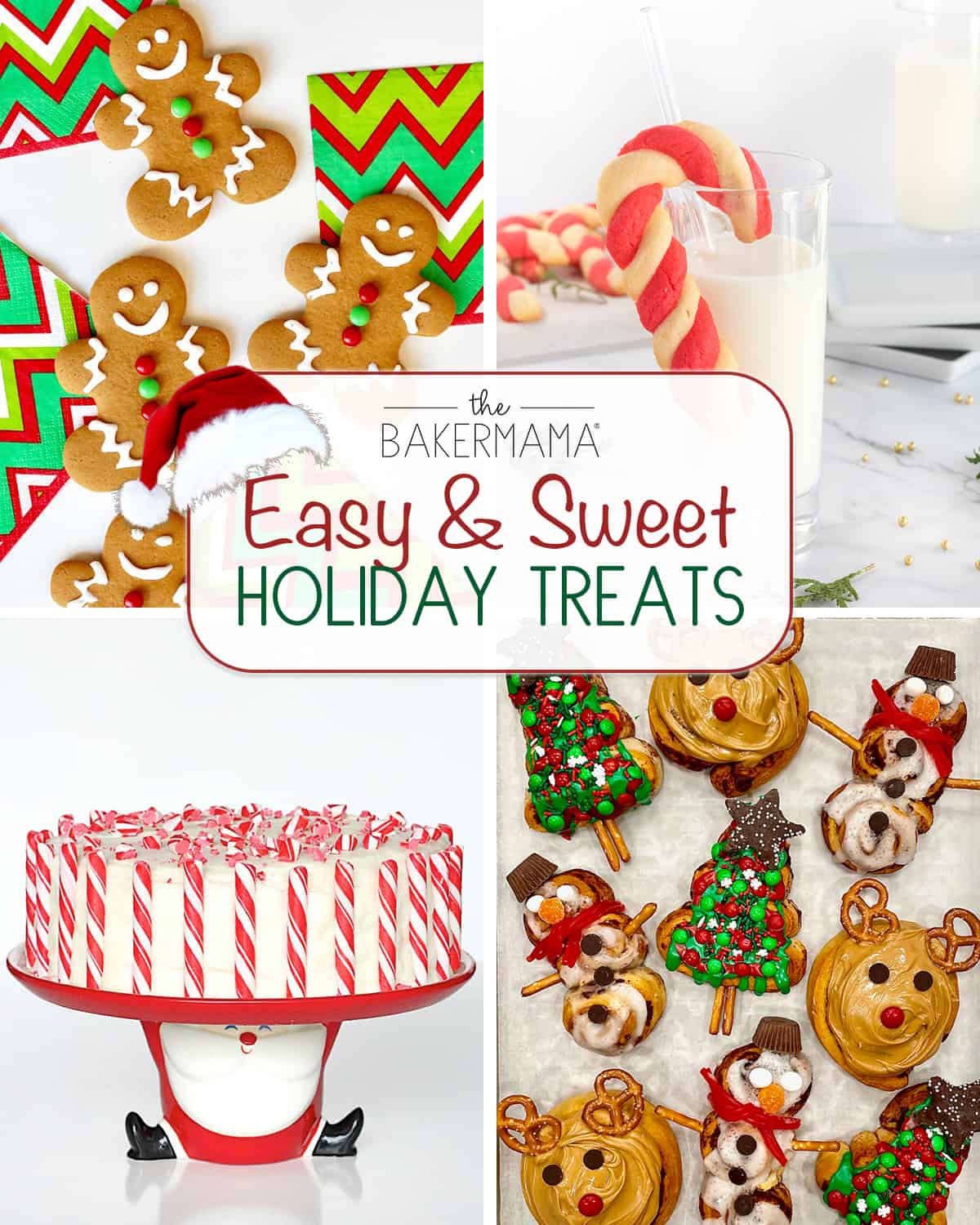 Beat back those winter blues with this warm and chocolatey-sweet Hot Chocolate Bar! From pages 256-257 of my Spectacular Spreads cookbook, it features a delicious pot of hot chocolate and all the yummy toppings and mix-ins. Your family and guests will love customizing their own delicious cups of comforting perfection.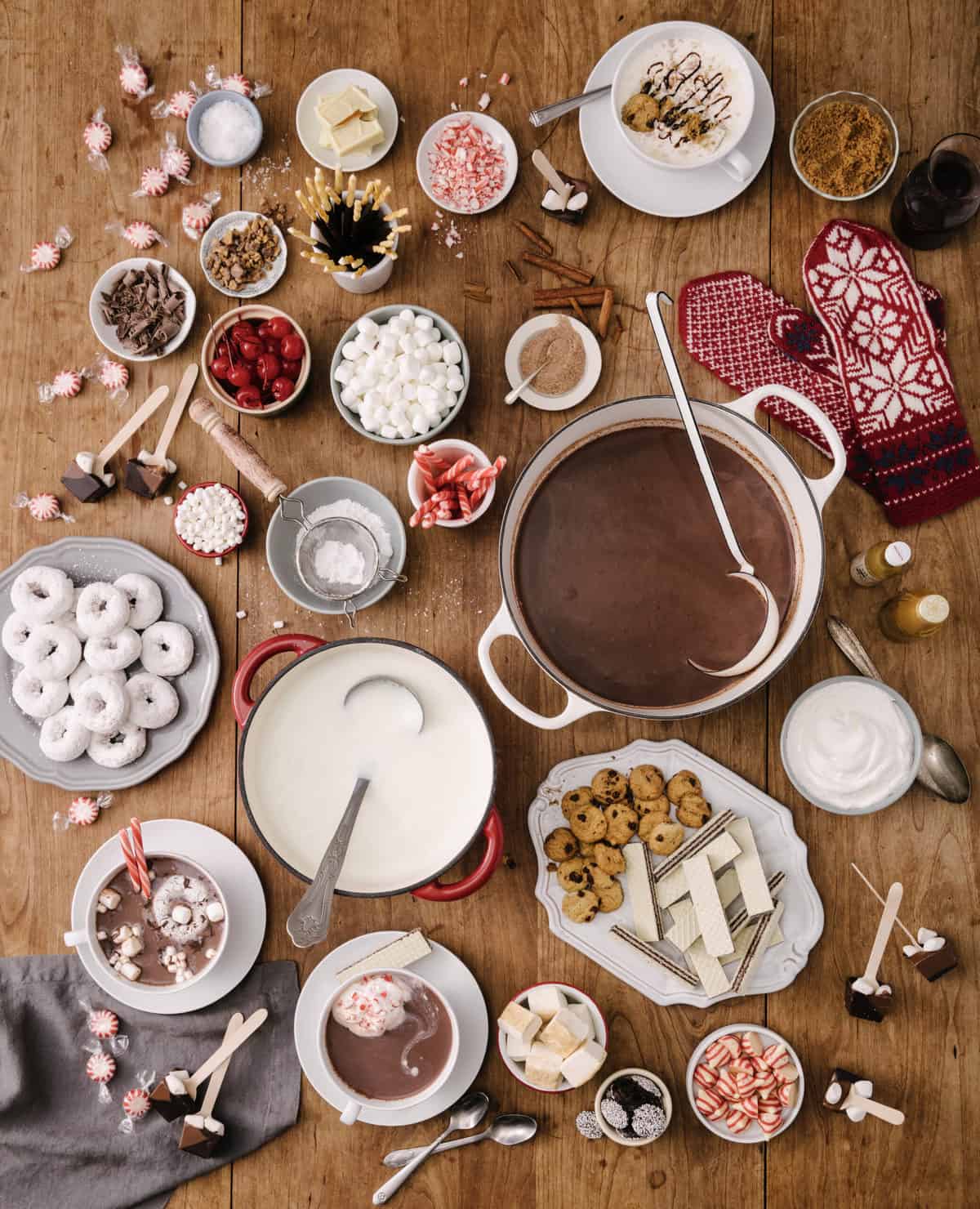 Breakfast
Celebrating early in the day? Make Christmas breakfast its own occasion with these Must-Make Christmas Breakfast Ideas. For a festive, fun morning meal this holiday, these go-to breakfast recipes have a little something for everyone.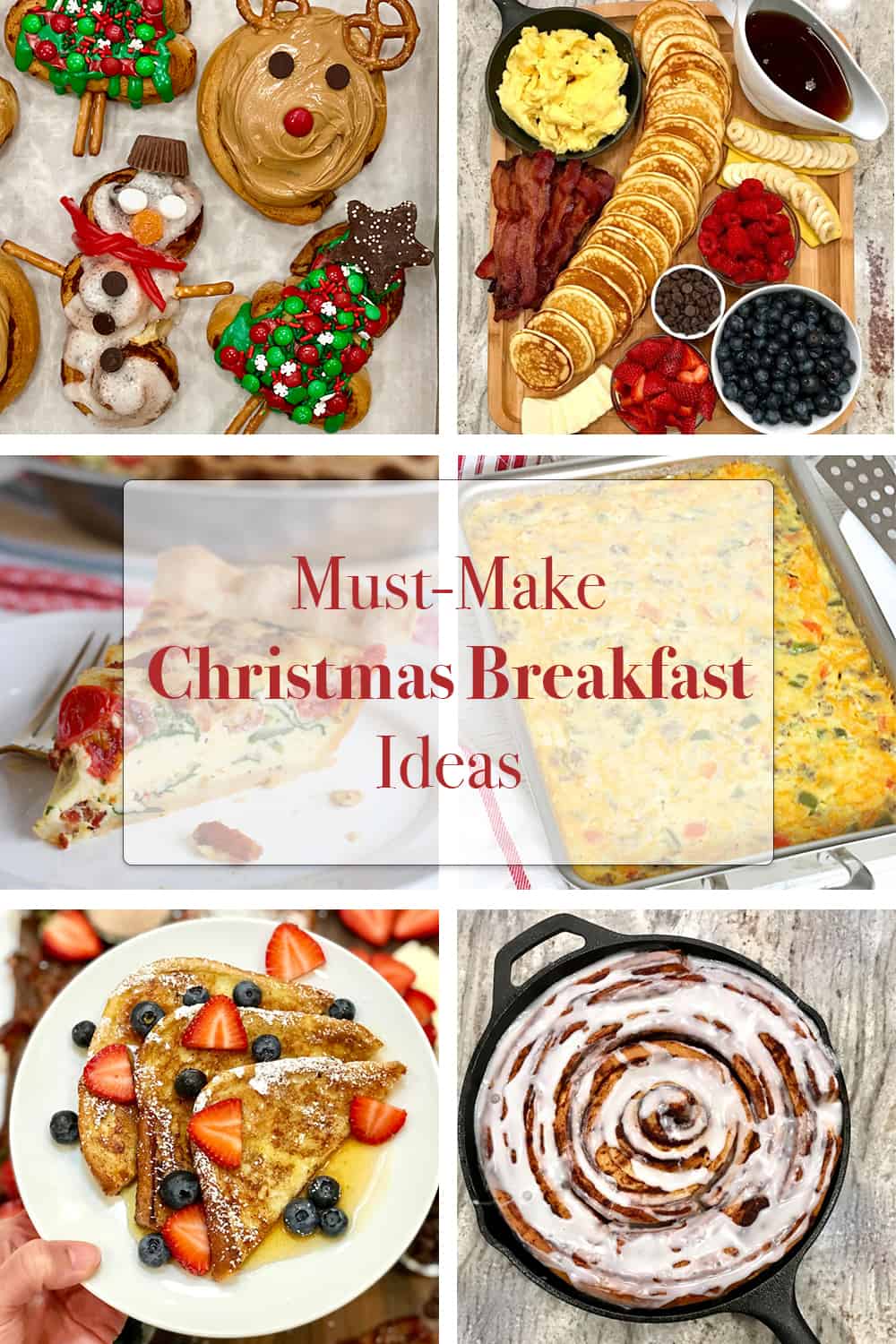 If you make Holiday Meal Must-Makes for your friends and family, be sure to snap a picture and share it with me or tag me on Instagram @thebakermama so I can see.
I love seeing how inspired and creative y'all get with the recipes I share. Have fun and enjoy!
xoxo,