Whether you need to make something special for the class Valentine's party, a Valentine's dinner in with your sweetheart(s), or a Galentine's get-together with your besties, I've rounded up my favorite Valentine's Day inspired recipes and boards that are sure to be loved by all!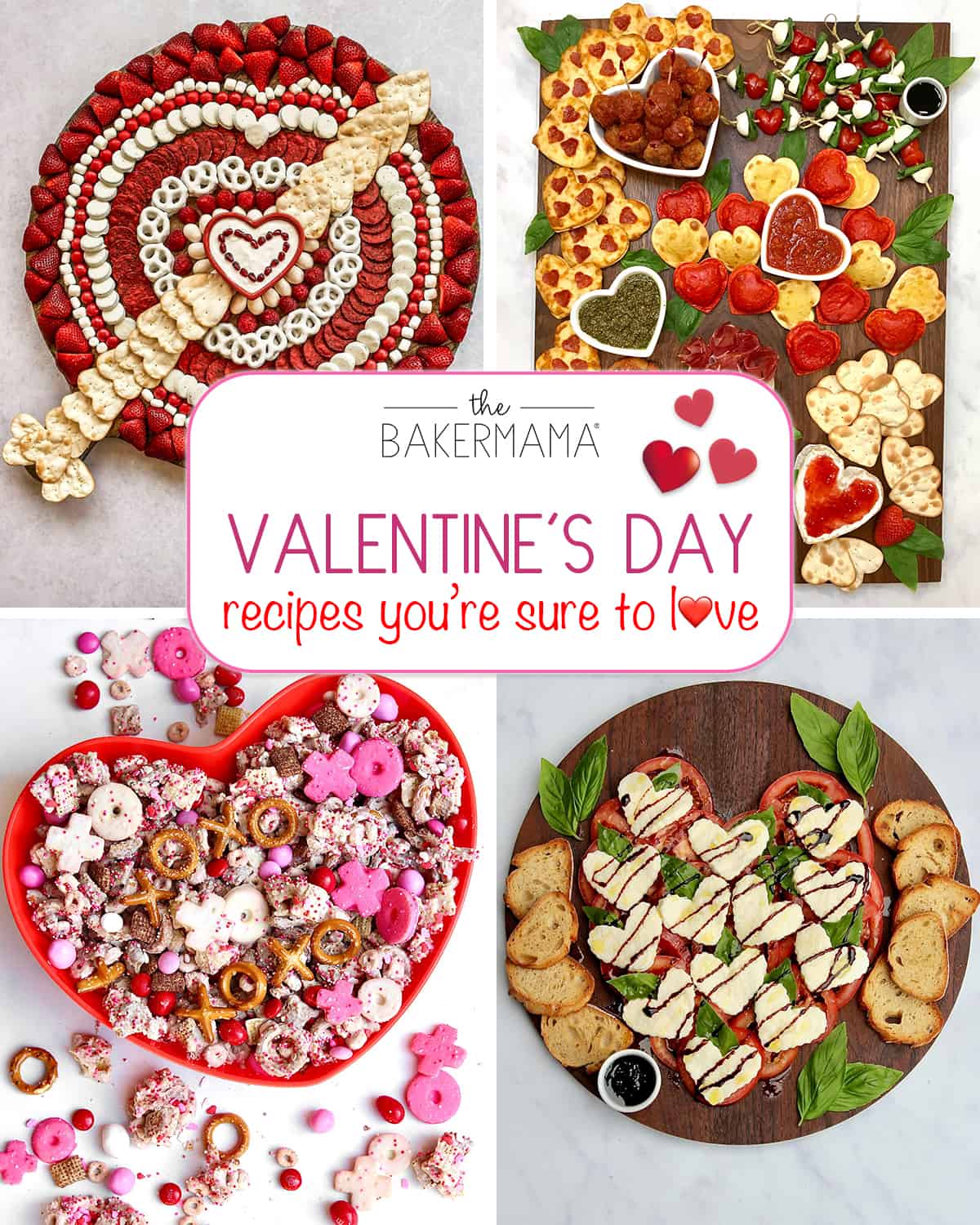 What's sweet, salty, and made with 100% true love? This XOXO Valentine's Day Snack Mix delivers a festive treat that's sealed with a kiss!

An adorable and delicious Chocolate Fondue Board is the perfect way to celebrate love with your sweethearts and friends! It's such a quick and easy way to serve a special dessert!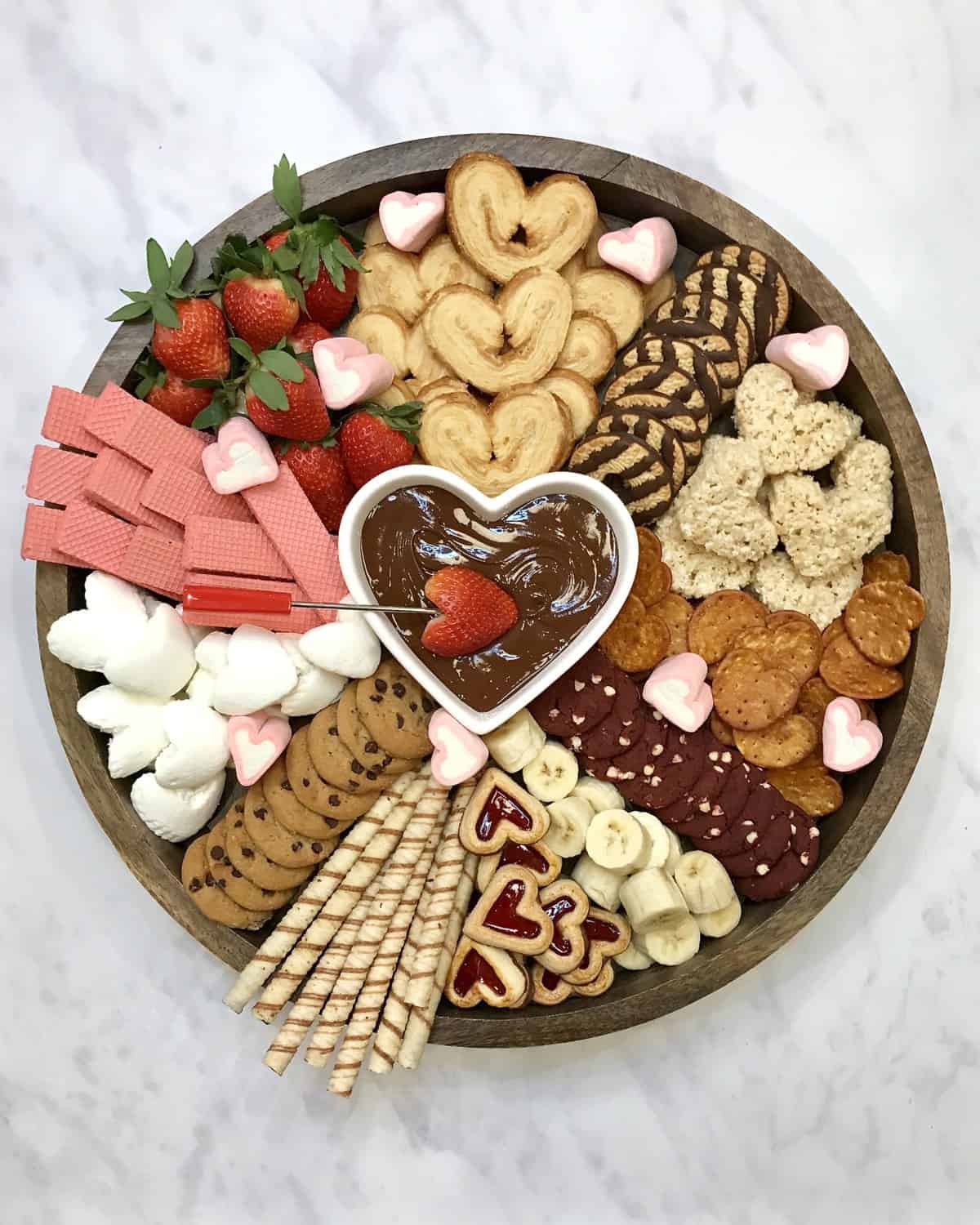 Cupid hit the mark with this adorable & delicious Valentine's Snack Board from my Beautiful Boards cookbook! So much inspiration can come from this one! I used a yummy variety of red & white snacks with a fruit yogurt dip in the middle and Valley Lahvosh heart-shaped crackers for the arrow.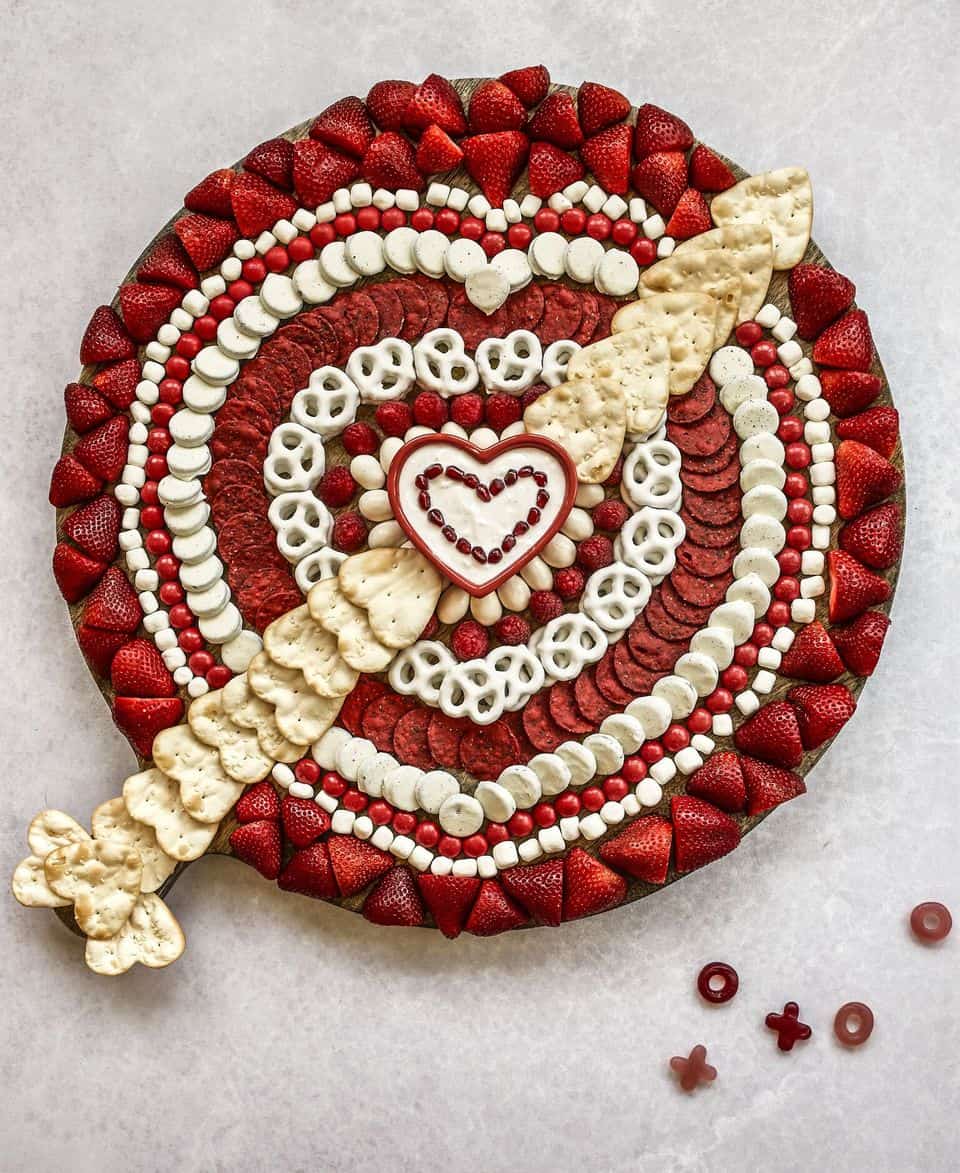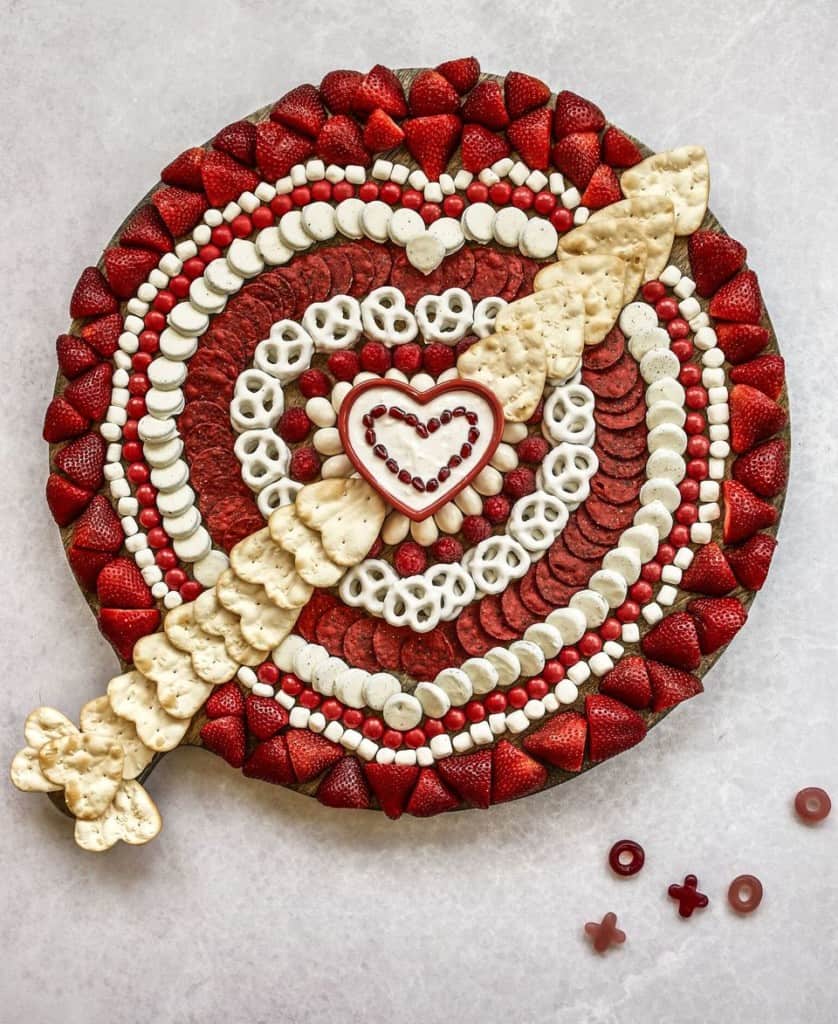 Salty + Sweet = The Perfect Match! I found everything for this board from Target & Trader Joe's. So easy to put together with all store-bought items, this board can be ready for the party in no time.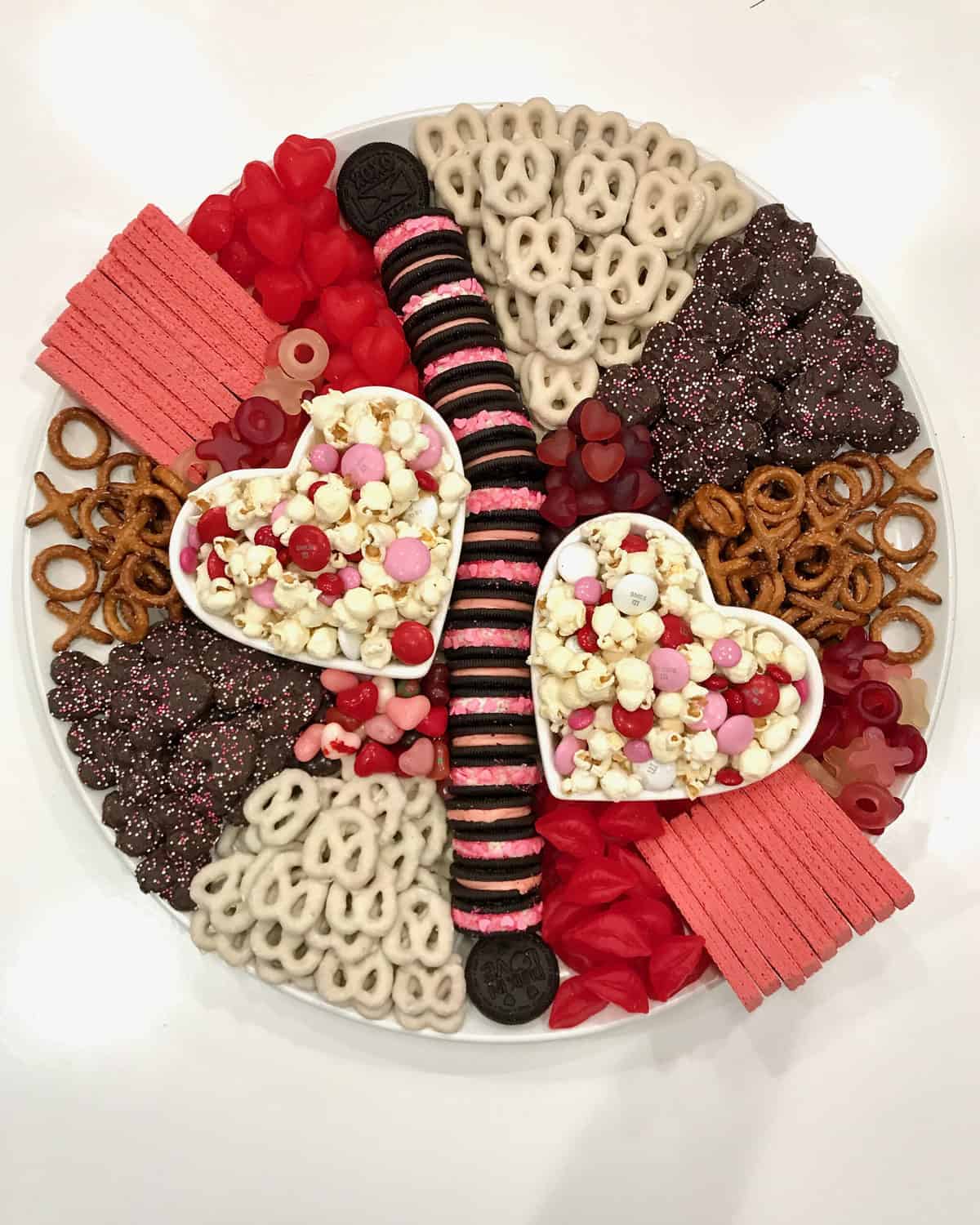 Board Details:
little heart bowls from Target filled with Live Love Pop popcorn & M&M's milk chocolate Cupid's messages & Cupid's mix
down the middle: Love Oreos rolled in festive sprinkles
down the right side: Trader Joe's yogurt covered pretzels, TJ's dark chocolate mini heart cookies, heart shaped fruit gummies from Target, Utz's XOXO pretzels, TJ's XOXO gummies, strawberry sugar wafers from Target, Brach's cinnamon lips
down the left side: Brach's cherry hearts, strawberry sugar wafers, TJ's XOXO gummies, Utz's XOXO pretzels, dark chocolate mini heart cookies, yogurt covered pretzels, Gimbal's Fine Candies cherry lovers heart shaped jelly beans
Say "I love you" with a beautiful and delicious dinner board covered with Italian favorites like heart-shaped pizzas, raviolis and cheese along with meatballs, a prosciutto bouquet, arrow caprese skewers and bruschetta. Now that's amore, my friends!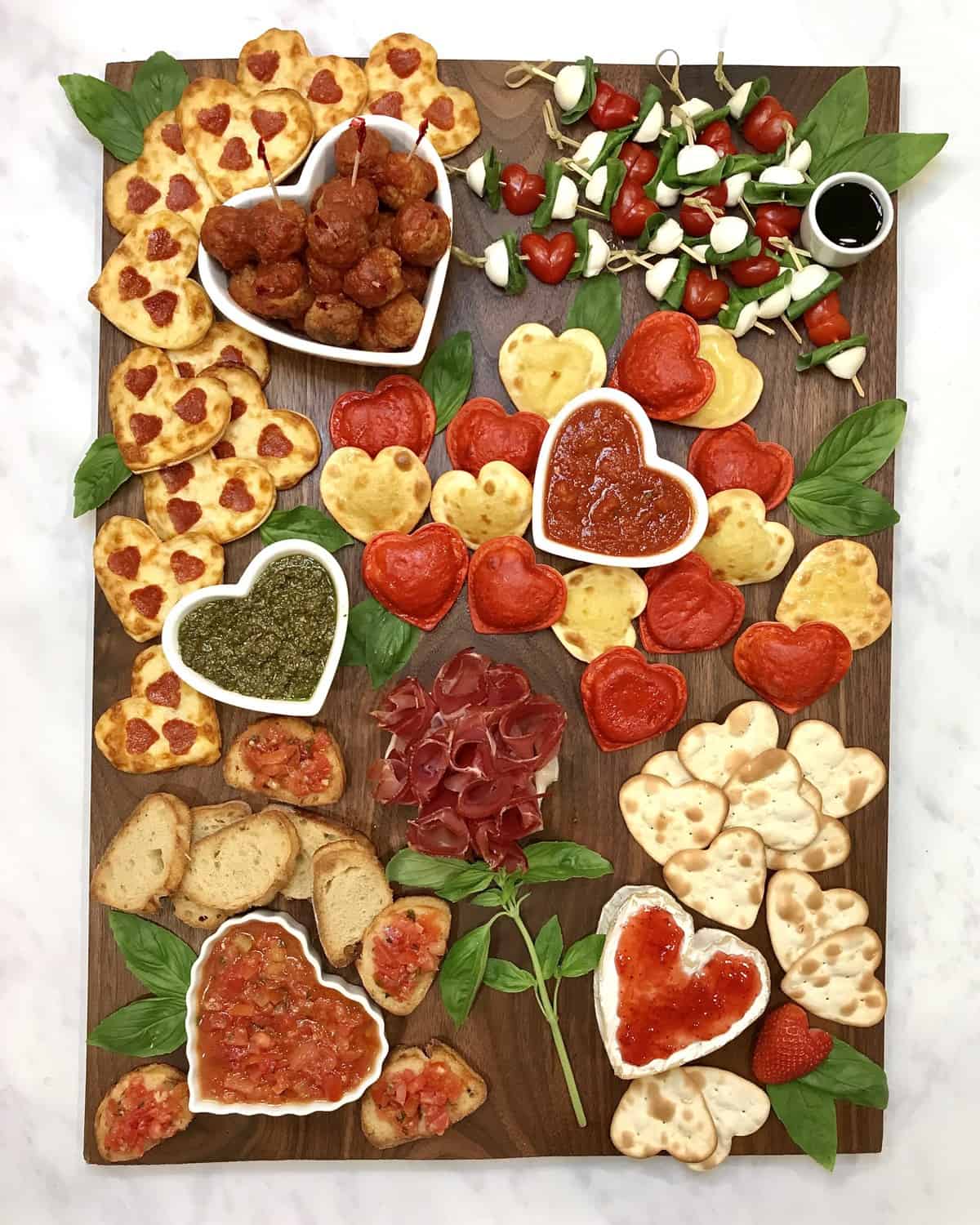 The classic salad of fresh tomatoes, mozzarella and basil is served in a heart shape for an unforgettable dish that's sure to make your Valentine's Day extra special!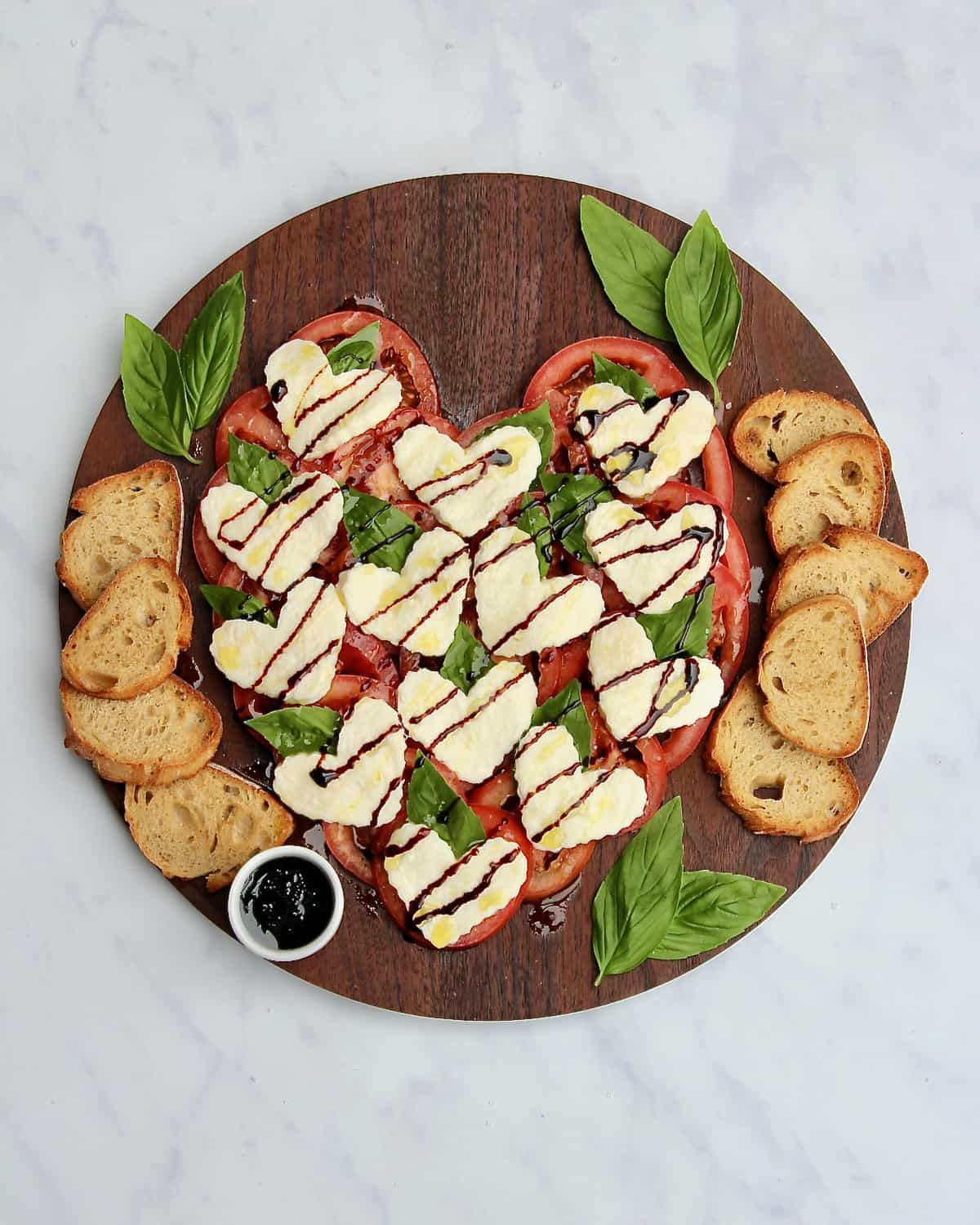 Now, this is the way to my heart! 😉 Like a box of chocolates, only better! Use a large chocolate heart box that's almost empty of its chocolate you create this adorable Cheese & Charcuterie Heart Box for a special date night in with your sweetie. Brandon and I have been doing this for a few years now with the same heart box and it's become such a sweet tradition for us. The plastic compartment container that comes in the heart box is easy to clean so I just rinse it when wer're finished and let it dry completely before storing it. We fill it with a variety of meats, cheeses and accompaniments that we have on hand. And then, of course, add a bottle of wine! This is sure to steal a charcuterie & cheese board lover's heart on Valentine's Day!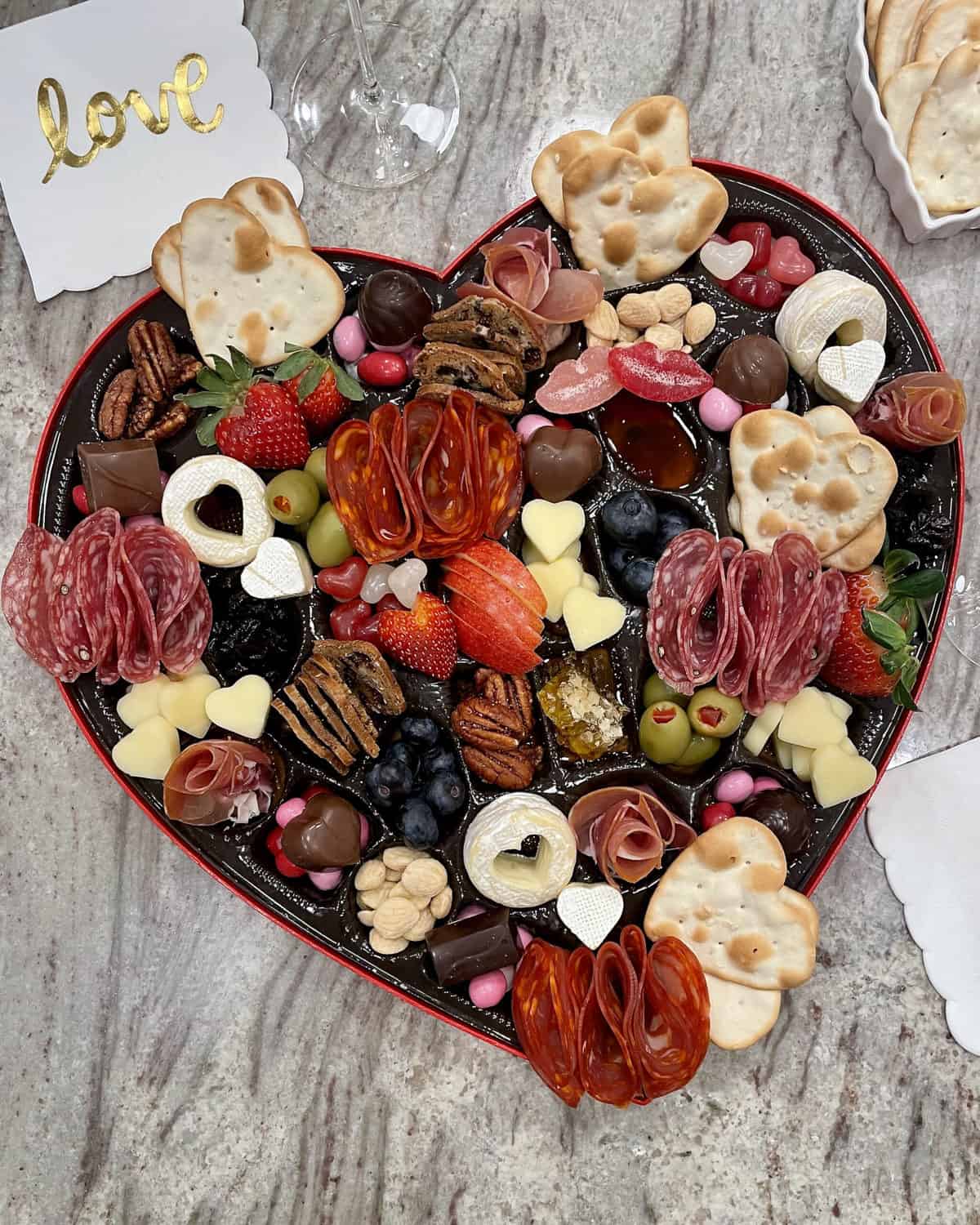 This marvelous Muffin Board will make everyone happy with a variety of mini muffins and fresh fruits to choose from. The One-Bowl Muffins (Many Ways!) recipe is so easy and lets you bake several different muffin variations at once.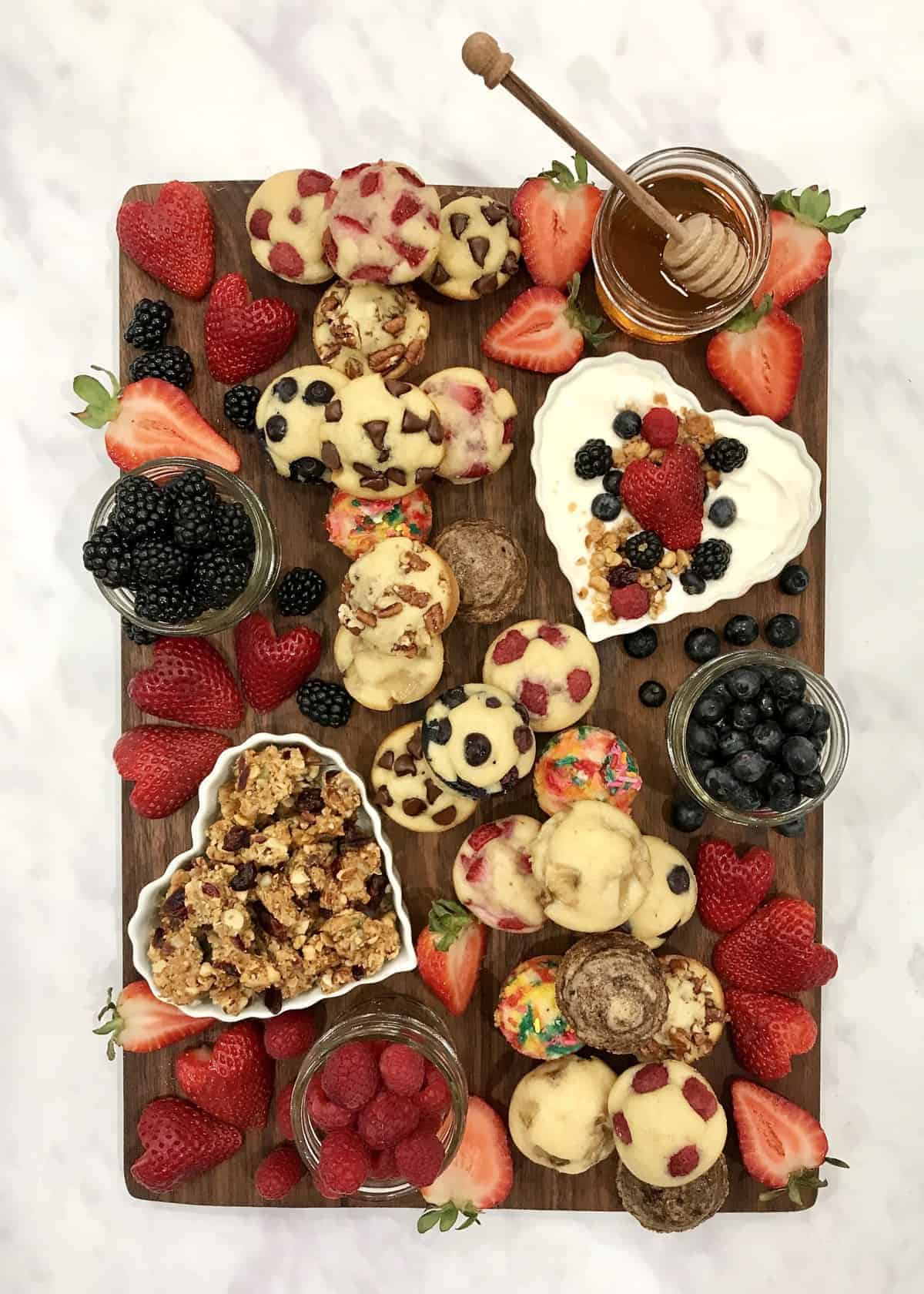 Love is patient, love is kind, love is this board & a good glass of wine!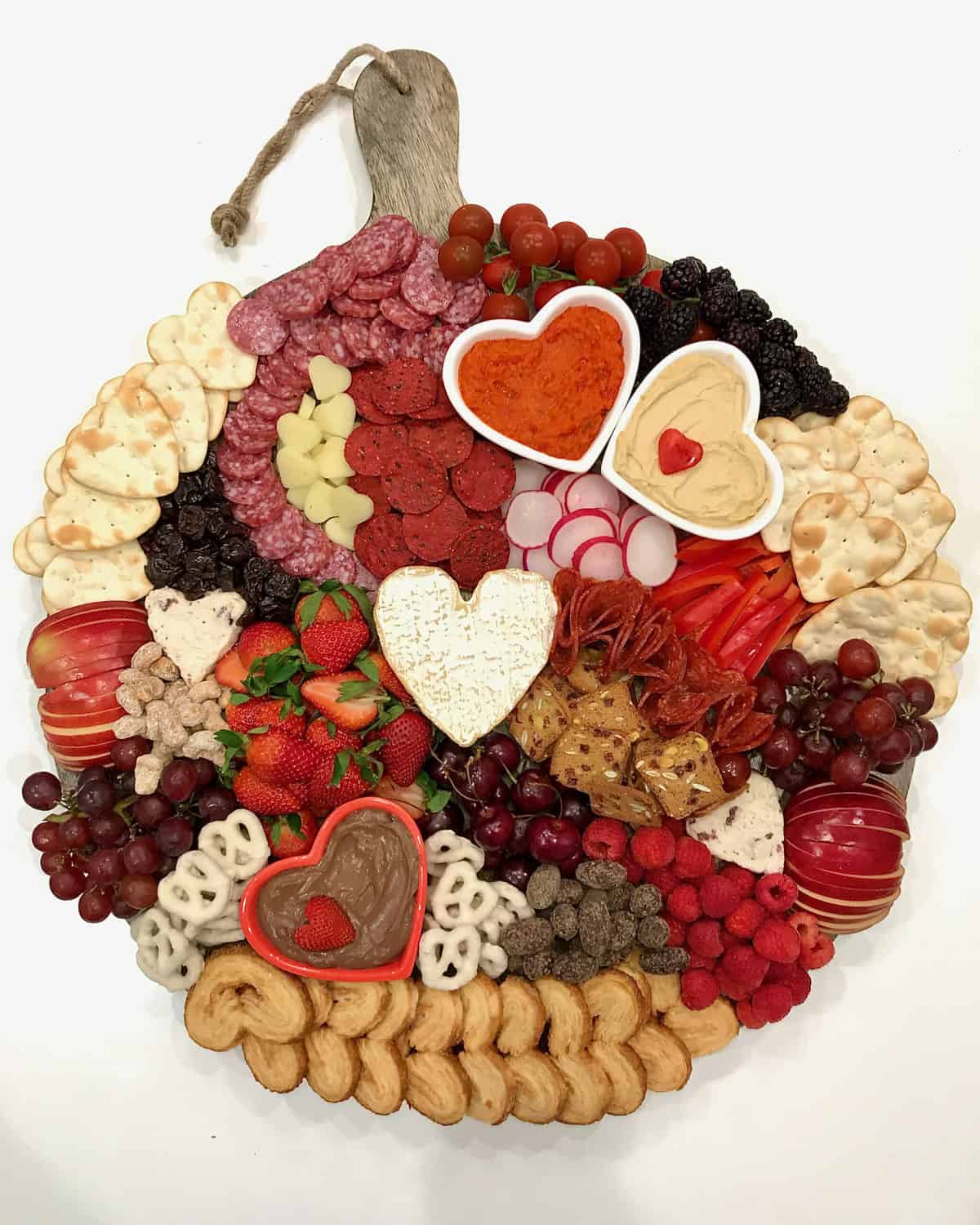 This board was built on the 20" mango wood board from Sur La Table. The heart-shaped serving dishes were found at Target in the bargain section.
Now this is the way to Valentine's Day! Give me all the cheese and charcuterie and tell me how much you love me! 😉 This is the board of all boards for grazing on with your loved ones on Valentine's Day or with your besties on Galentine's Day.
View this post on Instagram
This Pull-Apart Cinnamon Roll Heart is such an adorable and delicious way to serve breakfast on Valentine's Day or any day you're wanting to show your loved ones just how much you love them!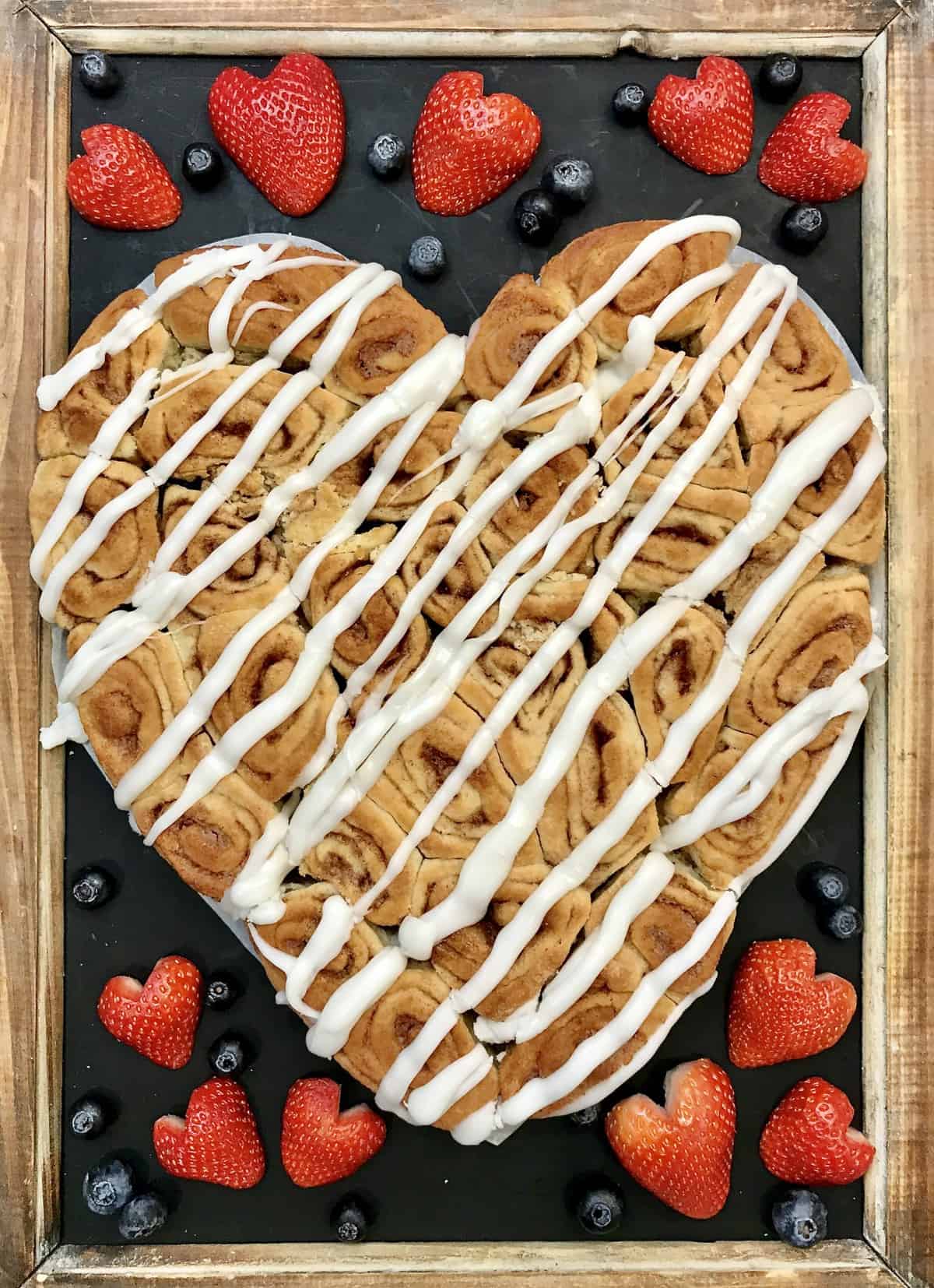 These adorable Cupid's Pancake Kabobs are so perfect for a special breakfast on Valentine's morning or to take to the school Valentine's party. The kids are sure to love them!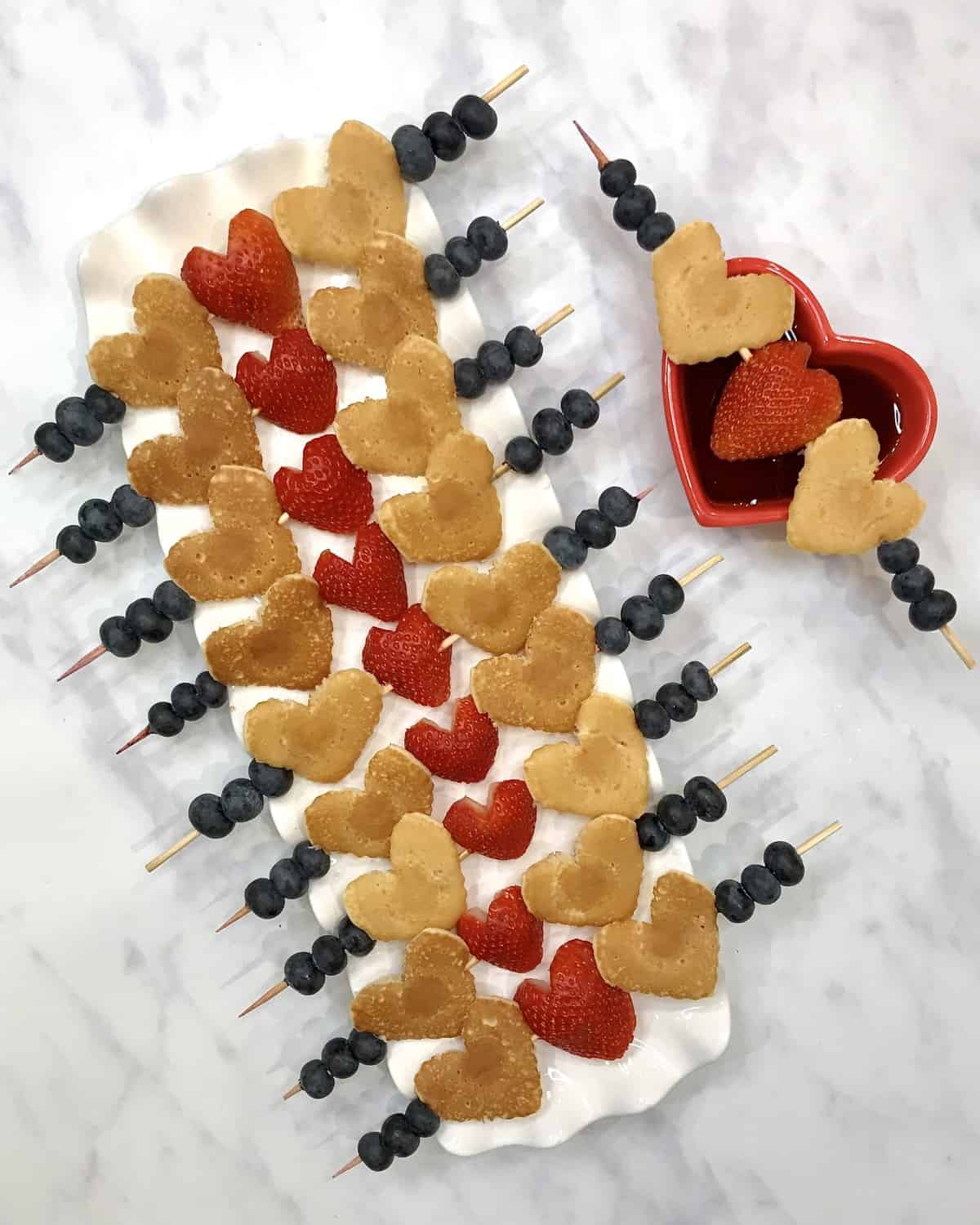 For the love of bacon! What better way to show your people just how much you love them than with heart-shaped bacon?! The simple trick of shaping bacon strips into heart shapes and baking them to crispy deliciousness is love served at its best!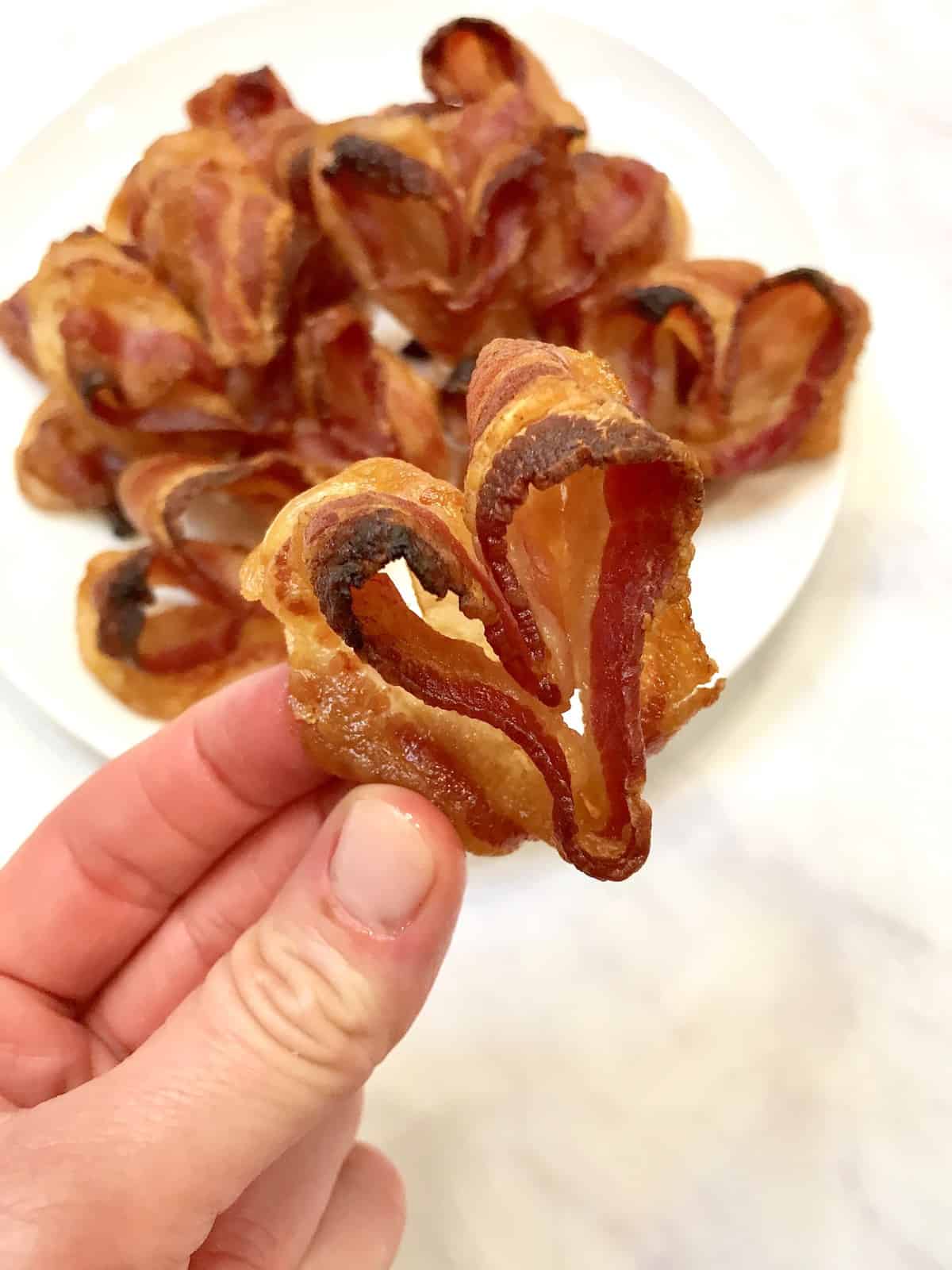 To celebrate the holiday, I've created three festive, delicious spreads. From left, clockwise: This adorable Valentine's Day Kids' Party spread will get all the 😍😍😍 and it could not be more simple to make! From pages 155-157 of my Spectacular Spreads Cookbook, it's a sweetheart of a spread! Food is my favorite way to show love! Shower your sweethearts with love with this Valentine's Day Family Dinner Spread (pages 159-163). Finally, your best gals have been there through it all. Celebrate the sweetness of friendship with this Galentine's Brunch Spread (pages 165-169). Get my Spectacular Spreads cookbook here.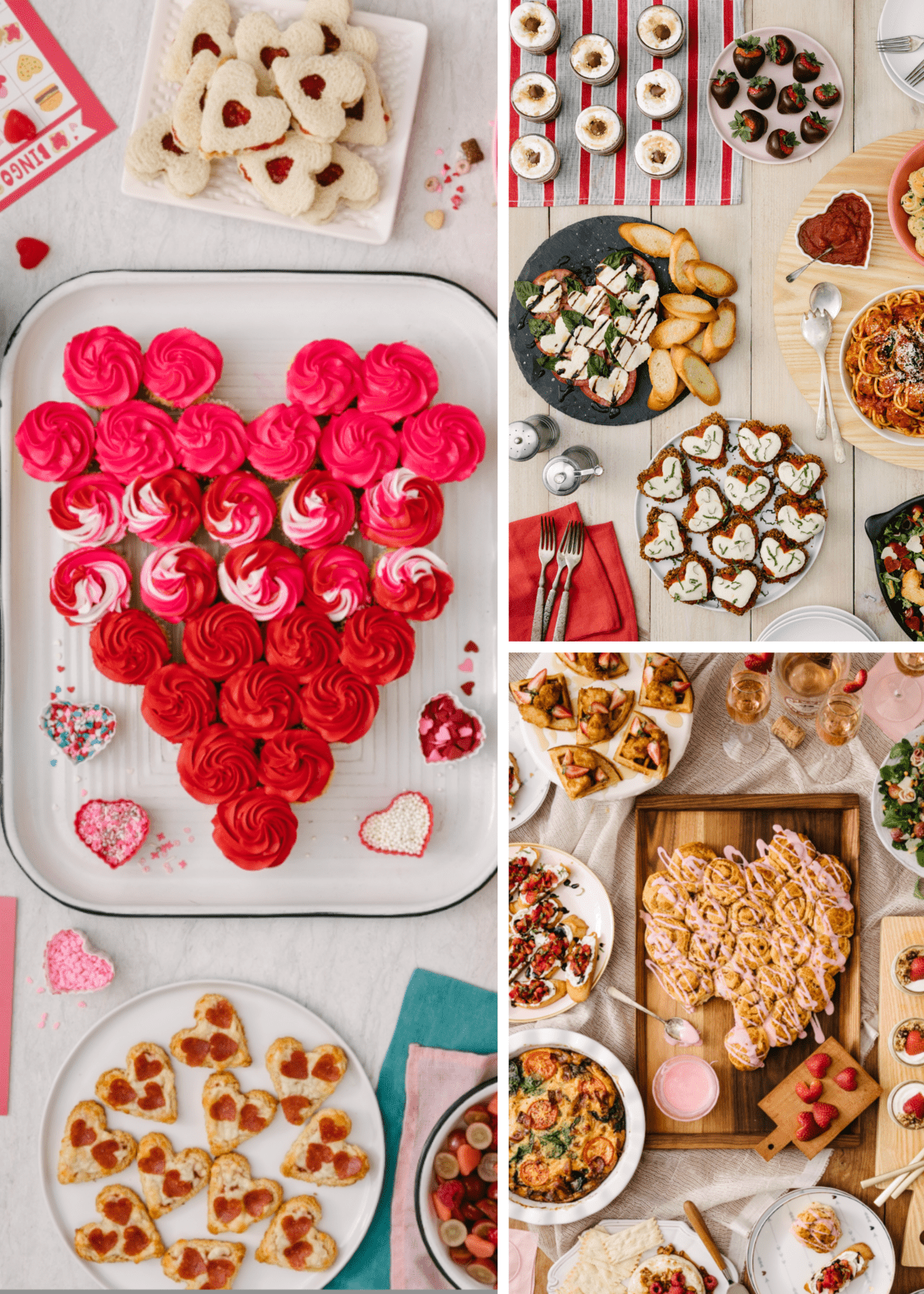 Our favorite appetizer for date night in are these Mascarpone and Yogurt Filled Dates. So simple yet so amazingly delicious! Also perfect for a Galentine's Day party!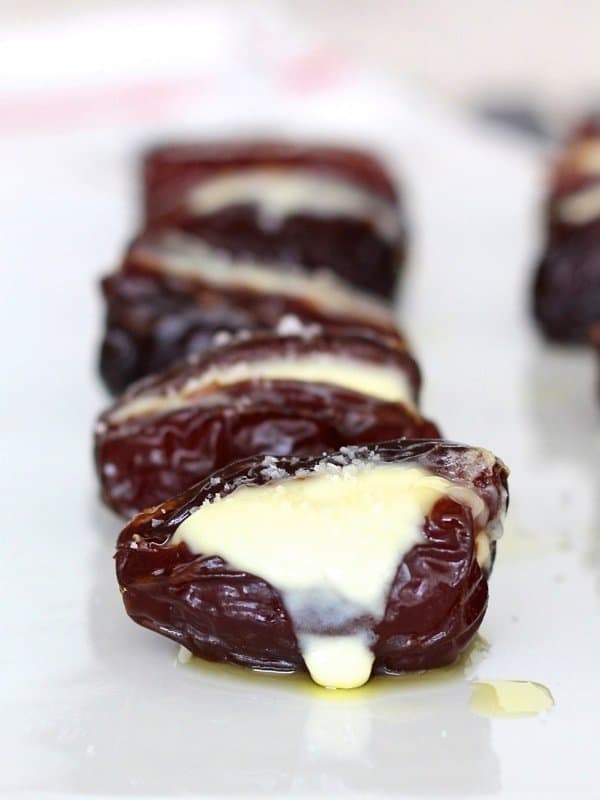 The simplicity of this creamy Labneh Toast Board with jam, pistachios and a sprinkle of sea salt is so delicious! The perfect appetizer for your date night or girls' night in!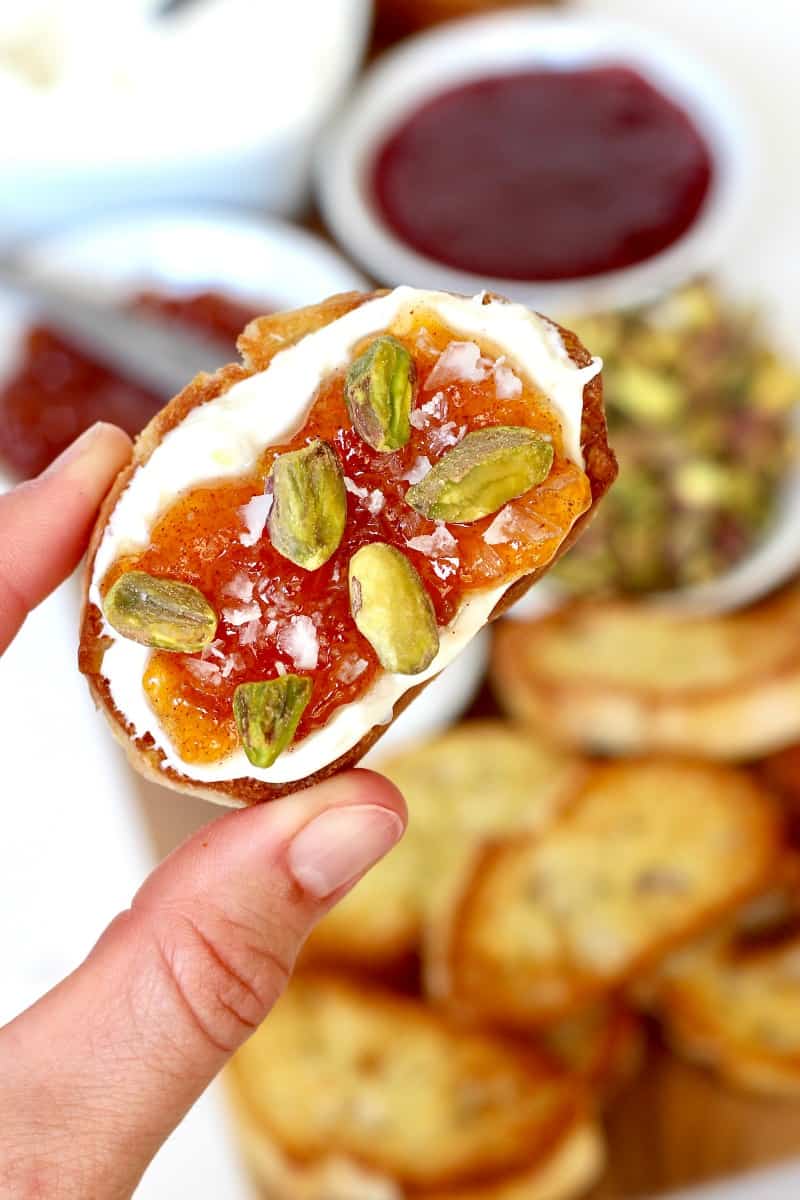 Easy Overnight Sweetie Rolls are melt-in-your-mouth delicious! Cinnamon sugar pecan sweetie rolls are drizzled in a simple sweet glaze for an easy, make-ahead Valentine's breakfast that everyone will love!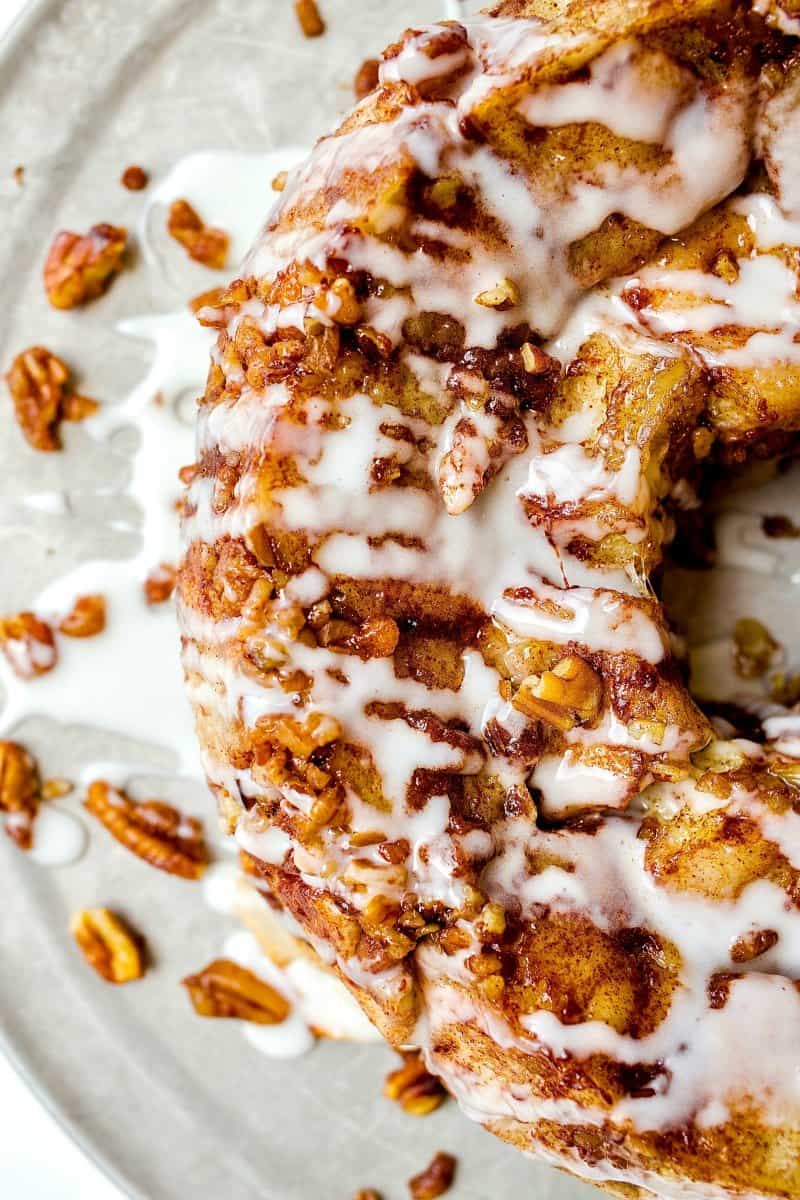 Crispy strawberry waffles with a dollop of chocolate whipped cream and a drizzle of chocolate syrup for a sweet & special way to start Valentine's Day or any day!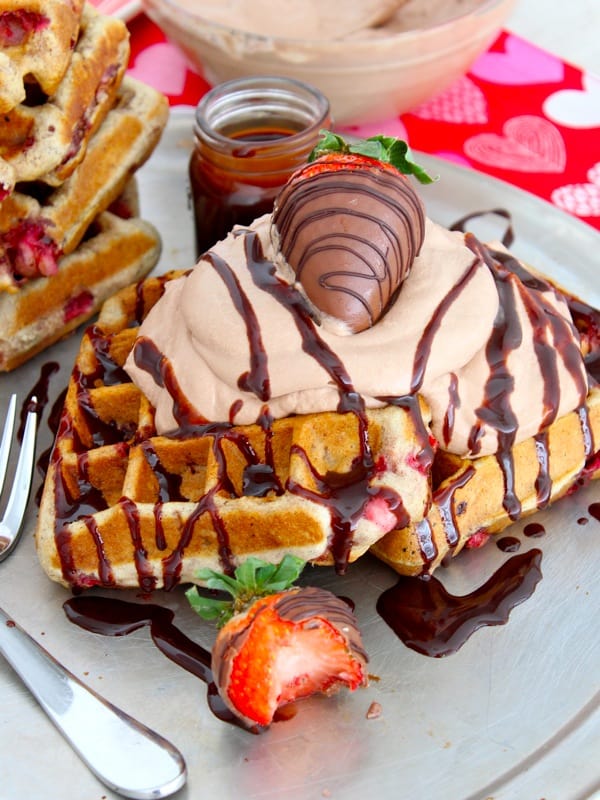 Sweet & simple cinnamon rolls formed into the shape of hearts. These are so much fun to make and even more fun to eat!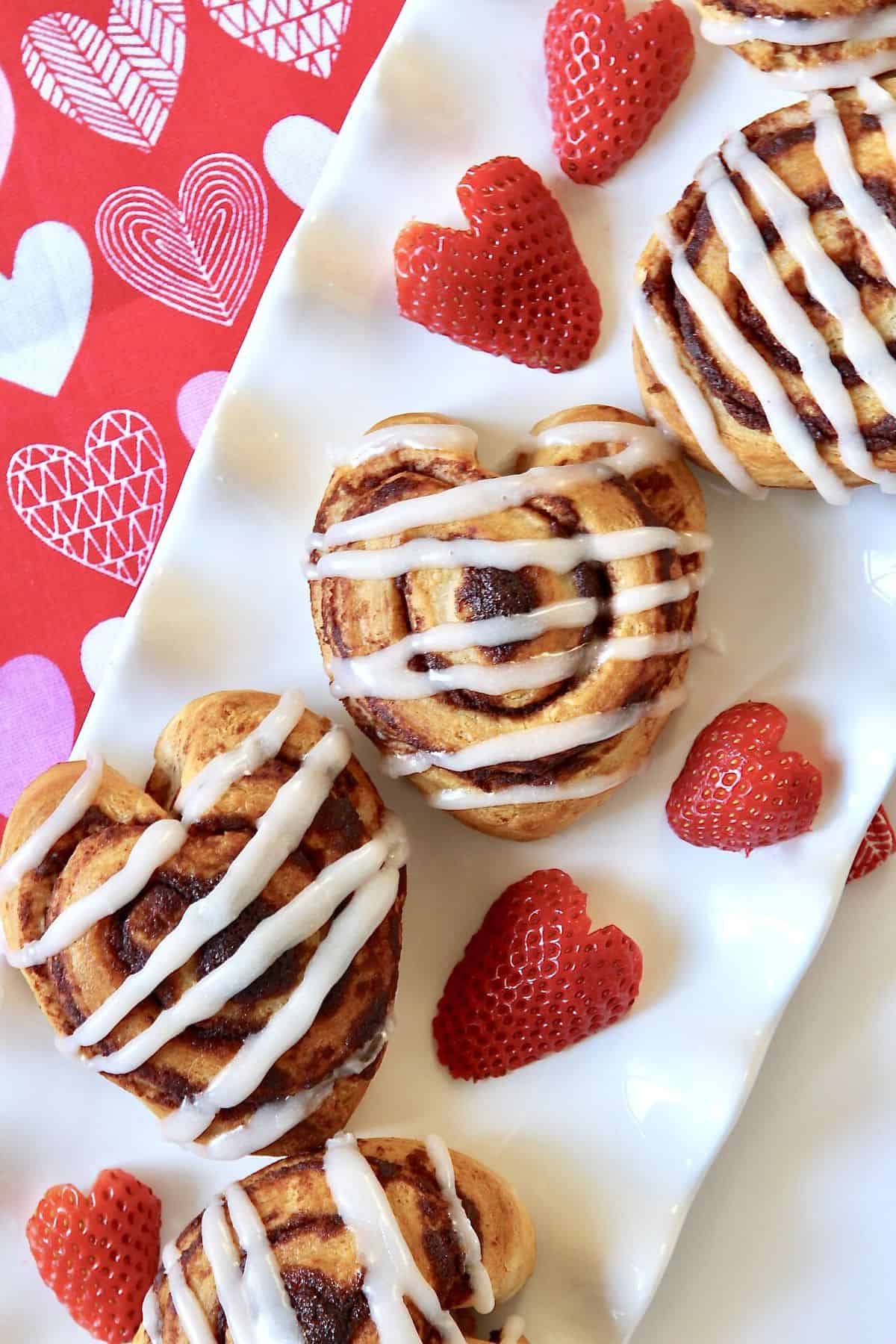 The best bolognese you will ever eat. Full of flavor and rich texture, it's a labor of love that is so worth the effort. You are sure to fall in love with this recipe!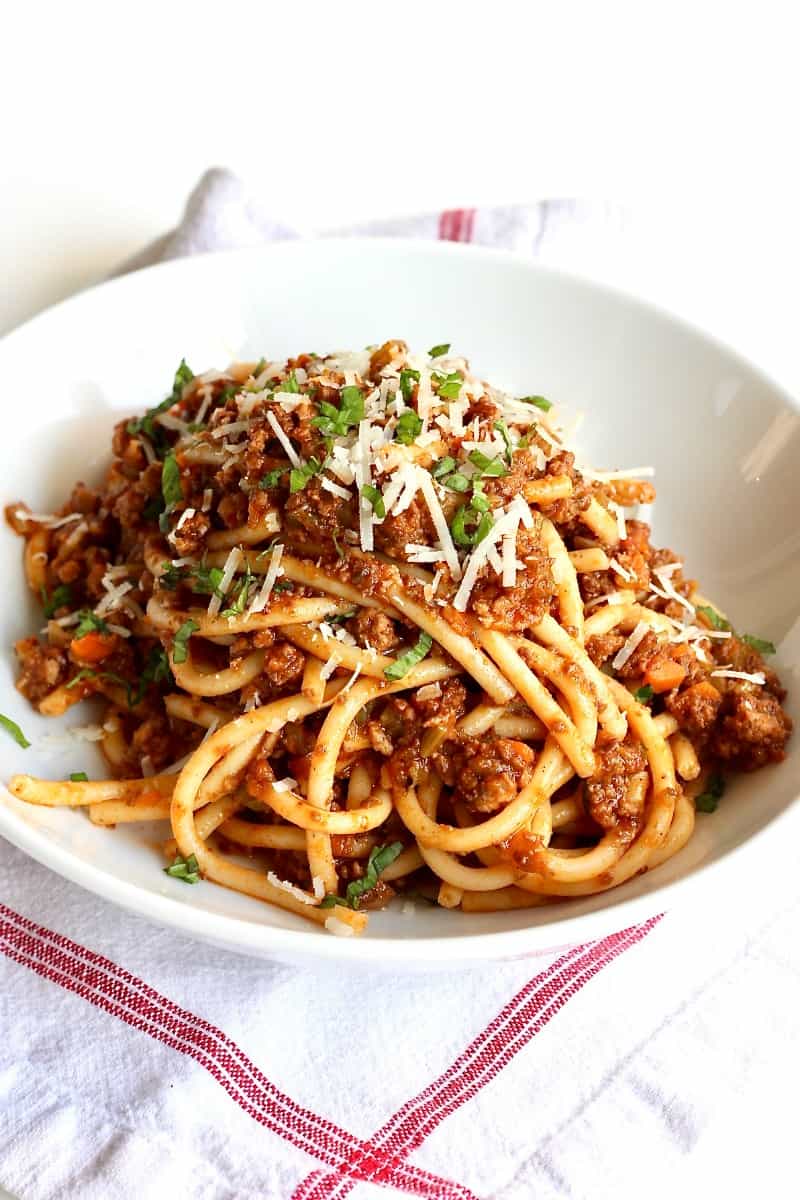 Building a great cheese board doesn't have to be crazy expensive to look and taste impressive. Get the details here for how to build a beautiful and delicious cheese board on a budget of about $25 with ingredients from either Trader Joe's, ALDI or Target.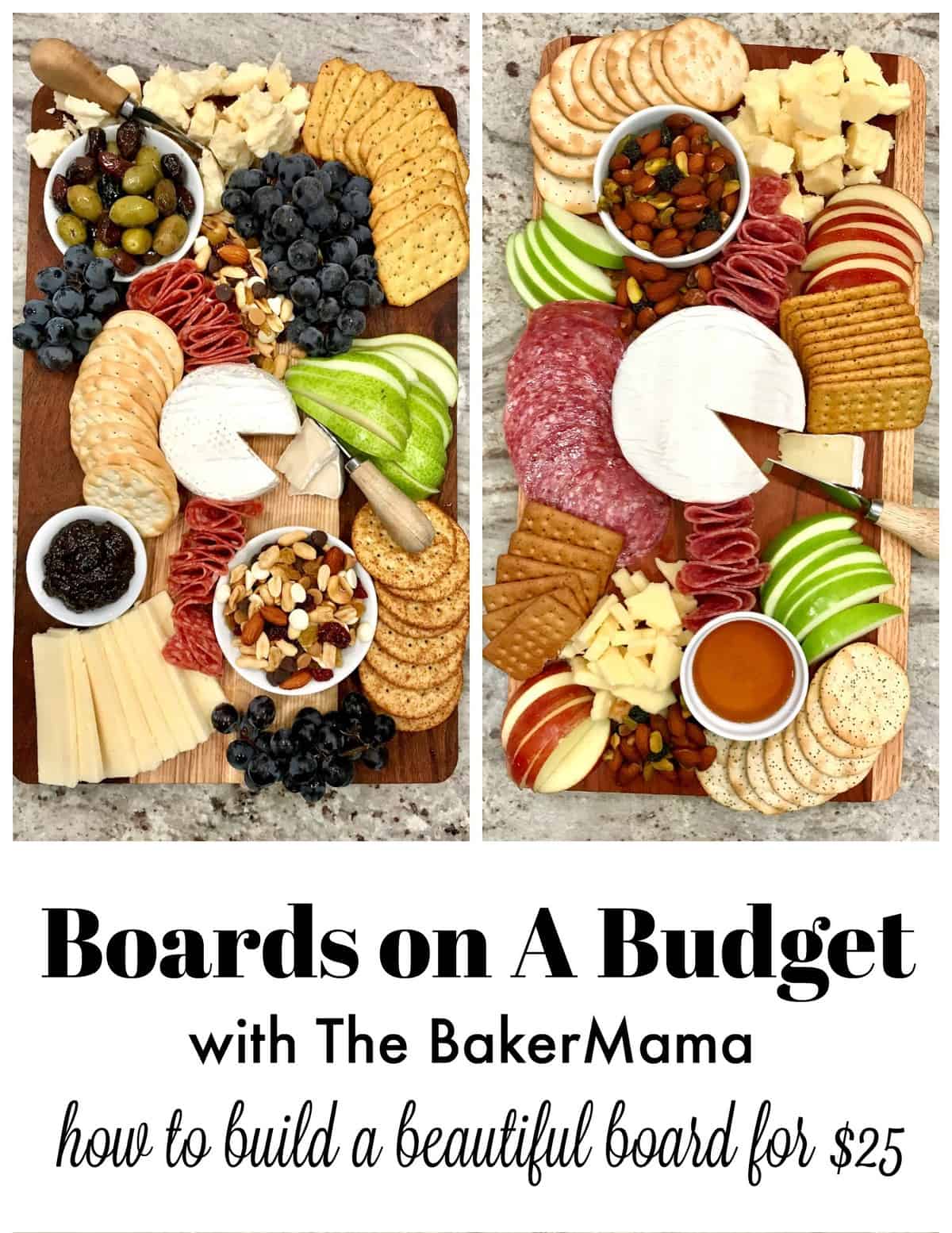 I created the perfect date night in board in my Beautiful Boards cookbook made with our absolute favorite meat, cheese and accompaniment pairings. This beautiful board with a great bottle of wine is our favorite way to do date night.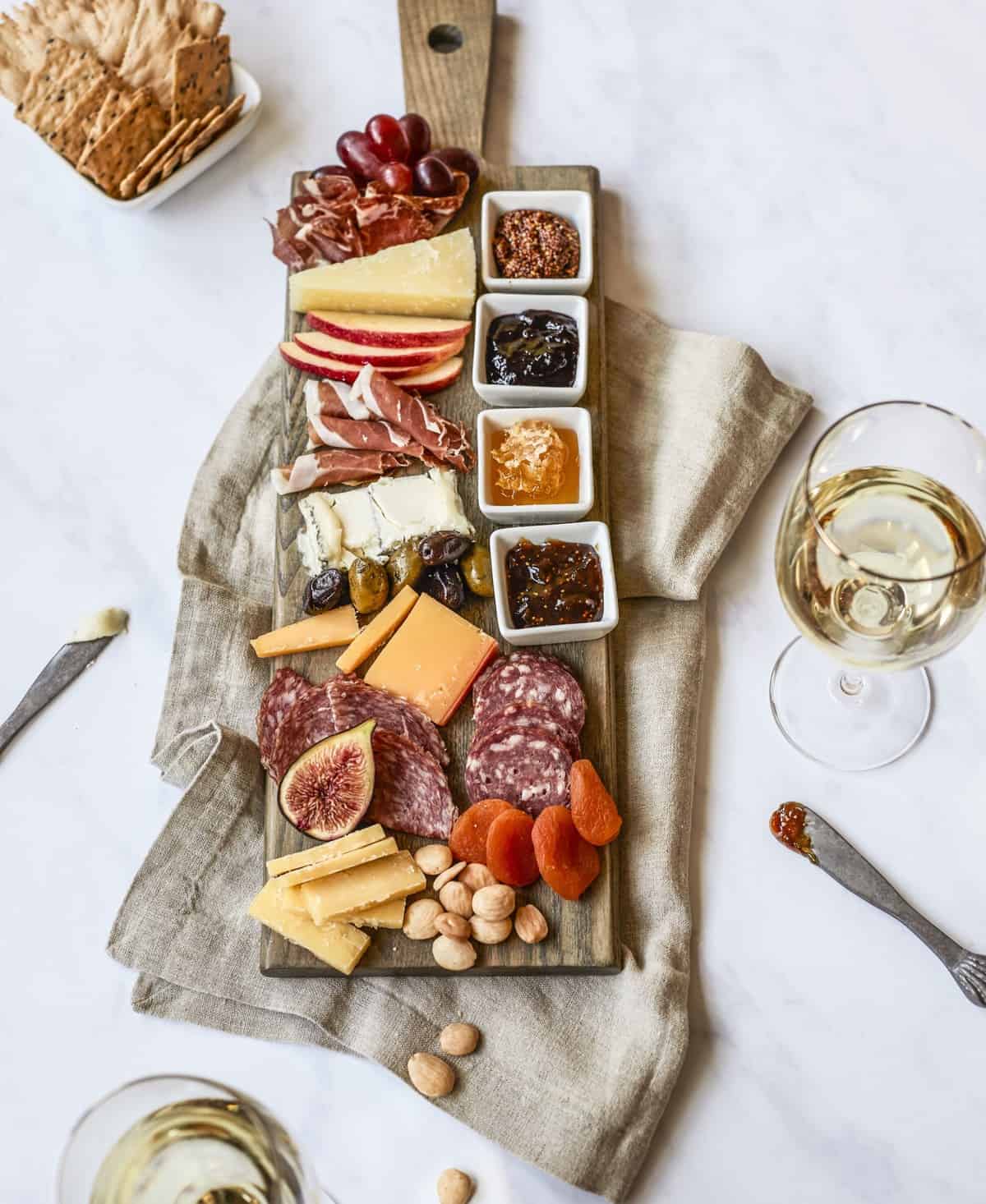 This Tuscan Tortellini Soup is a comforting one-pot meal that's perfect for a cozy Valentine's dinner. It's so easy to make and is bursting with delicious Tuscan flavors!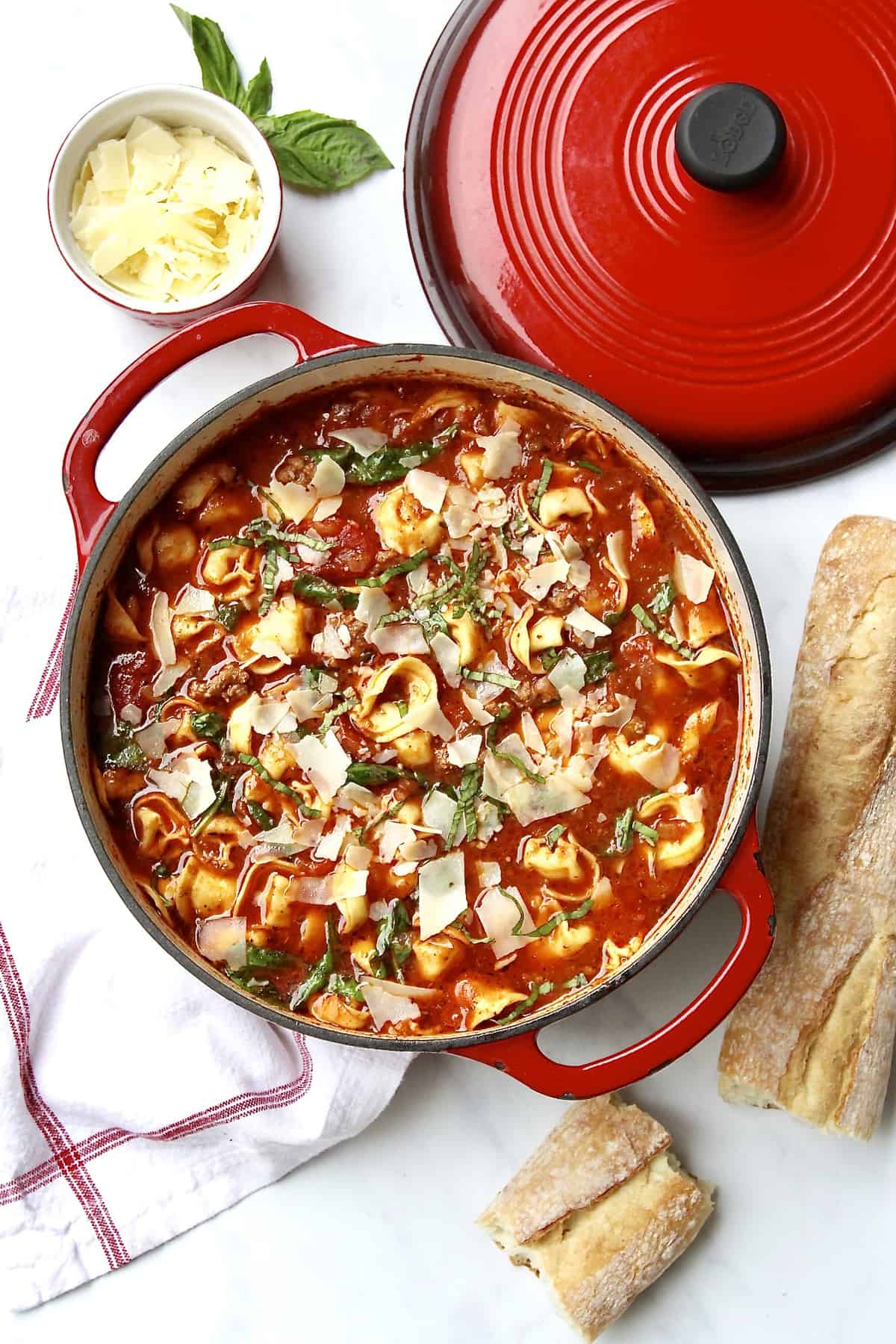 Pizza is love and this scratch-made Sheet Pan Pizza is simple to make and tastes so delicious that you'll never want to order in again. 😉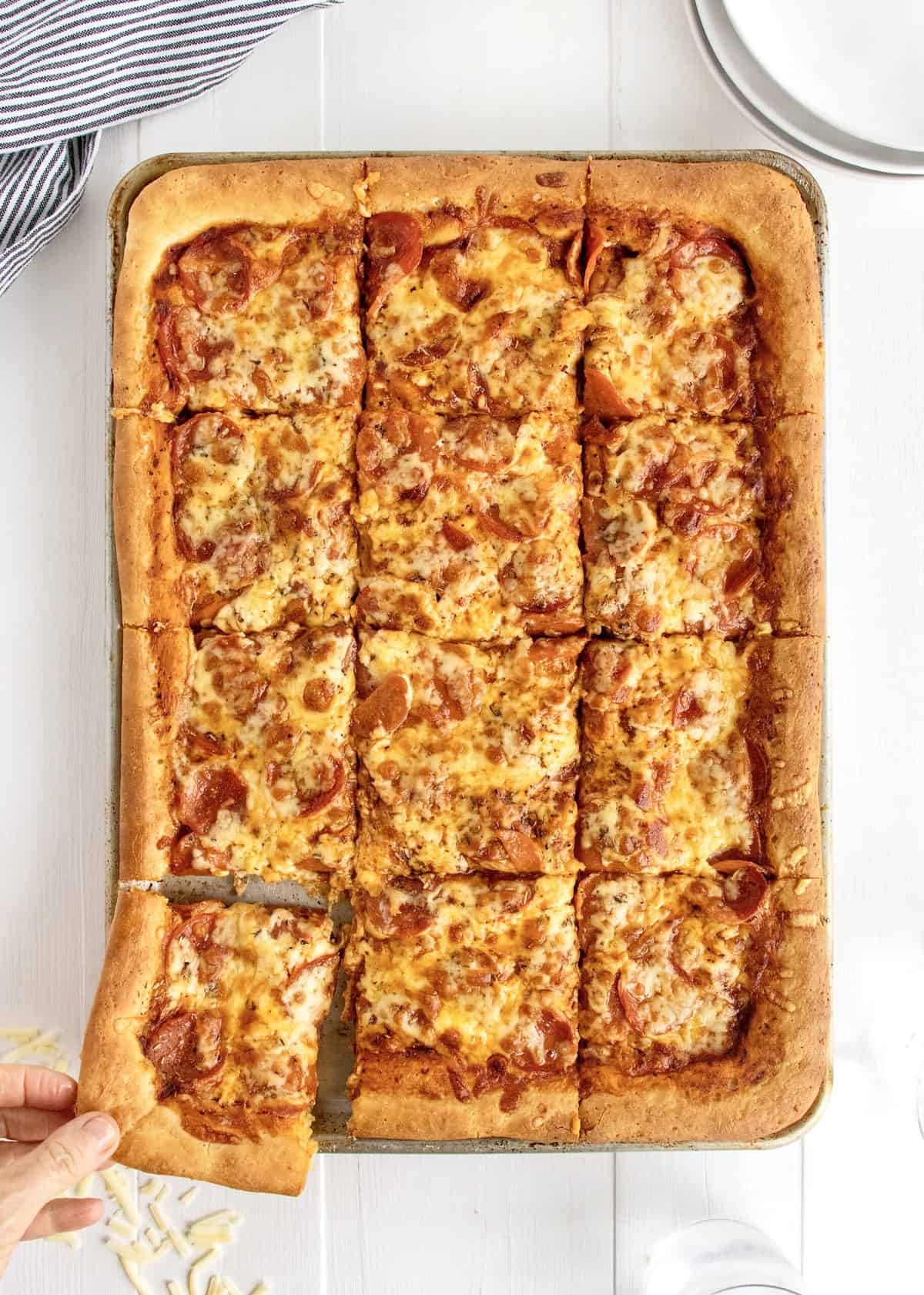 These mini calzones are easy to make and would be the perfect addition to a homemade Valentine's dinner with the family!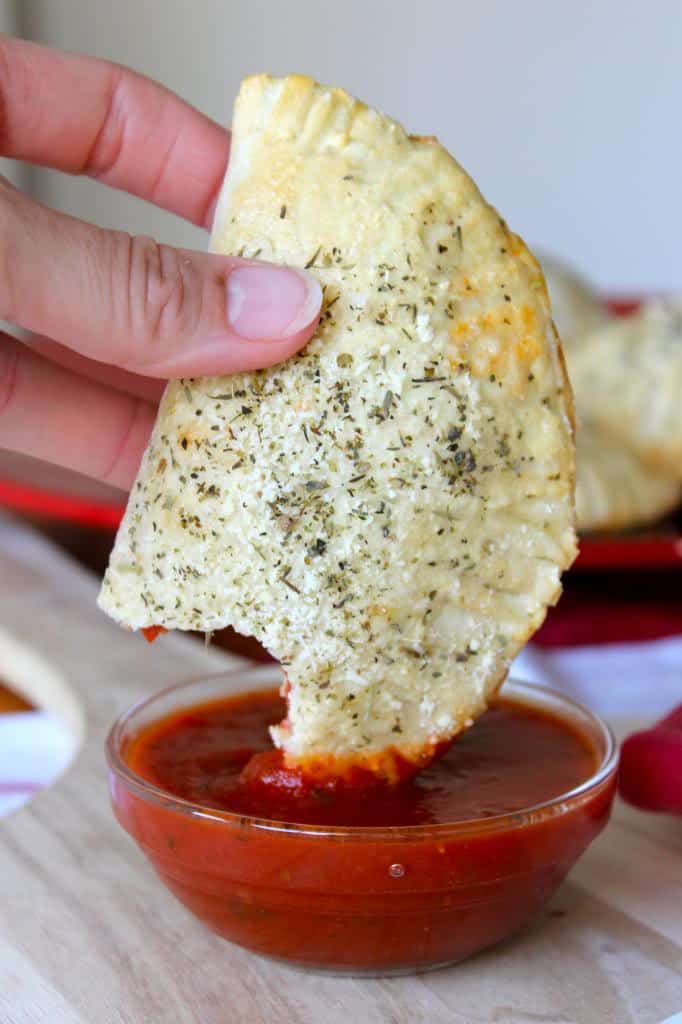 Keep it sweet and simple this Valentine's Day with these adorable and delicious Mini Heart-Shaped Cakes! So easy and fun, have the kids join in to bake and decorate them!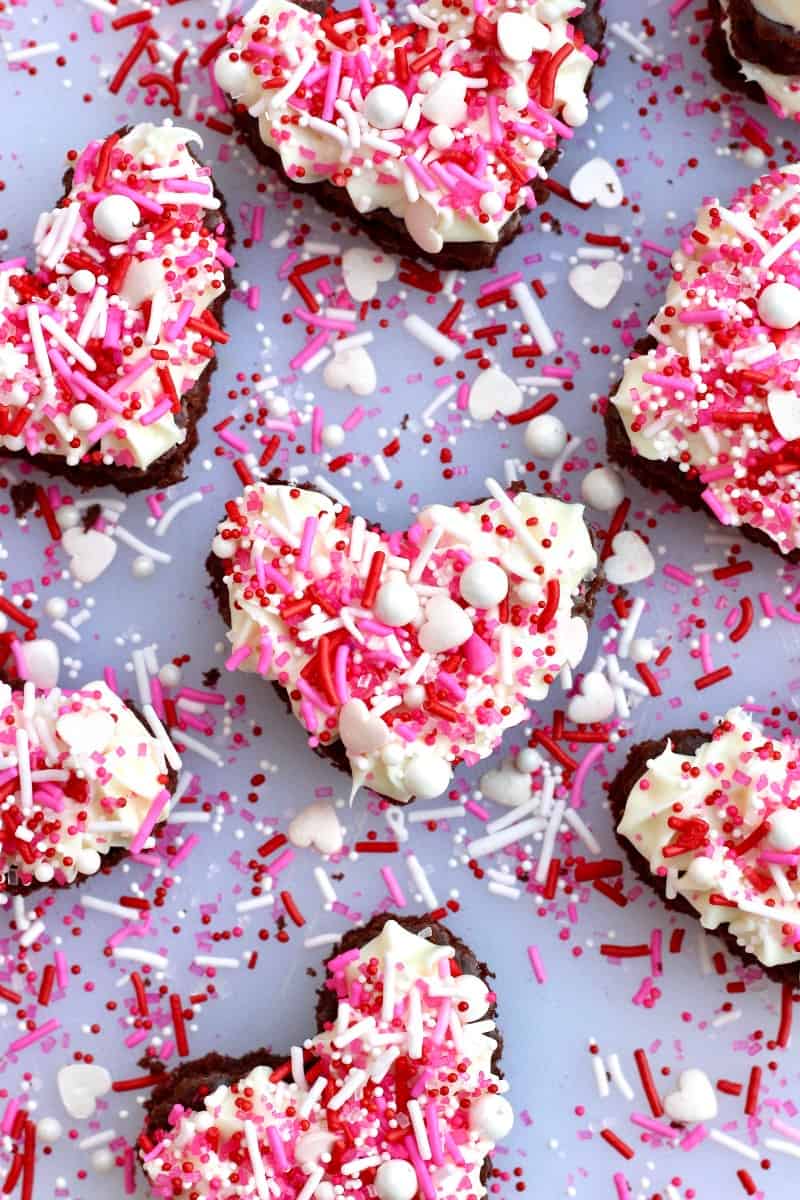 This Valentine Sweetheart Snack Mix is love at first sight and bite. An irresistible sweet treat that's so perfect for Valentine's Day!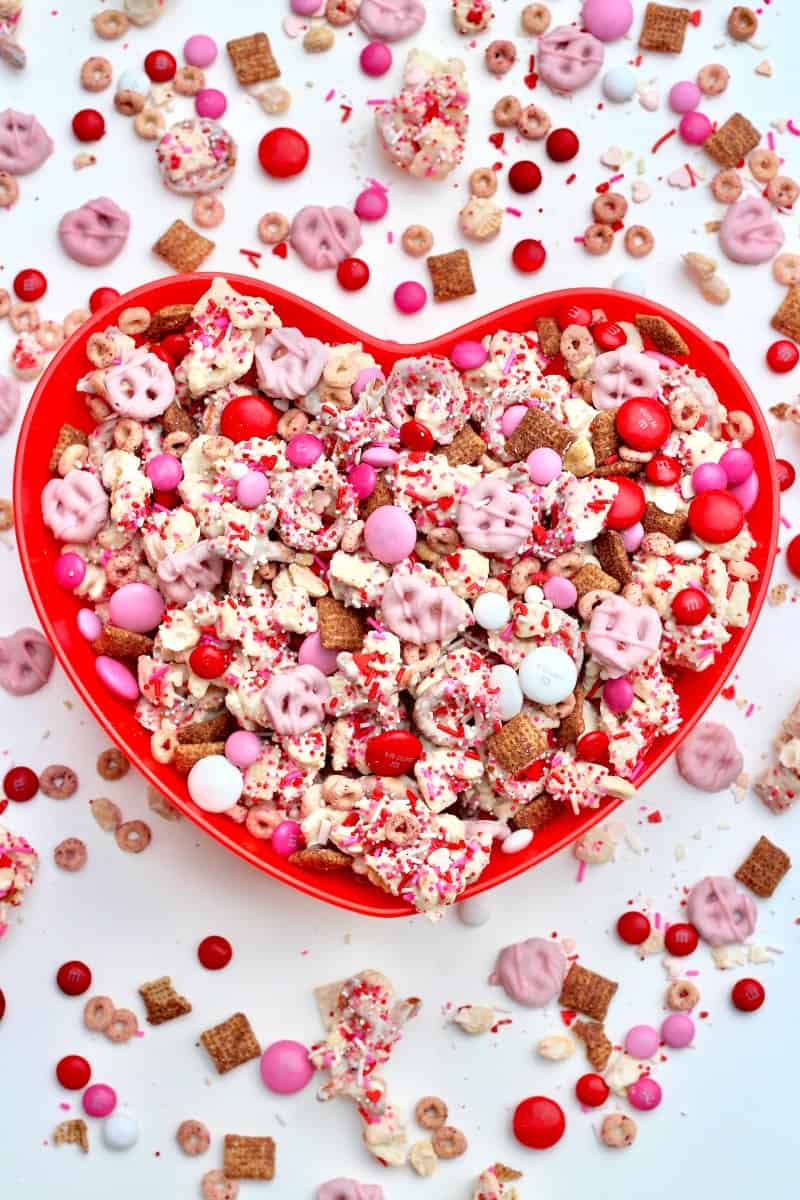 It wouldn't be Valentine's Day without chocolate and these decadent little Molten Chocolate Cakes with a melting chocolate center are so easy to make and impress every time! It's unbelievable how delicious they are!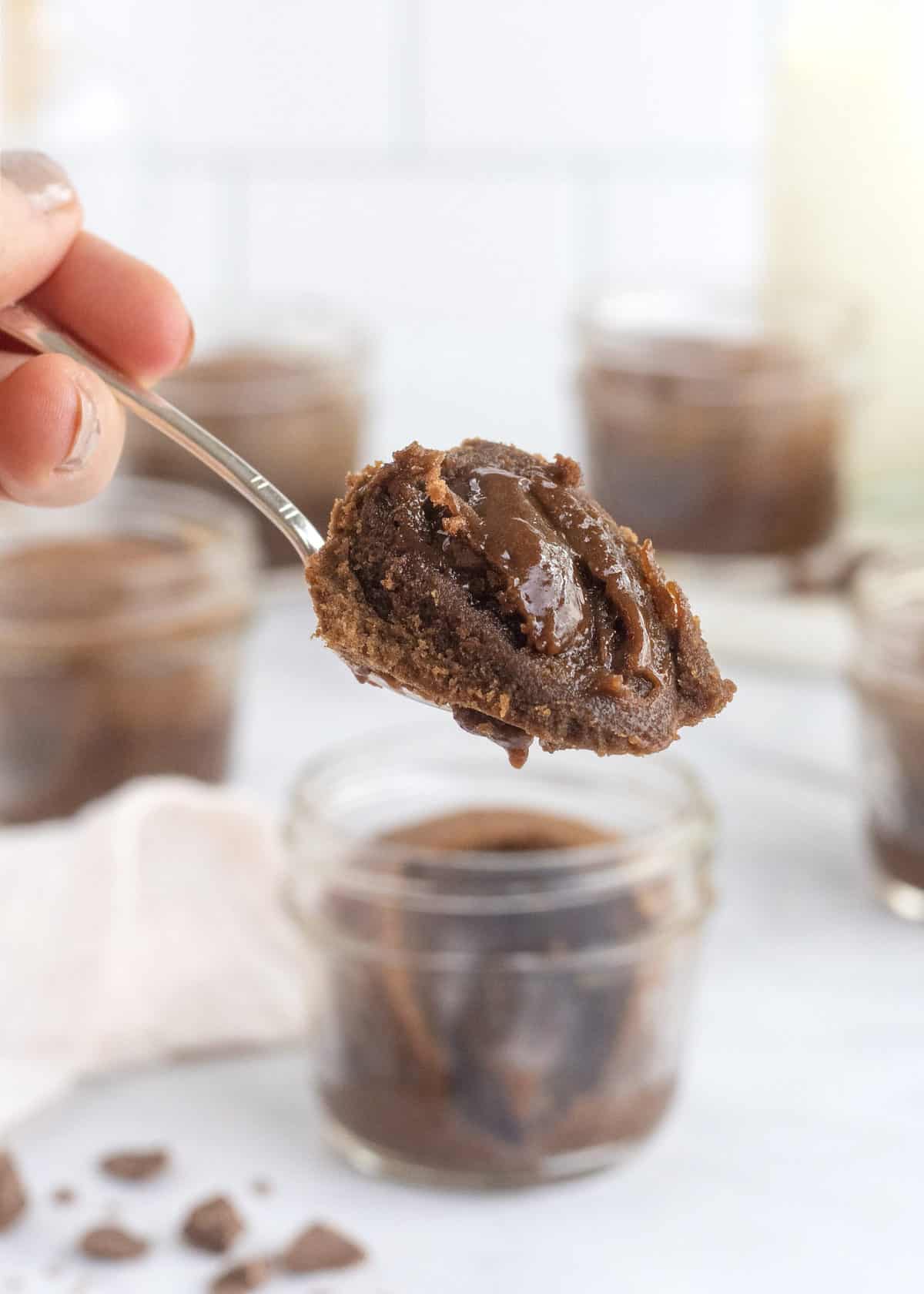 Rich, dark chocolate and fresh raspberries are the stars of these deliciously chewy oatmeal cookies that are made without any flour, granulated sugar, real butter or oil. You'll be surprised by how much you love these delicious cookies!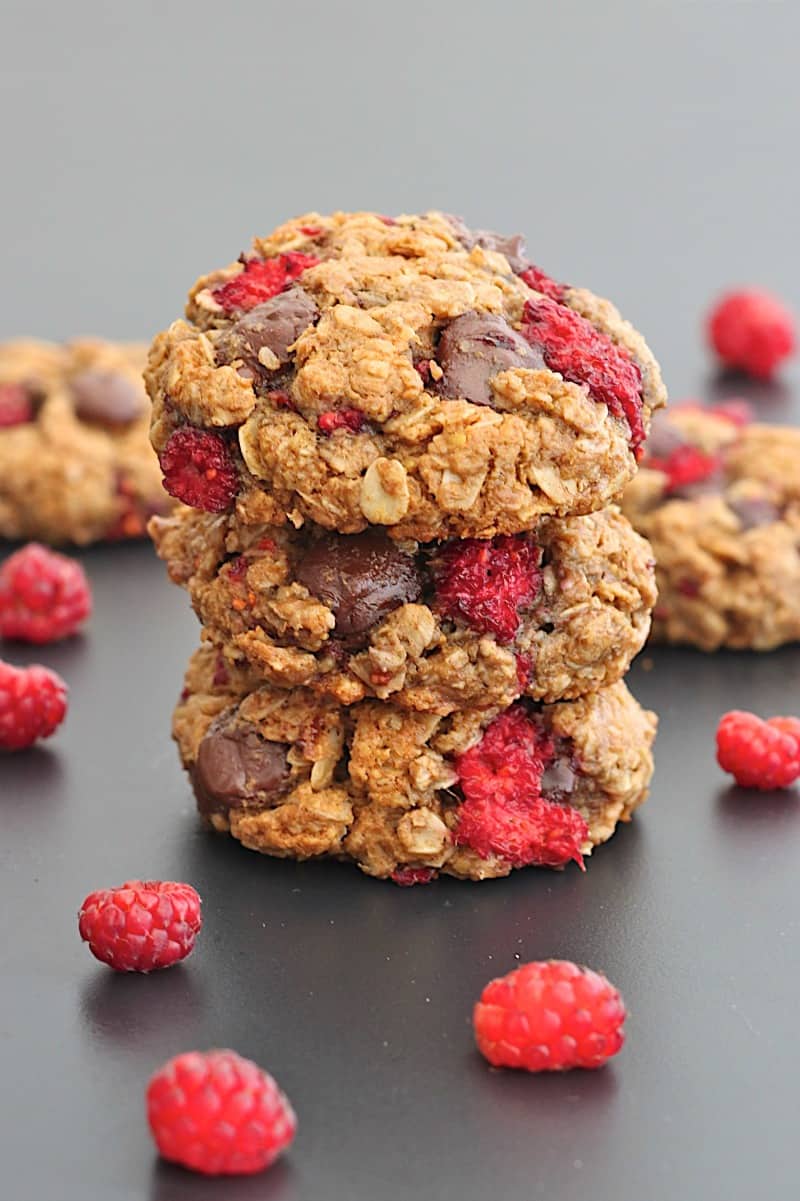 Chocolate and cherries are quite the match in these Mini Cherry Chocolate Chip Cheesecakes. Perfectly sized cheesecakes that are love at first bite! Bet you can't eat just one. 😉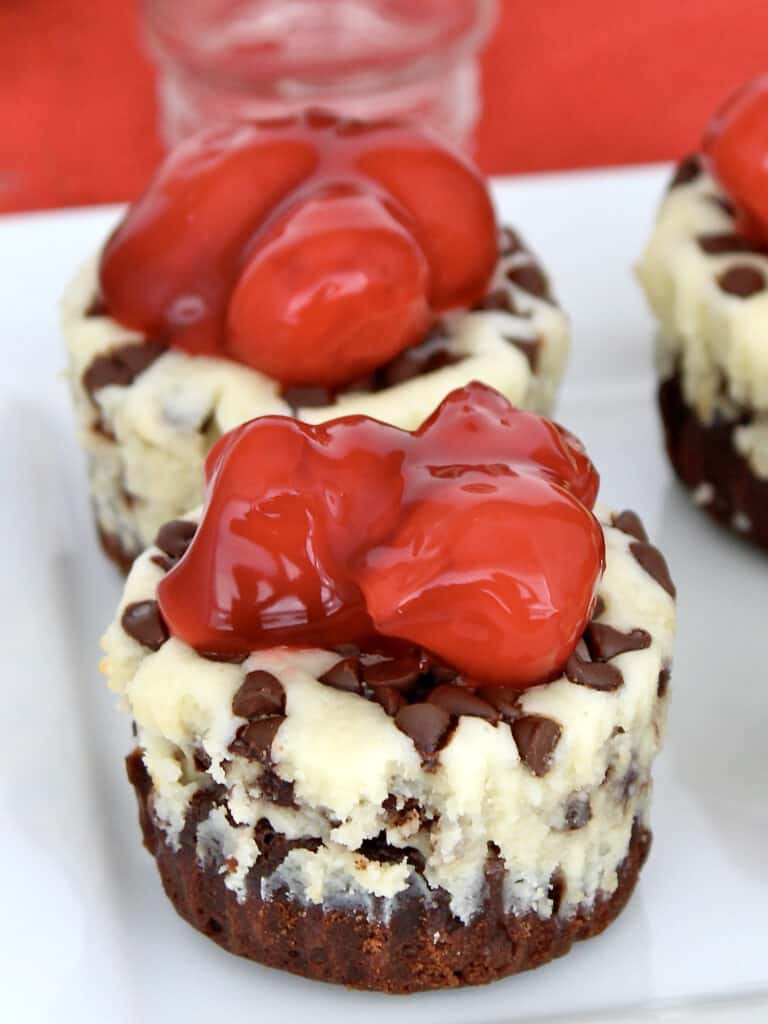 Strawberries and a little lemon in the lightly sweetened biscuits make these fresh strawberry shortcakes extra special. They would be so great for a Valentine's dessert!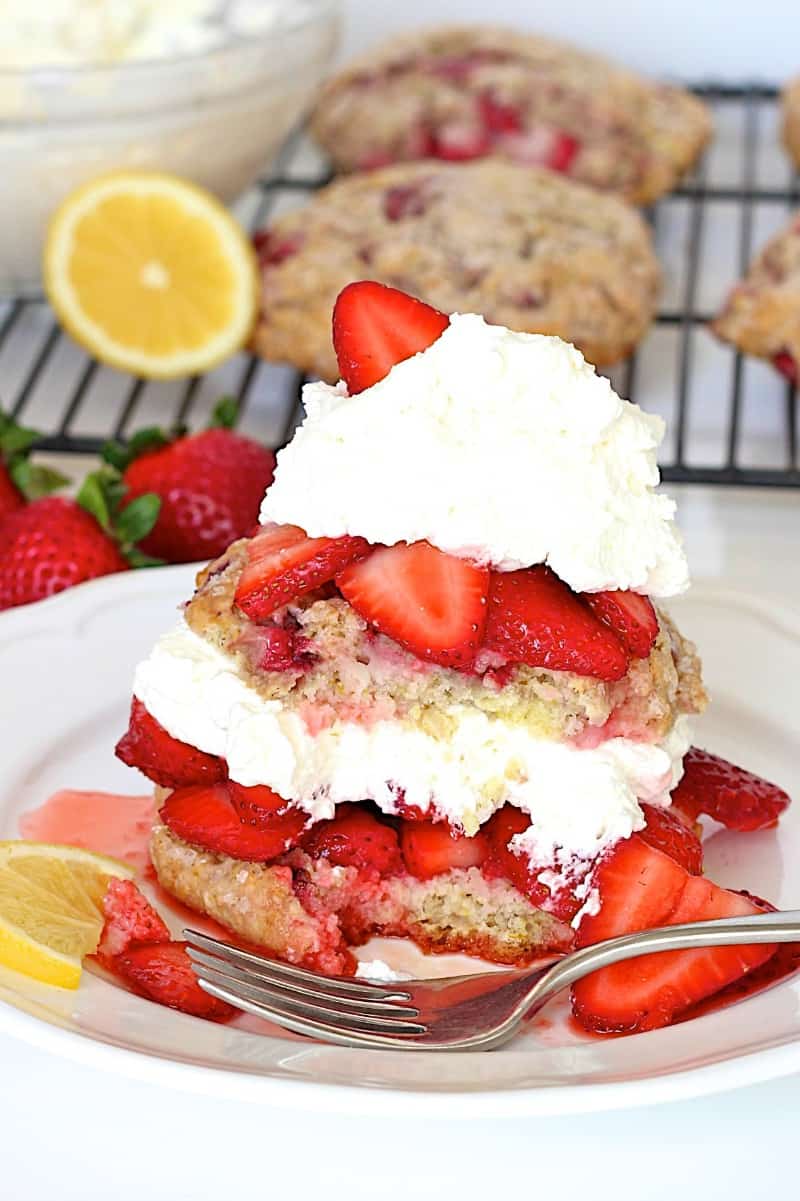 Deliciously fresh strawberry cake shaped like a heart and covered in a creamy, dreamy strawberry frosting for a festive Valentine's Day dessert!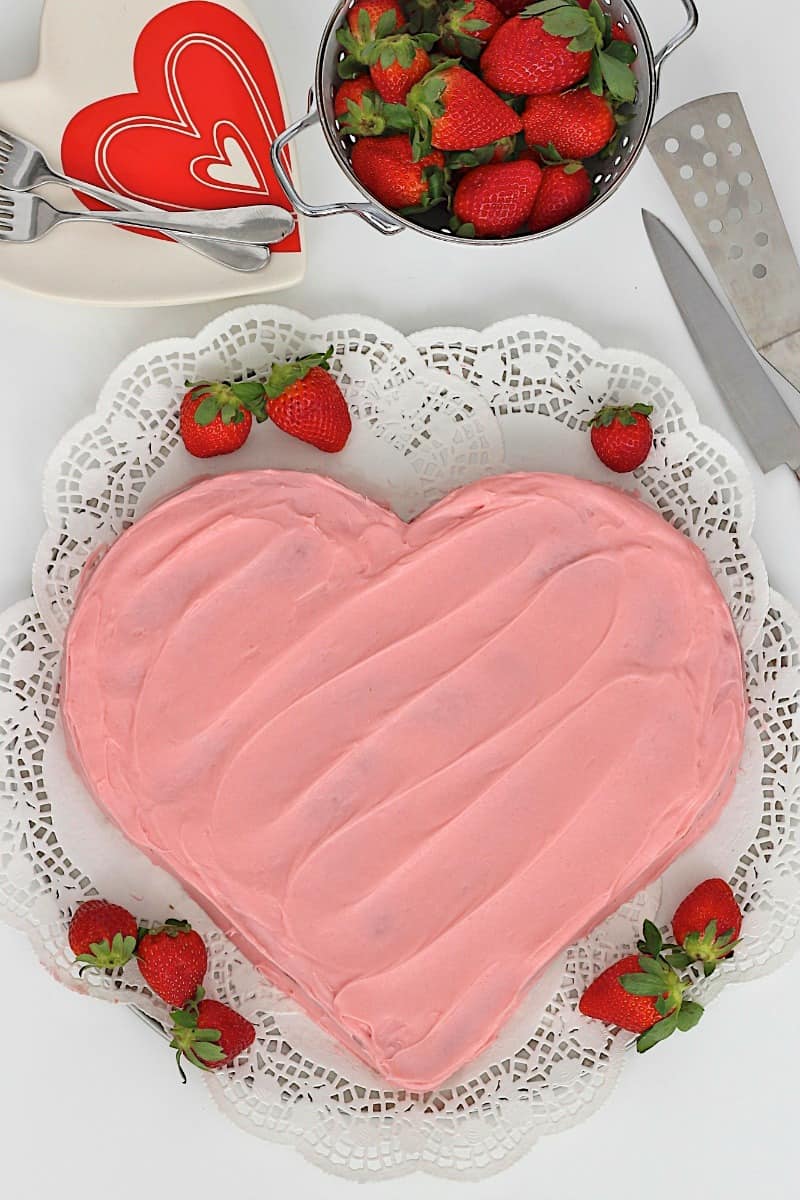 Scrumptious Strawberry Streusel Scones studded with fresh strawberries and topped with an irresistibly sweet streusel!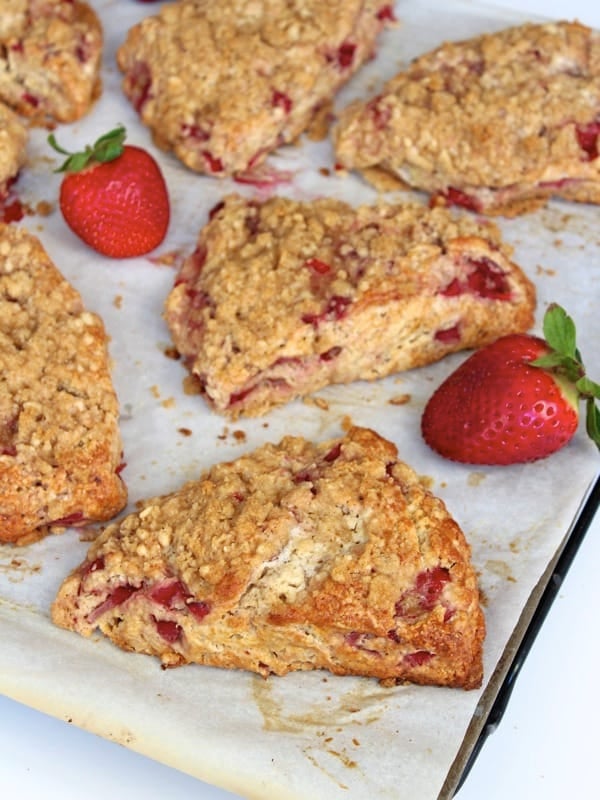 This Strawberries and Cream Swirl Cake is a stunning layered cake that's moist and loaded with fresh strawberries and sweet whipped cream frosting!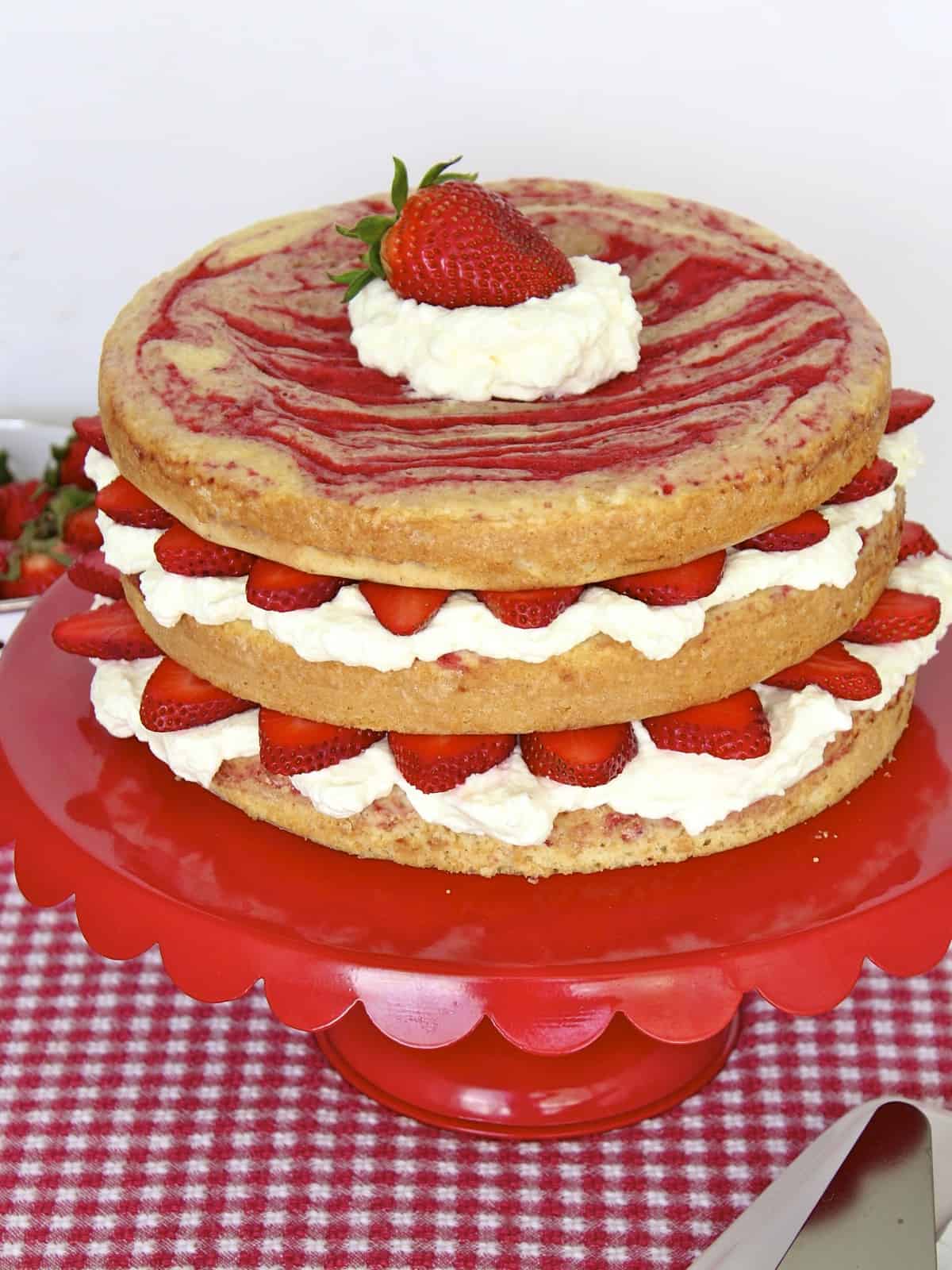 Easy, chewy, no-chill, cut-out sugar cookies that are perfect to bake and decorate for Valentine's Day or any holiday!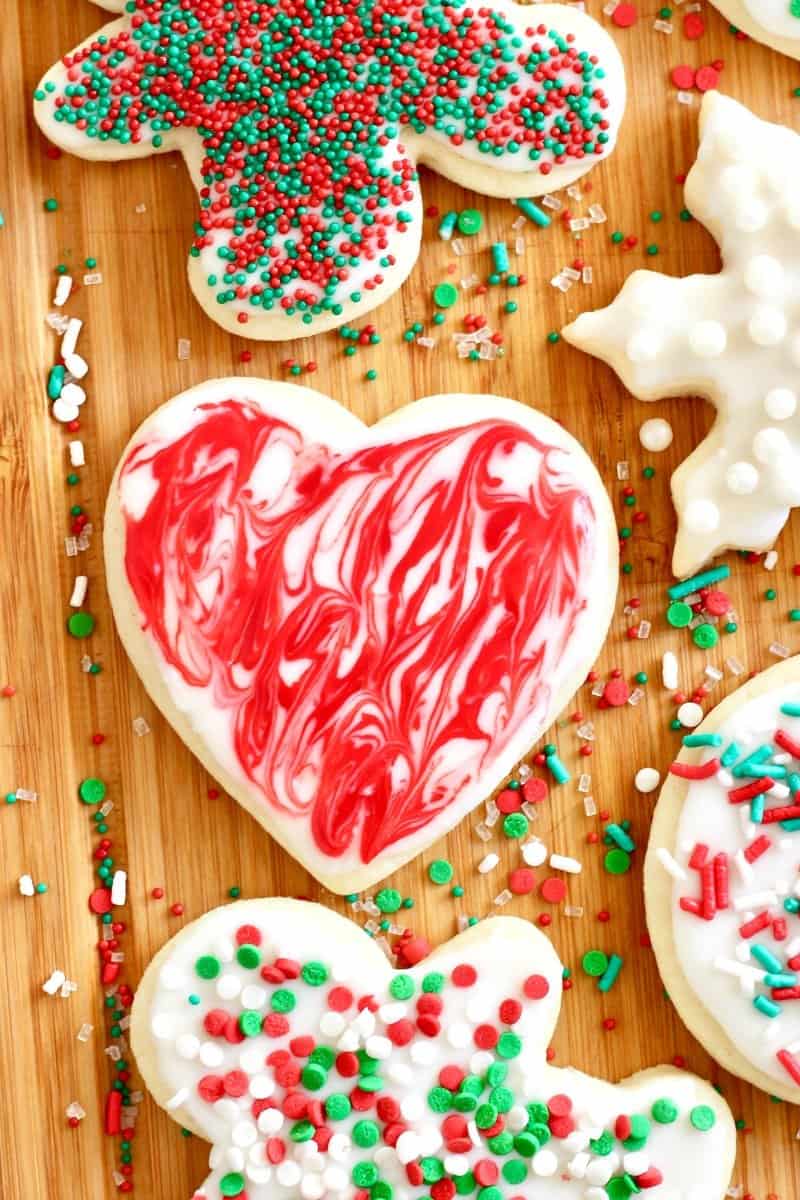 Chocolate lovers rejoice! These Chocolate Sugar Cookies are perfectly soft and sweet with a rich chocolate twist.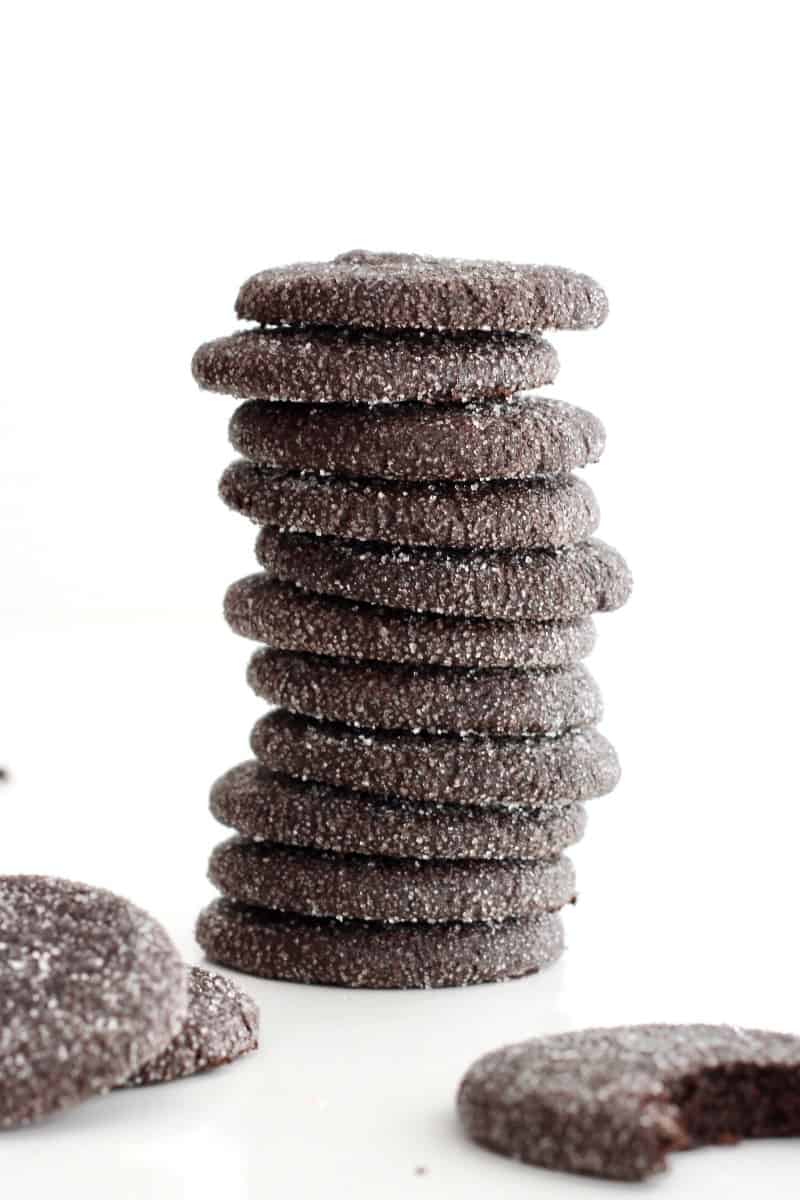 There you have them, friends! Some of my favorite recipes that are so great to make for Valentine's Day, Galentine's Day or any day! I hope you and your loved ones enjoy these recipes as much as we do! Happy Valentine's Day!
Hosting a Valentine's party? Make Valentine's Day easy and enjoyable with The BakerMama's Valentine's Day Gathering Guide. I've got sweet decor, festive treats and fun activities that make the holiday extra special. There's even a romantic gift guide to help you spread the love.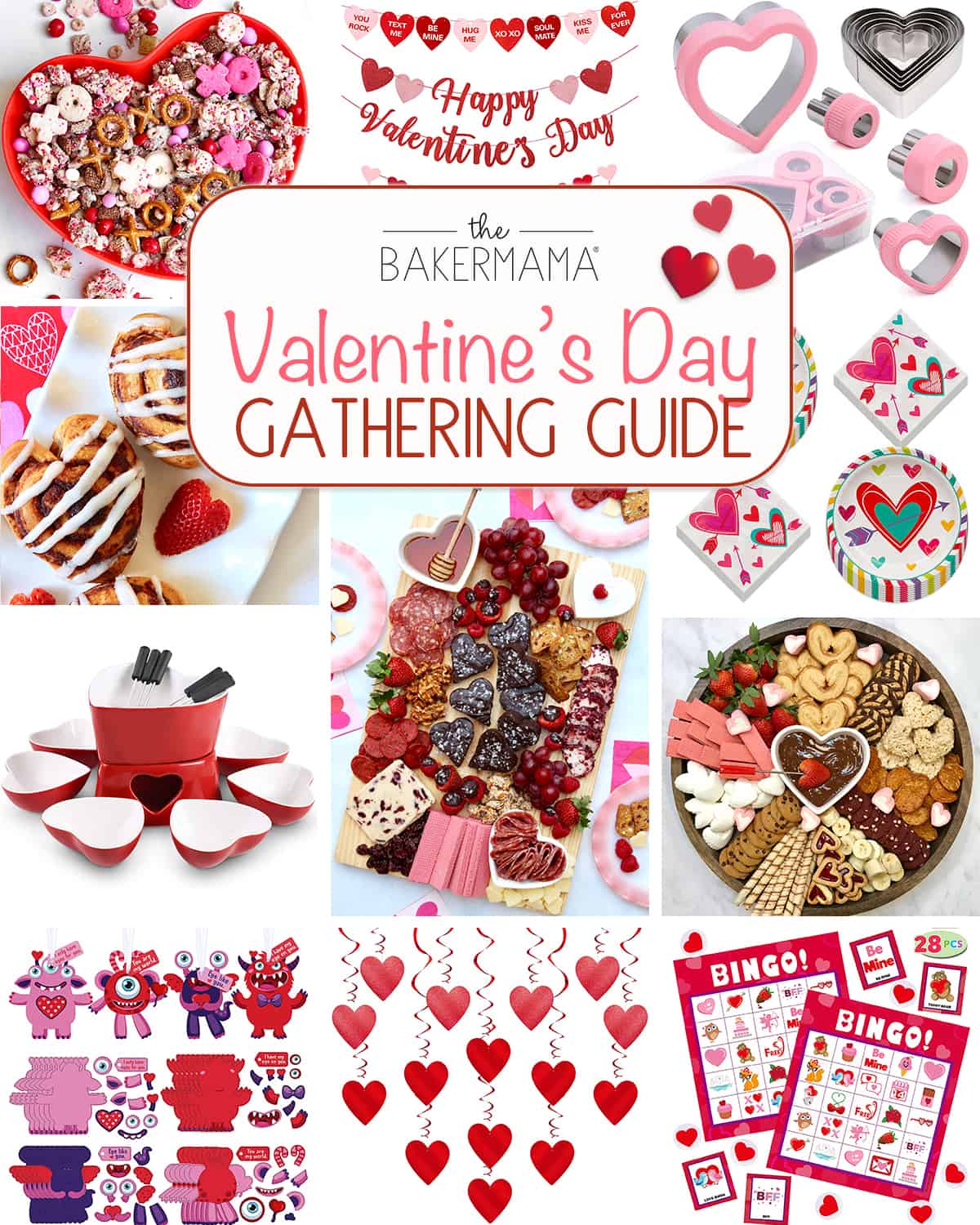 xoxo,