Chocolate and cherries come together in perfectly sized cheesecakes that you'll love at first bite!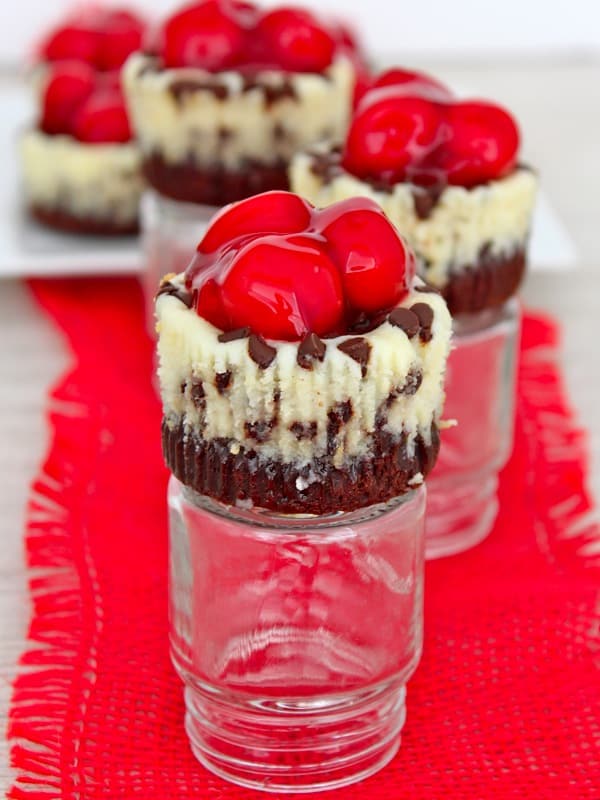 Who doesn't LOVE cheesecake?!?!
Confession: I used to HATE cheesecake!!! Crazy! I know!
I'm not sure if it was the texture or the flavor or what, but if it were the only dessert offered at a party, I would actually pass on dessert! And I NEVER pass on dessert!
Well, I've since grown out of my crazy ways and have come to love a good cheesecake, but it has to be good, I mean really really good! I'll eat a plain ole' cheesecake, but I much prefer it to be filled with or covered in something sweet & special!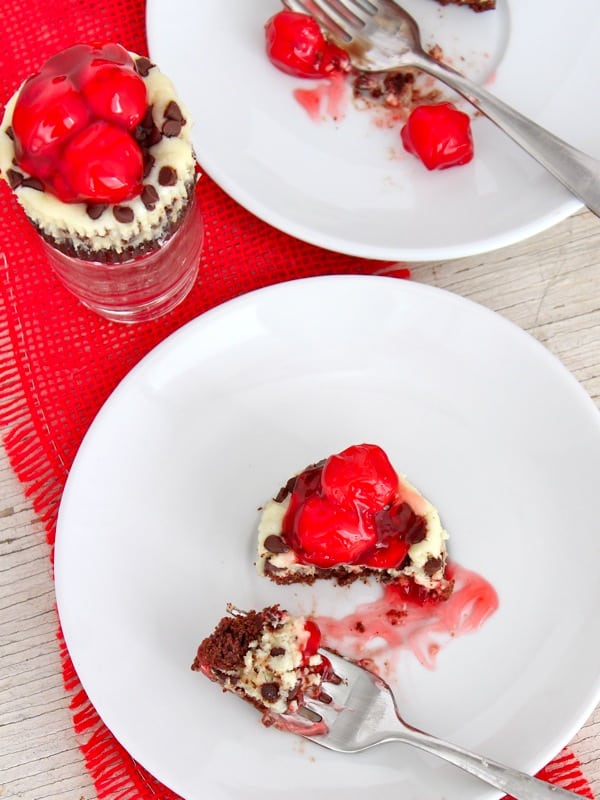 Take these cute little cheesecakes for example! They're filled with mini chocolate chips, topped with sweet cherries and supported by a rich brownie crust. My kind of cheesecake for sure!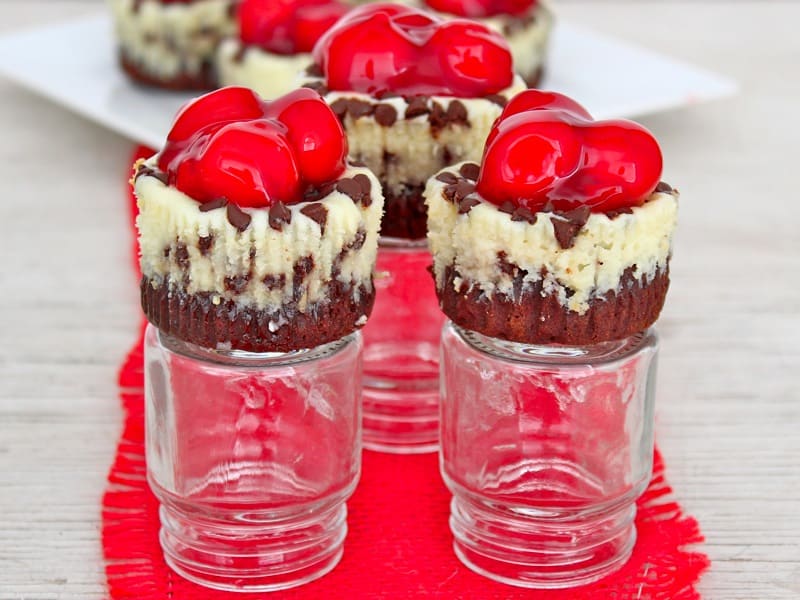 Since cheesecake is so indulgent, I baked them into muffin-sized portions making them party perfect and perfectly satisfying!
Although, I might have indulged myself in more than one! They're just soooo good!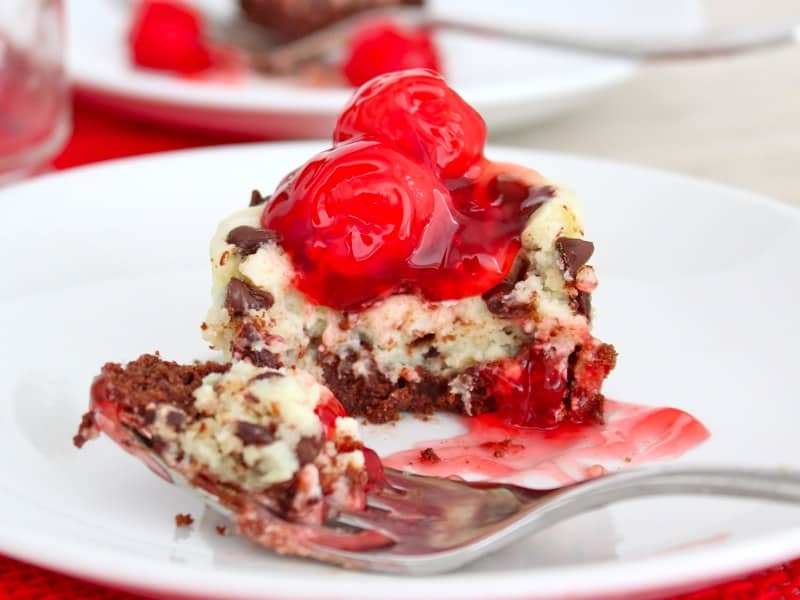 These would be so fun & cute to serve for Valentine's Day, a baby shower, a birthday party or just a quaint weekend dinner party! They're simple, sweet & super special!
Let me show you how quick they are to make!
Start by preparing the brownie batter for the crust…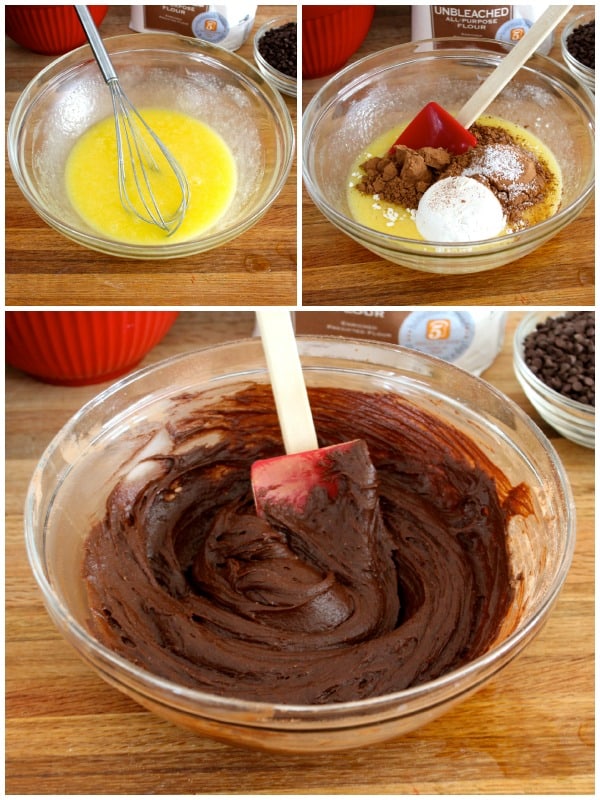 Press the batter into 12 cupcake liners in a muffin pan creating a crust for the cheesecake filling…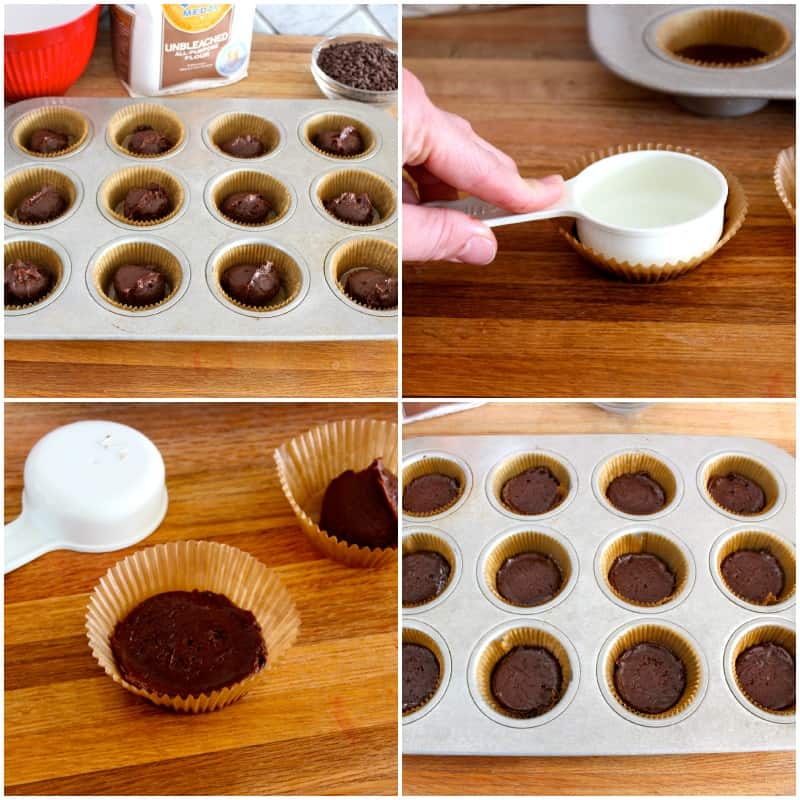 Prepare the chocolate chip filling, pour it evenly over the brownie crusts, and bake to cheesecake perfection…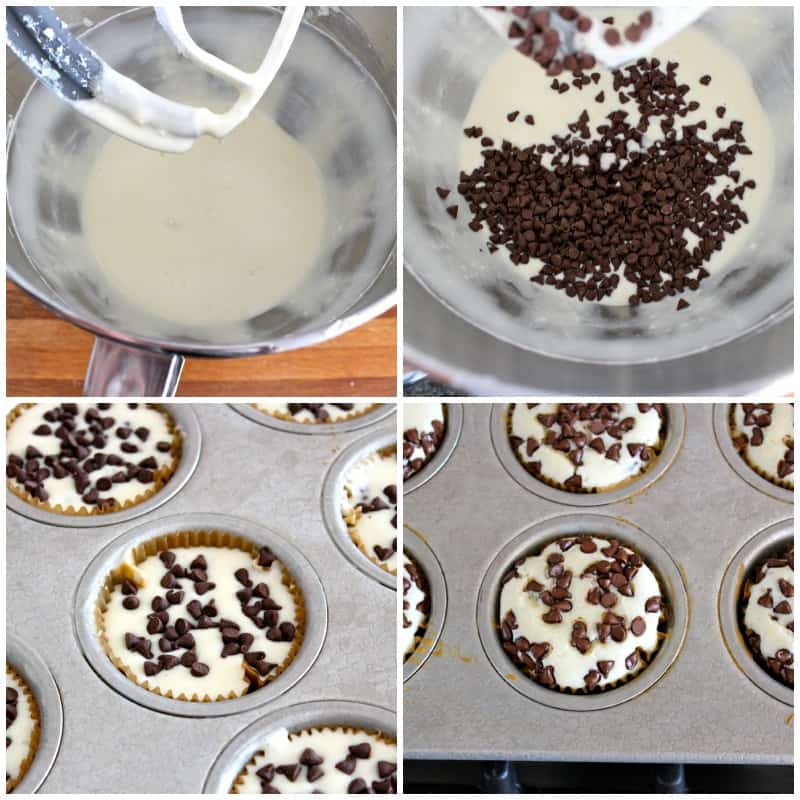 Let the cheesecakes cool for 15 minutes in the pan before placing them in the refrigerator to become cold for about 1 hour. Remove from the pan, peel off the liners and serve with a spoonful of cherry pie filling…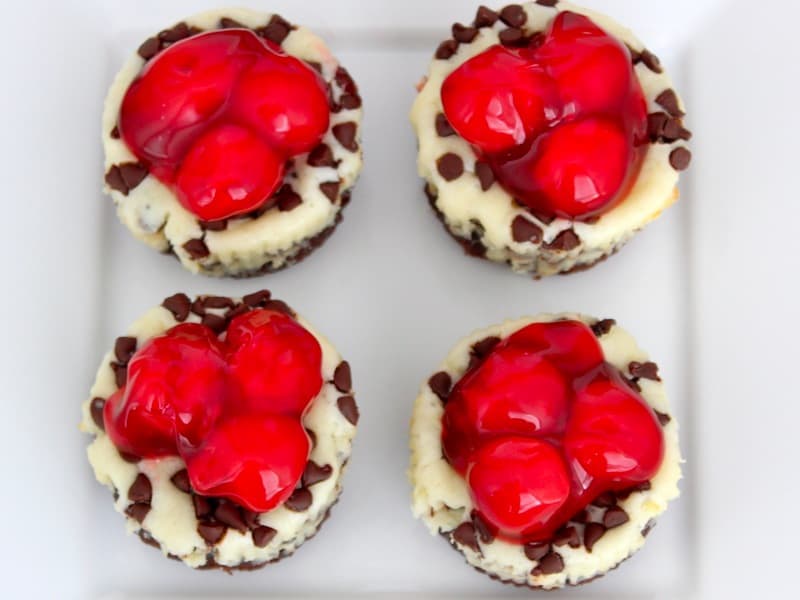 Unless someone just hates cheesecake, they'll fall in love with these at very first bite!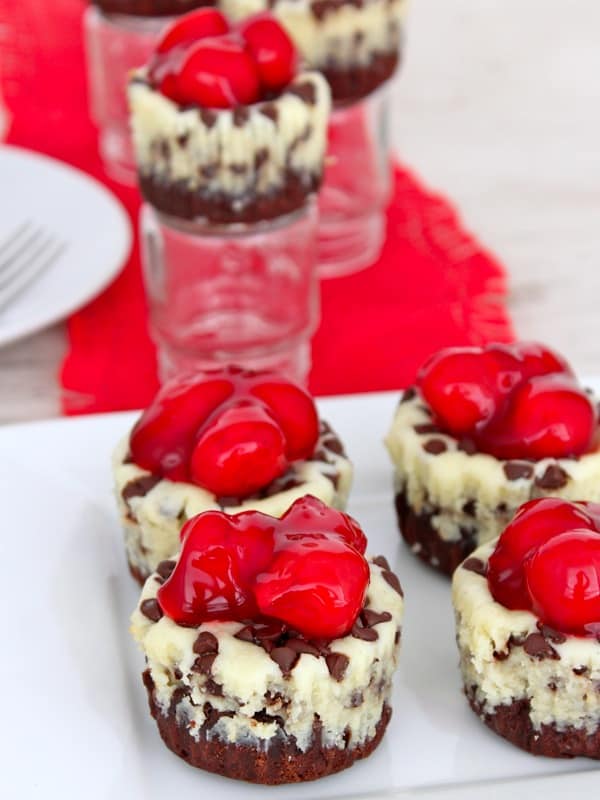 Enjoy!
~Maegan
This recipe was created as part of my partnership with Gold Medal Flour however thoughts and opinions are certainly my own!

Mini Cherry Chocolate Chip Cheesecakes
Chocolate and cherries come together in perfectly sized cheesecakes that you'll love at first bite!
Author:
Maegan - The BakerMama
Ingredients
Brownie Crust:
½ cup (1 stick) unsalted butter, melted
½ cup granulated sugar
½ teaspoon vanilla
1 egg, beaten
½ cup Gold Medal® all-purpose flour
¼ cup dark cocoa powder
½ teaspoon salt
Cheesecake Filling:
1 (8 ounce) cream cheese, softened
½ cup granulated sugar
1 egg, beaten
1 teaspoon vanilla
½ cup heavy cream
1 cup mini chocolate chips, divided
1 (21 ounce) can cherry pie filling, for topping
Instructions
Preheat oven to 350°F. Line a 12 cup muffin pan with cupcake liners and spray with non-stick cooking spray. Set aside.
Brownie Crust:
In a large microwavable bowl, melt the butter in the microwave until completely melted. Let cool for a few minutes before whisking in the sugar, vanilla, and egg. With a wooden spoon, stir in the flour, cocoa and salt.
Place a few tablespoons of batter into each prepared muffin liner. Remove muffin liners from the pan and flatten the batter with a ¼ cup flat measuring cup that's been sprayed with cooking spray to prevent the batter from sticking to it. Return the muffin liner to the pan. Repeat with all 12 crusts.
Cheesecake Filling:
In the bowl of an electric mixer, beat the cream cheese and sugar until smooth. Add the egg, vanilla, and heavy cream and beat until well combined. Fold in ½ cup mini chocolate chips.
Divide the filling evenly among the crusts, filling each muffin cup almost full. Sprinkle remaining ½ cup mini chocolate chips evenly over the cheesecakes.
Bake for 20-25 minutes or until cheesecakes are set and barely starting to crack on the tops. Remove from the oven and let cheesecakes cool in pan for about 15 minutes before placing the pan in the refrigerator and letting the cheesecakes become cold for about 1 hour. Remove the cheesecakes from the pan and remove the liners. Top with a spoonful of cherry pie filling before serving.