Deliciously fresh strawberry cake shaped like a heart and covered in a creamy dreamy strawberry frosting for a festive Valentine's Day dessert!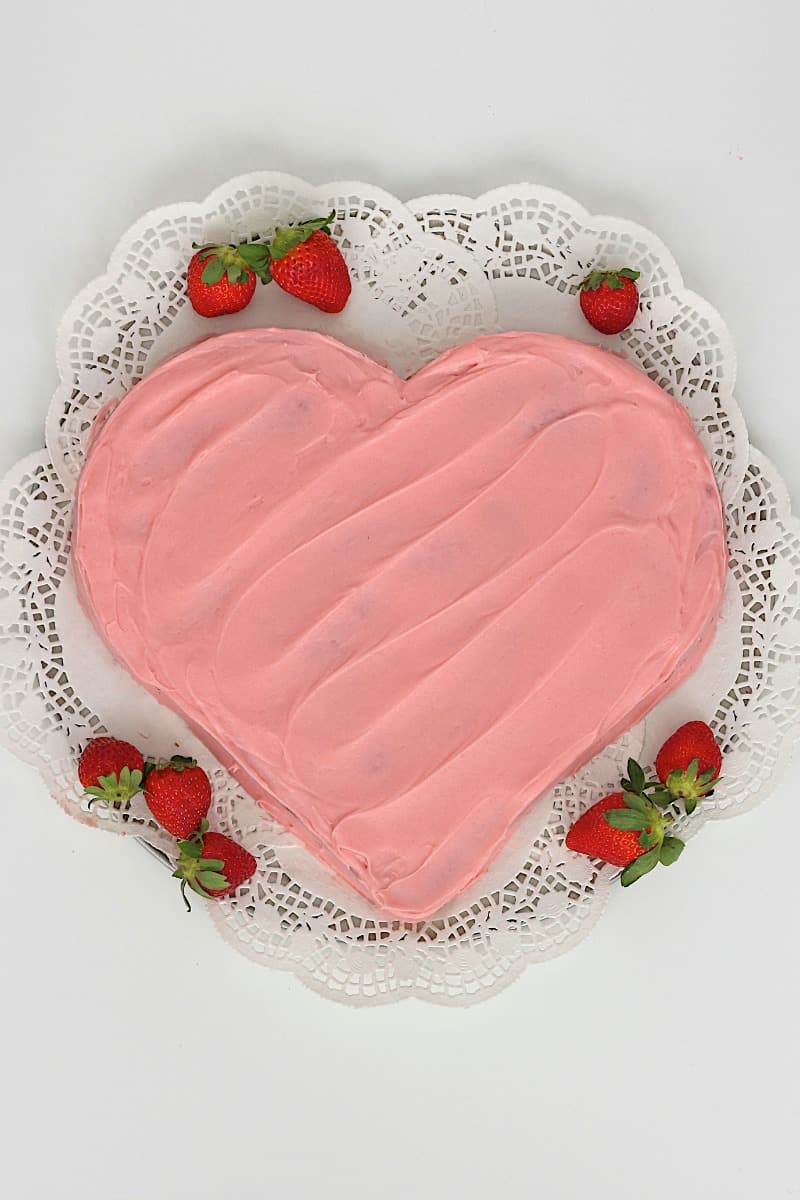 Awwww, Valentine's Day is almost here! Yay! I heart Valentine's Day! What's not to love about a holiday that revolves around love and sugar? Gimme some love and all the sugar, please!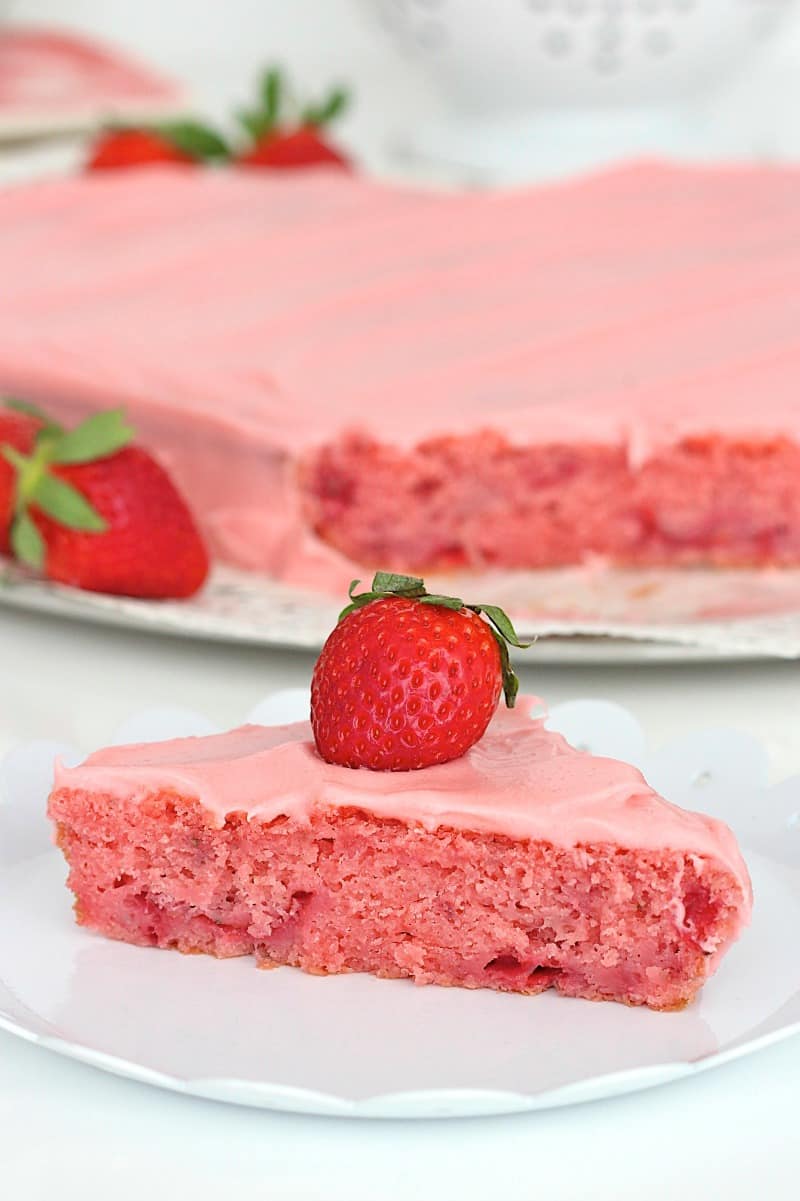 I've been dreaming up this cake since last Valentine's Day and am now kicking myself for not baking it sooner. It's amazing! Fresh strawberries in a strawberry cake are the only way to go, my friends.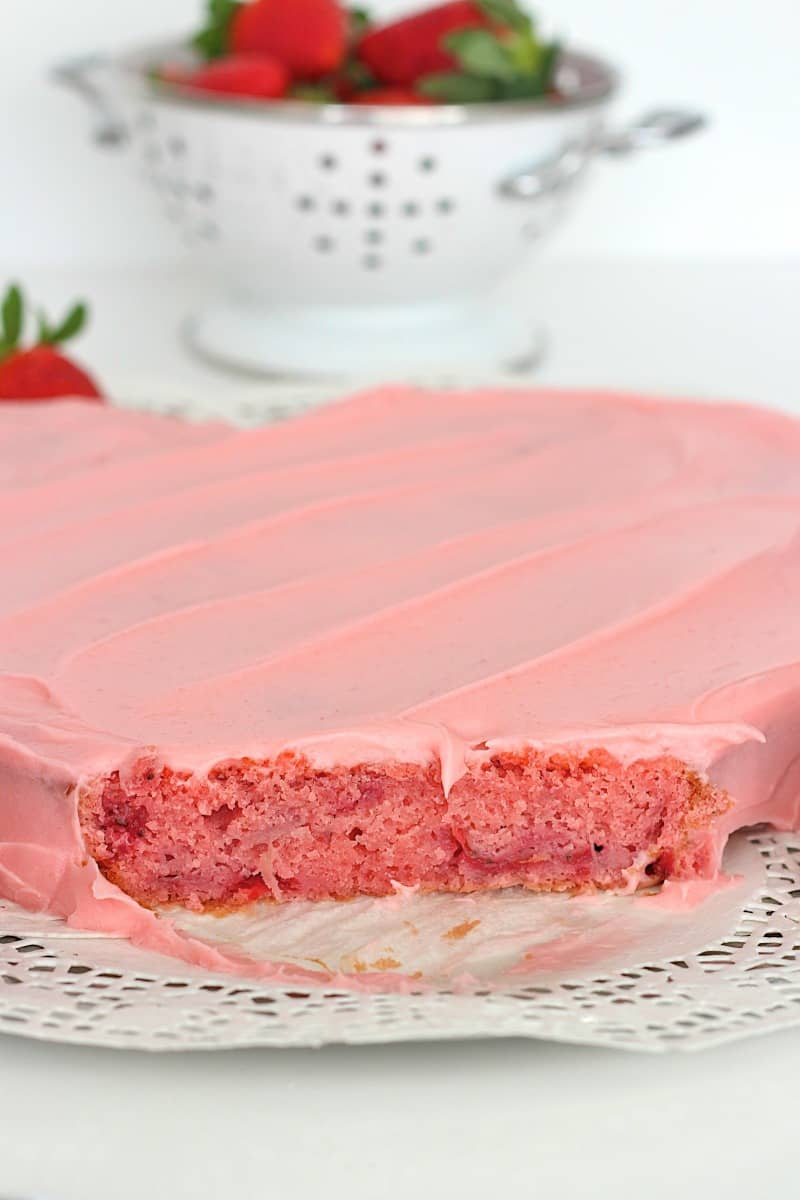 This cake is so unbelievably moist. Both the cake and the frosting are perfectly sweet and full of strawberry flavor. I used a packet of dry strawberry gelatin mix to enhance the strawberry flavor and give the cake a pretty shade of pink.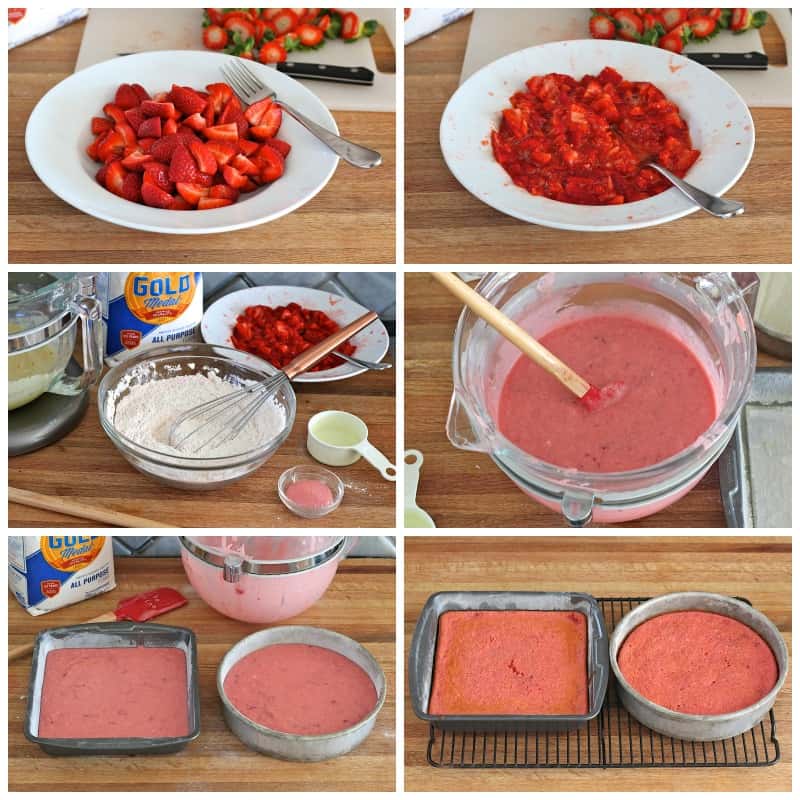 And to make it even more fabulous, I created a heart shape out of two cakes. No need to run out and buy a heart shaped pan. You just need an 8-inch square cake pan and an 8-inch round cake pan. Once the cakes have baked and cooled, you cut the round cake in half and place the halves next to two sides of the square cake to create the heart shape. Then you just frost the whole thing and you'd never know it was two cakes put together. So fun and festive!
Of course, you could make a sheet cake, a layer cake or even cupcakes out of this yummy recipe and enjoy it year-round, but if you're looking for a delicious cake for Valentine's Day, why not impress everyone by easily making it into a heart shape?!

I'm so in love with this cake, not just because it's a showstopper, but also because it's easy to make and tastes absolutely amazing!
I hope you heart it as much as we do!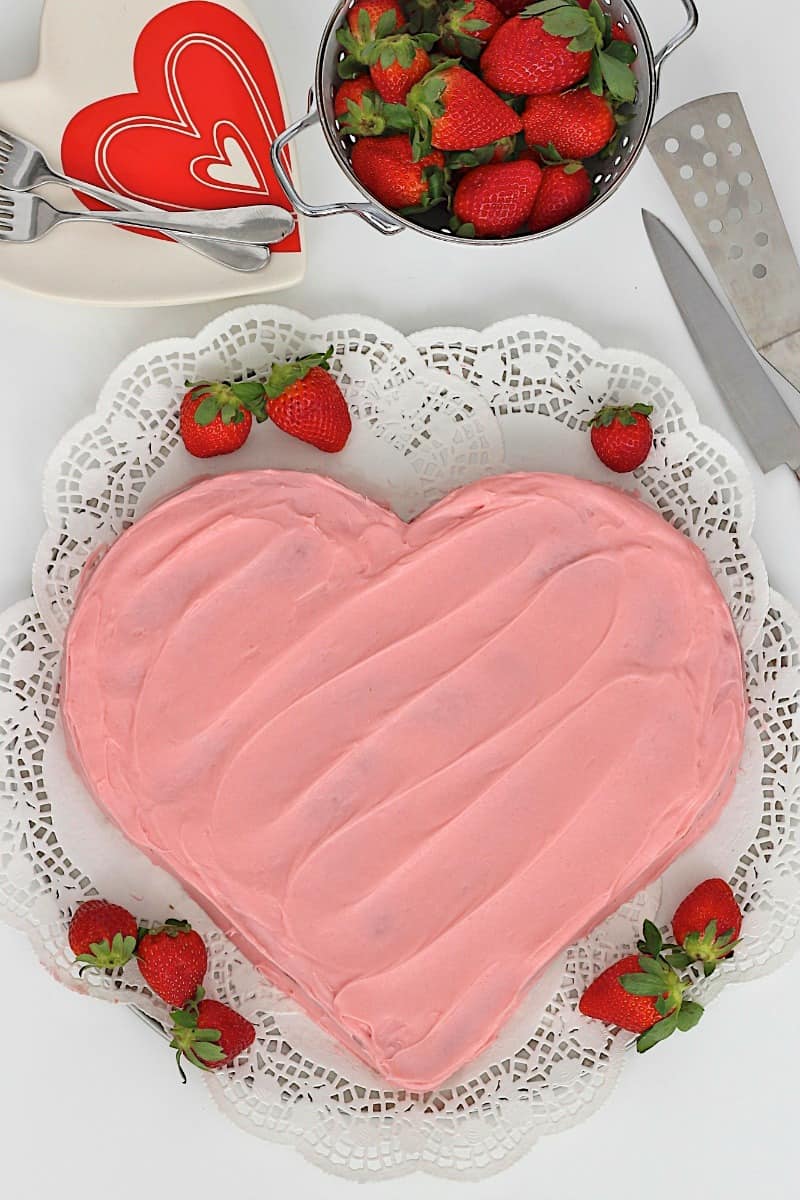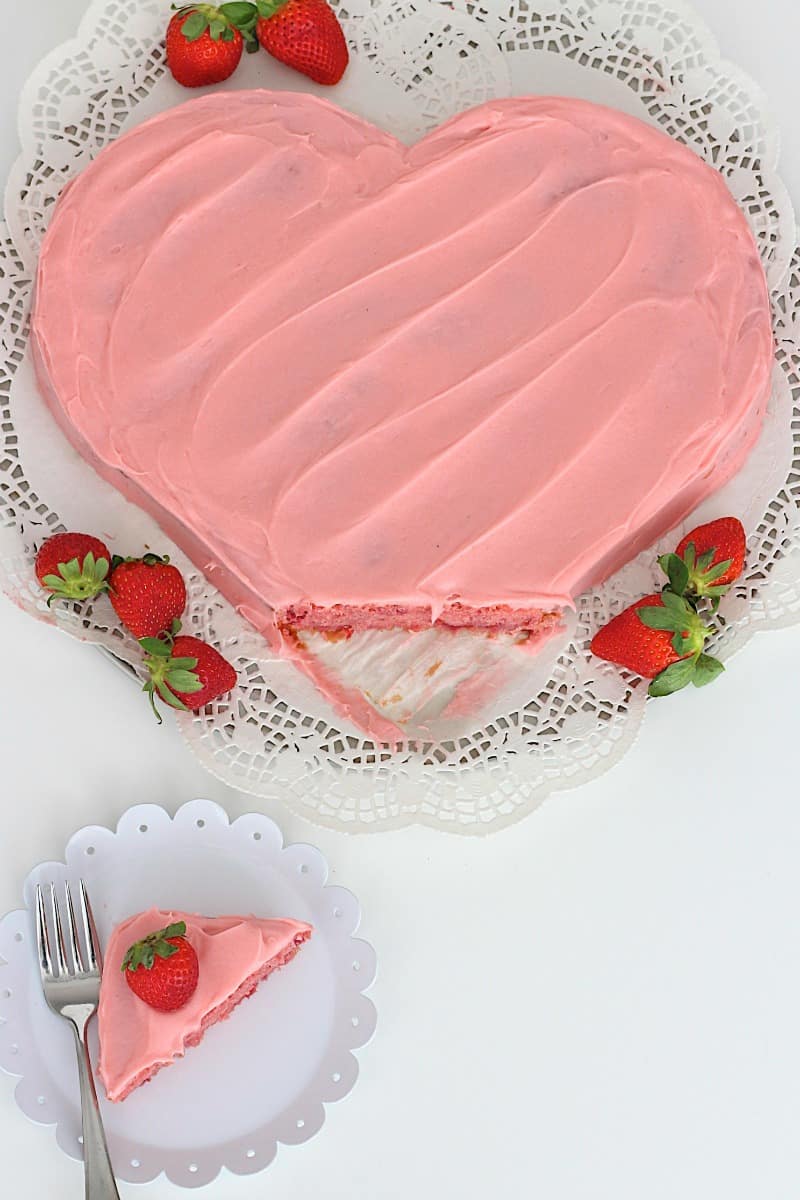 Happy Valentine's Day! Enjoy!
xoxo,


Fresh Strawberry Heart Cake
Deliciously fresh strawberry cake shaped like a heart and covered in a creamy dreamy strawberry frosting for a festive Valentine's Day dessert!
Author:
Maegan - The BakerMama
Ingredients
Cake:
1 pint fresh strawberries
½ cup (1 stick) unsalted butter, softened
1-1/2 cups granulated sugar
3 large eggs
1 teaspoon vanilla extract
2 cups all-purpose flour
1 (3 ounce) box strawberry flavored gelatin (1 tablespoon reserved for frosting)
1 tablespoon baking powder
½ teaspoon kosher salt
1 cup whole milk
Frosting:
½ cup unsalted butter, softened
1 (8 ounce) cream cheese, softened
1 tablespoon strawberry flavored gelatin
2 cups powdered sugar
Fresh strawberries, for garnishing, if desired
Instructions
Preheat oven to 350°F. Line the bottom of one 8-inch round cake pan and one 8-inch square cake pan with a piece of parchment paper cut to fit. Lightly grease and flour both cake pans and set aside.
Wash the strawberries, remove the stems and cut them into quarters. Place the strawberries in a shallow bowl and mash gently with the back of a fork until all strawberries are mashed and some juices are released. Set aside.
In the bowl of an electric mixer, beat the butter and sugar until smooth. Add the eggs, one at a time, and beat until well combined. Beat in the vanilla extract.
In a separate bowl, whisk together the flour, all but 1 tablespoon of the strawberry gelatin package, baking powder and salt. With the mixer on low speed, alternate adding the flour mixture and the milk, ending with the flour mixture, until well combined and batter is smooth. With the mixer on low, beat in the mashed strawberries and their juices.
Divide batter evenly between the prepared cake pans. Bake cakes for about 30 minutes or until a toothpick inserted in the center comes out clean. Let cakes cool in pans 20 minutes before running a knife around the edge and turning the cakes out onto a wire rack to cool completely.
Once cakes are cooled, cut the round cake in half. Place the square cake on a large cake stand or platter so that it look like a diamond when you're looking at it. Place the half circle cakes on the top flat sides of the diamond to create a heart shape. See step-by-step images.
To make the frosting beat the butter and cream cheese in the bowl of an electric mixer until smooth. Add the remaining 1 tablespoon strawberry gelatin and powdered sugar and mix on low speed until just combined. Turn the mixer to medium-high speed and beat frosting until fluffy. Add additional powdered sugar if frosting is too thin to spread.
Spread frosting evenly over the top and sides of the cake. Cut and serve. Store in the refrigerator.