This Ultimate Super Bowl Spread is sure to be a winner at your big game watch party! A loaded sub sandwich, buffalo chicken meatballs, crispy wings, all the chips & dips, festive desserts and more!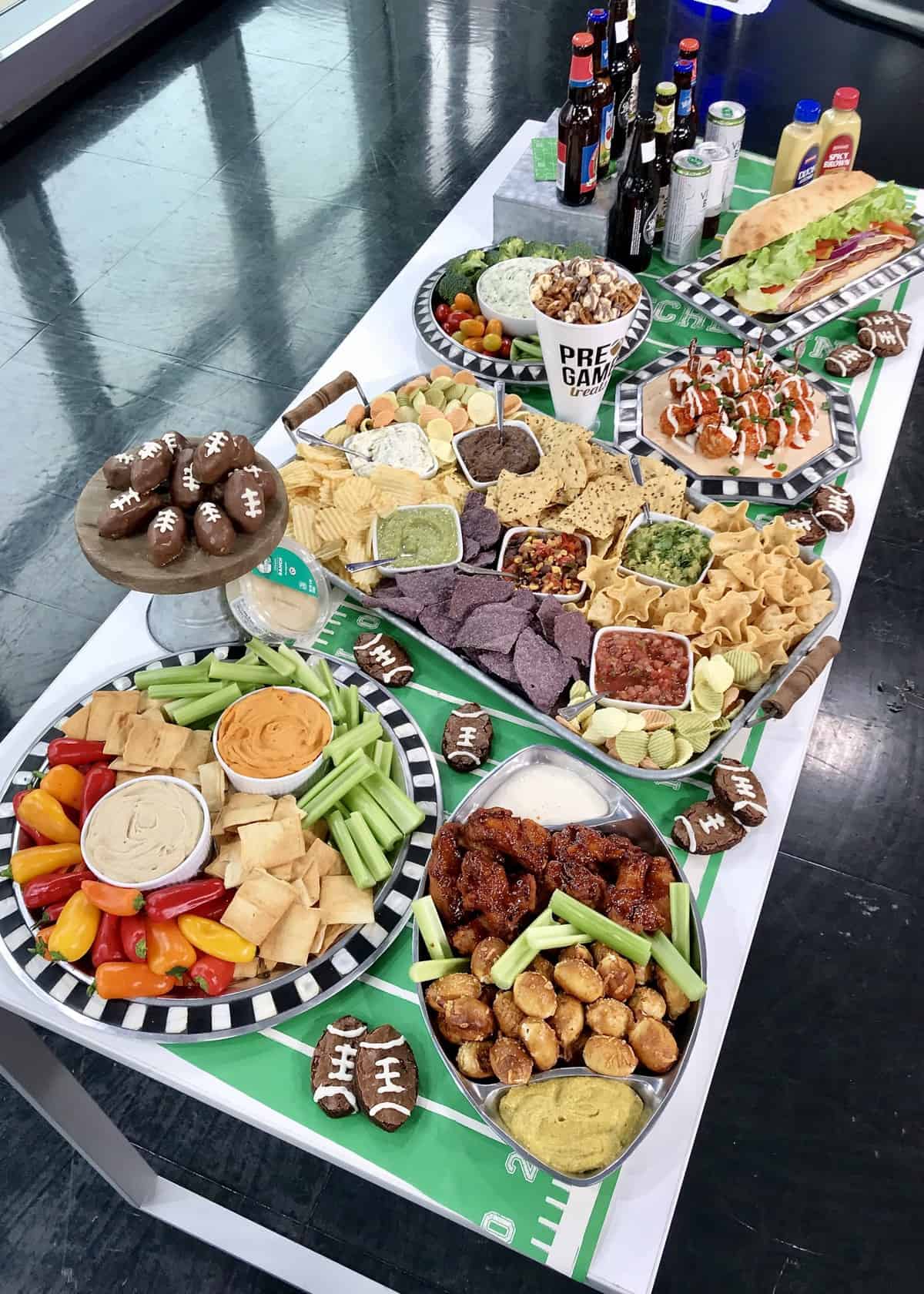 I had so much fun partnering with ALDI and presenting this amazing Super Bowl spread on WFAA Good Morning Texas recently! Whether you're hosting the watch party or contributing to your friend's line-up, I shared a full spread of delicious inspiration that's sure to win the crowd over! From easy appetizers to festive football-shaped treats, there's something for everyone to enjoy with this spread!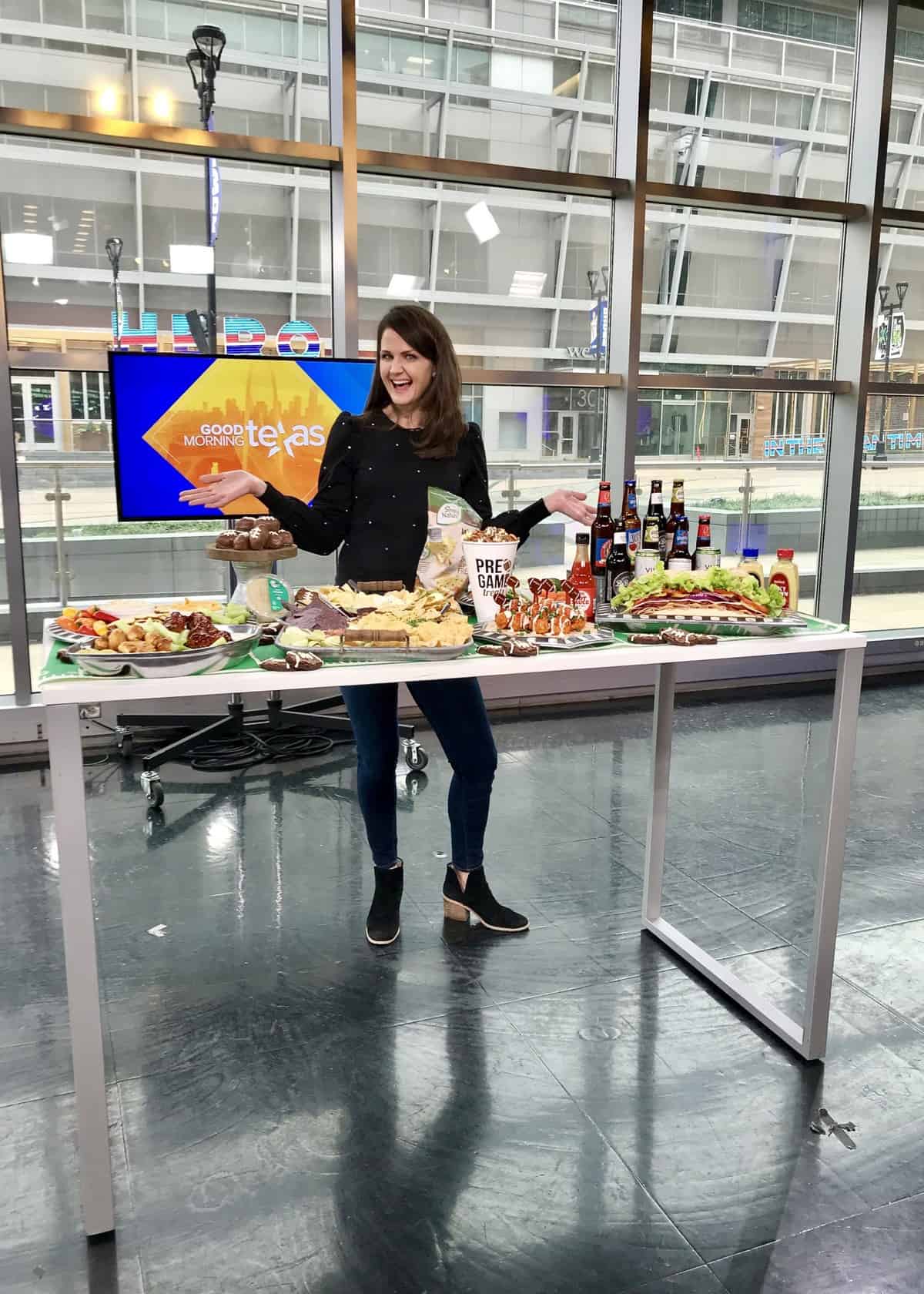 Click below to watch the full segment where I share all about putting together this Ultimate Super Bowl Spread with my friends at Good Morning Texas…
Let me walk you through each platter so you can easily recreate this spread on Super Bowl Sunday! Below is an up-close image of each dish along with super simple recipes and/or tips for creating them. Browse and have fun planning out your ultimate Super Bowl spread!
Buffalo Chicken Meatballs
These Buffalo Chicken Meatballs are a healthier, easy take on a classic party appetizer. I got the recipe on ALDI's website. I used pre-ground chicken (or you could use ground turkey) instead of grinding my own meat. CLICK HERE for the recipe!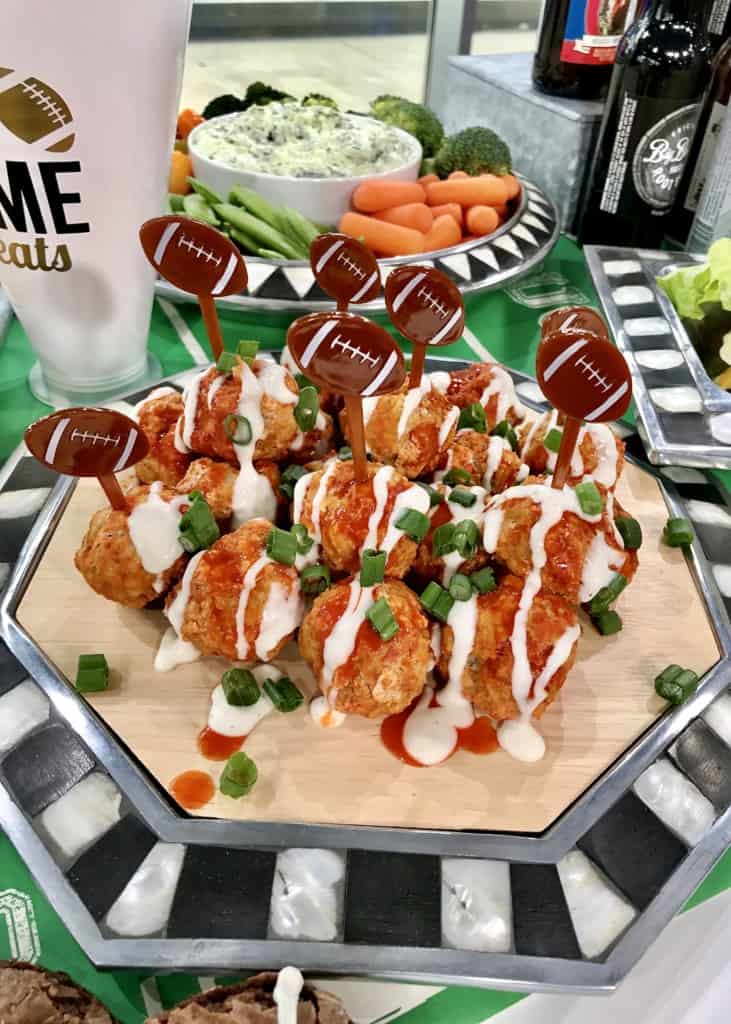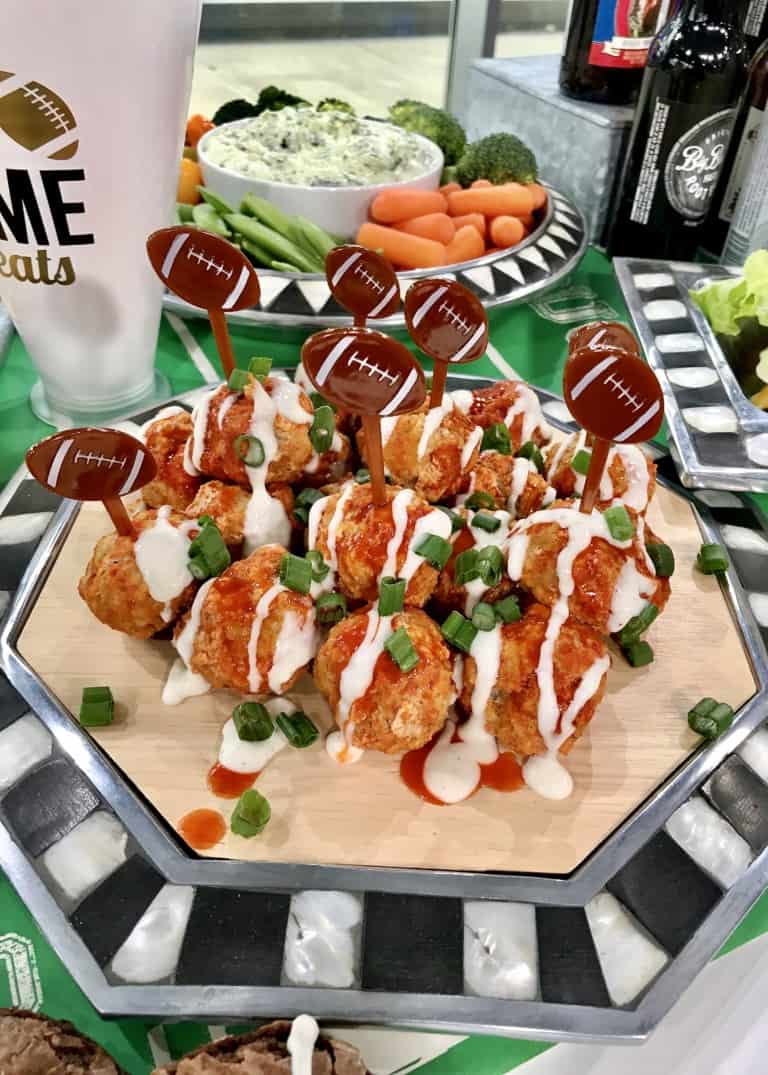 Spinach Dip Veggie Tray
A classic spinach dip is always a hit on an appetizer spread! You can buy a store-bought container of spinach dip or make this easy and delicious homemade Spinach Dip that takes less than 30 minutes. Perfect for dipping fresh veggies for a healthier option at your watch party.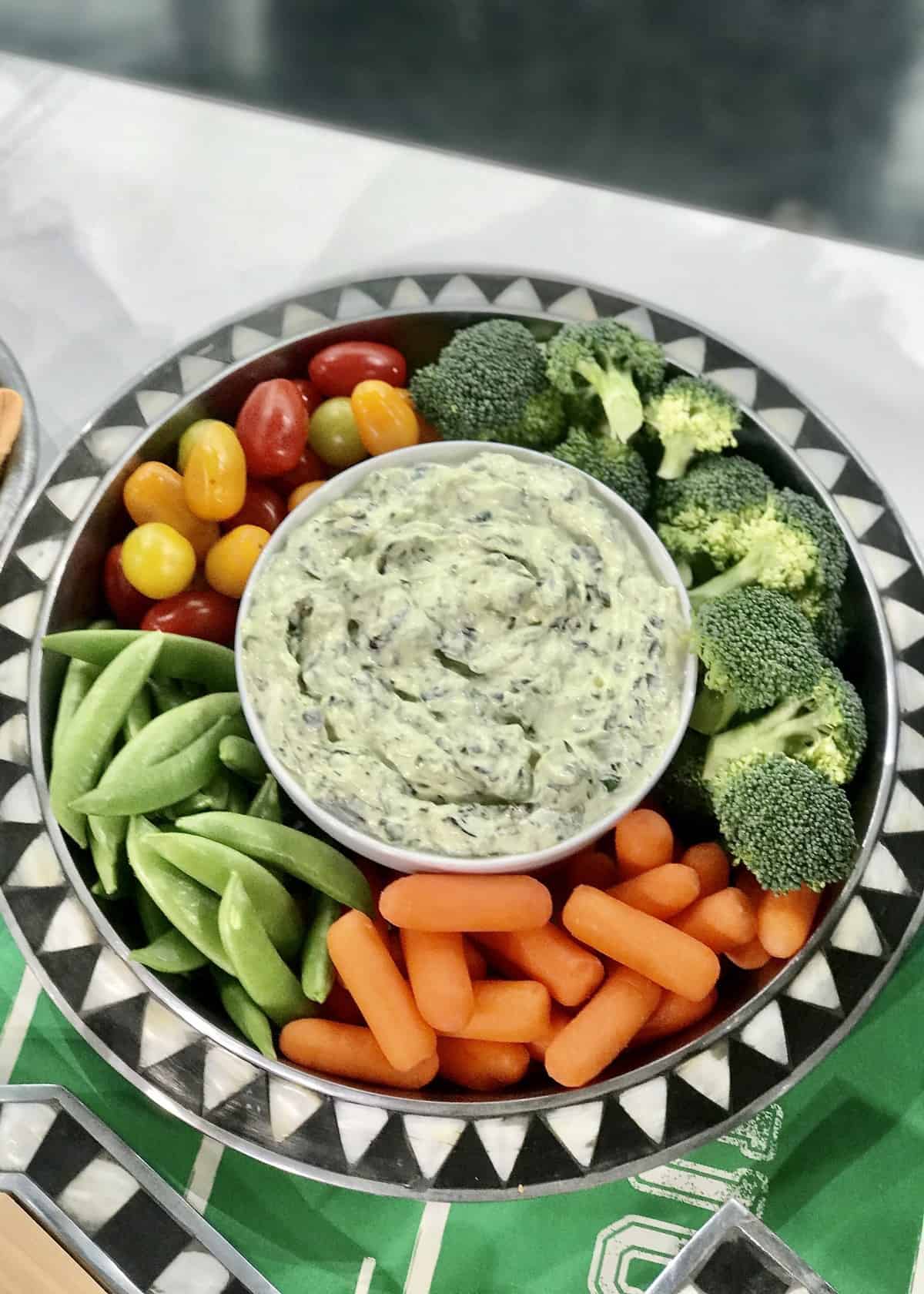 Pretzel Nuggets and Wings Platter
A platter filled with soft pretzel nuggets and baked chicken wings is a watch party must! I got this awesome football-shaped tray years ago and haven't been able to find one just like it, but this one would be so perfect for a Super Bowl spread too! I love how it fits the baked pretzel nuggets and wings with ranch and mustard for dipping.
For the pretzel nuggets, you can use this Soft Pretzels recipe to make your own or buy them in the frozen section at your local grocery store.
And because it really isn't game day if you don't have wings, here are some amazing wing recipes that everyone will love:
Or, of course, you can just find them in the fresh or frozen sections of your local grocery store to easily heat and serve.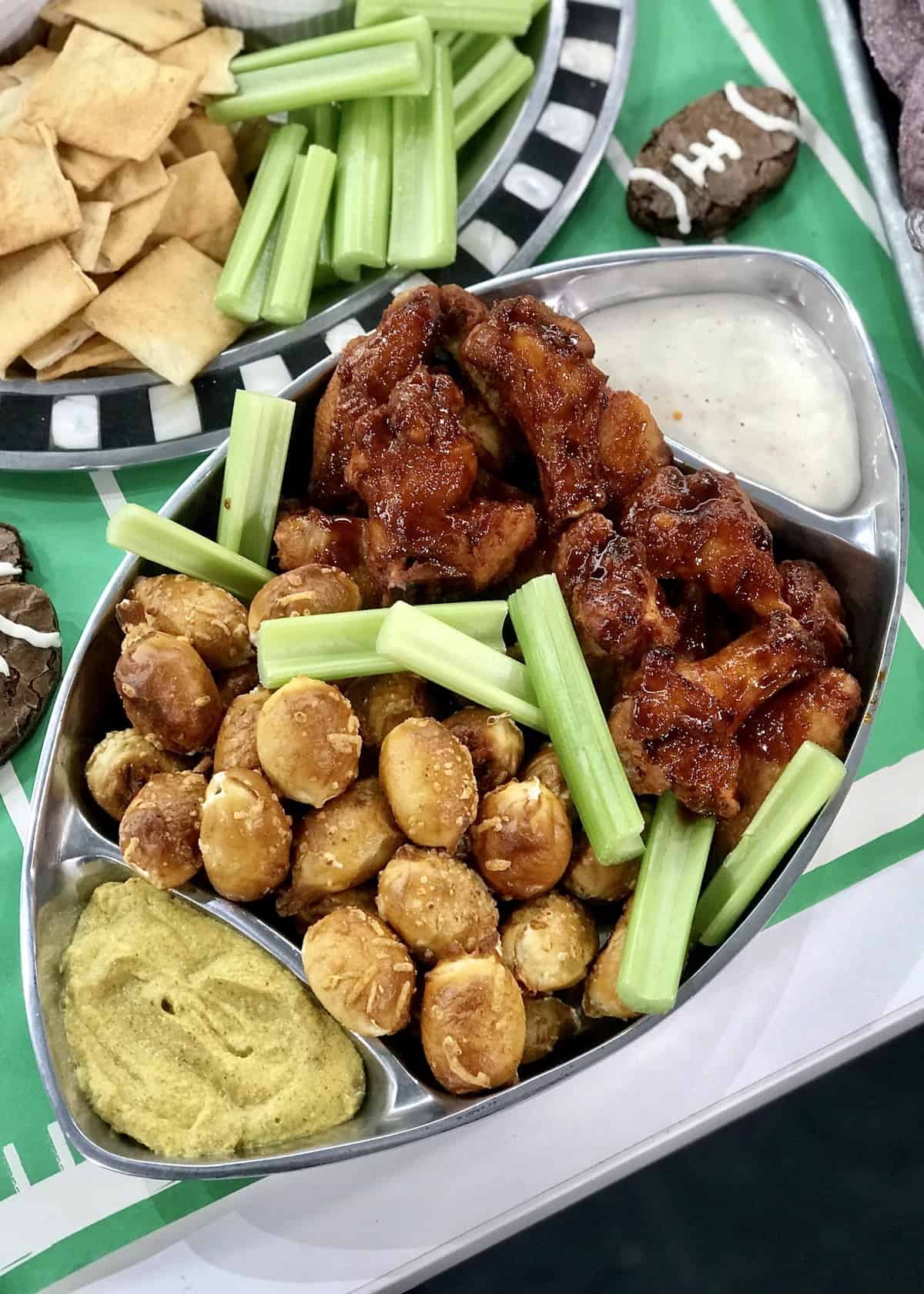 The Ultimate Sub Sandwich
You are sure to score big with an Ultimate Sub Sandwich. This one is piled high with turkey, ham, provolone cheese, colby jack cheese, lettuce, tomato, pickles and onions on a large baguette. Once you have it built, pre-slice it to make it easy for everyone to grab a slice and add their own spread.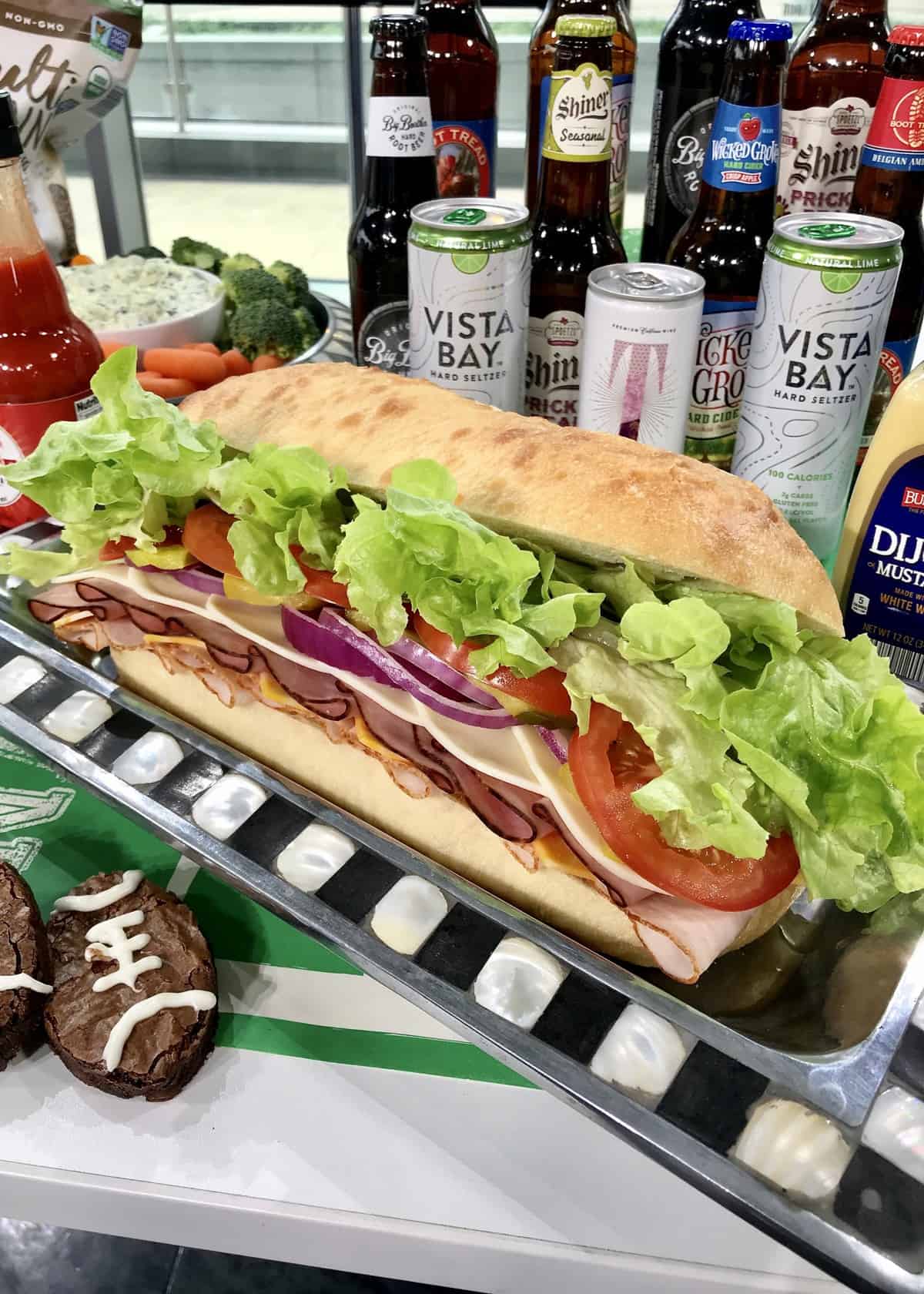 Chips and Dips Tray
A Chips and Dips Tray is such an easy game day appetizer. Made with a variety of chips and dips that can be store-bought or homemade. If you choose homemade options, Baked Tortilla Chips, Salsa, Guacamole, and Grilled Corn Salsa are some of my favorites! Some great store-bought options I found at ALDI are chipotle black bean dip, black bean & corn salsa, avocado salsa and dill pickle dip.
For more chips and dips inspiration, see this Ultimate Chips and Dips Board I created in my Beautiful Boards Cookbook.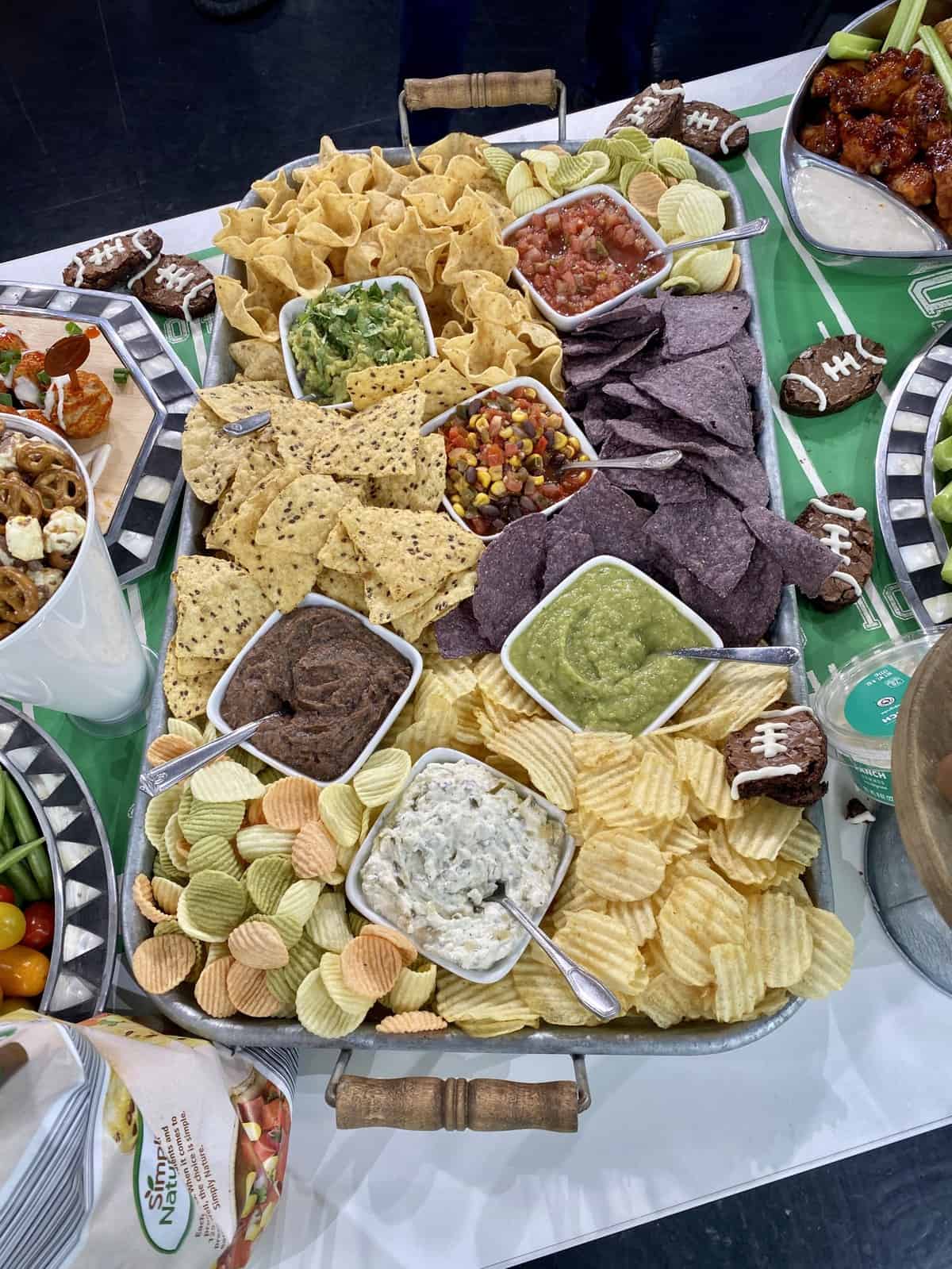 Hummus Tray
A simple hummus tray is a great healthy option to incorporate into the game day spread! Choose from a variety of hummus flavors at your local grocery store, then fill the tray with celery, red peppers, pita crackers or any of your favorite crackers and veggies for dipping.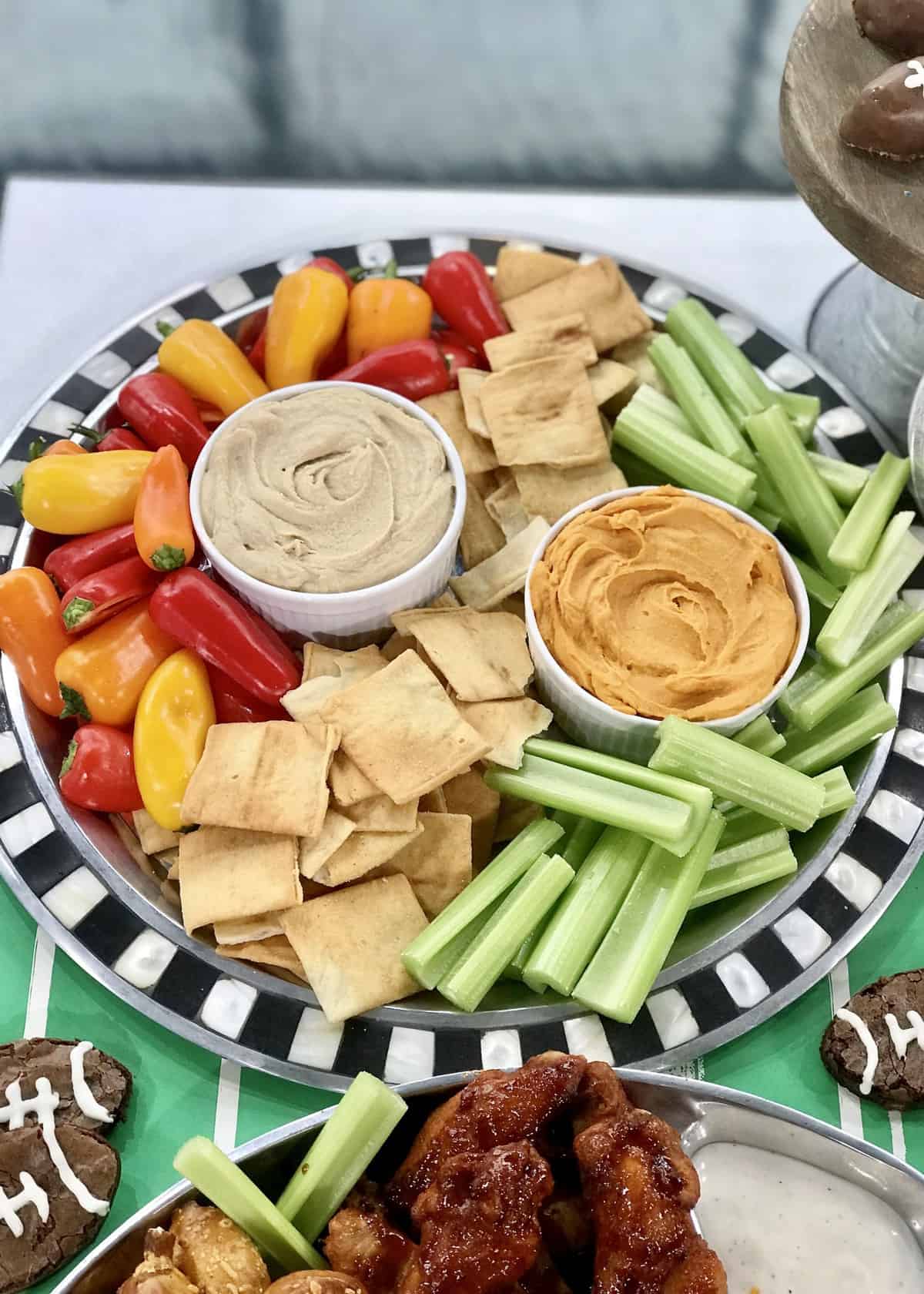 Football-Shaped Crispy Peanut Butter Bombs
These football-shaped crispy peanut butter bombs are such a festive and delicious addition to your spread! Find the recipe for Crispy Peanut Butter Bombs HERE.
Simply shape them into a football shape instead of round balls.
Use melted white chocolate to draw the laces on the footballs once the chocolate coating has set.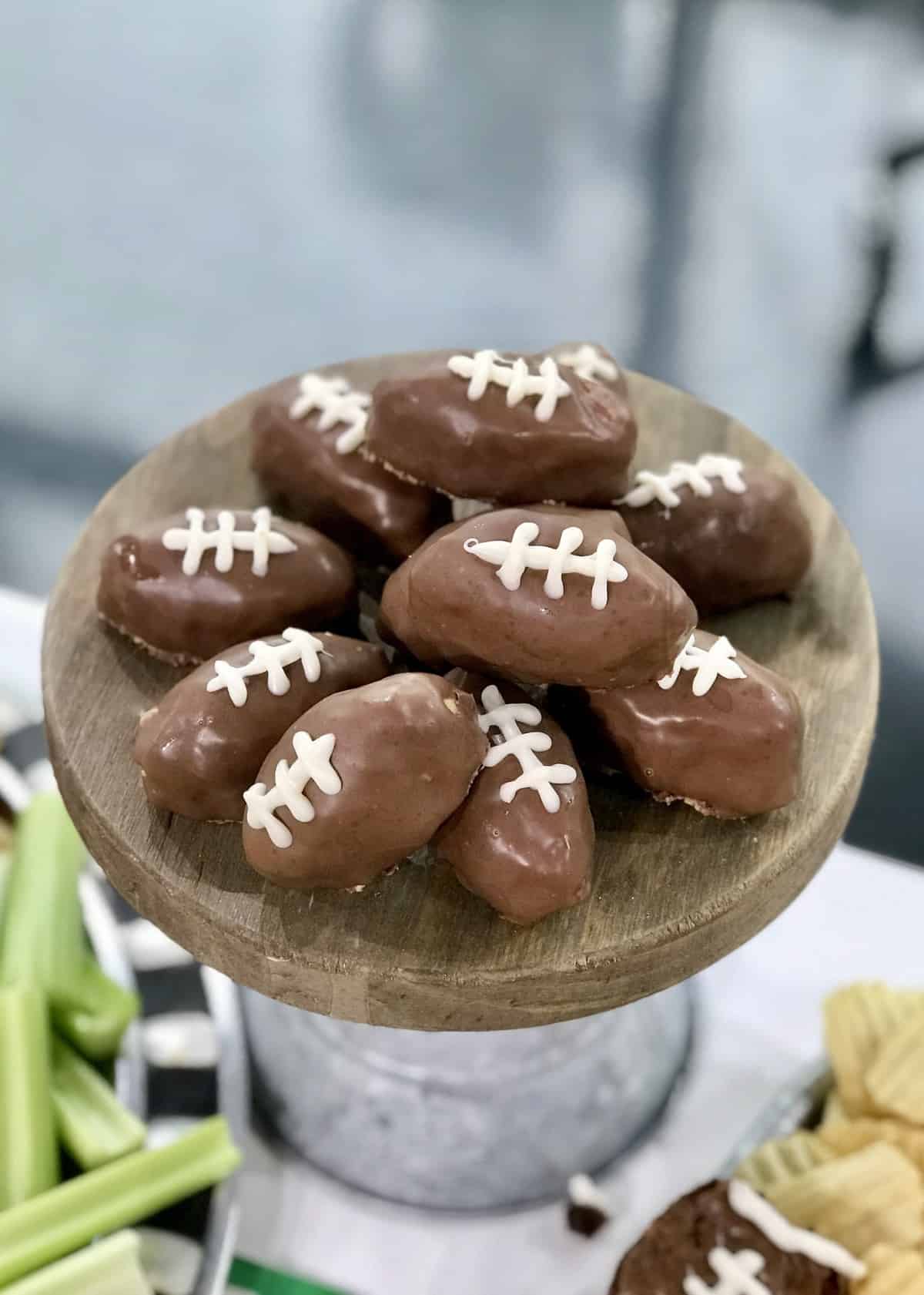 Football-Shaped Brownies
Cut your brownies into the shape of a football for another super easy and oh so festive treat for the big game!
Either bake this One-Bowl Fudge Brownie recipe or 2 boxed brownie mixes (according to package directions) in a large 17″

x13″ rimmed baking sheet pan at 350 for 15-20 minutes or until a toothpick inserted in the center comes out clean.

Let the brownies cool completely in the pan. Use a football-shaped cookie cutter to cut the brownies into football shapes.

Decorate each brownie to look like a football with melted white chocolate. You will definitely score a touchdown with these sweet treats!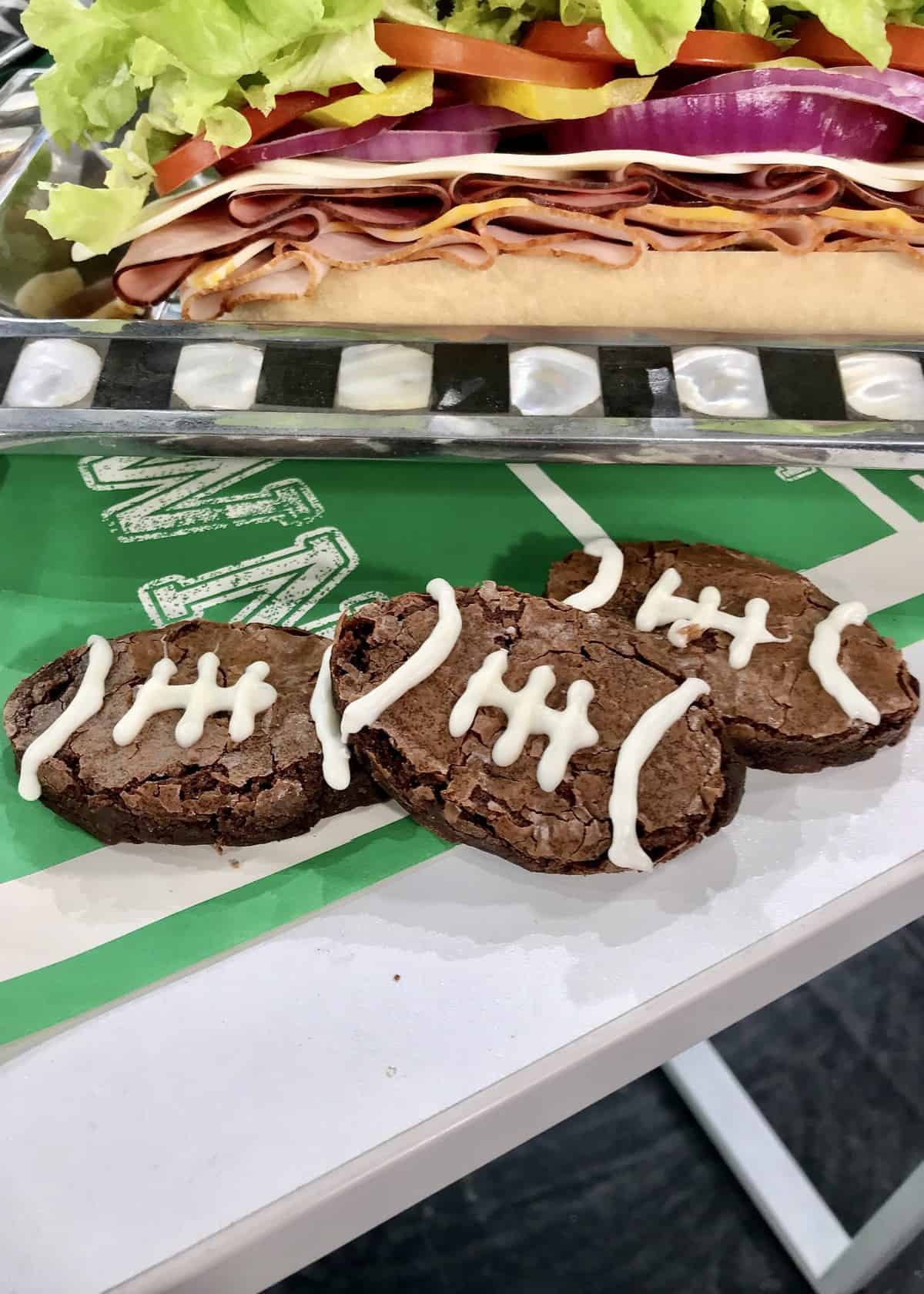 More Winning Recipes for Football Season
You'll score big with my Winning Recipes for Football Season! We've rounded up our favorite game day recipes that are sure to win everyone over at your football watch party!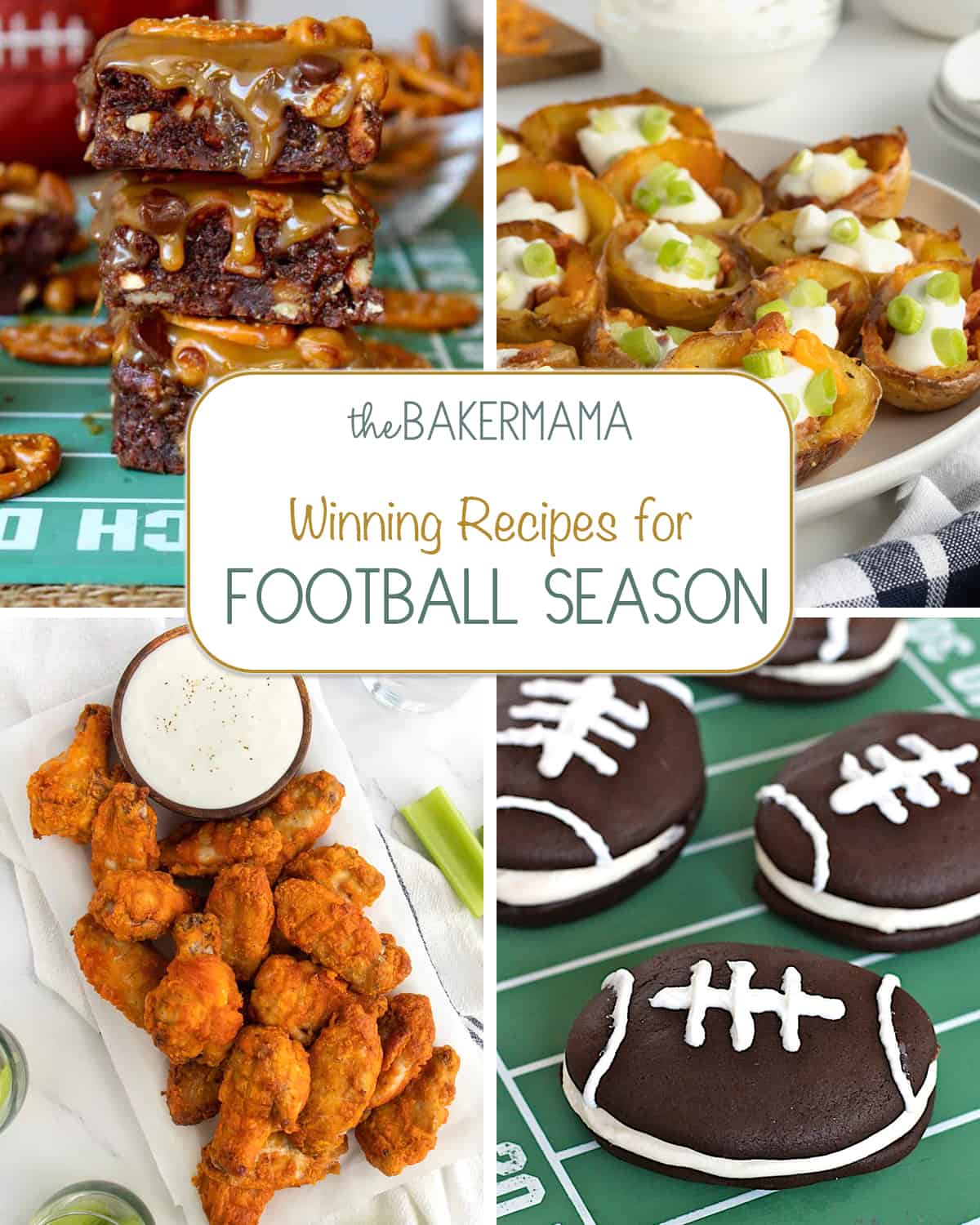 How to Host a Super Bowl Party
Throwing a Super Bowl party? Make hosting a game day shindig easy and enjoyable with The BakerMama's Big Game Gathering Guide. I've got decor, treats and fun activities that make watching the big game together extra exciting.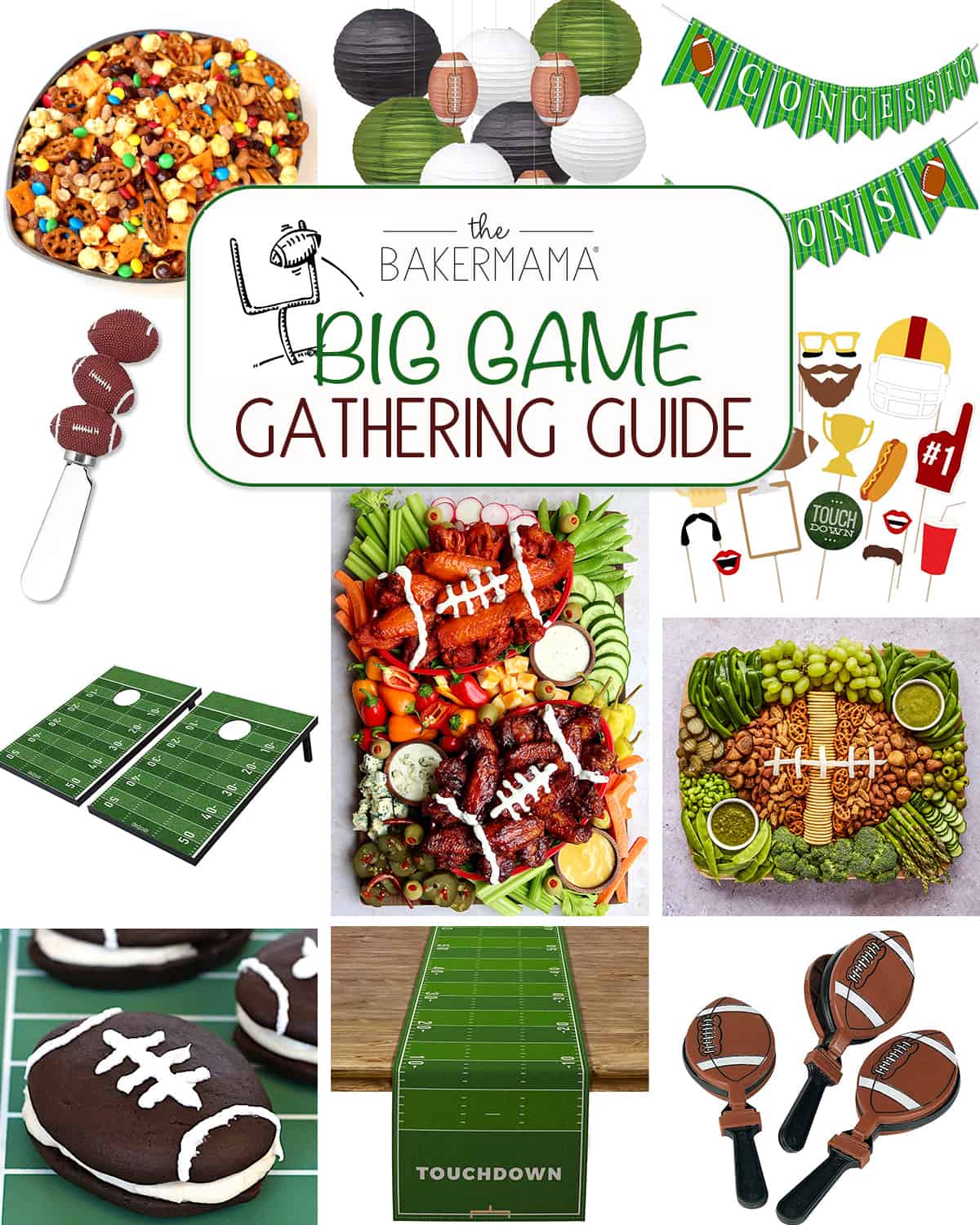 If you re-create these or any of my football-inspired recipes, be sure to snap a picture and share it with me on Instagram @thebakermama so I can see. I just love seeing you enjoy the inspiration I share.
xoxo,