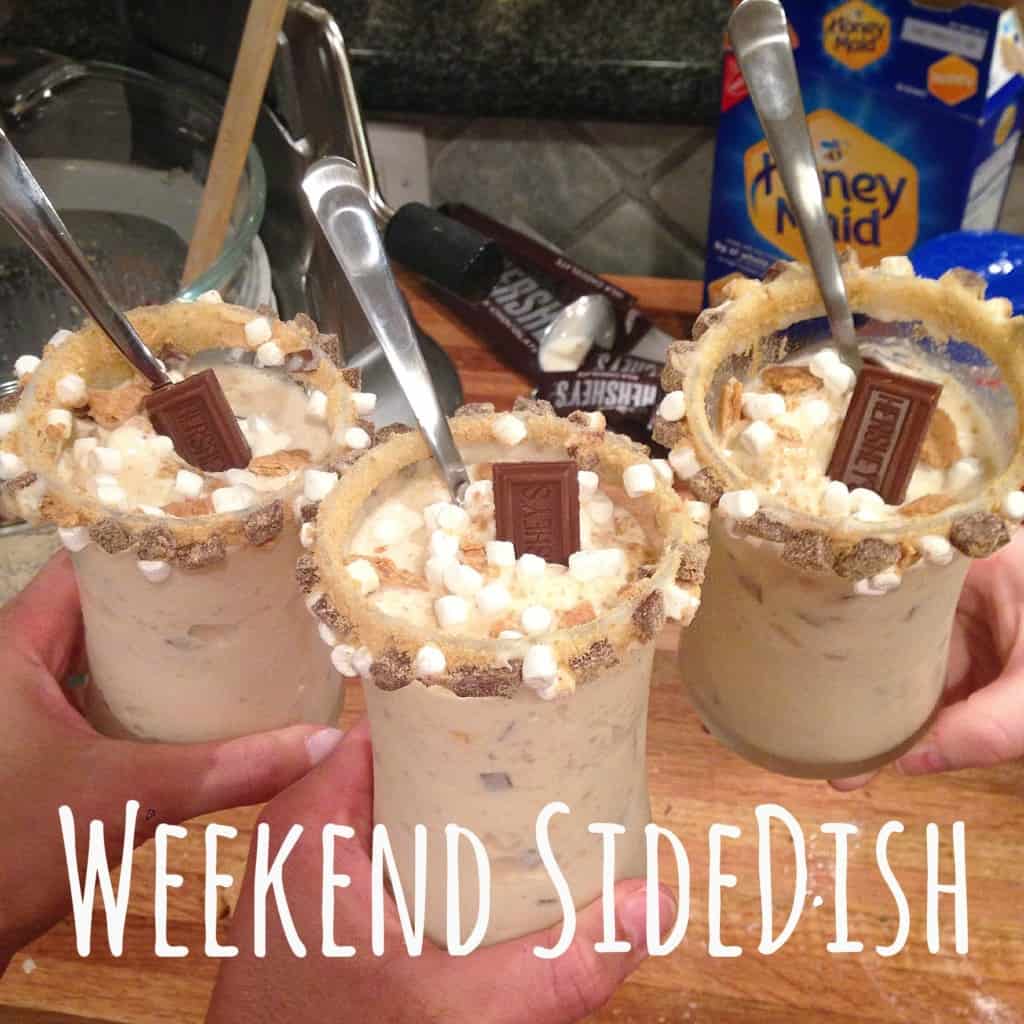 Happy Weekend! Hope you're having a great one! We were supposed to be out of town this weekend, but our plans changed and we now have family here in town, so we're just hanging out, spending a lot of time in the pool and eating lots of yummy food! Surprise! Surprise! 😉
I decided to start a Weekend SideDish post where I share some fun and yum from the previous week. It'll include things going on in my life, fun food finds, yummy stuff I've made or found on other blogs, maybe some simple recipes I created that I haven't had time to photograph & post, updates on our sweet growing boys, travel, and more. Hope you like it and find something yummy, useful or just enjoyable!
I'm gonna start out with what I'm craving this weekend besides quality time with all my boys and the family that it's town:
These cookies. Already baked 'em and devoured most of 'em! 🙂 Follow along on Instagram to see what I do with them for dessert tonight! 🙂 Oh my yumminess!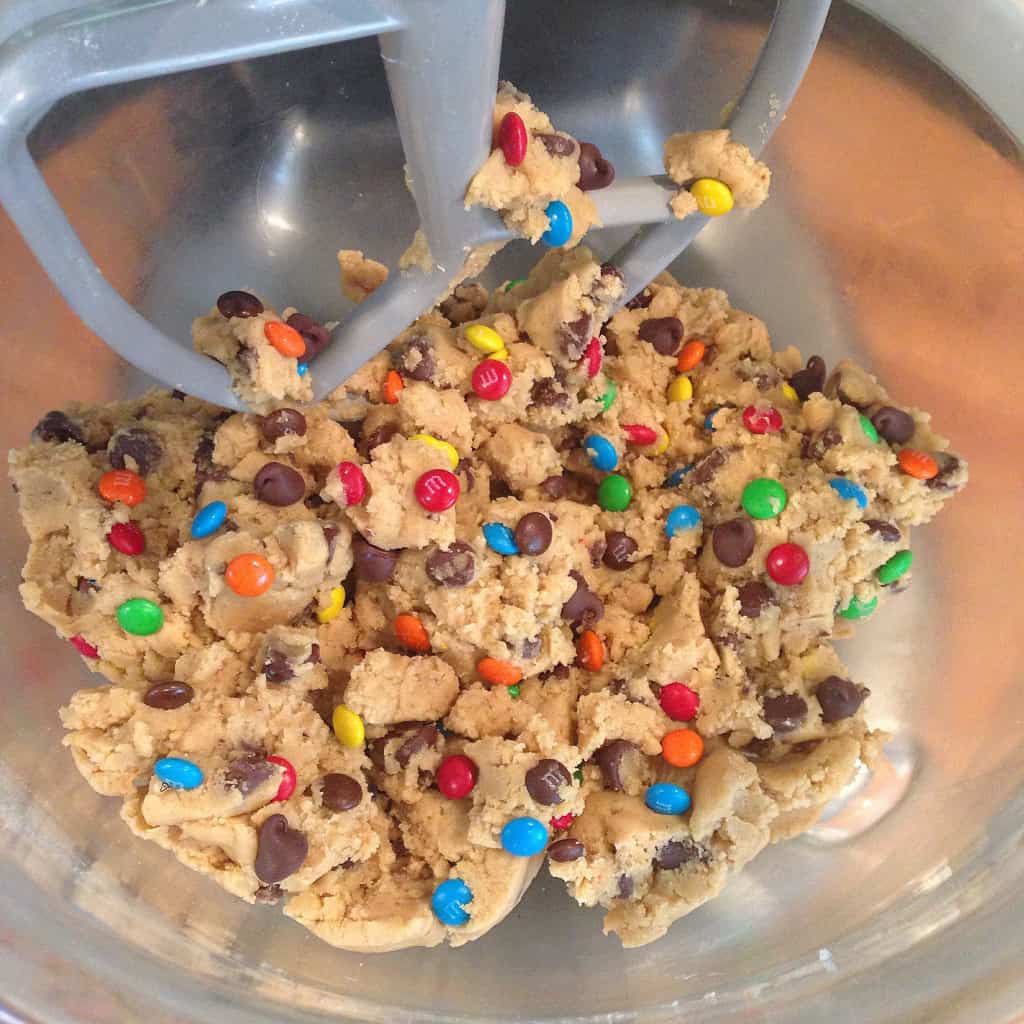 The fried chicken + jack sandwich at East Hampton Sandwich Co. If you live in Dallas or travel to Dallas, a must eat! I'm crossing my fingers we make it there this weekend!
This movie. If you know me or follow me regularly, this is no surprise! I'm obsessed! 😉 I will watch it at least once this weekend and a few times next week and the week after that and the week after that! lol! Or at least until the second one comes out!!!!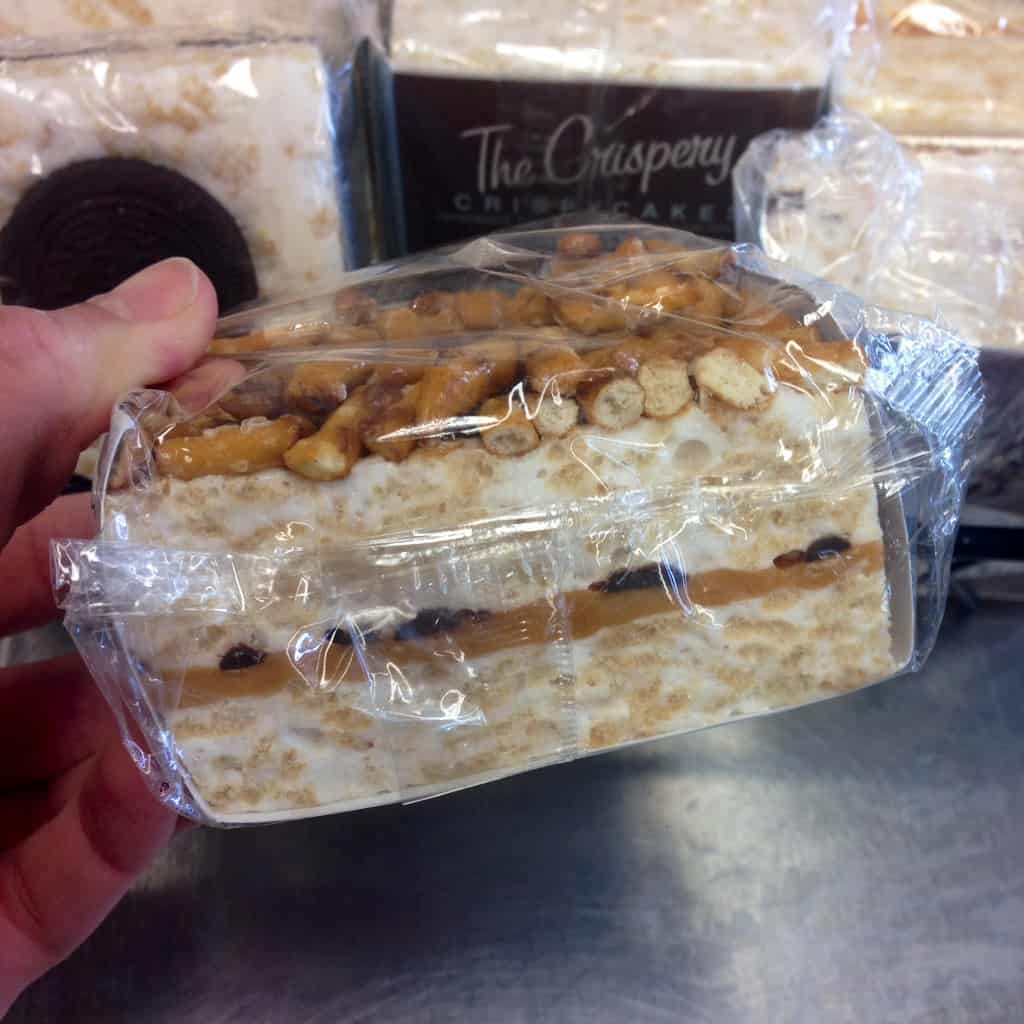 My favorite food find of the week was this pretzel surprise crispycake from The Crispery. If you've never had a crispycake, you need to hunt one down. They're awesome! Like the best rice krispie treat you'll ever eat kind of awesome! They sell them at the checkout line of our Central Market and I just can't resist them. I'm usually at the market every morning and since these have cereal in them, I can call them breakfast, right?! 😉 So so yummy!
National S'mores Day was last Sunday, so after eating these awesome Grilled BBQ Chicken Calzones, I promised the boys we would make s'mores. Well, we were out of graham crackers so…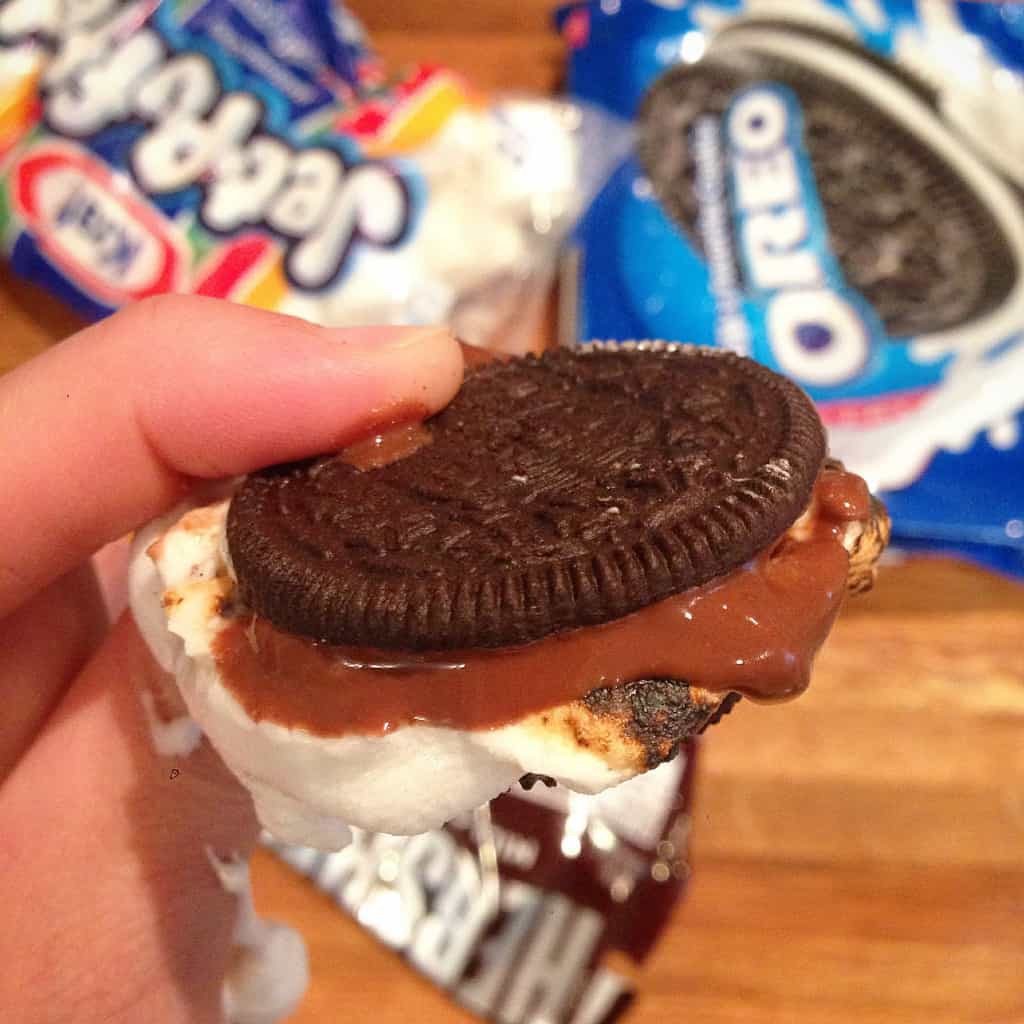 Oh, and later that night Brandon and I were working hard on some house projects and got the munchies, so we popped up some popcorn in our Whirley Pop Popcorn Maker (one of our favorite kitchen gadgets!) and coated it in truffle salt. Have you ever had truffle salt?! If not, you must! But be warned, it's addicting! I actually heard on the radio this week that Oprah carries a jar of truffle salt with her at all times and actually gives it to the chef at restaurants to put on her food. Brilliant! Makes me love her even more! 🙂 You can find it at most large markets or specialty food stores and as much as we use it, our small jar is still going strong.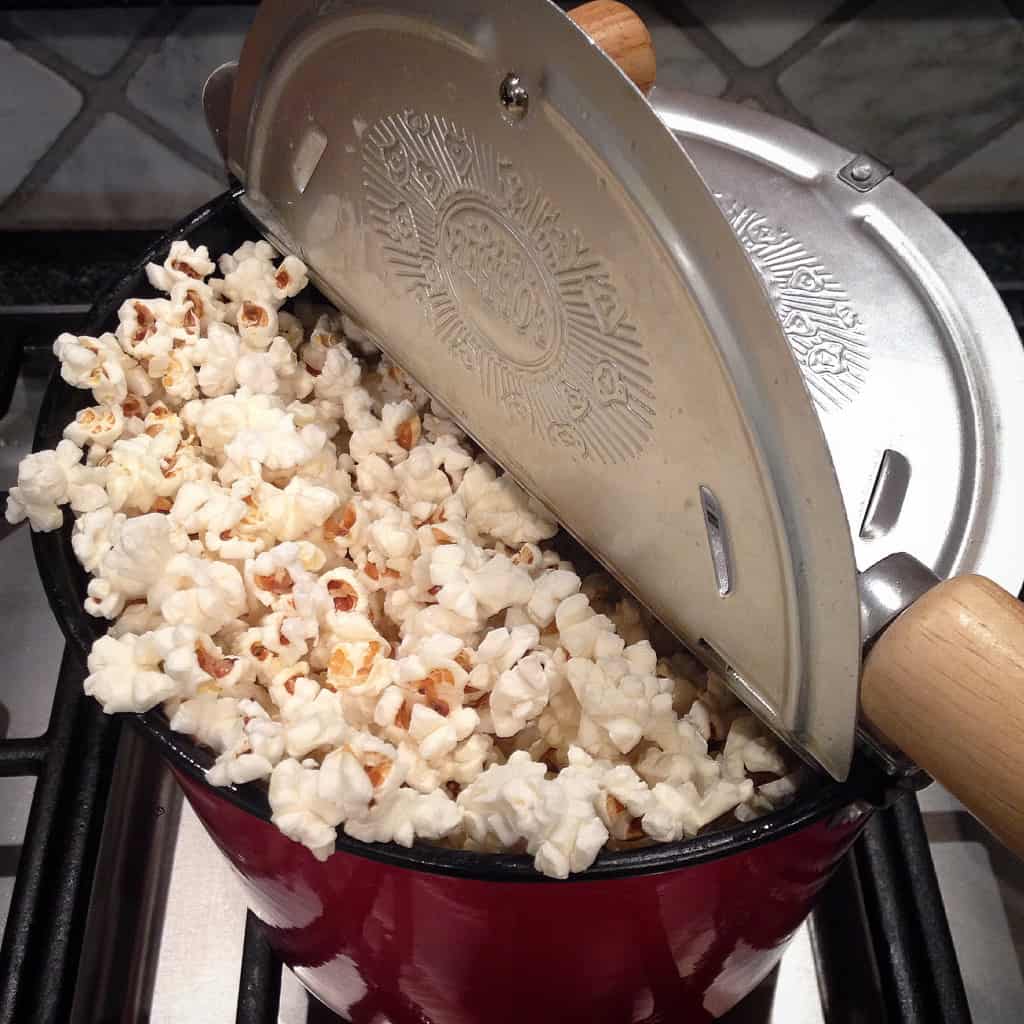 One of my favorite foods is egg fried rice…it's my go-to order at Pei Wei and most Chinese restaurants. Well, I got this craving to come up with a Mexican version of egg fried rice and when I have a craving, I usually satisfy it ASAP. So even though we ate dinner at Chick-fil-a on Monday night (because an electrician was at the house), I created this awesome Mexican Egg Fried Rice once the boys were in bed and we loved it! If you love Mexican food and egg fried rice, you're gonna go crazy over this!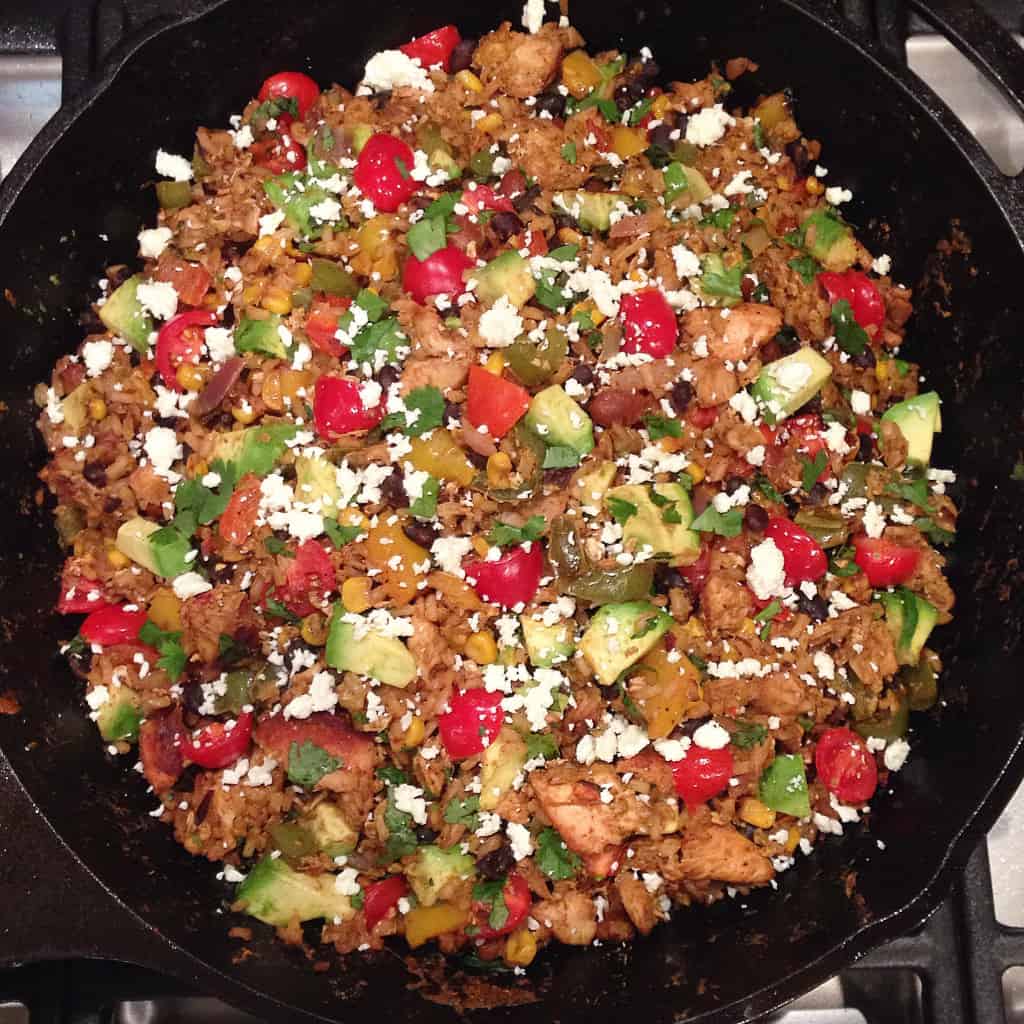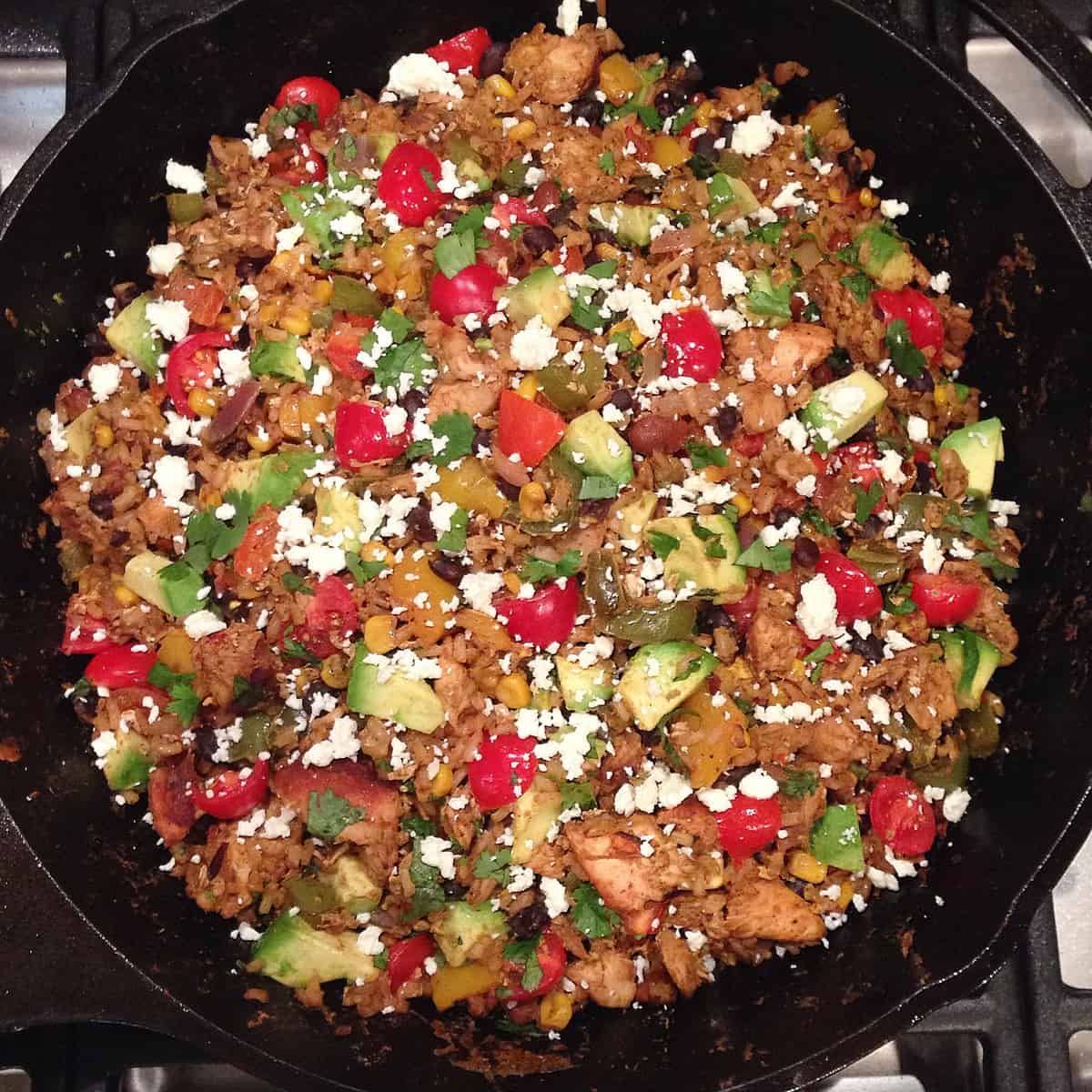 It would make for a great weeknight dinner, especially since the weeknights are about to get super busy with school back in session. Speaking of easy weeknight dinner ideas…
Back-To-School Dinner Ideas
I had a friend ask me for some quick, easy & healthy dinner ideas for back-to-school, so below is a list and here are some tips…When my boys are hungry for dinner, they want it right away, so I don't have a lot of time to get something on the table before they're begging for snacks and then get full off snacks and aren't hungry for what I made. So I try my best to plan ahead. My favorite thing to do is make something big on Sunday or Monday night that will last us for a few days so I'm not cooking something new every night. Sure, sometimes we have grilled cheeses or quesadillas, but most nights, I like to have something healthy and homemade. Here are some recipes and ideas:
Stir-Fry – you can get creative here with your favorite veggies and adjust the spice based on everyone's preference.
Baked Chicken Nuggets with fruit and hummus & veggies. Always a great one!
Hummus Quinoa Salads – we deconstruct these for the boys and they love it!
Brinner (breakfast for dinner) – whole wheat banana pancakes with bacon & scrambled eggs is always a winner!
Quiche (sometimes homemade/sometimes store-bought) & a salad
The Mexican Egg Fried Rice recipe I just mentioned in this post! We all loved this!
Chicken Pesto Pasta Salad – light and keeps well for lunches or dinner the next night
Chicken Salad Tacos or sometimes I brown ground beef or turkey with taco seasoning & add a can of refried beans as the mixture inside the taco and top them with mexi-cheese and serve them that way or put them in the oven to melt the cheese and serve them all warm and cheesy. Easy & yummy!
The Turkey Lasagna recipe below could be made ahead and makes a lot, so you could probably make two meals out of it!
Sometimes I pick up a rotisserie chicken, a loaf of bread and some veggies to steam or roast and call that dinner!
Hope these back-to-school dinner ideas are helpful!
My sweet friend, Lacey, who is on a dream road trip across America with her family, saw this cute sign, thought of me and mailed it to me from California. How sweet is she?! And it couldn't have come at a more perfect time as I was trying to be creative with activities for Bryce & Barrett so I came up with this idea to have them play with their parfaits on rimmed sheet pans. I stripped them down to their diapers in their high chairs and put out a scoop of Greek yogurt, some berries and some granola and just gave them the freedom to play and eat it however they wanted. It started to get pretty messy and just as I was starting to regret the whole idea, my doorbell rang and this sign from Lacey was in a box on my doorstep. It was such a great reminder that these messes are making memories and that my boys are happy and healthy and I'm truly blessed to be their mom. It's sitting in our playroom now as an everyday reminder that it's okay to have a sticky floor, a dirty oven, toys everywhere, clothes piled up, dishes overflowing the sink, an unorganized garage, blog work everywhere, and so on. I'm beyond blessed by my boys and wouldn't wish it any other way. Thank you, Lacey!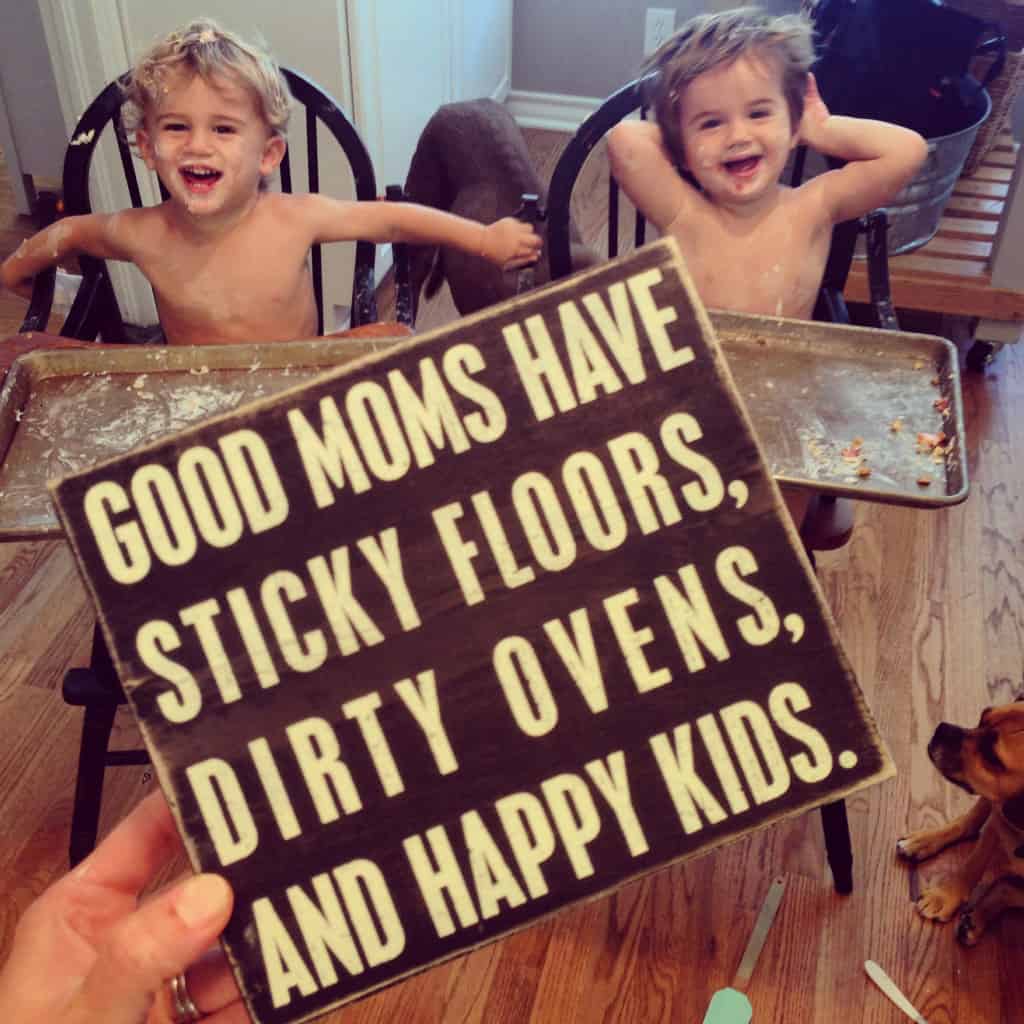 Almost every week, two of my girlfriends come over for a low-key, stretch pants required, mama's night in where we just hang out, catch up on life, and always treat ourselves to something sweet. Since National S'mores Day was on Sunday, we were still in a s'mores mood and our sweet treat for the evening was epic! We made Homemade S'mores Blizzards y'all! And they were out of this world amazing and certainly made girl's night extra sweet & special this week!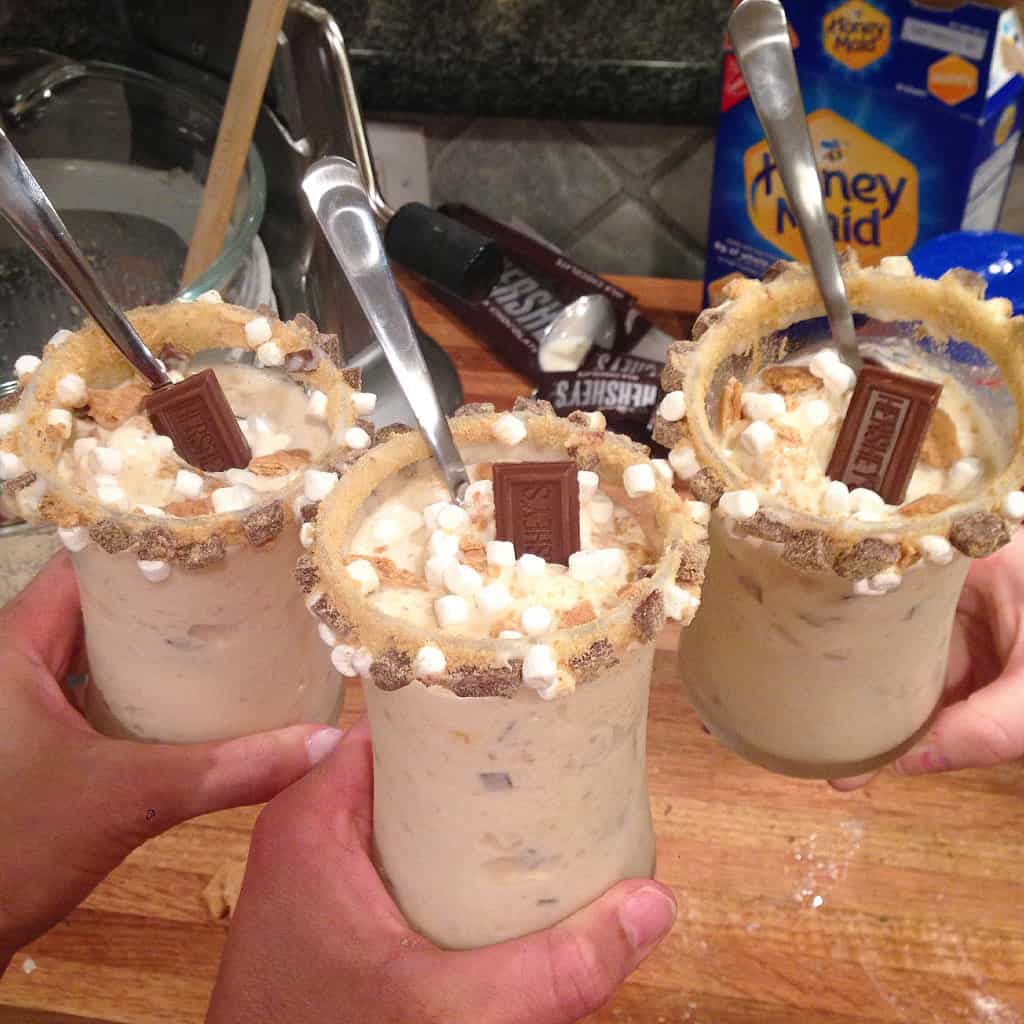 So easy to make! I always use my KitchenAid mixer with the paddle attachment to make homemade blizzards and they taste just like the real blizzards.
Brotherly love at its best! I love how close these sweet brothers continue to get and I pray they stay this close forever…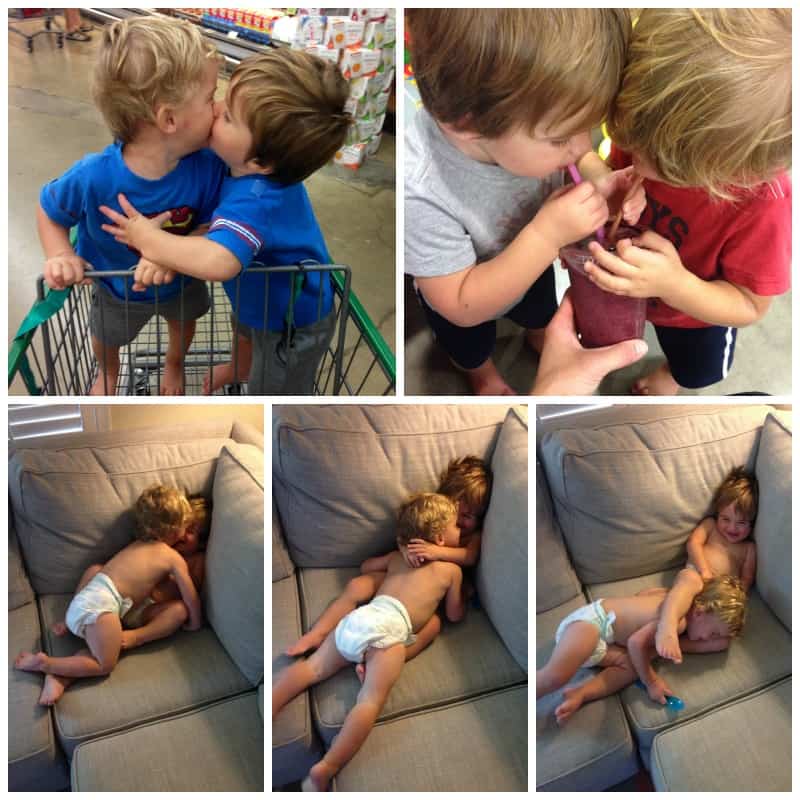 My obsession with granola bars continues! I bake a batch almost every week and I love playing around with the recipe based on what I have on hand. I baked this batch late on Wednesday night and they turned out amazing! Recipe below…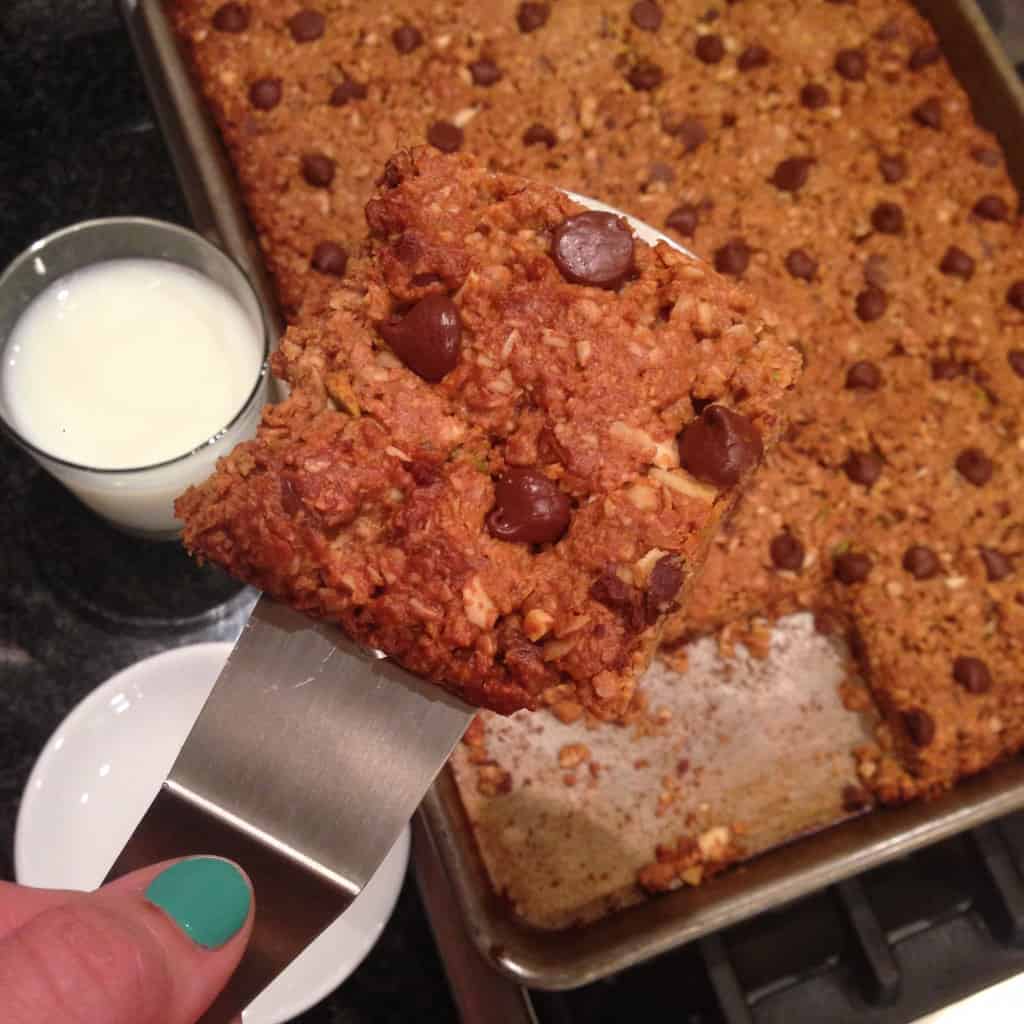 Print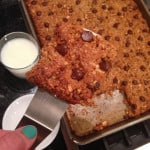 Peanut Butter Dark Chocolate Chip Granola Bars
---
1/2 cup

(

1

stick) butter, softened

1

–

1/4

cups creamy peanut butter

1 cup

honey

1/4 cup

brown sugar

3 cups

of your favorite granola

3 cups

old-fashioned oats

1/3 cup

slivered almonds

1/3 cup

chopped pecans

1/3 cup

chopped walnuts

1/3 cup

pistachios

1/2 cup

coconut flakes

1

–

1/4

cups dark chocolate chips
---
Instructions
Preheat oven to 350°F. Lightly grease a large rimmed baking sheet pan with non-stick cooking spray and set aside.
In the bowl of an electric mixer, beat the butter, peanut butter, honey and brown sugar until smooth.
Add the granola, oats, nuts and coconut flakes and mix on low speed until well combined.
Stir in the chocolate chips.
Spread evenly into the prepared baking sheet and sprinkle with more chocolate chips, if desired.
Bake for 30-35 minutes or until granola bars are set and start to brown on top. Enjoy!
---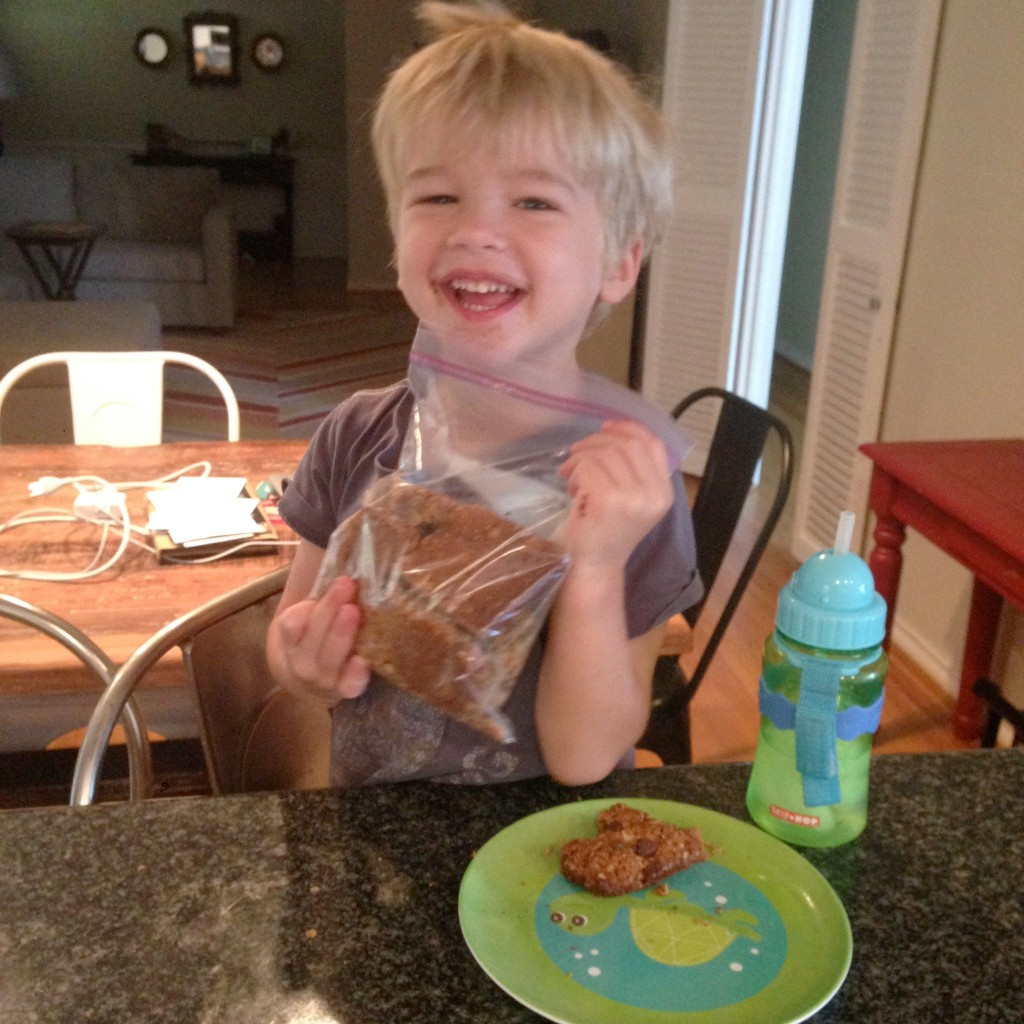 This sweet boy was so excited when he woke up Thursday morning and saw that I had baked granola bars! He has been begging me for months to bake our granola bars so that we could give them to this man and woman that stand at the corners by his school holding signs that say "hungry and homeless". It breaks my heart when he asks why they don't have food or a home as we're driving to our home and which is stocked with great food. So we bagged up the granola bars along with some bottled water and gave it to them that afternoon. Baker was so happy as was the guy we gave them to. We pray every day that they are blessed with a safe home and plenty of food to keep them healthy. I'm so unbelievably thankful for Baker's big heart!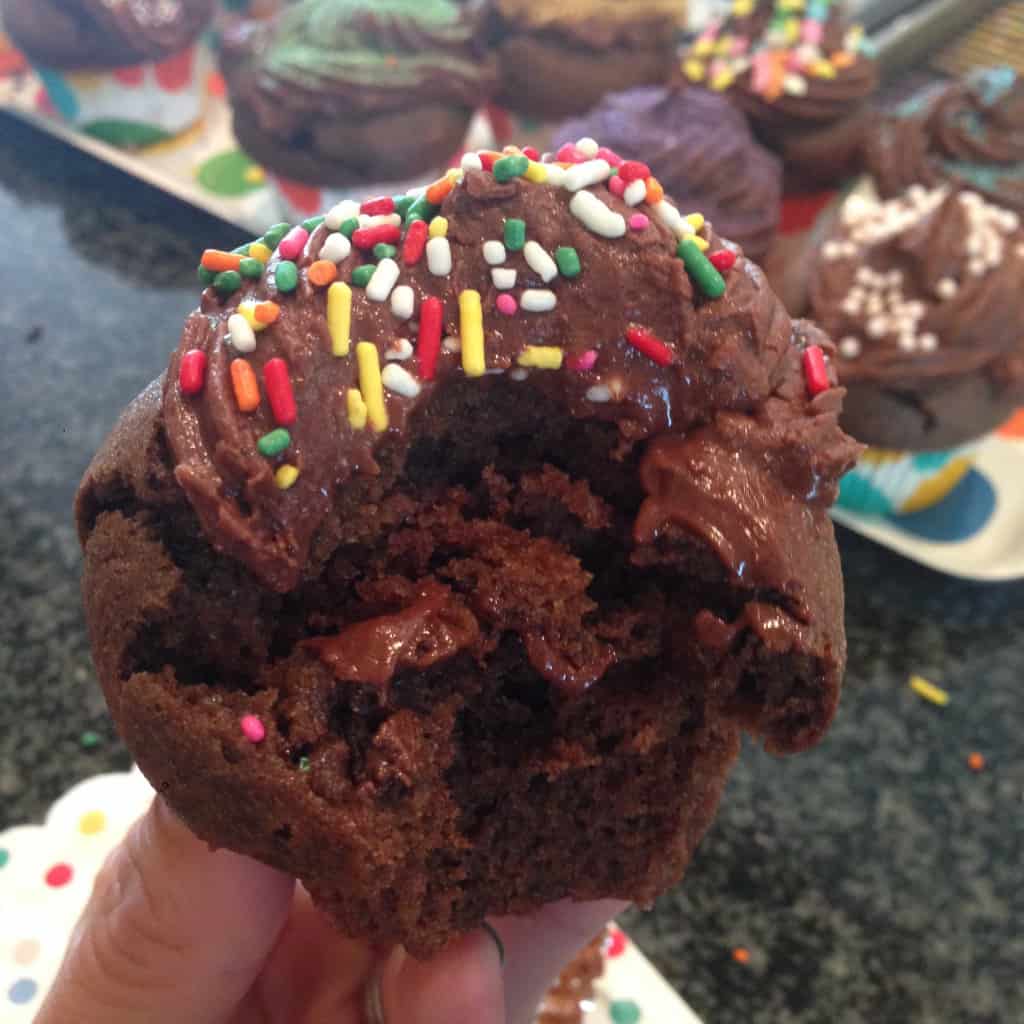 Y'all, these chocolate cupcakes with fudge frosting are gluten-free and you would never know it by how amazing they taste! So so yummy! They recipe is from Michelle of My Gluten-Free Kitchen.
These were actually the first gluten-free baked goodies I've ever baked and I was so nervous, but they turned out great! And honestly, I didn't even bake them myself. I had a baking assistant that pretty much did it all…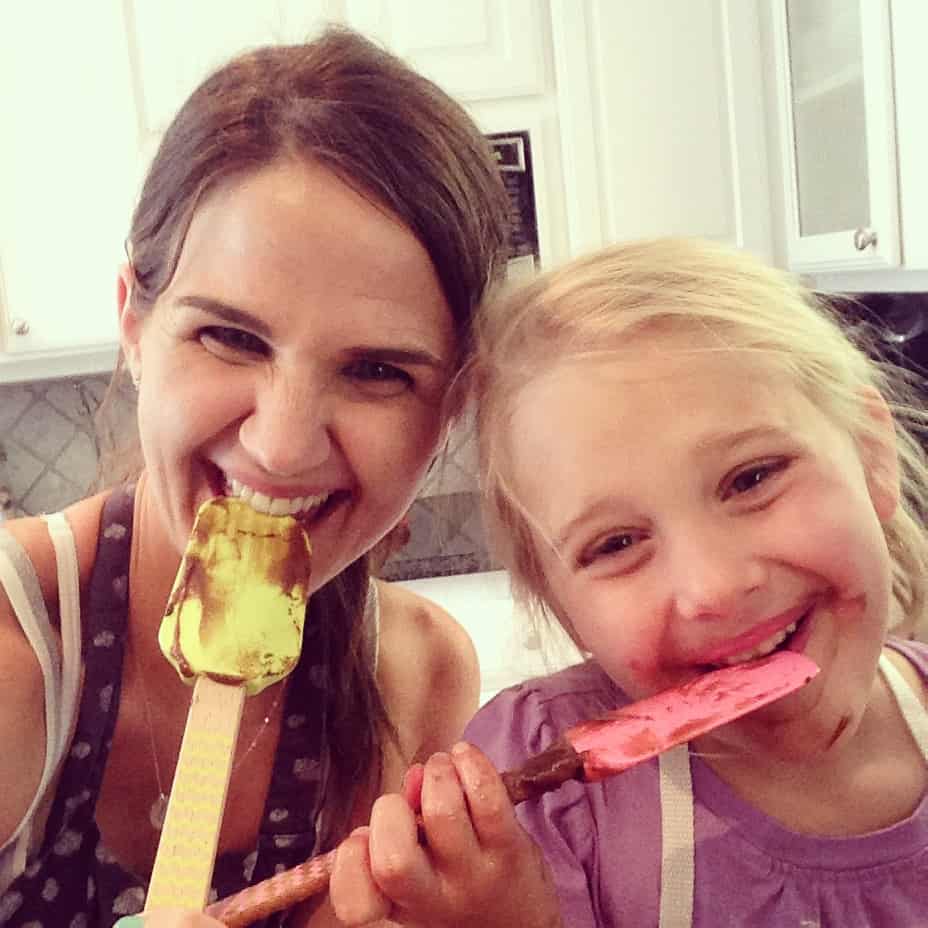 Sweet Emory came to bake with me on Thursday and it was so much fun! She absolutely loves baking and told me that when she grows up, she wants to own her own bakery. Too cute! Her dad and Brandon work together and when she found out I love to bake too, she's been itching to come bake with me. Her love for baking was one of the cutest things I've ever seen. She knew exactly what she was doing and had a huge smile on her face the entire time. She did everything from lining the cupcake pan to cracking the eggs to cleaning the dishes. I was amazed!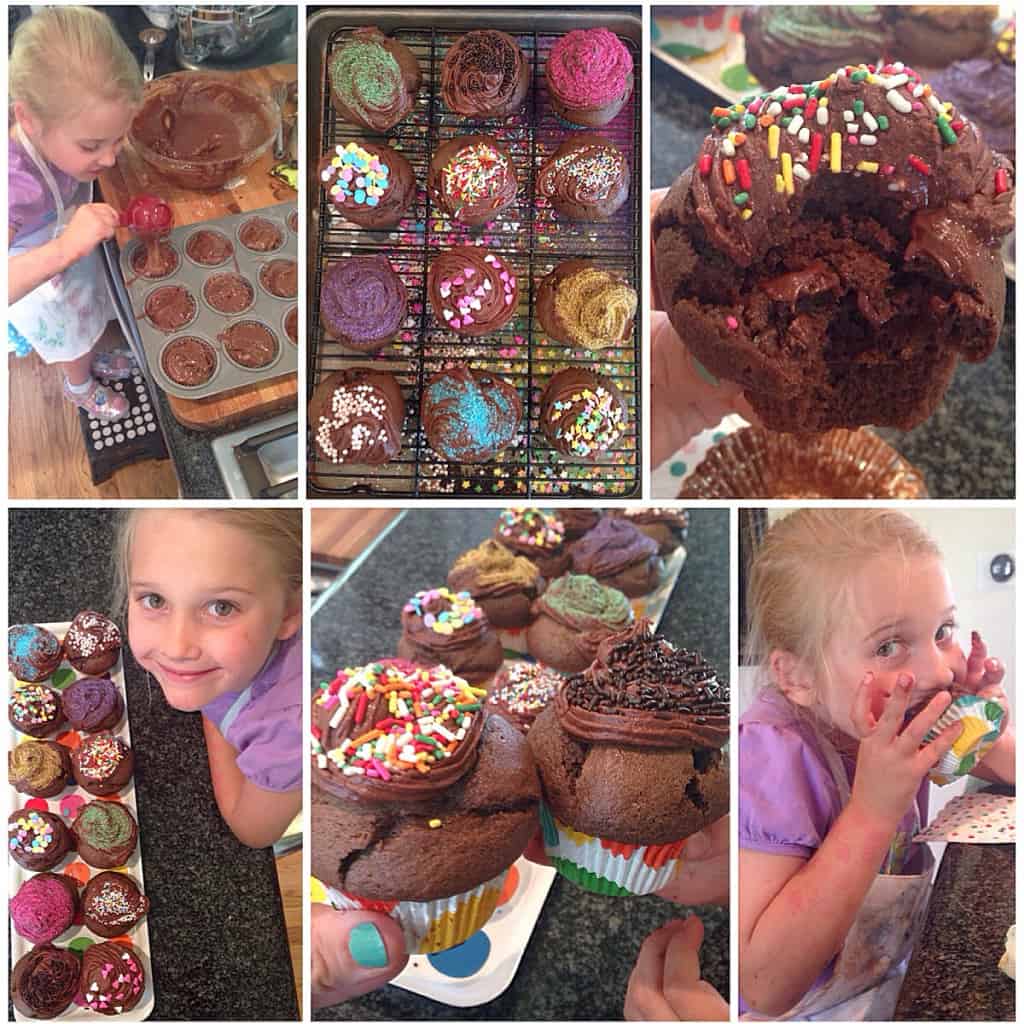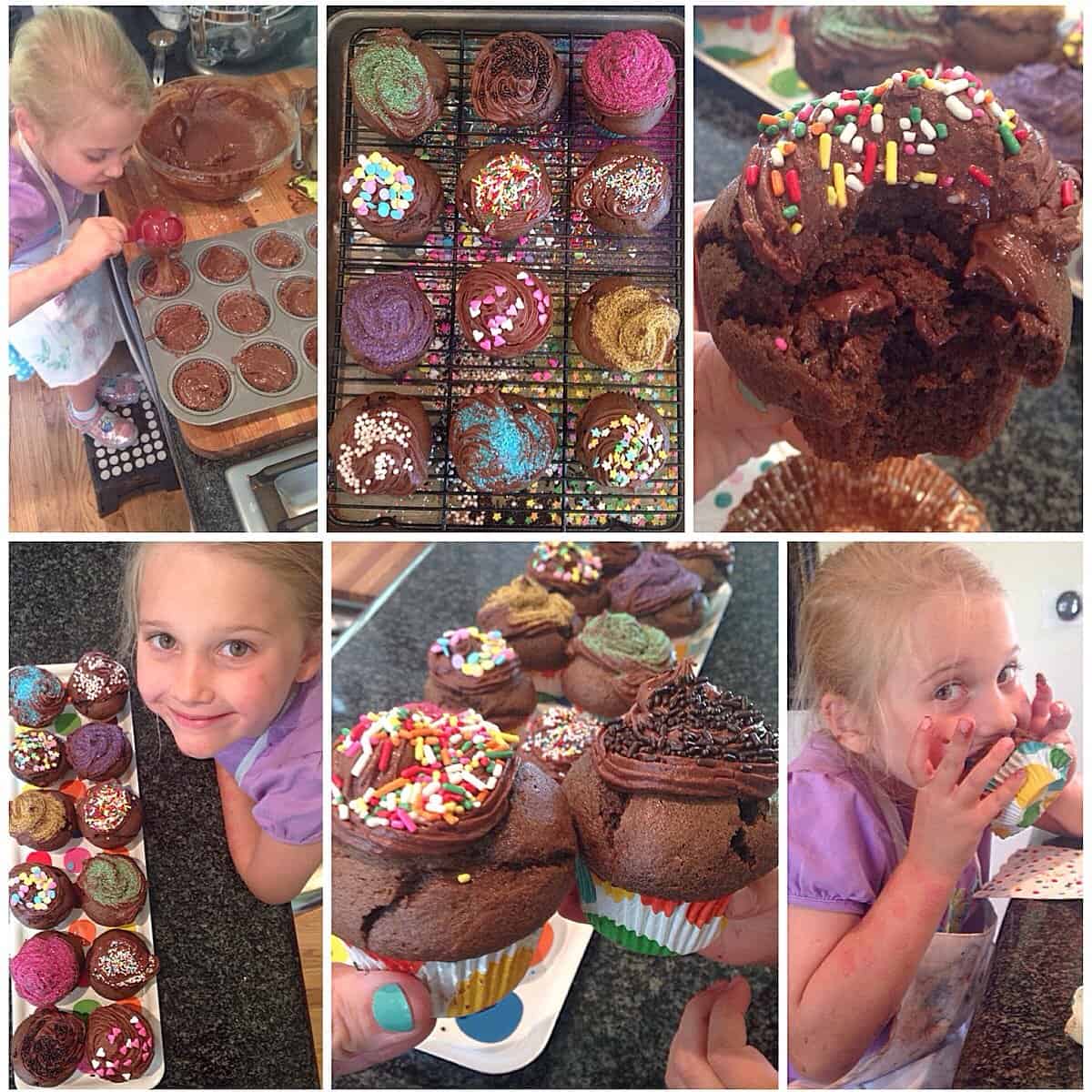 She recently had to start eating gluten-free so I reached out to my sweet friend, Michelle, for guidance and help in finding the right ingredients and the perfect recipe! Thanks, Michelle!
It was an afternoon that I will never forget and one that I hope Emory and I can do again and again! What a sweetheart with a passion for sweets and baking that might be as strong, if not stronger, than mine! I loved it!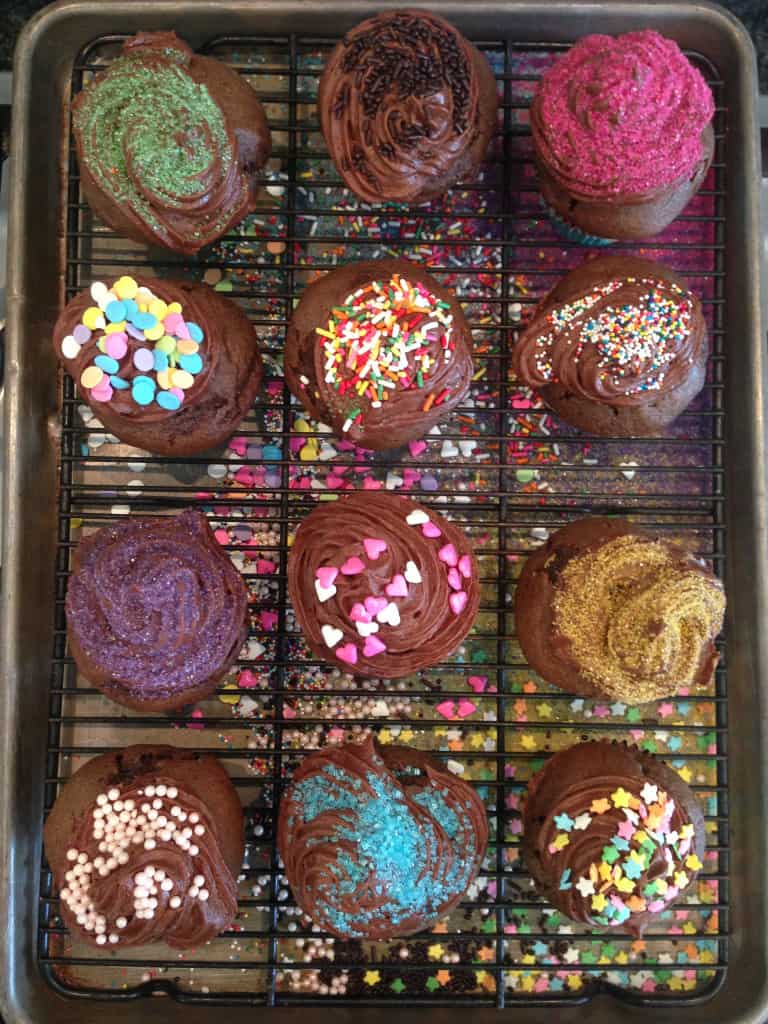 Our family came to town on Thursday night so I baked up this awesome turkey lasagna and I just have to share the recipe with you now! I'll definitely make it again and will photograph it with my good camera for a post on the blog.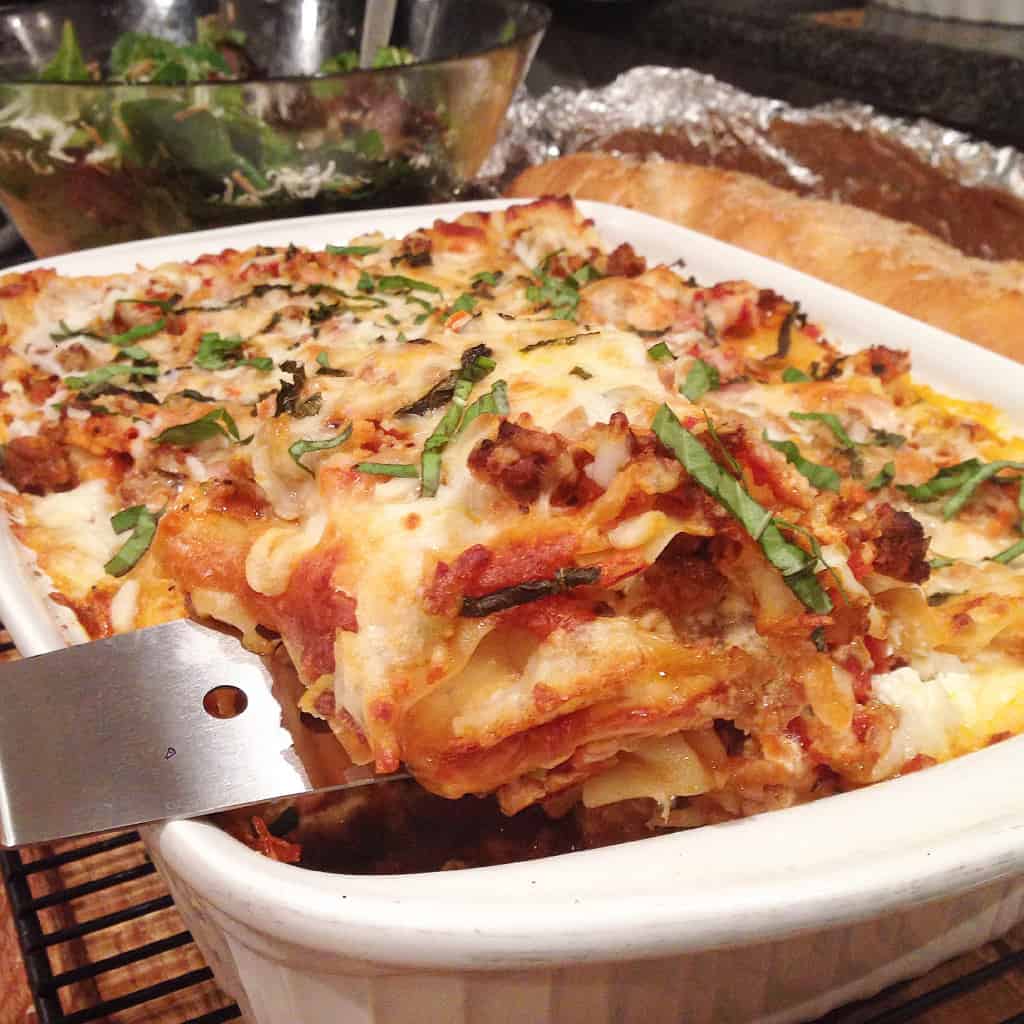 Now for some yumminess from other bloggers:
Mac & Cheese with Bacon Pretzel Topping from Picky Palate! I'm planning to make this for dinner soon. Love at first sight and I can only imagine how amazing it is!
Coffee Chocolate Chip Muffins from Inside BrewCrew Life! These muffins would make my morning! Can't wait to bake them!
I baked these Pistachio Coffee & Brown Butter Chocolate Chunk Cookies from Ambitious Kitchen last week & they are amazing! The coffee and brown butter just makes them. We ate some alone with a big glass of milk and then made them into ice cream sandwiches! Ridiculous…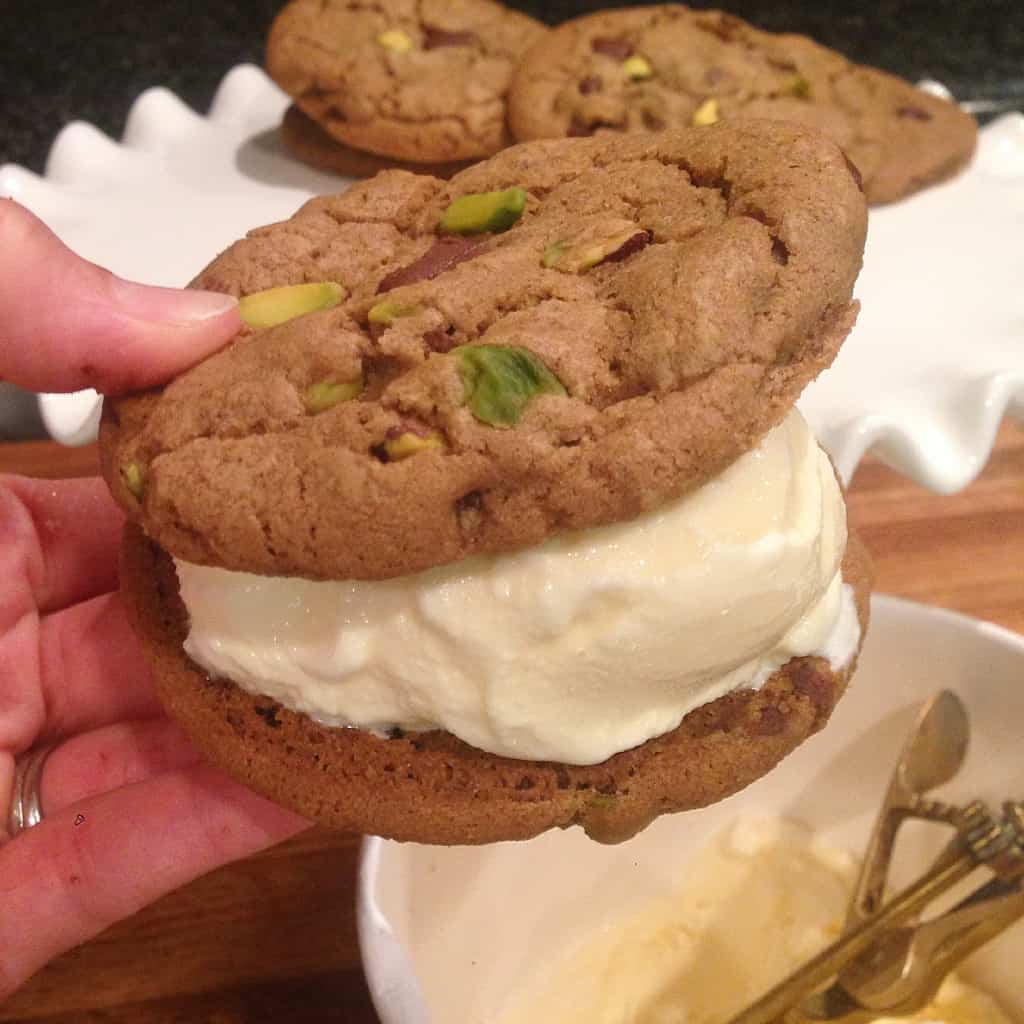 And last, but not least, my blogger crush of the week is Kristy from Sweet Treats & More! She has a serious sweet tooth, just like me, but she also likes to eat and serve her family healthy food. Her blog is amazing and full of everything from decadent sweet treats to family-friendly healthy meals. She has two little boys with another one on the way, which makes me so happy for her! Yay for 3 boys! I met Kristy at the BlogHer Food 14 conference in Miami and she's a doll. Check her out!
Cheers to a great weekend, y'all!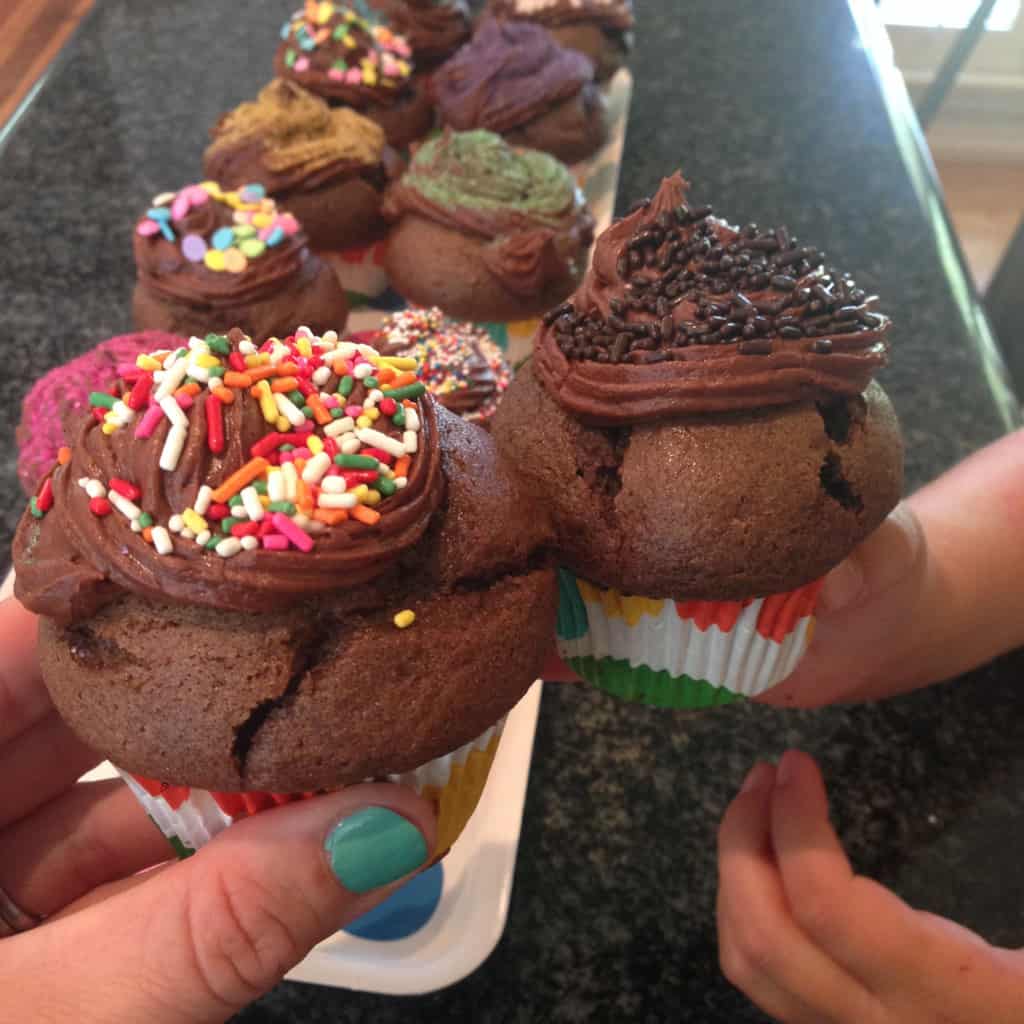 Much Love,