Win big with these Game Day Boards and Snack Trays. From first bites to hearty snacks and sweet treats, these boards will help you celebrate game time deliciously!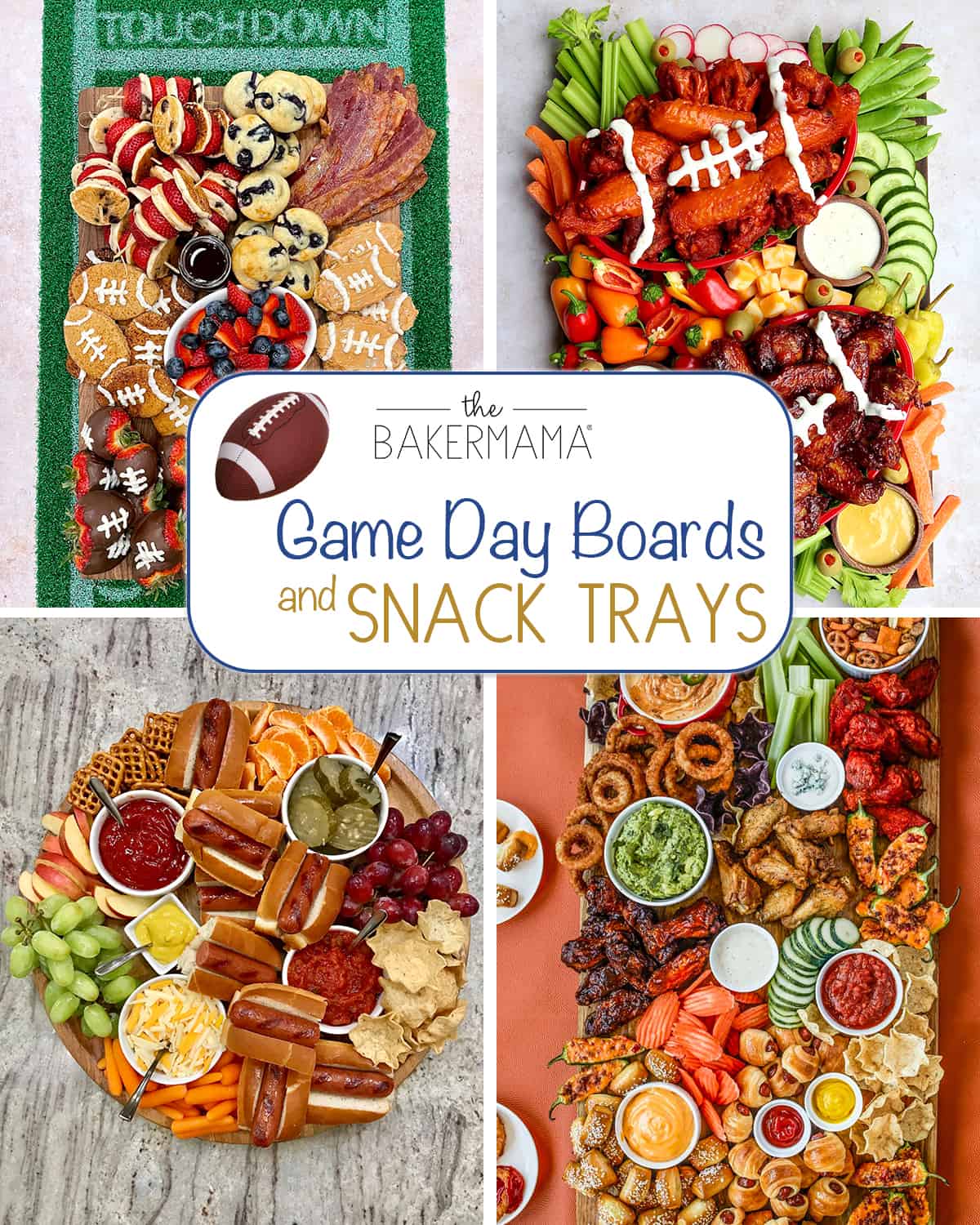 Good morning, sports fans! Score points with your die-hard football family when you serve my Tailgate Breakfast Board. It makes that first meal of the day a fun and delicious team favorite!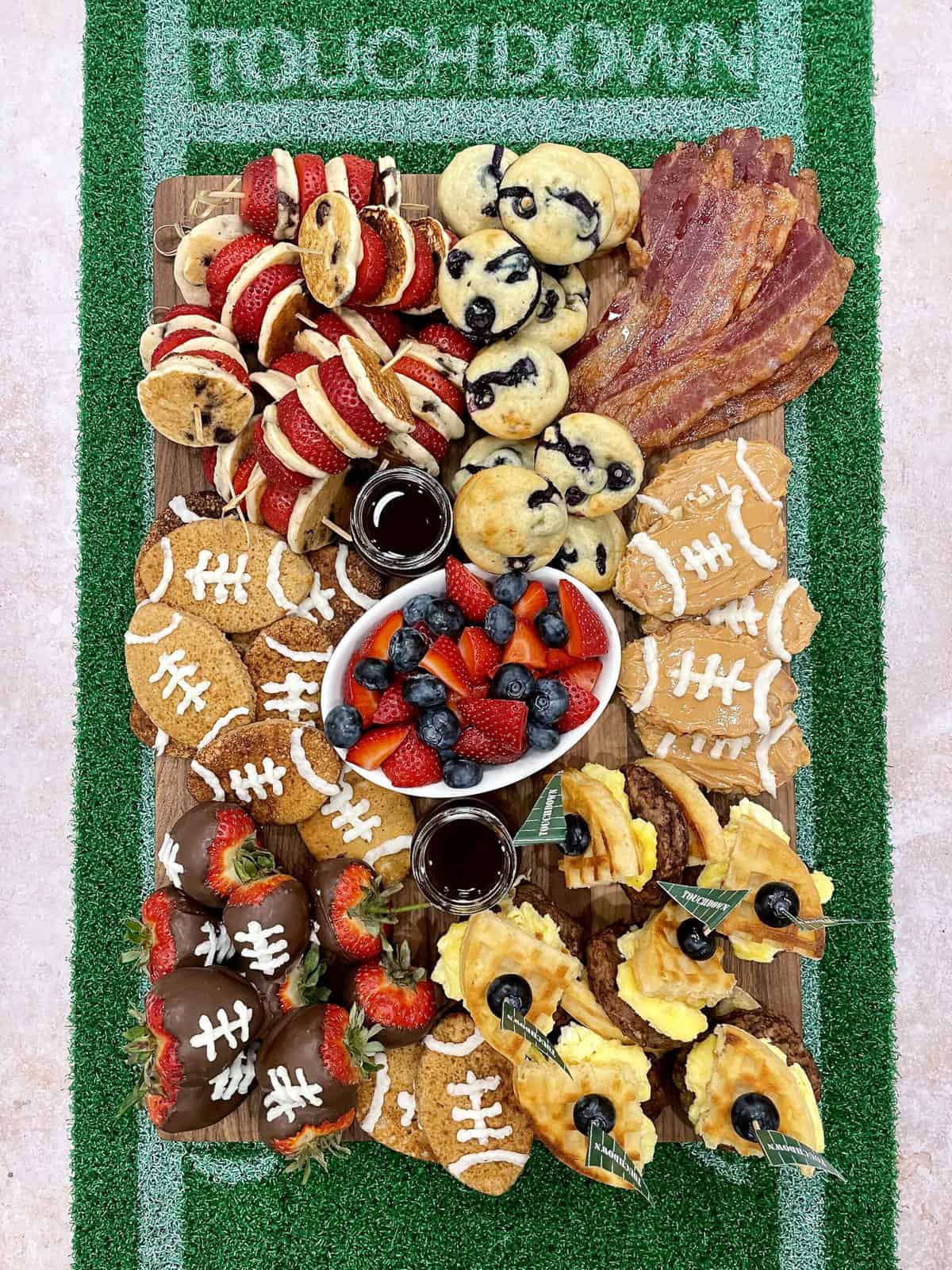 This Football Snack Board is such a great board to let everyone snack on during the big game. Just form your favorite brown-colored snacks into the shape of a football on the board and surround it with your favorite green-colored foods and a few dips to make it look like a football field. Finish the football shape off with some white laces made of dried coconut strips or string cheese. You can get all of the ingredients and step-by-step instructions for building this board in my Beautiful Boards Cookbook.
Serve up homegating snacks your team can't wait to tackle with this Chicken Wings Snack Board. Fresh crispy veggies and saucy flavorful wings are a winning combination for game day or any day!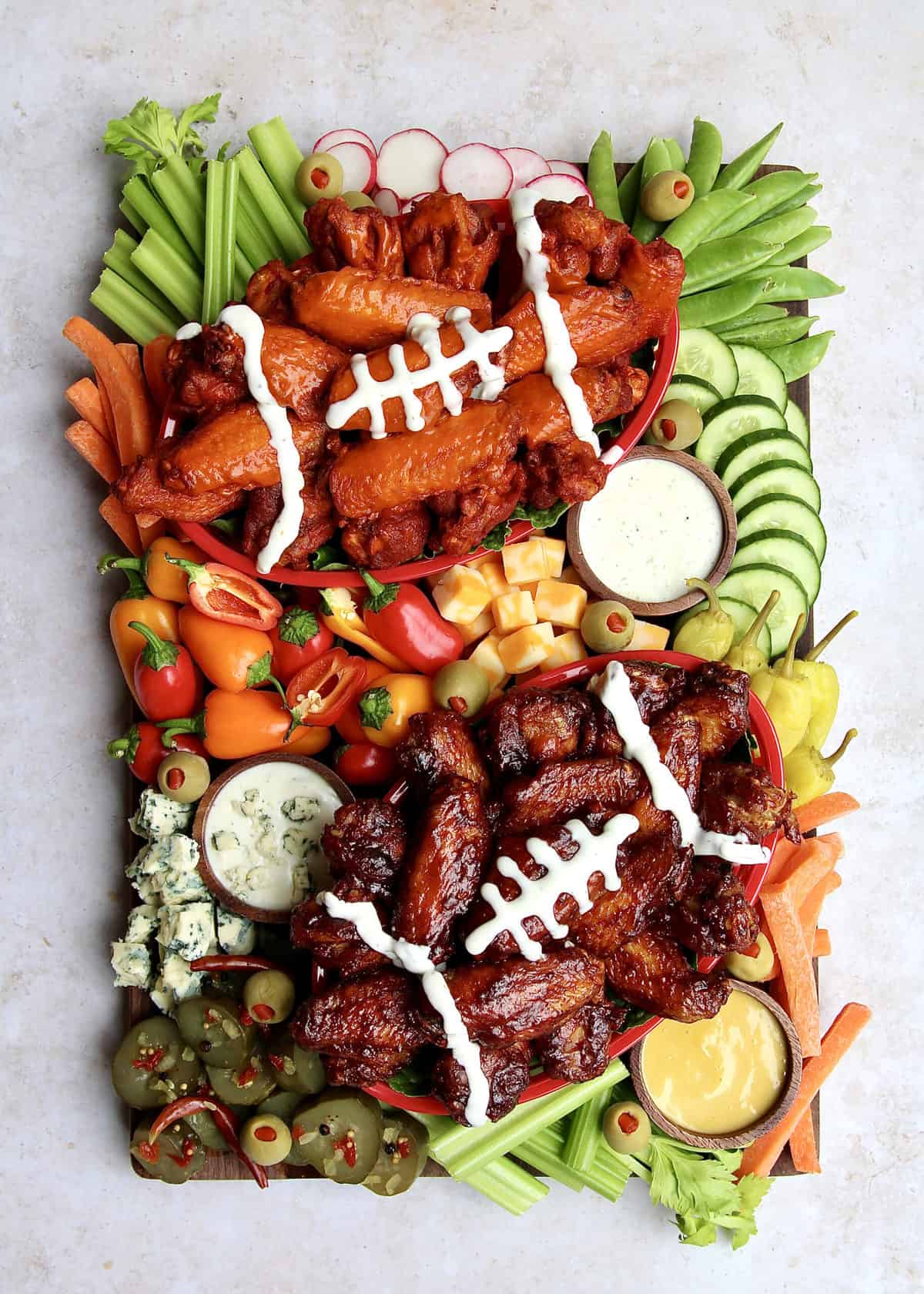 Wingin' it is the way to go with this Wings and Things Board! These four fantastic wing recipes would be great options for this board: Baked Crispy Asian Chicken Wings, Baked Honey Mustard Chicken Wings, Crispy Baked Sweet and Spicy Wings, Baked Chicken Wings. Or you could smoke or grill up some wings with your favorite wing sauces like we did for this board…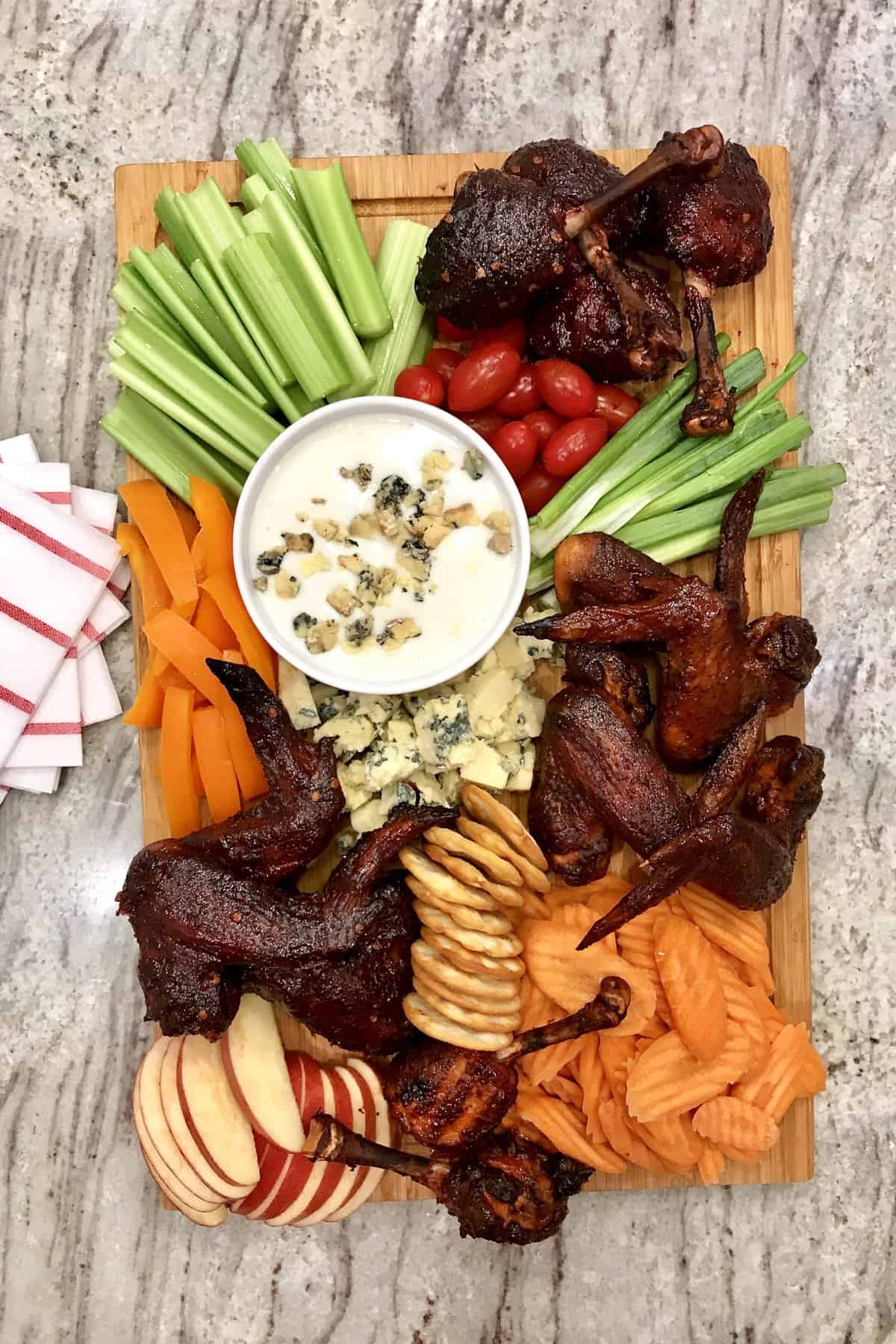 Feed the crowd at your watch party with this epic spread of game day greats! Everyone is sure to enjoy snacking on the awesome line-up of quick pre-made snacks and easy-to-make recipes as they watch the game. All the tasty details & inspiration, including recipes for the stuffed jalapeño poppers, pigs in a blanket, chili con queso, guacamole and salsa, are in my Beautiful Boards Cookbook. Also, pretty much everything on this board can be store-bought, already made for easy heating & serving, if you're not up for the homemade versions. It's a guaranteed winner!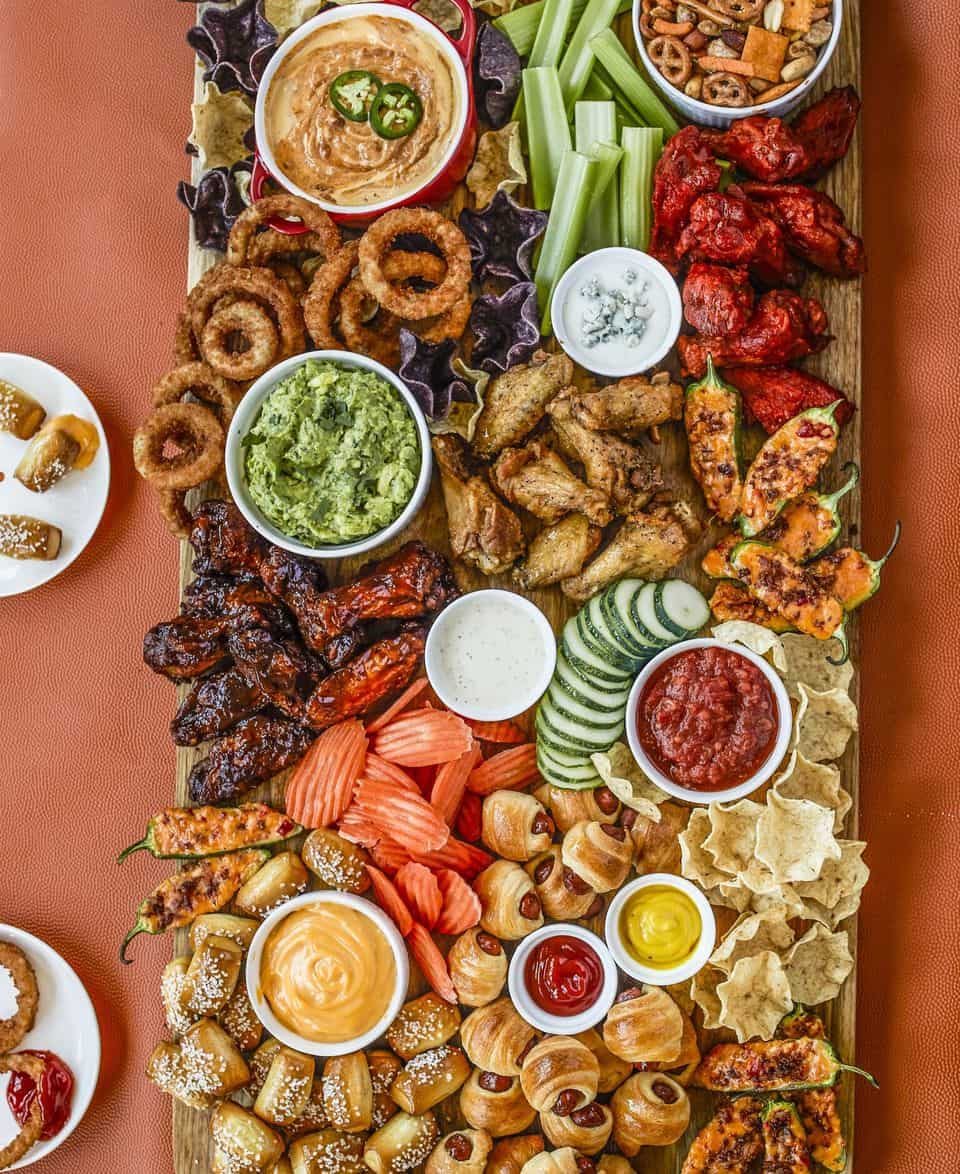 Wow the crowd with this ultimate Football Nacho Board! Delicious BBQ chicken nachos surrounded by an amazing selection of green garnishes to top them off with. It will have everyone digging in for the win on game day!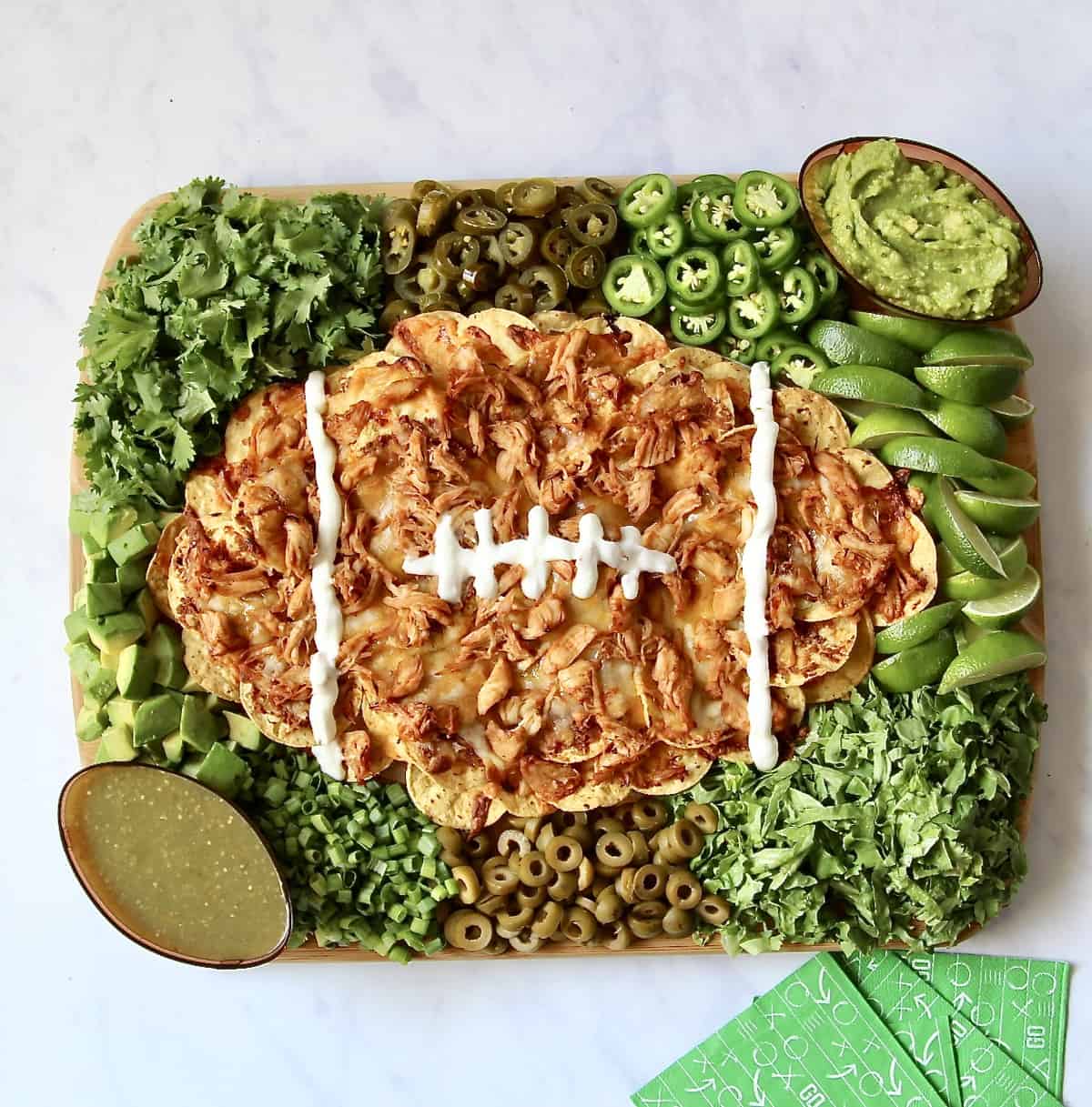 Who doesn't love chips and dips?! This Chips & Dips Board is so great for a crowd and is easily customizable to best feed the number of people and the occasion. Just get a board, as many dips as you see fit, and a variety of your favorite chips. Place the dips in serving bowls across the board and then surround them with the chips. A great snack board to have set out during a football game watch party. All of the details, including several of these yummy, easy dip recipes are in my Beautiful Boards Cookbook. There are so many great pre-made dips and chips out there in the stores though, so have fun trying them when serving this board.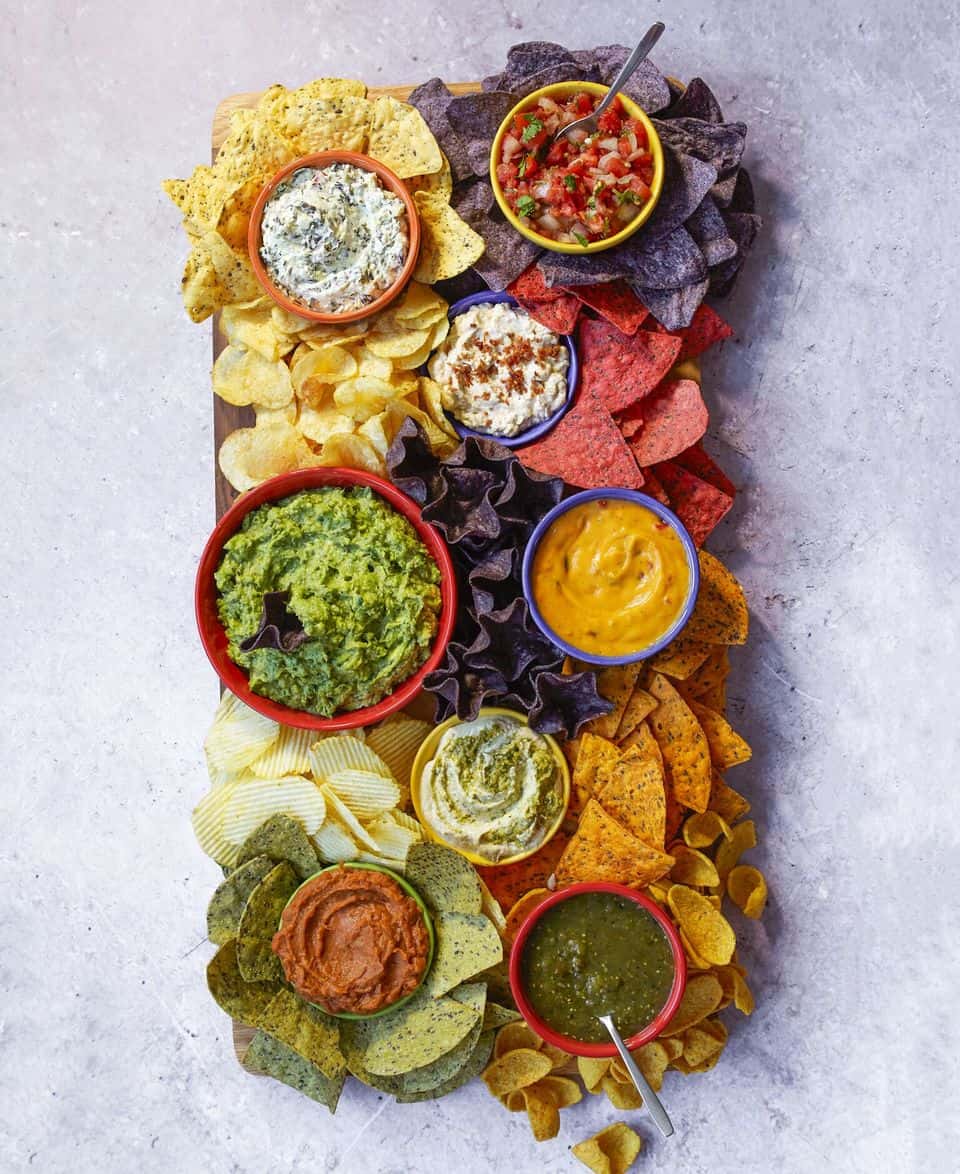 A Build-Your-Own Burger Board is such a great way to let your crowd enjoy their burgers just the way they like them with a tasty variety of toppings and spreads to choose from.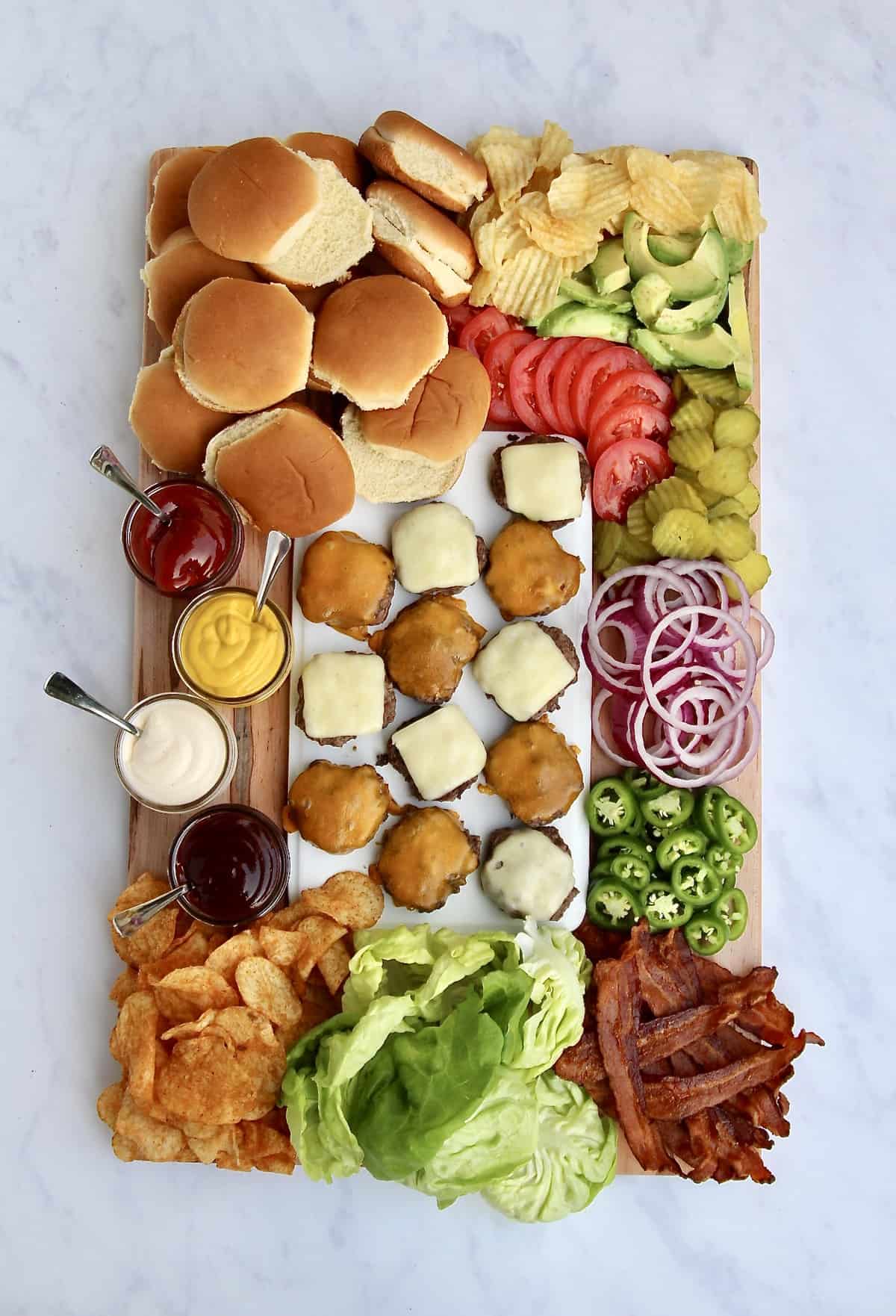 Hot diggity dog, everyone will go crazy for this Hot Dog Board that offers hot dog halves with an amazing selection of toppings and snacks to go with them. It's an easy, fun and delicious way to serve hot dogs!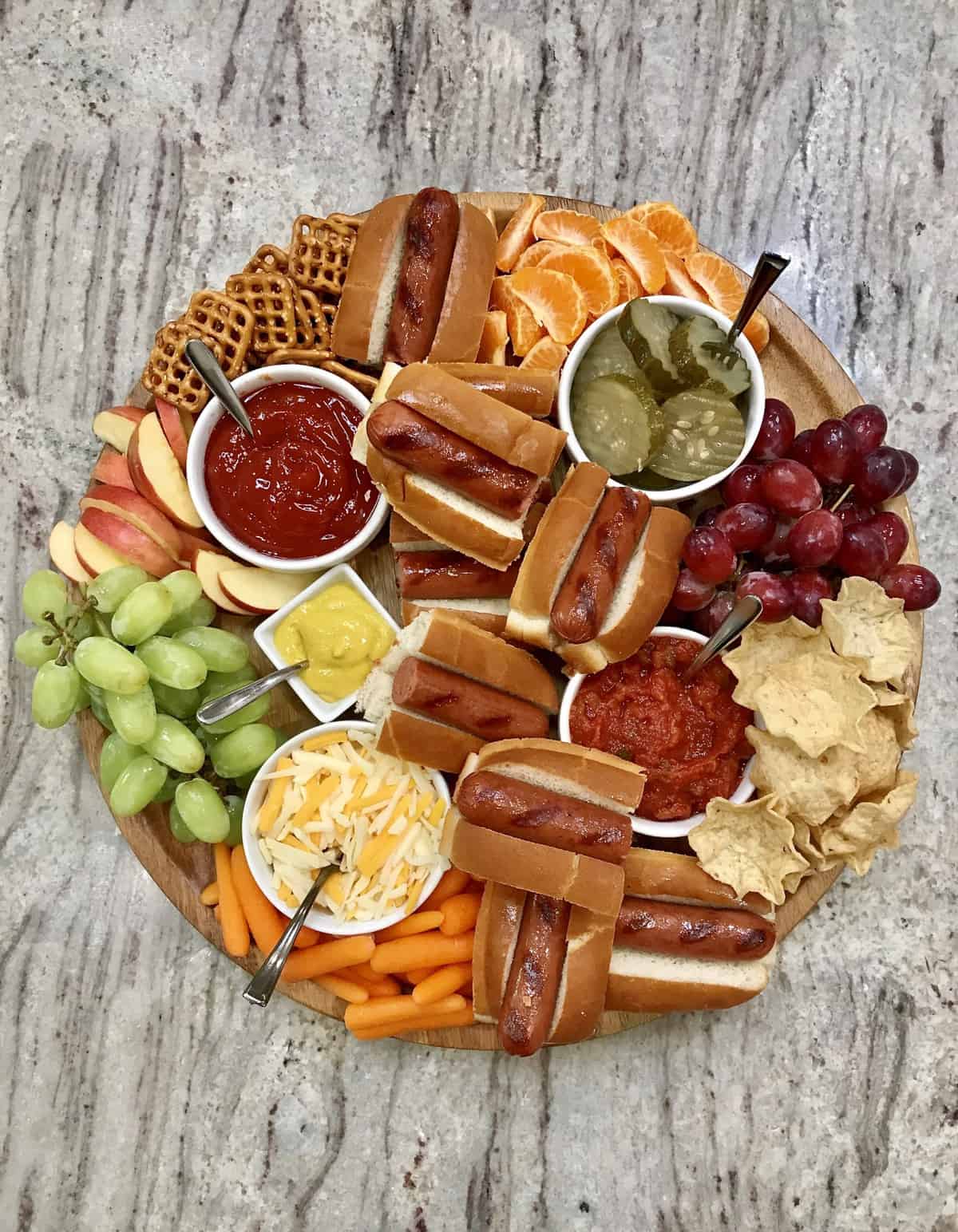 Fully loaded or kept simple with a pat of butter, everybody gets their way with a Build-Your-Own Baked Potato Board. Potatoes with perfectly crispy, salted skins and warm, soft insides meet their match with a variety of savory toppings.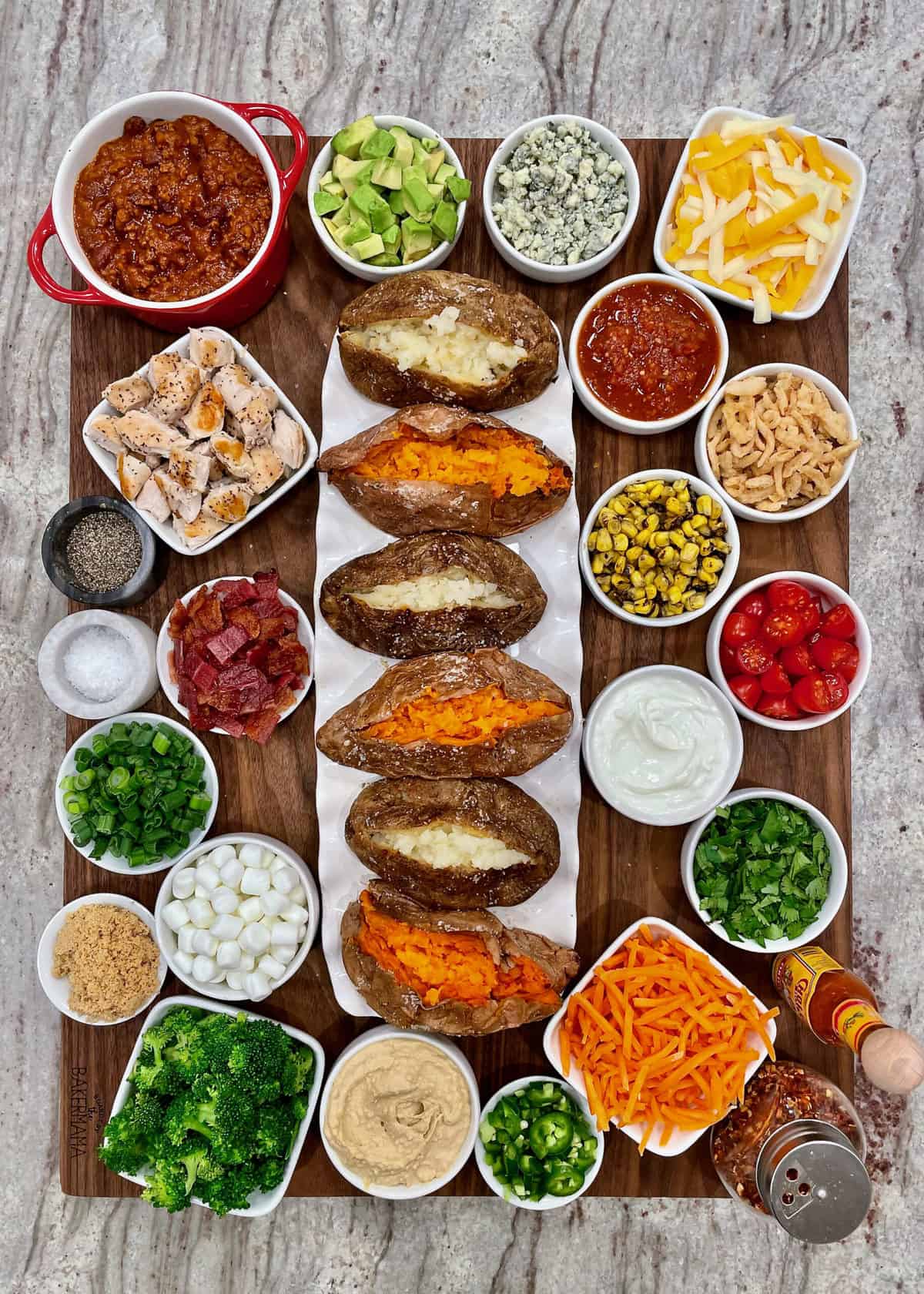 An epic sandwich board that will feed and please your hungry crowd!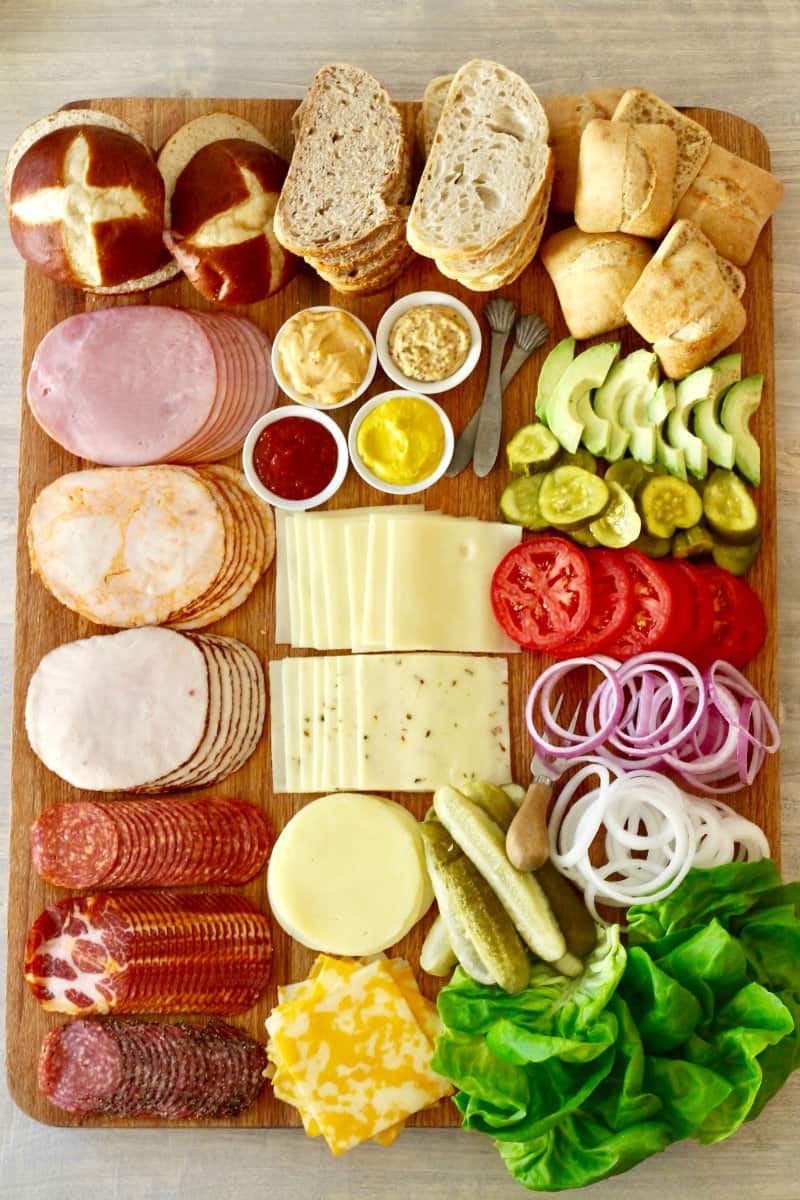 Prepare an epic snack tray where everything comes from Trader Joe's that is sure to excite and satisfy a hungry crowd for hours!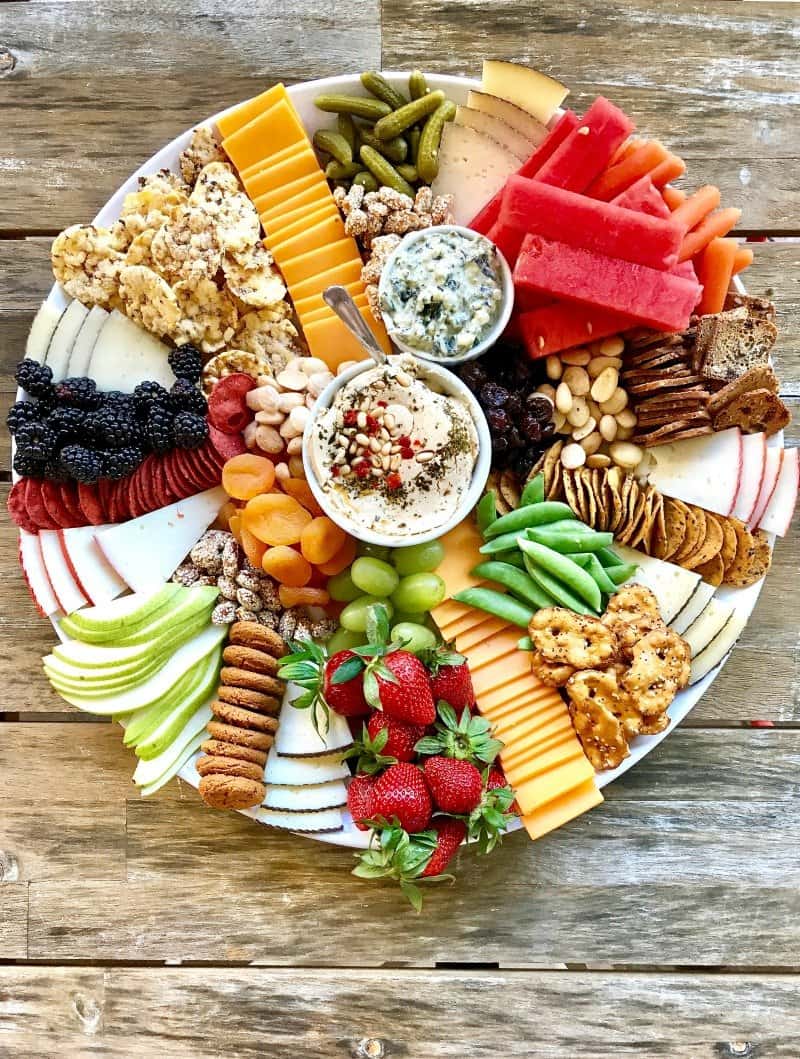 Winning Spreads!
Kick off game day with this Tailgate Brunch spread from pages 141-145 of my Spectacular Spreads cookbook. It's a winning lineup of football themed finger foods like football-themed deviled eggs and football-shaped cinnamon rolls. You're sure to be the real MVP when you serve this spread!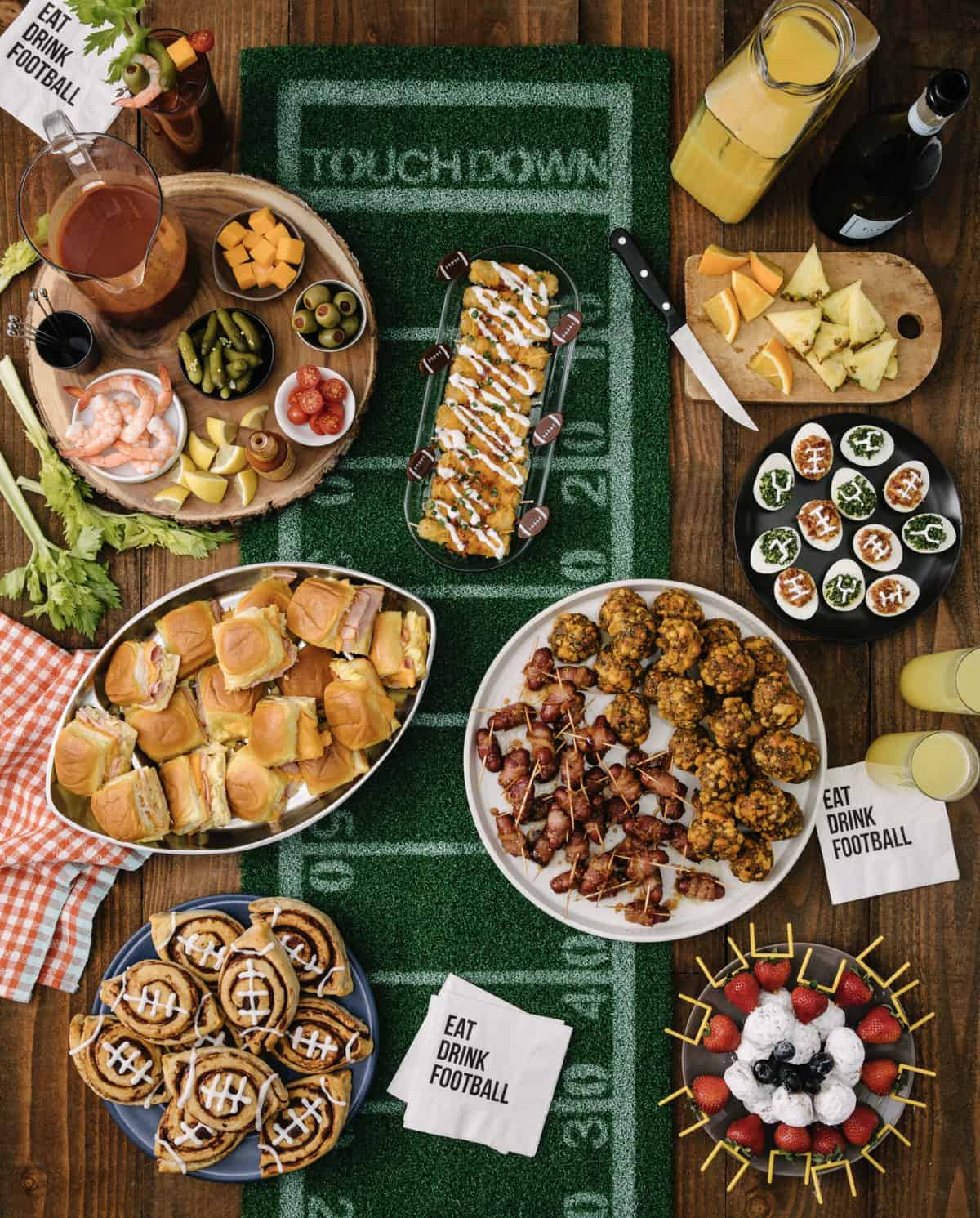 Warm up with one of the cheese dips (or both!), hit your stride with cheeseburger nachos and wings, score big with football field layer dip and bring it home with chewy, fudgey brownies or chocolate covered peanut butter footballs. All of the recipes can be found in The Big Game spread on pages 147-151 of my Spectacular Spreads cookbook. From the coin toss to the final whistle, this spread is guaranteed to be a winner!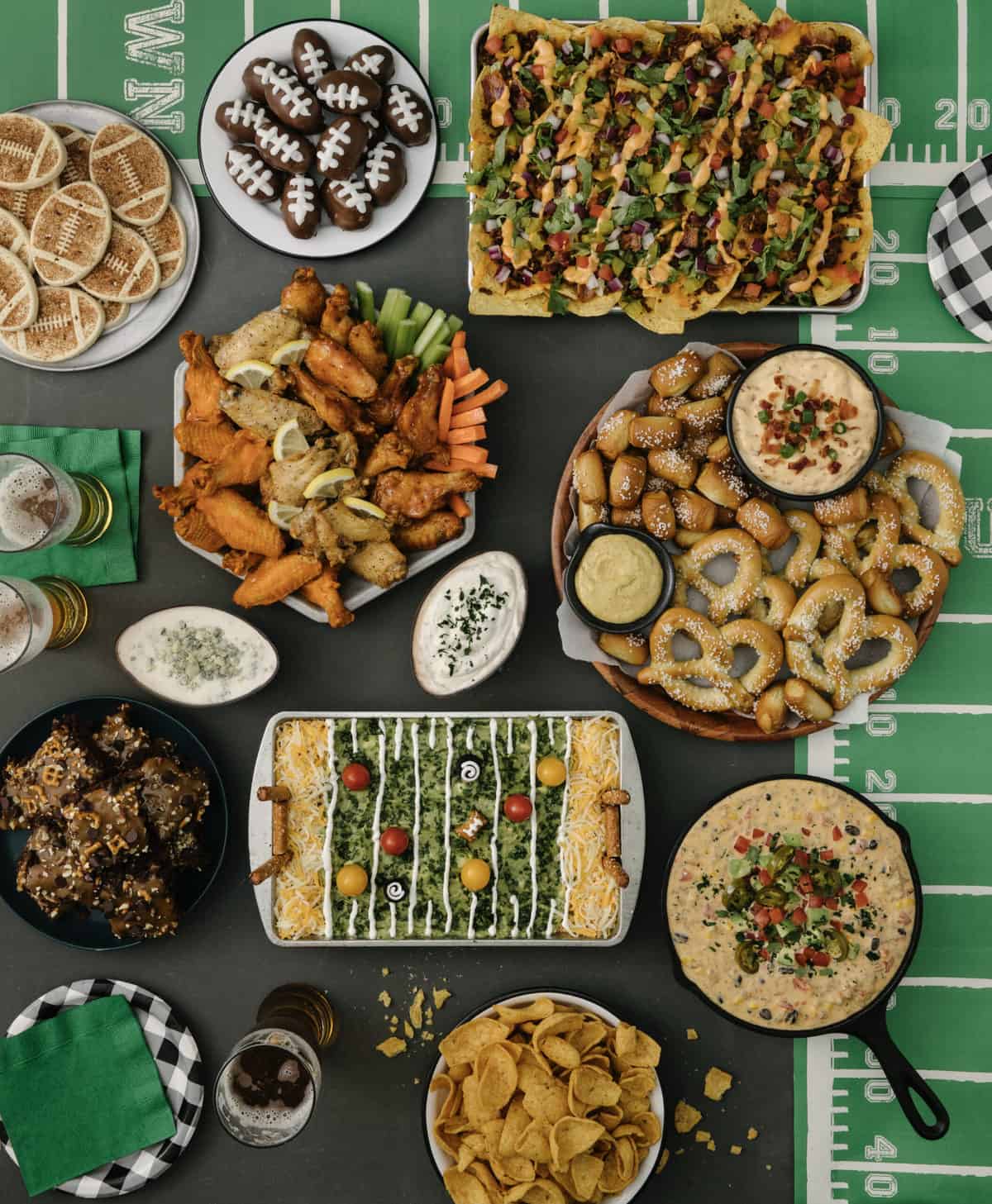 More Fun Football Food
Whether you're hosting a Super Bowl watch party and need to prepare a full spread or just need one great dish to take to a friend's house to watch the big game, I'm here to help! I have so many delicious and easy-to-make game day recipes on my blog that you're sure to win MVP of the food game with.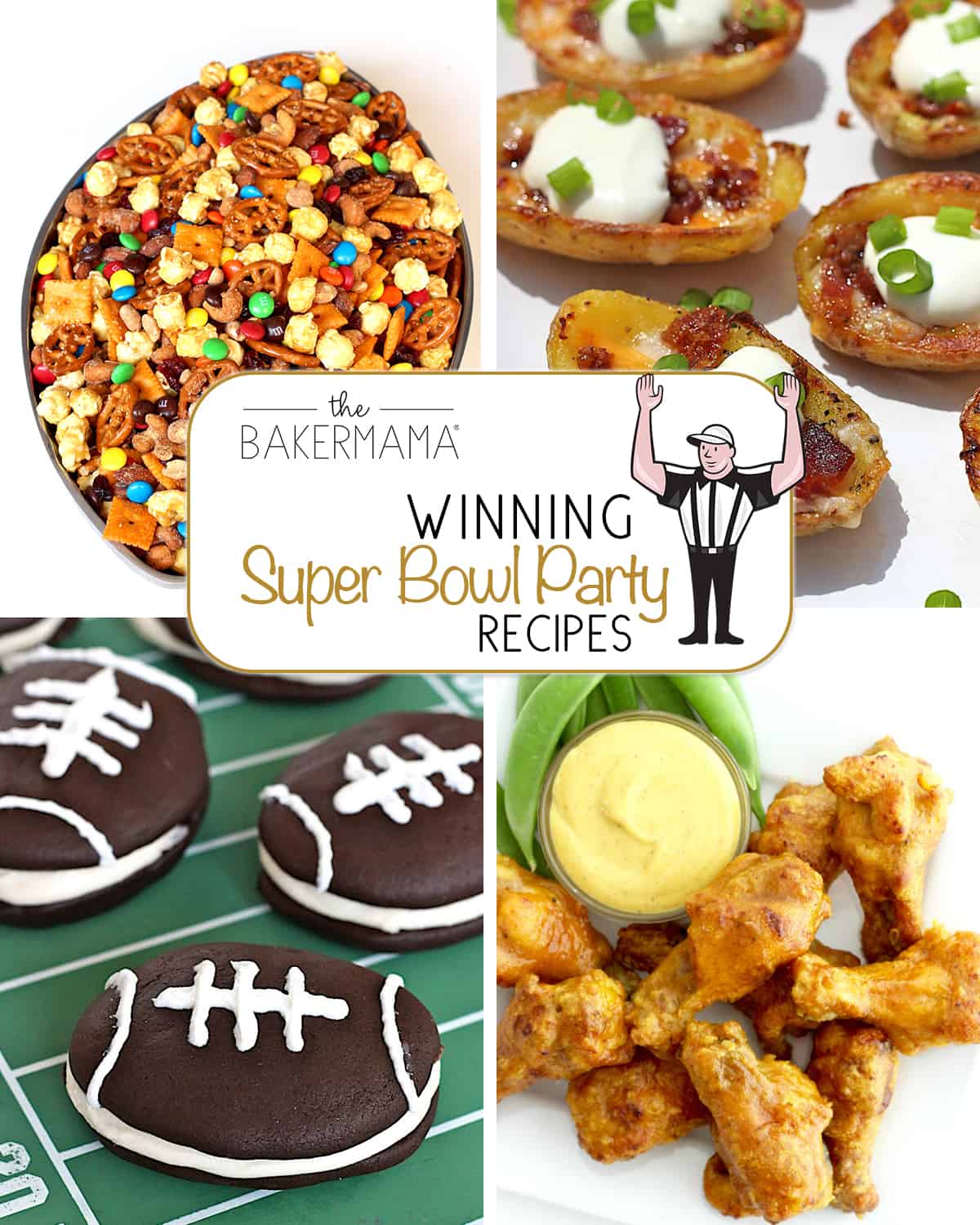 Throwing a Super Bowl party? Make hosting a game day shindig easy and enjoyable with The BakerMama's Big Game Gathering Guide. I've got decor, treats and fun activities that make watching the big game together extra exciting.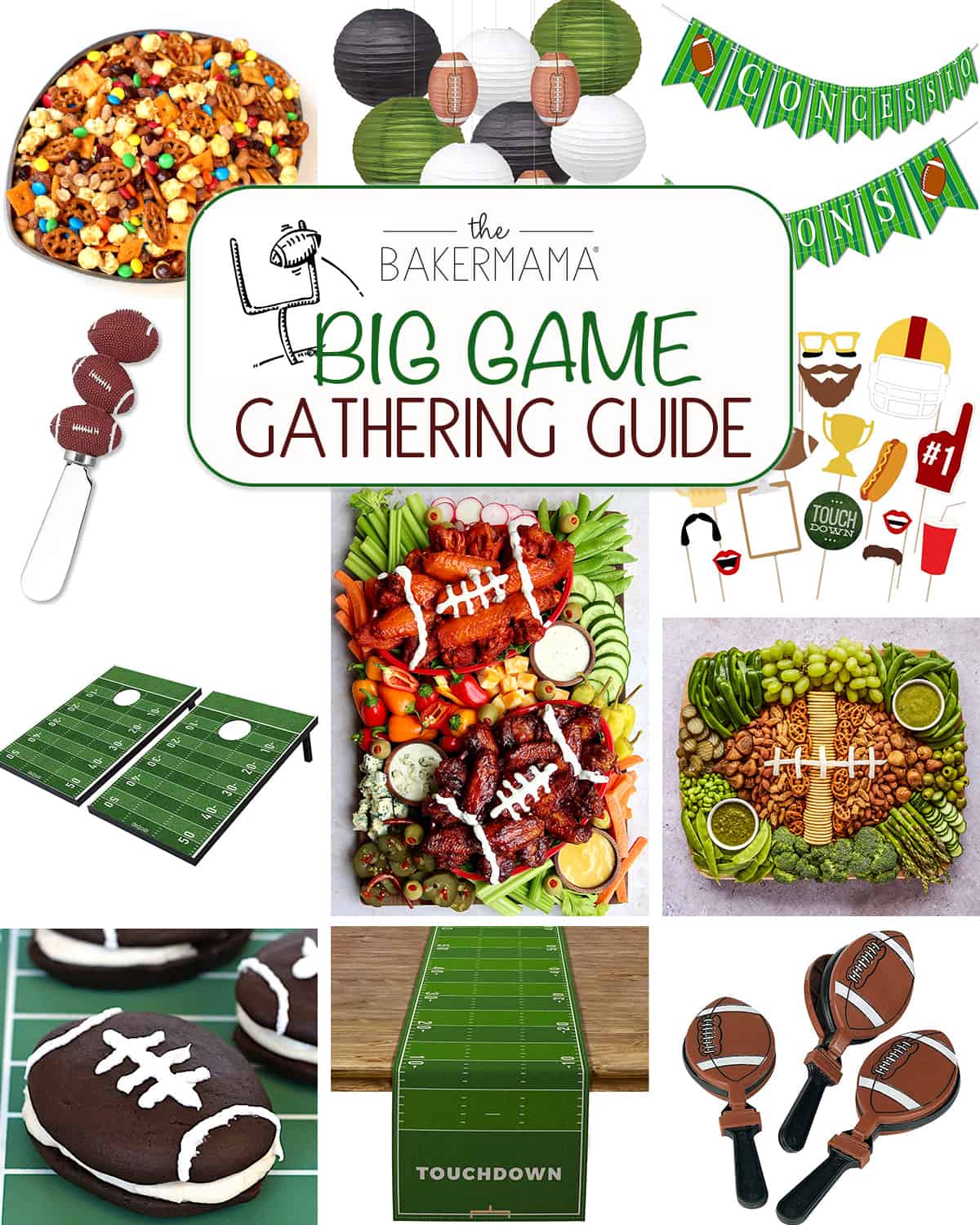 There you have it, friends! Our favorite game day boards and spreads that would all be so perfect for a Super Bowl party or any game day! I hope you and your crew enjoy these as much as we do. Dig in and may the best team win!
If you re-create any of these boards or spreads, be sure to snap a picture and share it with me on Instagram @thebakermama so I can see. I just love seeing you enjoy the inspiration I share.
xoxo,