Fully loaded or kept simple with a pat of butter, everybody gets their way with a Build-Your-Own Baked Potato Board. Potatoes with perfectly crispy, salted skins and warm, soft insides meet their match with a variety of savory toppings.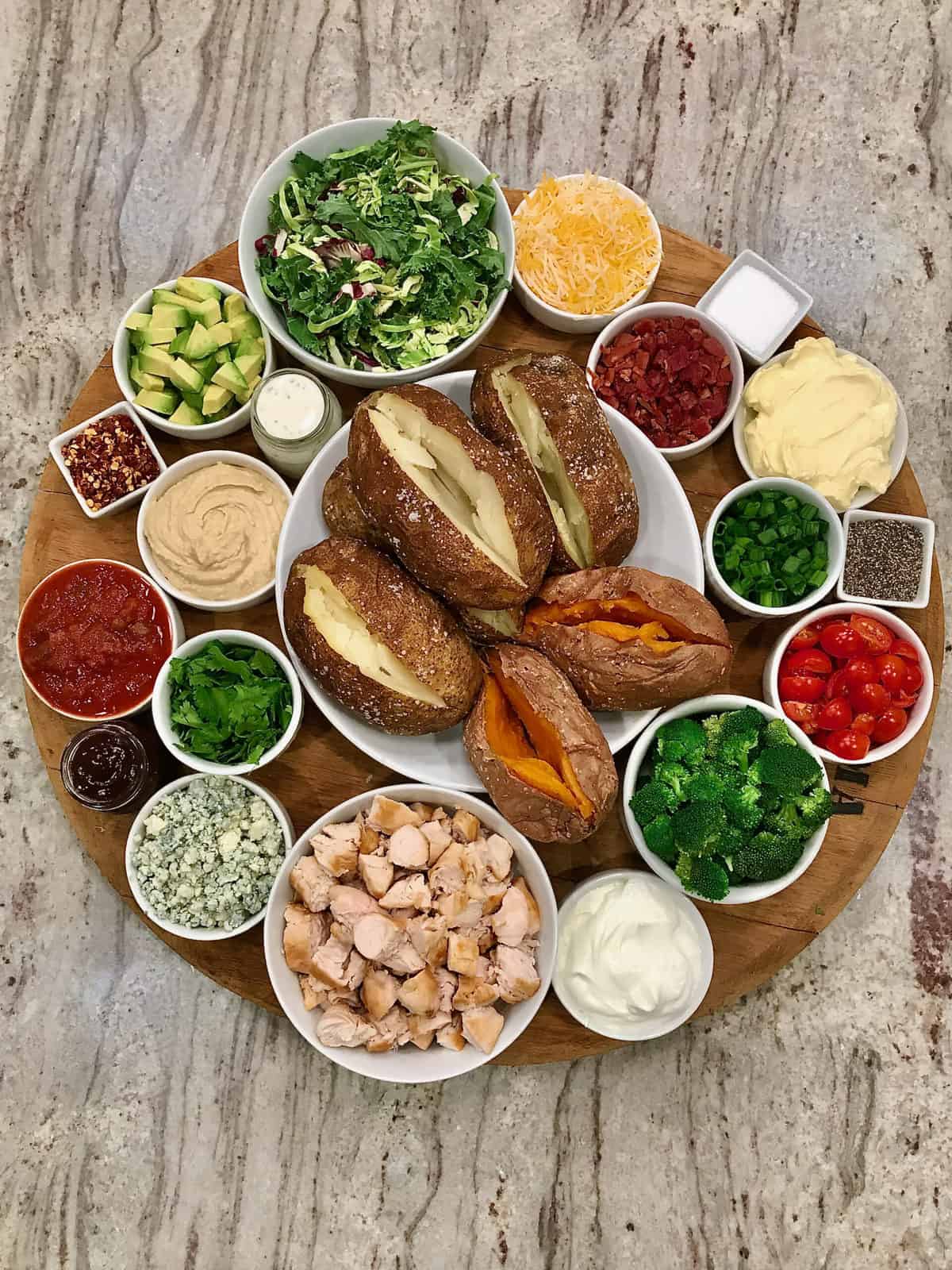 Stuff Your Spud
We all get excited about "Stuff-Your-Own Spud" night! It's such a great way to eat up leftovers that we have in the fridge from other meals we've enjoyed throughout the week. We each get to stuff our own baked potato to make it a meal with a variety of veggies, proteins and flavorful toppings. My Build-Your-Own Baked Potato Board brings the fun together for tater creativity at your fingertips.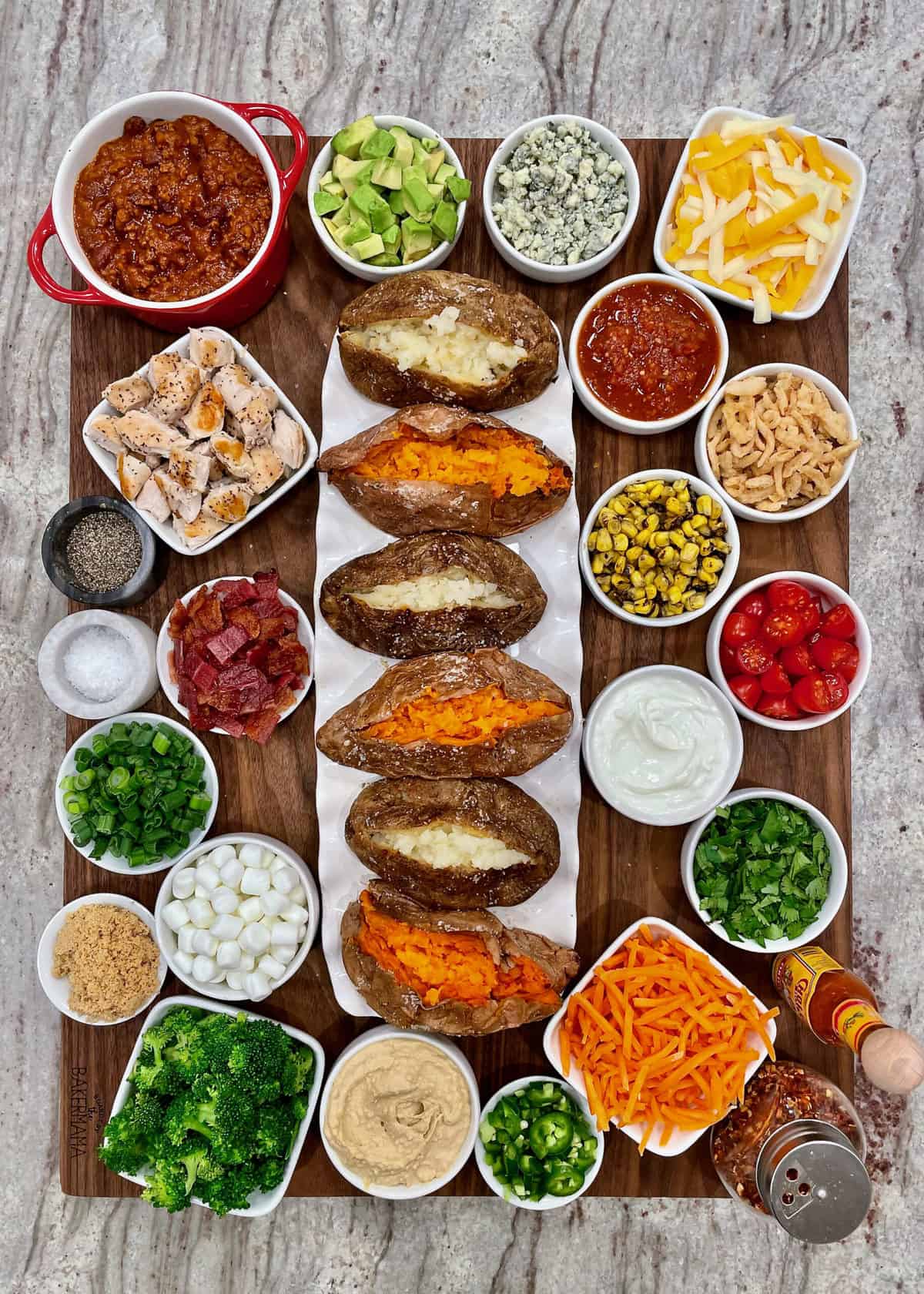 I always like to bake a few sweet potatoes in addition to regular baked potatoes because some of us will do a half of each one and top them completely differently. The crispy, salted potato skins are a must. Sometimes, I build this masterpiece on a 20-inch round wood board or more often, my 24×18 walnut wood board, which provides plenty of room for all the fixings.
How to Bake the Perfect Baked Potato
Not sure how to achieve potatoes with perfectly crisp skins and melt-in-your-mouth insides? Check out my how-to. I included all the steps to baking the perfect potato and the reasons behind them, to help you get it right every time.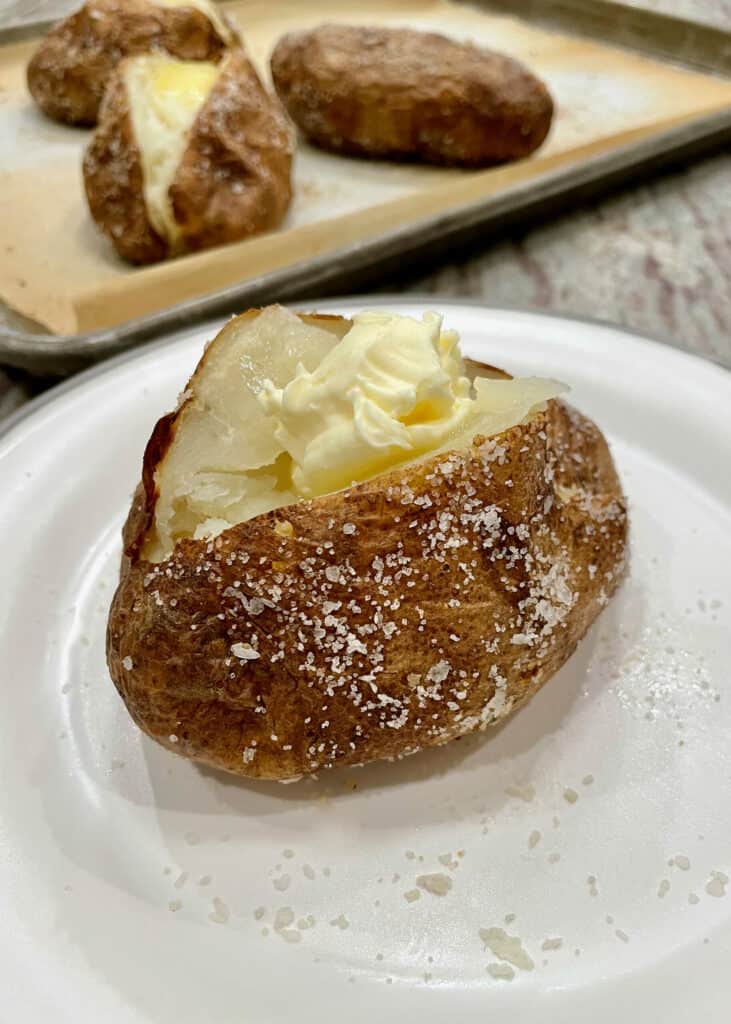 No Stopping the Toppings!
Your imagination is truly the limit when it comes to Build-Your-Own Baked Potato Board toppings. From sweet mini marshmallows to salty crispy bacon, the possibilities are endless. Just use what you have on hand and everyone is sure to find stuffing options that will satisfy! Here are some of the yummy stuffing options I have put on my family's BYO Baked Potato Boards over the years:
Butter (of course!)
Sour cream
Shredded cheese
Blue cheese
Chili (or no-bean chili)
Barbecue sauce
Avocado chunks
Chopped kale mix
Steamed broccoli
Halved cherry tomatoes
Green onions
Sliced jalapeño
Chopped cilantro
Hot sauce
Salt, pepper, and red pepper flakes
How to Make a Baked Potato Board
I like to arrange all of my sides on the board first, leaving a spot for the fresh-from-the-oven potatoes and a small pot of hot chili.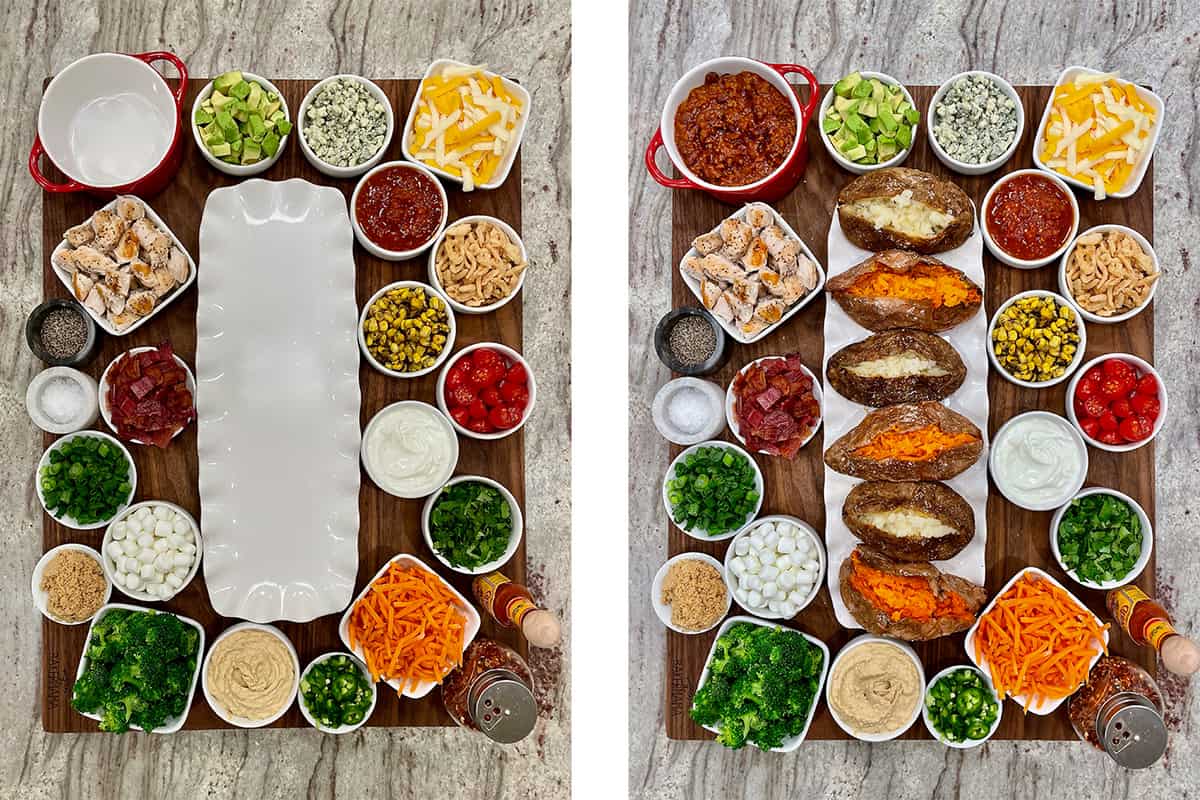 Build-Your-Own Baked Potato
This part is our favorite! Grab a spud and get to stuffin'! Once it's all loaded up, enjoy!
Every once in a while, I keep it simple. Some butter, salt, and I'm good to go. But most times, I want to pile on every yummy salty, scrumptious topping I can get my hands on and make a hearty meal of it. I get a kick out of seeing what my kids will go for each time. I love seeing them branch out and try something adventurous!
What would you stuff your spud with?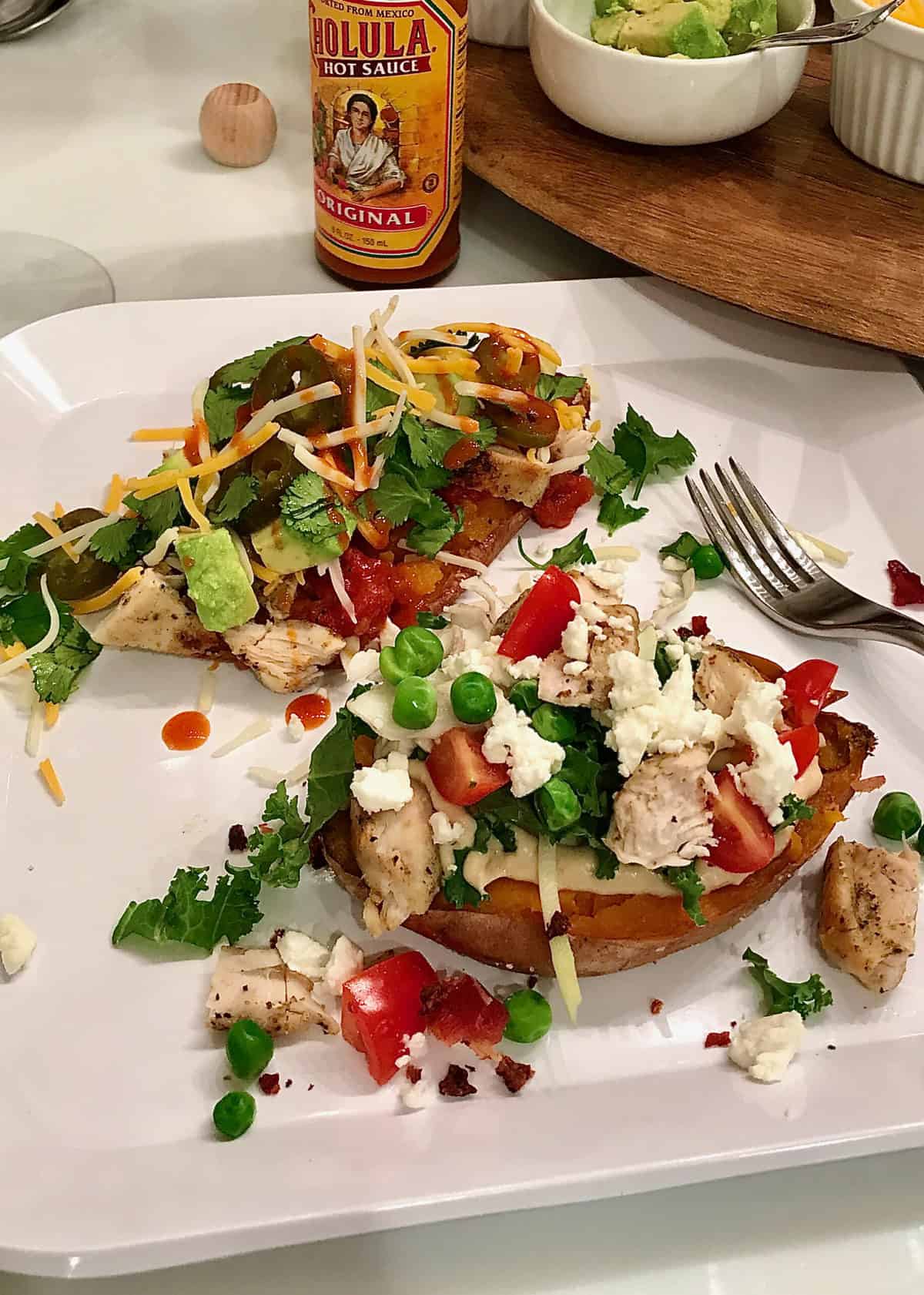 The Aftermath
With six hungry mouths, leftovers aren't usually an issue at our house. But for those friends who ask what to do with the leftover toppings, I combine most of the leftovers into one container and make it my lunch the next day! I eat them as is or create a salad out of them. If the mood strikes, I even turn them into a soup. Like I said, we usually don't have too much leftover though, as you can see.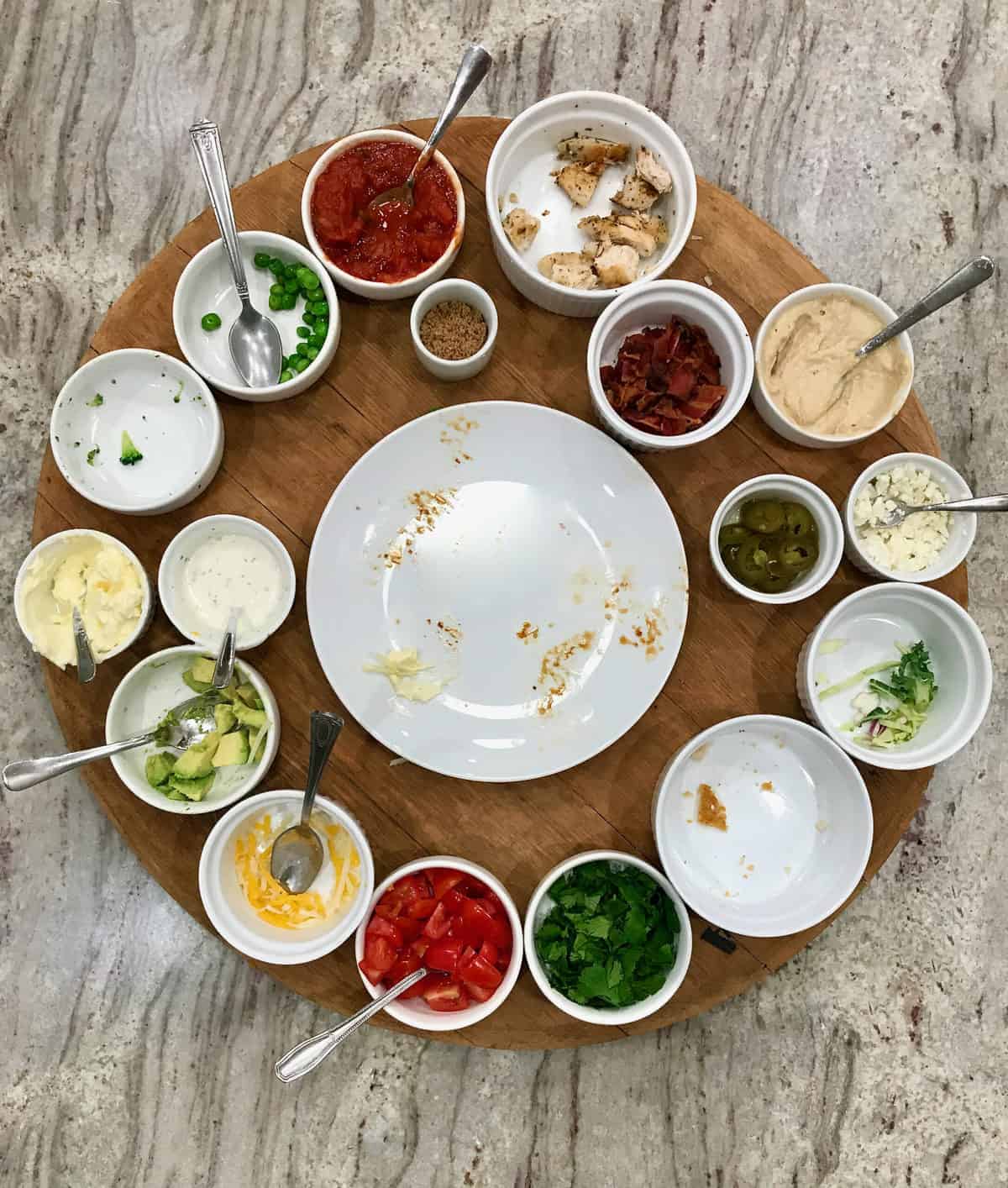 I hope you enjoy this Build-Your-Own Potato Board as much as we do! If you recreate this with your loved ones, be sure to tag me @thebakermama on Instagram so I can see how you stuff your spuds! 😍 I just love seeing how inspired and creative y'all get with the inspiration I share.
xoxo,


Print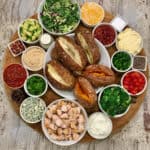 Build-Your-Own Baked Potato Board
Author:

Prep Time:

10 minutes

Cook Time:

45-60 minutes

Total Time:

45-70 minutes
---
Description
Fully loaded or kept simple with a pat of butter, everybody gets their way with a Build-Your-Own Baked Potato Board. Potatoes with perfectly crispy, salted skins and warm, soft insides meet their match with a variety of savory toppings.
---
butter
sour cream
shredded cheese
blue cheese
grilled chicken
bacon
barbecue sauce
hummus
avocado
chopped kale mix
steamed broccoli
cherry tomatoes
green onions
sliced jalapeño
cilantro
ranch
salsa
hot sauce
salt
pepper
red pepper flakes
---
Instructions
Baking Potatoes
For detailed instructions on baking potatoes, see The BakerMama's Basics: How to Bake a Potato.
Preheat Oven to 425°F
Prep baking sheet with parchment paper (and optional oiled baking rack)
Wash potatoes throughly with a vegetable brush and pierce the skin of the potato with a fork several times.
Rub with olive oil (melted butter works great, too!) and sprinkle generously with kosher salt.
Bake at 425° for 45-60 minutes, flipping potato about halfway through, if not using a rack. Check for doneness by piercing with a fork or squeezing with an oven mitt.
Arranging the Board
Place toppings in small bowls for serving and arrange around the perimeter of the board, leaving space for potatoes in the center.
Slice each potato down the middle and squeeze gently to open. Place the baked potatoes in the center of the board.
Top and enjoy!
---