Chunks of apples nestled in a chewy dough that's BAKED to perfection and coated in a sweet apple cider glaze! Simply irresistible!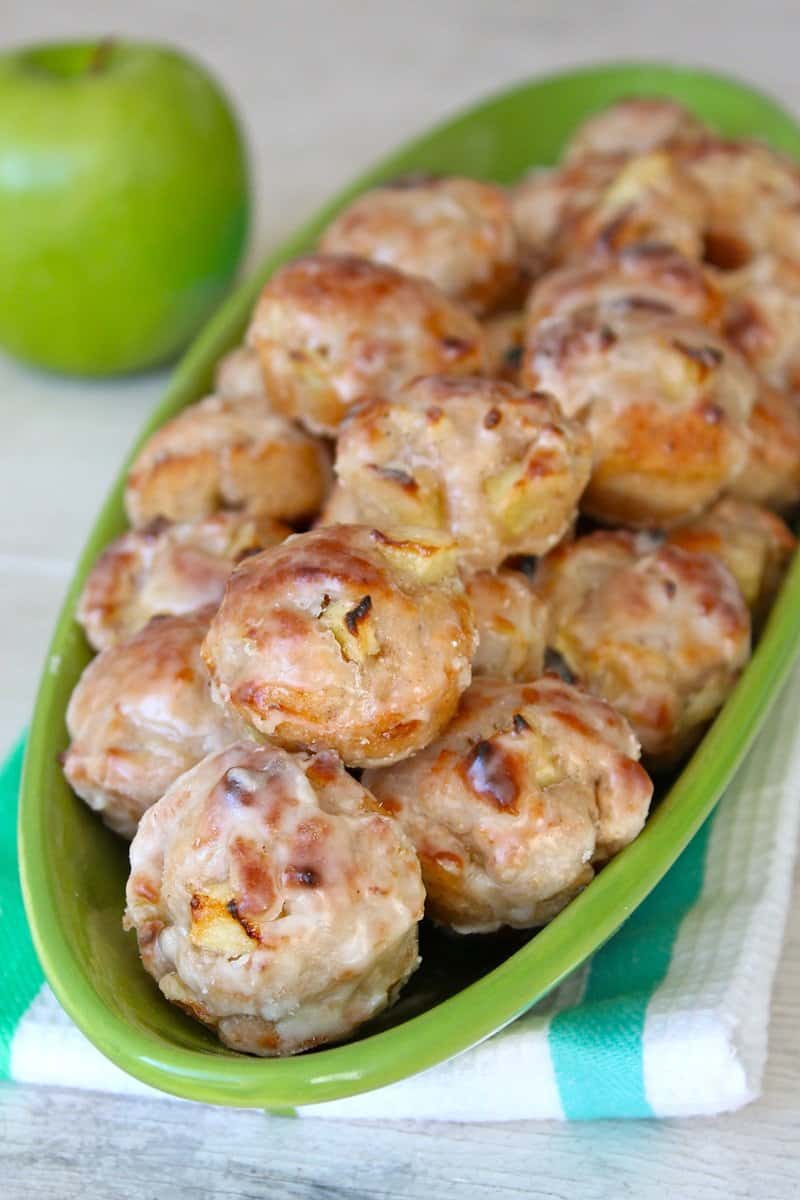 One of my absolute favorite things to get at the donut shop is a good apple fritter! They're so hard to turn down! Chunks of apples nestled in soft dough that's fried to perfection and coated in a sweet sugary glaze.
Mmmmm! Mmmmm! Mmmmm!
With the weather cooling down and apples abound, I've been craving apple fritters and decided it was due time to make my own. I'm not a huge fan of frying things at home because it's usually a mess, so I decided to create a baked version instead. I knew this would be tricky because nothing usually beats a good fried apple fritter, but I took the risk and I'm proud to report…I succeeded! These Baked Apple Fritters are the real deal and you'd never guess they weren't fried.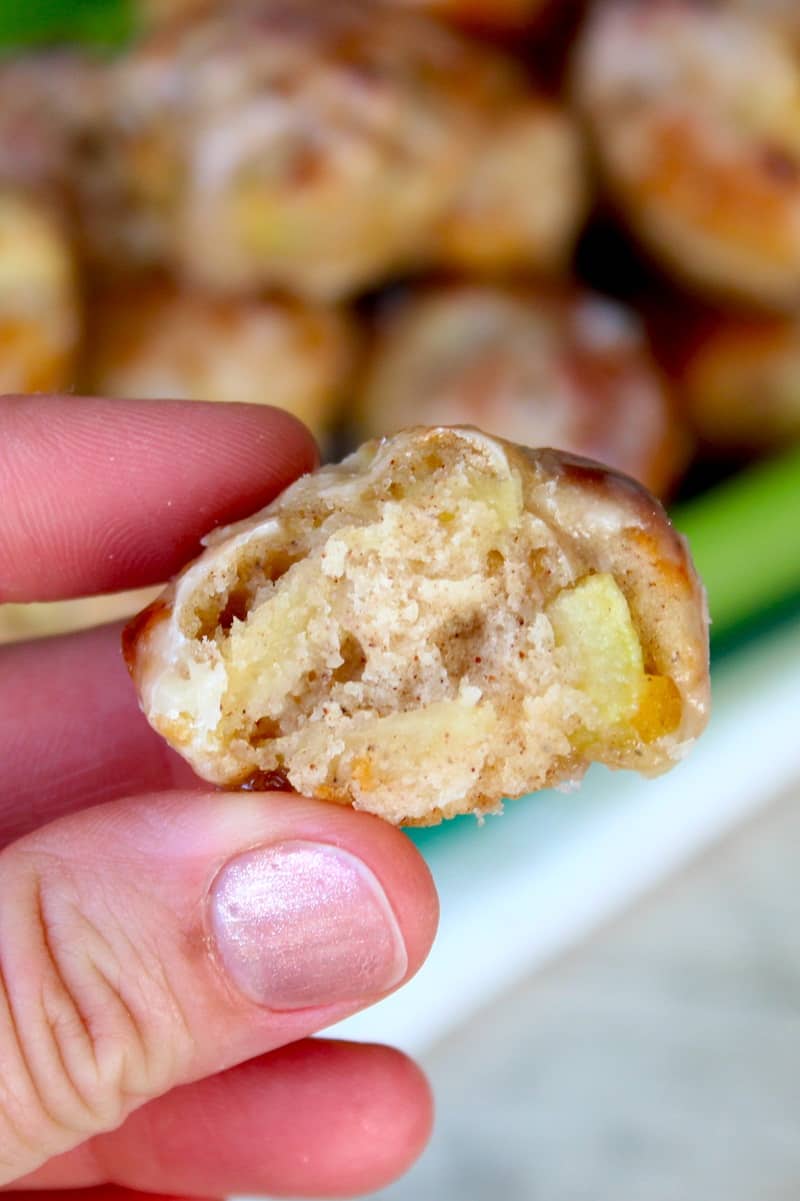 I love that they're bite-sized for easy eating and they have a strong apple flavor from the outside in. Once they came out of the oven, we couldn't resist. It's a miracle I actually had some to photograph for you! They're amazing and addicting!
So if you're looking for a special treat to bake for breakfast, brunch or a midnight snack, these Baked Apple Fritters are sure to be a hit! Let me show you how they're baked!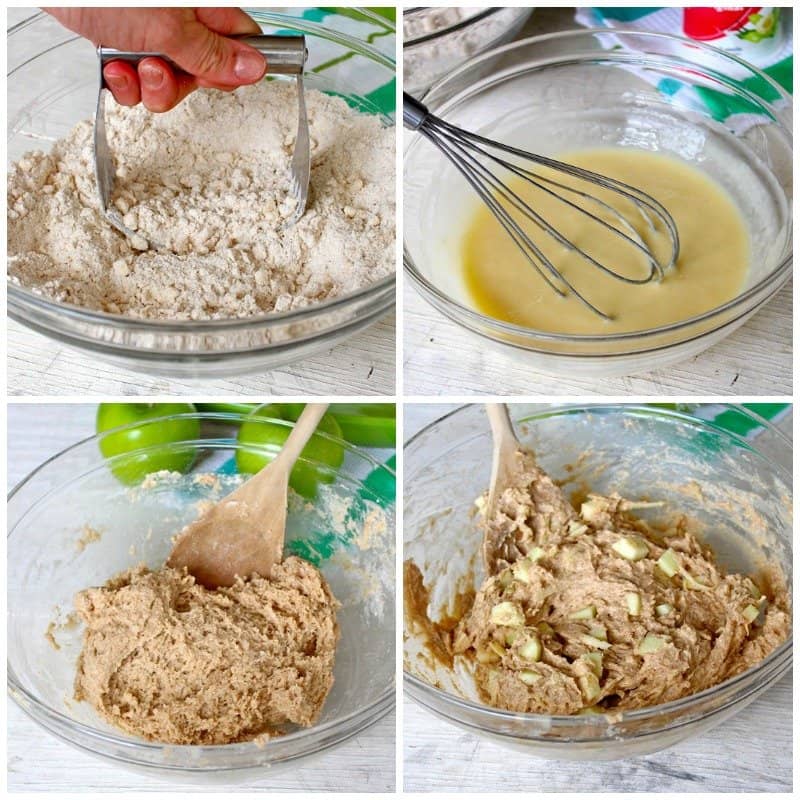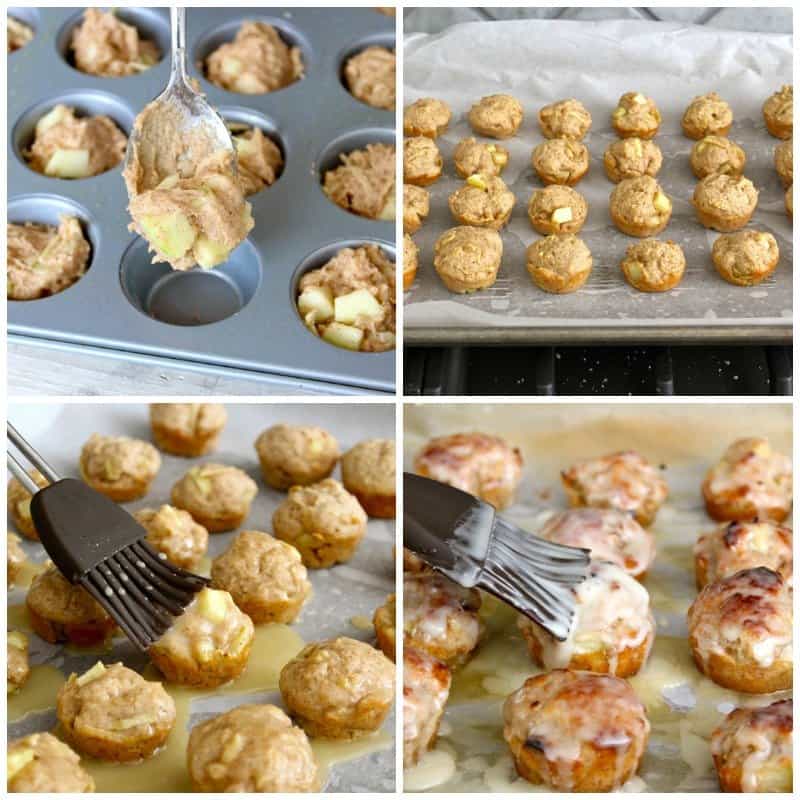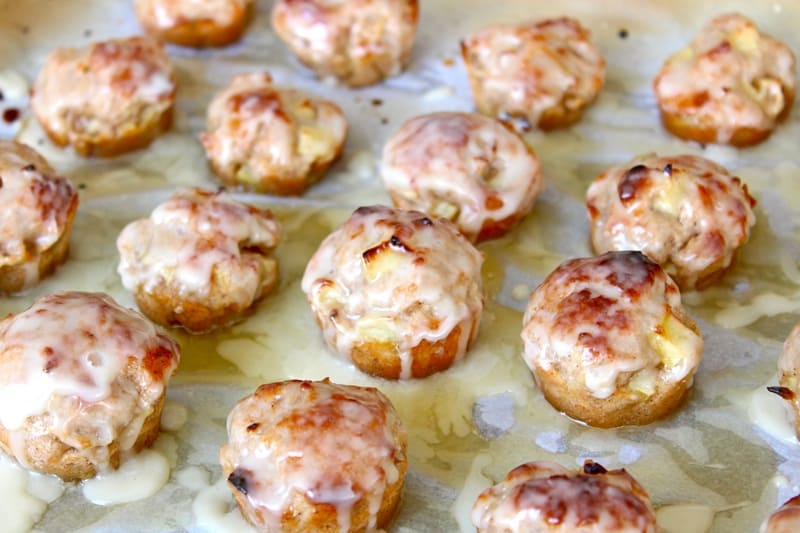 Simply irresistible! Enjoy!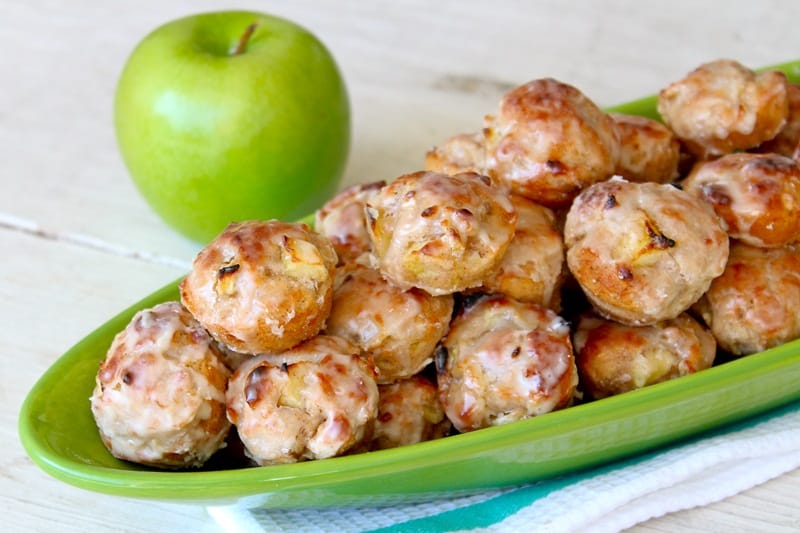 Enjoy!

This recipe was created as part of my partnership with Gold Medal Flour however thoughts and opinions are certainly my own!

Baked Apple Fritters
Chunks of apples nestled in a chewy dough that's BAKED to perfection and coated in a sweet apple cider glaze! Simply irresistible!
Author:
Maegan - The BakerMama
Ingredients
1-1/2 cups all-purpose flour
½ cup granulated sugar
2 teaspoons baking powder
½ teaspoon salt
2 teaspoons cinnamon
¼ teaspoon nutmeg
6 tablespoons cold butter
1 large egg
½ teaspoon vanilla
1 (6 ounce) container Yoplait very vanilla yogurt
1 cup chopped apple (about 1 large apple)
½ cup shredded apple (about 1 small apple)
2 cups powdered sugar, divided
⅓ cup apple cider
Instructions
Preheat oven to 350°F. Lightly spray two mini muffin pans with non-stick cooking spray.
In a large bowl, whisk together the flour, sugar, baking powder, salt, cinnamon, and nutmeg. Cut in the butter with a pastry blender or two knives until coarse crumbs form.
In a small bowl, whisk together the egg, vanilla and yogurt. Add the yogurt mixture to the flour mixture and stir until well combined. Fold in the apples.
Place a few teaspoons of batter in each muffin cup. Bake for 15 minutes until they just start to brown.
Remove the fritters from the oven and turn the oven broiler on high. Line two cookie sheets with parchment. Transfer the fritters to the cookie sheets.
In a small bowl, whisk together 1 cup powdered sugar and 4 tablespoons apple cider. The glaze should be very thin. Brush the glaze over each fritter and let it drip down the sides. Return the fritters to the oven and broil for 2-4 minutes until the glaze starts to caramelize the tops of each fritter. Rotate the baking sheets every minute to insure even caramelization. Be sure to watch the fritters carefully so they don't blacken and burn.
Remove from the oven. Whisk remaining powdered sugar and apple cider into leftover glaze until it's smooth and thick. Brush glaze evenly over broiled fritters. Let set on cookie sheets until glaze hardens, about 15 minutes.
Notes: Store in the refrigerator. Reheat in the microwave for 15-20 seconds or in the oven at 350°F for 5-10 minutes.