Fresh blueberries baked into bite-sized fritters that are tender on the inside, crisp on the outside and coated in a sweet blueberry glaze. Blueberry bliss!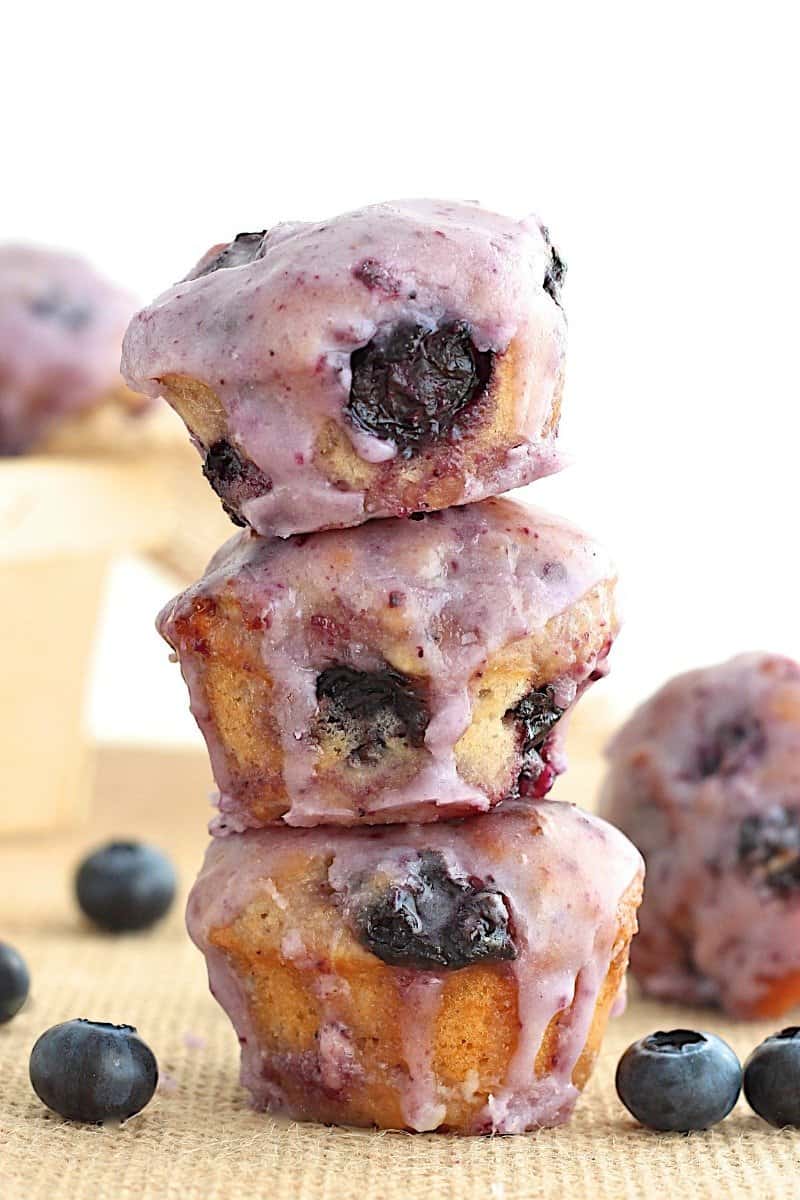 I love fritters! Fritters are my fave!
Seriously, I can't go to a new donut shop without trying their fritters. If you can't fry a good fritter, then you can't call yourself a good donut shop. 😉
A few years ago, I came up with a great recipe for Baked Apple Fritters and last year I created an amazing Baked Pumpkin Fritter Bites recipe. Have you tried either recipe?! If not, you must, you must! They're to die for!
Well, I couldn't let this year go by without sharing another fritter bite recipe and blueberry was a no-brainer for the flavor choice. Blueberry fritters are definitely my fave!
These little bites of blueberry bliss turned out so so delicious!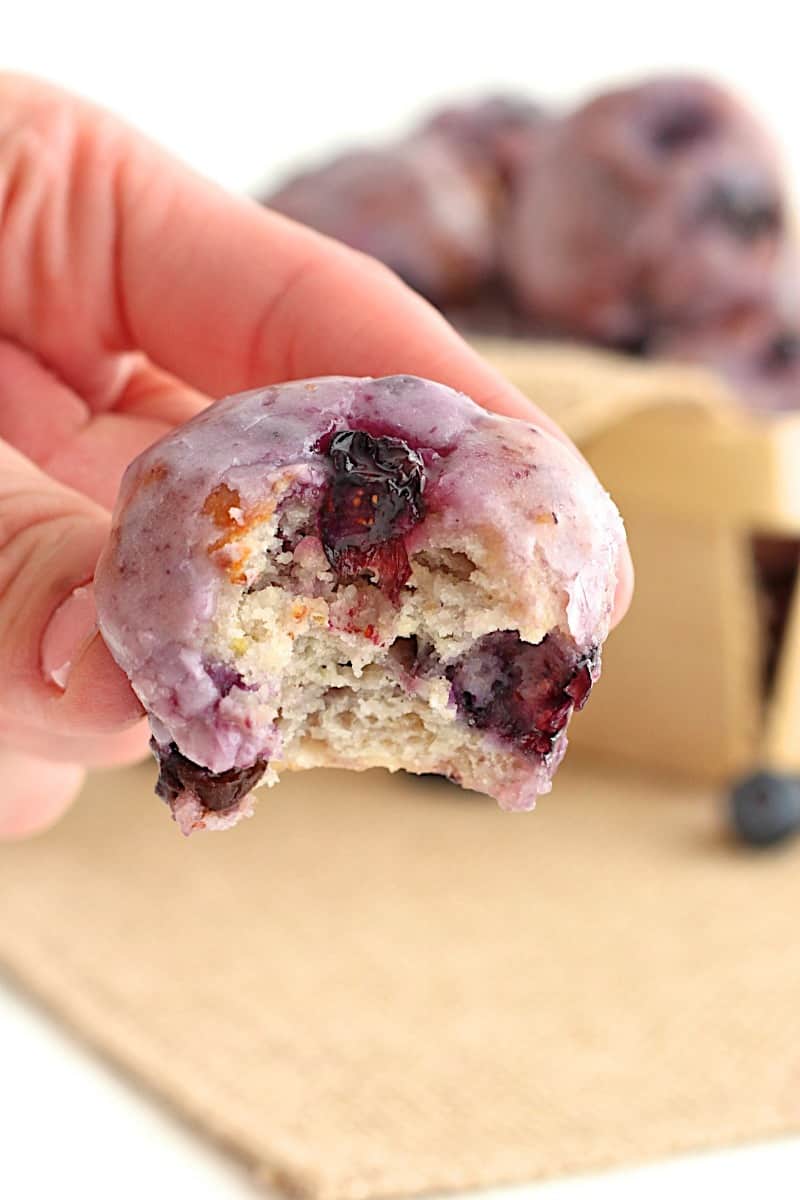 Moist and tender on the inside with fresh juicy blueberries all throughout while still nice and crisp on the outside (like a good fritter should be!). They're covered in a sweet blueberry glaze for an even bolder blueberry fritter experience.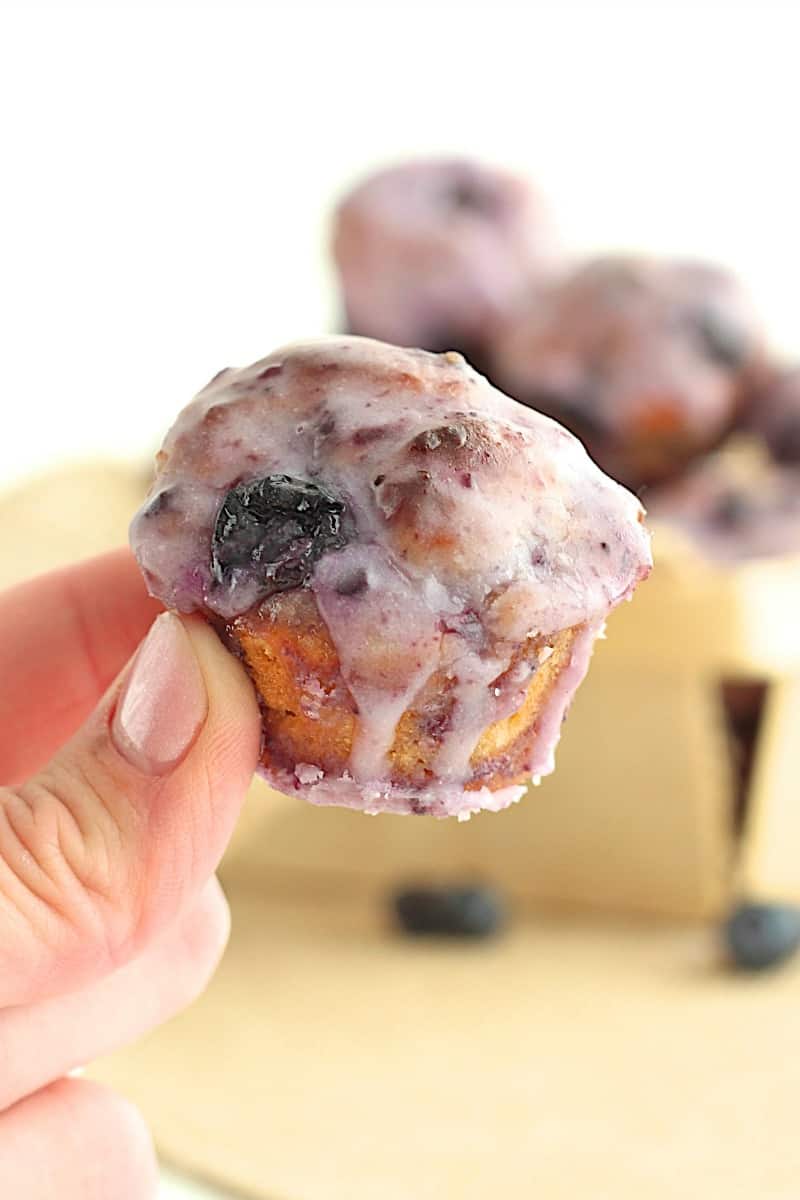 These little fritter bites are always a crowd favorite when I make them for breakfast or brunch. They're easy to make, hard to believe they're baked, and party perfect!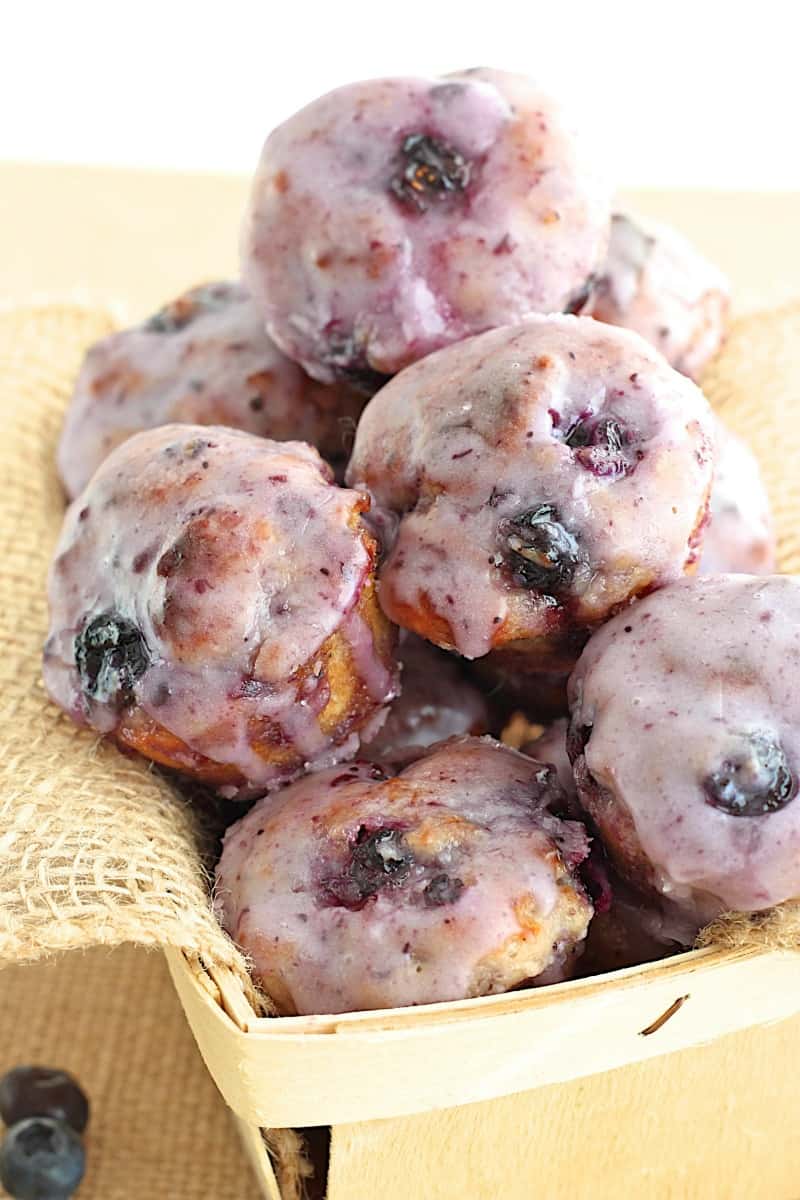 I betcha can't eat just one! 😉
If you're a blueberry fritter lover like me, you'll go crazy over these baked blueberry fritter bites. So fun and yummy yum yum! Enjoy!
xoxo,

For similar step-by-step recipe images, see Baked Pumpkin Fritter Bites recipe.

Baked Blueberry Fritter Bites
Fresh blueberries baked into bite-sized fritters that are tender on the inside, crisp on the outside and coated in a sweet blueberry glaze. Blueberry bliss!
Author:
Maegan - The BakerMama
Ingredients
1-1/2 cups all-purpose flour
½ cup granulated sugar
2 teaspoons baking powder
½ teaspoon salt
6 tablespoons unsalted butter, melted and slightly cooled
1 large egg
1 teaspoon vanilla
2 (5.3 ounce) containers blueberry greek yogurt
1 cup fresh (or frozen) blueberries
Blueberry Glaze:
2 cups powdered sugar
⅓ cup milk
2 teaspoons blueberry jam or mashed fresh blueberries
Instructions
Preheat oven to 350°F. Lightly grease a 24-cup mini muffin pan with non-stick cooking spray.
In a large bowl, whisk together the flour, sugar, baking powder and salt.
In a small bowl, whisk together the melted butter, egg, vanilla and yogurt. Add the yogurt mixture to the flour mixture and stir until well combined. Fold in the blueberries.
Scoop batter evenly into prepared muffin cups, filling each one almost full. Bake for 15 minutes or until they just start to turn light brown on top.
Remove the fritters from the oven and turn the oven broiler on high. Line a baking sheet with parchment paper. Transfer the fritters to the baking sheet.
In a small bowl, whisk together powdered sugar, milk and blueberry jam until smooth.
One fritter at a time, dip the top into the glaze and set upright back on the baking sheet for the glaze to drizzle down the sides of the fritter. Place fritters in the oven and let broil until they start to crisp and caramelize on top, about 3-4 minutes. Rotate the baking sheets every minute to insure even caramelization. Be sure to watch the fritters carefully so they don't blacken and burn. Once fritters start to turn brown in spots, remove from oven. Brush remaining glaze over the tops of the fritters. Let glaze set for about 15 minutes before enjoying them.
Notes
Store in the refrigerator. Reheat in the microwave for 15-20 seconds or in the oven at 350°F for 5-10 minutes.