Make hosting a game day shindig easy and enjoyable with The BakerMama's Big Game Gathering Guide. I've got decor, treats and fun activities that make watching the big game together extra exciting.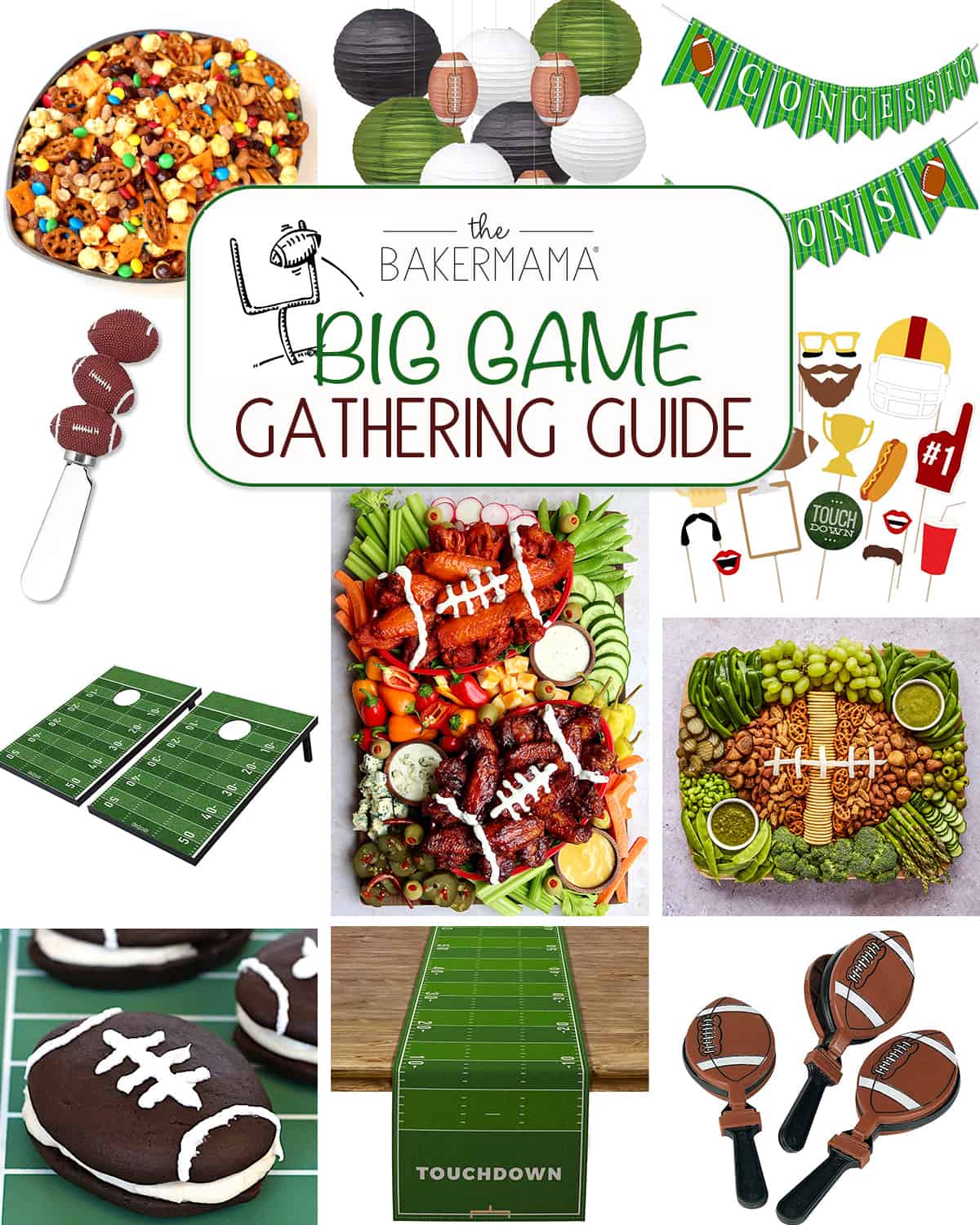 The BakerMama's Gathering Guides
I created my Gathering Guides to help you make special occasions even more special. With tons of fun details, and of course great food, you can create fun memories with your family and friends–without a lot of fuss. Enjoy!
Putting the Super in Super Bowl, The Champ in Championship
We are a football family. Like, that kind of football family. College, pro, or our boys' games–during football season, our weekends revolve around football, friends and, of course, great food! And, honestly, in the off-season, we're thinking about football and food. 😂 So I'm super excited to share my Big Game Gathering Guide to help you throw an amazing Super Bowl party, or gather for any game you want to make more special with great food and friends.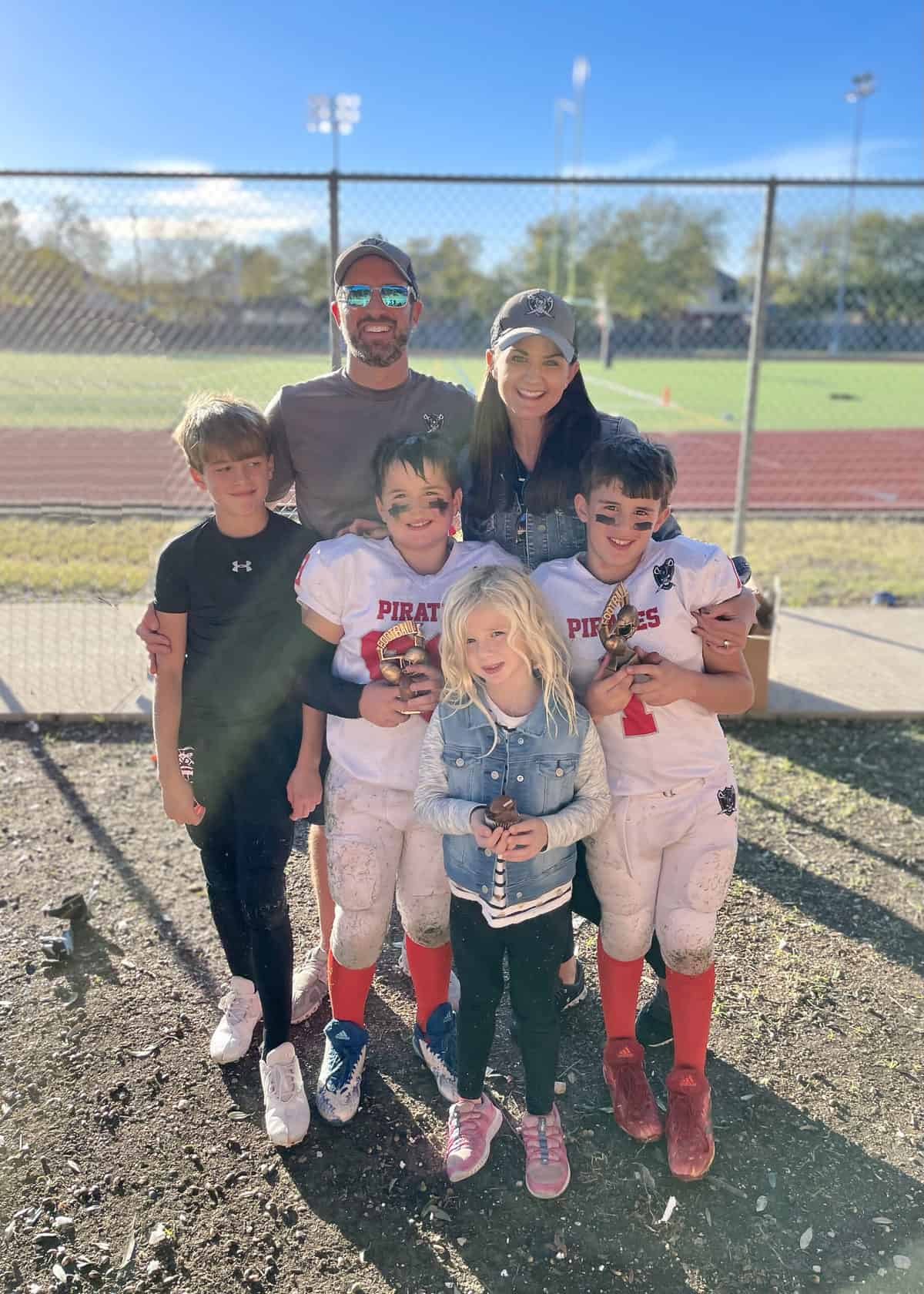 Set the Scene
No fuss, or go all out, these game day party decorations will help set the scene for a winning celebration. These might just be my favorite paper lanterns yet! And this table runner or this one or even this one would make the perfect backdrop for all your football-themed goodies or a great spread. Let 'em know where to go for all the good stuff with this fun concessions banner.
Keep it tight n' tidy with a football field themed fitted table cloth. This would work great on a folding table set up for a buffet! An all-in-one set of football party supplies has just about everything, making setting up simple! These plates, cups, and napkins ask the all-important question, "Are you ready for some football? YES!
Cheese lovers and football lovers will tackle that charcuterie board with these super cute, football-themed spreaders. Serve chips and dip in a football-shaped tray, but don't be surprised if it gets intercepted! And score extra points when you make fruit skewers with these field goal picks. So cute!
Perfect for serving snack mixes to dessert, these football field paper bowls are versatile and handy. Keep 'em cold with an inflatable football field cooler. Football touchdown snack bowls (or these) can handle larger snacks like nachos or chili and cornbread. YUM.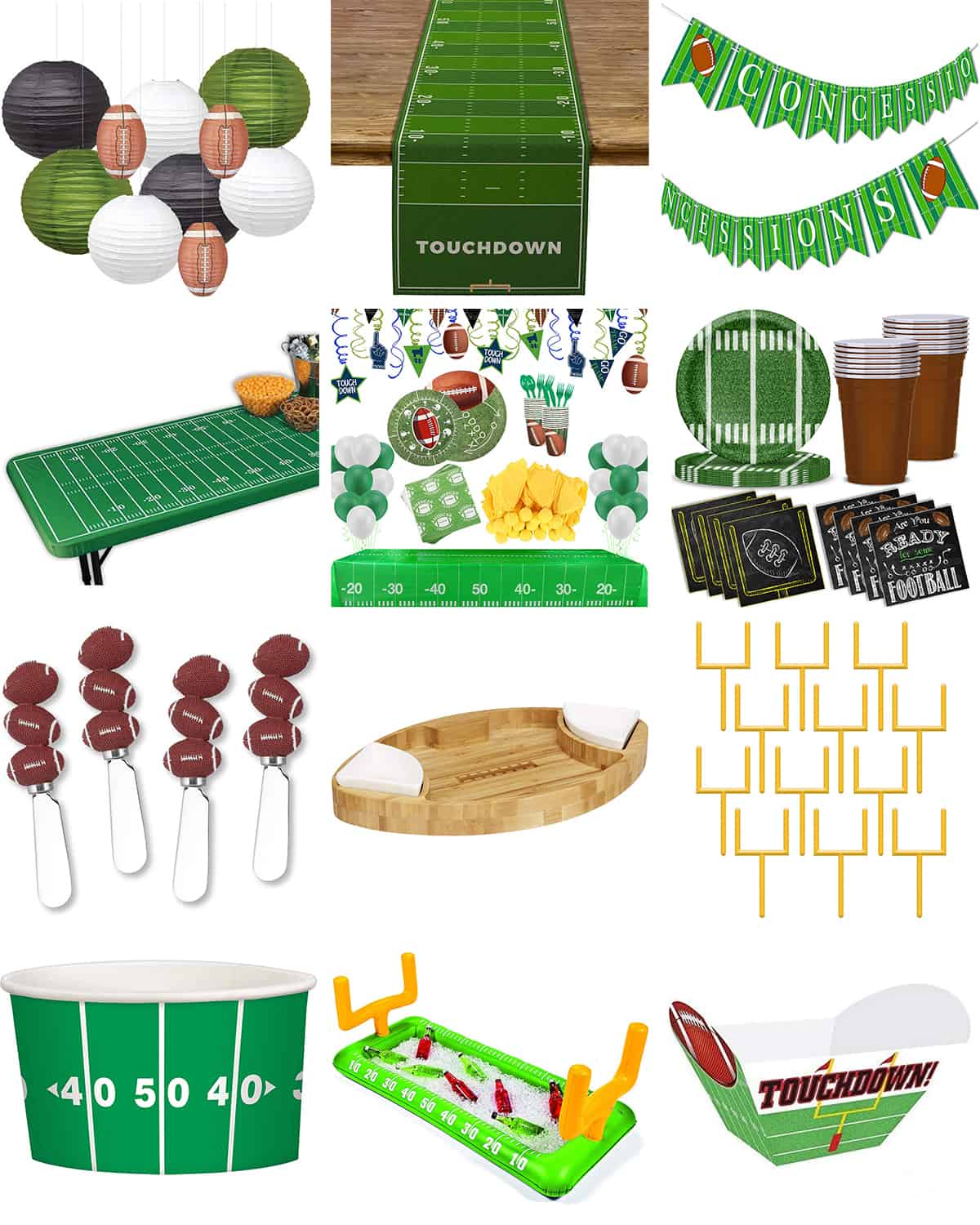 Fun and Games
Not everyone at your party will be there for the game. Whether it's for the kiddos with extra energy to burn or the supportive spouse who's maybe not that into football, everyone is welcome and there's something to keep them entertained! We love a silly photo booth, and these props are a great time. Why not show off your fanatic side with a fun photo frame! Let the kids take out some pent-up excitement on a football-shaped piñata (or this one)!
Keep nervous hands busy with mini foam footballs. You might want to put away any breakables first! While you're pre-gaming, let 'em test their QB skills with a football target toss game! Winner gets bragging rights and a pass from dish duty. This NFL Jenga game is so fun! Customize it with your favorite team and see how steady your hand is!
Get some fresh air and step up to the challenge with some football corn hole. No roughing the kicker! Your party guests will love kicking around this giant inflatable football and tee.
Let's make some noise! Grab a pair of football clappers and cheer on your team. Let everyone log their game predictions in a football pool and let winner take all! And in case you thought we forgot, it's your Gathering Guide bingo! I love the idea of this TV Commercial Bingo!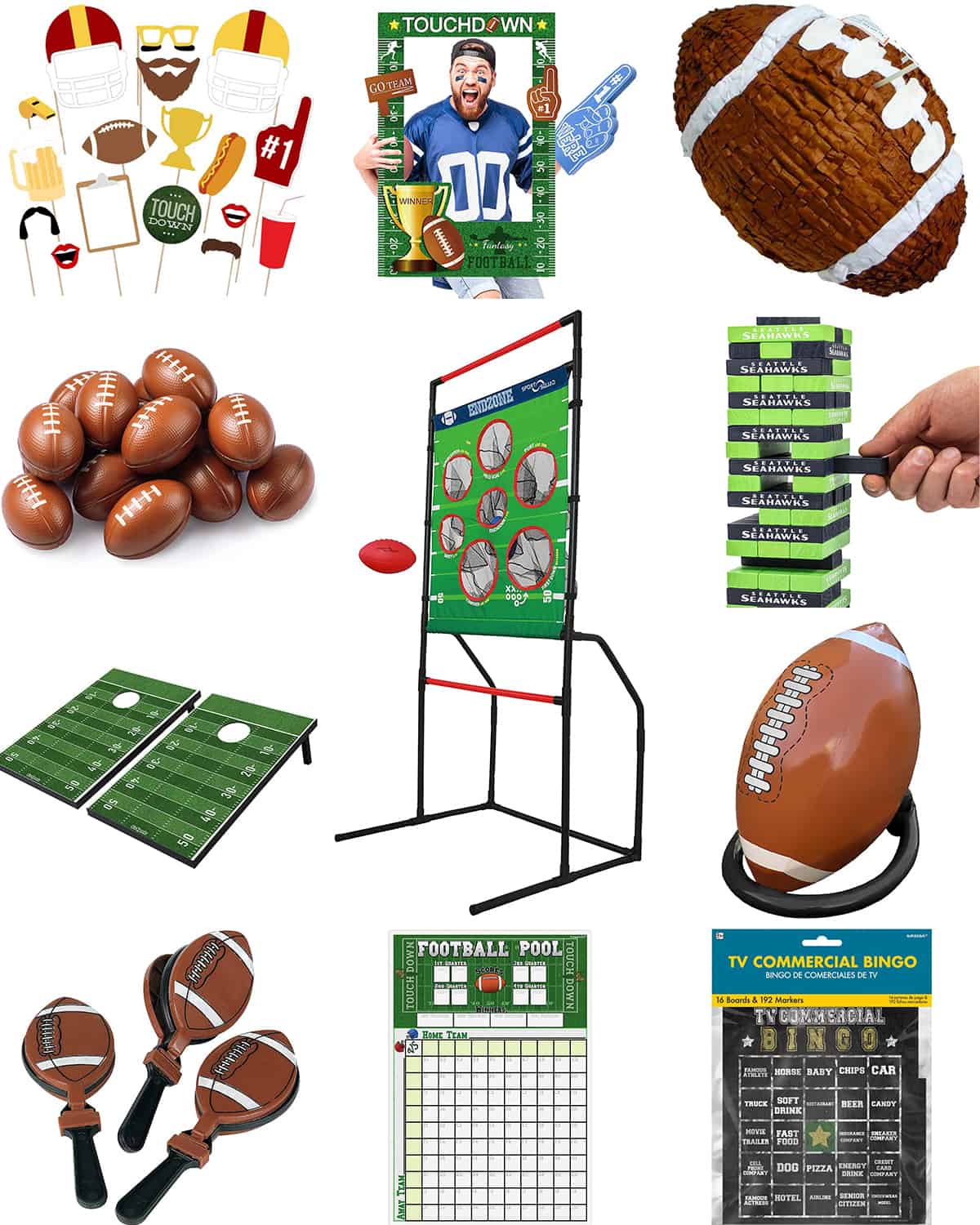 Feed the Crowd!
If you're not there for the game, you're really there for the food. Because we all know that it's the FOOD that makes a game day party! Win big with these Game Day Boards and Snack Trays. From first bites to hearty snacks and sweet treats, these boards will help you celebrate game time deliciously!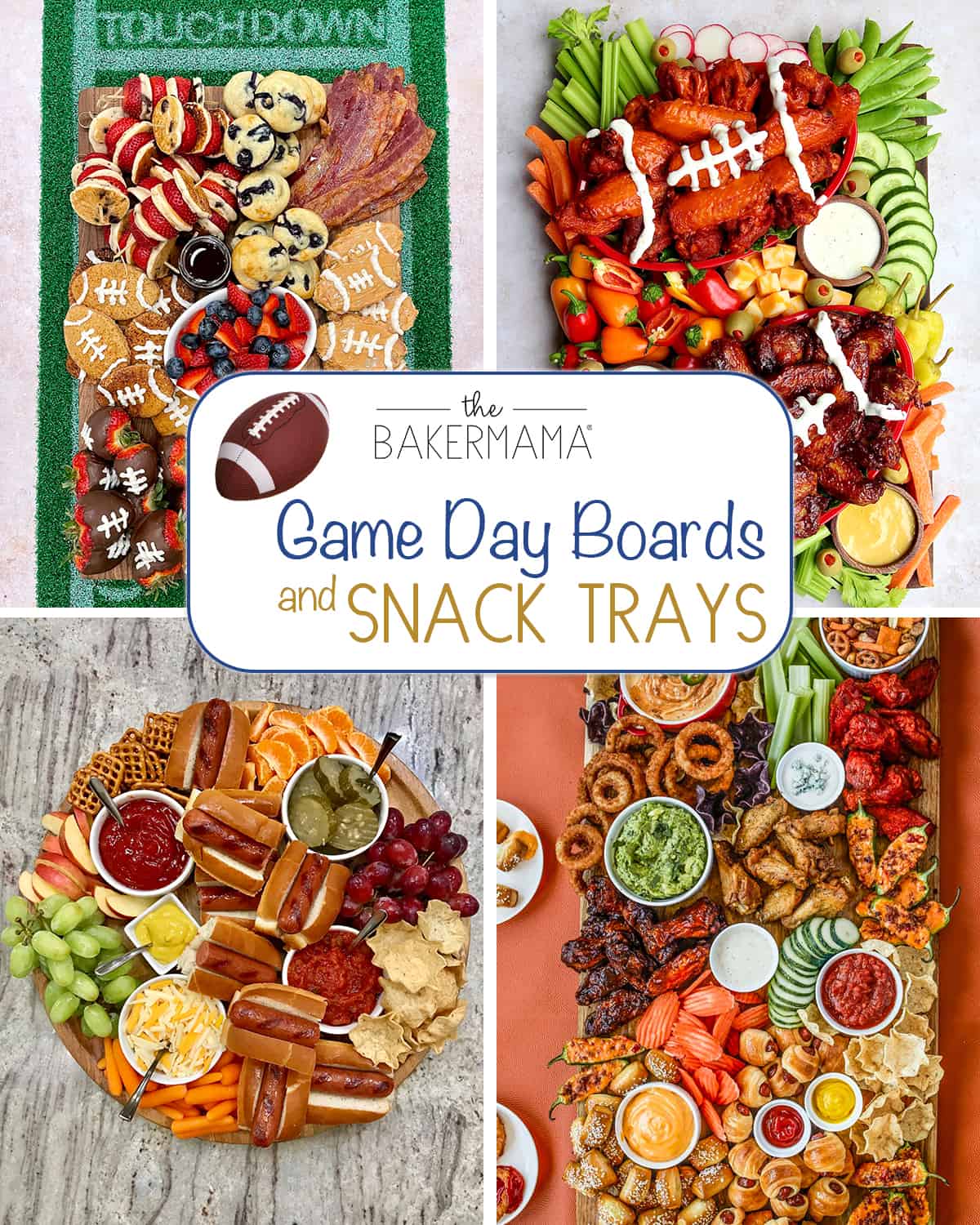 Whether you're hosting a Super Bowl watch party and need to prepare a full spread or just need one great dish to take to a friend's house to watch the big game, I'm here to help! I have so many delicious and easy-to-make game day recipes on my blog that you're sure to win MVP of the food game with.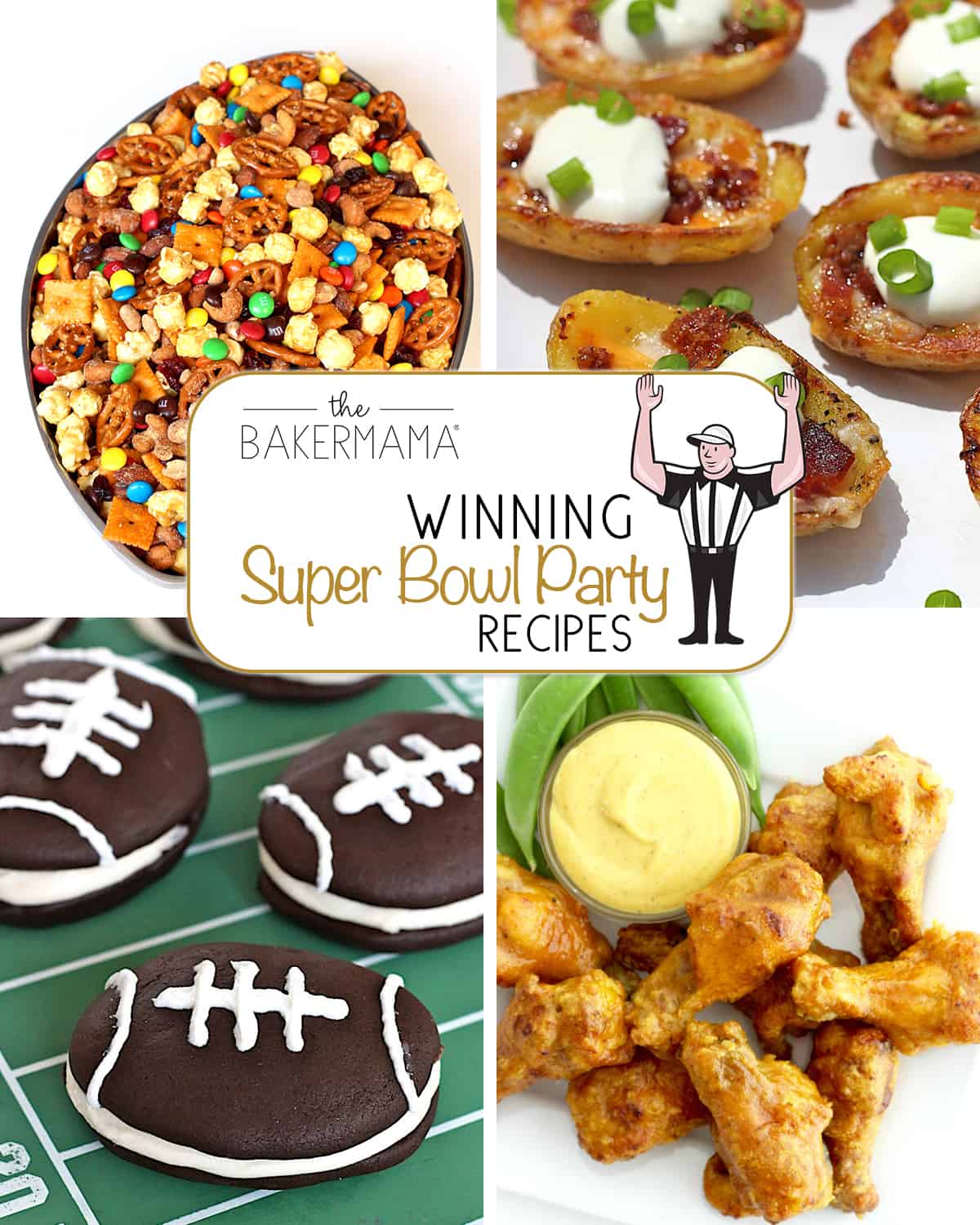 Warm up with one of the cheese dips (or both!), hit your stride with cheeseburger nachos and wings, score big with football field layer dip and bring it home with chewy, fudgey brownies or chocolate covered peanut butter footballs. All of the recipes can be found in The Big Game Spread on pages 147-151 of my Spectacular Spreads cookbook. From the coin toss to the final whistle, this spread is guaranteed to be a winner!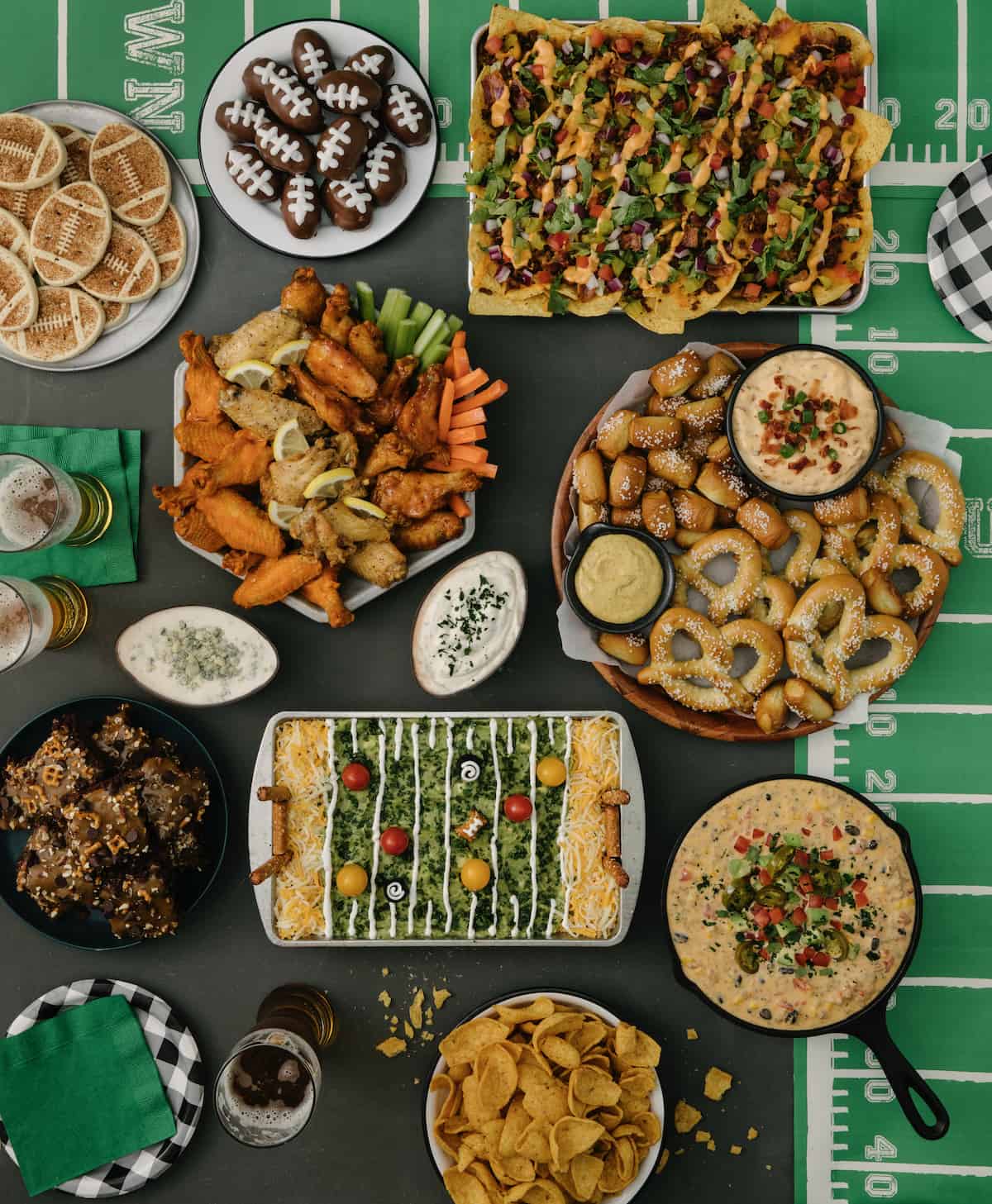 Kick off game day with this Tailgate Brunch Spread from pages 141-145 of my Spectacular Spreads cookbook. It's a winning lineup of football themed finger foods like football-themed deviled eggs and football-shaped cinnamon rolls. You're sure to be the real MVP when you serve this spread!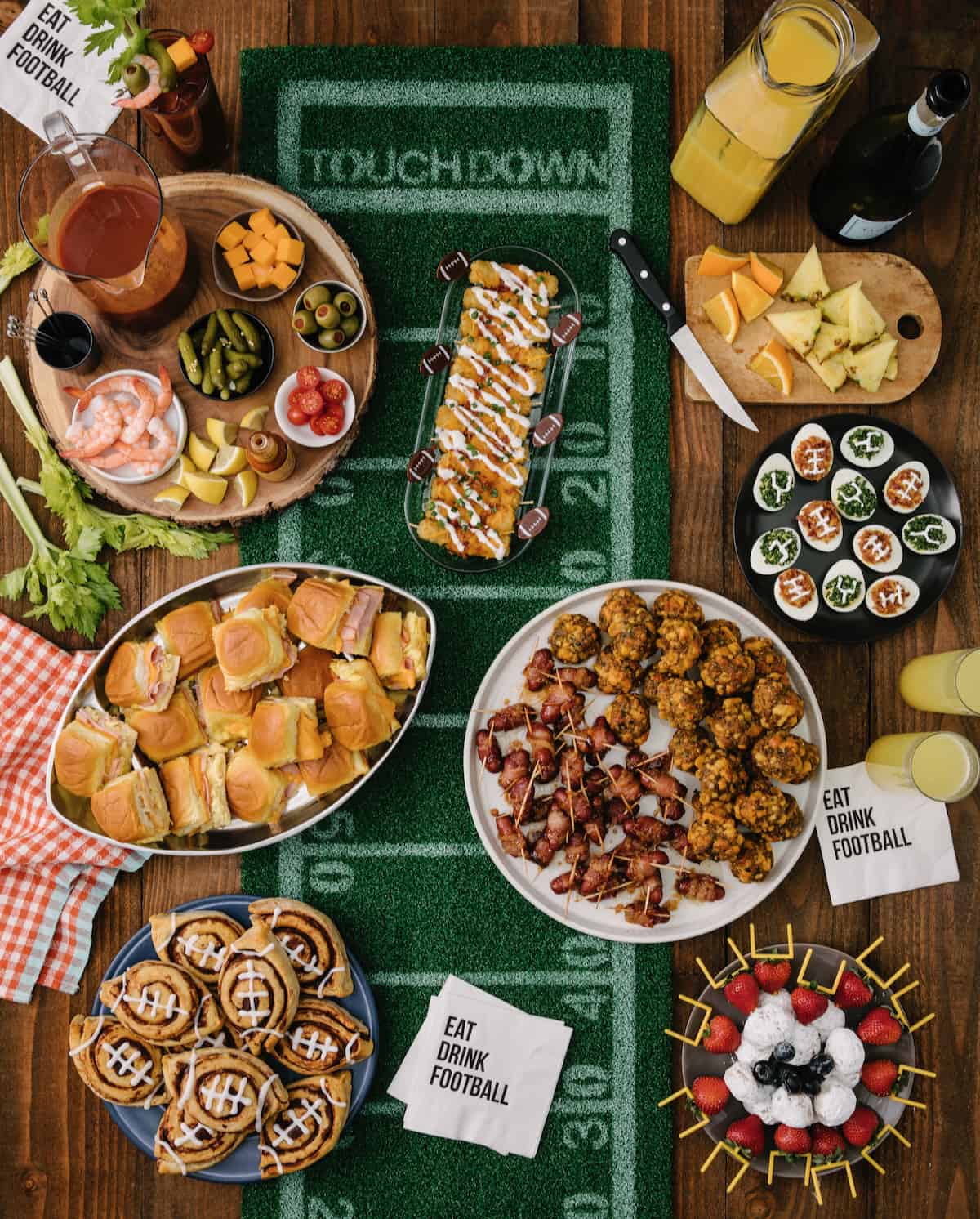 May the Best Team Win!
I hope my Big Game Gathering Guide makes your game day party easy, fun and exciting! If you use this guide, be sure to snap a picture and share it with me on Instagram @thebakermama so I can see. I just love seeing you enjoy the inspiration I share.
xoxo,