Make hosting a Mother's Day meal easy and enjoyable with The BakerMama's Mother's Day Gathering Guide. From simple and elegant bites to sweet details and thoughtful gifts, I'll help you make mom feel extra special!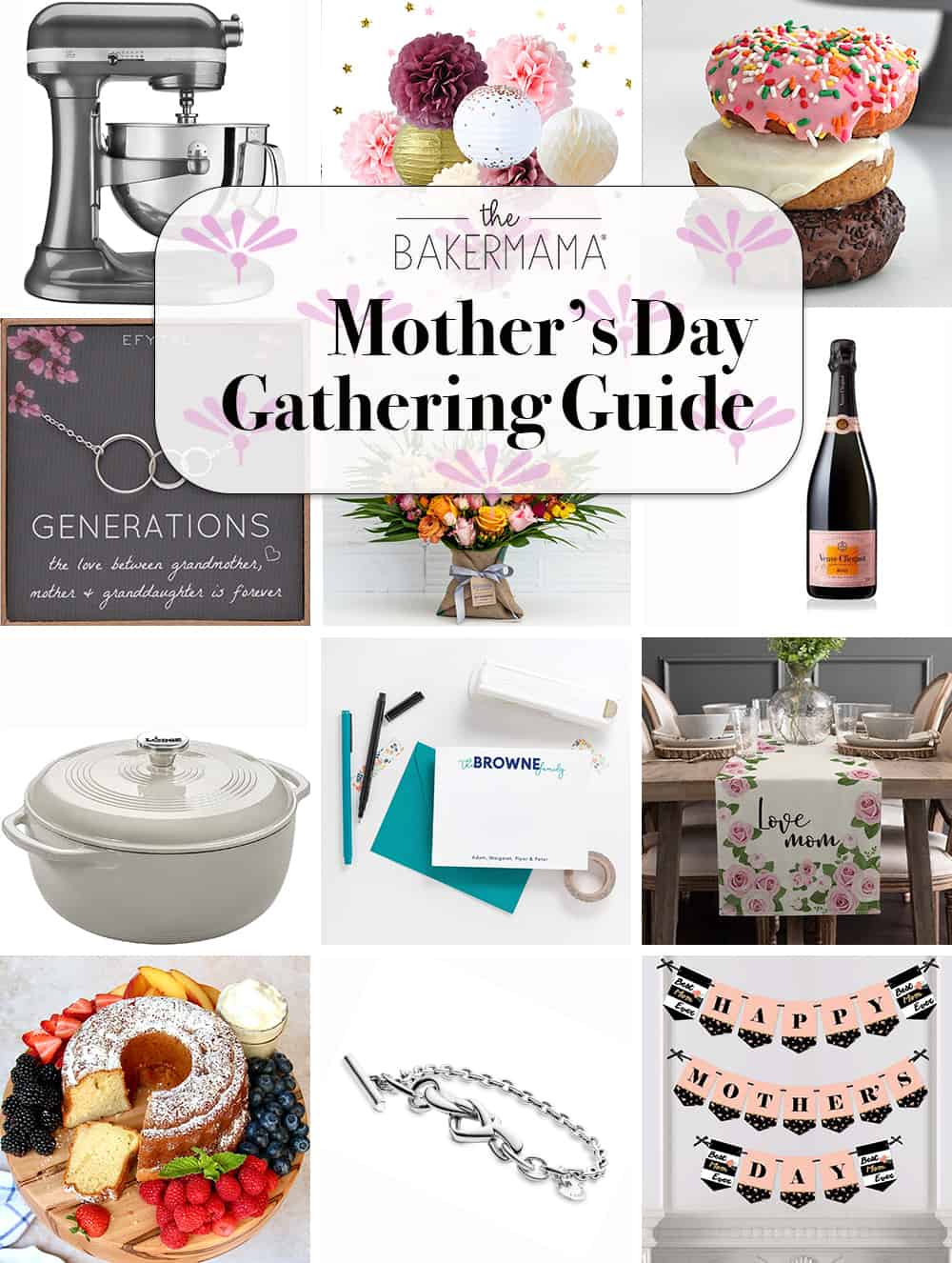 The BakerMama's Gathering Guides
I created my Gathering Guides to help you make special occasions even more special. With thoughtful gifts, sweet details, and of course great food, you can create sweet holiday memories with your family–without a lot of fuss. Enjoy!
Gathering for Mother's Day Brunch
Mother's Day around here is really Dad's show. I'm just thrilled to show up, eat the donuts (you know how I feel about donuts), and love on my kiddos. But if you're lucky enough to host your own sweet mom or mother-in-law this holiday, you can make the day extra special without too much effort. Let me show you how!
Setting the Scene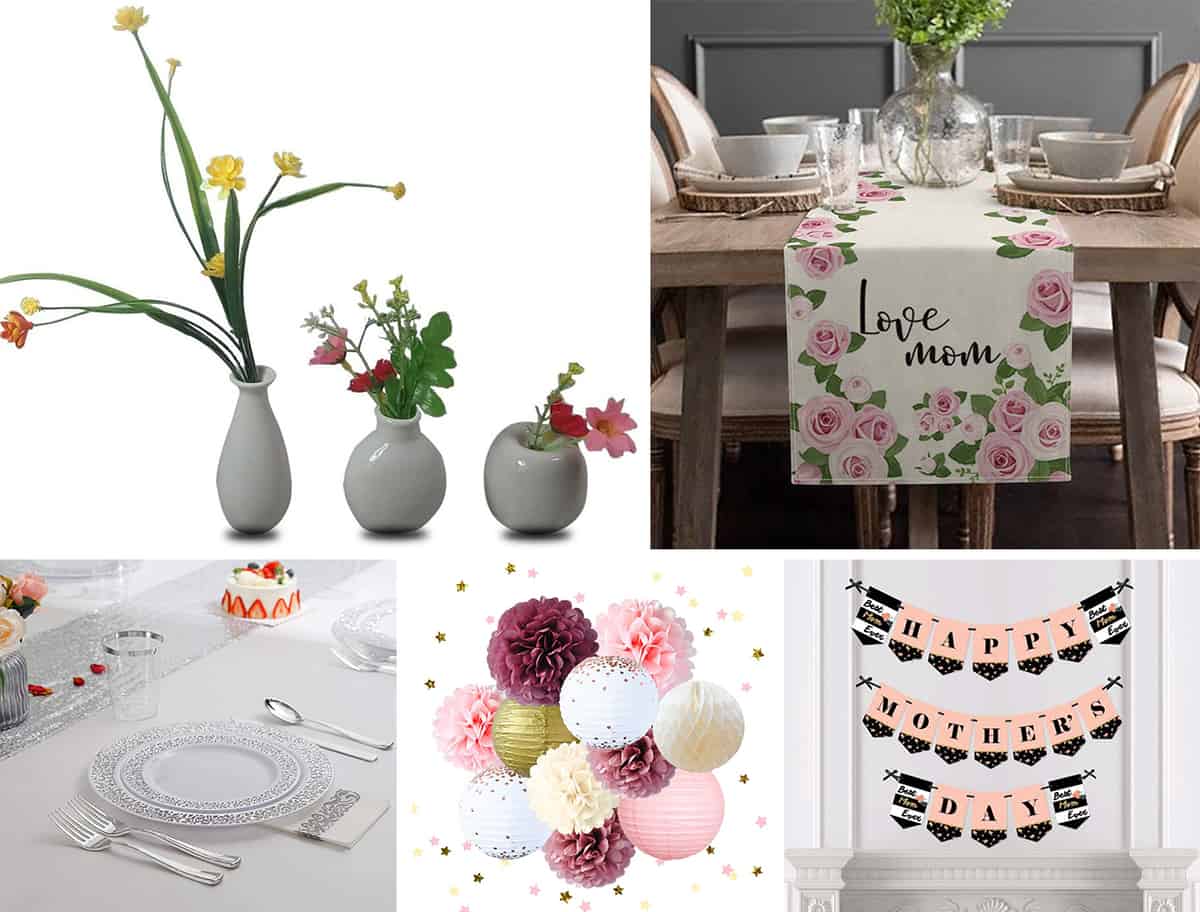 Let the kiddos take the lead in decorating your Mother's Day spread. To make a quick center piece with a personal touch, give them some bud vases to fill with a few flowers from the yard. Even dandelions get a glow up in one of these cute vases. Lay out this sweet table runner and give the kids some table setting practice with this pretty silver or rose gold dinner ware. Best part? No dishes to wash!
I'm crazy about these paper lanterns! I think they give the perfect touch to a Mother's Day celebration. Or spell it out with this super cute pink-and-black banner. Voila! You're ready to celebrate!
Eats & Treats
For Mother's Day brunch, keep it easy, breezy and (always) sweet with appetizers, main courses, and desserts that come together so beautifully and taste amazing.
Apps in a Snap!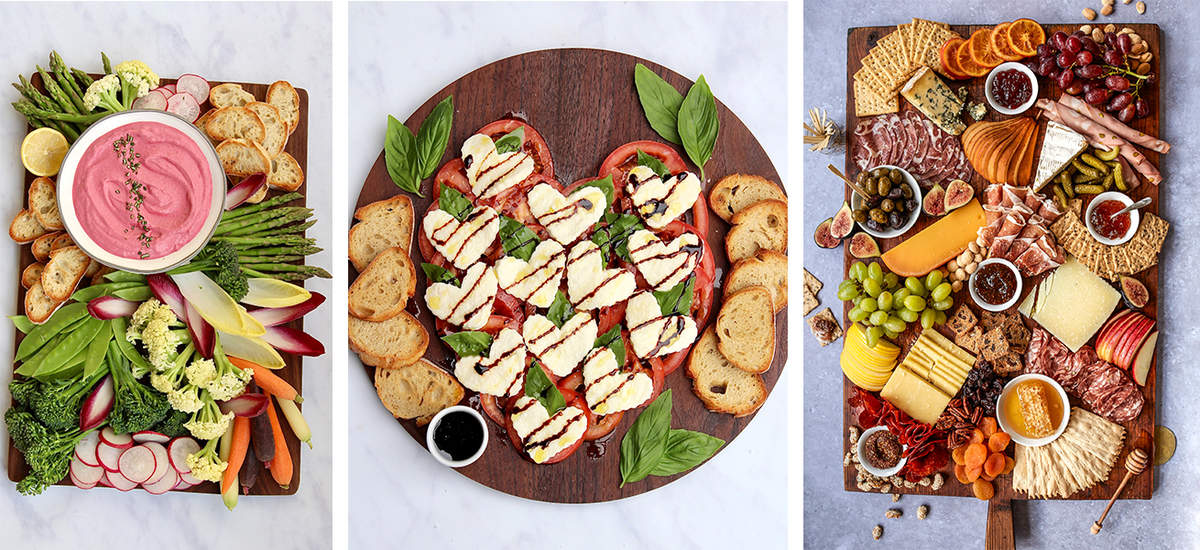 This Whipped Beet Ricotta is vibrant and delicious, especially when surrounded by a variety of fresh veggies to dip in it! It brightens up your Mother's Day table with a pretty pop of color!
This Heart Caprese Salad is such a simple and delicious appetizer to serve at a Mother's Day lunch. The classic salad of fresh tomatoes, mozzarella and basil is served in a heart shape for an unforgettable dish that's sure to make the day feel extra special!
Make pulling together a tempting Mother's Day charcuterie board a breeze with all the know-how you need. Here's everything you need to know to easily build an awesome charcuterie and cheese board including our favorites meats, cheeses and extras!
Main Dishes Mom Will Love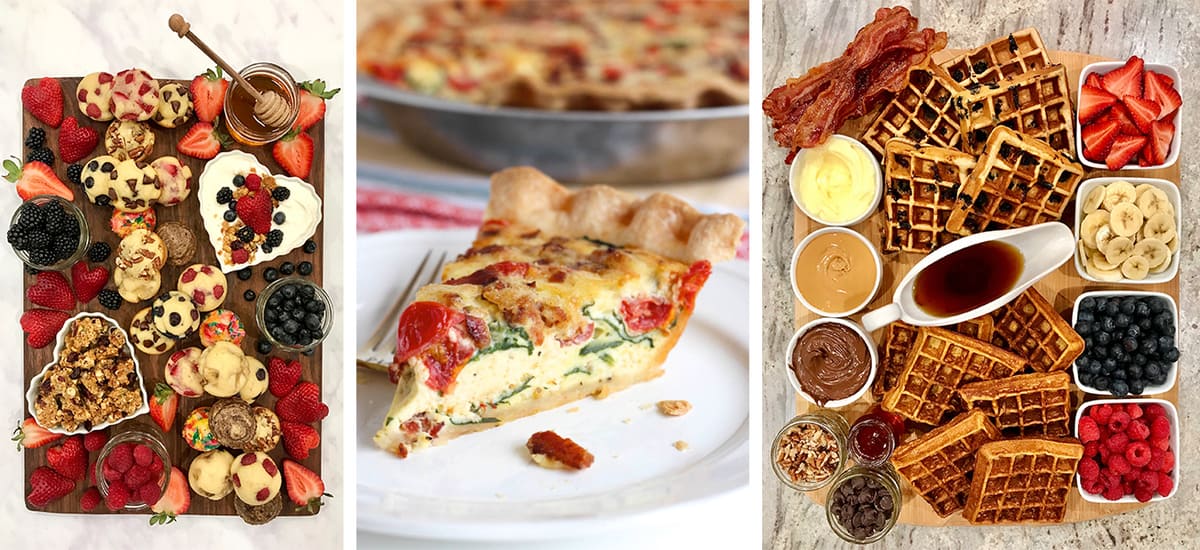 This marvelous Muffin Board will make everyone happy with a variety of mini muffins and fresh fruits to choose from. The One-Bowl Muffins (Many Ways!) recipe is so easy and lets you bake several different muffin variations at once.
If you're hankering for something a little hardier, look no further than this delicious (and easy!) BLT Quiche. Bacon, spinach, tomatoes & white cheddar baked into a flakey crust for some yum to satisfy your mum!
A Build-Your-Own Waffle Board with all the toppings to choose from is a fabulous and fun way to serve Mother's Day breakfast or brunch. Older kids can help man the waffle-maker while the little ones fill small dishes with toppings.
Sweet Endings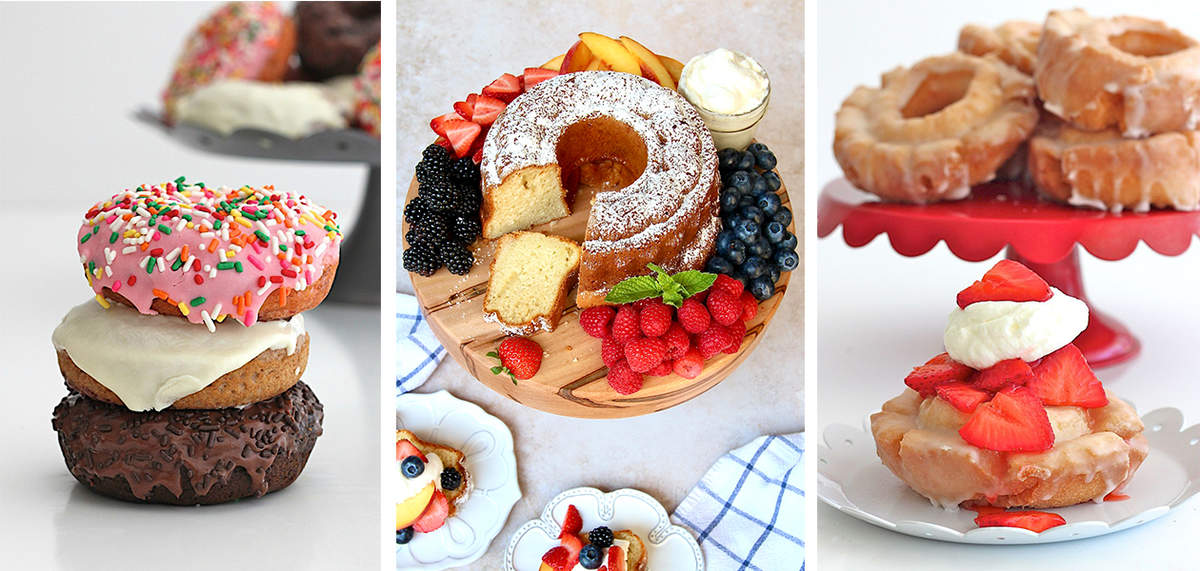 These 2-Ingredient Baked Cake Donuts are too good to be true! Just two ingredients for the donuts and a container of frosting for the glaze. So easy the kids can take charge and in less than 30 minutes you'll have great cake donuts ready to enjoy!
Moist and tender with a crackly crust, SuSu's Sour Cream Pound Cake pairs beautifully with seasonal fresh fruits for a simple, crowd-pleasing dessert. This is my mother's recipe and one that's sure to become a family favorite in your house, too.
Aaaand back to donuts! Old Fashioned Strawberry Shortcake! An old-fashioned donut topped with sweet strawberries and fresh whipped cream — it's so pretty and so, so easy. And, also a donut which is the way to this mom's heart.
Thoughtful Gifts for Mom
You can't pay mom back for all she's done for you over the years, but it never hurts to try! Maybe one of these thoughtful gifts might do the trick!
Modernize her snail mail with Family Personalized Stationery by Joy Creative Shop. Say it with her favorite flowers in a Burlap Wrapped Bouquet from Farm Girl Flowers. Or art by her favorite little artists, arranged and printed in an Artkive Custom Mosaic.
She'll never sip cold coffee again with this Electric Coffee Warmer. Add this Lodge Enameled Cast Iron Dutch Oven to her kitchen and everyone wins. And if you really want to secure your place as her favorite kid, you cannot go wrong with a KitchenAid Stand Mixer.
Celebrate the special love between you with this Generations Necklace. Keep your on-the-go mom in high fashion with the Everywhere Belt Bag by Lululemon. Or wrap her wrist in something shiny to remind her you're her favorite with this Knotted Heart T-Bar Bracelet from Pandora.
Give the gift of self care with this heated neck, back and shoulder massager. Or get her up and moving with a pair of On Running Shoes. Now, self care looks a little different to each mom, so for the cocktail sippers among us, a bottle of Veuve Clicquot Brut Rose Champagne could be just the thing! Even better? Pair it with a copy of Lets Get Fizzical, my absolute favorite book of fizzy cocktail recipes!
Now, it just wouldn't be a BakerMama's Gathering Guide without my Beautiful Boards Book! For a little something special, get mom a signed copy from me! And for an extra personal touch, a gift set with my Signature Board.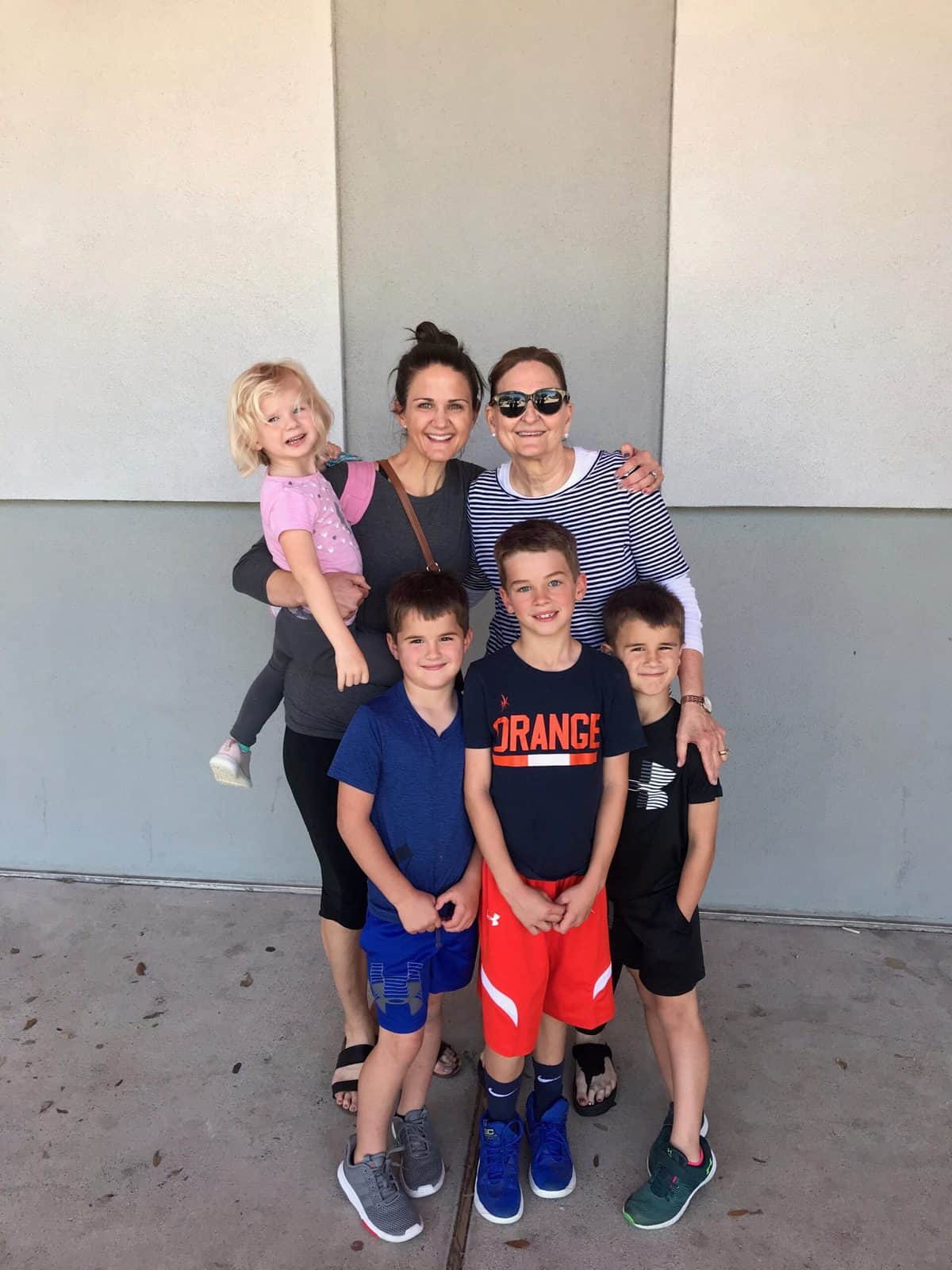 Happy Mother's Day!
I hope my Mother's Day Gathering Guide makes your special day easy and special! If you use this guide, be sure to snap a picture and share it with me on Instagram @thebakermama so I can see.
I just love seeing you enjoy the inspiration I share.
xoxo,