The reality is, your kids want to be where you are and the kitchen is probably where you spend a lot of time. Here are several great ideas for distracting them while you cook or involving them in the kitchen fun!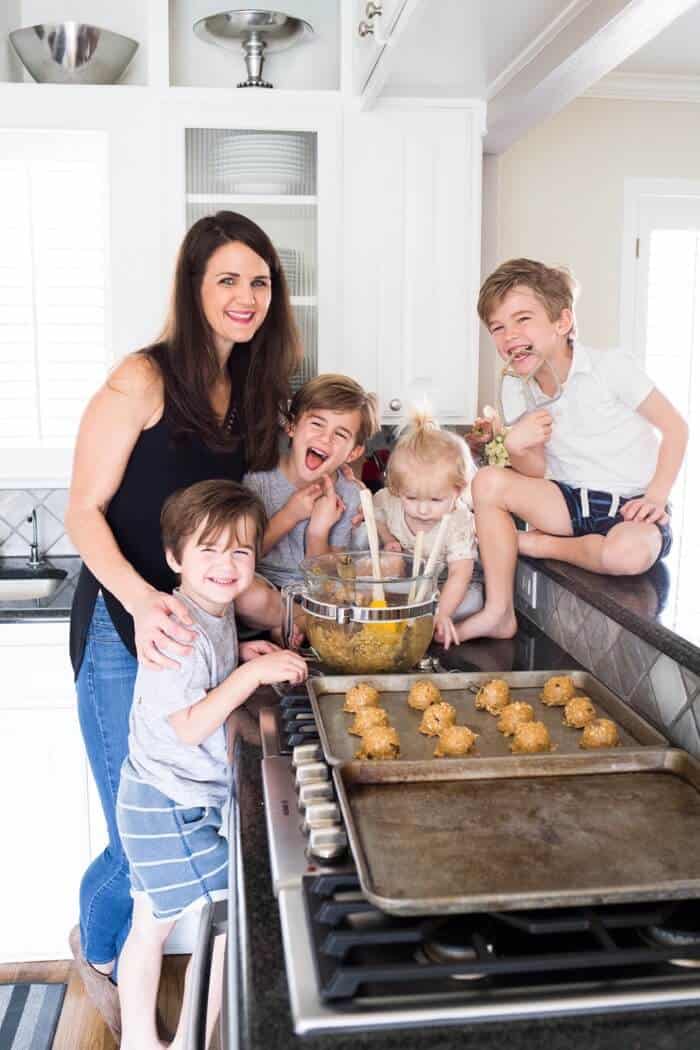 The kitchen is the heart and soul of our home. I want our kids to always feel welcome in our kitchen. As nice as it is to cook in peace and just get it done, the reality is our little ones want to be with us, at our feet or on our hips at all times. So making the kitchen a kid-free zone is not realistic or something I'd ever wish for. I want them to love food, have a curiosity for where it comes from and how it's prepared. And, of course, I would be so proud if they fell in love with cooking and/or baking, like Brandon and I have.
We're in the kitchen a lot throughout each day preparing meals, snacks and/or recipes for the blog. Our time in the kitchen goes one of two ways, I'm either distracting them or involving them.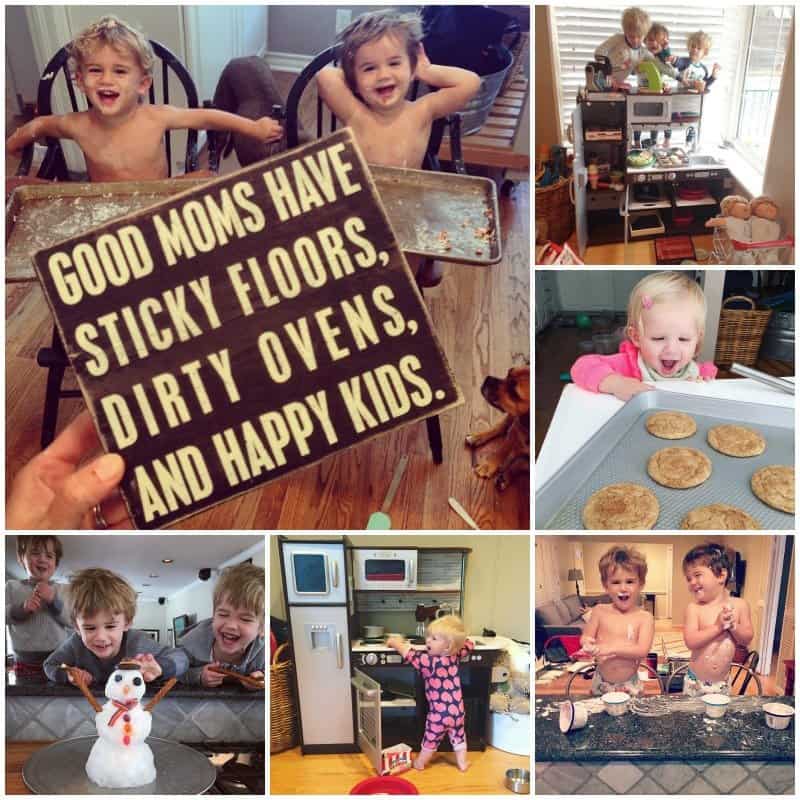 Distracting Kids in the Kitchen
Let's start with distracting. I'm usually distracting them when I'm short on time and the meal needs to be prepared, served and cleaned up quickly so we can get on with the day or get everyone in bed, but I still need to keep them happy and occupied so I can actually cook.
This is when I pull out all my distraction tactics. And boy do I have a lot of them…
Kid-Friendly Cabinet and/or Drawer: I keep a lower cabinet and drawer filled with kid-friendly kitchen utensils and tupperware that they can play with. This usually works best for the littlest ones (2 and under).
Magnets: I'll give them magnets to play with on a sheet pan or the refrigerator. I keep a variety of magnets for each age. Animals for the little ones and letters/numbers for when they're bigger.
Kid's Play Kitchen: we keep our play kitchen in the playroom, just inside the door that's closest to the kitchen. I'll suggest they cook something yummy in their kitchen while I cook in the big kitchen. I'll have them set up a picnic with all the food they've "made" and then invite stuffed animals to come eat with them. I'll chime in and encourage them along the way so they don't get distracted and loose interest in the activity. 😉 A great way to distract them for at least 15 minutes usually.
Highchair Time: when they're just learning to eat, I'll pull the high chair in the middle of the kitchen and give them little snacks like Cheerios or puffs that take them a while to pick up and put in their mouths.
Stacking Cans: I'll let them stack all the canned goods that I keep on one of the lower shelves in the pantry. Or have them organize the canned goods by size, vegetables, etc.
Coloring: I always have crayons and paper nearby for them to color on.
Sorting Colorful Candy or Cereal: If we're not about to eat dinner, I'll let them sort colorful cereal, mini m&m's, jelly beans, etc. by color and eat some of them as a treat along the way.
Snack Time: I really try to start preparing some of the dinner right when we get home from school while they're eating their after-school snack. This keeps them nearby and busy for a bit.
Washing Dishes: the older they get, the more I let them wash dishes. I'll put a big towel on the floor under them just in case. If there are no dishes to wash, I'll just let them stand up at the sink and play with measuring cups in the water.
Cleaning: a few of my kids love to clean, so I'll let them wipe the countertops, cabinets, table, chairs, etc. with wipes or a wet paper towel.
Plastic Cups: I keep a stash of plastic cups that I'll let them stack and knock over again and again.
Letter Cookies or Animal Crackers: a fun snack that also buys me more time, is giving them a cup of letter cookies from Trader Joe's. The older ones have to spell out a word before they can eat the cookies used to make that word. The younger ones have to tell me which letter they have before they eat it. I also do the same with animal crackers. They have to name that animal and tell me something it does or the sound it makes before eating it.
Set the Table: I'll have them set the table (plates, silverware, napkins, waters, etc.) I've taught them where everything goes, so they take pride when they get it all set correctly and I give them the two thumbs up approval.
Carrying In & Unloading Groceries: let them carry in and help unload the groceries if they're big enough. My 4 year olds are great at carrying in the groceries while my 5 year old takes putting things away very seriously.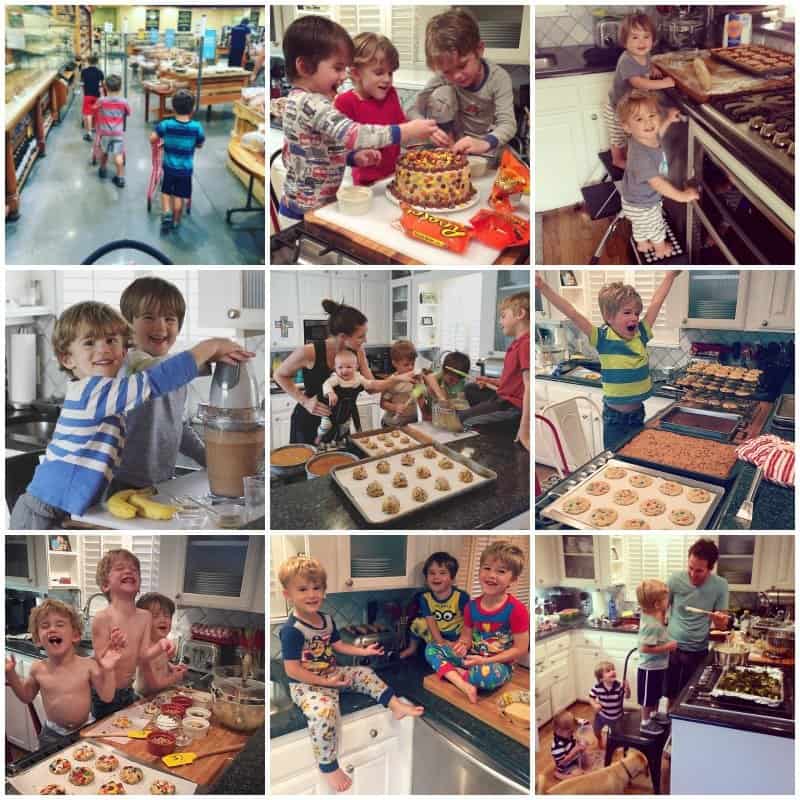 Involving Kids in the Kitchen
Now let's talk about how I involve them. I love involving them in what I'm making in the kitchen, but only when we have the time and I have the energy and patience.
It can get chaotic and messy, but that's to be expected. Use it as a learning opportunity and wonderful chance to make memories that will stick with them forever. Most importantly, have fun!
Here are a few tips and tricks I have up my sleeve for involving them as smoothly and stress-free as possible:
Allow Plenty of Time: don't plan to let them help when you're in a rush to make the meal or don't have plenty of time to finish what you start.
Expect a Mess: let them help on the days before you (or someone else) cleans your house. You'll be way less stressed about the mess when you know you're planning to clean anyway.
Let Them Run the Show: let them help decide what you'll make. They'll be more interested in what you're making and more likely to eat it. Get a couple kid-friendly cookbooks that they could browse through and pick out recipes they'd like to make.
Equip Them: give them their own spatula, apron, measuring cups. Makes it even more special for them!
Bring Them to Countertop Level: invest in a Learning Tower or Kitchen Helper so they can reach the countertop. Or use chairs and/or stools that get them up to countertop height.
Make it Feel Special: make a big deal out of them helping you so they know how special it is. Make it a very positive experience so they don't feel like they're intruding.
Keep it Simple: select recipes that are simple with few ingredients to get started. Set them up for success!
Praise Them: praise them throughout the process and as you're enjoying their creations. This will give them a sense of pride and self-worth that will carry into all aspects of their life.
Minimize Restrictions: try not to have too many restrictions. Just have fun! It's more about the experience and the memories than getting it done quickly or perfectly.
Specific Ways to Let Them Help:
Get Organized: for older kids, let them write out the grocery list before you go to the store if you haven't already been to the store. Let them help find the ingredients for the recipe (either at the store or in the pantry/fridge) and carry them from the pantry/fridge to the countertop. Let them organize the ingredients needed for the recipe on the countertop in order of when they'll be used. They love this part for some reason. Builds excitement for what's ahead!
Cracking Eggs: our boys have been cracking eggs really well since they were 3 years old. Give them two bowls. One to crack the eggs into and another to put the egg shells in. Eggs are cheap so if they mess a few up, don't fret. Just have lots of eggs on hand. 😉
Peeling Bananas: our boys were so proud when they mastered peeling a banana all by themselves. It's the little the things, y'all!
Oven & Appliance Operator: let them preheat the oven, set the timer and turn the oven back off. Let them turn the stand mixer on and off, push the button on the blender or put the toast in the toaster. If you have a hand mixer, let your older kids use it to mix the batter. So fun!
Slicing Food: start with a plastic knife or Curious Chef knife and let them learn to slice foods.
Measure & Pour Ingredients: for younger kids, measure the ingredients for them and let them pour them into the bowl. For older kids, let them learn to measure the ingredients all by themselves.
Clean as You Go: let them carry things to the trash or put dishes in the sink once you're done using them.
Washing Produce: let them wash the produce. Grapes or apples are great for letting them clean.
Taste Tester: let them taste the dish to determine if it needs more seasoning. Let them lick the beaters or eat a spoonful of dough/handful of chocolate chips. It will make their day! If you're worried about raw batter/dough, let them do it with a recipe that doesn't have eggs or flour in it.
Cook for Someone Special: make something for a neighbor or loved one that they can help deliver so they can experience the joy it brings to others.
Age Appropriate Kitchen Activities:
These are just suggestions based on my experience with my own kids and my niece & nephew. You know your child best so take it one task at a time in determining how much assistance and supervision they need.
Up to 18 months: they love to observe at this age. Bring them in the kitchen in their highchair, give them their own spatula or wooden spoon and talk to them about what you're making.
18 months to 3 years: let them start helping! They can pour ingredients in the bowl, mash bananas or avocado with a fork, stir with a wooden spoon, turn the mixer on and off, carry ingredients from the pantry to the table…
3-6 years: let them be more independent while still closely supervising. They can crack eggs, measure ingredients, slice soft foods, roll out dough, whisk liquids, spread butter, wash dishes, set the table, turn on the oven, set the timer, taste test, whisk…
7+ years: let them run the show! They should be able to do most kitchen tasks such as turn on the stove burners, use the blender, use real knives, load & unload the dishwasher, use the microwave, peel fruits & veggies, grate cheese, use a can opener, read recipes…
Kid-Friendly Recipes:
Here are some of my kids' favorite recipes to make.
Chocolate Peanut Butter Smoothie
Flourless Oatmeal Chocolate Chip Cookies
Build-Your-Own Meal Ideas:
We do a lot of build-your-own meals where we prep all the ingredients needed and serve them family-style so each person can build their own. The kids get so excited about the process of making their own and are so proud of their creations that they usually eat really well. Here are some of our favorites:
Individual Pizzas – let each person top homemade pizza dough, tortillas, pita bread or sandwich bread with a variety of pizza toppings to choose from and then bake and eat!
Tacos – let each person fill taco shells, taco bowls, or top chips with a variety of taco meats and toppings.
Cobb Salads – set out lettuce, chopped chicken, egg, bacon, avocado, cheese, veggies and dressing for each person to build their own cobb salad bowl.
Taco Salads – set out lettuce, taco meat, beans, corn, cheese, salsas, guacamole, diced avocado, pico de gallo and more for each person to build their own taco salad bowl.
Pancake Bar – make a big stack of pancakes and serve them with a variety of berries, sliced bananas, peanut butter, Nutella, granola, nuts, chocolate chips, maple syrup, chocolate syrup, whipped cream and more for a special breakfast or brinner along with some scrambled eggs and bacon.
Toast Bar – toast several pieces of bread and set it out so each person can top their toast with butter, peanut butter, Nutella, mashed avocado, jellies, jams, mixed berries, sliced bananas, granola, nuts, seeds, chocolate chips, and more.
I hope this post gives you ideas and inspiration for making the kitchen a happy place for all. Create memories, make a mess, but most importantly, have fun!
xoxo,