An organized, highly-functional pantry is key to my food blogging business and our family's lifestyle. Let me walk you through all the great organization tips and tools in our new dream pantry!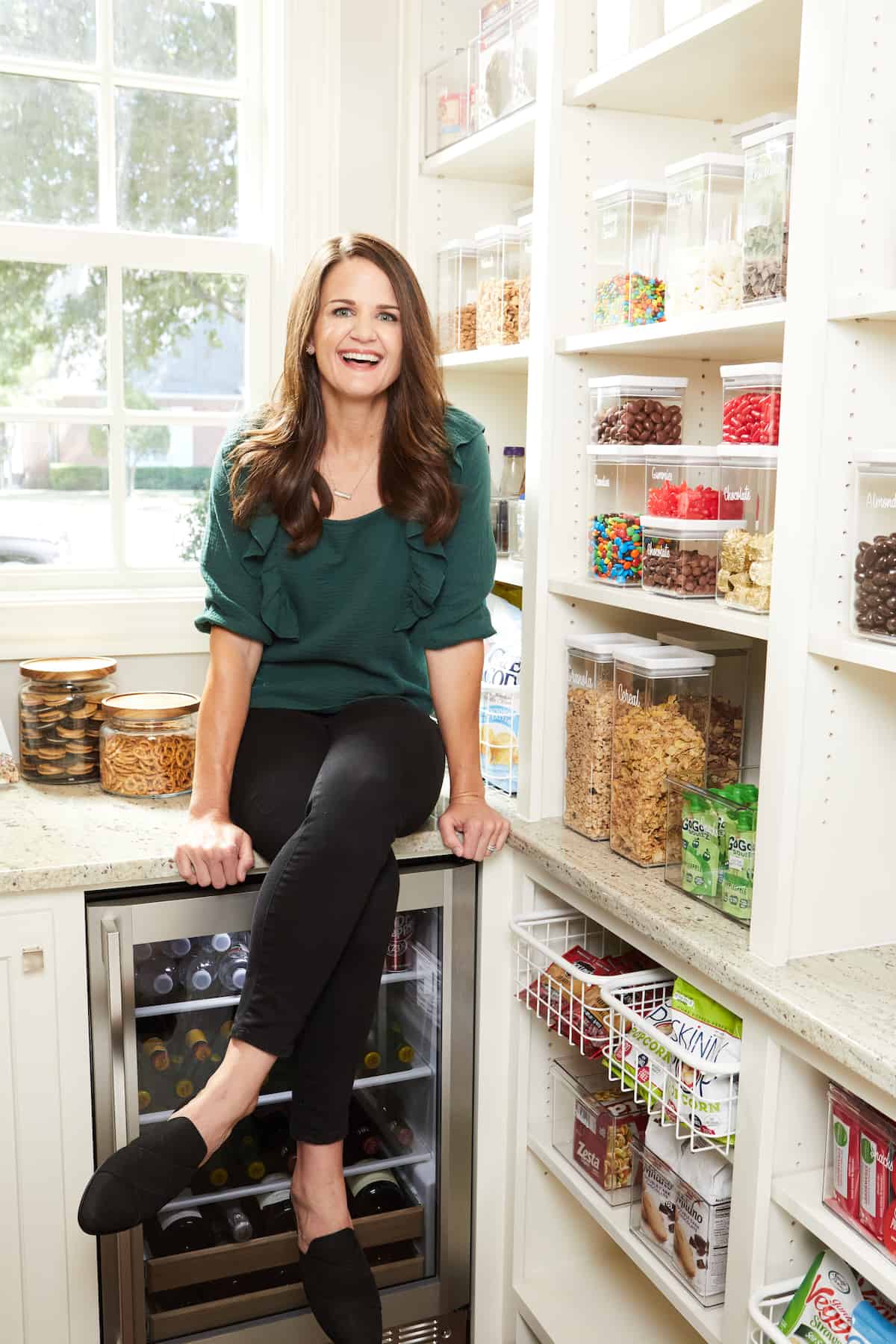 I'll be in the Pantry!
These days, if you can't find me, look in the pantry. After our recent addition, it's definitely my favorite room in the house! I'm either in there getting ingredients to make a recipe, being inspired by what we have, taking inventory, or restocking (my fave!). It makes me so happy! I've always dreamed of a big organized pantry and that's truly what ours turned out to be…a dream!
I'm so excited to finally share all about our new pantry and the organization of it. A dream come true for sure!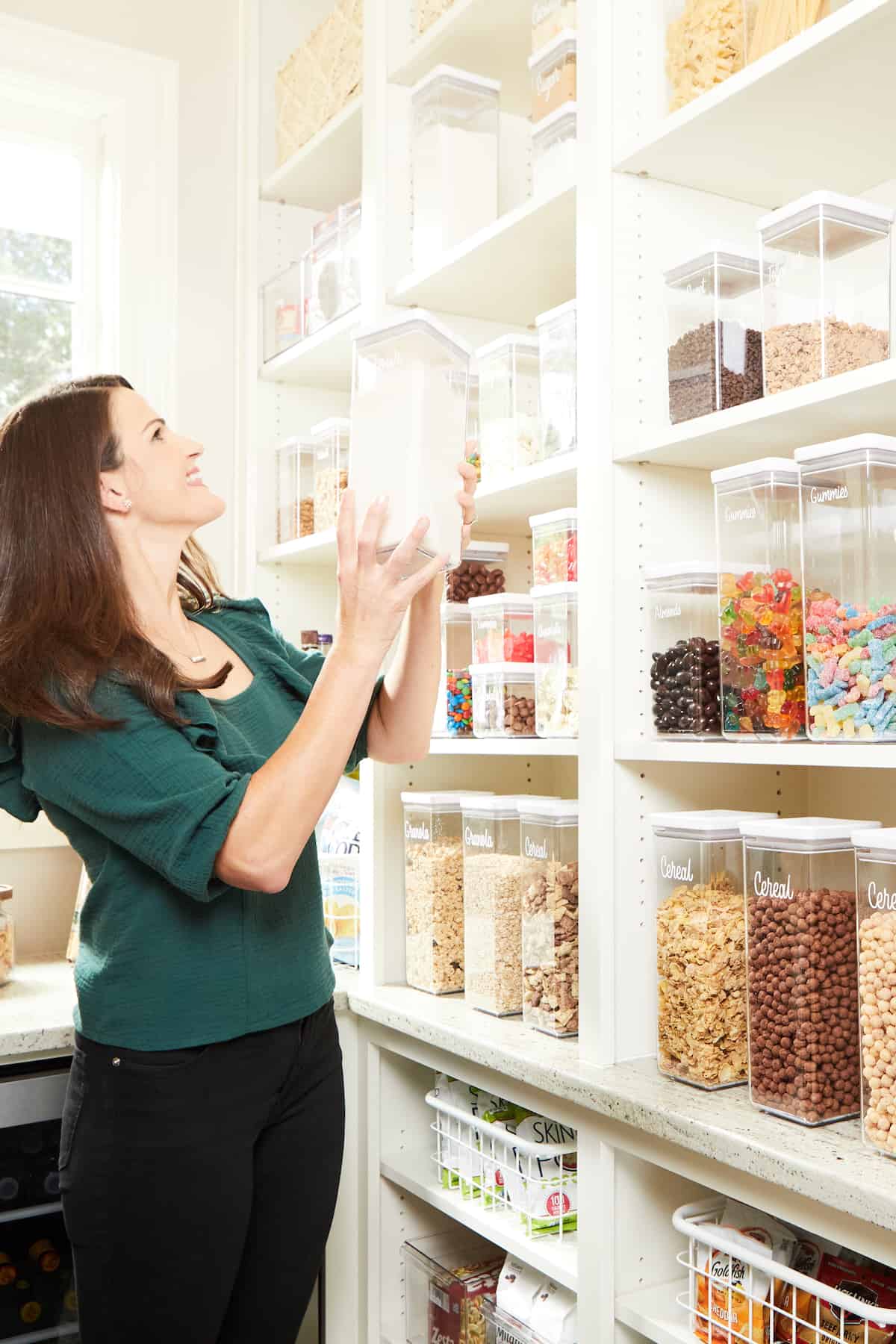 The Little Pantry that Couldn't Quite
We were so thankful when we spotted a little pantry in this house five years ago. Brandon and I have lived in six houses since we got married almost 18 years ago, and this is the first house that's a had a true pantry.
It was a small closet that we stuffed full with as much as we could to keep stocked with everyday pantry staples, snacks and all of the ingredients I need to recipe develop on a regular basis for the blog.
The design of that pantry "closet" wasn't the most useful. The shelves were short and so deep and we couldn't see what was in the back without pulling things out. I often bought too many pantry staples because I couldn't find what we already had.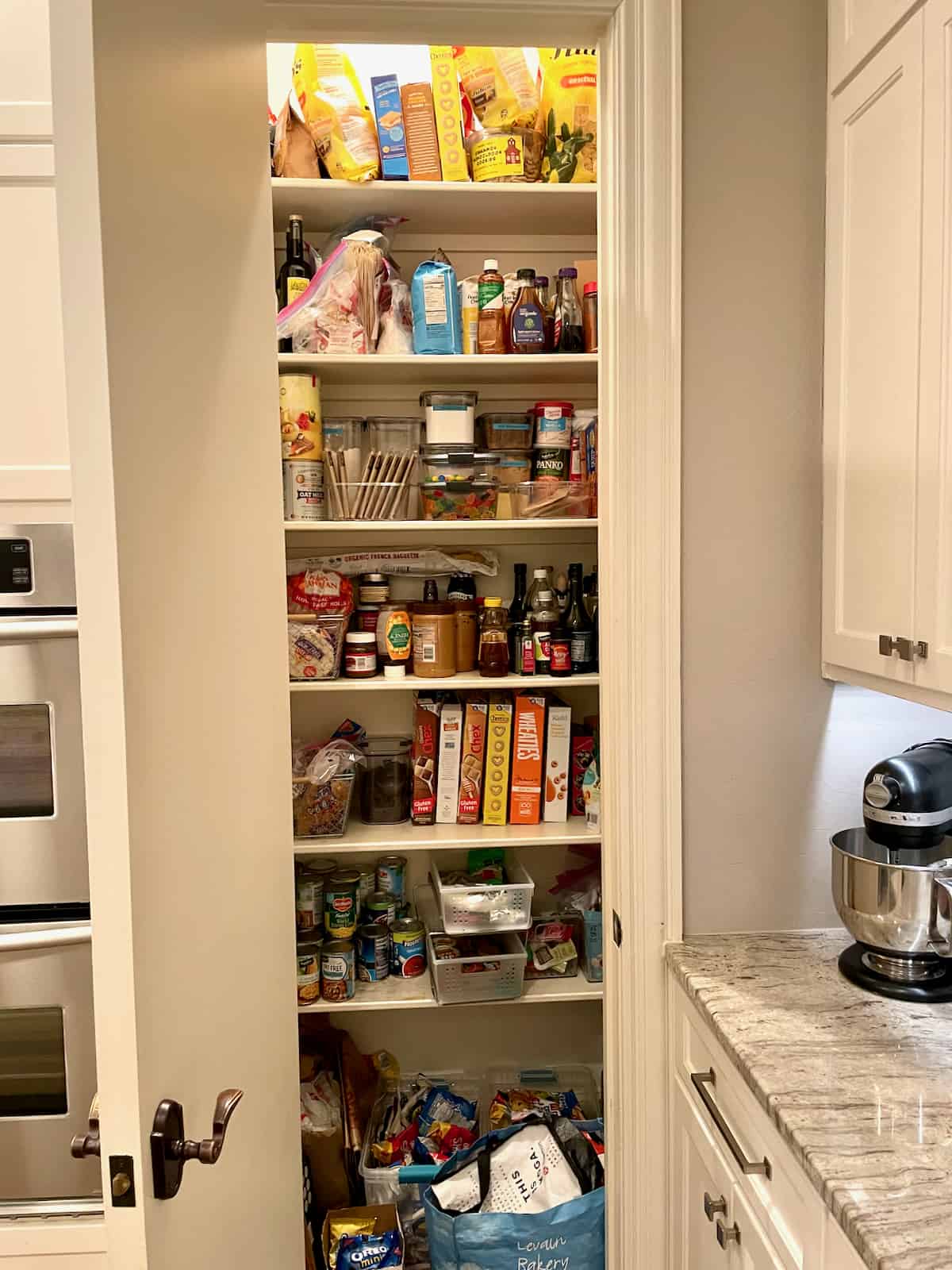 The Big Idea!
One day, I was recipe testing. And as usual, I pulled all the ingredients out of the pantry to our kitchen table so I could see what I had to work with. I just kept thinking "there has to be a better way!"
I looked out to the little unused side patio we had attached to the front of the house and it just dawned on me. We could close in that patio and turn it into a walk-in pantry. I immediately yelled for Brandon to come to the kitchen so I could share my big idea with him. Before I knew it, he had our contractor at the house and we were drawing up plans.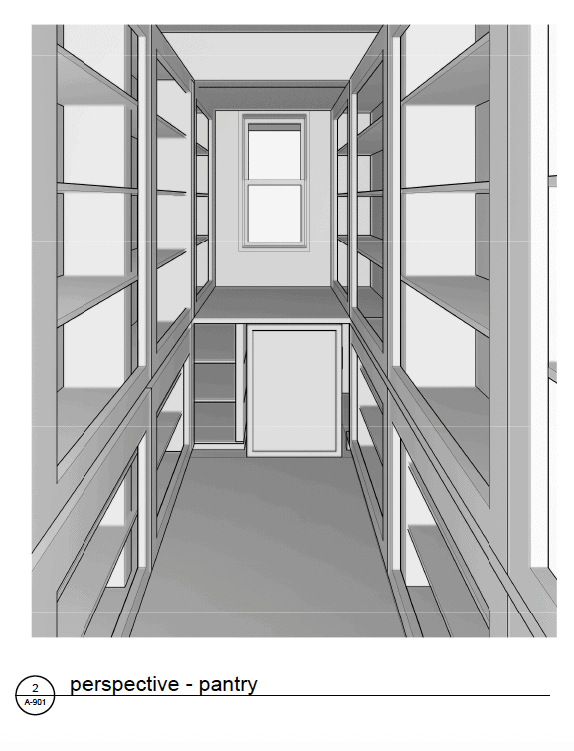 Pantry Design Dimensions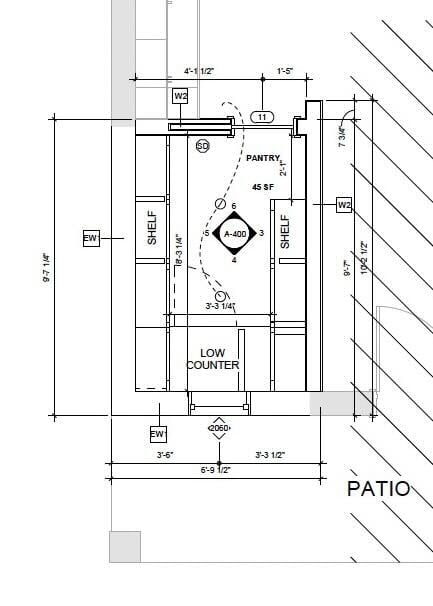 Shelving Elevations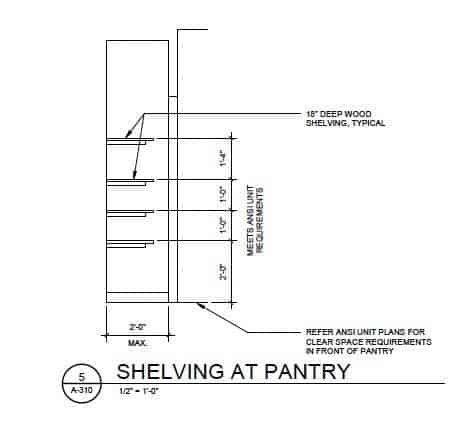 Now, almost nine months later, I can seriously say I have absolutely no complaints or regrets. The size, the set-up and the organization of our new pantry are so perfect for our family and my business.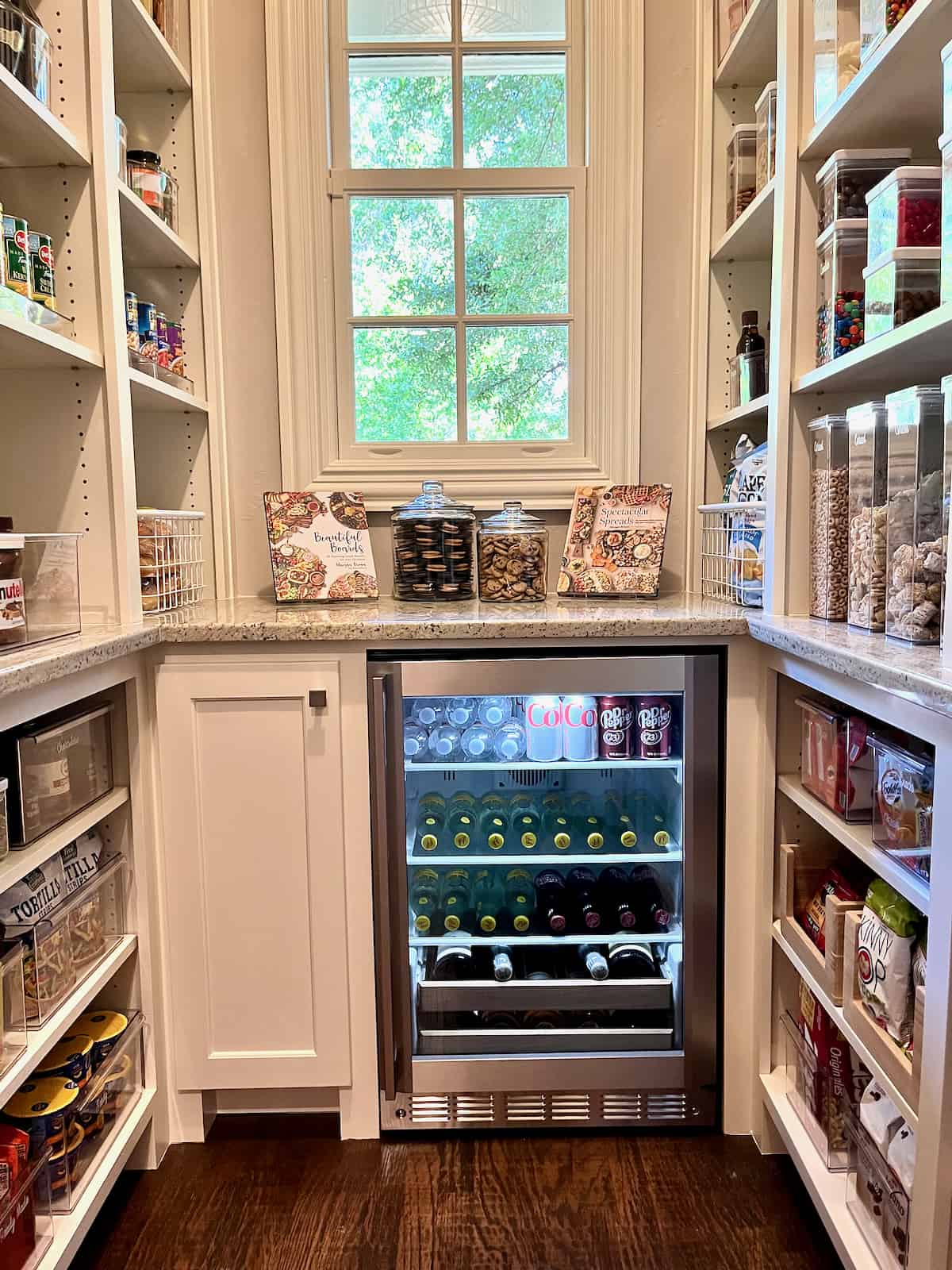 Getting Organized with The Container Store
I was so thrilled to have professional in-home organizers from The Container Store come and completely organize the new pantry as we were stocking it for the first time. They worked their magic and I was so pleased with all of the containers they recommended.
Their attention to detail was so appreciated as I explained how we live as a family of six and how I work as a food blogger so that the pantry is organized and efficient for everyday use.
They also labeled everything with a Cricut in The Container Store's own font, which I never thought I would love as much I do. I was honestly skeptical of the idea of labeling everything, but it has been so nice to know what goes in each container so that we can restock accordingly.
The pantry always feels so clean, spacious and organized!
Being able to see everything was so important to me. So we went with all clear and cohesive containers on every shelf except for the very top shelves. There, we have woven baskets to store extra items or items we don't use as often.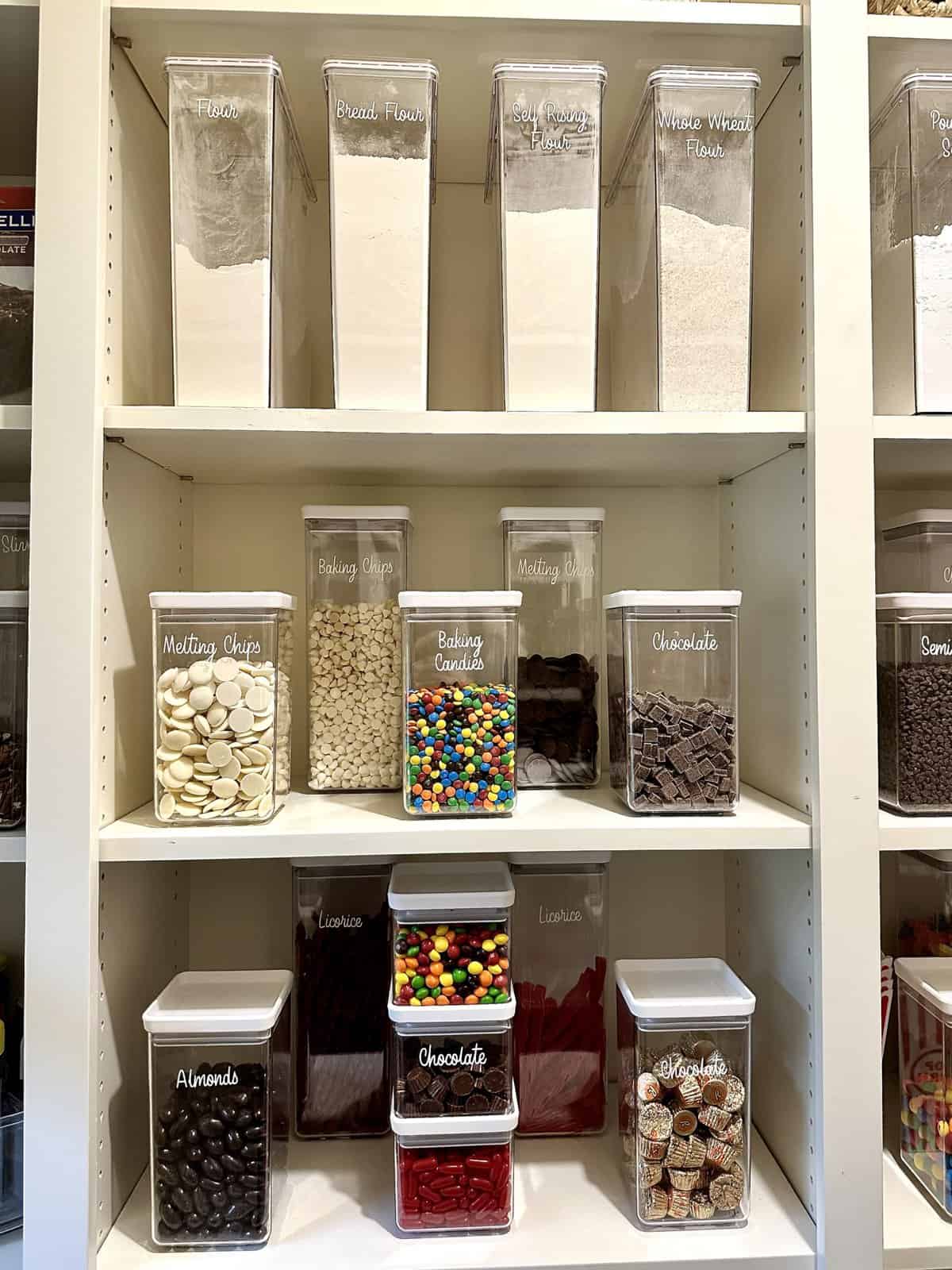 Section by Section
We organized our pantry by section, according to how we use food. I knew I would need dedicated areas in the pantry for the following favorites:
Baking
Snacks
Charcuterie board building accompaniments
Popcorn and candy station
Other pantry staples like canned goods, oils, sauces, salsas, bread, chips, etc.
We love having these dedicated sections of the pantry for our most used pantry items. That way we know where to store everything and can easily find items that we need/want.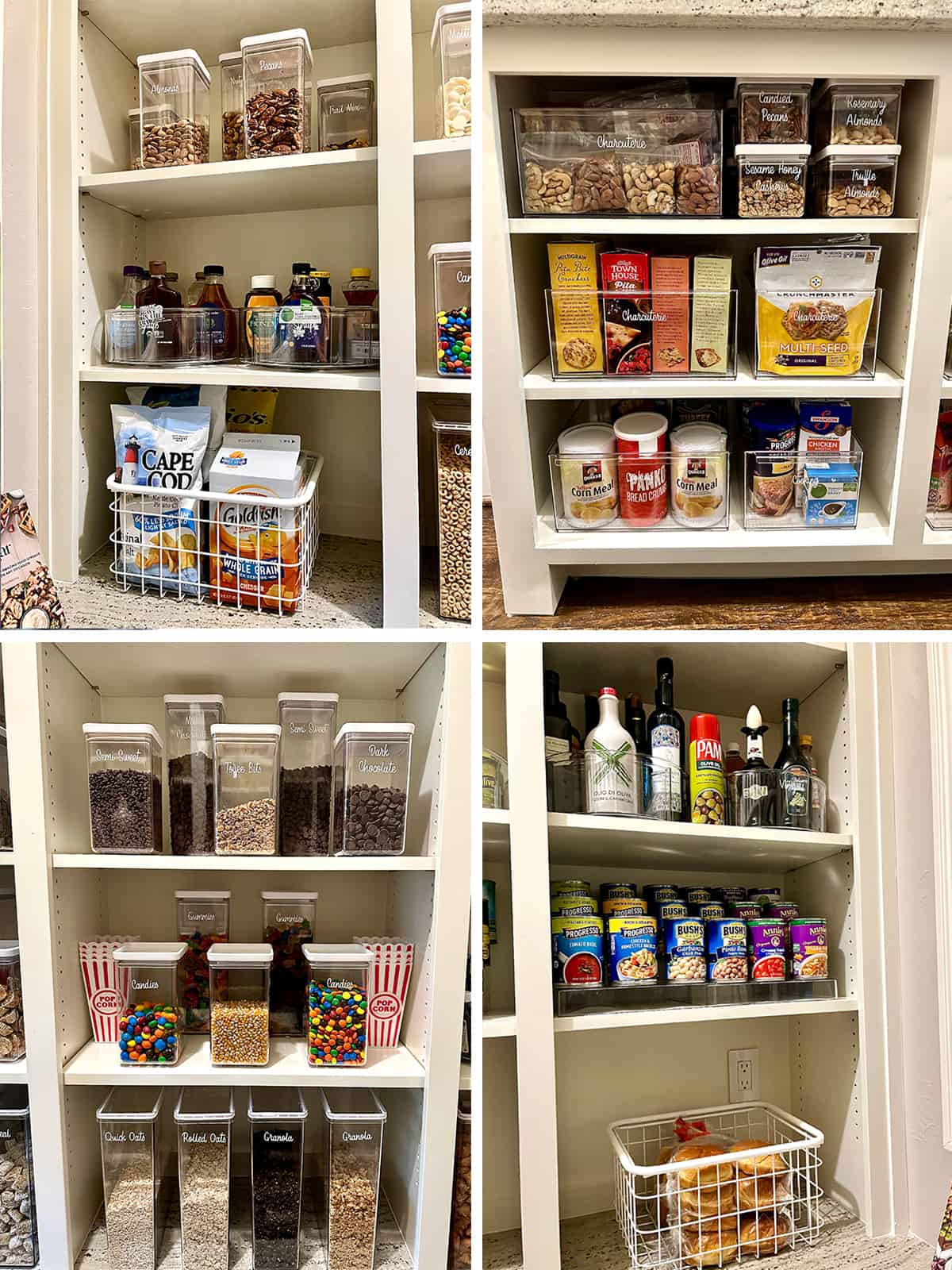 My Top Five Favorite Features
I definitely have needs specific to food blogging, board building and entertaining. Here are my top five features in our new pantry:
Floor-to-ceiling shelves: This was a priority to maximize storage space and keep everything visible. Being able to see everything that we have has been so great! I save time and money by not overbuying at the store because I can easily see what we have and don't have. I also get more creative with our food because I can see it and it inspires me to use it. We keep a little stool in there if we need it to grab items from the top shelves.
Drink fridge: We also added a drink fridge to keep a variety of drinks in, especially my Diet Coke, Topo Chico and champagne. 😉
A small countertop: It's so nice to have a small countertop in the pantry for storing jars of fresh made snack mixes, cookies, etc. We also use this countertop to pour snacks or cereals, make a grocery list, restock containers, and set items out on for specific recipes.
A gorgeous light fixture: I wanted this space to feel like another room of the house. I knew we would be in there often so I wanted it to be beautiful and well lit. I found this stunning flush mount ceiling light at World Market and it casts a beautiful pattern of light on the ceiling and throughout the entire pantry.
Portion-sized snack bowls: I keep a stack of these little clear bowls in the pantry for us to get snacks or treats in. They're great for portion control with most snacks and treats. Movie night is a big deal at our house. So I also keep plastic popcorn buckets near the popcorn and candy shelf which are so fun to fill up with popcorn and some candies for family movie night!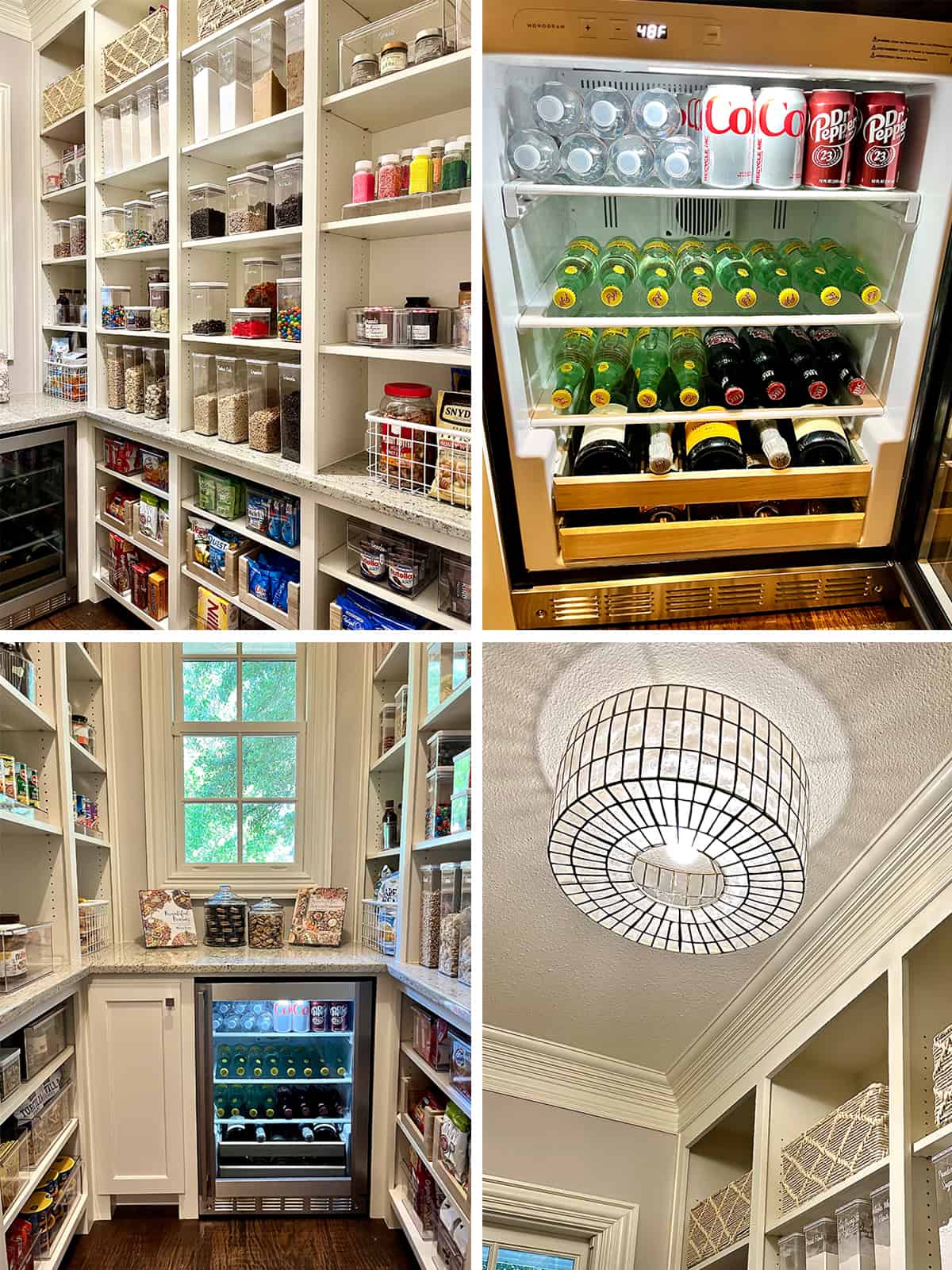 A Note about Kids and Teaching Moderation
I know I'll get asked how we keep the kids (and ourselves!) from raiding the pantry with all the snacks and treats so visible. It's just like any other rules of the house! My kids know our expectations and their limits and if they break the rules, they won't get to enjoy!
We're all about teaching our kids moderation and balance when it comes to food.
On movie night, for instance, we usually allow 5 pieces of a few different candies. If they're larger candies, like peanut butter cups or mini candy bars, they get just two of those.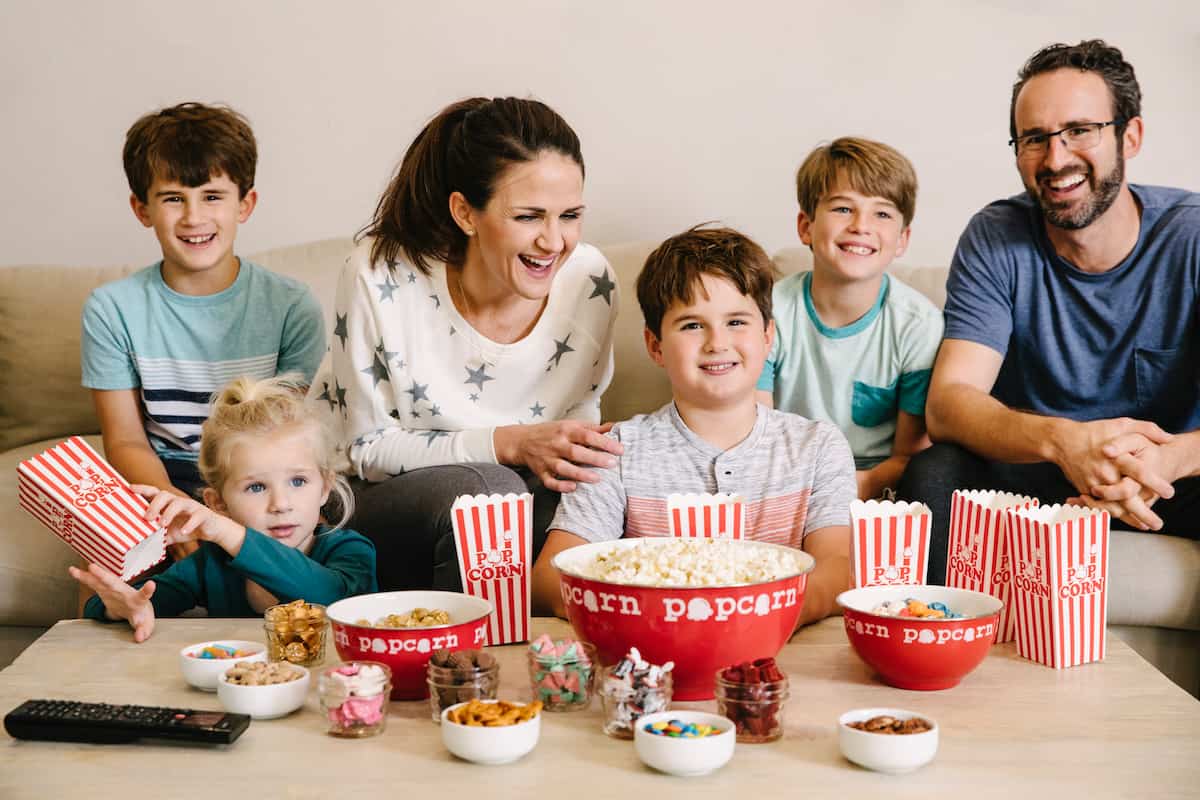 We're so blessed to get to enjoy so many fun and yummy foods every day and they know how lucky they are. It's all they've ever known and they're actually satisfied with a reasonable portion or serving size because they know they'll get to enjoy something just as fun and yummy again soon.
How I Keep Everything Fresh
One frequently asked question is how do you make sure everything stays fresh? Cooking for a family of six means we very rarely have food in the pantry that goes bad. I also only keep stocked what I know we're going to eat before it would go bad.
And I swear by all the containers we store the foods in from The Container Store. They keep the food sealed so well and I've found that everything stays fresher longer when it's stored in these containers over their original packaging.
Cereals, crackers, cookies, nuts, pasta, rice, you name it, we have a container for it and it all stays so fresh. Each container is tightly sealed and sturdy for transporting to and from the kitchen when we need it for recipes.
To get foods out of the containers, we either pour them out or use these little scoops. The containers that we store all our flours and sugars in will only fit a 1/2 cup measuring scoop. But I've gotten used to that. For the cereal and granola containers, these clear 1/2 cup measuring scoops are great to leave in the containers and are perfect for portion control.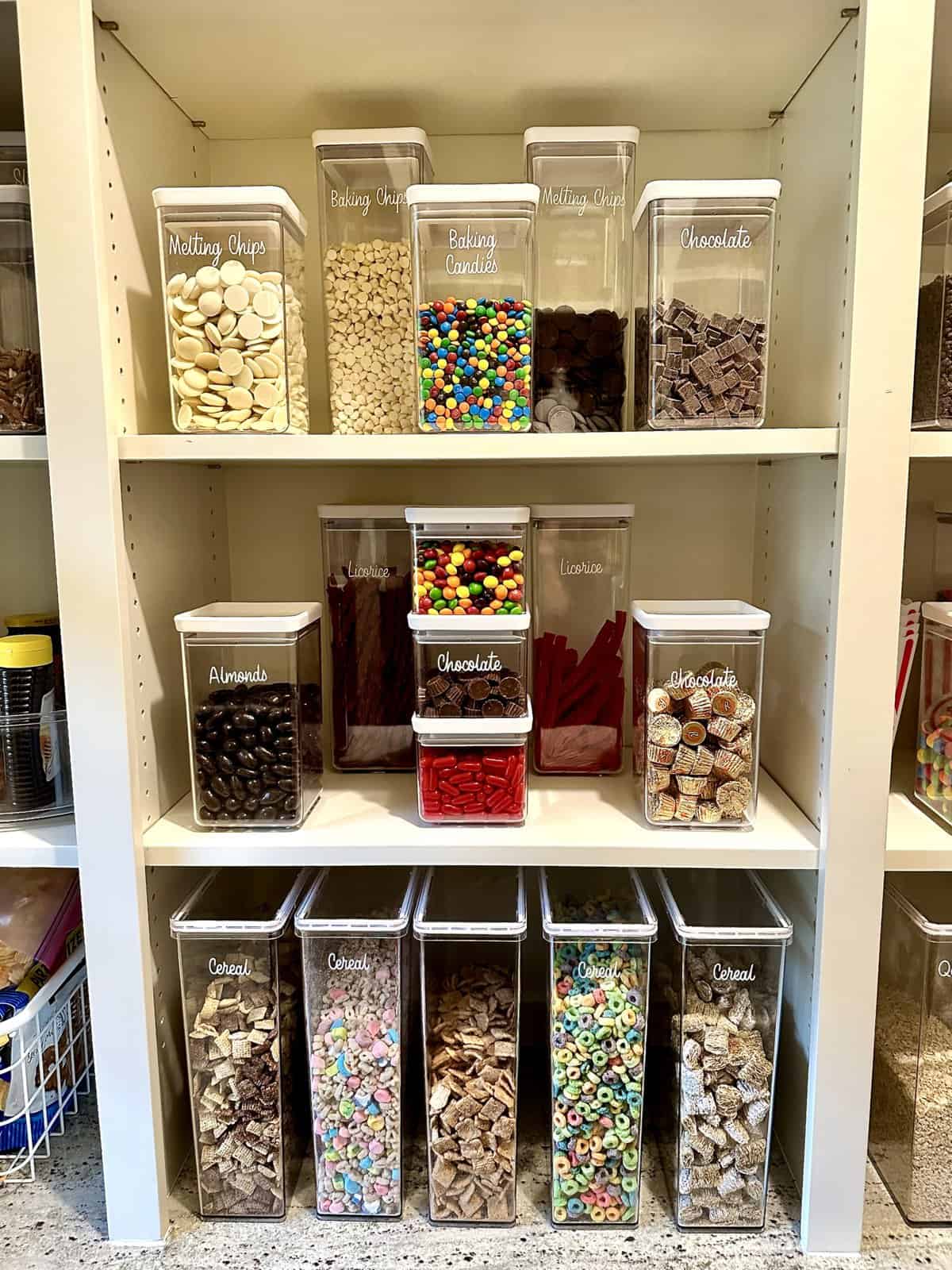 My Dream Pantry Organization Essentials
Need organization help? I gathered all my favorite pantry organization must-haves in one place. From baskets and bins to grocery lists and label makers, I've got everything you need to keep your pantry tidy and organized!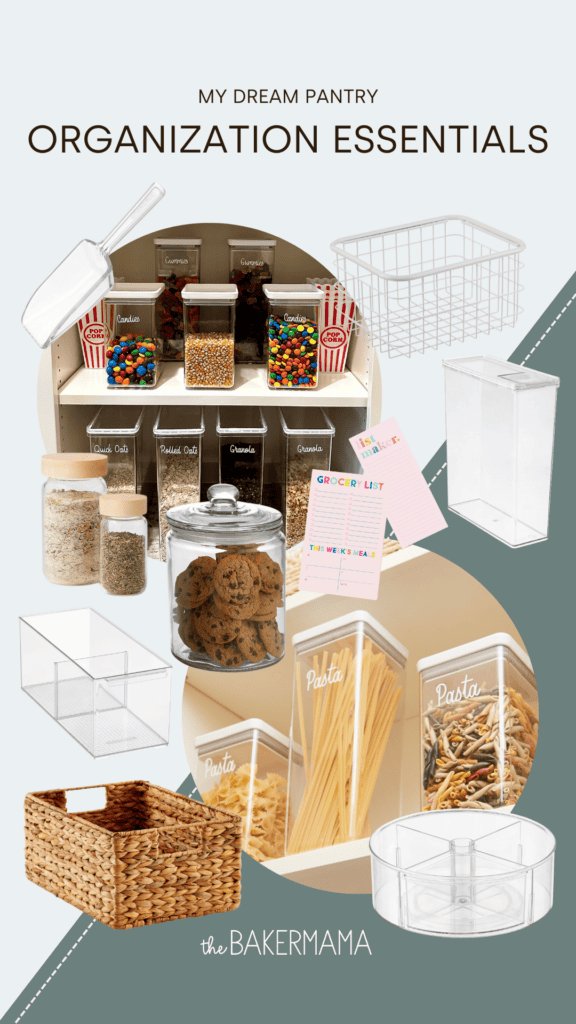 How I Re-Stock the Pantry
Another commonly asked question is how do I restock the pantry. It's a tried-and-true process that I'm happy to share. Here's how I keep my pantry stocked up with fresh food:
Make a list: I always make a list. We have items that we consume most often which are always on my pantry staples list for grocery shopping. Then I add items I will need specifically for the coming days or week.
Take stock: I bring my list into the pantry. I check each shelf to see what is running low or what we might be out of. Organization makes this part easy! It's so nice to have everything organized! With like items together and everything in clear or open containers, I can easily see what we need.
Shop using the list: This is a must! Nothing good happens at the grocery store if I go without a list.
Restock: After going to the store, I start restocking everything.
Keep it fresh: If there is any food still in a container, I'll pour it into a large mixing bowl (I also use a strainer, if there are crumbs in the bottom). Then I pour the new food in and top it off with the leftovers. I also do a little taste test every week or so to taste any foods that I think might be close to going stale. I call this: snack time! 😉
Got a Pantry Question for The BakerMama?
Got a question about organizing a pantry? I'd love to help! Drop your questions in the comments and I will answer them!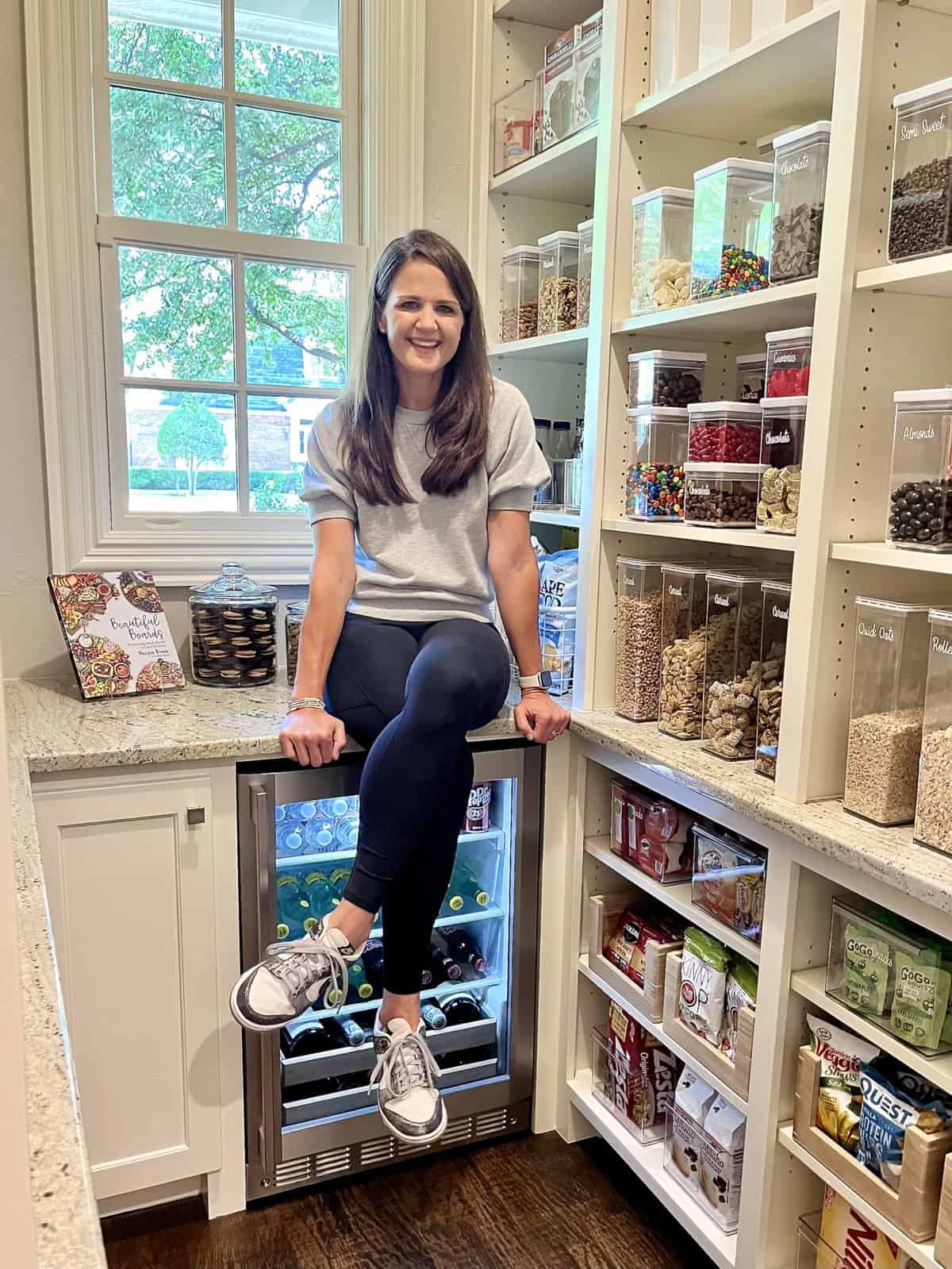 I hope you enjoyed this little tour of our new pantry. We learned a lot about organization and what works best for our busy family of six.
xoxo,