Healthy hearty energy bites that are packed with quinoa, oats and a variety of nuts with peanut butter and honey holding it all together. They'll give you fuel for a great workout or just a crazy busy day!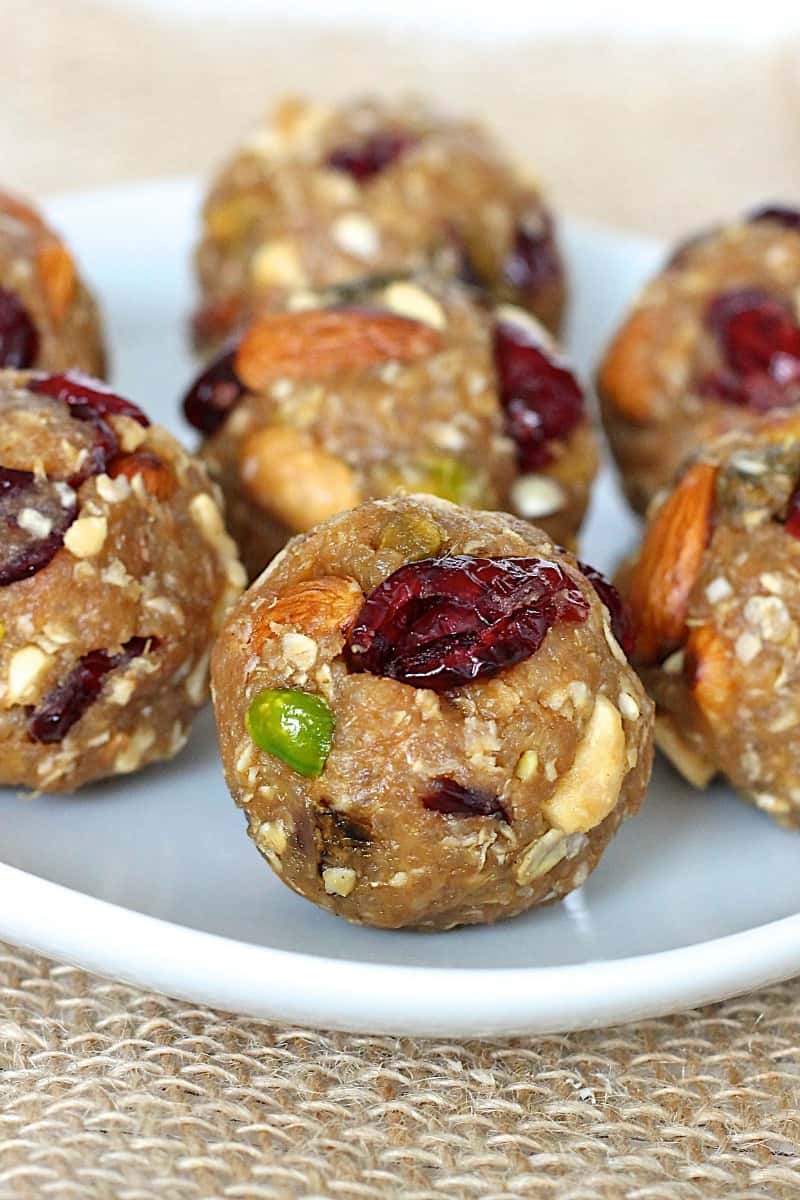 So I decided, along with everyone else this time of year, that it was time to get back into the swing of exercising regularly. I've always enjoyed exercising, but I enjoy baking and hanging out with my boys much more, so my motivation to find time for it has lacked the past 2 years. I've done a few home videos here and there and take the boys on walks occasionally, but nothing consistent and both my mind and body were feeling it.
I used to be so great about working out at home with a pilates dvd or the elliptical, but we got rid of the elliptical because I wasn't using it and my dvds have been collecting dust. I needed to find a new way to work excercise into my days without all the distractions at home (i.e. cookies, brownies and cakes, oh my!)! 😉
So we joined the YMCA and I'm loving it! It's just a few minutes from our house and it has tons of classes and machines to keep my workouts fresh and exciting. I try to go every morning while the boys are at school because the last thing I want to do when I pick them up from school is drop them off in a daycare so I can go workout. Talk about mom guilt!
Spending an hour at the gym each morning definitely cuts into my baking and blogging time, but I actually think working out makes me more productive and I can already tell how much happier and healthier I feel.
When I workout, I try to push myself and get the most out of the time I'm taking to do it. I like to sweat and feel like I've had a great workout. I don't like eating a big meal before I exercise and I certainly wouldn't get as much out of it on an empty stomach, so I decided to create an easy energy bite that I could make at the beginning of the week and store in the fridge to snack on before and after my workouts throughout the week.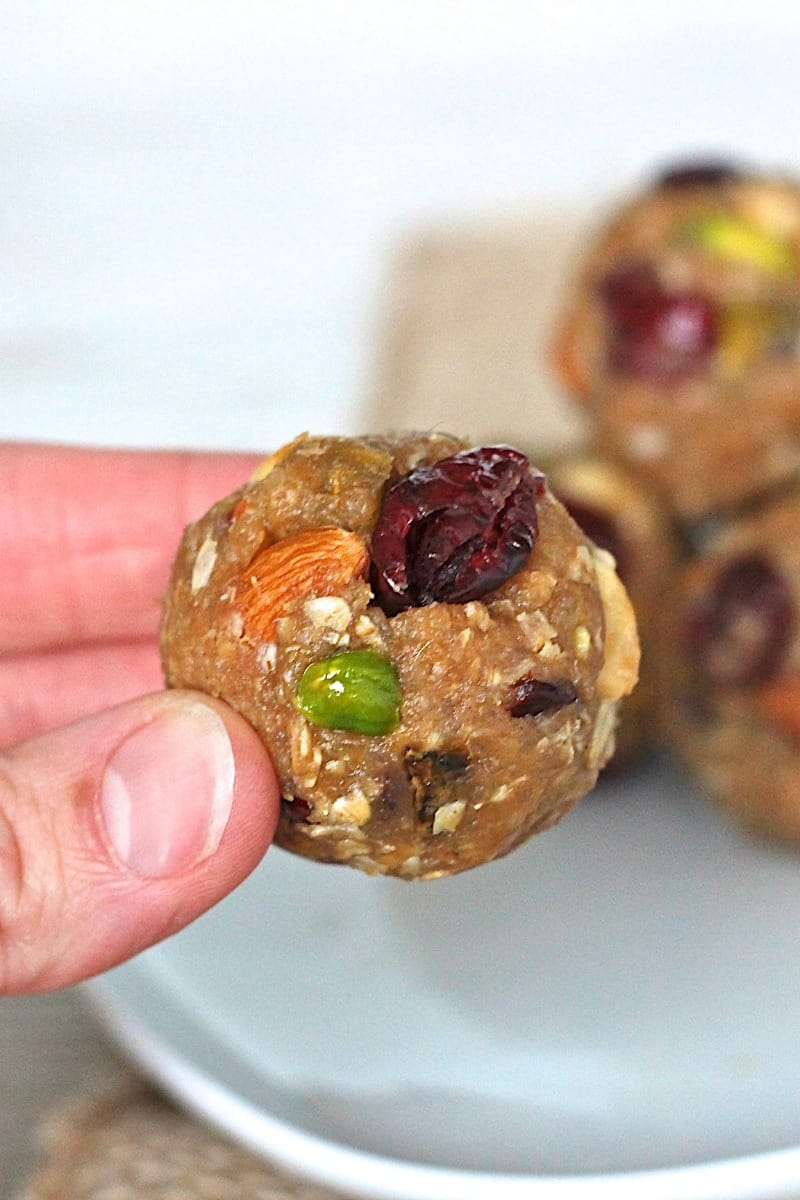 I combined some of my favorite energizing foods into a bite-sized ball that's great for on the go. I usually eat a few on my way to the gym and then one or two when I get home to tide me over until lunch. They taste amazing and give me such great energy and endurance for both my workout and my busy days.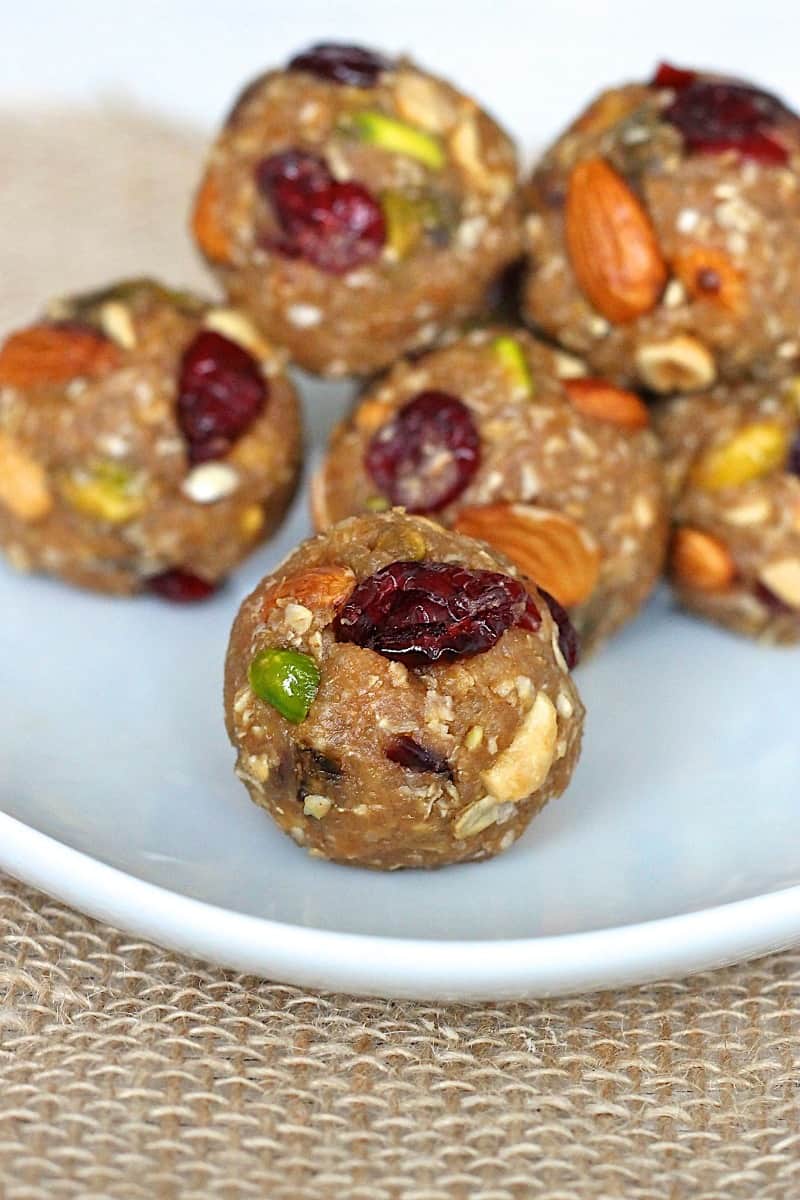 Oh, and I thought I would be the only one eating them, but my boys discovered the deliciousness and they're obsessed too. They've been begging for them as an afternoon snack or dessert before bed. Definitely healthier than a cookie or ice cream, so if they'll eat 'em, I'll make 'em and share 'em. J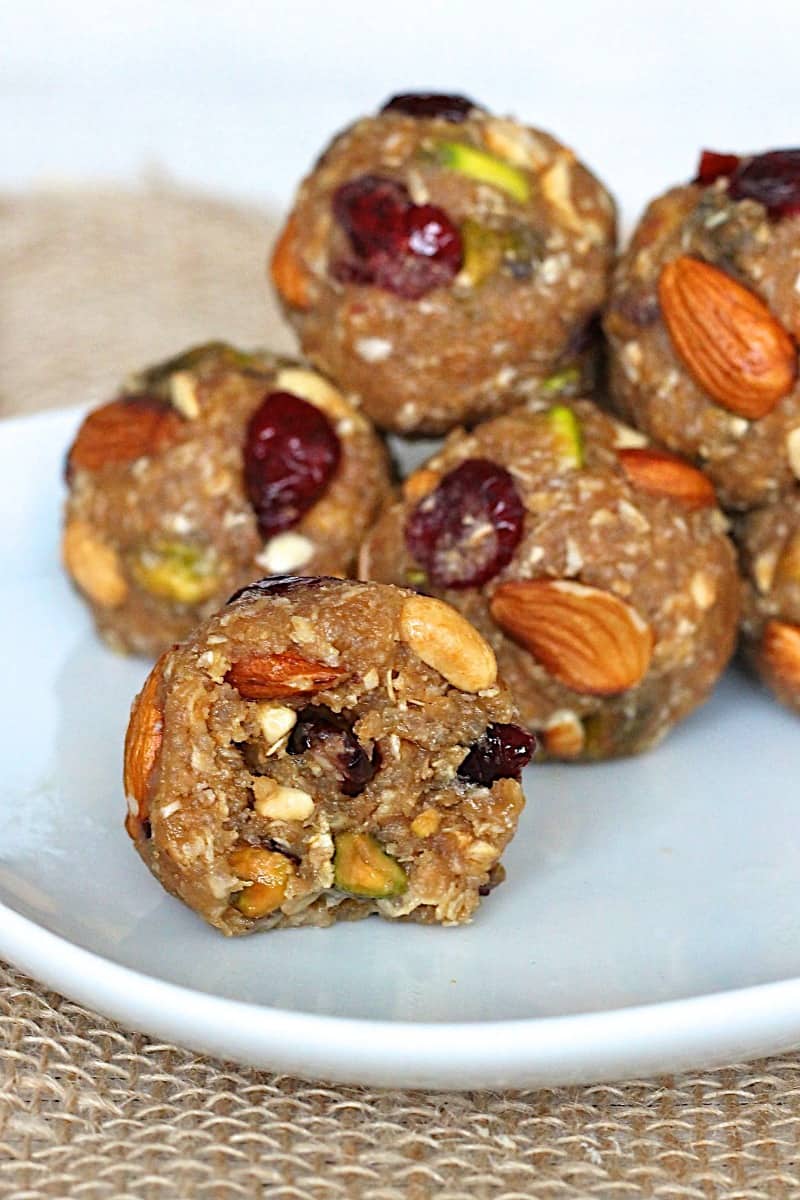 They're packed with all kinds of healthy goodness from the quinoa, oats, peanut butter and nuts. A little honey helps hold them together and sweeten them up. Feel free to adjust the recipe to your loving. You could use almond butter instead of peanut butter, any variety of nuts, or even chocolate chips instead of dried cranberries. The oats and quinoa are key though so don't swap or leave them out!
I like to make a big batch of quinoa on Sunday that I can use in some of my absolute favorite recipes throughout the week, including these quinoa energy bites now. If you're crazy for quinoa, like me, here are some other great recipes you'll love it in or with:
Sweet & Spicy Stir-Fry with quinoa instead of rice
I'm hoping I can stick to a good exercise routine from now on and love that these little bites of yumminess will help keep me fueled on my way to getting fit! Hope you love them as much as I do!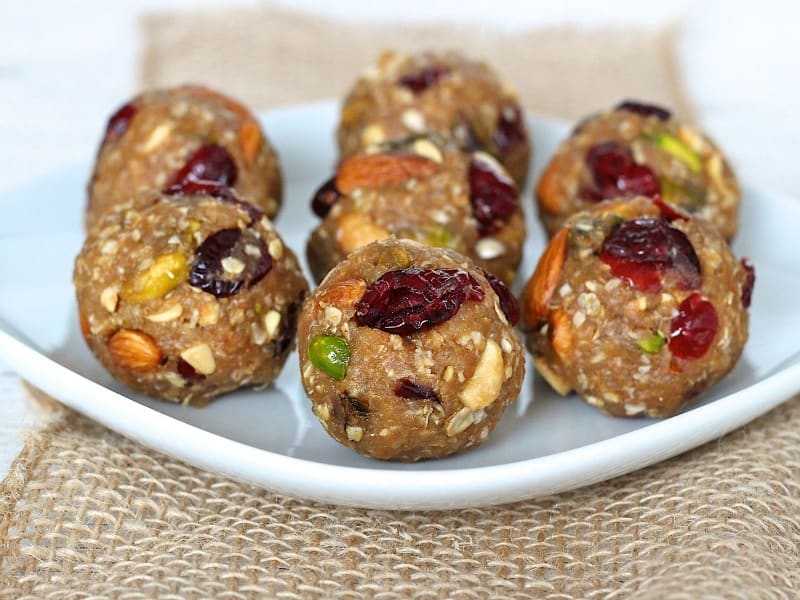 Enjoy!
~Maegan
[printfriendly]
Trail Mix Quinoa Bites
Ingredients:
1 cup peanut butter
1/2 cup honey
2 cups cooked quinoa
1-1/2 cups quick cooking oats
1/2 cup almonds
1/2 cup pistachios
1/2 cup dry roasted peanuts
1/2 cup dried cranberries
Directions:
In a large bowl or electric mixer, stir together peanut butter and honey until smooth. Add remaining ingredients and stir until well combined. Roll mixture into 2 tablespoon sized balls and place on a parchment-lined baking sheet. Refrigerate for about 30 minutes and then transfer to an airtight container. Store in the airtight container in the refrigerator for up to 5 days.
Servings: 30
Prep Time: 10 minutes
Total Time (start to finish): 40 minutes
[printfriendly]