Sharing our best tips for hosting a stress-free dinner party that's enjoyable for both you and your guests!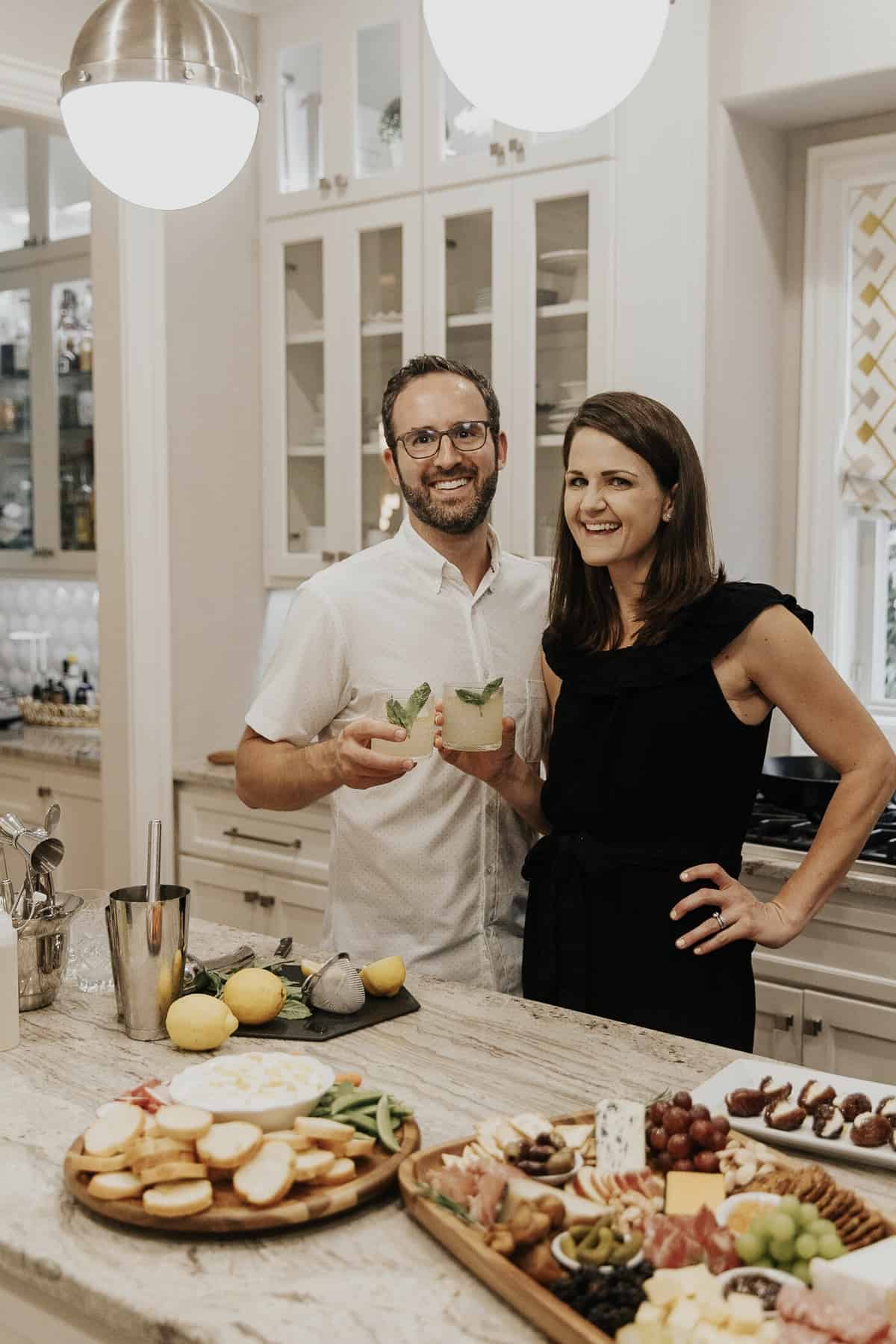 Entertaining others in our home with great food and good company brings us so much joy. From planning the menu to cleaning up afterward, we truly enjoy the entire experience.
I'm partnering with my friends at Sub-Zero, Wolf, and Cove to welcome you into our home and show you how Brandon and I prepare and host a simple yet special dinner party with our friends. My hope in sharing is that we will inspire you to open your home often and create delicious memories with your friends that you will cherish and want to recreate over and over again.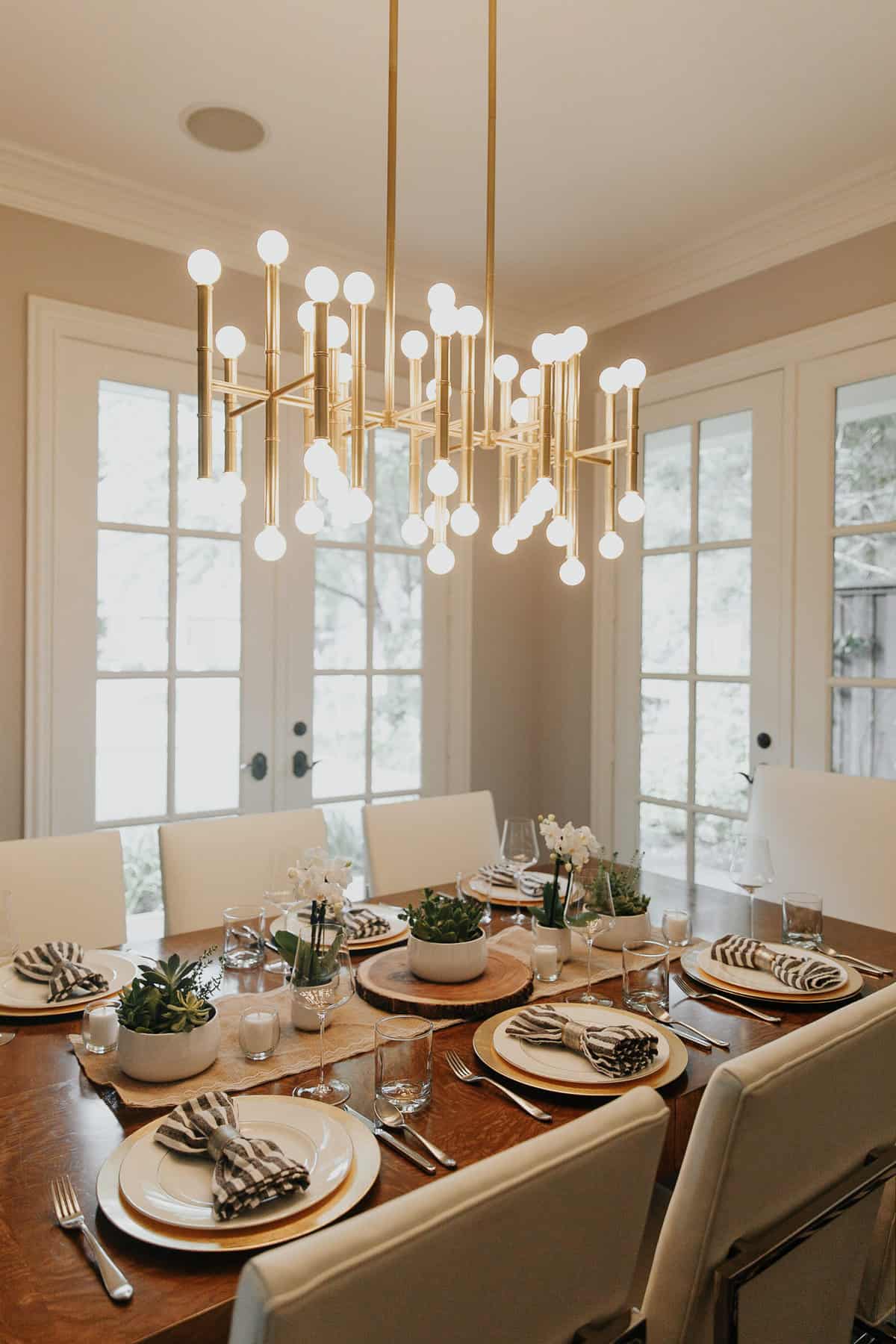 Brandon and I have been hosting dinner parties together since before we got married, 14 years ago, and have learned some tricks over the years to make it a stress-free and enjoyable experience for both us and our guests each time. No matter our budget or the season in our careers or parenthood, we always find ways to host others.
And the most important thing to us when it comes to hosting friends and family in our home is getting to spend quality time with them. We have a few go-to menu items up our sleeves we know people enjoy and that are quick to prep and easy to serve, giving us more time to focus on our guests.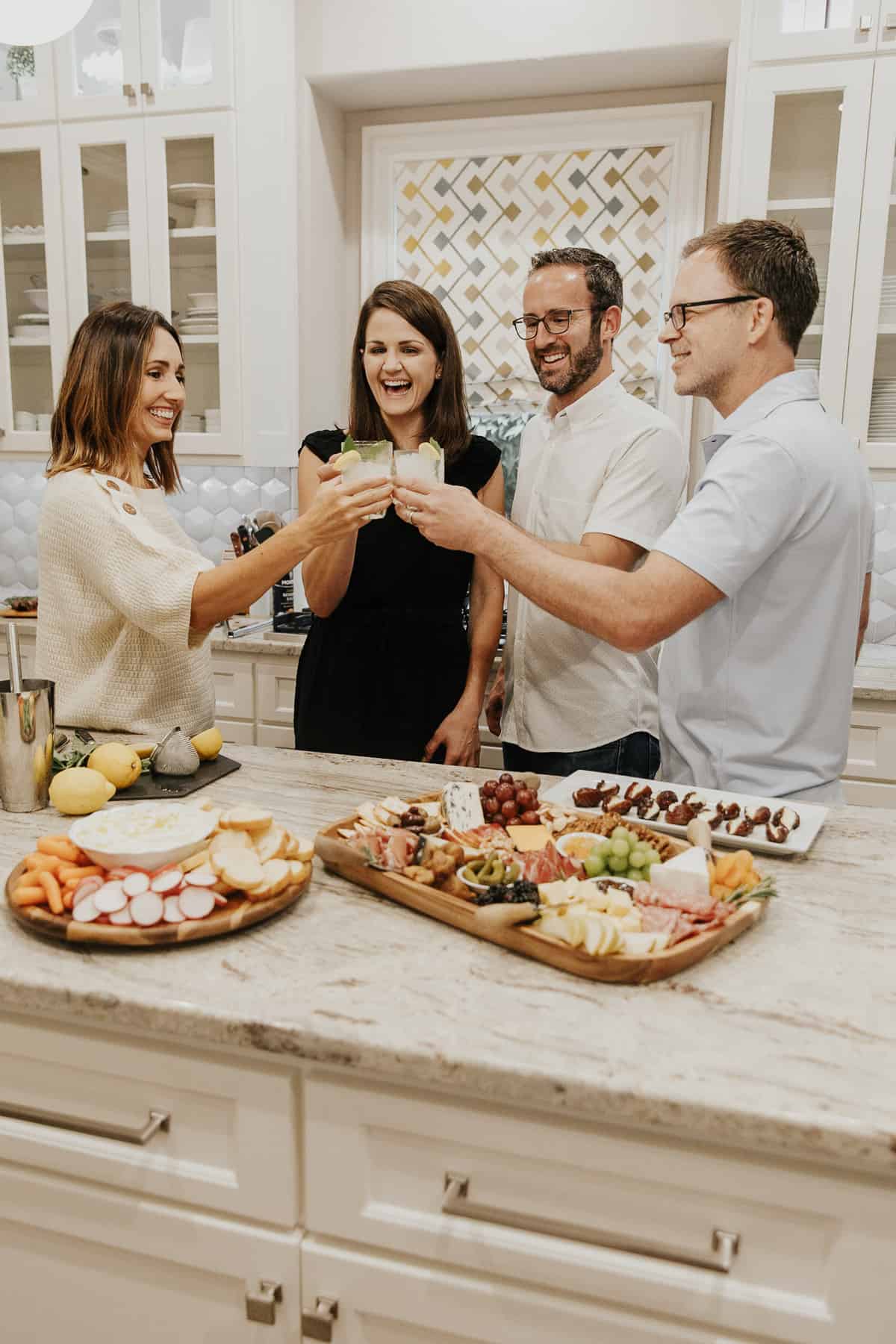 In this post, we're showing our all-time favorite menu: a cheese and charcuterie board, whipped ricotta with veggies and toasts for dipping, mascarpone and yogurt filled dates, perfectly seared steak, salad, bread and warm molten chocolate cakes in a jar. We've mastered this menu to the point where we could plan a last-minute gathering with friends and get the party started within just a few hours.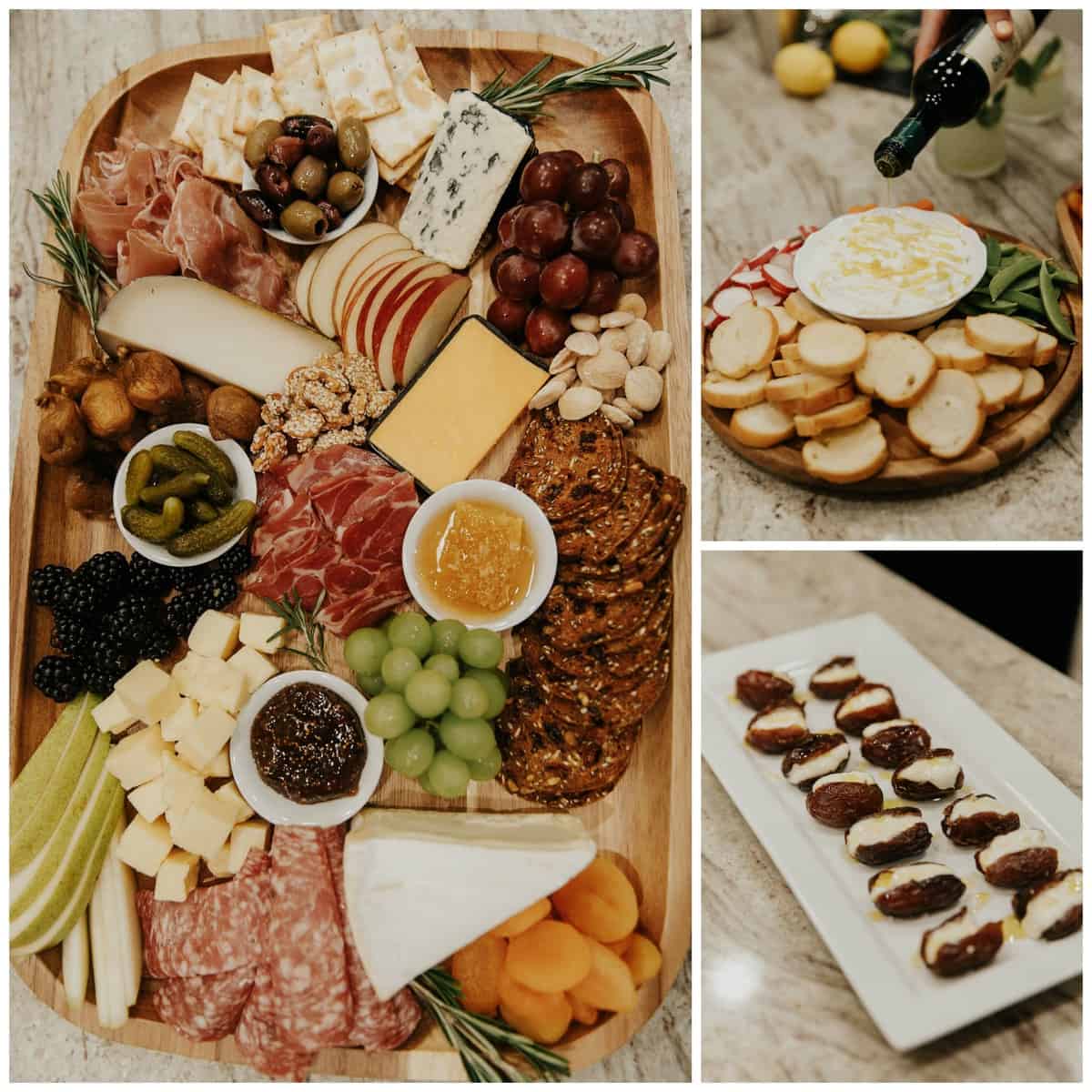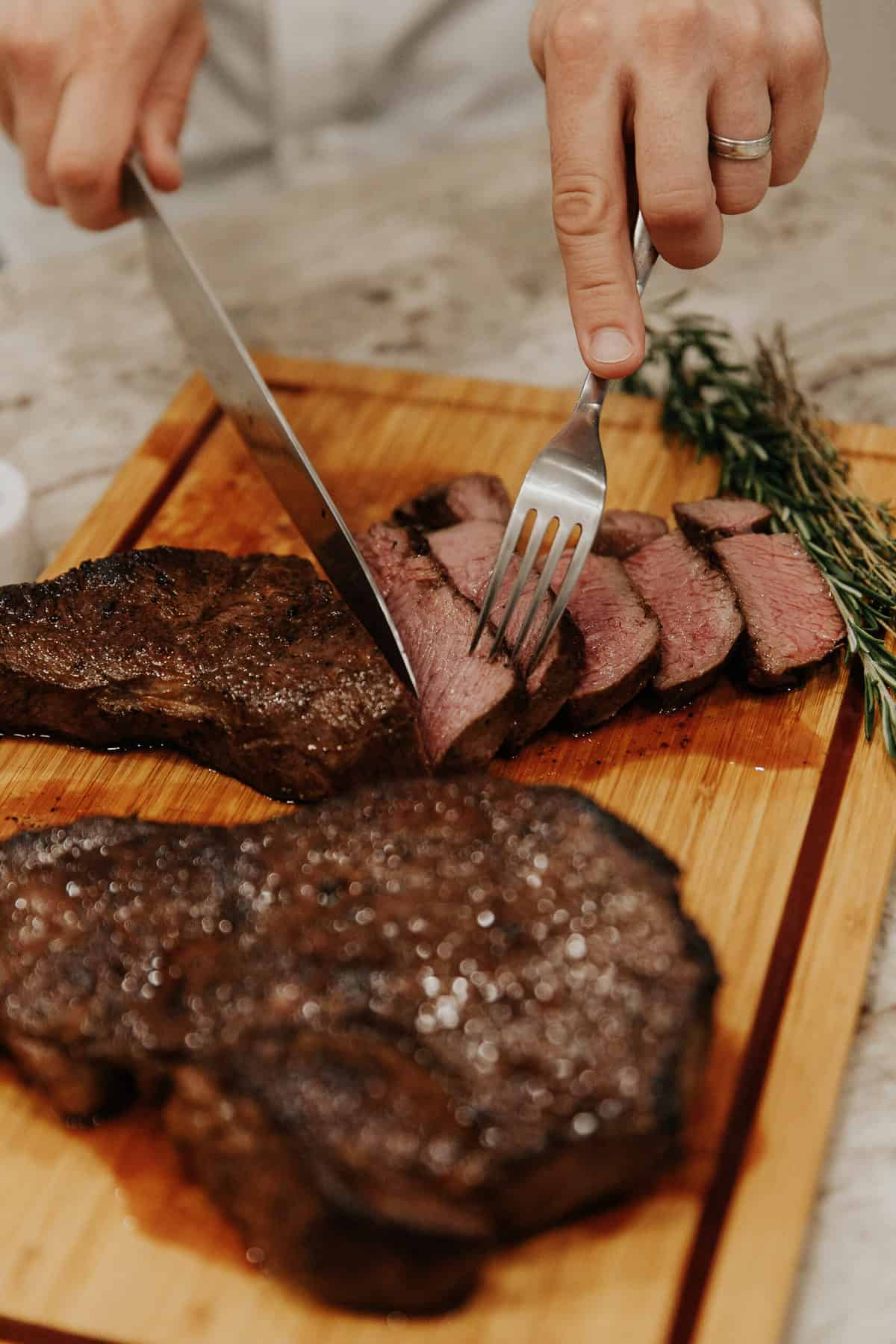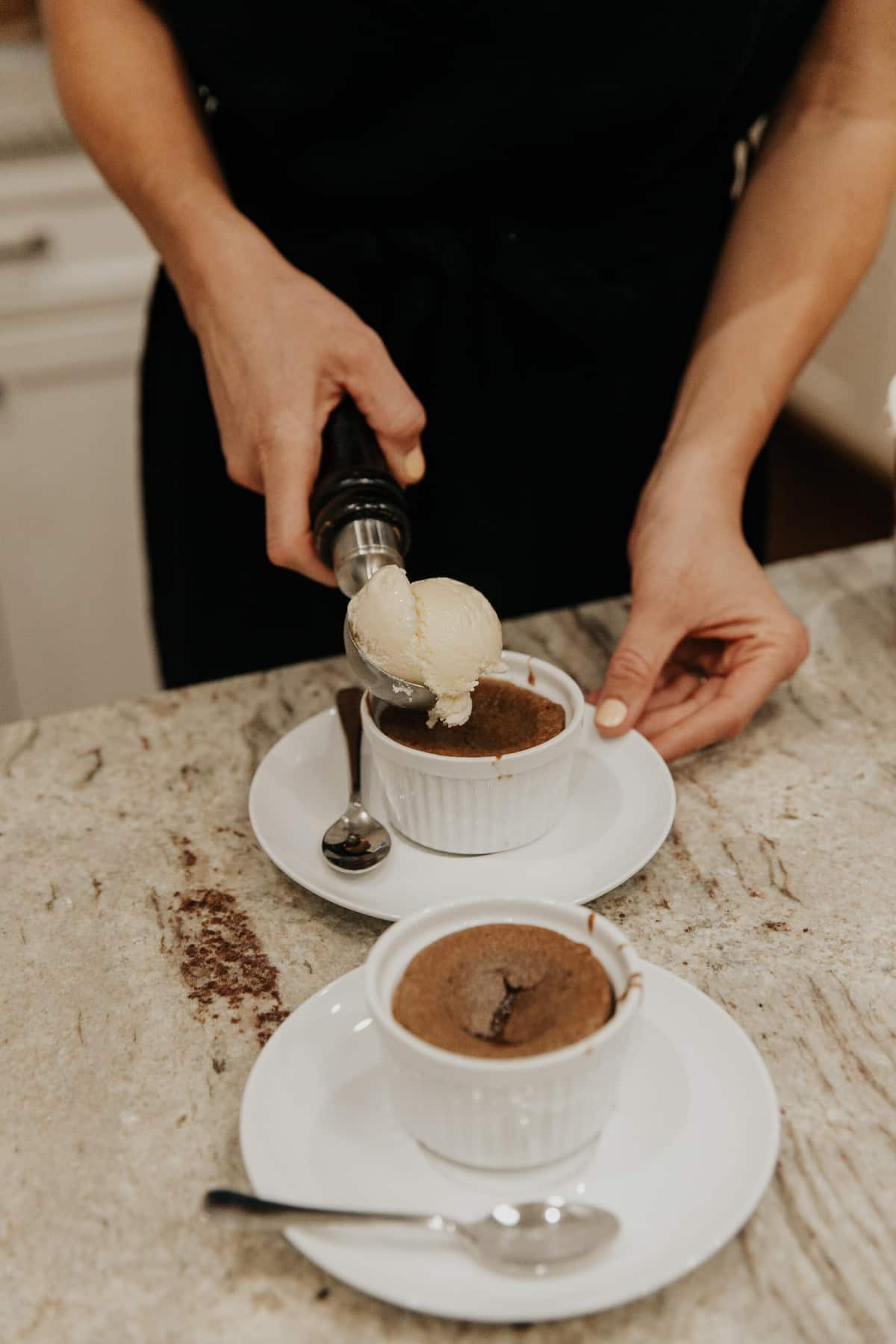 Other menus we love serving are:
Pizza Night! – we'll make homemade pizza dough or buy the dough balls from a local pizza shop or Italian market and make a variety of different pizzas to enjoy over the course of the evening. We'll usually set out several toppings and let a few people at a time team up to prepare a pizza of their choice that we then take to the table and slice for everyone to share. Then we move on to the next pizza. Always a great night! I also make a big salad and we'll usually start the evening with some burrata and roasted tomatoes. And sometimes we'll just order in some pizzas and keep them warming in the oven until we're ready to enjoy them.
Taco Night! – we'll do a big build-your-own taco board and set it down the middle of the island or dining table and let everyone dig in. We start the evening with chips, guacamole and a variety of salsas and, of course, Brandon's amazing margaritas!
Pot-luck! – we'll have each person or couple bring a heavy appetizer that they've prepared or picked up from their favorite restaurant. It's always so fun to try everyone's favorites and gives us all new recipes or restaurant dishes we're eager to try.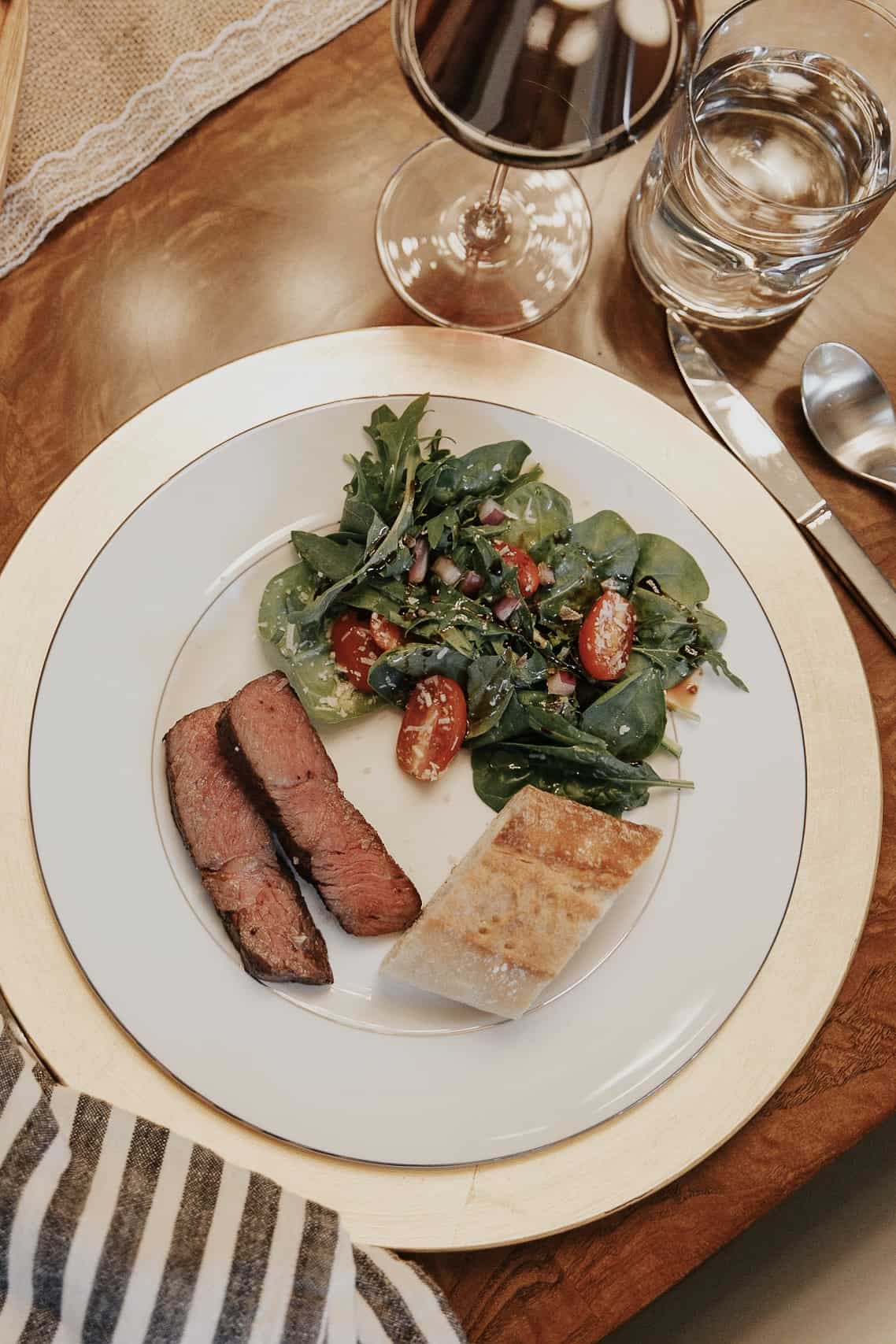 Some nights, we set the mood with a nice tablescape down the dining room table and bust out the fine china. Other evenings, we'll just pull bar stools up to the kitchen island and eat off paper plates. Either way, it's always full of fun and of course lots of yum!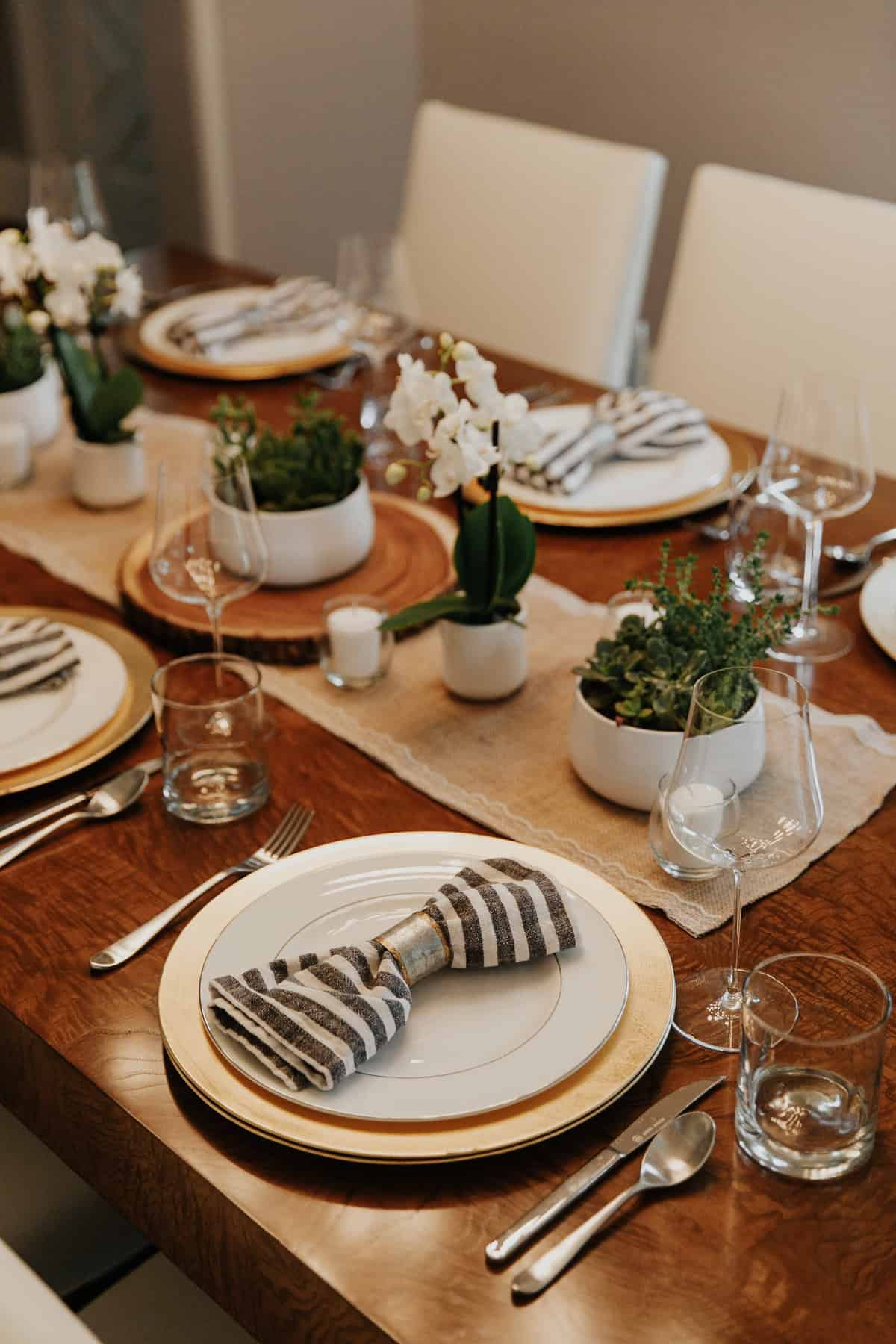 Here are some of our best tips when it comes to hosting dinner parties so that we feel prepared, relaxed and ready to savor the evening with our guests:
Plan the menu: plan a menu that's easy to prep ahead of time so you're not in the kitchen cooking the whole time. And choose recipes that you've made several times before so there's no doubt if it will turn out or not.
Shop and prep strategically: try to do your grocery shopping the day before or earlier in the day so you're not rushing to get everything ready. Also, start prepping the items that tend to take longer to bake or cook first to get them out of the way, so you can spend more time with your guests.
Communicate the menu and plan with your guests: tell your guests the menu ahead of time and ask if anyone has any allergies or aversions. That way they will be able to easily decide what they might want to bring to accompany the meal or which bottle of wine would go best with the meal. And you'll be able to plan for any food restrictions. Also, tell your guests the general plan for the evening so they know how long to plan to stay (especially if they have a sitter at home watching their kids) or if they need to bring anything else to contribute to the evening, like a game to play or a jacket for sitting outside.
Accommodate your guests: if we have someone coming that has an allergy or aversion, we try our best to accommodate. If someone doesn't eat meat or prefers not to eat red meat, we'll also grill up some shrimp, scallops, chicken or hearty veggies. If someone eats gluten free, I'll make sure we have gluten free alternatives when it comes to appetizers, the main course and especially dessert. If someone is pregnant, I'll be sure the cheeses on the cheese board are pasteurized. And if someone doesn't or can't drink alcohol, we'll ask if they have a favorite drink, besides water, that we could have for them to enjoy. The same goes for any other food or drink restrictions as we want everyone to be able to enjoy the evening. Nobody leaves our house hungry, that's for sure!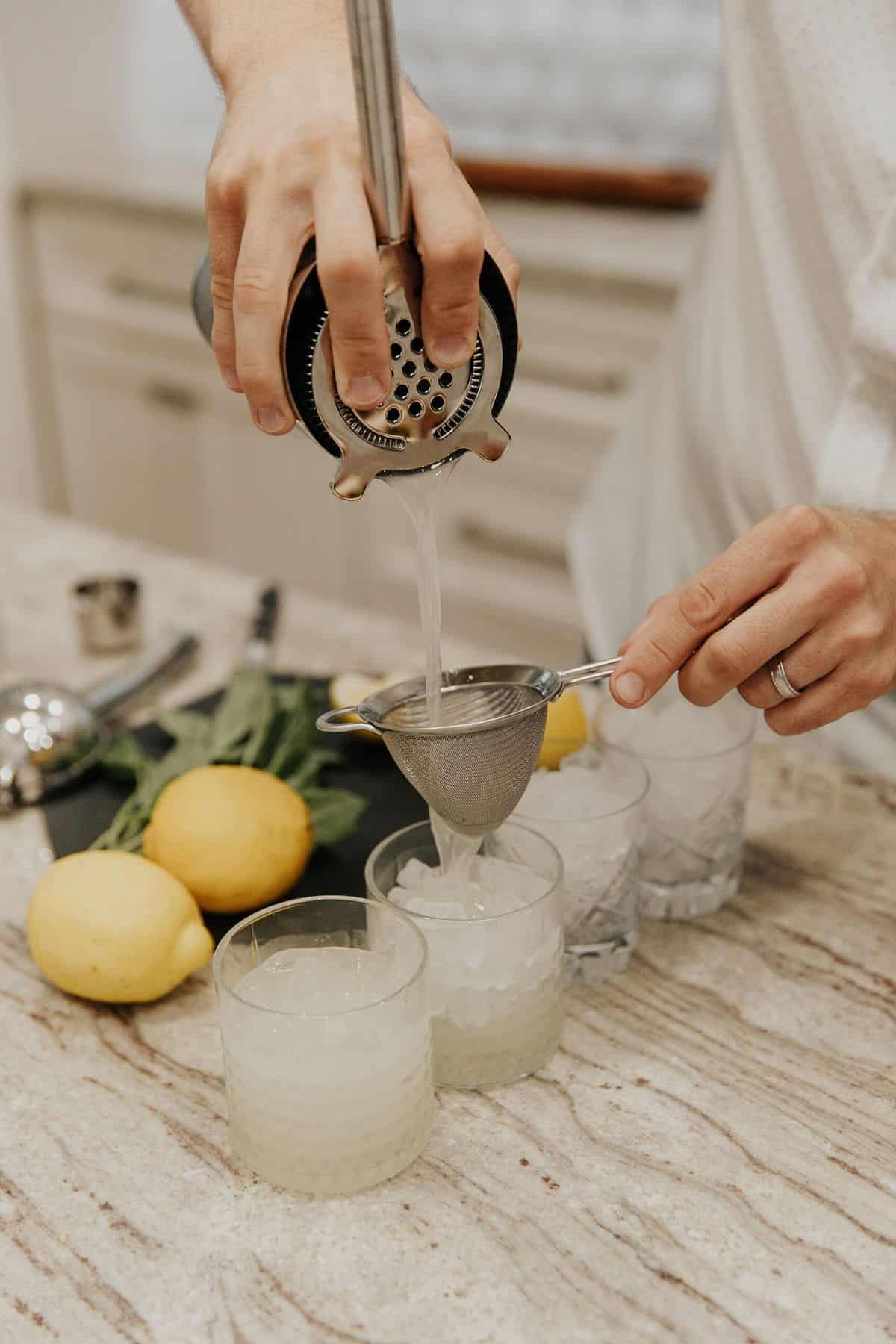 Let your guests bring something if they insist: if your guests really want to bring something, let them. Either give them some ideas of things that would go well with the menu you have planned or just tell them to bring whatever they want. Some people love contributing and it's sure to be enjoyed.
Eat or open what your guests bring: even though you might have everything you need for the party, if someone brings a special dessert they made or a bottle of wine they're proud to share, show your appreciation by serving what they brought along with what you already planned to serve. It's sure to make them happy knowing that you appreciated their thoughtfulness.
Get the party started right away: the great thing about having appetizers and a cocktail or bottle of champagne ready to go when guests start arriving is that it welcomes them in and invites them to get the evening started without hesitation. Go ahead and start sipping and snacking with your guests so they feel more comfortable digging into the deliciousness. It's always nice to go ahead and give your guests a drink as soon as they arrive even if all of your guests aren't there yet. Nobody likes waiting around. Hand your guests a drink, cheers and encourage them to make themselves comfortable.
Change the scene a few times throughout the evening: plan to progress around to a few locations inside or outside your home so that you're not sitting at the same table for hours. For example, we'll start out with appetizers and cocktails around our island and then if it's nice outside, we'll move out there for a glass of champagne and bring the appetizers with us. Then we'll move to the dining table for the main course and dessert. Or we'll start out in the kitchen for appetizers, sit at the dining table for the main course and then move to the family room to play games and eat dessert. It makes for a nice flow to the evening and gives your guests a change of scenery and a chance to stretch their legs.
Play some good tunes: create a playlist or pick a great station that will set the mood for the evening.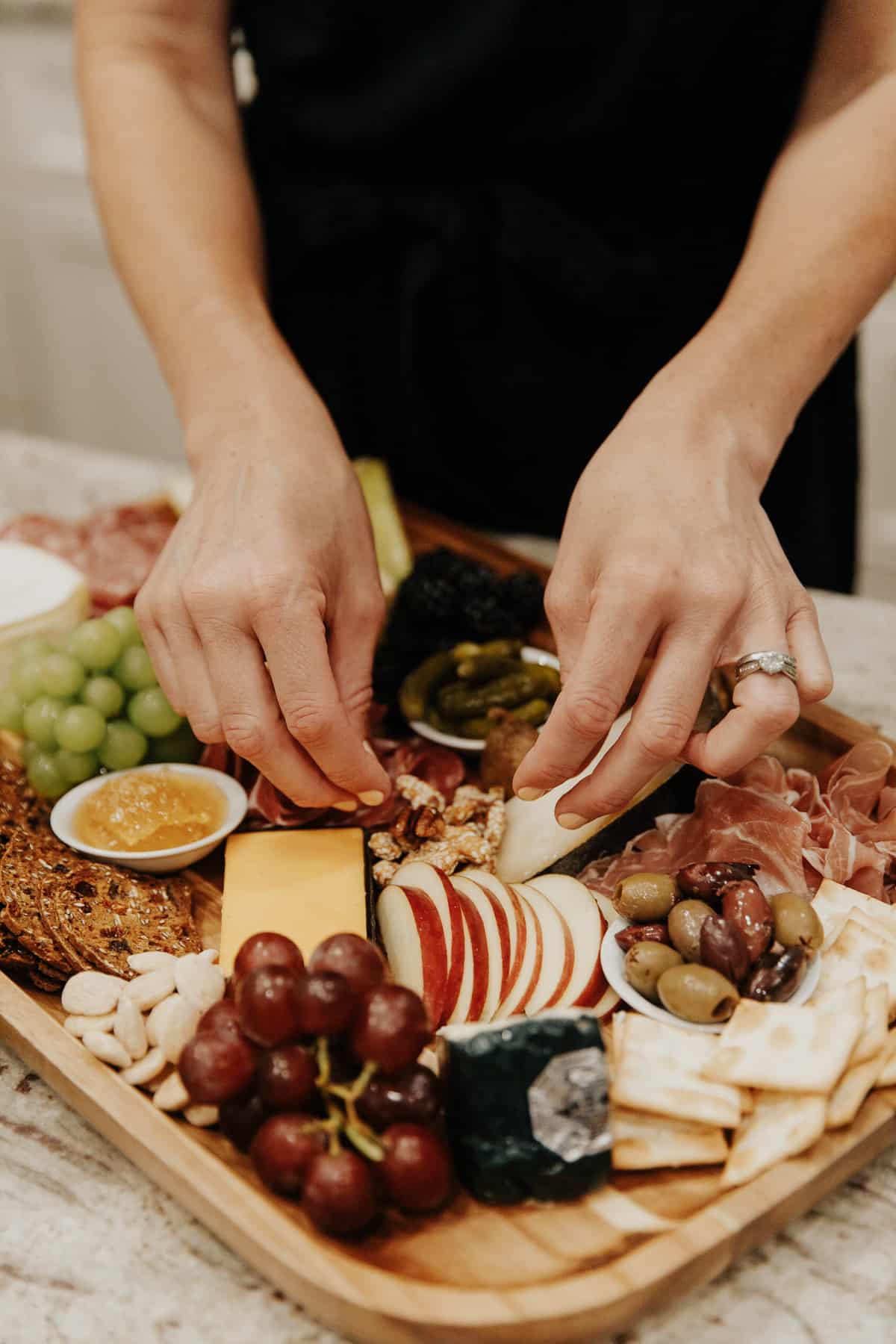 Don't leave your guests hanging: if it's you and someone else hosting (in our case, myself and Brandon) alternate who is in the kitchen preparing the next course or getting more drinks so at least one of you is always with your guests.
Clean up, clean up: try to start the party with an empty dishwasher. It will make clean-up so much faster. And certainly let your guests stay to help clean up a little if they insist on helping, but reassure them that you can clean up later or the next day. Brandon and I actually enjoy cleaning up together because it gives us a chance to reminisce on the evening. We usually laugh and smile a lot about all the fun we just had with our friends.
Get yourself ready first: another great tip that I finally learned is to get myself ready for the party before I start prepping the food. It's such a relief to know that I don't have to run upstairs and rush to get ready right before our guests ring the doorbell.
Be flexible: expect that some things might not go as planned. Someone might have to cancel last minute leaving you with extra food. You might drop the plate of brownies. One of your kids might come down mid-meal to hug everyone at the table goodnight. None of this is the end of the world. Just relax and enjoy the evening as it goes.
Have fun and be present: focus on your friends and enjoy the evening with them!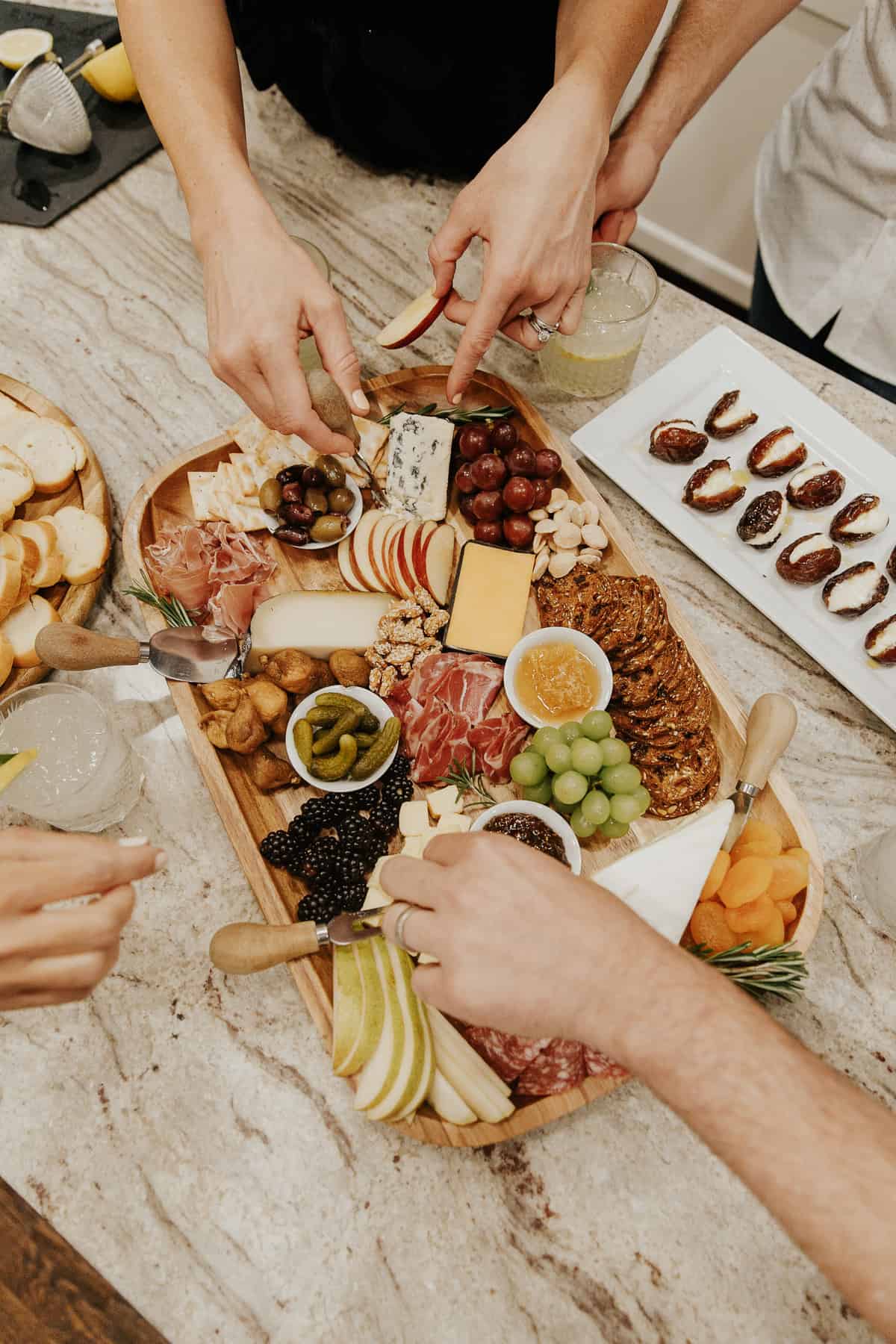 Whether it's two people or a crowd of 20, a three-course homemade meal or pizza delivery, fine china or paper plates, just know that it's the thought that matters most. Inviting others into your home to enjoy good food and a great time together is such a gift.
I encourage you to come up with a menu that you can confidently and conveniently prepare and a plan that makes you feel comfortable and excited to invite friends over often. It's just as much about you enjoying yourself as it is about your guests' enjoyment. It's the experience of living deliciously that everyone will crave again and again.
xoxo,


This is a sponsored conversation written by me on behalf of Sub-Zero, Wolf, and Cove. The opinions and text are all mine. Thank you for supporting the brands that make The BakerMama possible.