A Fix-Your-Own Biscuit Board let's everyone enjoy their biscuits just the way they like them with a delicious selection of fixins to choose from.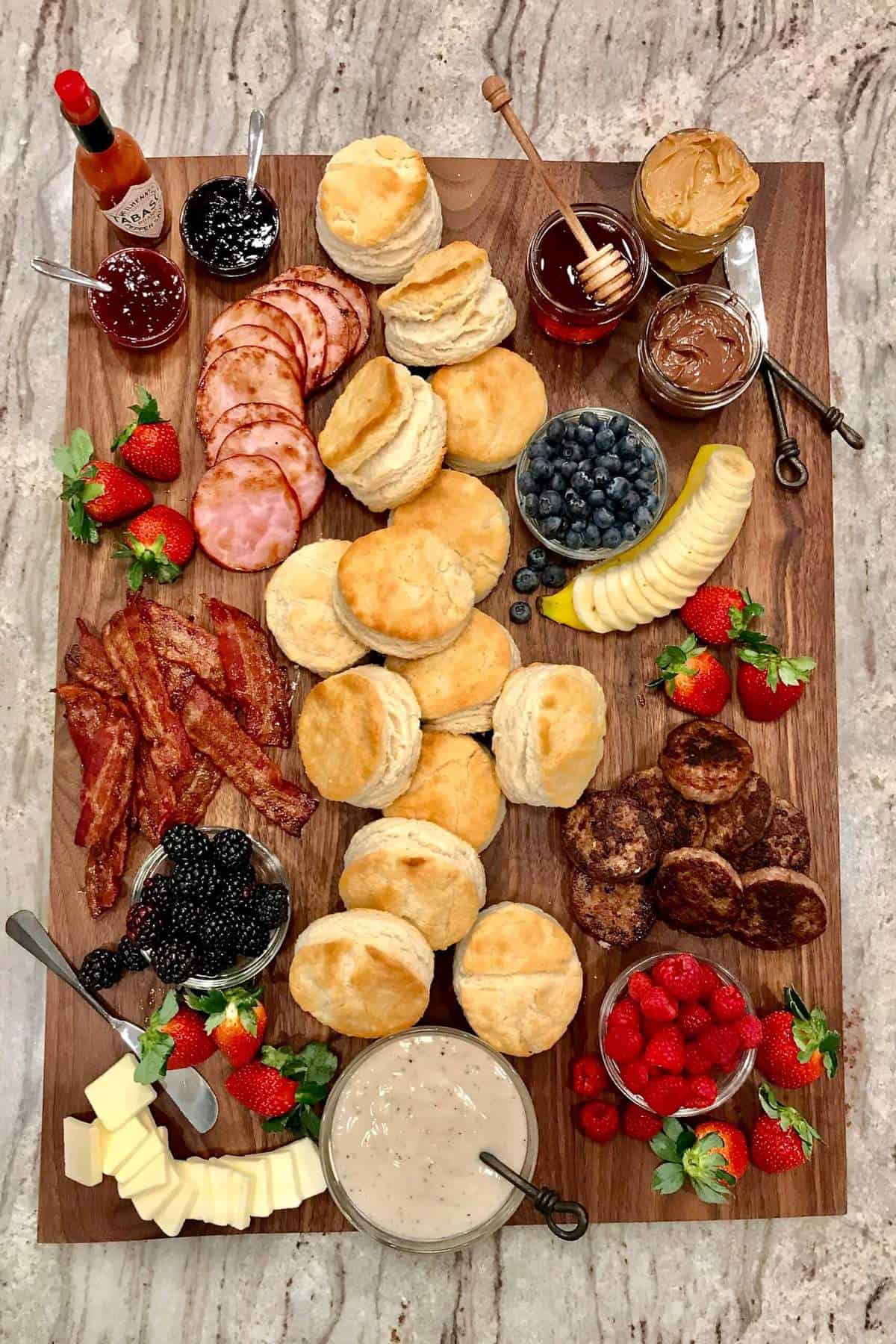 Everything is better on a biscuit so a breakfast board filled with warm, fresh from the oven biscuits, bacon, sausage, gravy, fresh fruits, and a variety of fixins like butter, jams, honey and more, is a breakfast dream come true!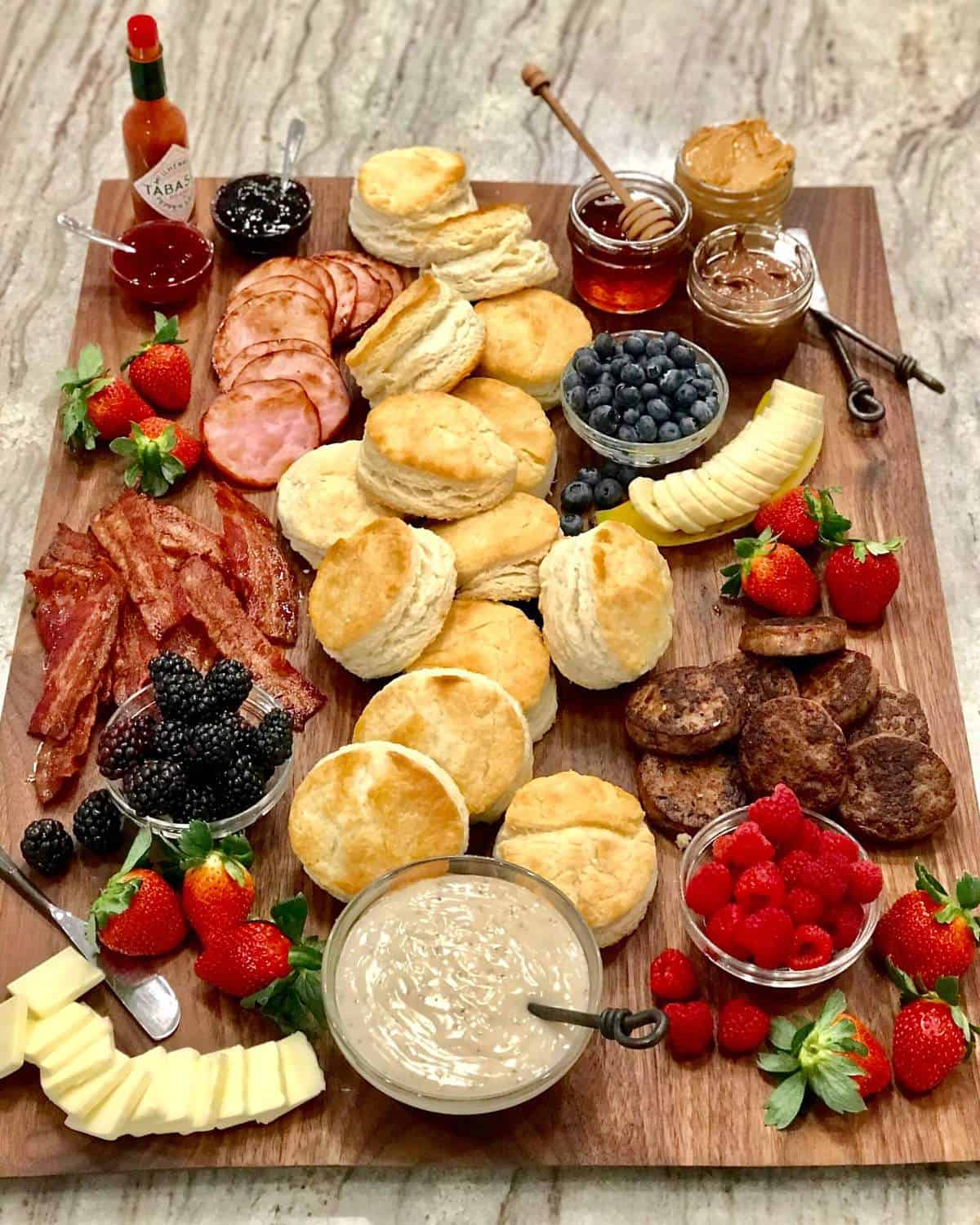 First things first, let's make the best biscuits! I use the buttermilk biscuit recipe from my Oven-Fried Mini Chicken Biscuits. I double it and cut the dough with a round biscuit cutter. So easy and they turn out perfect every time…tender and flaky layers of biscuit amazingness!
Buttermilk Biscuit Recipe
Ingredients:
• 2 cups self-rising flour
• 1 tablespoon sugar
• ½ cup (1 stick) unsalted butter, cold & cut into pieces
• 1 cup buttermilk (you can use whole milk instead)
• 4 tablespoons butter, melted
Instructions:
1. Preheat oven to 450°F. In a large bowl, whisk together the flour and sugar. Cut in the butter with a pastry blender or two knives in opposite directions. Add the buttermilk and stir with a wooden spoon or your hands until well combined. Flatten the dough out into about an 8x10x1/2-inch rectangle on a floured surface. Fold in half and then in half again and flatten back out into the rectangle. Repeat the folding process again and flatten back into the rectangle. Using a floured 2.5-inch biscuit cutter, cut out the biscuits.
2. Place biscuits a few inches apart on a parchment-lined baking sheet. Brush with half the melted butter. Bake for 15-20 minutes or until biscuits have risen and are starting to turn a light golden brown on top. Remove and brush with remaining melted butter.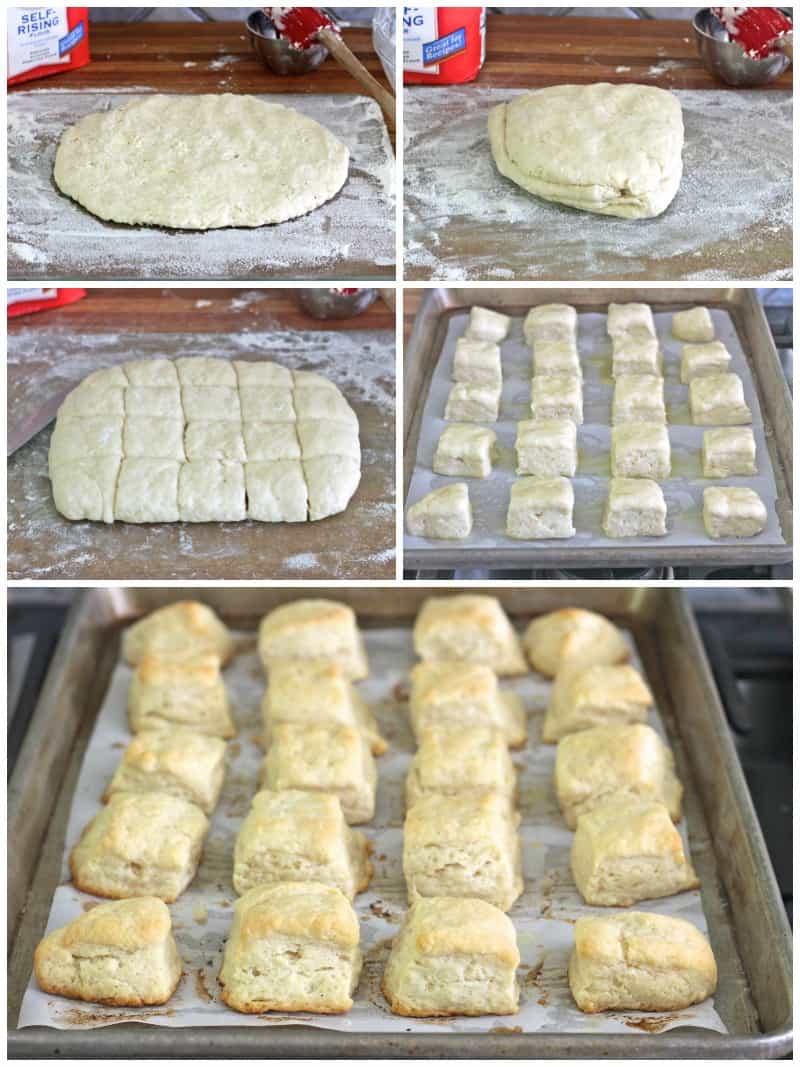 These 5-Ingredient Flaky Cheddar Biscuits or these Honey Whole Wheat Biscuits would be other delicious biscuit options for a great Fix-Your-Own Biscuit Board.
Next, I get the meats ready for the board.
One thing that is sure to appear on almost all of my breakfast boards is baked bacon. Baked bacon comes out perfectly crisp each time and the only clean-up required is tossing the foil that lines the pan into the trash once it's cooled.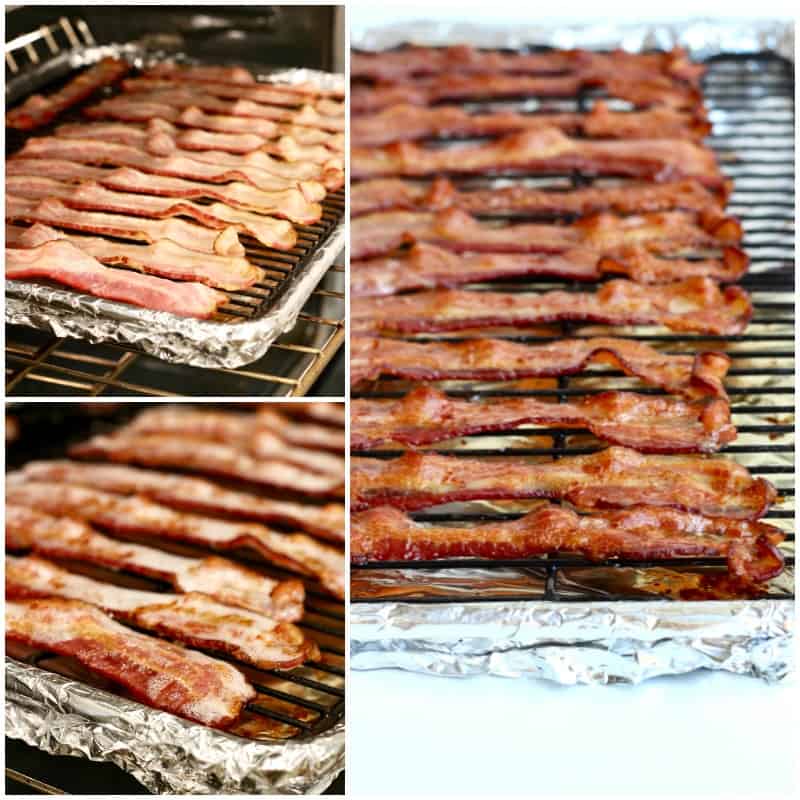 Warm some pre-cooked Canadian bacon in the microwave or on the stovetop. Cook the sausage patties in a skillet on the stovetop.
While I make the gravy and assemble the board, I keep the biscuits and meats warming in a 200°F oven.
Of course the board needs everyone's favorite biscuit topping, gravy!
Here's how to make an Easy Stovetop Gravy:
Melt 2 tablespoons of butter in a saucepan over medium heat. Sprinkle 2 tablespoons of flour over the melted butter and whisk it together to form a paste. Cook for a minute.
Slowly pour in 2 cups of milk, whisking constantly.
Add the salt & pepper, continuing to whisk constantly. Allow the gravy to come to a simmer, still whisking, as it thickens. Taste and adjust seasoning, if necessary.
How to assemble the board:
I used this 24″ x 18″ walnut wood board. Arrange serving bowls of honey, spreads, jams, and fresh berries on the board first. Place spoons and spreaders with each of the fixins as well as a honey dipper in the honey so that people can easily spread and drizzle them on their biscuits. Next, place the sliced butter, sliced banana and a bottle of hot sauce on the board.
Arrange the warm biscuits down the middle of the board.
Place the warm bacon, Canadian bacon and sausage in different spots across the board.
Put the warm gravy in a serving bowl with a serving spoon on the board last. Serve right away and enjoy!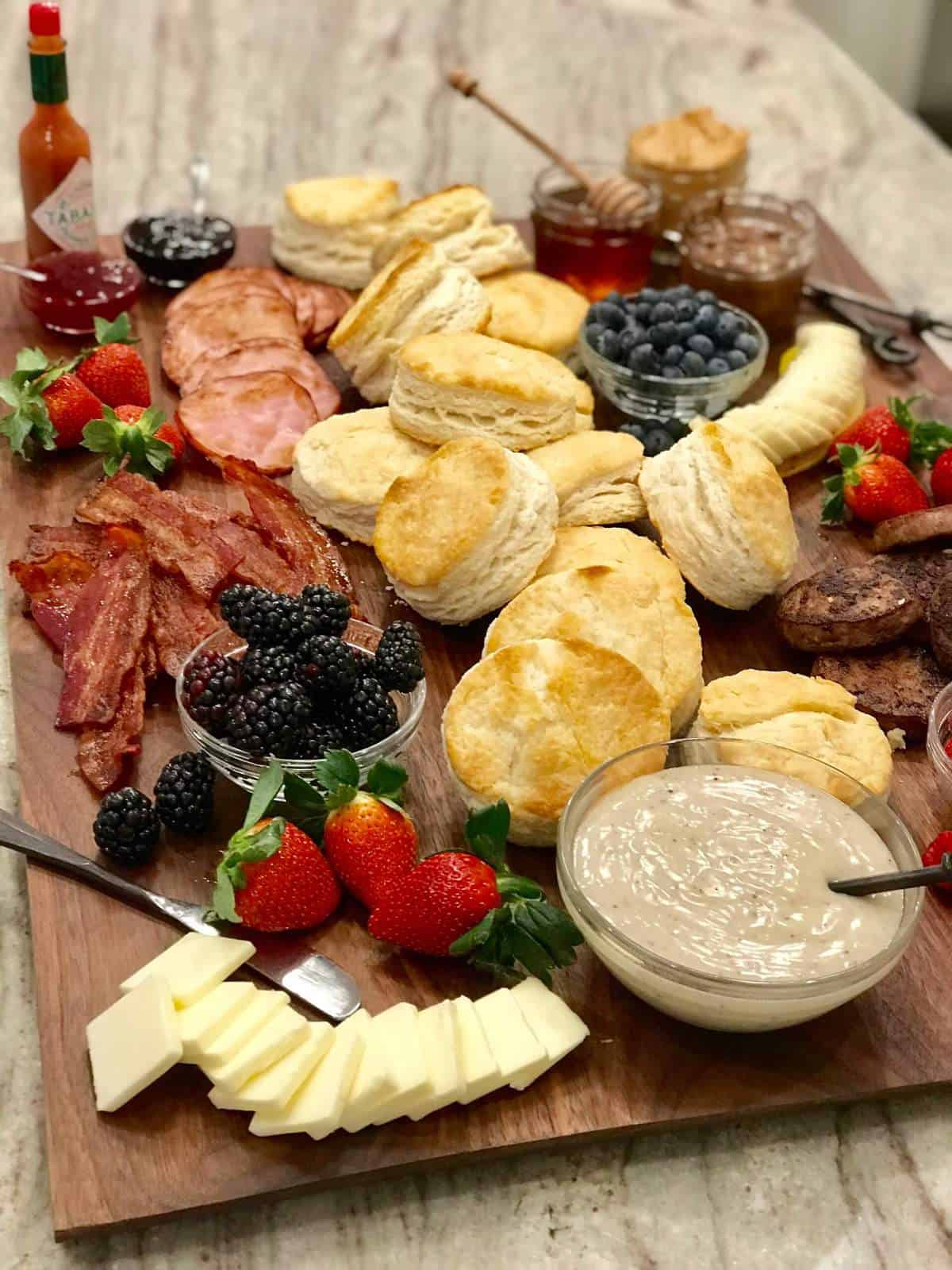 Ta-da! That's all there is to it, my friends! A fun and delicious Fix-Your-Own Biscuit Board.
If you're inspired by this Fix-Your-Own Biscuit Board and re-create it for your loved ones, be sure to snap a picture and share it with me on Instagram @thebakermama so I can see.
I love seeing how inspired and creative y'all get with the boards I share. Have fun and enjoy!
xoxo,


Print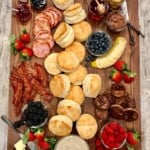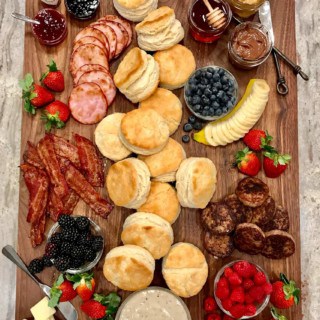 Fix-Your-Own Biscuit Board
Author:

Prep Time:

30 mins

Cook Time:

30 mins

Total Time:

1 hour

Yield:

6-8

Category:

Breakfast
---
---
---
---