Learn How to Bake Bacon that's easy and results in perfectly crisp, beautiful bacon every time!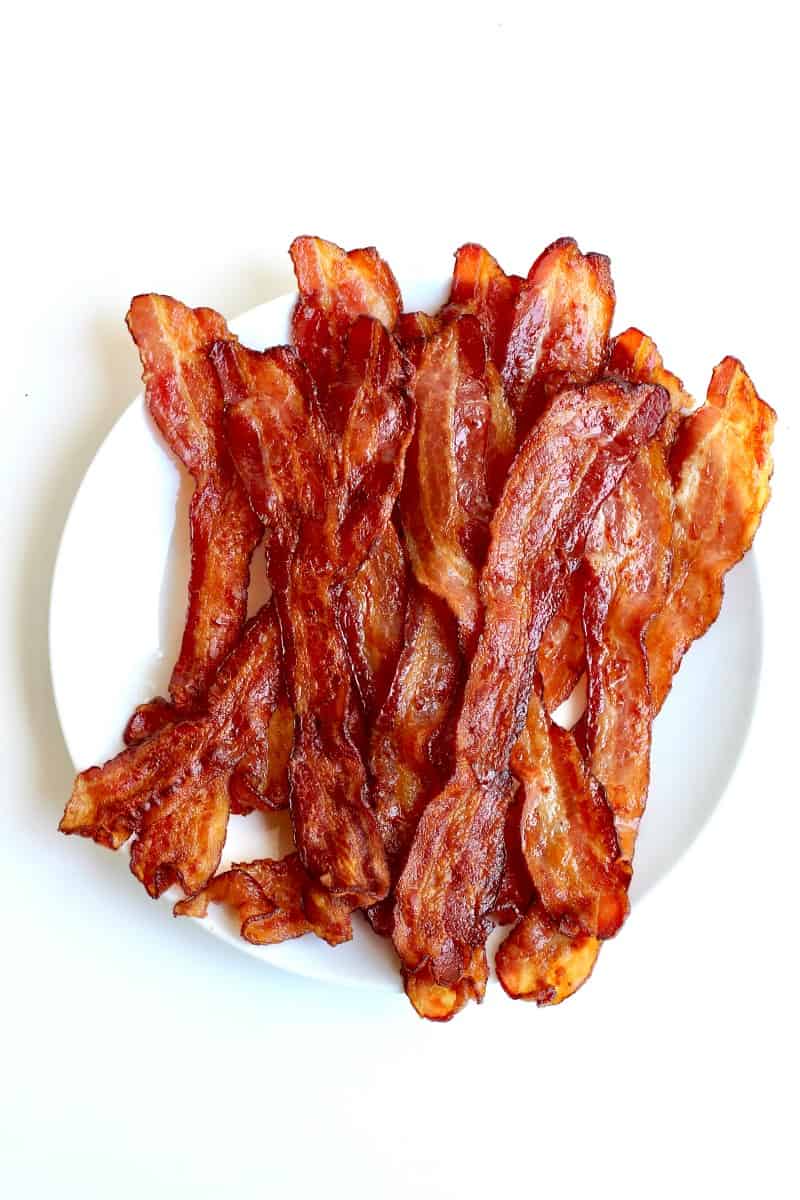 The BakerMama's Basics
Welcome to Basics by The BakerMama! I created this how-to series to help beginner cooks hone their skills, make the most of their time in the kitchen, and create great family memories. I hope you enjoy!
How to Bake Bacon
I get asked all the time how I bake our bacon so perfectly crisp so I decided to write this post to show you exactly how it's done. I love how quick and easy baked bacon is and how I don't have to stand and flip greasy sizzling bacon on my stovetop.
We are a bacon loving family that will go through a whole package in one meal. It's so nice to be able to get the bacon baking in the oven while I prep the rest of the breakfast, brunch or brinner we're having.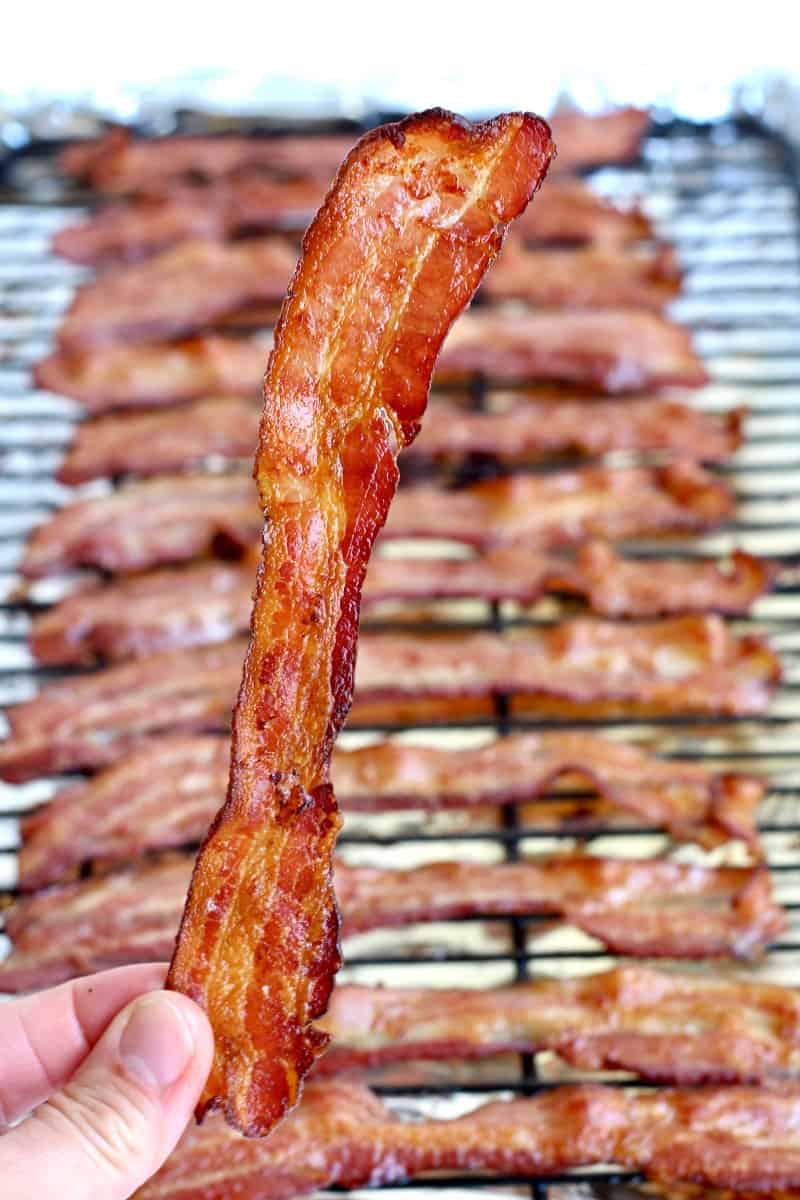 It's all about the baking rack set over the foil-lined baking sheet so the bacon breathes as it bakes to beautiful crispness.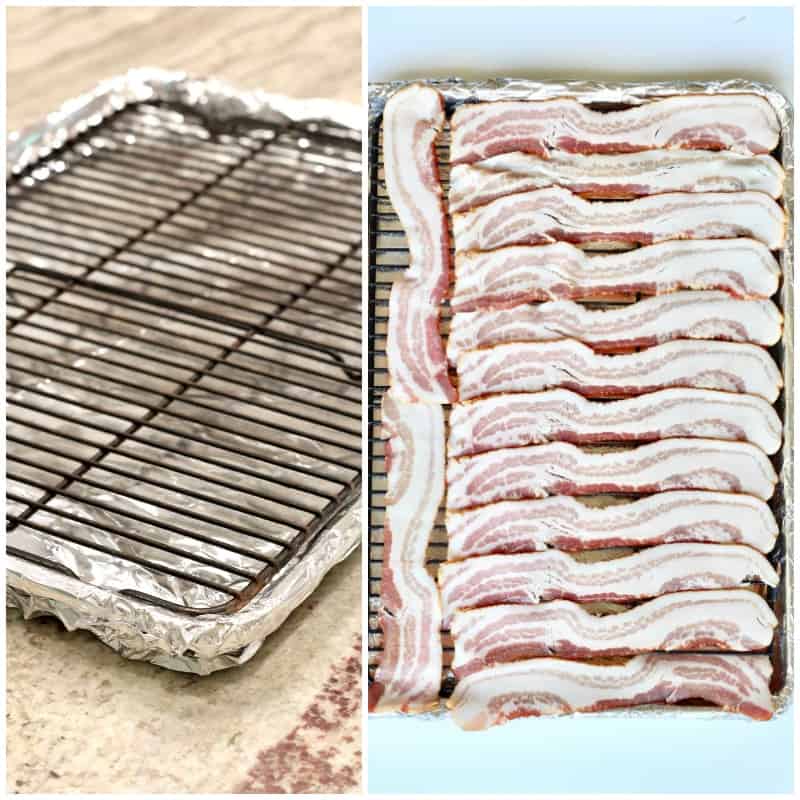 Just about 15 minutes in a 400°F oven is all it takes. It's so nice to let the bacon bake while prepping the rest of the meal. Before I started baking our bacon, I would get so annoyed with all the little grease splatters that covered our stovetop after frying the bacon in a pan on the stove. No mess and no stress with this method.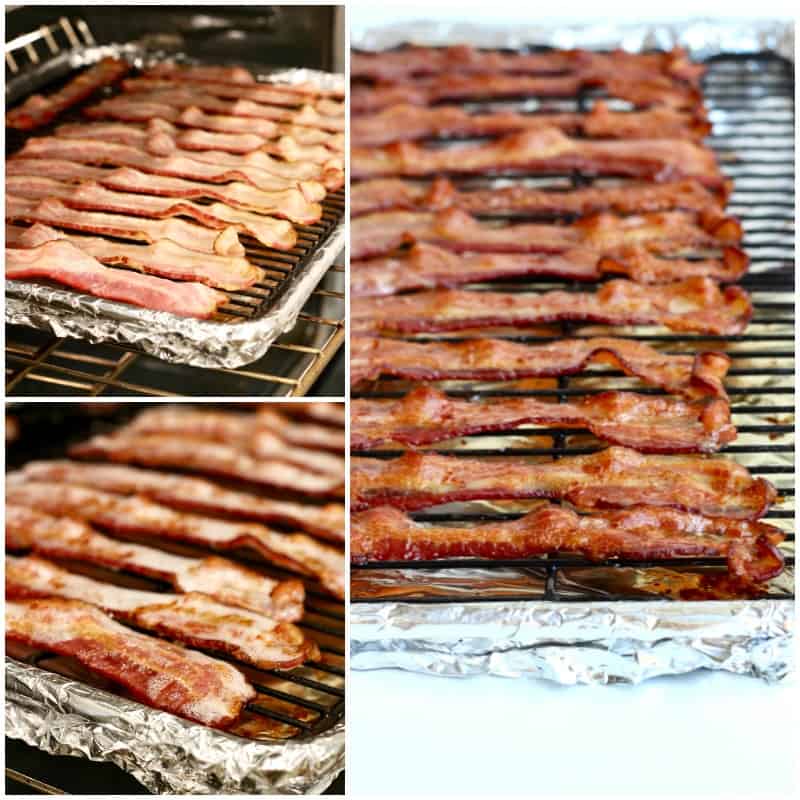 Just let the oven work its magic. Bacon at its best every time.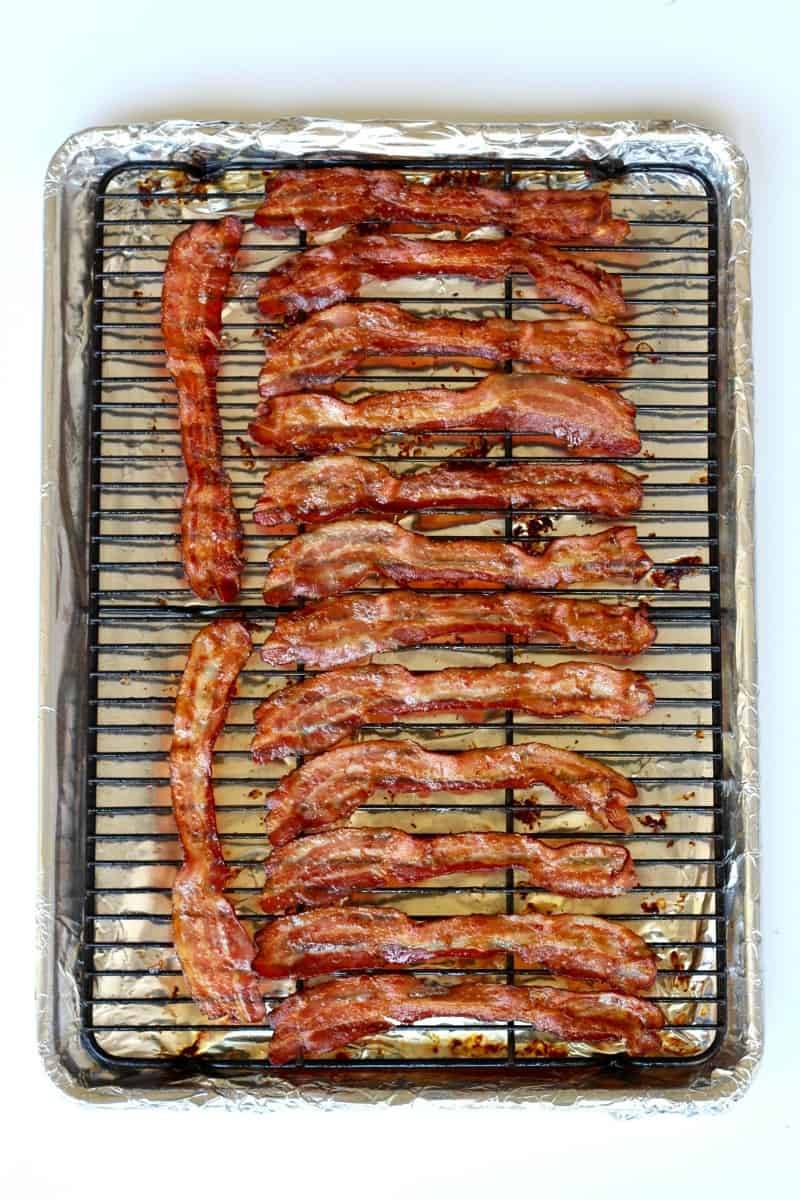 And what makes it even better is that the clean up is so easy. You just roll up the grease drippings in the foil and toss it. You're left with a clean pan that can go right back into the cabinet and a baking rack that can hopefully go straight into your dishwasher.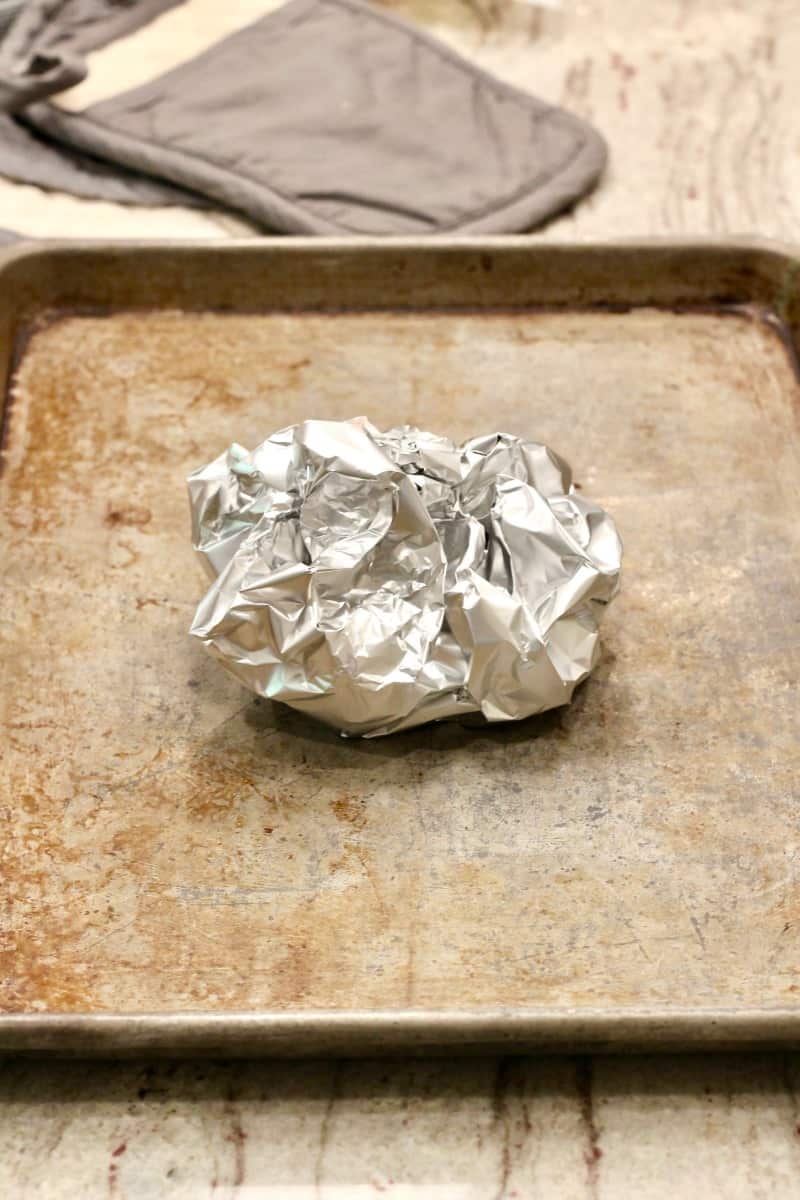 Choosing Bacon
Readers often ask which brand of bacon I use. I've used this baked bacon method on so many different brands over the years and they've all turned out great. The thinner the bacon, the less time it takes to bake crisp. I'm currently loving this uncured dry rubbed bacon from Trader Joe's. It's thin sliced, but not too thin with beautiful marbling and flavor.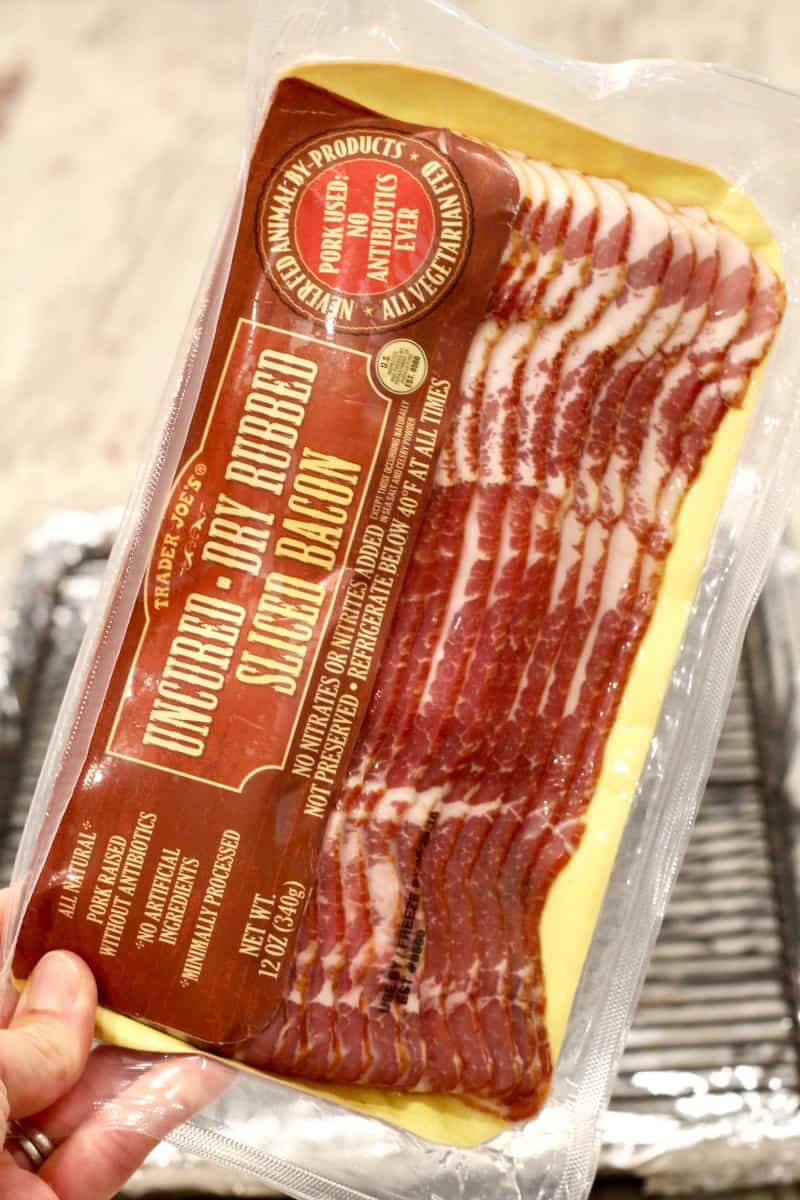 Crisp baked bacon is hard to beat. It goes so great with a big breakfast spread, layered in a sandwich, crumbled over salads, I could go on and on…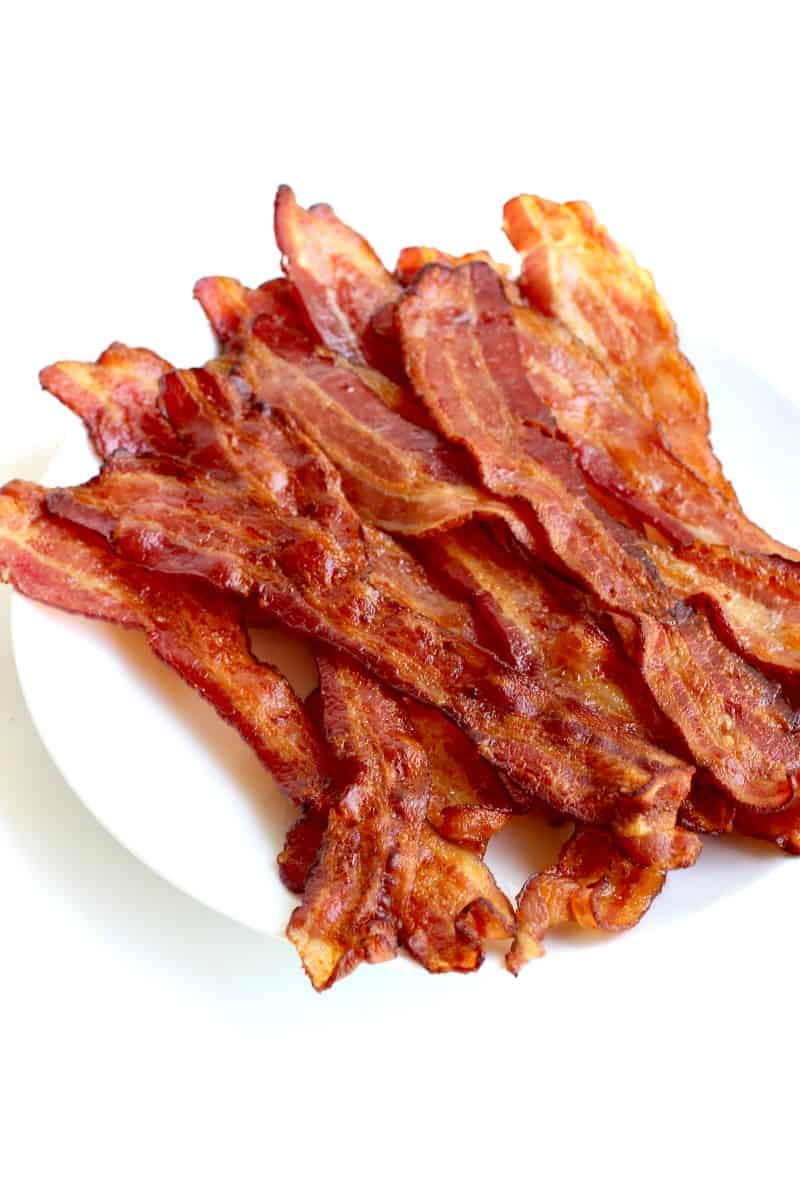 If you've never baked bacon, what are you waiting for? It's the best! Easy, less mess, less stress, crispy, beautiful and most importantly, so darn delicious!
Looking for more Basics by The BakerMama? Try How to Bake a Potato for tried-and-true steps to getting the perfectly baked potato, every time. I hope you find these simple basics helpful! When you make something with the help of my BakerMama's Basics series, be sure to snap a picture and tag me on Instagram @thebakermama so I can see and others can be inspired!
Enjoy!
xoxo,


Print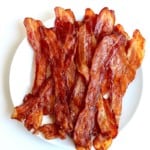 How to Bake Bacon
Author:

Prep Time:

5 mins

Cook Time:

15 mins

Total Time:

20 mins

Yield:

14

slices

1

x

Category:

Breakfast
---
Description
Baked bacon is so easy and results in perfectly crisp, beautiful bacon every time!
---
1

(12 ounce) package thin sliced bacon (about

14

slices)
---
Instructions
Preheat oven to 400°F.
Line a large rimmed baking pan with foil and set a baking rack into the pan. Spray the baking rack generously with non-stick cooking spray. Arrange bacon in a single layer on the rack trying not to let it overlap.
Bake the bacon for about 15 minutes, rotating the pan halfway through baking time, until bacon is of desired crispness. Remove bacon from the oven and let set for a few minutes before serving.
For easy clean-up, let baking sheet cool completely. Remove rack and gently fold up the foil to put in the trash.
---
Notes
Thick sliced bacon usually takes about 25 minutes to bake crisp.