5-Ingredient Flaky Cheddar Biscuits ready in  just 15 minutes. The flakiest, butteriest, cheddar biscuits you'll ever eat!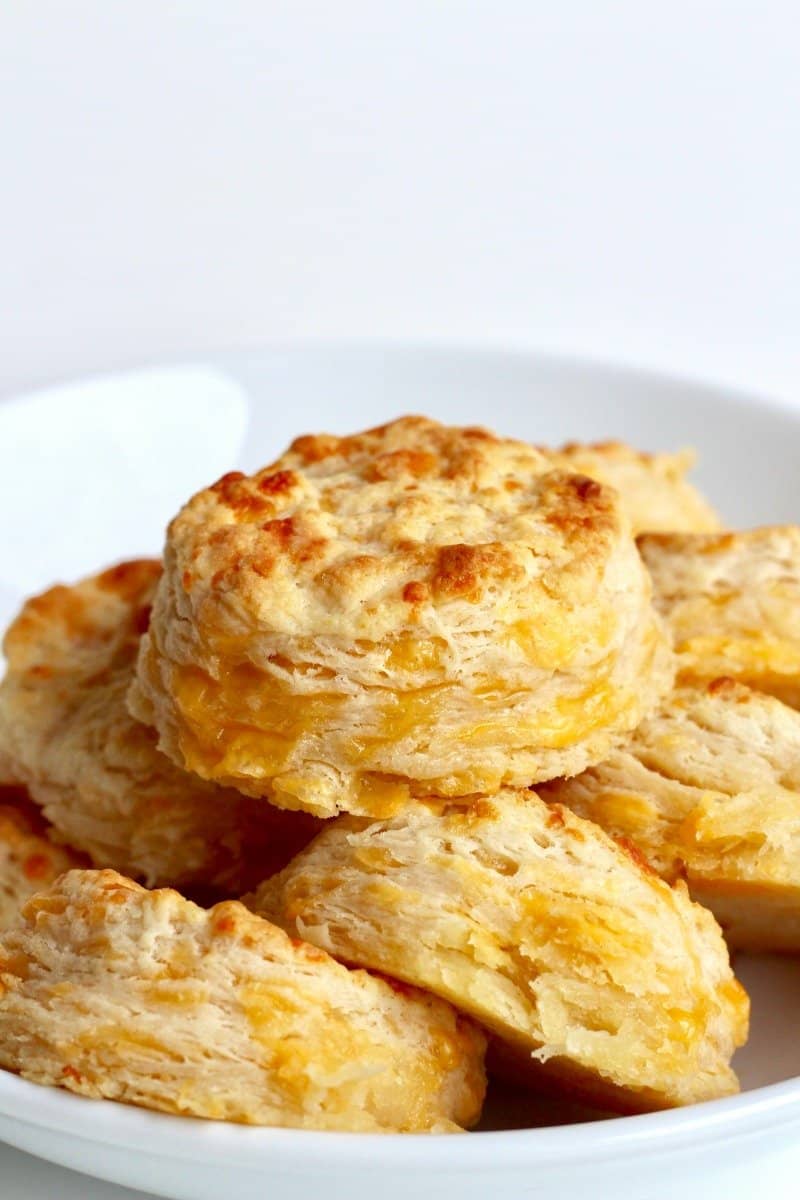 These cheddar biscuits are everything, y'all! Everything a biscuit should be and more. They're layer after layer of buttery, cheesy goodness that you just can't get enough of when you're eating one.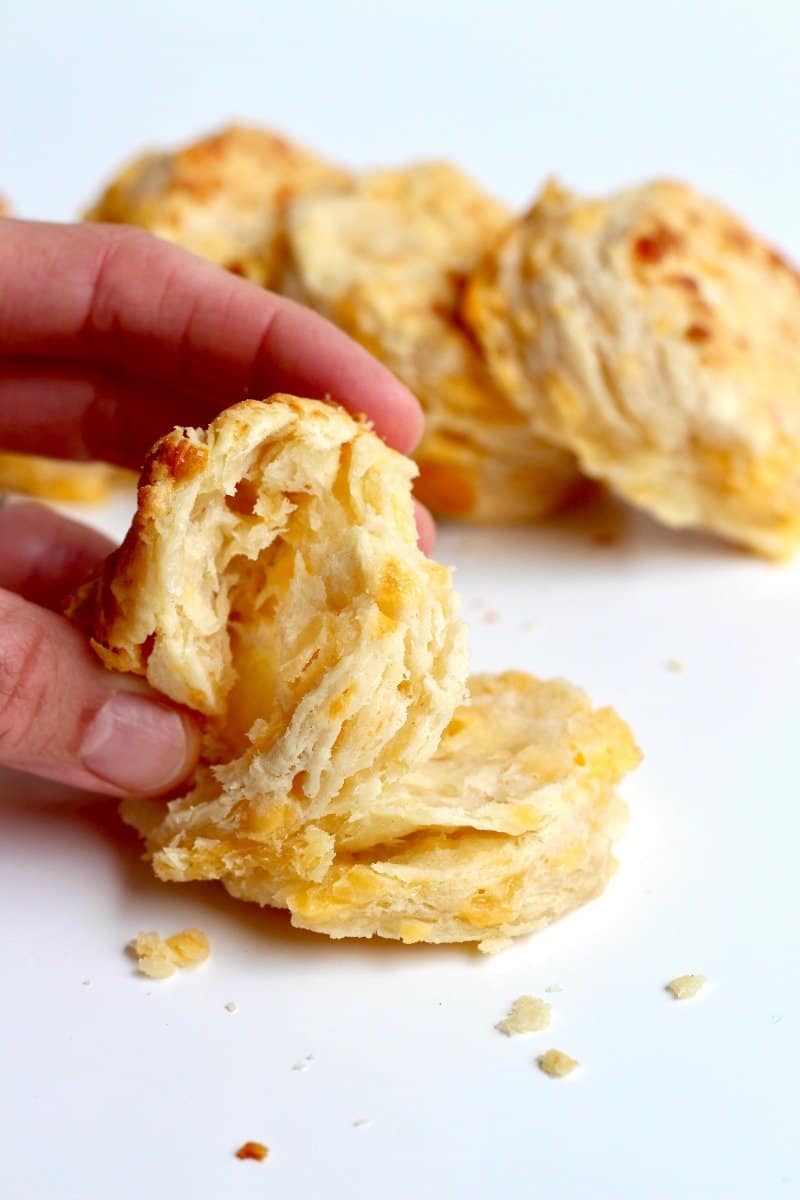 I got the idea to create this cheddar biscuit recipe on a recent trip to Detroit to spend a #LegenDairyWeekend with some of my best blogging buddies hosted by my friends from Kroger and Tillamook. It was LegenDairy indeed! Every aspect of the weekend was planned and prepared so beautifully by the amazing Sarah of Broma Bakery.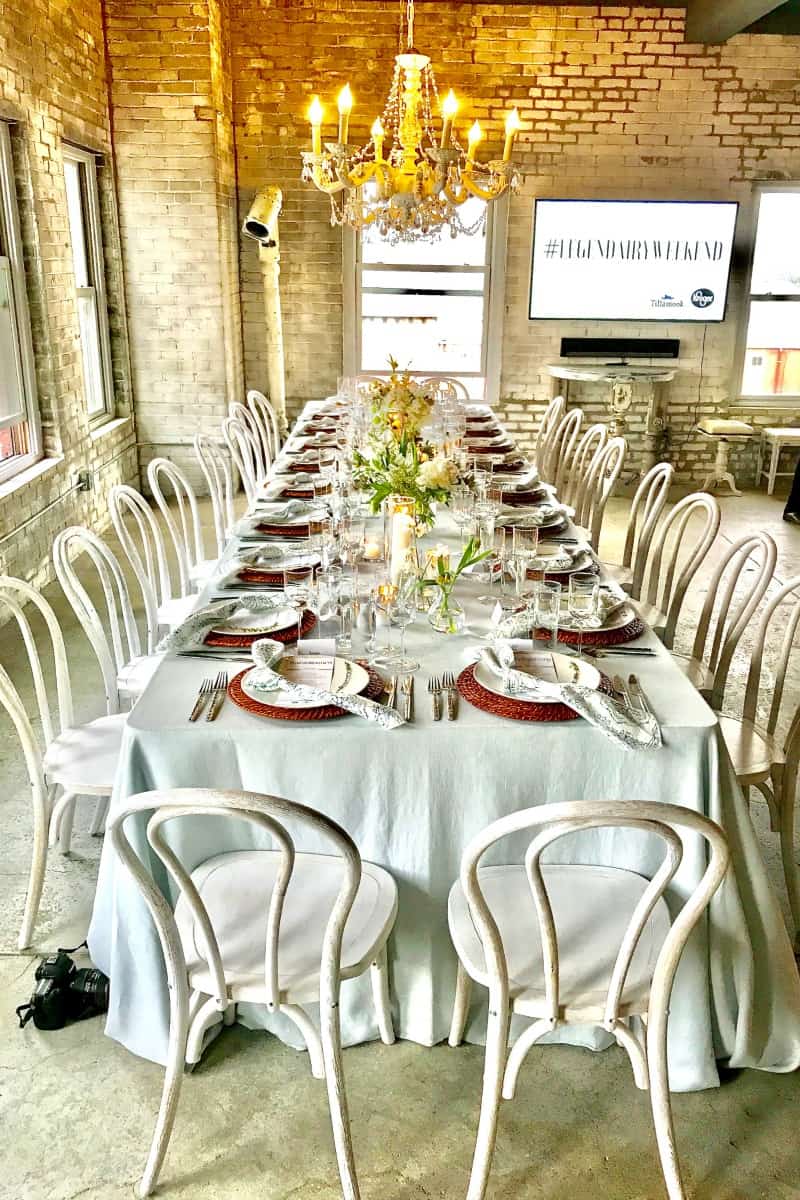 We enjoyed and learned about all the delicious products Tillamook now offers in some of the Kroger stores across the country. It's not just cheese! We're talking rich & creamy yogurts, decadent ice creams, real deal butter and so much more. Dairy done right!
Every meal and snack throughout the weekend incorporated both Tillamook Dairy Products and Kroger's high quality product lines so creatively and deliciously. It was such a treat to get to try each dish the chefs prepared for us.
That Saturday, we bloggers had the chance to get creative and build our own smoothie bowls for breakfast then our own cheese boards for lunch. If you know me, you know how excited I got when I saw this cheese board building station being set up…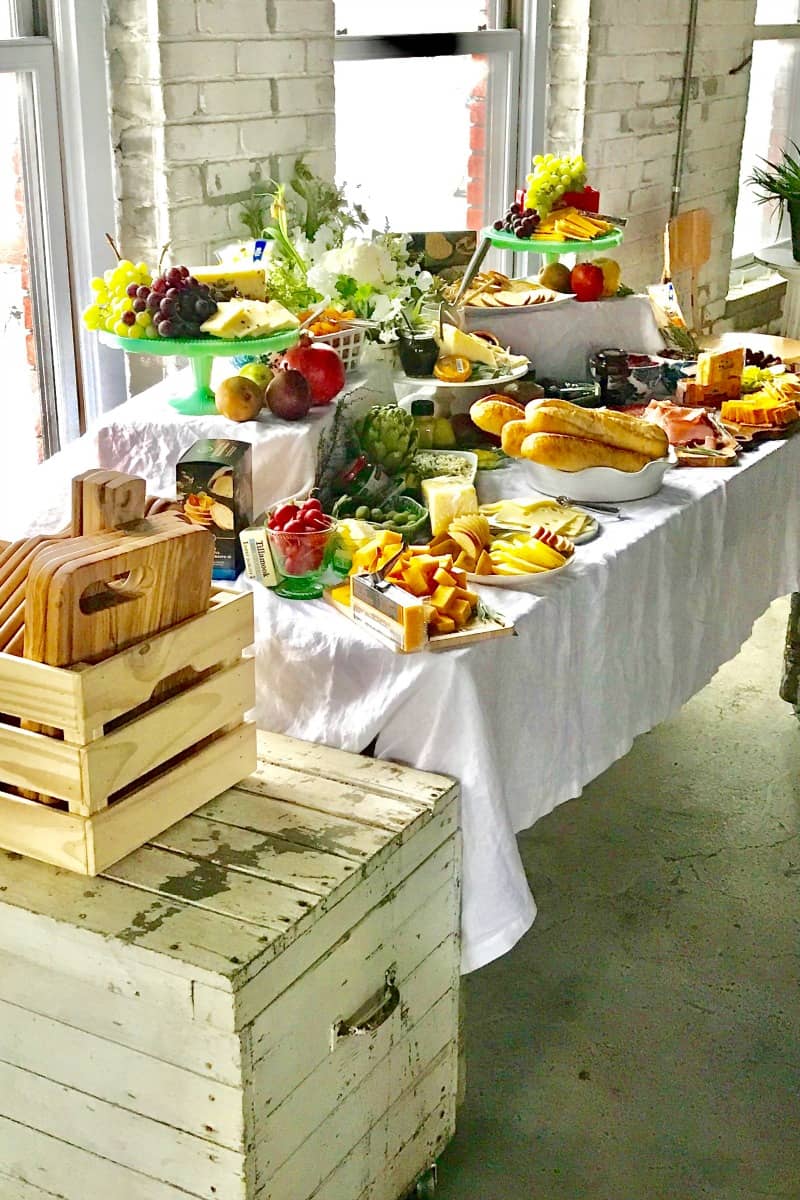 Building and eating cheese boards are two of my favorite hobbies these days so I definitely didn't disappoint myself with this lunch creation…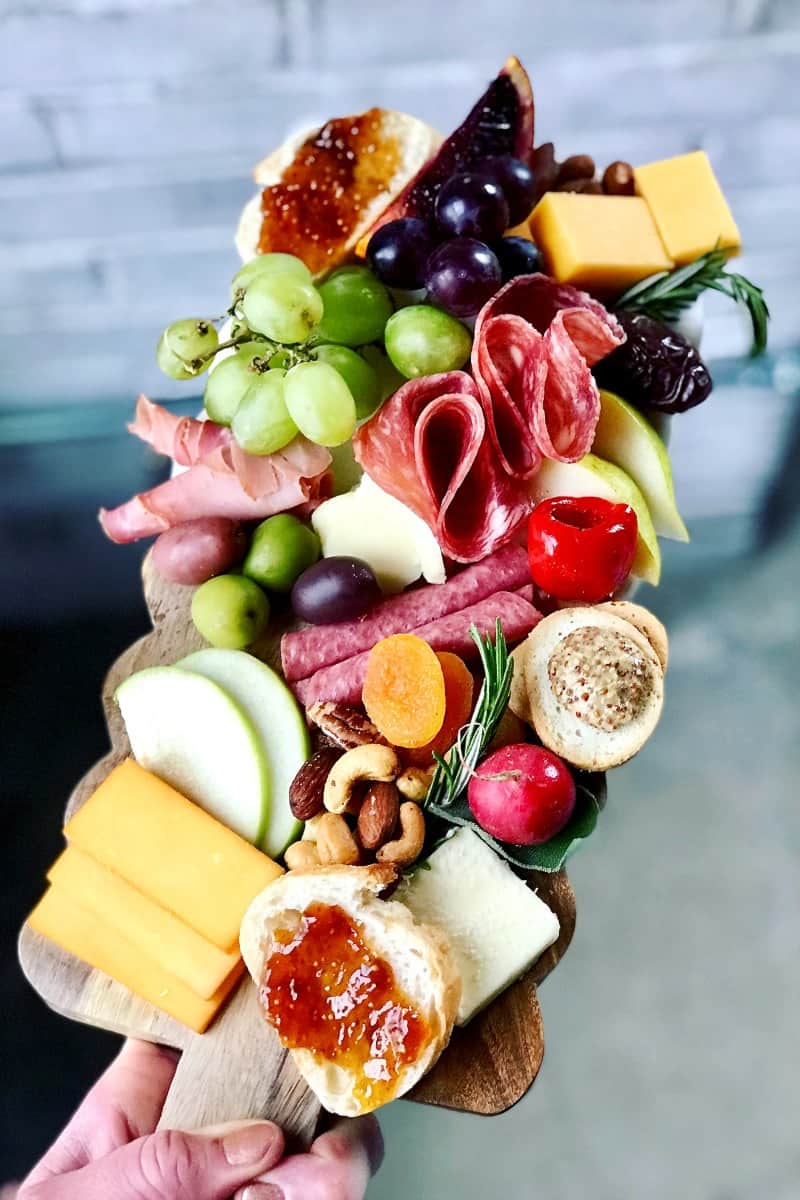 Almost too pretty to eat…ALMOST!
We enjoyed this incredible selection of cheeses and accompaniments right after learning from Tillamook Cheese experts how they ensure their cheeses are of the highest quality from across all the farmer-owned and farmer-led cooperatives that produce the milk to make it. We got to pull cheese from a huge block of aged cheddar and touch/taste it like the cheese testers would do and I have to say it was a life highlight for this cheese loving girl!
That Sunday morning we all gathered around the most gorgeous brunch tablescape and food spread before saying our goodbyes…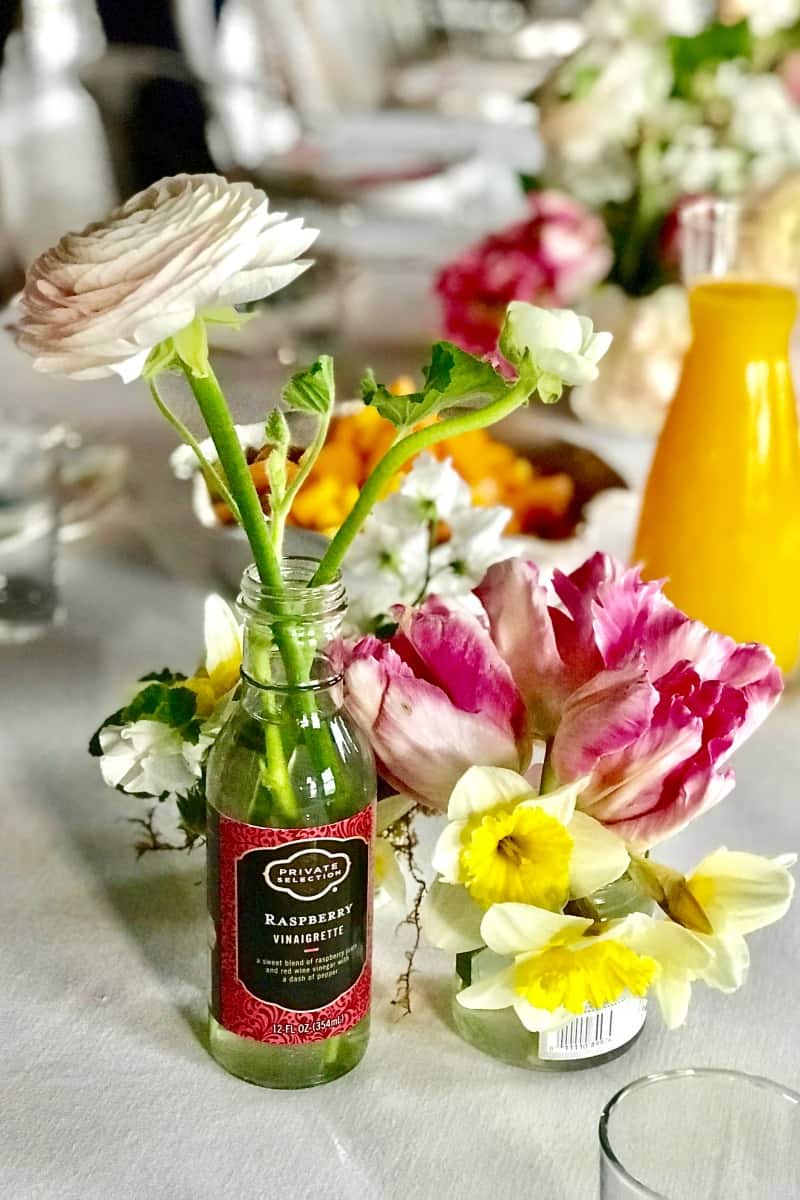 This brunch is where I got the idea to rush home and create these melt-in-your-mouth make you drop-to-your-knees cheddar biscuits. As we sat down to start brunch a huge platter of freshly baked cheddar drop biscuits was placed right in front of me…
Commence drooling. It was love at first biscuit. I ate my first one sooo fast. I just couldn't pace myself it was so yummy! And then I waited soooo patiently as I stalked everyone else's plates to see if there might be any biscuits left for me to have another one. Haha! I scored another one and peeled back the flaky layers to spread with whipped Tillamook Butter and drizzle with Kroger's Private Selection Cayenne Garlic-Infused Honey. Dreamy deliciousness!
I knew this was the recipe I had to recreate because we all need these cheddar biscuits in our life…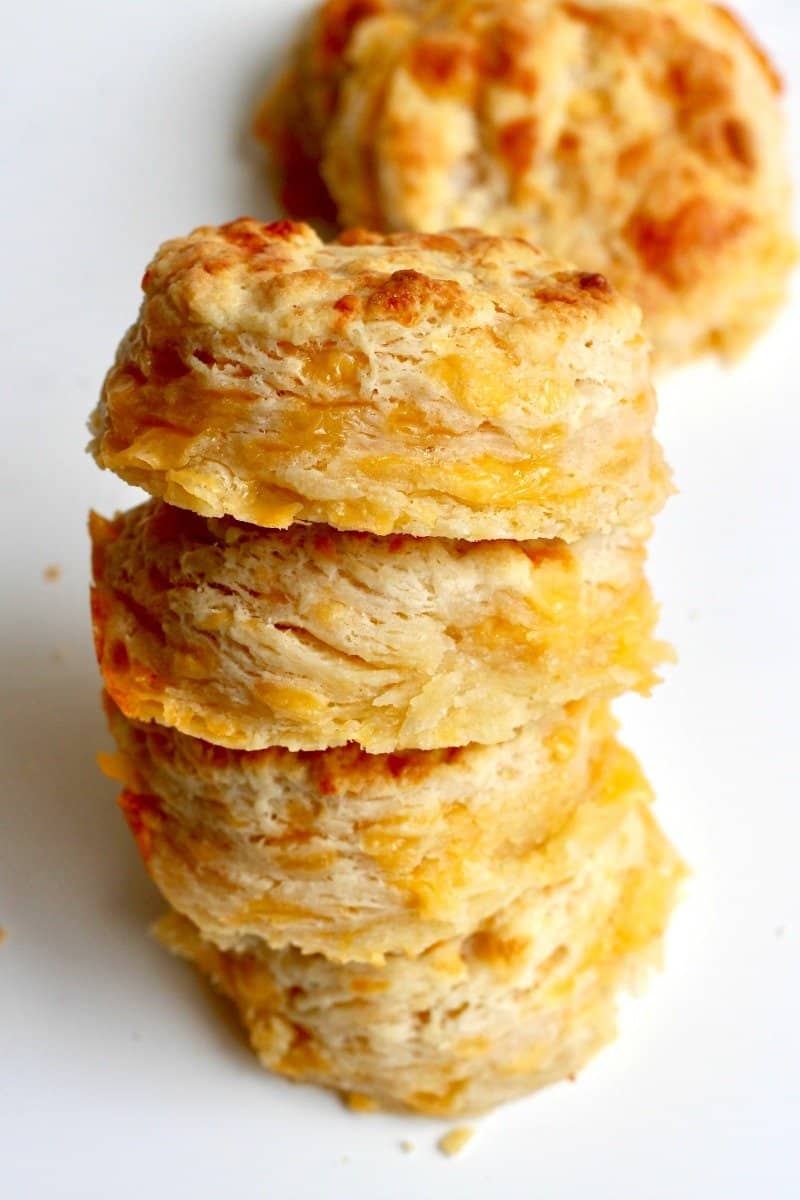 They're so easy to make! And just 5 ingredients: self-rising flour, sugar, butter, buttermilk and CHEESE!!!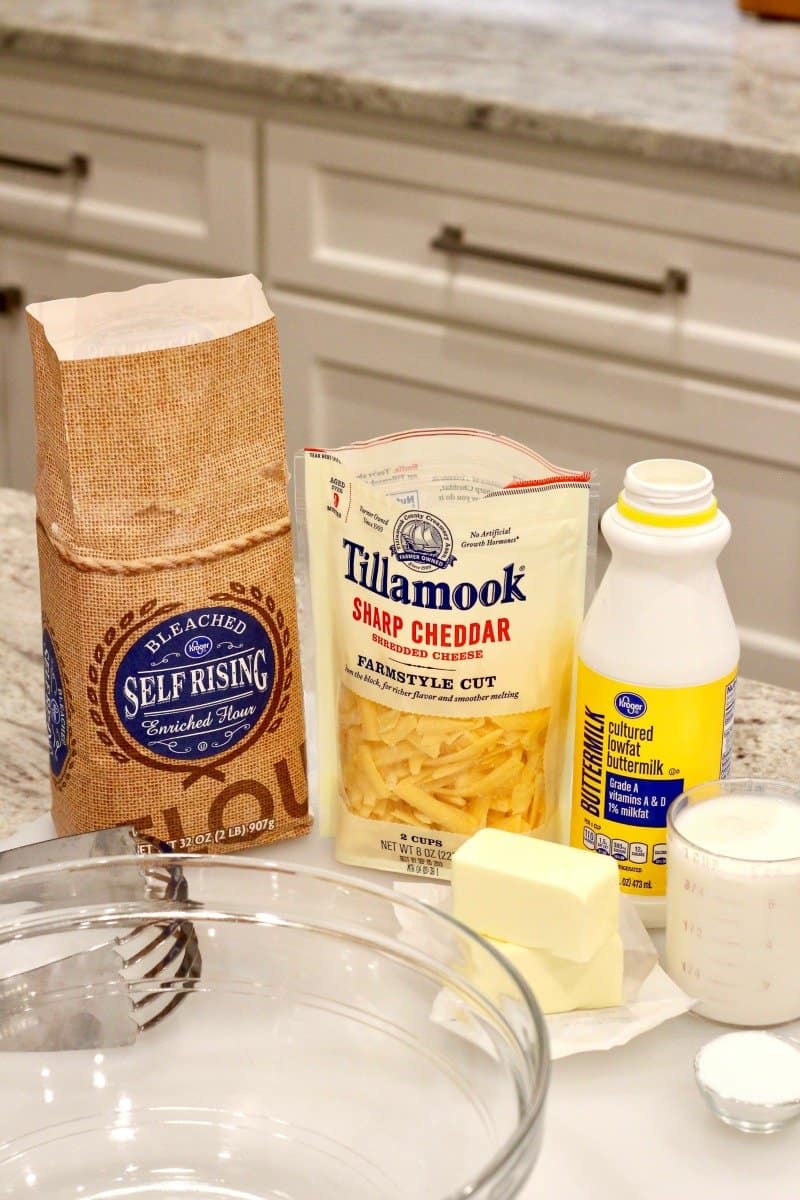 You'll start by cutting the cold butter into the flour and sugar. Then stir in the buttermilk before folding in the cheese with a sturdy spoon and then your hands so it gets well distributed throughout the dough.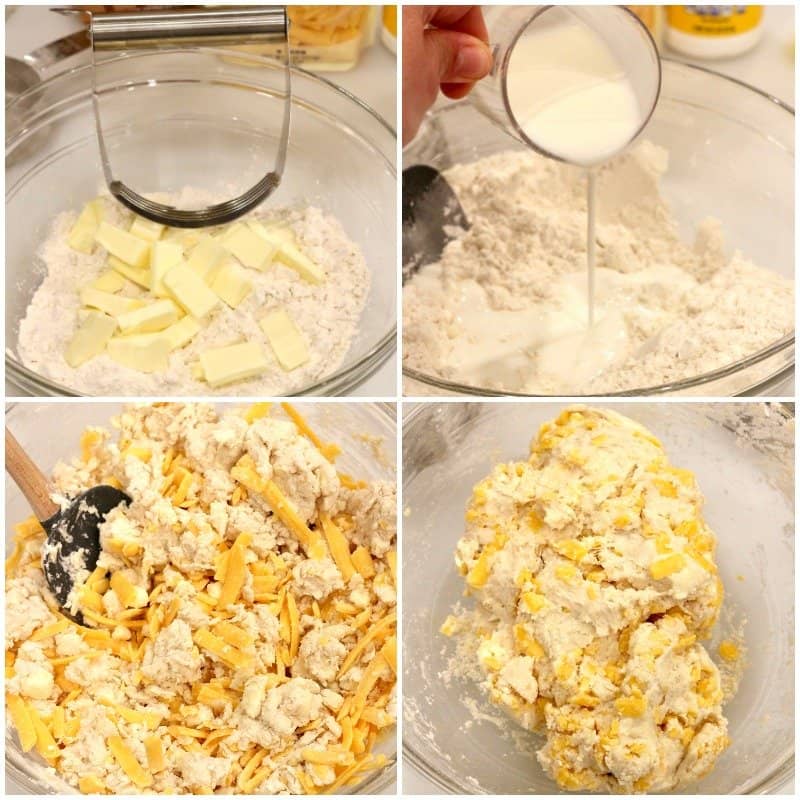 You'll place the dough onto a floured surface and press it out to 1/2-inch thickness with your hands, fold it in half, and then in half again before pressing it flat to 1/2-inch thickness again. Repeat this pressing and folding process at least 3 times to get all those flaky layers when the biscuits are baked. You can use a rolling pin if you'd like, but I just use my hands. A little labor of love for all those layers! 😉
Cut the dough into rounds with a 2-1/2 inch round dough cutter and place in a buttered baking pan. Brush each biscuit with melted butter.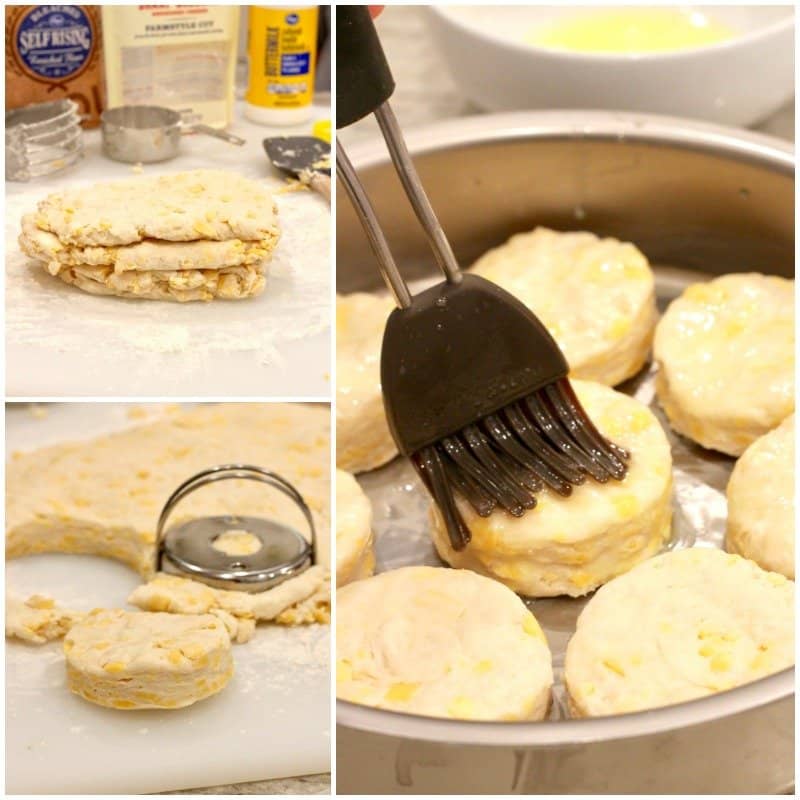 The biscuits bake at 450°F for about 15 minutes. I have to say, watching that Tillamook Sharp Cheddar Shredded Cheese ooze and bubble between the rising layers while they bake gets be every time. Oh my yum!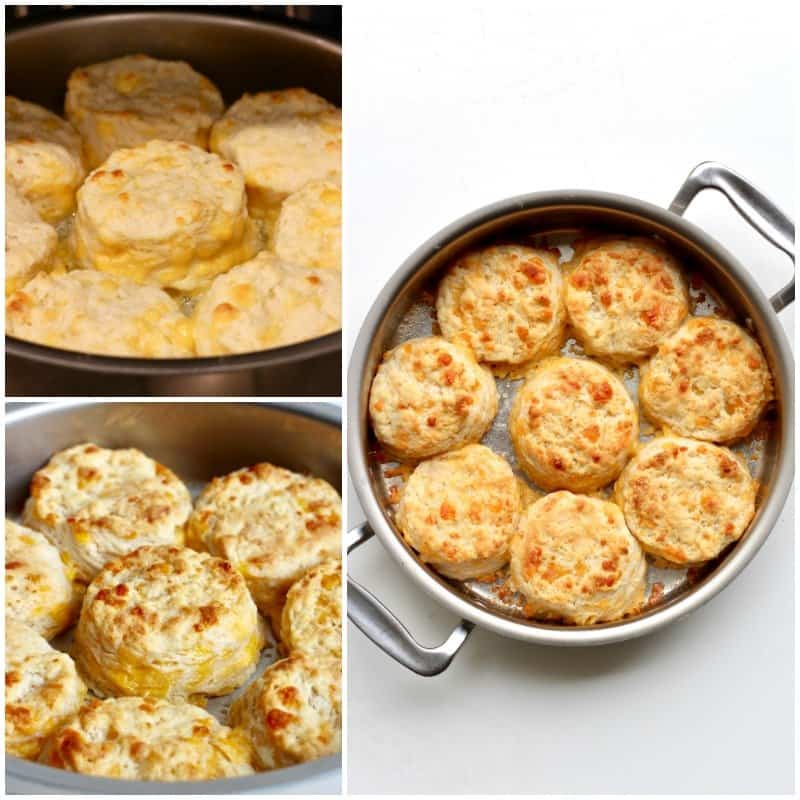 Unbelievable how quick and easy these cheddar biscuits are to bake and how perfect they turn out each and every time!
Seriously…layer upon layer of buttery biscuit with the creamiest cheddar oozing throughout.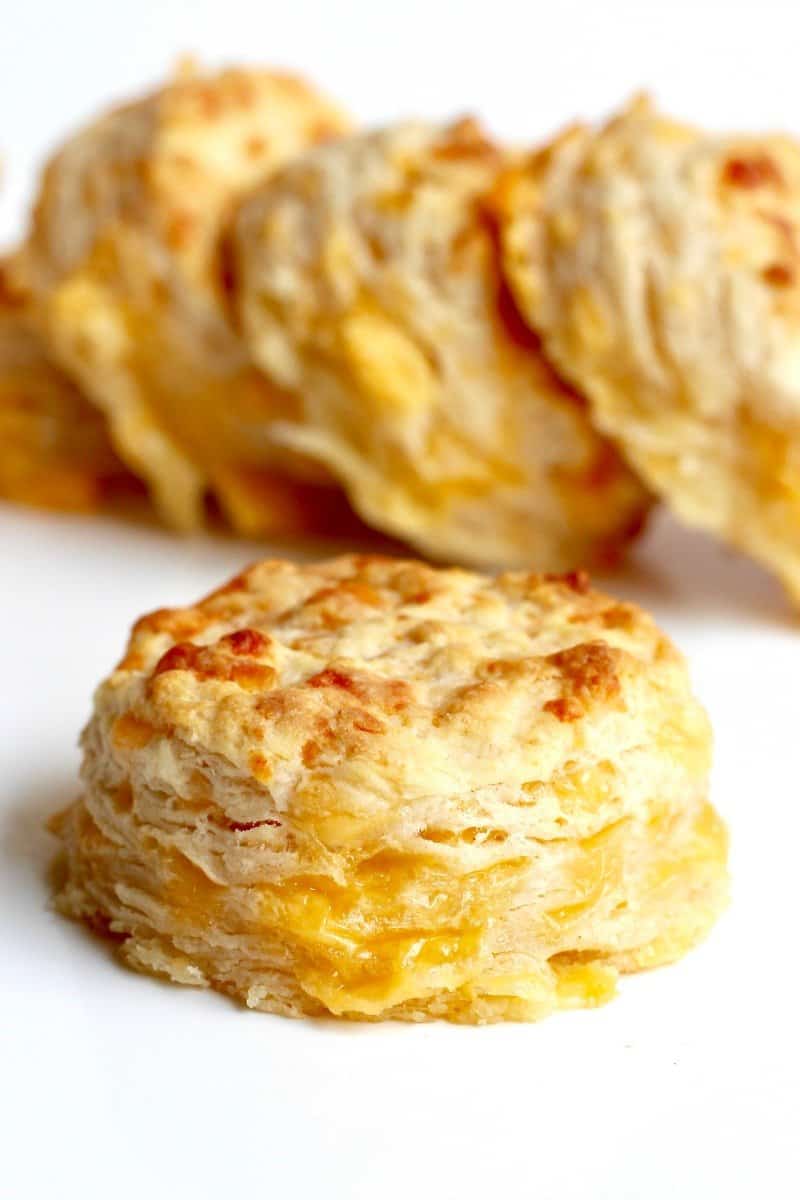 Be it for breakfast on a busy weekday or as an accompaniment to a big weekend brunch spread, these flaky cheddar biscuits are sure to be enjoyed by everyone.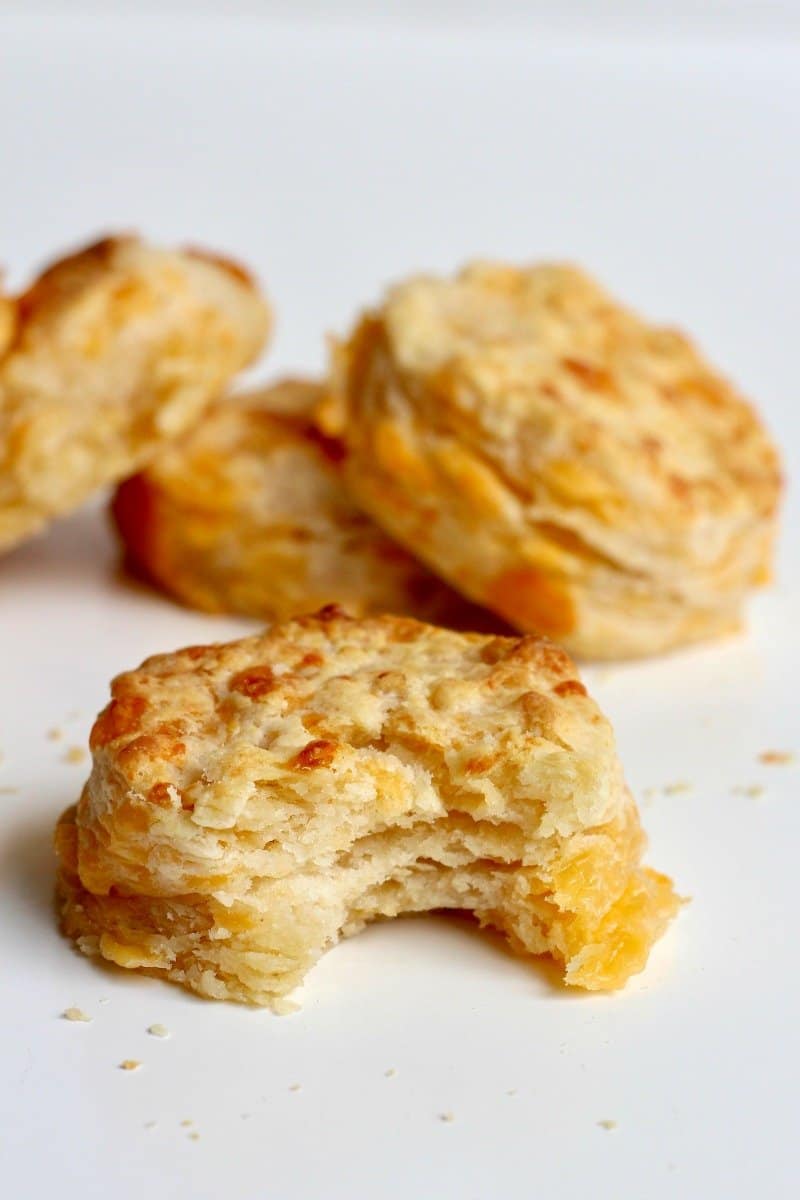 A huge thank you to Sarah, Tillamook and Kroger for an amazing weekend in Detroit which inspired this beloved biscuit recipe. Check your local Kroger brand store for all that Tillamook has to offer.
Happy biscuit baking and be sure to tag me (@thebakermama) when you share the biscuit love with others. A life without these cheddar biscuits would be so boring! 😉
xoxo,


This post was created as part of my partnership with Kroger and Tillamook however thoughts and opinions are certainly my own. Thank you for supporting the brands that make The BakerMama possible.

5-Ingredient Flaky Cheddar Biscuits
5-Ingredient Flaky Cheddar Biscuits ready in just 15 minutes. The flakiest, butteriest, cheddar biscuits you'll ever eat!
Author:
Maegan - The BakerMama
Instructions
Preheat oven to 450°F. Butter a large baking sheet or round baking pan and set aside.
In a large bowl, whisk together the flour and sugar. Cut in ½ cup (1 stick or 8 tablespoons) cold butter with a pastry blender or two knives in opposite directions. Add the buttermilk and stir with a sturdy spoon until well combined. Add the cheese and fold it in with the spoon and then your hands until well distributed throughout the dough.
Flatten the dough out to ½-inch thickness on a floured surface. Fold in half and then in half again and flatten back out to ½-inch thickness. Repeat the folding process at least three times to help create all those flaky layers when the biscuits are baked.
Cut dough into rounds with a 2-1/2 inch round dough cutter. Place biscuits about an inch apart in the buttered baking pan/sheet. Gather, press out and cut any remaining dough until all the dough has been formed into biscuits. You should have about 12 biscuits total.
Melt remaining 4 tablespoons butter. Brush each biscuit with the melted butter.
Bake for 15 minutes or until biscuits have risen and are starting to turn a light brown on top.