The Best Bucatini Bolognese you will ever eat! Full of flavor and rich texture, it's a labor of love that is so worth the effort to make for its comfort and enjoyment.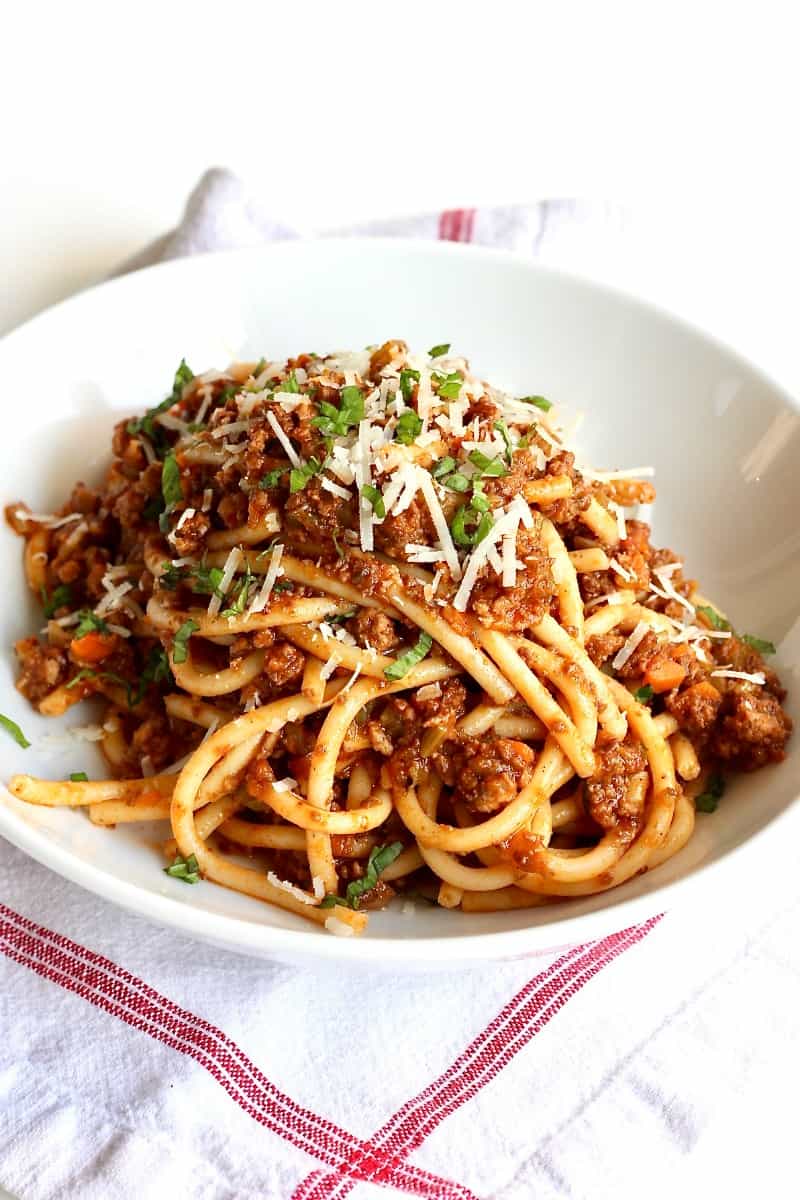 I'm finally sharing our favorite bolognese recipe and I couldn't be more excited for you to make it and enjoy it with your loved ones. Our love for this recipe runs deep. Brandon has been making this bucatini bolognese for us for years and it's one of his signature dishes that we all beg him to make on the regular. A recipe that he loves making and that we love eating!
Whether he makes it on a Sunday afternoon for us to enjoy as a family for supper that night OR on a Saturday afternoon for us to enjoy with a group of friends and several bottles of wine that evening OR on a certain 7 year old's birthday to fulfill his favorite dinner request OR on the day after we brought our 4th child home from the hospital to satisfy my post-childbirth craving for comfort OR… I could go on and on describing the occasions Brandon has made this bucatini bolognese and the utter enjoyment it has brought to us and those we share it with.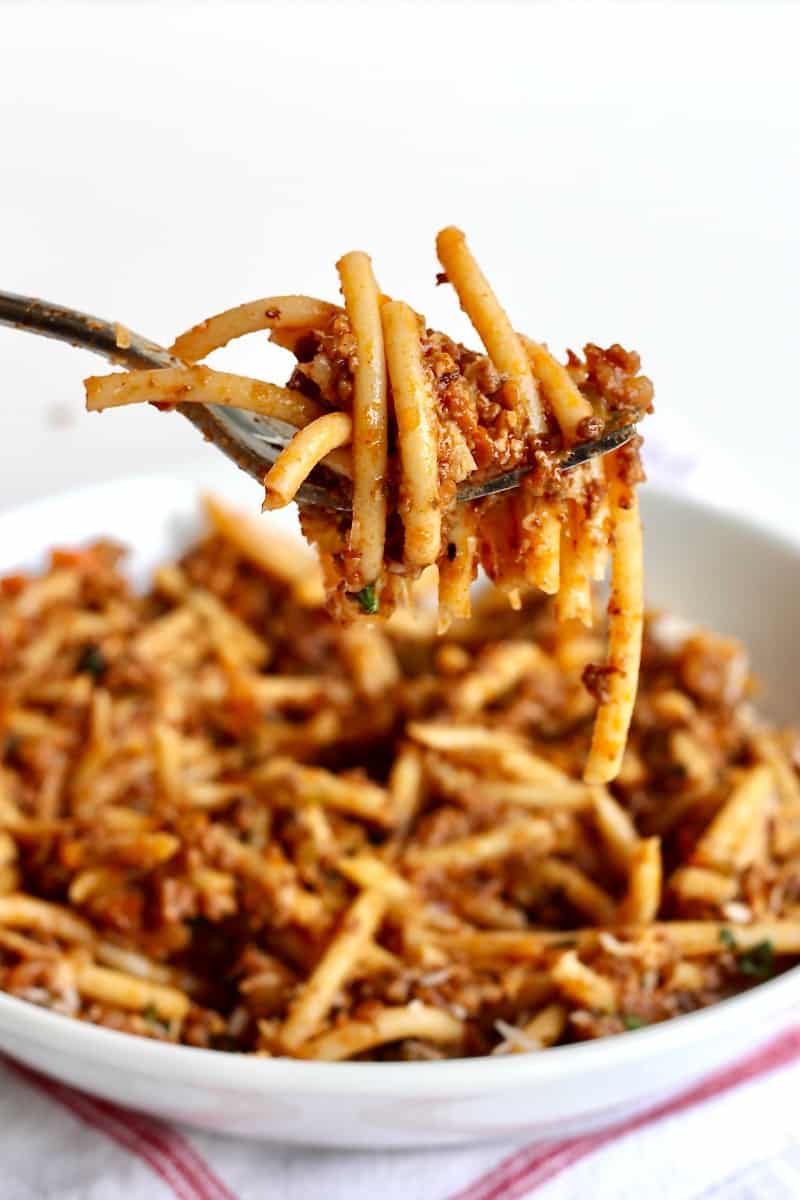 It's seriously the best. The sauce is a complex combination of meat and vegetables that comes together so tantalizingly in both taste and texture. Tossed with bucatini pasta, aka the best pasta to pair with bolognese, and you've got yourself the meal of all meals.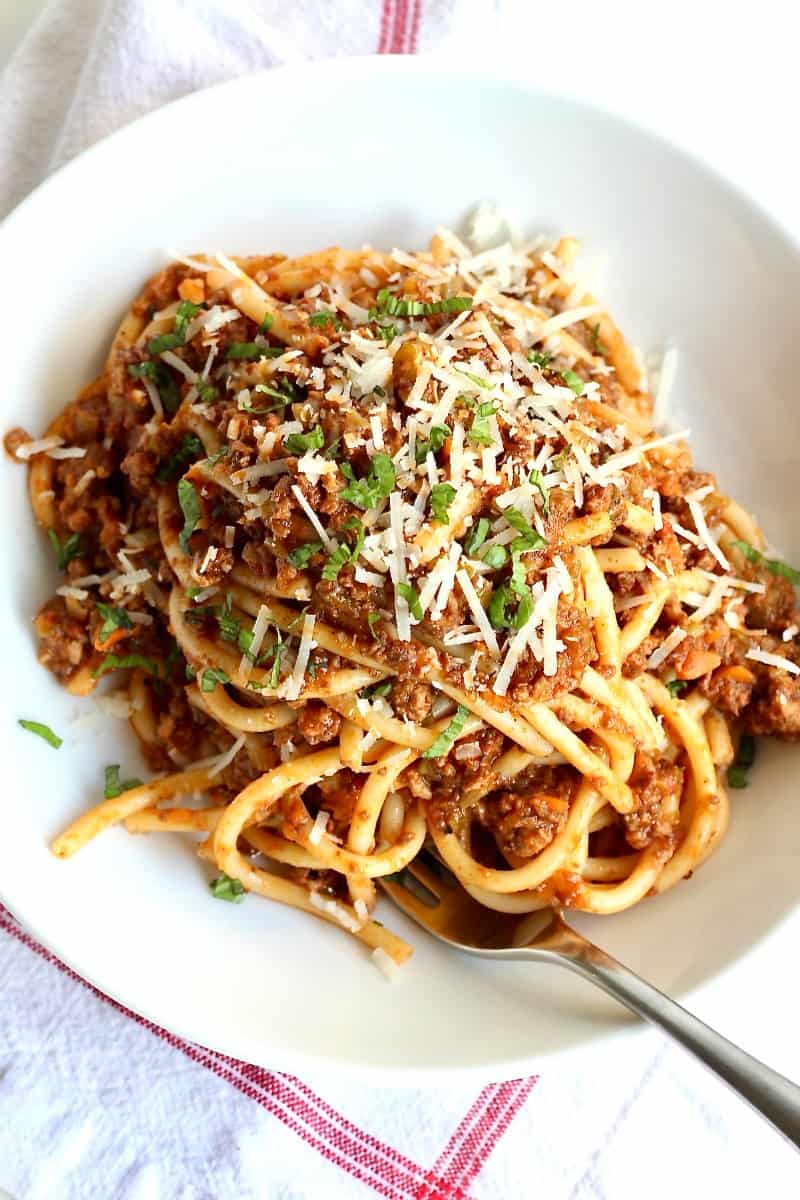 If you enjoy preparing a dish that will have everyone at the table oohing and aahing over its deliciousness, this is the recipe for you. Sure, it takes a special line-up of quality ingredients and some patience in cooking time, but once you see that beautiful sauce simmering on your stovetop, you'll be overcome with a sense of pride in preparation to serve it.
Baker loves Brandon's bolognese so much that he's been taking quite an interest in learning how it's made. It's so special seeing his curiosity and confidence grow in the kitchen. And super cute seeing how he sticks his tongue out in full concentration when he cooks, just like his mama does 😉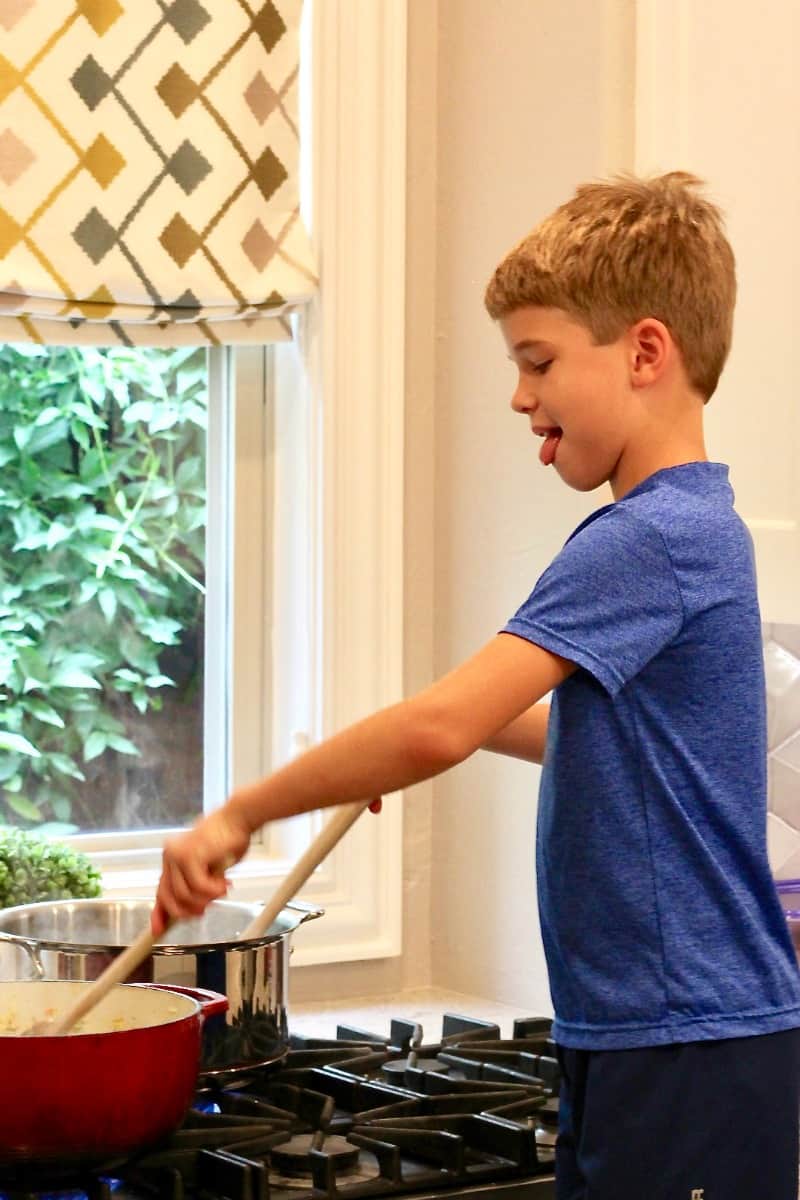 Let me walk you through some of the key ingredients and steps that make this bucatini bolognese so incredible.
The way you'll brown the ground pork and beef to where it's starting to really crisp adds so much flavor.
The mushrooms add earthiness and the carrots bring out such a nice, slight sweetness.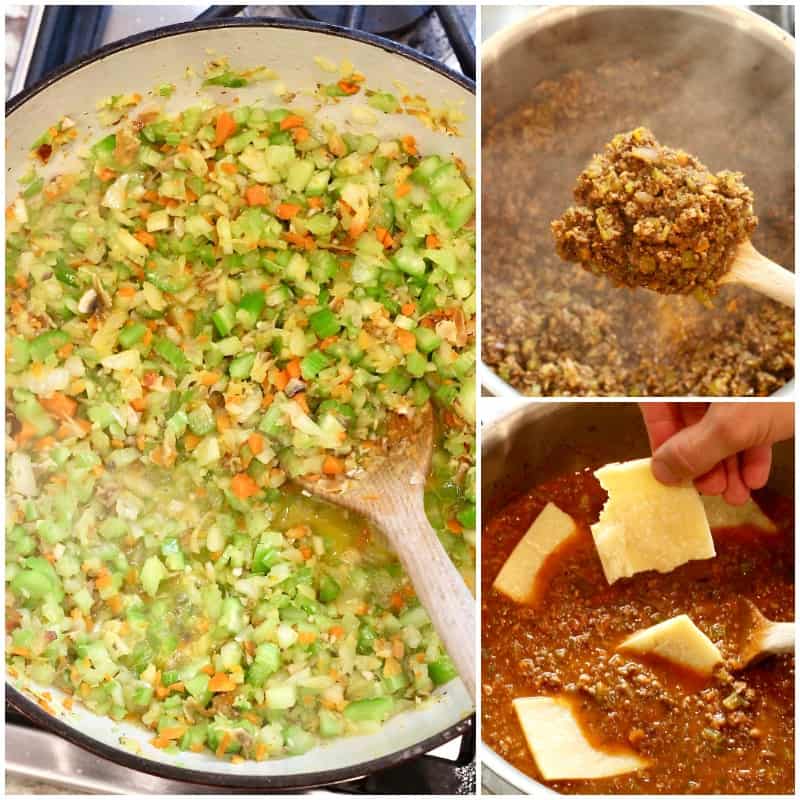 Milk adds creaminess while the wine offers acidity that binds and brings out so many of the flavors.
The cheese rinds add nuttiness as they simmer in the sauce.
And speaking of simmer…don's skip it! A lengthy simmer marries all the flavors together so perfectly.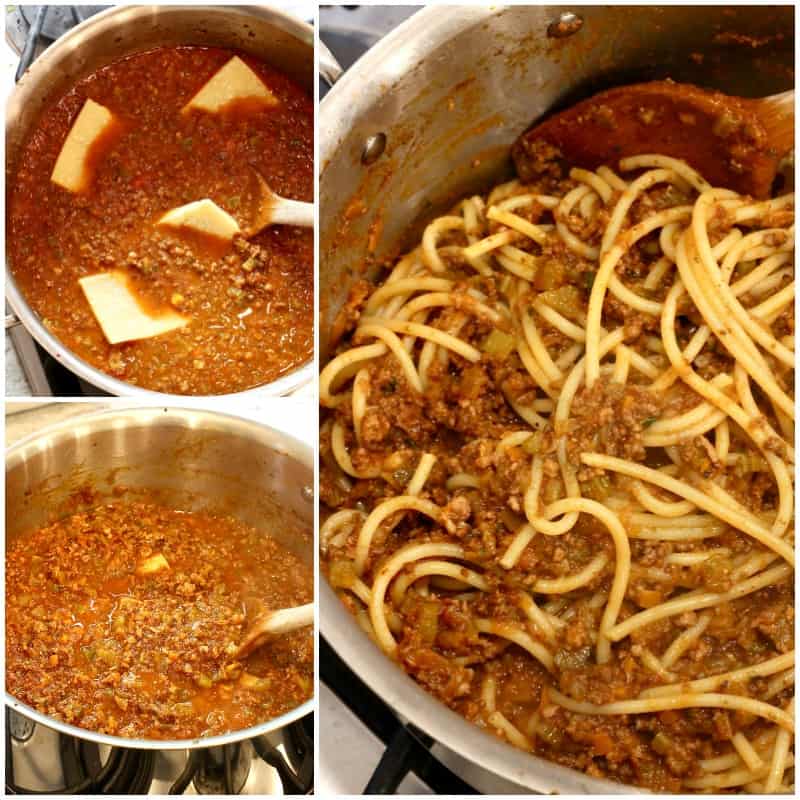 You have to use bucatini! Okay, you don't have to, but I highly recommend you do. It's the best of the best. The hallowed-out, chewy, long pasta gets coated AND FILLED with sauce which gives you more sauce with each bite. The perfect vehicle for this bolognese.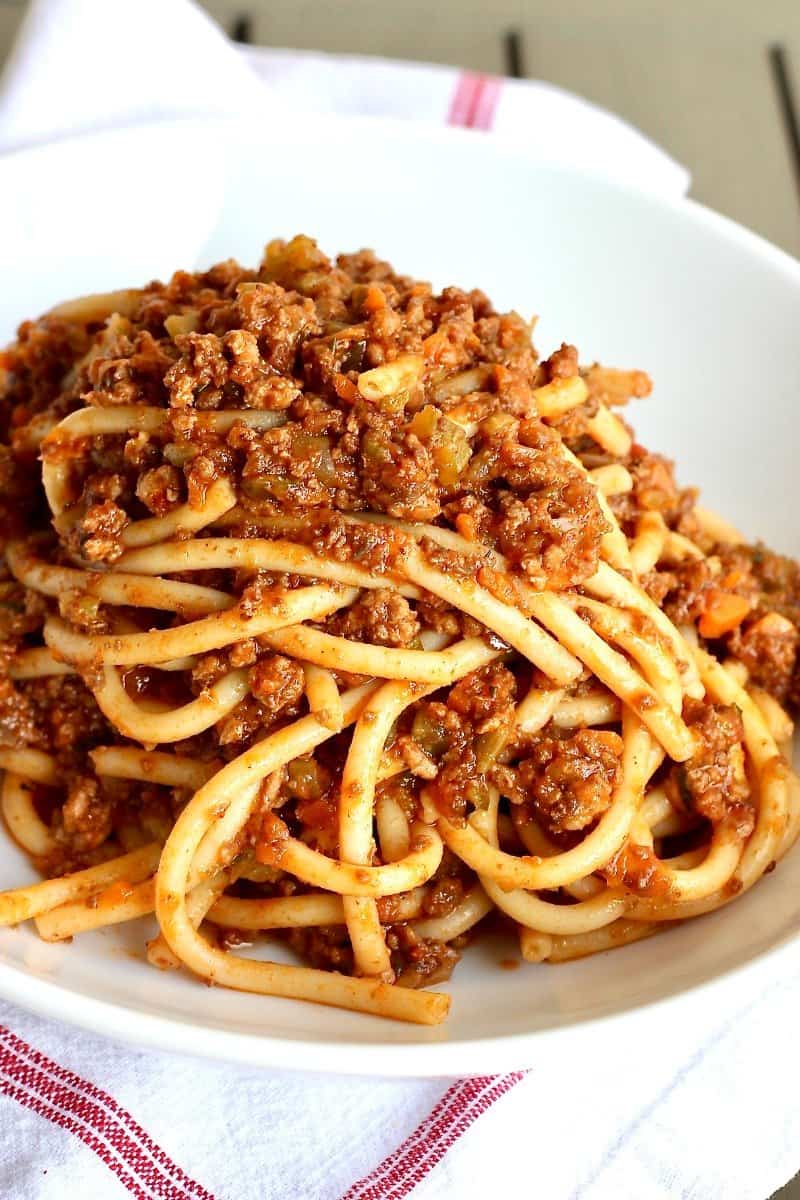 We seriously can't get enough of this bucatini bolognese. It's one of those meals that no matter how full you feel, you just can't stop. You catch yourself eating it too fast and then force yourself to slow down because you just don't want it to end. It's comfort food at its best.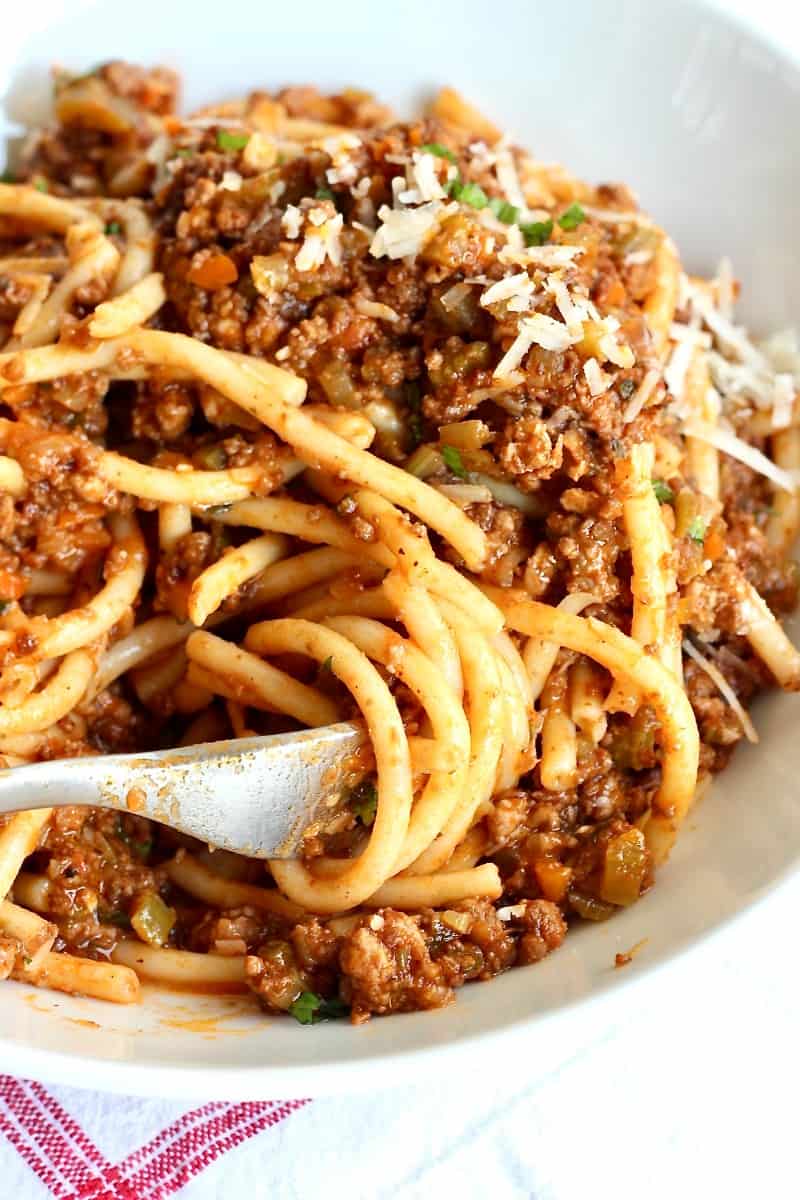 I hope you enjoy making it and eating it as much as we do!
xoxo,


Print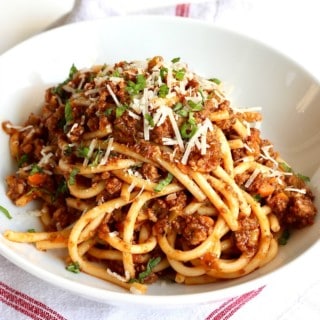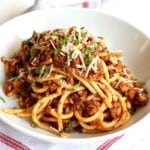 The Best Bucatini Bolognese
Author:

Prep Time:

1 hour

Cook Time:

2 hours

Total Time:

3 hours

Yield:

6-8

Category:

Main
---
Description
The best bolognese you will ever eat. Full of flavor and rich texture, it's a labor of love that is so worth the effort to make for its comfort and enjoyment.
---
4 tablespoons

extra-virgin olive oil, divided

4 ounces

pancetta or bacon, minced

1 cup

baby portabella mushrooms, finely chopped

5

cloves garlic, finely minced

1

medium onion, finely diced

2

large carrots, finely diced

6

celery ribs, finely diced

1

pound ground pork

1

pound ground chuck
kosher salt
fresh ground black pepper

1 teaspoon

red pepper flakes (optional)

1/4 cup

tomato paste

2 cups

red wine

2 cups

chicken stock

1 cup

milk

1

(28 ounce) can crushed tomatoes (such as San Marzano)

3

–

4

small cheese rinds from Parmesan or Pecorino Romano

2 teaspoons

minced fresh basil, plus more for garnishing

2 teaspoons

minced fresh thyme leaves

1

pound dry bucatini pasta

1/2 cup

thinly fresh grated Parmesan or Pecorino Romano cheese
---
Instructions
In a large pot, heat 2 tablespoons oil over medium heat. Add the pancetta and cook until browned, about 3-5 minutes. Add in the mushrooms, garlic, onions, carrots and celery. Cook slowly until vegetables are soft, about 20 minutes.
In another large pot over medium heat, heat the other 2 tablespoons olive oil. Add both meats and cook slowly, stirring frequently, until the meat is browned and starting to really crisp, at least 30 minutes. Salt and pepper generously. Stir in red pepper flakes, if desired.
Add the tomato paste to the meat mixture and sauté for 5 minutes.
Deglaze the pot with the vegetables by adding 1 cup of the red wine. Transfer everything from the vegetable pot to the pot with the meat. Add the remaining red wine and deglaze the pot. Scrape all the bits and pieces that might accumulate and let simmer to start reducing, for about 10 minutes.
Add the chicken stock, milk, crushed tomatoes and cheese rinds and let simmer over low heat for 2 hours, stirring occasionally.
Remove what is left of the cheese rinds and discard. Stir the minced basil and thyme into the sauce. Let the sauce sit while you prepare the pasta.
Cook the bucatini pasta according to package directions until al dente. Drain all but a 1/2 cup of water off of the pasta and put the pasta directly into the pot of bolognese sauce. Simmer for 2 minutes to incorporate the sauce into the pasta, adding the reserved pasta water as necessary.
Plate each portion of bolognese coated bucatini and then finish with the grated parmesan, torn basil and a drizzle of extra-virgin olive oil.
---
This recipe was adapted from Chef Geoffrey Zakarian's Perciatelli with Bolognese recipe as seen on The Best Thing I Ever Made on Food Network.