For weddings, reunions, or special celebrations, this inviting and impressive Summer Grazing Table serves a crowd beautifully at your warm weather get-togethers. It's a gorgeous and delicious spread that everyone will love!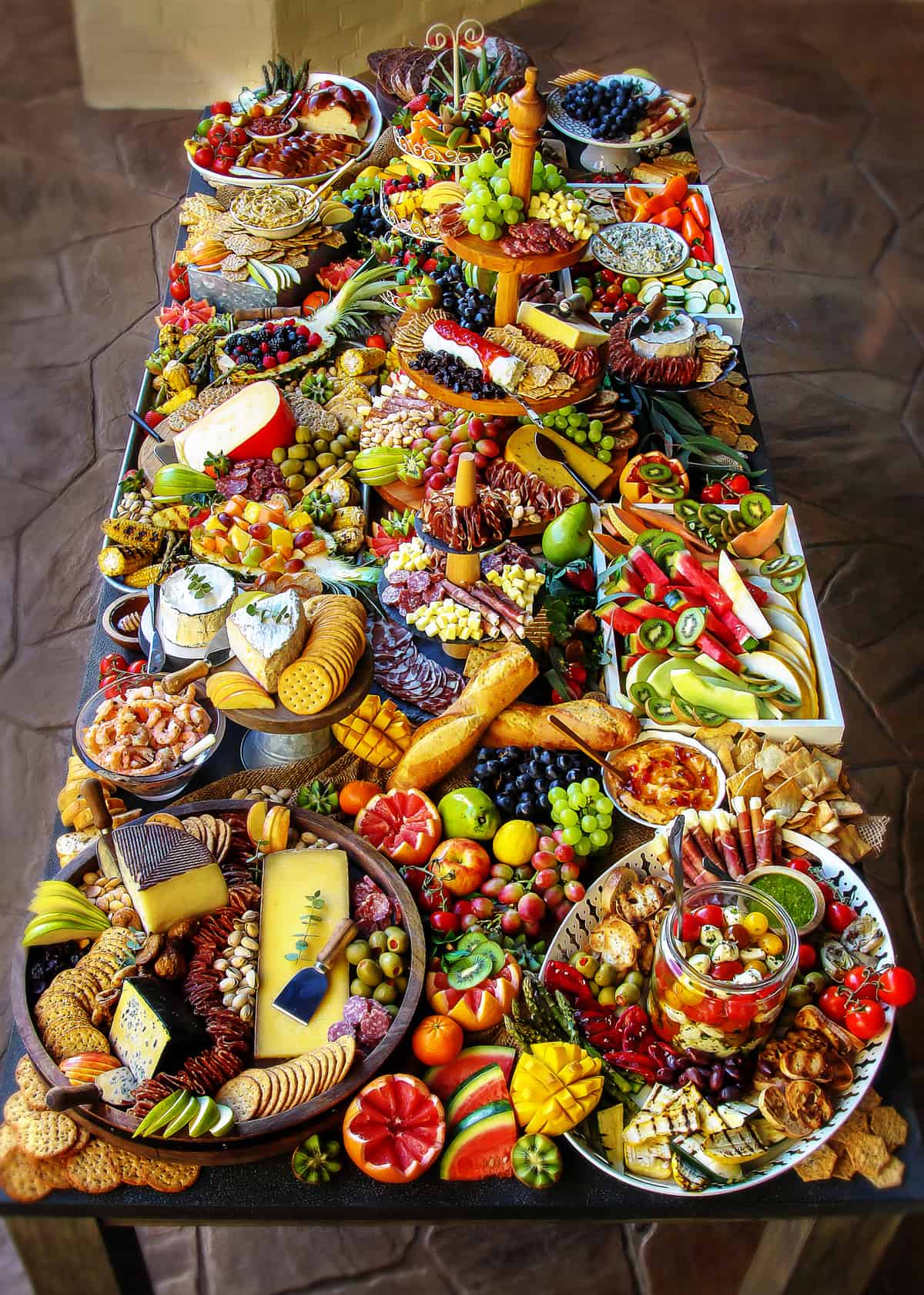 The Glorious Summer Grazing Table
Need to feed a crowd, elegantly? A grazing table is an inviting and impressive way to serve a large group. Grazing tables are great for wedding receptions, birthday parties, family reunions, holiday parties, baby or engagement showers–any occasion when you need to feed a lot of people with style.
The premise of a building a grazing table is simple. Cover your grazing table with an abundant and delicious variety of foods that are easy for people to eat in a few bites with their hands.
Once it's built, you can relax and enjoy the time with your guests while noshing on the delicious spread with them. That's the beauty of a grazing table!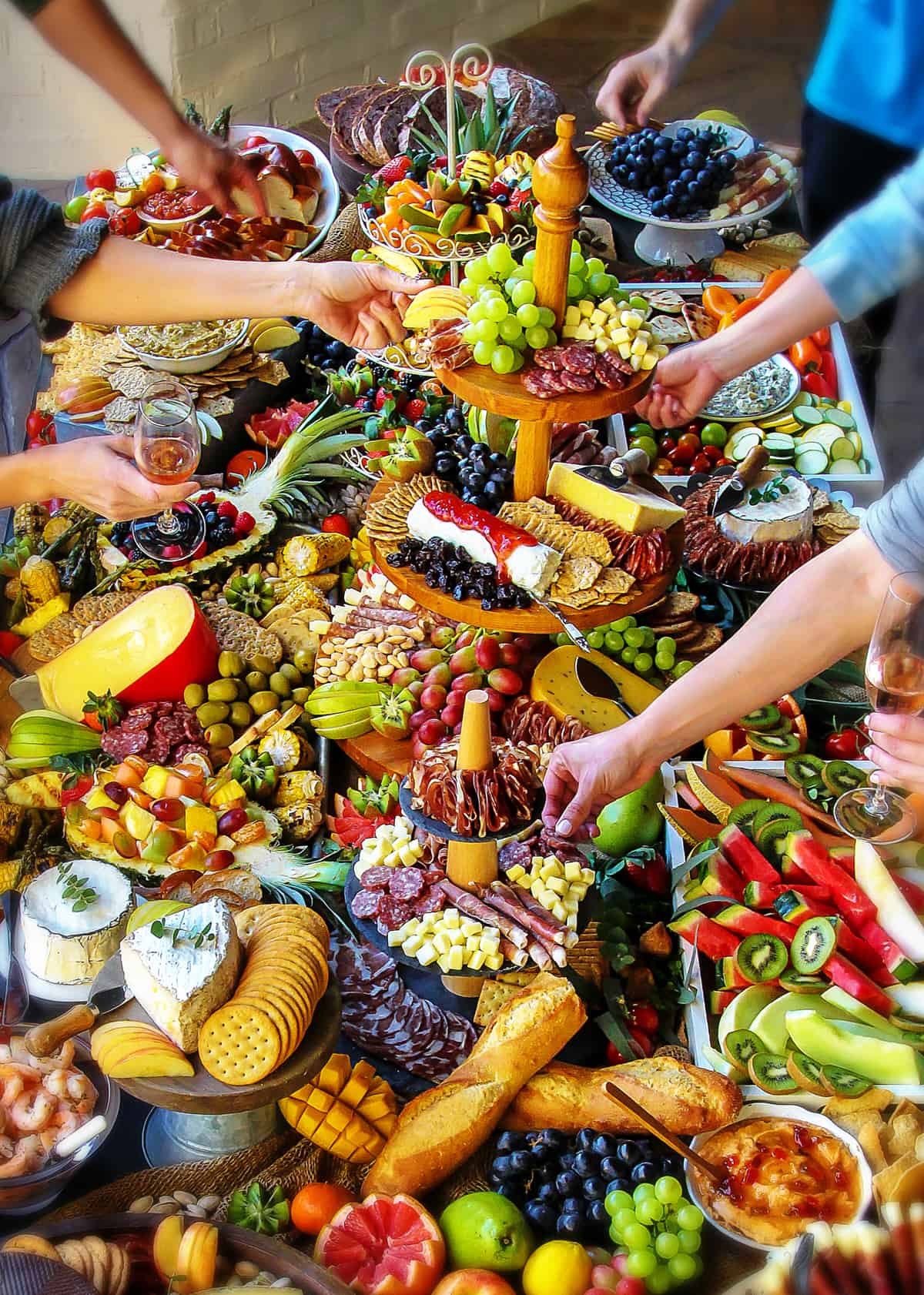 3 Steps to the Perfect Summer Grazing Table
Plan. Prepare. Build. The Summer Grazing Table may look intimidating. But if you create a plan and prepare in advance, you can build with confidence. If you follow these tips, your grazing table will come off without a hitch and you'll enjoy your big event and all the time spent making beautiful memories.
I've even included a sample shopping list to help you get started!
Sample Shopping List:
Cheeses: Manchego, Triple Cream, Lancashire, Humbolt Fog, Blue Cheese, Aged Cheddar Cheese, Brie, Gouda, Fontal, Comte, Goat Cheese, Marinated Mozzarella
Meats: Prosciutto Mozzarella Cheese Rolls, Sopressata Mozzarella Cheese Rolls, Prosciutto, Salami, Coppa
Seafood: Cilantro Lime Shrimp
Fresh Fruits: Yellow Honeydew Melon, Honeydew Melon, Cantaloupe, Watermelon, Grapefruit, Pineapple, Blueberries, Grapes, Plums, Kiwifruit, Blackberries, Raspberries, Strawberries, Mangos
Fresh Vegetables: Tomatoes, Squash, Asparagus, Sweet Mini Peppers, Corn, Cherry Tomato Medley
Dips & Spreads: Roasted Red Pepper Hummus, Roasted Pine Nut Hummus, Spinach Artichoke & Parmesan Spread, Basil Pesto, Pepper & Onion Relish, Strawberry Spread, Honey
Antipasto: Olives, Pickles, Grilled Vegetables in Oil, Artichokes
Crackers & Breads: Pita Chips, Crackers, Baguettes, Cranberry Walnut Bread
Nuts: Almonds, Pistachios
Dried Fruits: Dried Cherries, Dried Figs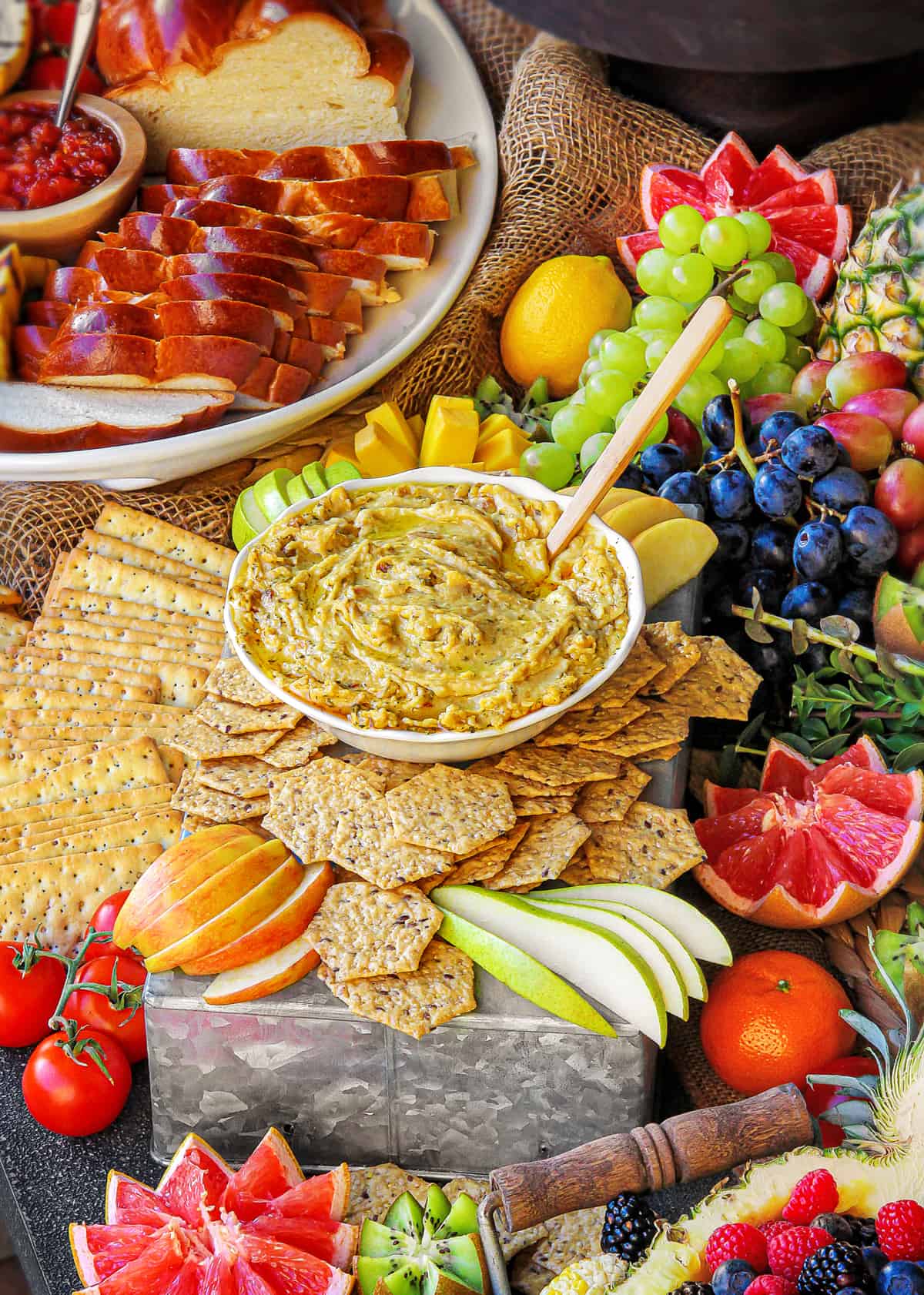 1. Create a Plan
Knowing the who, what, and where of your event goes a long way to planning your grazing table. Having a plan to execute makes setting out the perfect spread a very doable labor of love.
Who and how many? Determine the number of people you'll be serving, the size of table you'll be using, and the serving dishes and platters that you'll need. The larger the table, the more food or fillers you will need.
What will it look like? Plan a beautiful visual down the table by selecting various heights of serving platters, cake stands, tiered stands, wood boards and bowls. Start in the middle of the table with the tallest piece and work your way outward to the ends of the table.
Keep your serving platters consistent, complementary and somewhat neutral in color because the food is what will really be the star of the spread. Wow the crowd with a colorful abundance of food.
Plan your grazing table ingredients in advance and know where you're going to shop for them. Make sure you plan for an array of colors, textures, and food types: fresh fruits, vegetables, breads, crackers, nuts, dips and spreads, and even flowers!
Expect the grazing table to set out for about 4 hours, including the time it takes you to build it. If you need the table to be grazable for more than 4 hours, put out smaller portions and plan to replenish with a fresh supply of cheese and cured meats throughout the event.
Tip: How Much Food Do You Need?
How much food do you need? Plan for about 3-5 ounces of meat per person and 6-8 ounces of cheese per person. Then fill in with a variety of dips, fresh fruits, fresh vegetables, breads, crackers, and any other nibbles you know your crowd will enjoy. The more variety, the better!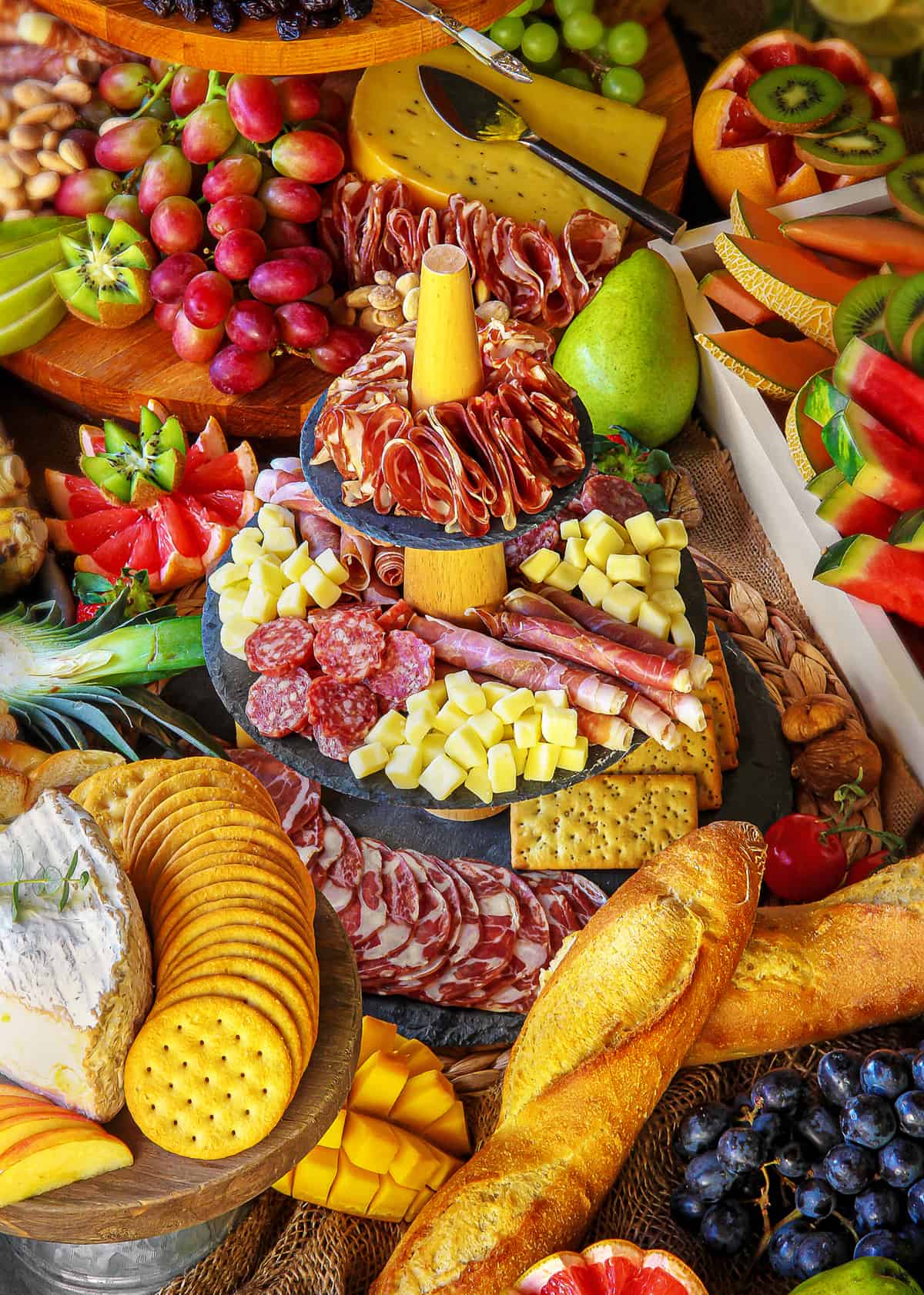 2. Prepare in Advance
Prepare as much as you can the day before you build the grazing table. Stress on the day of your important event will only get in the way of making great memories. I want you to enjoy your guests (and the food!) as much as possible. Laying the groundwork in advance is key.
Shop the day before your event. Take the stress out of shopping by using an itemized list!
Consider buying your ingredients in bulk. This makes it easier to shop for a lot of food and serve a big crowd at affordable prices.
Clean and chop all the fruits and vegetables. Slice or roll any meats and cheese. Slice the bread. I recommend buying as many of the foods already sliced and ready-to-serve as available.
Store refrigerated foods in the refrigerator until you're ready to add them to the table.
Have plates, napkins and small utensils available for people to use as they graze the table.
Also, have plenty of cheese knives, condiment spreaders, tongs or toothpicks. Make it as easy as possible for people to get the food from the table to their plates or mouths.
Tip: Save Time Serving Cheese
Save time by serving most of the cheeses in the form you buy them. Place serving knives next to the blocks or rounds of cheese so each person can cut off exactly how much they want. This also helps keep your favorite cheeses protected and at their freshest throughout the event. Be sure to put any cheeses that people will need to slice themselves on a wood board that can be cut on.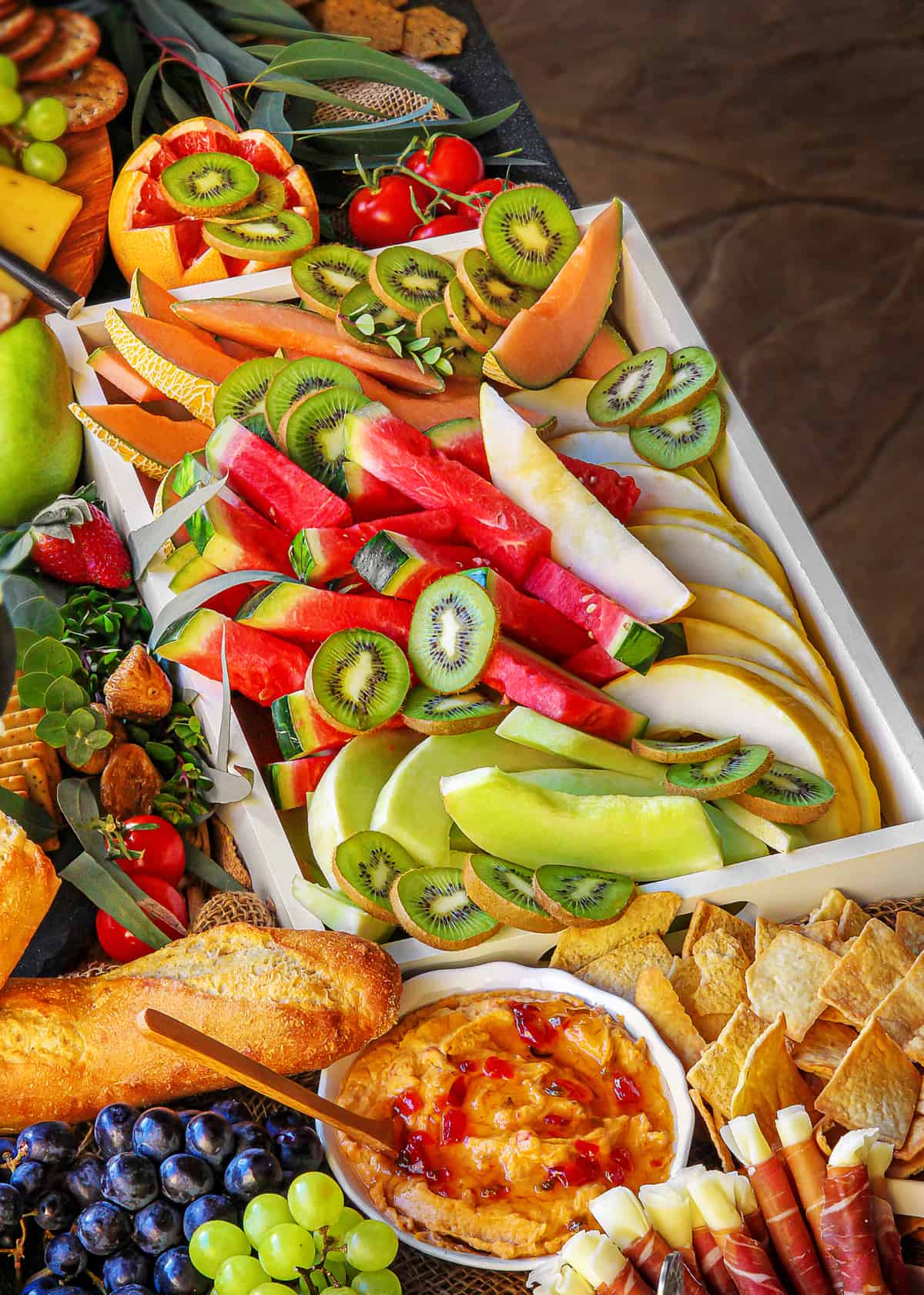 3. Build with Confidence!
Here comes the fun part! The key to building this summer grazing table quickly is having a vision for what you want on the table and where you want it to go. But–and this is important–don't stress out. The goal is simply to cover the table completely with a colorful spread of food that looks stunning and tastes amazing.
Clean your table really well or cover it with butcher paper. That way, you can put some foods like crackers, breads, nuts, and dried fruits, directly on the table.
If you're building the grazing table outside in warmer weather, plan to build it in the shade, out of direct sunlight.
Position the table so people can graze around it from all sides, if possible.
Allow at least 90 minutes to build the table if you have already prepped most of the ingredients and have people helping you build it.
Have a plan for where you want each of the larger items to go and then fill in with all of the other foods. Scattering colors of food across the table makes for a beautiful balance to both the eyes and the grazing palate.
Place complementing foods next to each other so people can easily combine foods that taste great together. Sliced pear with triple cream cheese and a drizzle of honey is life-changing!
Fill in the table with whole fresh fruits and vegetables, loaves of bread, crackers, nuts and flowers so the table is covered completely. Let the foods overlap and stack to create a bountiful display.
Tip: Don't Do it Alone!
Don't go it alone! Recruit helpers for the prep, building of the table and clean-up. You really need at least 3-4 people to get the table all set-up in a reasonable time so the food is not setting out too long.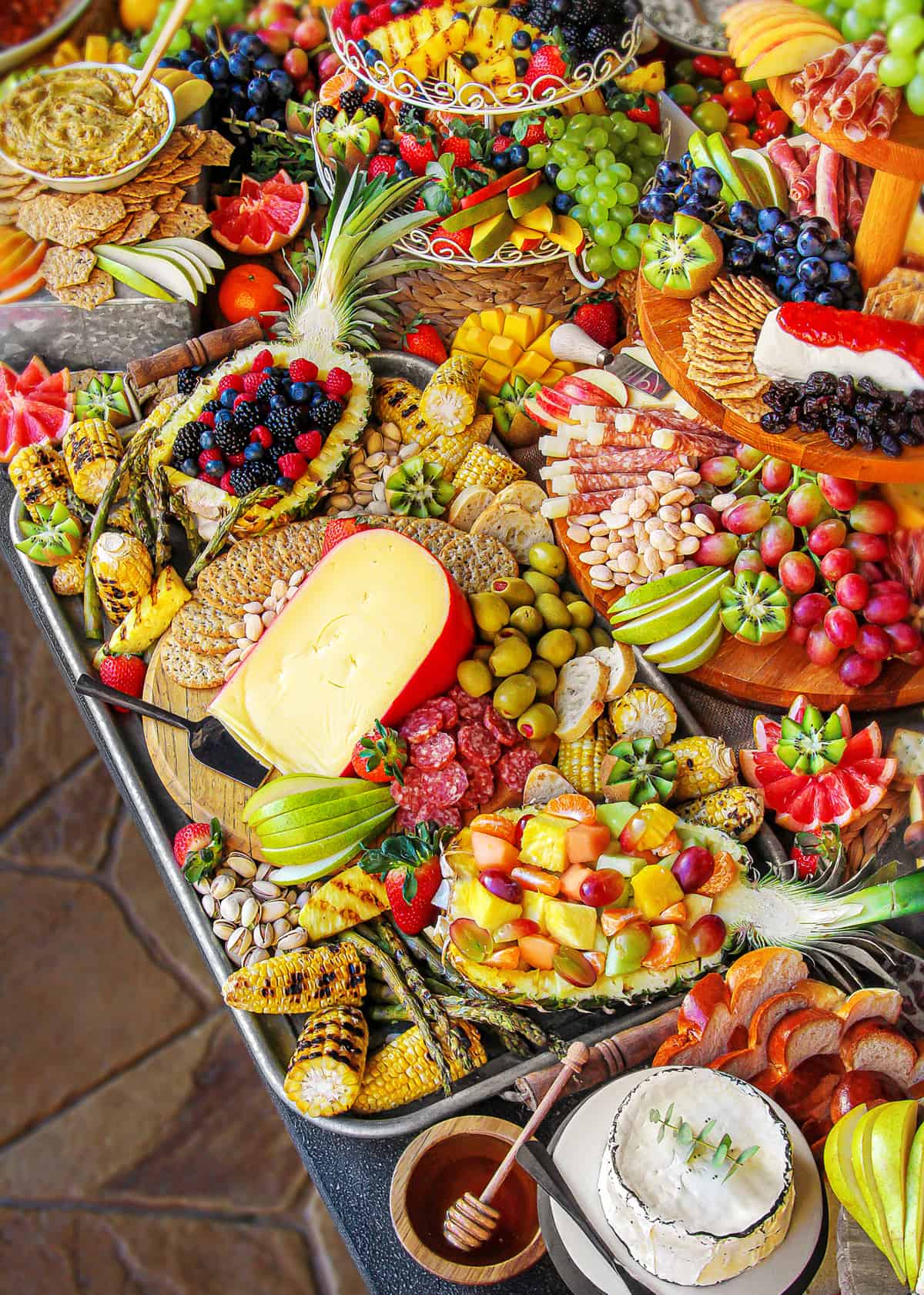 Tip: What to Do with Leftovers
Got leftovers? Hopefully, you don't have too many leftovers because you planned well and your guests grazed for hours! But if you do, there are many ways to use them so little food goes to waste.
Fresh vegetables can be eaten as is, juiced or used to make stir-fry, salad or a side dish. Leftover meats and cheeses can be used on a snack board the next day or cooked on a pizza.
Keep some grazing to-go boxes handy. Let your guests know they're welcome to fill a box before they go. No one will forget going home with such a delicious party favor!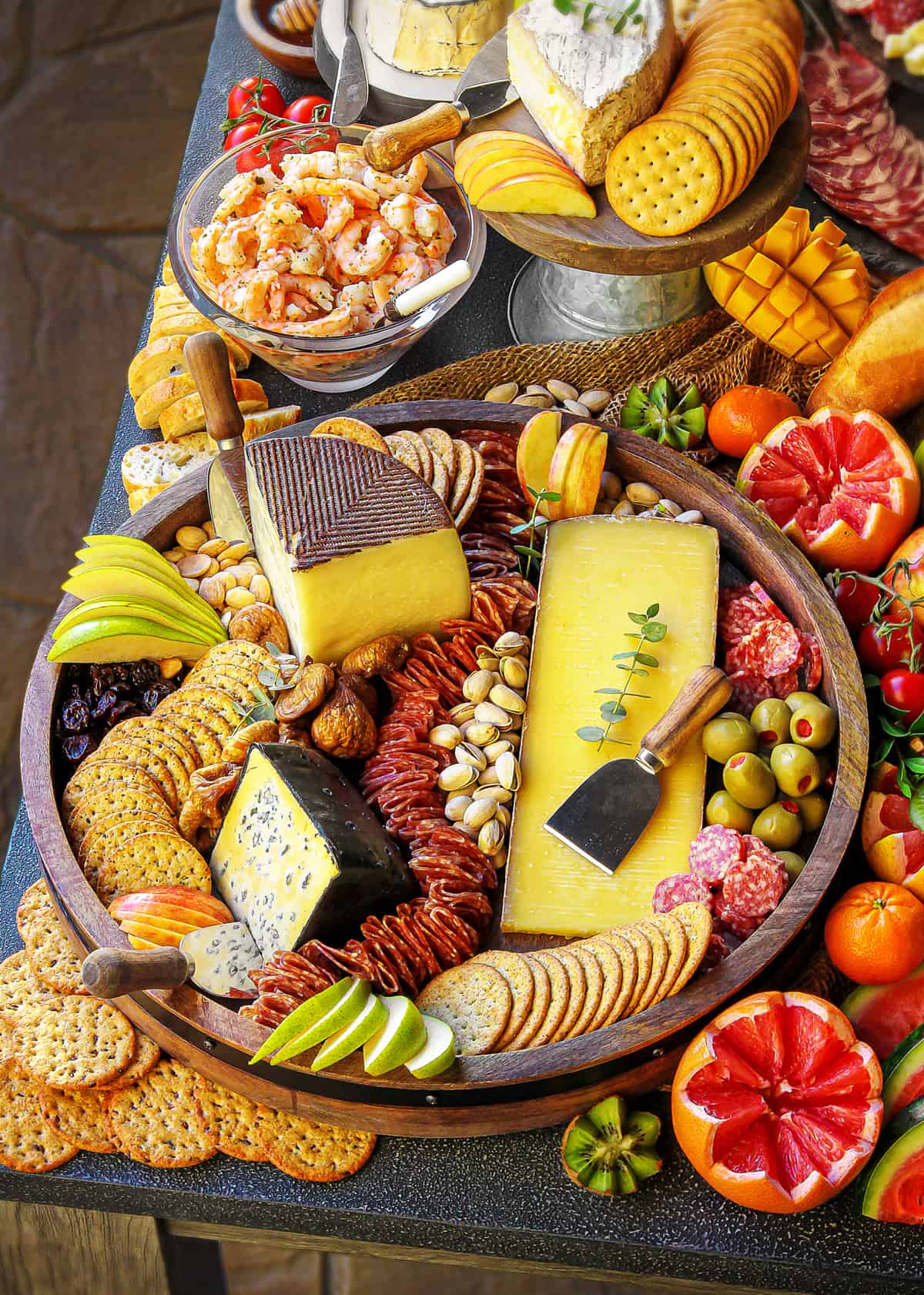 I hope you love this Summer Grazing Table. When you make it for your big event, be sure to snap a picture and tag me on Instagram @thebakermama so I can see! I just love seeing how inspired and creative y'all get with the ideas I share.
xoxo,