Nothing says "I love you!" more than a beautiful and delicious dinner board covered with Italian favorites like heart-shaped pizzas, raviolis and cheese along with meatballs, a prosciutto bouquet, arrow caprese skewers and bruschetta. Now that's amore, my friends!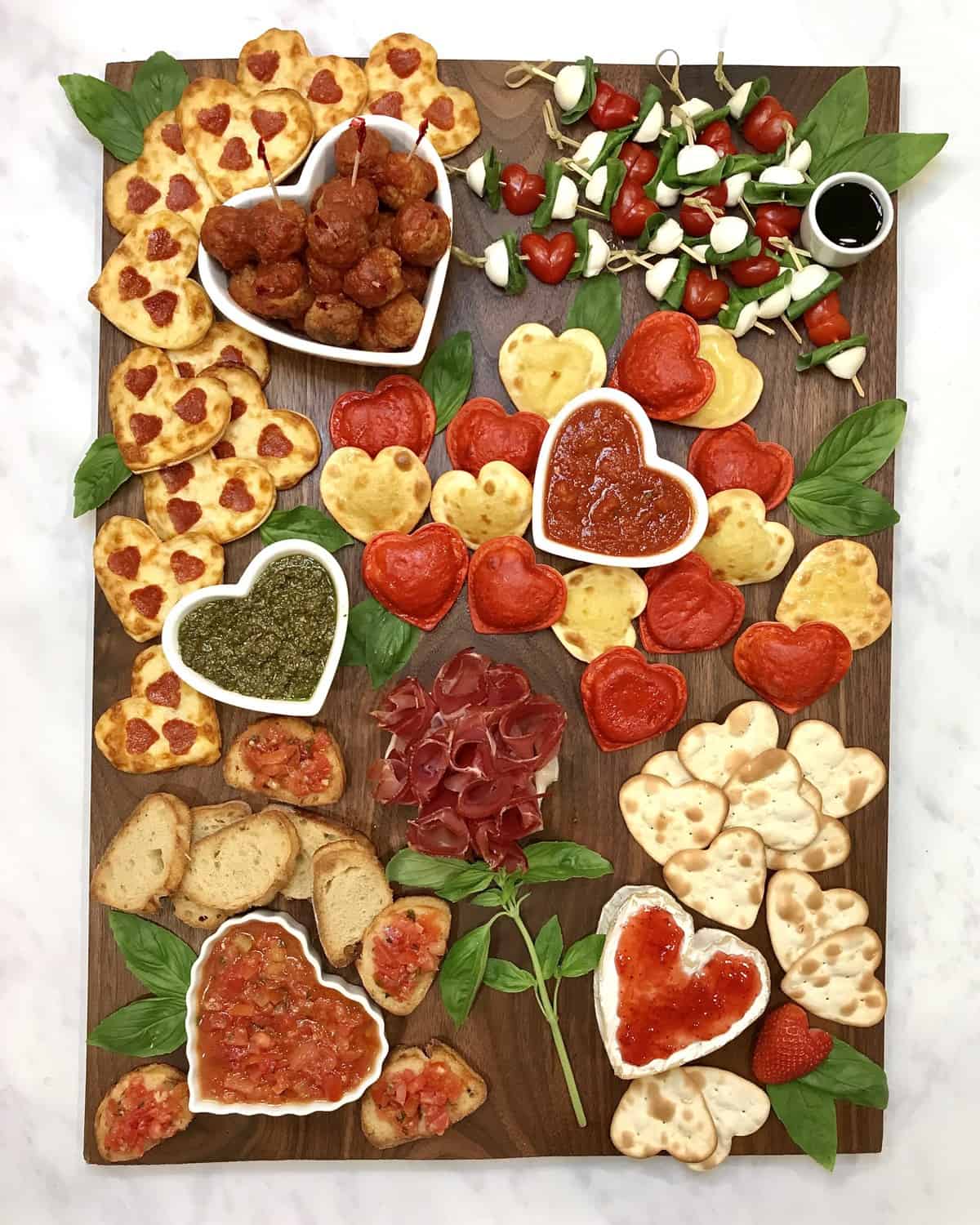 If you're like us and don't really care to go out to dinner on Valentine's Day, make staying in extra special with this Italian-Themed Valentine's Day Dinner Board that the whole family or your favorite friends are sure to enjoy. It's not only beautiful, but has so much deliciousness to graze on. I seriously don't know what I love most about this board! Everything is just so cute, tasty, and easy to prepare!
Let me give you all the creative and tasty details so you can recreate this board to enjoy with your loved ones around Valentine's Day too! See below for a breakdown of each item on the board…
Heart-Shaped Tortilla Pizzas
These little heart-shaped pizzas are so simple to make and great for easily picking up and eating with your fingers. Perfect for a crowd, especially a crowd that includes little ones! They're made with tortillas, mozzarella cheese slices and little heart-shaped pepperoni cut-outs.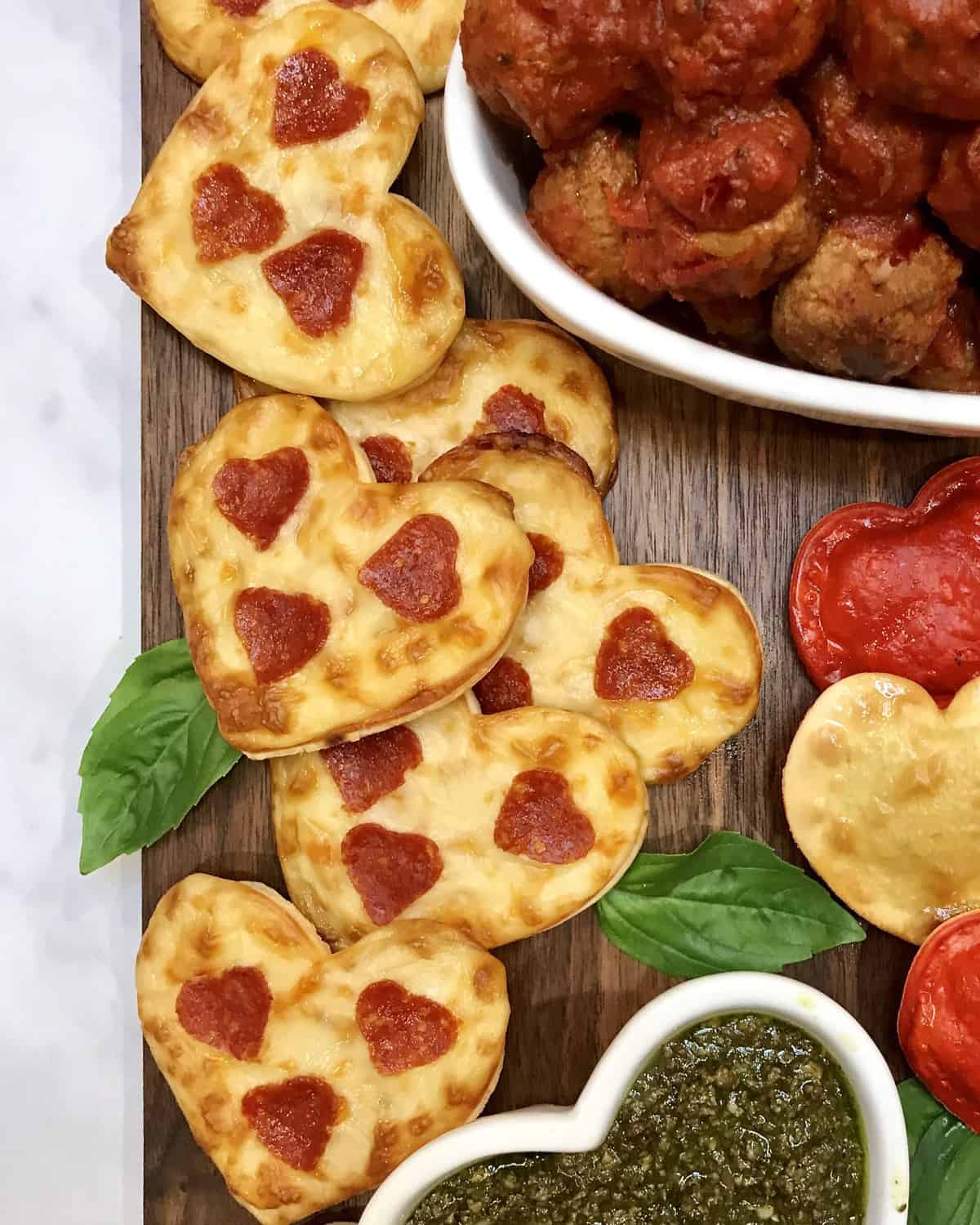 To make the Heart-Shaped Tortilla Pizzas, preheat your oven to 400°F. Cut the tortillas into heart shapes with a heart-shaped cookie cutter. Place the heart-shaped tortillas on a baking sheet and then into the oven for 8-10 minutes until they start to lightly brown and crisp around the edges. Remove them from the oven.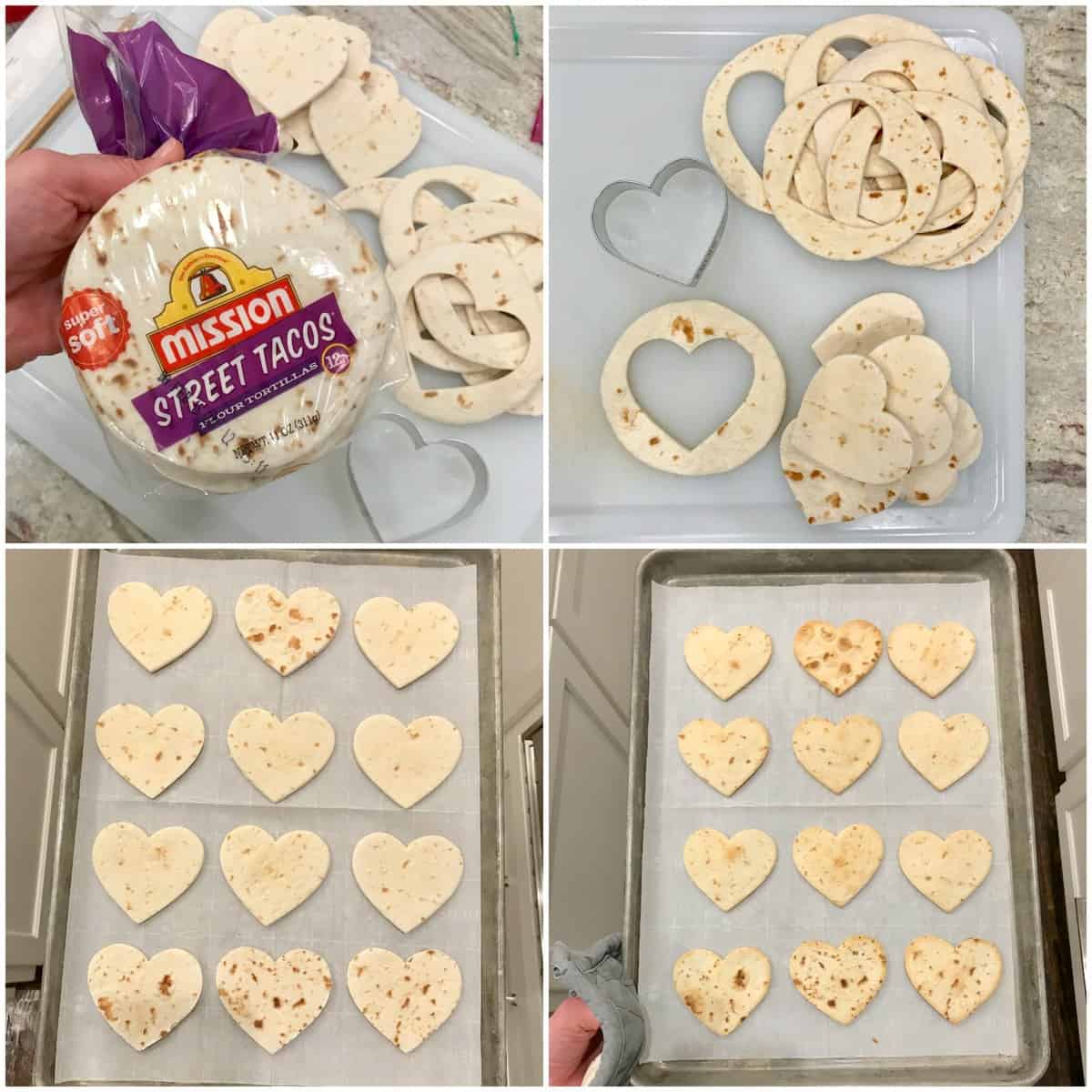 While the tortillas are baking, cut slices of mozzarella cheese with the same heart-shaped cookie cutter you used to cut the tortillas. Also, use a mini heart-shaped cookie cutter to cut the pepperoni into heart shapes or shape the pepperoni into hearts with kitchen scissors.
Once the heart-shaped tortillas have baked, place a slice of heart-shaped mozzarella cheese onto each tortilla and then 3 mini pepperonis. Return the topped tortillas to the oven and bake for about 5 minutes or until the cheese is bubbly and starting to turn golden brown in spots.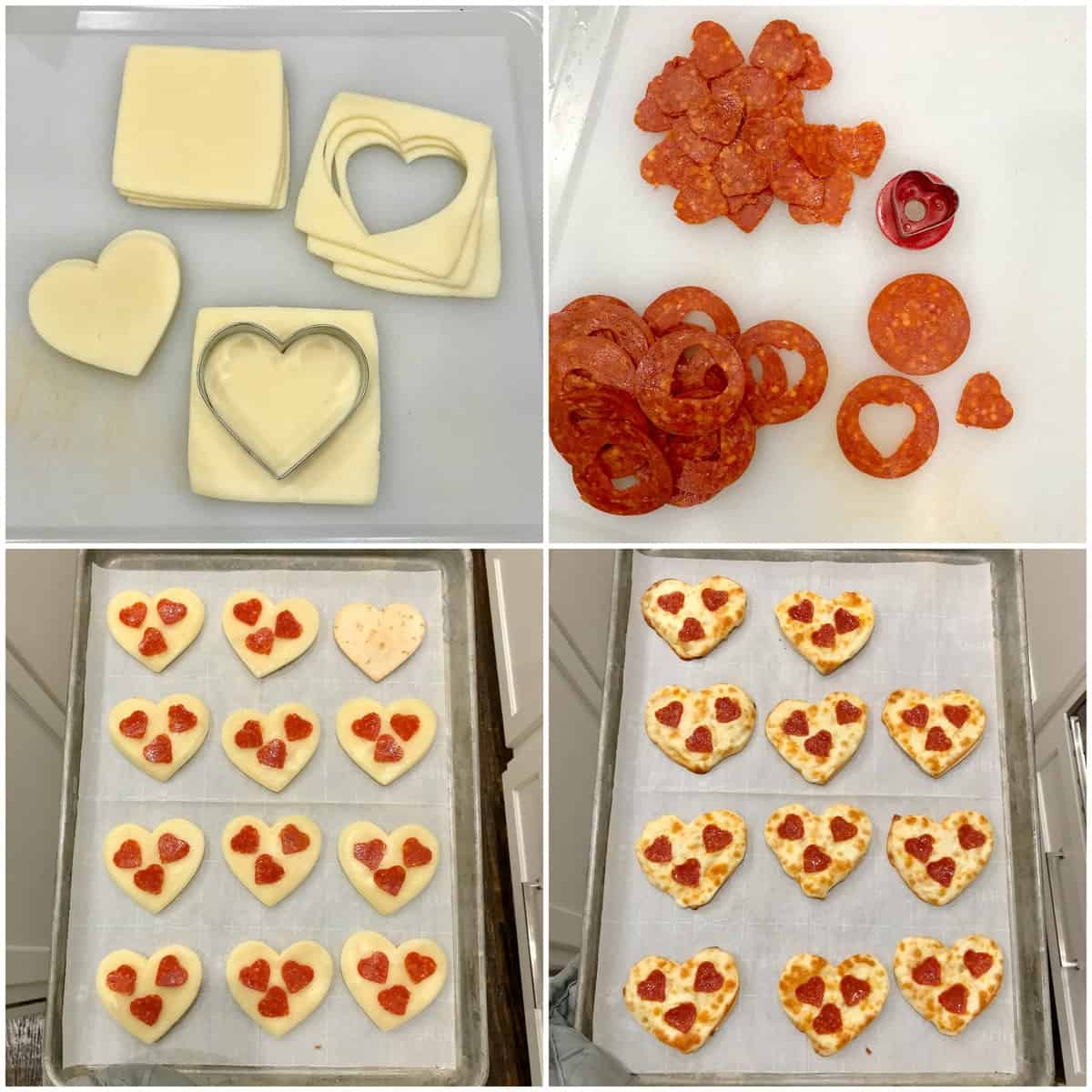 And that's all there is to them! So easy, super cute and really yummy! Once you've baked them, let the oven cool down to 200°F and put them back in to stay warm until you're ready to place them on the board and serve it.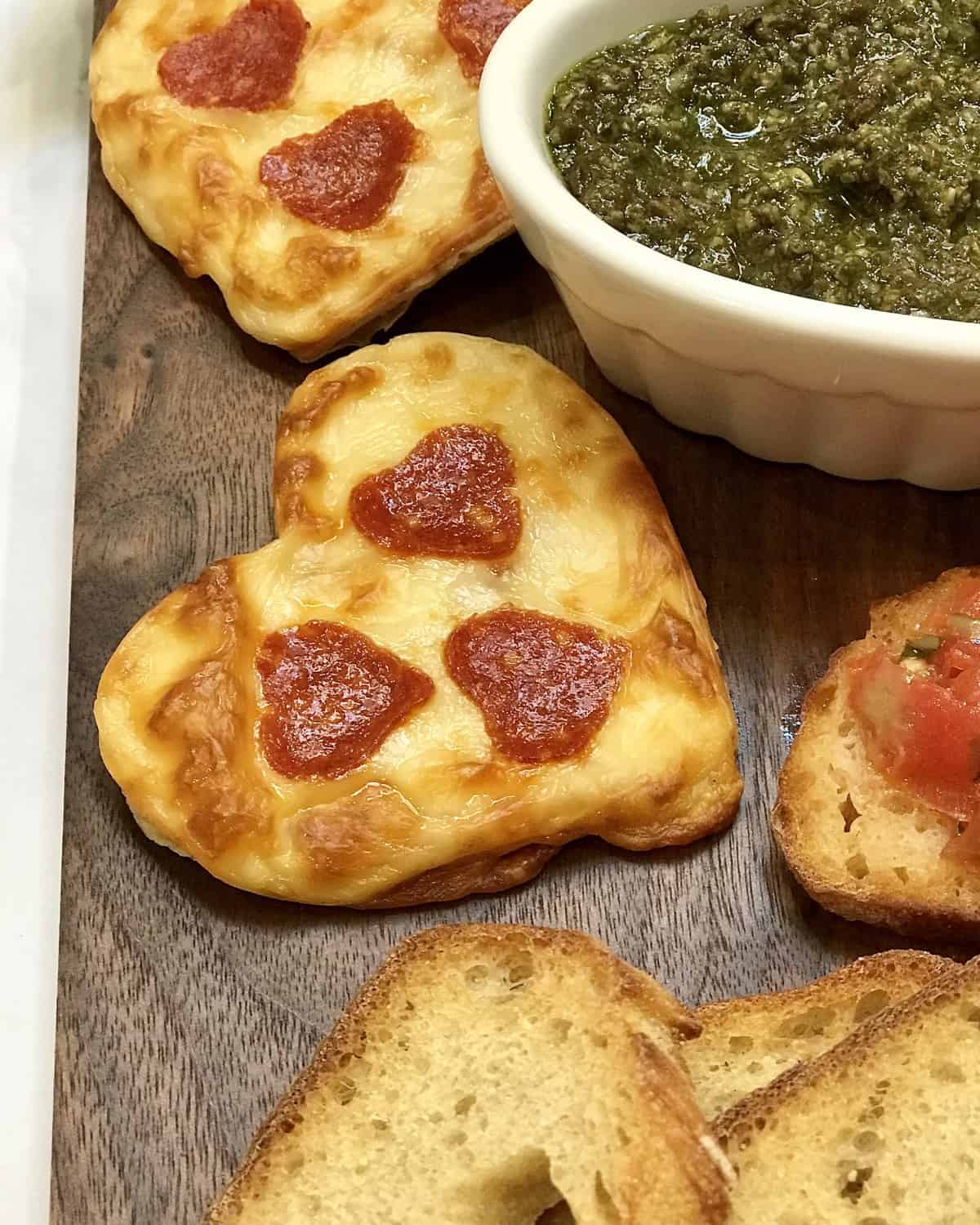 Watch this video to see how heart-shaped tortilla pizzas are made…
Mini Meatballs with Marinara
Everybody loves meatballs and these mini meatballs that you can find in the freezer section at most grocery stores are perfect for this board. Just heat them according to package directions with some store-bought marinara sauce and keep warm until you're ready to place them in a bowl on the board and serve it. Put some toothpicks with them for easy lifting and eating.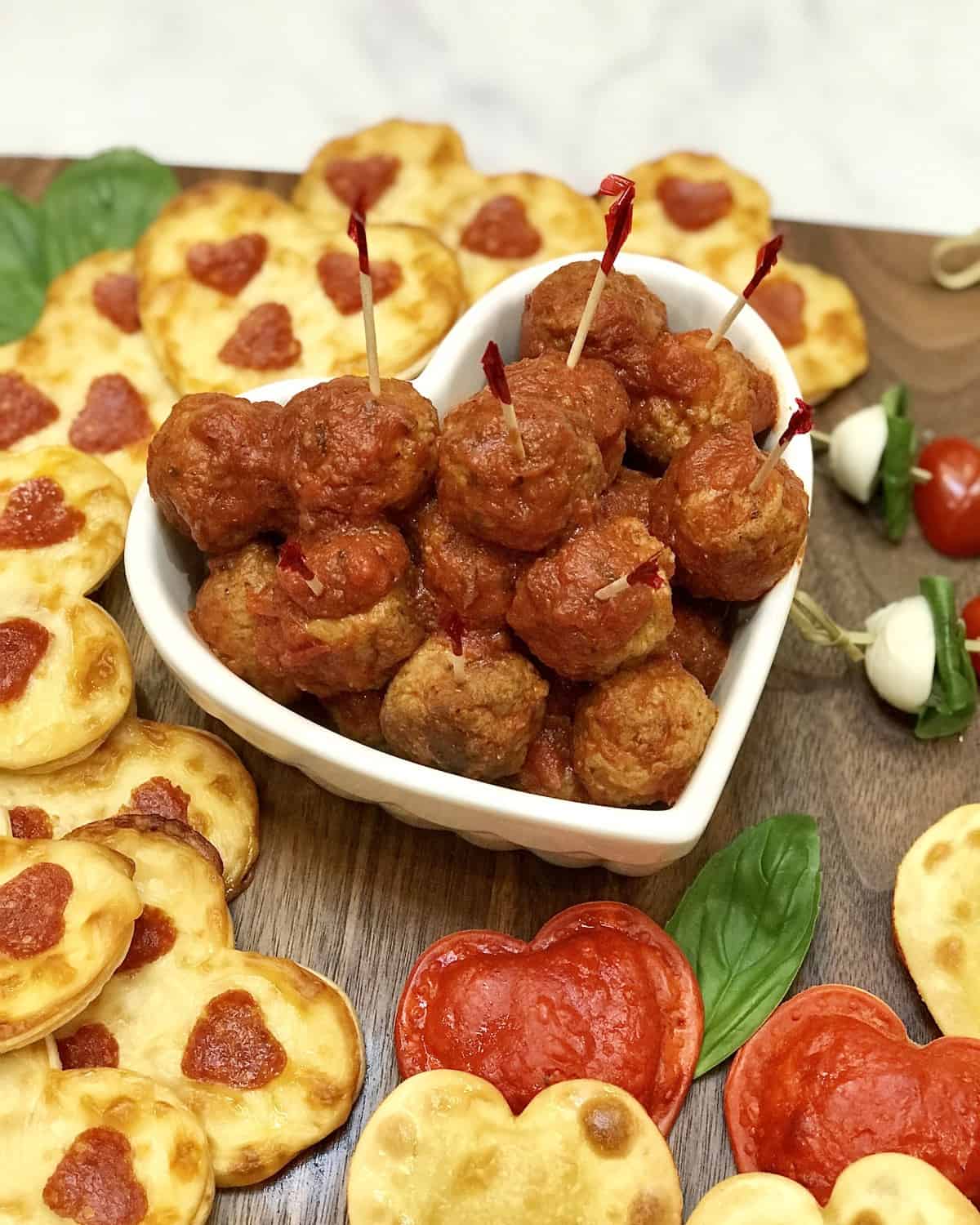 Toasted Heart-Shaped Ravioli
If you have a Costco near you, you gotta get some of these adorable and delicious heart-shaped cheese ravioli that they carry every year around Valentine's Day in the refrigerated section. They are just too cute and so tasty!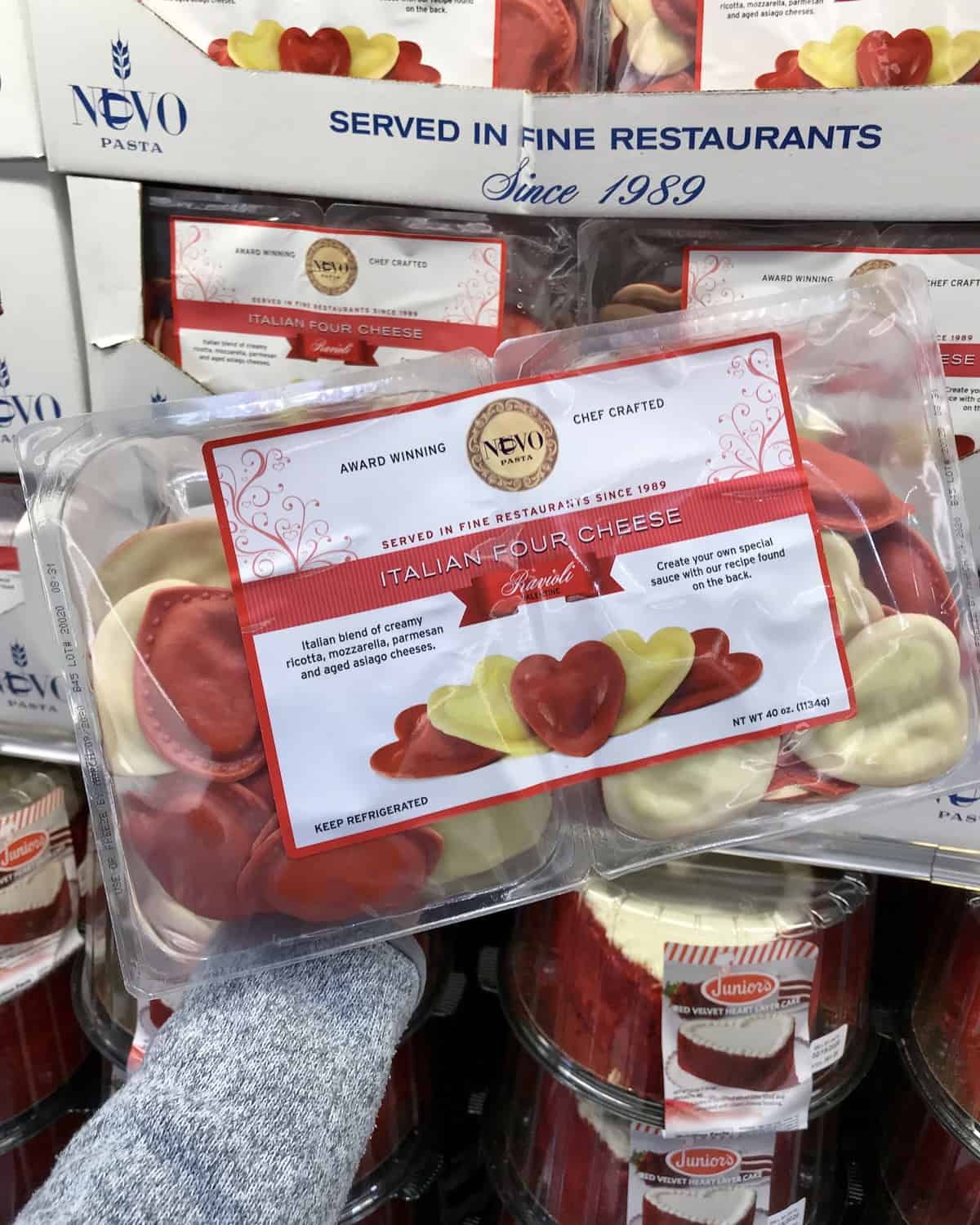 Instead of boiling them, I decided to toast them in the oven so they'd be easier to pick up and dip into marinara sauce. Yum yum! Preheat the oven to 400°F and place the ravioli in a single layer on a baking sheet. Alternate between the red sides and the white sides so you have both colors toasted on top. Brush them with melted butter and bake for about 10-14 minutes or until they are crisped and lightly browned. So yummy!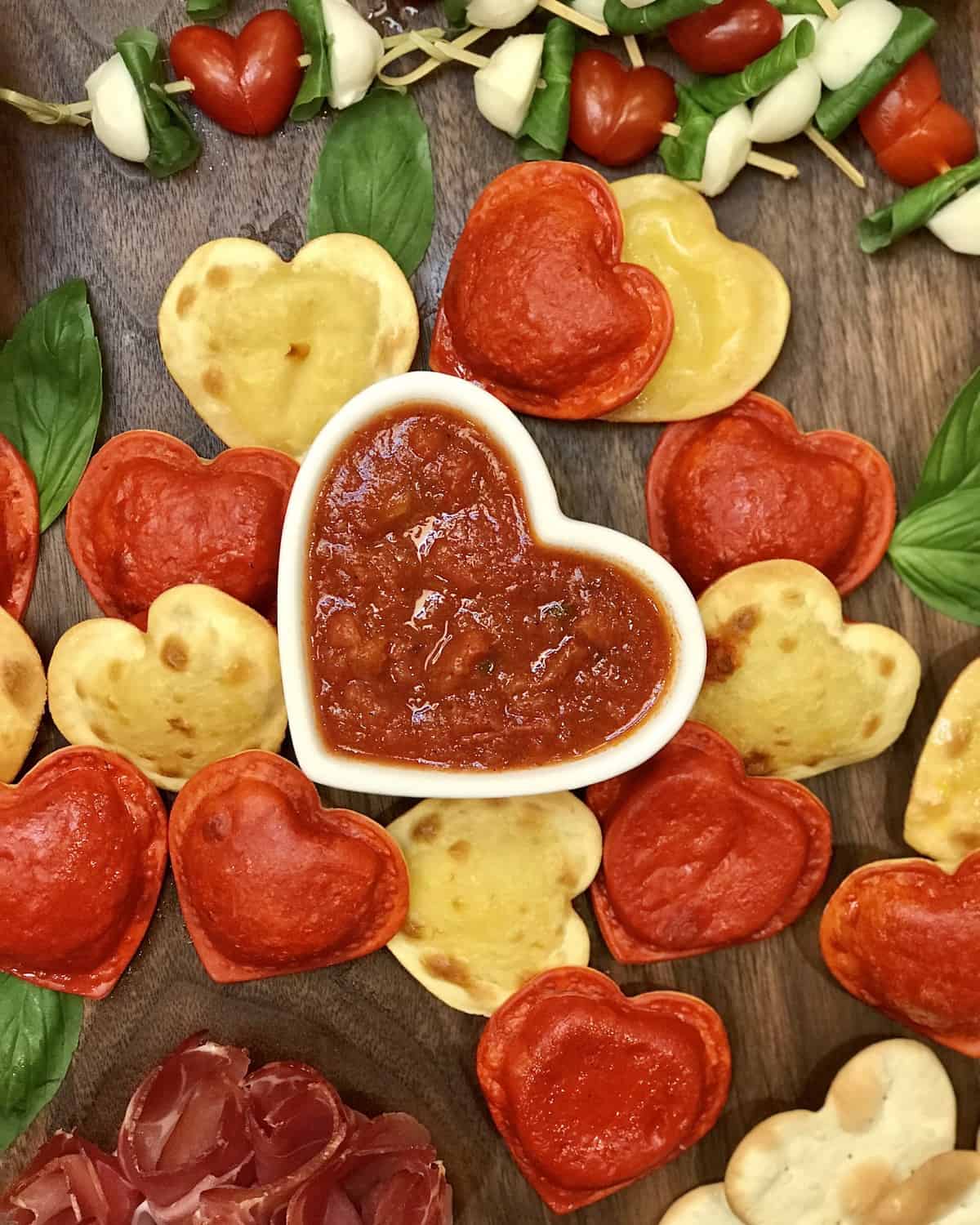 Arrow Caprese Skewers with Heart-Shaped Tomatoes
How cute are these?! Such an easy way to serve caprese in a festive way. See below for a how-to video showing how easy these skewers are to make. Be sure to put a little balsamic glaze on the side for people to drizzle on the skewer, if they desire. Or they could drizzle some of the pesto on it.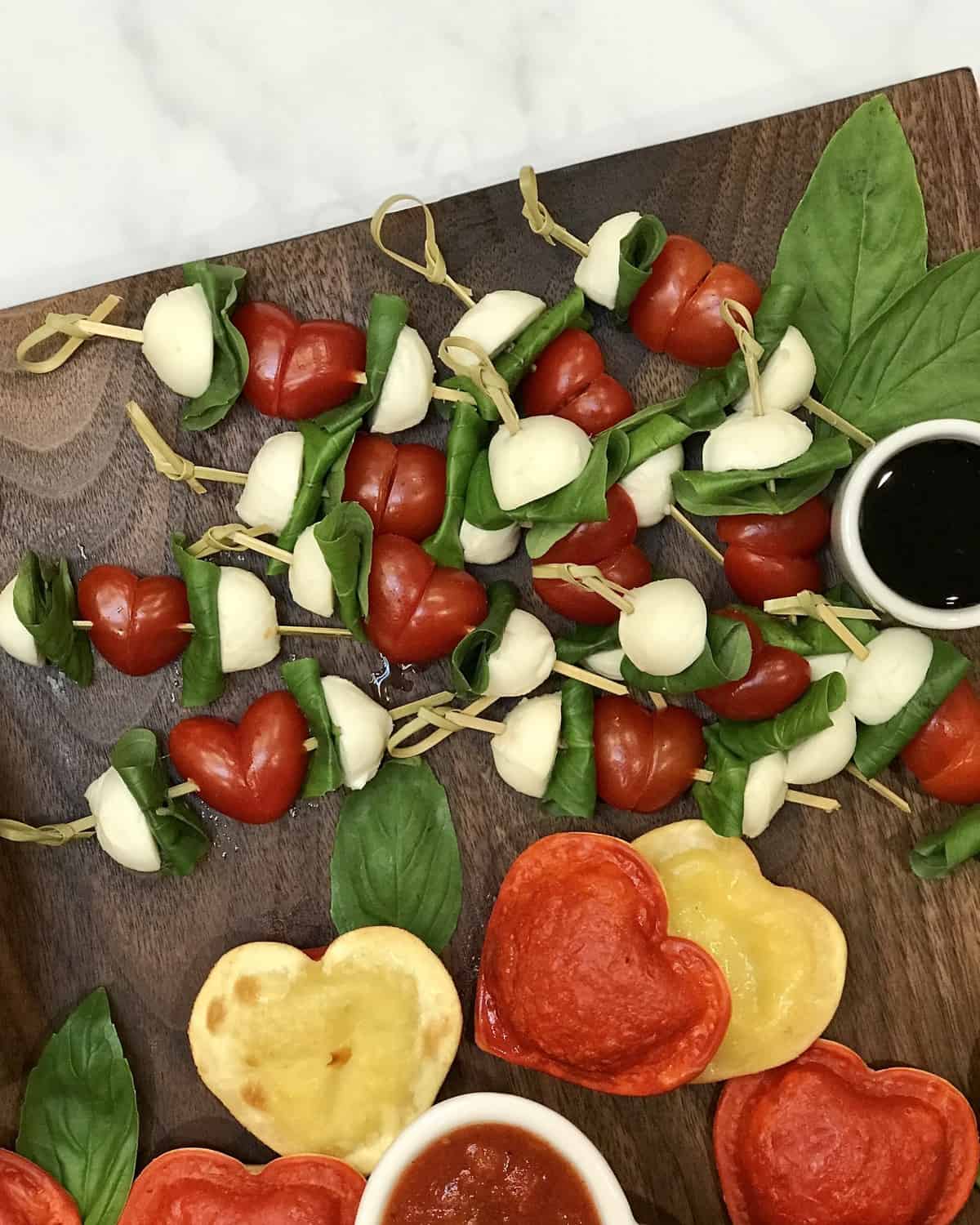 Watch this video to see how heart-shaped tomatoes and arrow caprese skewers are made…
Prosciutto Bouquet
I mean, I couldn't resist the prosciutto bouquet! It's so fitting for Valentine's Day and really the only bouquet this foodie is interested in. 😉 As I was putting the prosciutto on the board, it was just begging to be formed into a bouquet. Such an easy way to present it in a beautiful and festive way. Just roll each slice of prosciutto up individually and bunch them together to form the bouquet. Use a fresh basil stem for the stem of the bouquet. It's sure to be oohed and aahed over!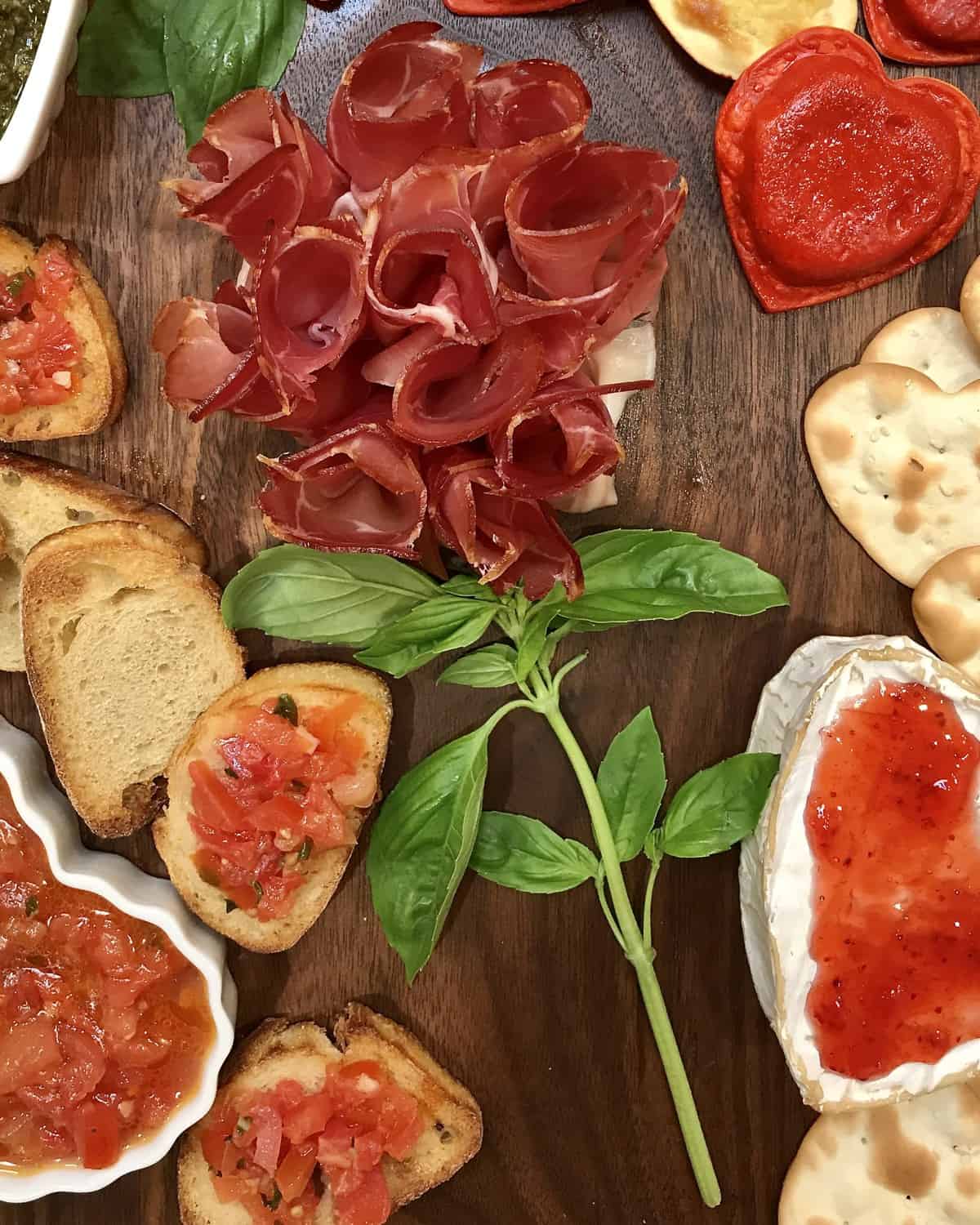 WATCH FOR MORE!
Watch this video to see how I made a prosciutto bouquet and created a whole board out of it…
Heart-Shaped Brie Cheese and Crackers
You can find the President heart-shaped brie in most grocery store cheese sections this time of year. It's so cute! And the adorable Valley Lahvosh Heart-Shaped Crackers can be found at several grocery stores across the United States. SEARCH HERE for a store near you or you can buy them in bulk on Amazon and use them for cheese boards in the months to come. Such a simple yet delicious addition to this board!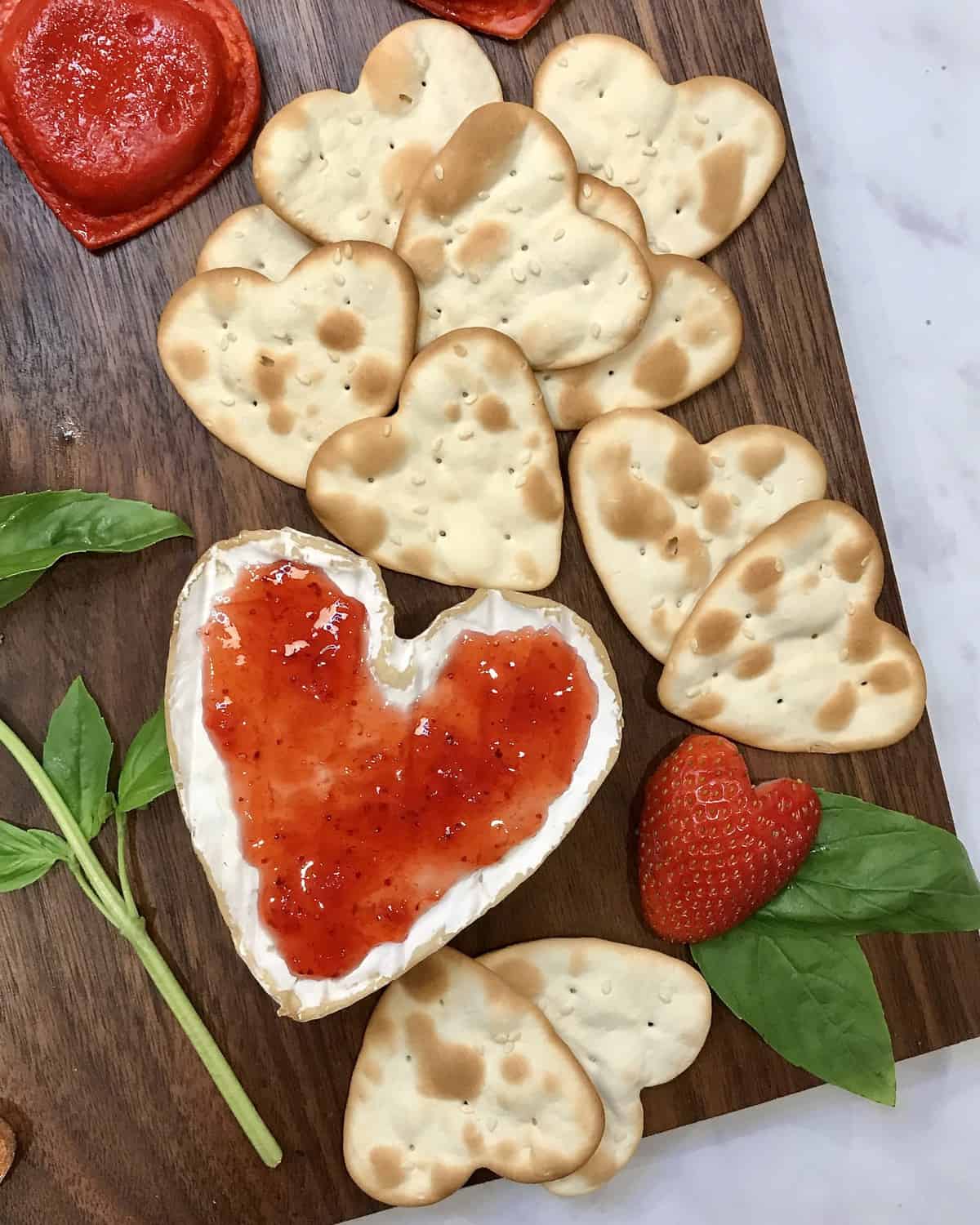 Bruschetta, Pesto and Baguette
Finally, I put some store-bought bruschetta and pesto in heart-shaped serving bowls on the board with some toasted baguette.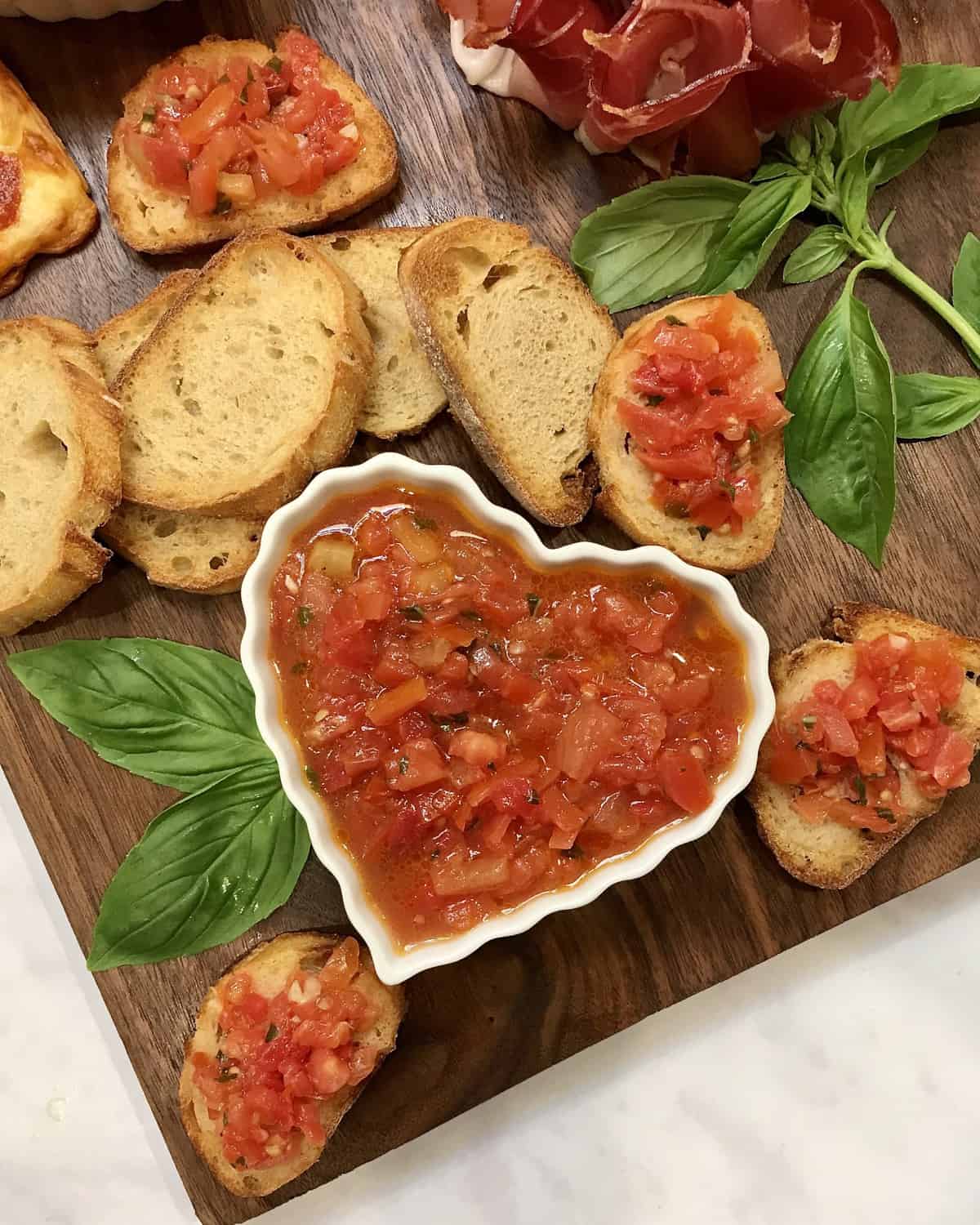 I got the heart-shaped serving bowls at Target and Sur La Table, but I can't find links to them. Here are some cute ones I found on Amazon.
I used our 24″ x 18″ walnut wood board that you can purchase on BoardsByTheBakerMama.com.
To assemble the board, start by putting the non-warm items like the heart-shaped brie, bruschetta, pesto and arrow caprese skewers on the board first. Keep the other items in a 200°F warm oven until you're ready to place them on the board and serve it immediately. Garnish the board with fresh basil!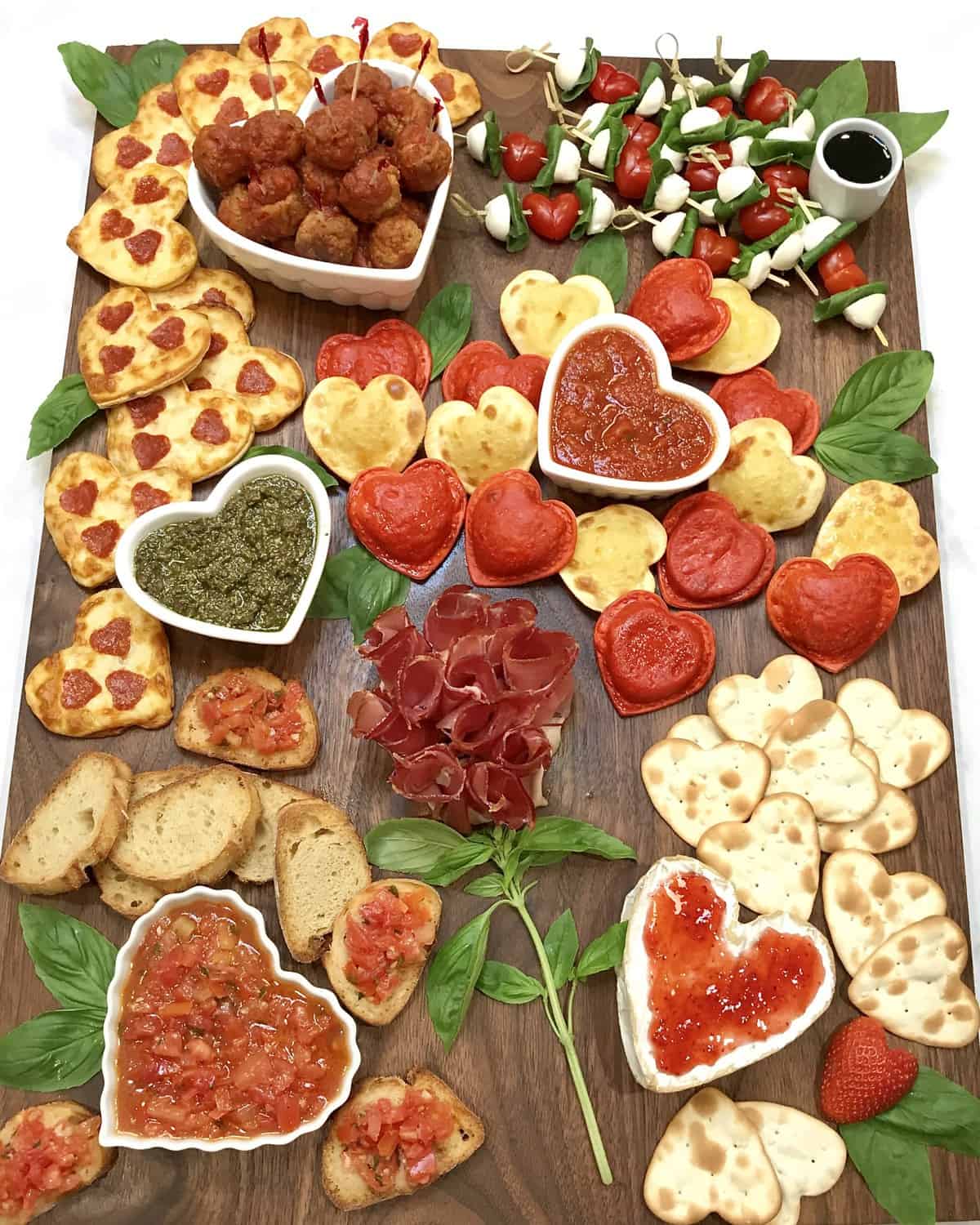 I hope you find this board inspiring as you plan for a lovely Valentine's Day meal with your loved ones whether it be just your family or a house full of friends. If you make it, be sure to snap a picture and share it with me @thebakermama on Instagram so I can see. I love seeing how inspired and creative y'all get with the ideas, recipes and boards I share. Enjoy!
Hosting a Valentine's party? Make it extra easy and enjoyable with The BakerMama's Valentine's Day Gathering Guide. I've got sweet decor, festive treats and fun activities that make the holiday extra special. There's even a romantic gift guide to help you spread the love.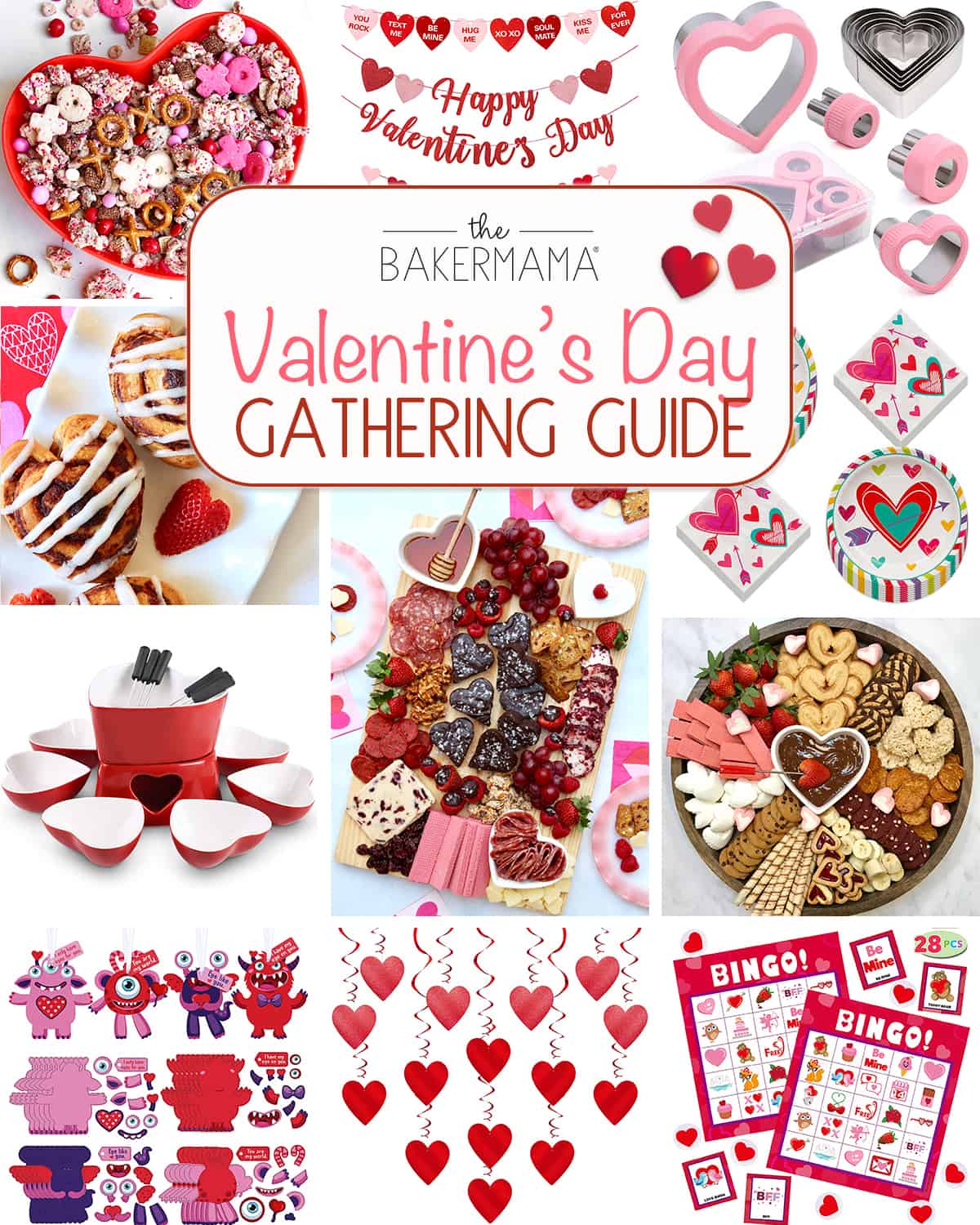 xoxo,