Easy Old-Fashioned Donuts that take 20 minutes from start to bite and taste as great, if not greater, than the ones you get from the donut shop! The most amazing homemade donut you'll ever eat!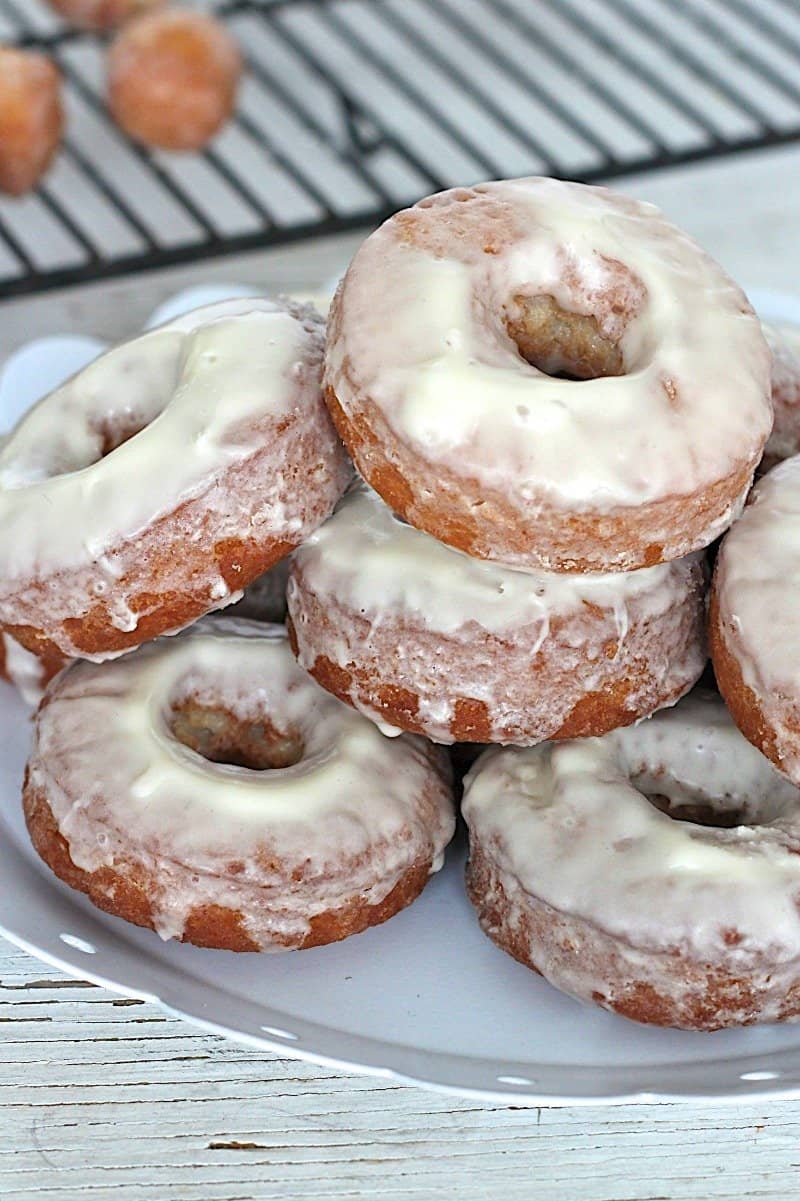 If you know me or have been following me on Instagram, you know I have a serious obsession/addiction/love (whatever you wanna call it!) for donuts. Every single morning, I'm dreaming of donuts and if I didn't have any self-control, I would eat one (or a few!) every morning for breakfast. I have to remind myself that eating donuts every single morning is probably not the healthiest habit for me or my boys, so I limit us to no more than two mornings a week. 😉 Seems reasonable, right?!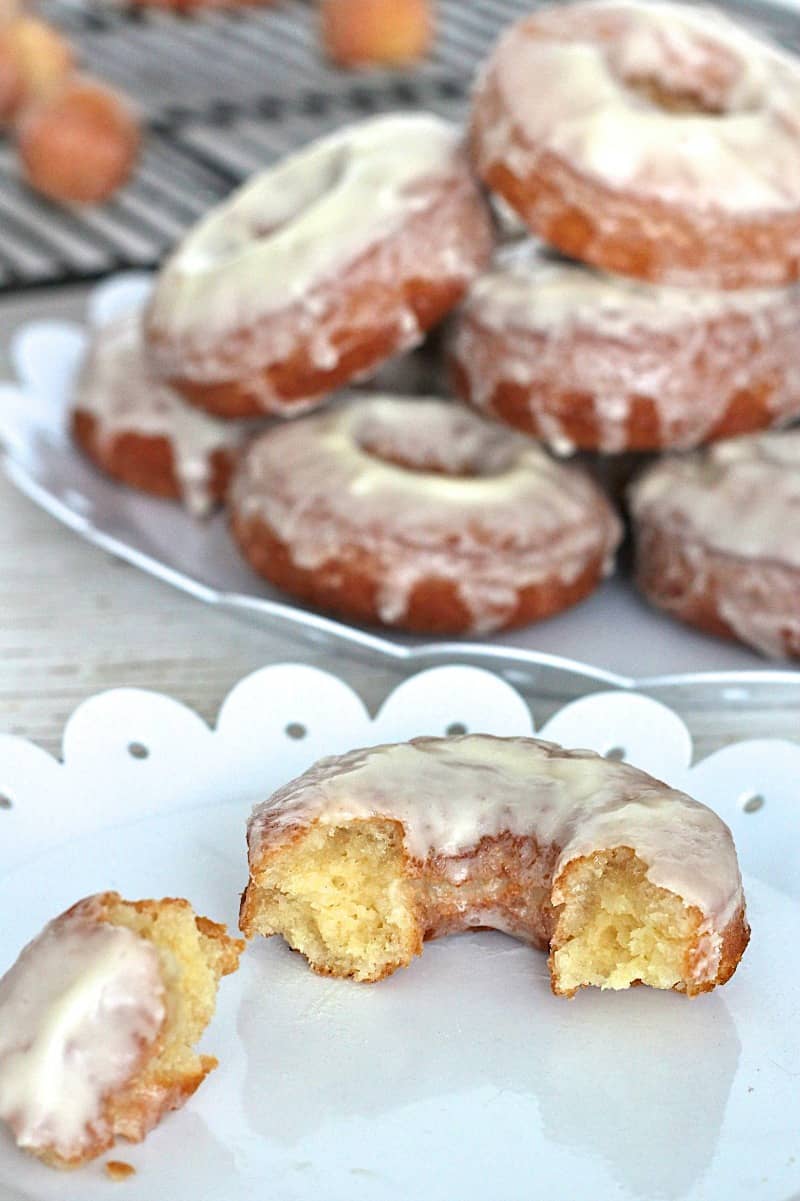 I bake donuts quite a bit here at home, but they're just not the same as a good ol' fried donut from the donut shop. I've been eager to come up with a recipe for my favorite old-fashioned donut, but I wanted it to be easy because honestly we just aren't very patient in the morning when the donut cravings are calling. Most recipes I've seen or tried take a few hours as the dough needs to rise or rest before you can cut and fry them.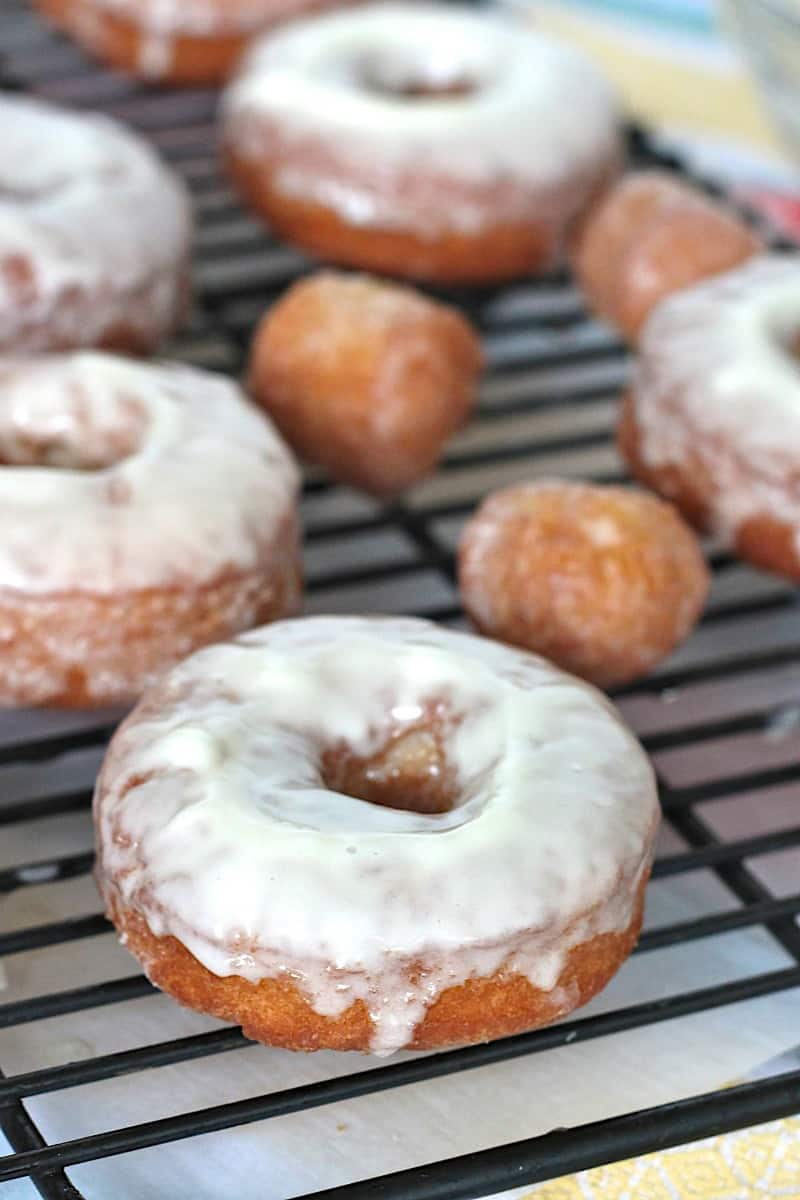 These scratch-made donuts take about 20 minutes from start to bite and they're amazing! Taste just like some of the best old-fashioned donuts I've had throughout my life. Crispy on the outside and tender on the inside with a simple and sweet glaze all over. Perfection! Accompanied by a hot cup of coffee or a cold glass of milk and I can't imagine a sweeter way to start the day!
I'm pretty sure our trips to the donut shop will be less frequent from now on, but that limit of no more than two mornings a week of eating donuts for breakfast might be tough given how easy these are to make and how great they taste!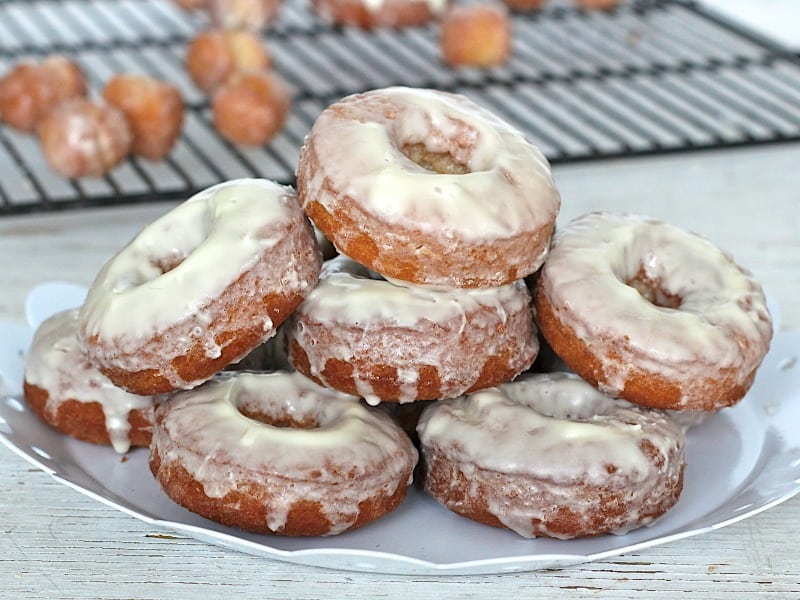 I used heavy cream in both the donuts and the glaze for a thicker texture and even more indulgent taste. Cause if you're gonna go to the effort of frying your own donuts, you want them to be their best!
Like I said, 20 minutes start to bite! Seriously!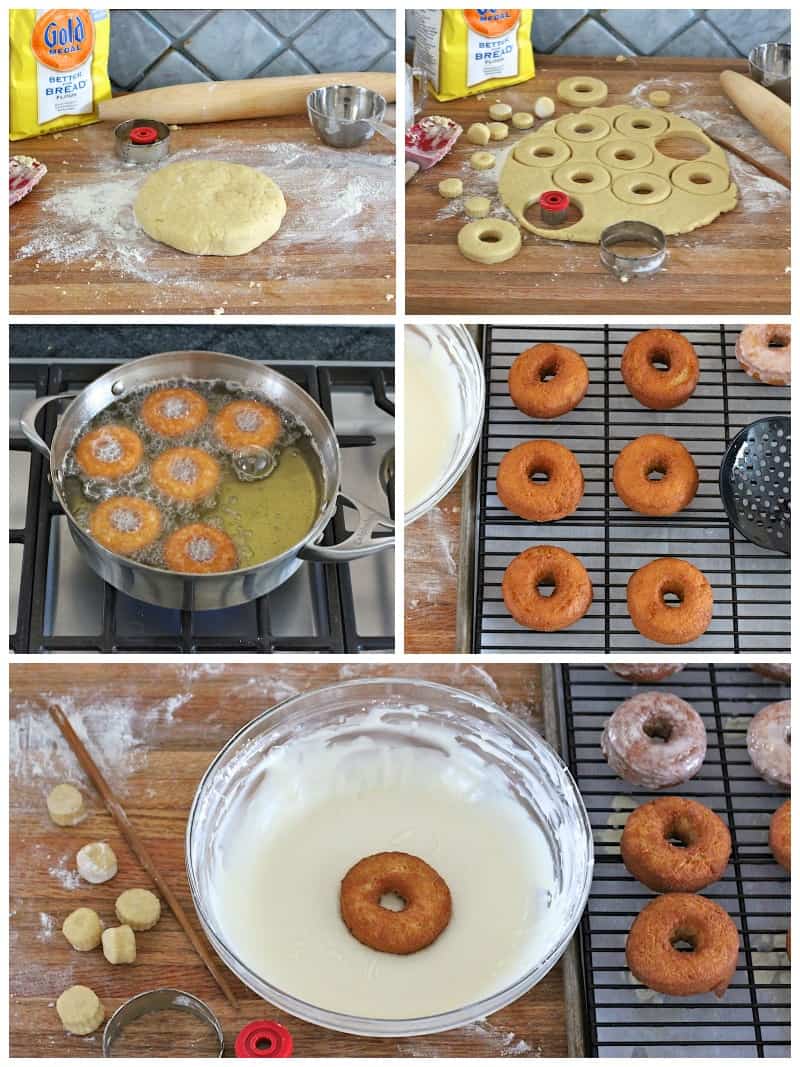 While the oil is heating up, you mix and cut the dough and then they only take a few minutes to fry to crispy perfection. A quick dip in the glaze and you've got a warm sweet donut ready to devour!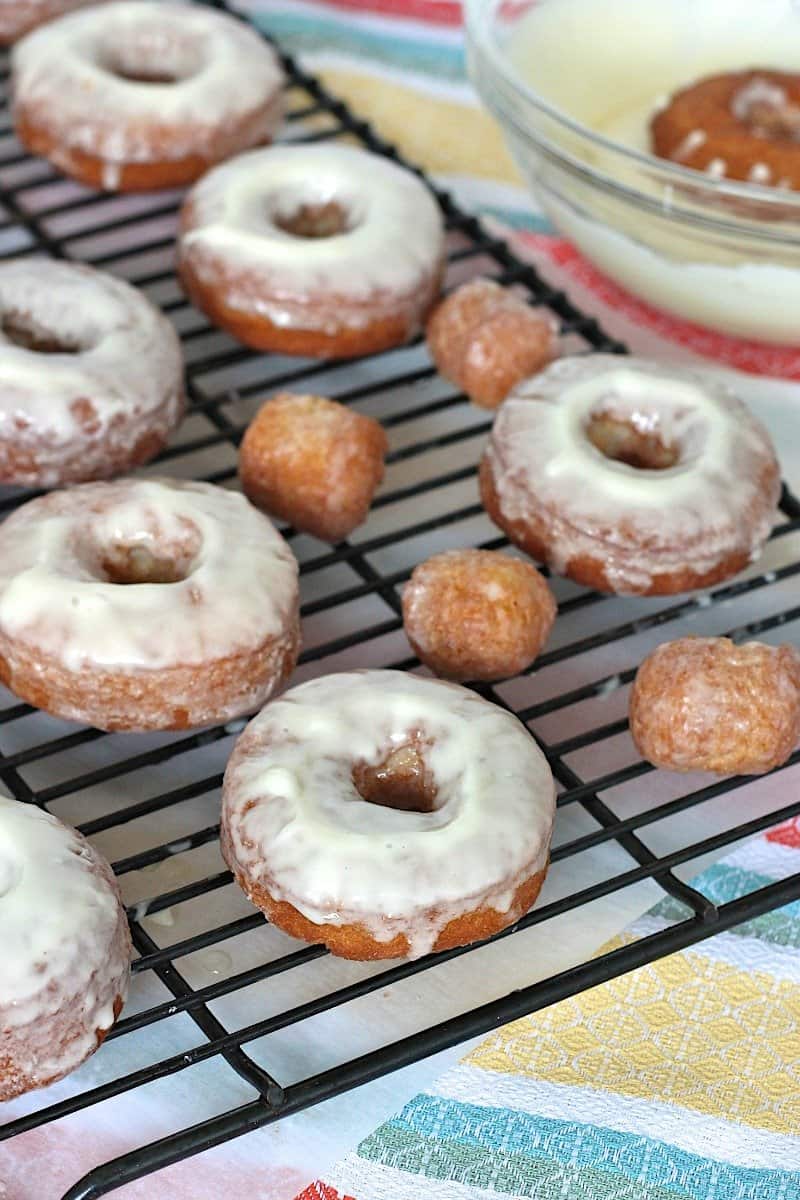 You've gotta try these! Simple, super sweet (of course!) & oh so scrumptious!! You'll flip with excitement when you taste them and realize that you can make great donuts in the comfort of your own home in no time!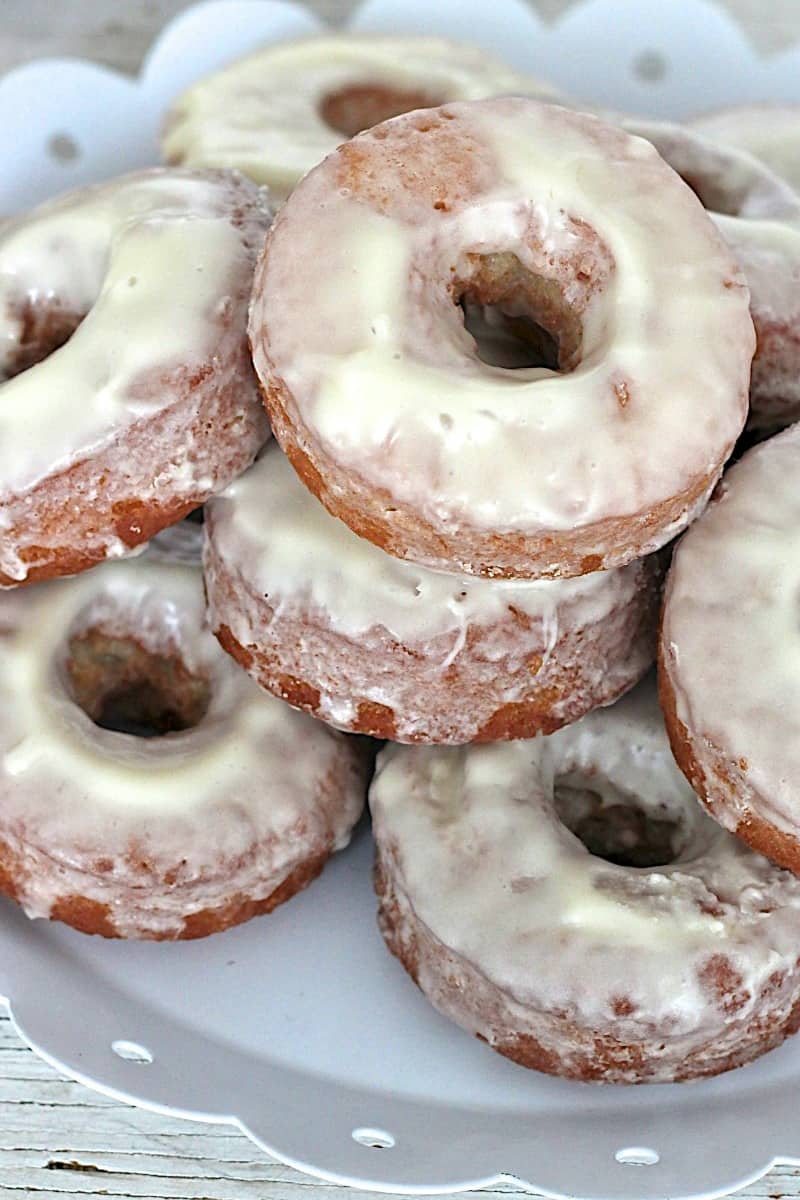 Enjoy!


Print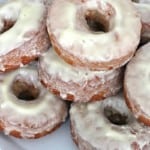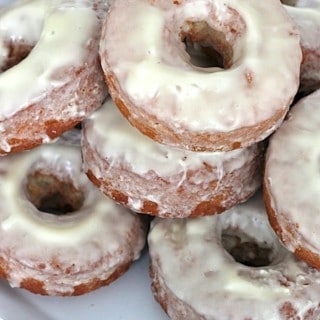 Easy Old-Fashioned Donuts
Author:

Prep Time:

12 mins

Cook Time:

8 mins

Total Time:

20 mins

Yield:

2

0

1

x

Category:

Breakfast
---
Description
Easy Old-Fashioned Donuts that take 20 minutes from start to bite and taste as great, if not greater, than the ones you get from the donut shop! The most amazing homemade donut you'll ever eat!
---
2 cups

bread flour

1/2 cup

granulated sugar

2 teaspoons

baking powder

1/4 teaspoon

kosher salt

3/4 cup

heavy cream

1

large egg

1/2 teaspoon

vanilla

1 tablespoon

butter, melted
canola oil, for frying
Glaze:

2 cups

powdered sugar

1 teaspoon

vanilla

1

–

1/4

cups heavy cream
---
Instructions
Fill a deep fryer or large pot with canola oil to at least 2 inches deep. Using a candy thermometer, heat oil to 350°F.
While oil is heating, mix together the dough. In a large bowl, whisk together the flour, sugar, baking powder and salt. In a separate bowl, whisk together the cream, egg, vanilla and melted butter. Stir the wet ingredients into the flour mixture and use your hands to knead the dough into a smooth ball.
Place the ball of dough onto a lightly floured surface and roll out to about ½-inch thickness. Use a donut cutter or two round (one big, one small) cookie cutters to cut out donut shapes, dipping the cutters into flour as necessary to prevent sticking to the dough. Gather and reroll remaining dough until all the dough is used. You should have 20 donuts and donut holes.
For the glaze, simply whisk together the powdered sugar, vanilla and heavy cream until smooth and thin enough to dip the donuts in. Add additional cream if the glaze is too thick or powdered sugar if it seems to thin.
Once the oil has reached 350°F, carefully add donuts to the hot oil, taking care not to overcrowd them. Let donuts fry for 15-30 seconds on each side, flipping twice, for a total frying time of 2 minutes or until donuts are golden brown. They cook fast so watch them carefully as you don't want to burn them.
Transfer the fried donuts to a wire rack that's set over a rimmed cookie sheet or paper towels to let excess grease drip off before dipping in glaze. Repeat frying process with remaining donuts.
While donuts are still hot, dip one side into and out of the glaze a few times and return to the wire rack with the non-glazed side down. Let glaze set or bite right in while they're still warm.
---
Notes
Store donuts in an airtight container for up to 3 days.