These 2-Ingredient Baked Cake Donuts are too good to be true! Just two ingredients for the donuts, a container of frosting for the glaze and in less than 30 minutes you'll have great cake donuts ready to enjoy!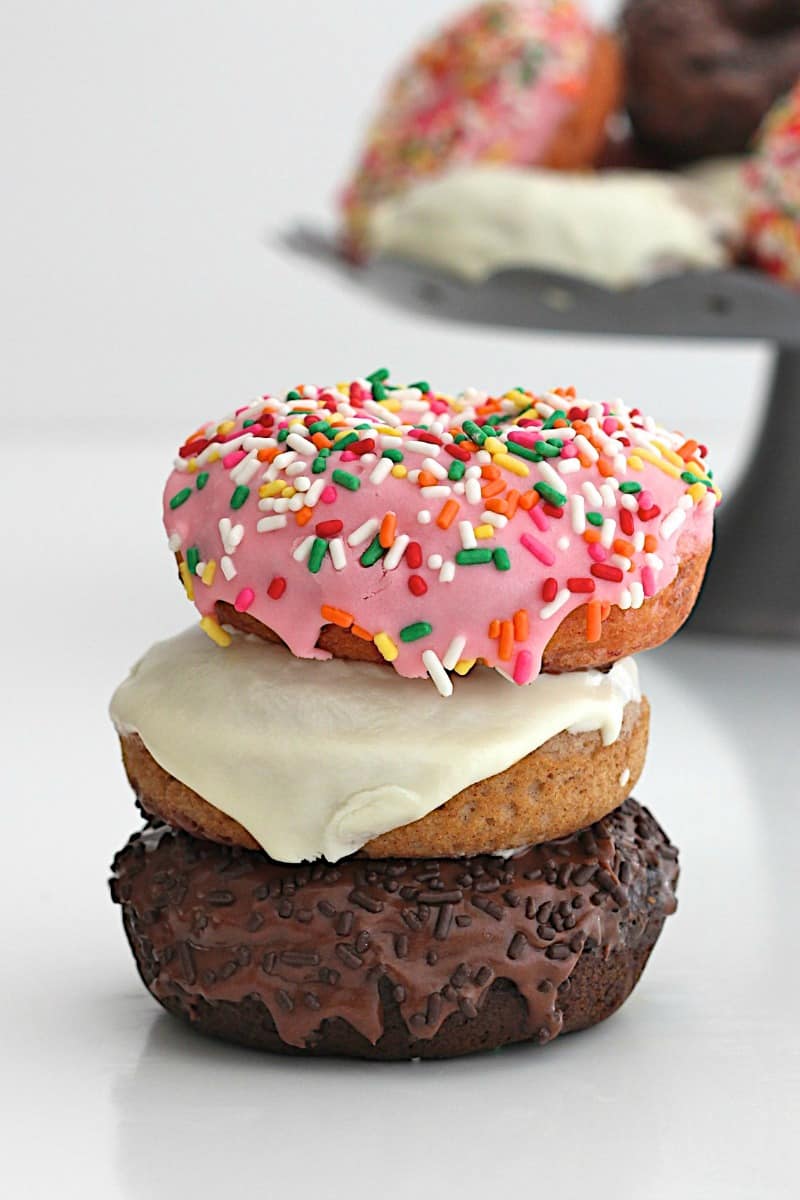 Do or Donut, There is No Try
Today's the day, my friends! It's National Donut Day!!! Yes, a day to celebrate our love for donuts & devour as many as we want without being judged. Wait, who would ever judge someone for eating donuts?! 😉 It's no secret that I'm obsessed with donuts. I mean I wear donut shoes, donut shirts, a donut necklace and all the donut shops in town know me by name. Absolutely no shame in my donut loving game!
In honor of my love for donuts, I'm not just sharing one yummy donut recipe today, but two! Woo-hoo!
Watch Me Make Baked Cake Donuts
Join me in the kitchen as I make a batch of these amazing 2-Ingredient Baked Cake Donuts!
Two Ingredients, One Delicious Donut
First up are these incredibly easy and delicious 2-Ingredient Baked Cake Donuts with a 1-Ingredient Glaze. They're too good to be true! This recipe is for my semi-homemade, fear of frying, need something quick & easy but still want them to taste amazing, donut lovers out there. You're gonna love these donuts!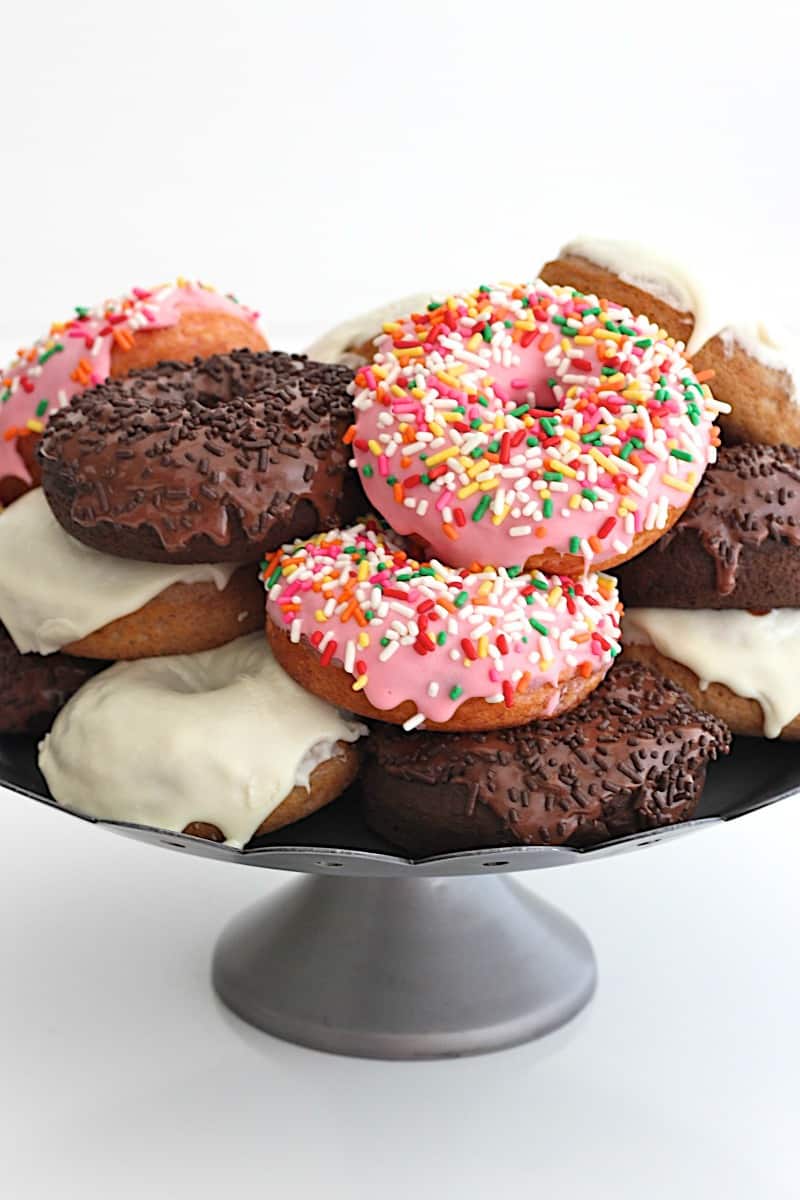 Okay, back to these 2-Ingredient baked cake donuts! "How can that be??" you might be asking. What about the flour! The yeast! The powdered sugar! The salt! Surely there are egg! Well, they're actually made with a cake mix and one other ingredient mixed in. I don't use cake mixes often because I love baking from scratch, but there's absolutely nothing wrong with using a cake mix every once in a while to make life easier & to mix things up.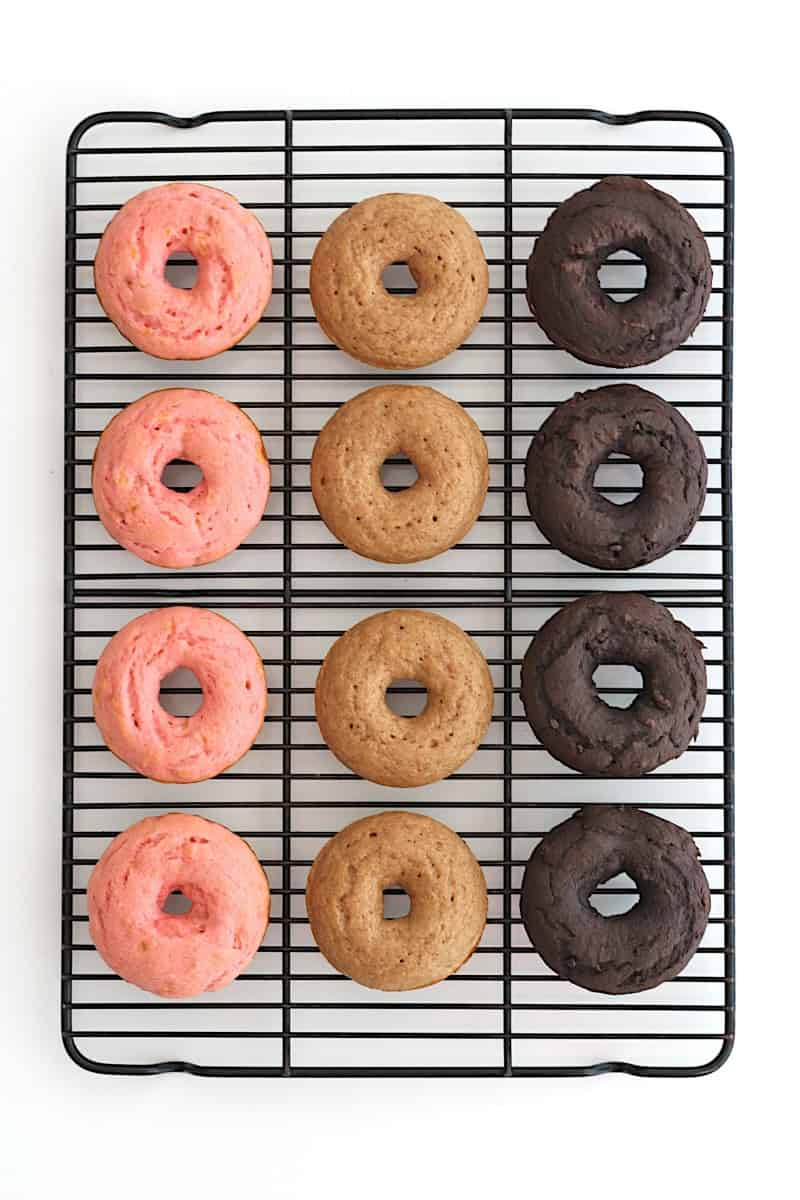 So when I got this idea in my head to bake donuts with a cake mix and just one other ingredient mixed in, I ran with it and I love how they turned out! The options are plentiful when it comes to picking a flavor for these cake donuts. Just take your favorite cake mix and stir in either 2 cups mashed banana, 2 cups cinnamon applesauce or a 15 ounce can of pure pumpkin to the dough.
And you'll never believe it, but the glaze is just store-bought frosting that's been microwaved for about 10 seconds. It works so perfectly as a donut glaze. I was literally doing the happy dance when this little idea of mine worked so well.
The donuts are soft and cakey and the sweet glaze coats and compliments them perfectly. Oh my yum!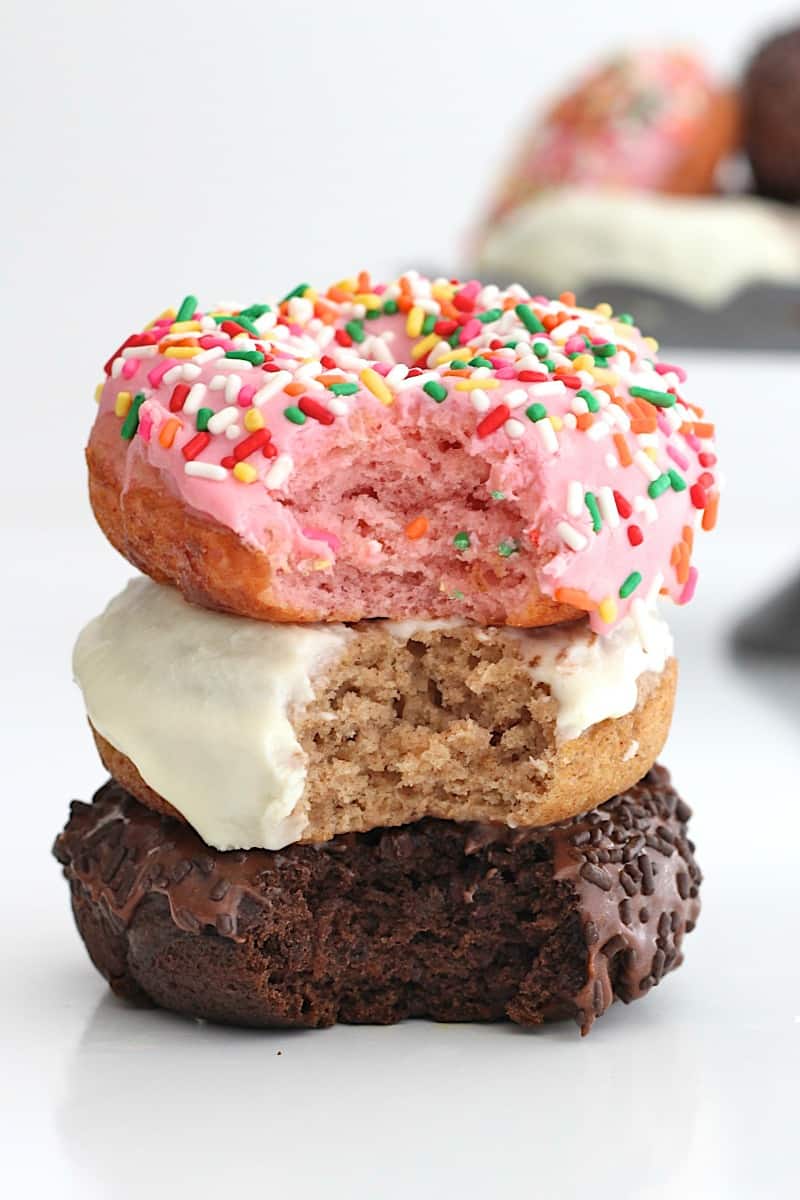 How to Make 2-Ingredient Donuts
To make cake mix donuts, take 1 cake mix, 1 mix-in and 1 container of frosting. Sprinkles are technically optional, but come on! Sprinkles are given when it comes to donuts, am I right?! 😉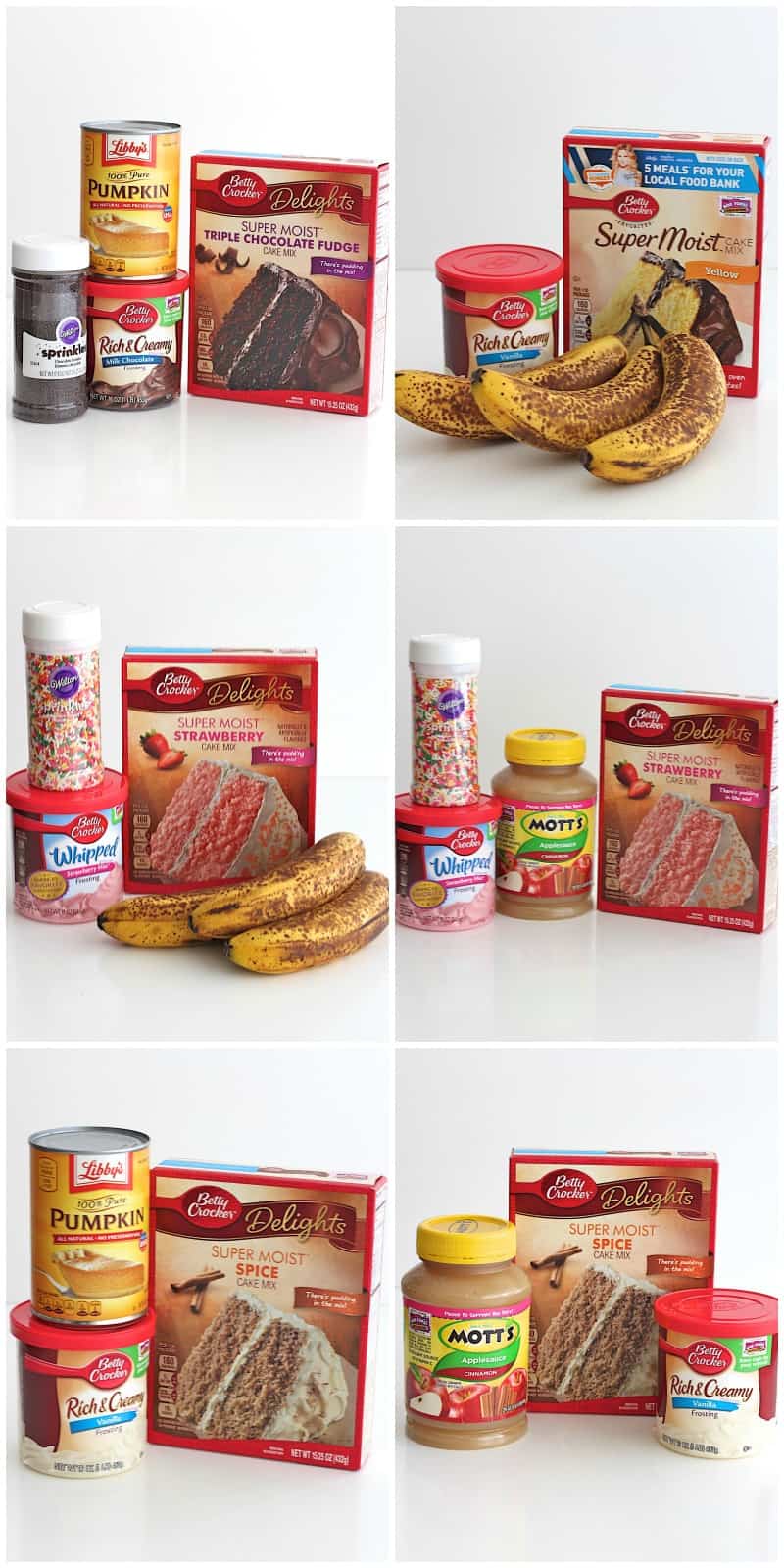 Here we go…
You like chocolate cake? Stir in any of the 3 mix-ins and use any frosting glaze you so desire! Vanilla cake your thing? Once again, any of the 3 mix-ins would work great and the same goes for the frosting glaze! Got a hankering for strawberry cake? Go with mashed bananas or even applesauce for the mix-in and a strawberry frosting glaze! You like spice cake mix, go with applesauce or pumpkin and a cream cheese or plain vanilla frosting glaze!
So many yummy options! The process for making these donuts is so quick and easy it's ridiculous. You'll be baking these bad boys (I mean that in a good way) every chance you get.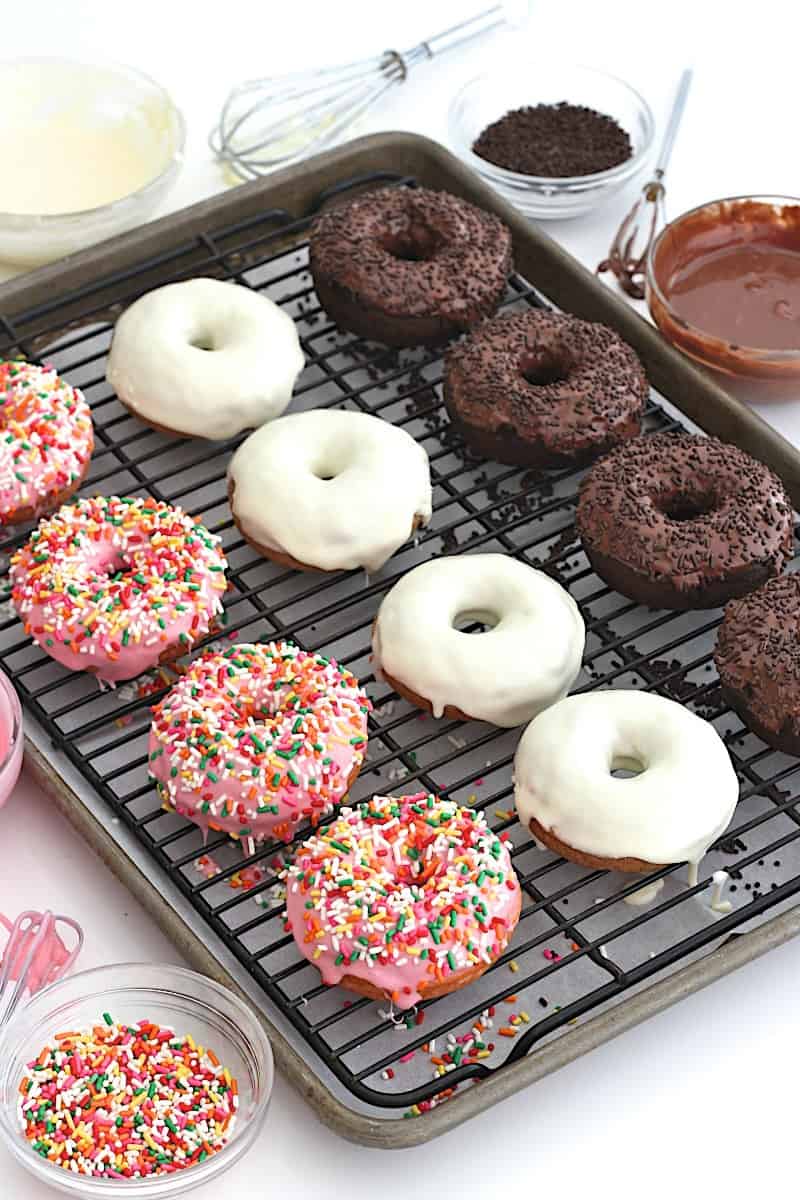 Donuts Three Ways
I made them three different ways to show you how: Strawberry banana with a strawberry frosting glaze and sprinkles, of course! Oh la la!!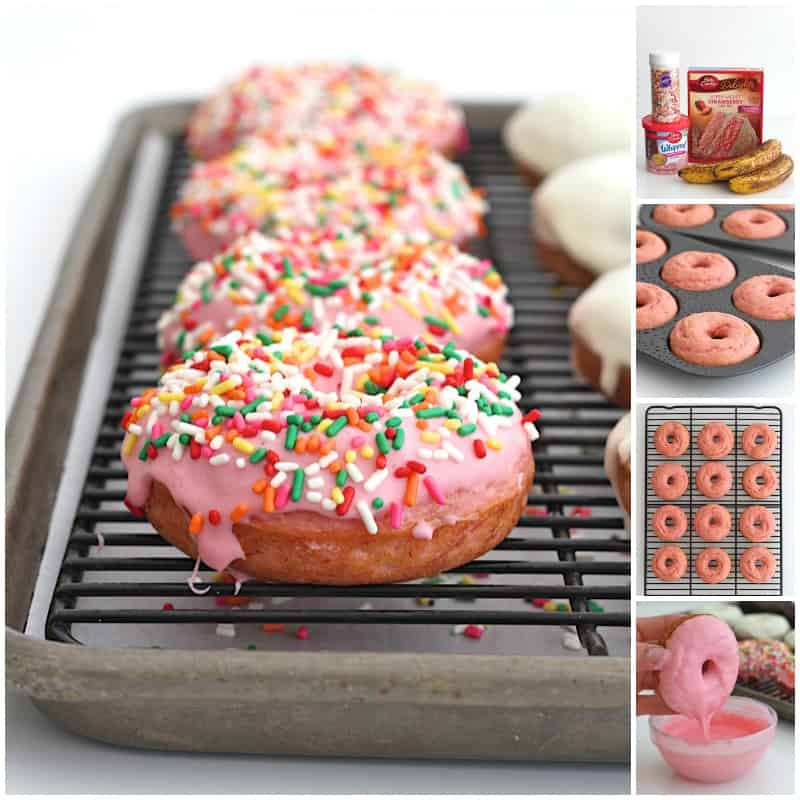 Apple Spice with a vanilla frosting glaze…sweet & simply delicious! Might be my fave!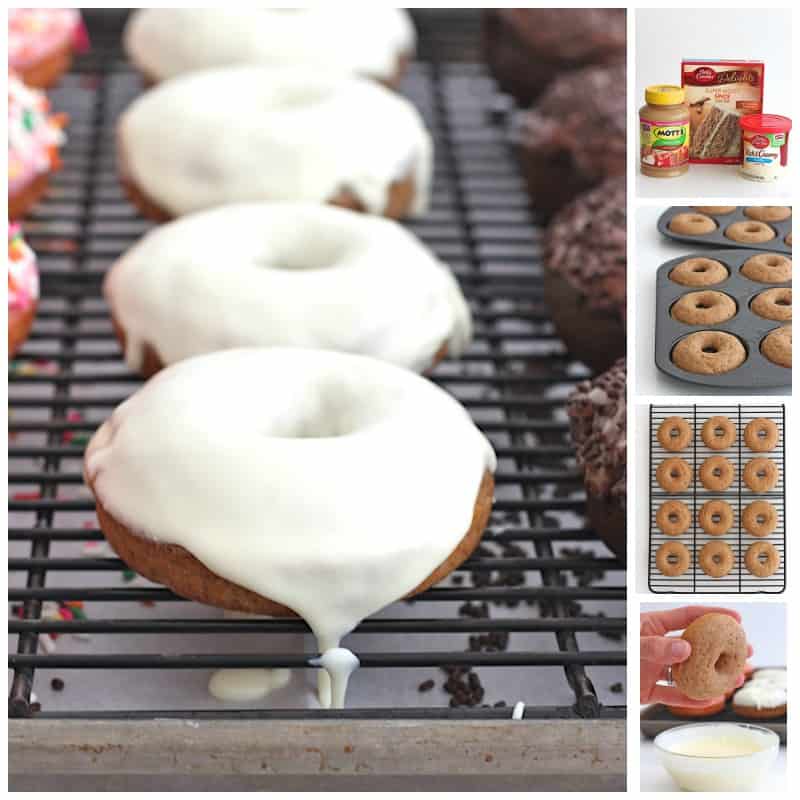 Chocolate pumpkin with a chocolate frosting glaze and chocolate sprinkles! Party!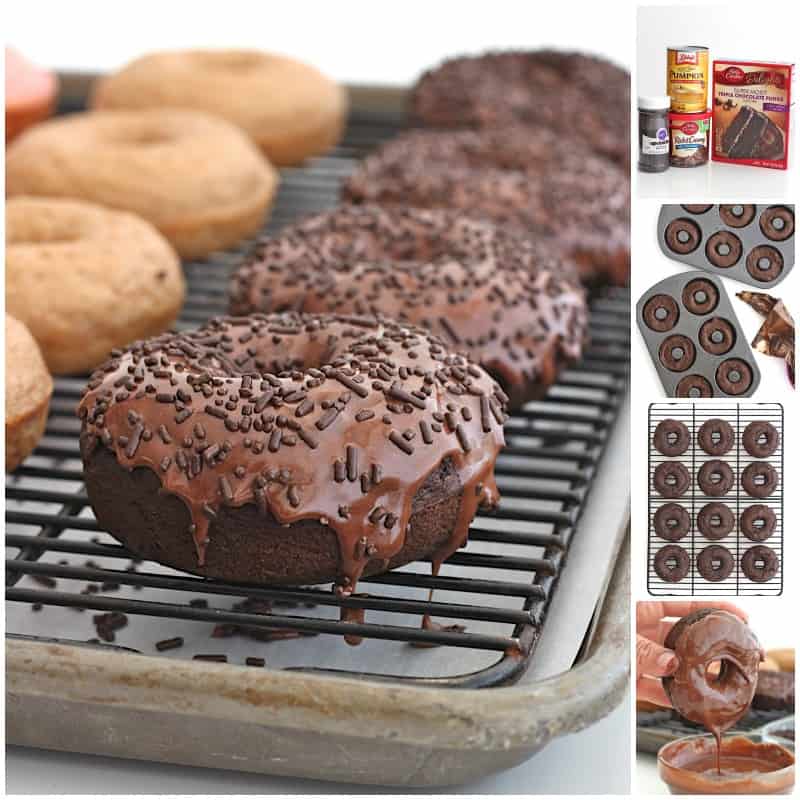 So what are you waiting for? Grab a cake mix, a mix-in, and a container of frosting and you're less than 30 minutes away from baked cake donut deliciousness!
Even More Donut Deliciousness
Stay tuned for some scratch-made, home-fried Blueberry Donuts that are still super easy and can be ready to enjoy in just 30 minutes. Once again, too good to be true!
Oh, and don't forget about the Easy Old-Fashioned Donuts, Whole Wheat Baked Banana Donuts with a Peanut Butter Glaze, and Baked Banana Donuts with a Maple Glaze recipes that I've posted in the past. They might be oldies on the blog, but they're still goody good good!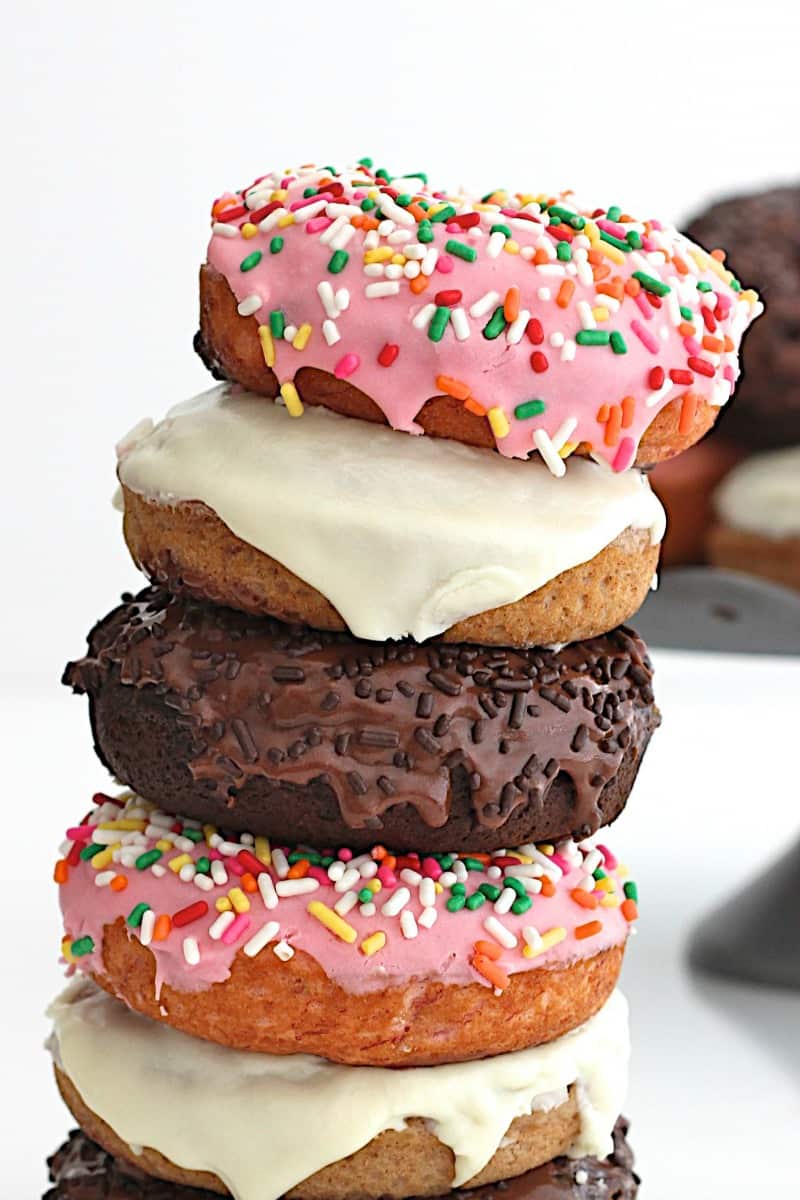 I'm so excited about these donuts! They're so easy to make, they taste great, the flavor options are endless and everyone will go crazy over them. If you make these 2-Ingredient Donuts, be sure to snap a picture and share it with me or tag me on Instagram @thebakermama so I can see.
I love seeing how inspired and creative y'all get with the recipes I share. Enjoy!
xoxo,


Print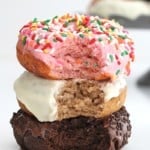 2-Ingredient Baked Cake Donuts
Author:

Prep Time:

15 mins

Cook Time:

7 mins

Total Time:

22 mins

Yield:

1

2

1

x

Category:

Breakfast
---
Description
These 2-Ingredient Baked Cake Donuts are too good to be true! Just two ingredients for the donuts and a container of frosting for the glaze and in less than 30 minutes you'll have great cake donuts ready to enjoy!
---
1

cake mix, any flavor (just the dry mix)

1

mix-in (2 cups mashed banana OR 2 cups cinnamon applesauce OR 1 (

15 ounce

) can pure pumpkin)

1

container frosting, any flavor
Sprinkles, optional
---
Instructions
Preheat oven to 425°F. Spray one (or two) 6 cavity donut pans with non-stick cooking spray and set aside.
In a large mixing bowl, stir together the cake mix (just the dry mix, no other ingredients listed on the box) with one of the mix-in options until well combined. Transfer the batter to a gallon-size resealable baggie and seal shut. Cut a small piece off one corner off the bottom of the baggie and fill each donut ring almost completely full with batter. You can also use a piping bag, if you have one. (Should make 12 donuts)
Bake for 7-8 minutes or until donuts are set and spring back up when touched. Let donuts cool in pan for at least 5 minutes before removing to a wire rack set over a baking sheet lined with parchment paper to collect glaze drippings. Repeat process with remaining batter if you don't have two donut pans.
Heat frosting in a microwave safe bowl for 10-15 seconds until of drizzling consistency. Dip one donut at a time into the frosting glaze and place upright back on the wire rack. If sprinkling with sprinkles, do so immediately after glazing each donut. Repeat with remaining donuts. Allow glaze to set for 5-10 minutes. Enjoy!
Notes
If using a mini donut pan, bake for about 5 minutes before testing doneness.
PRODUCTS USED TO MAKE THIS RECIPE: