Just 4 ingredients is all it takes to make these Dark Chocolate Covered Peanut Butter Stuffed Dates with Sea Salt for a delectable sweet and salty treat!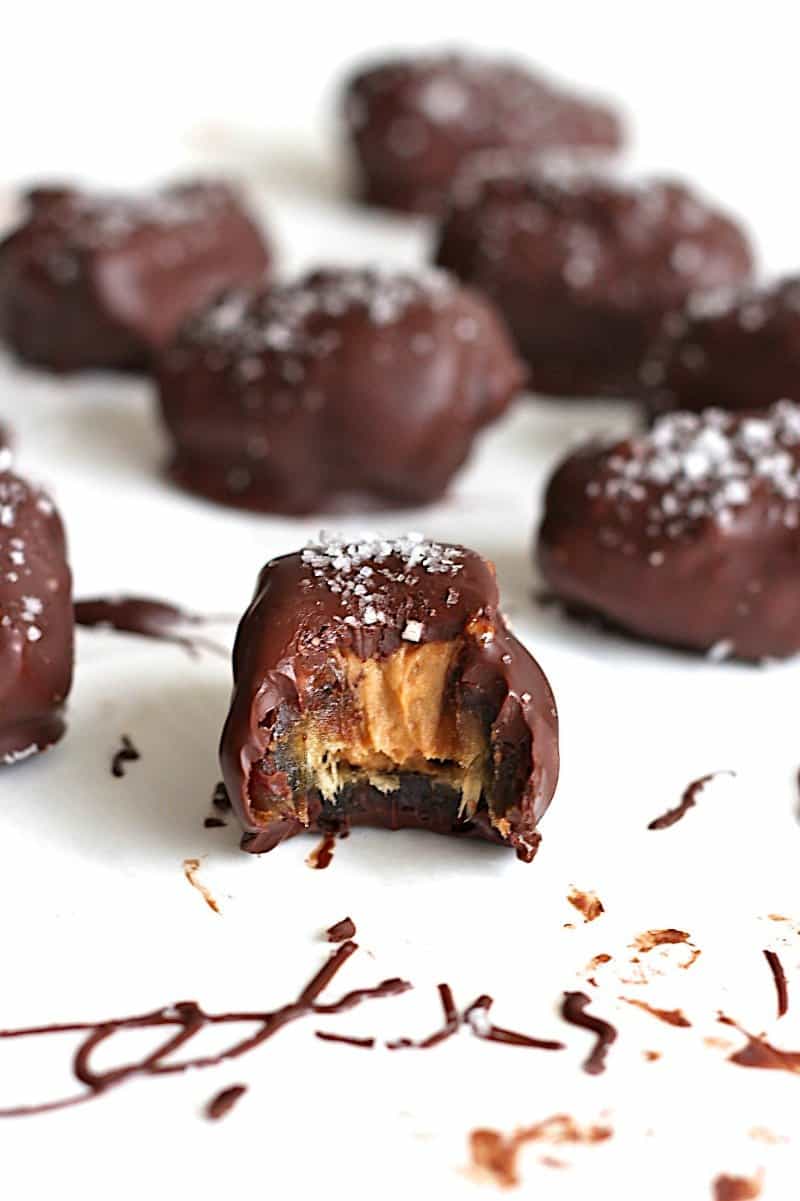 Let's talk peanuts, y'all! I recently got invited by the Texas Peanut Producers Board to Lubbock, Texas, to learn all about the Texas peanut industry, drink Texas wines, and experience the great city of Lubbock! It was a fun and yummy two days with some of my fellow blogging friends…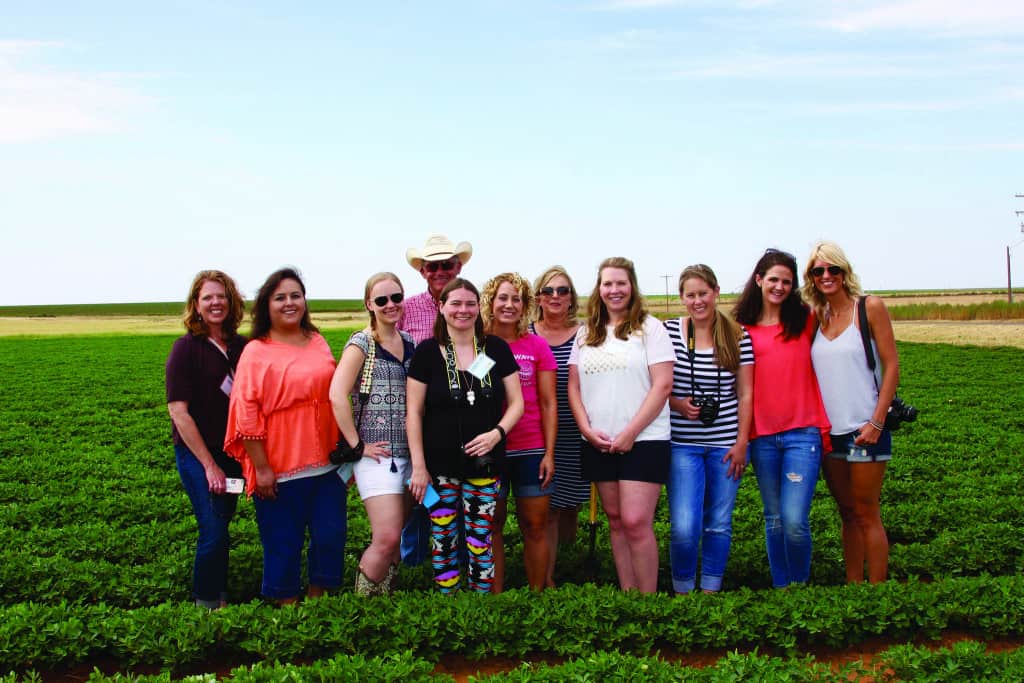 We consume our fair share of peanuts in this house and honestly, I never had a clue how or even where they are grown. I was shocked when I learned that Texas, the state I live in, ranks fourth in peanut production in the U.S. It takes a lot of peanuts to meet the demands of our peanut loving nation (get this: Americans eat 3 pounds of peanut butter per person every year. That's about 700 million pounds, or enough to coat the floor of the Grand Canyon. Whoa!) and I was so honored to get to meet those who grow, process and promote them.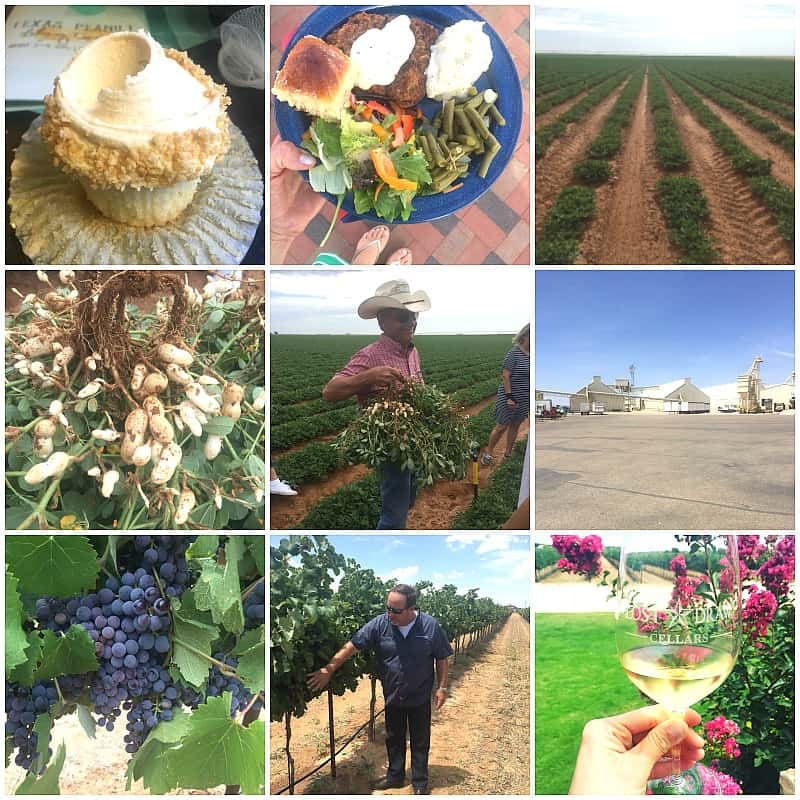 From the moment I arrived in Lubbock, I was greeted by friendly faces and the most amazing peanut butter cupcake from The Ruffled Cup (I'm on a mission to recreate it…it was soooo yummy!). Our tour began with a fun dinner at the Bayer Museum of Agriculture where we enjoyed a true chuck-wagon chicken fried steak dinner while being entertained with music and poems.
The next morning, we headed out to Brownfield, Texas, where we met Monty and Kathy Henson in their peanut field to see and hear how peanuts are grown. Such an honor to stand in the field with these longtime farmers hearing them talk so passionately about their process of growing the best peanuts possible.
Then we headed to Birdsong Peanuts, a shelling facility, to see first hand how peanuts are processed. It was all so fascinating! I love seeing where the food we eat comes from. Click here to learn all about how peanuts are grown and processed.
From there, we headed to Lost Draw Cellars vineyard for a lovely picnic lunch and wine tasting. It was my first experience with Texas wines and they are wonderful! I've been missing out.
Let me tell you, the tour just kept getting better and better.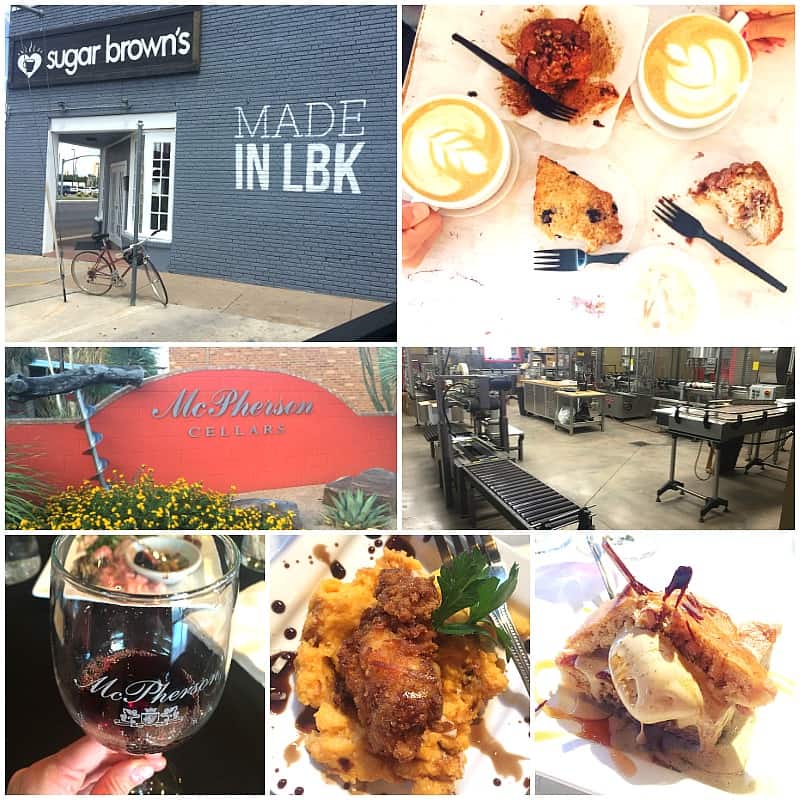 Next, my sweet friends, Jocelyn from Inside BruCrew Life and Krista from Joyful Healthy Eats, and I decided to grab some coffee at Sugar Brown's Coffee. We had heard their lattes were love at first sip and that they were along with some pretty tasty pastries. It was a wonderful break to catch up, caffeinate and carb-load for the next wine tasting. ;))
That evening, we toured and tasted wines at McPherson Cellars before being treated to an incredible peanut-inspired (7-course!) tasting menu by North Catering. Highlights were the fried Maine lobster tail with peanut and sweet potato polenta with a bacon gastrique and the peanut butter banana bread with pistachio gelato and coffee spun sugar. Y'all, it was all so yummy!
The next morning, we enjoyed brunch with Kyla Hamilton of CommonGround discussing food safety from her perspective as a farming wife and mom. It was refreshing to hear her speak so honestly and passionately on the myths and misconceptions surrounding food and farming these days.
I'm so thankful the Texas Peanut Producers Board invited me to join them on this tour. My love for peanuts was confirmed after seeing how these beloved nuts are grown and handled from the field to my mouth. Whether it's snacking on a handful of roasted peanuts, licking a spoonful of peanut butter, or baking peanuts into my favorite cookies and granola bars, I'm a proud peanut consumer!
In honor of this nut that I love so much, I'm excited to share the recipe for one of my absolute favorite treats that have peanut butter stuffed inside them…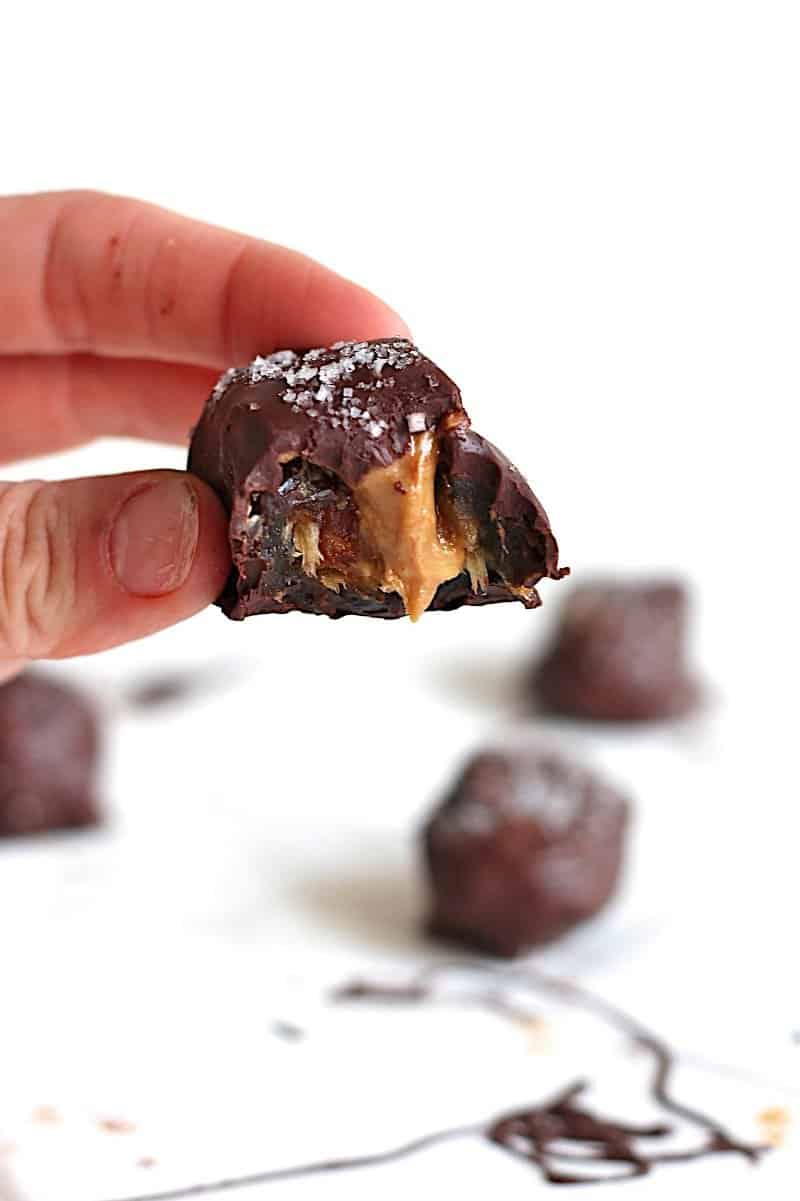 These peanut butter stuffed dates are coated in dark chocolate and sprinkled with a little sea salt for a quick and easy treat that's irresistible to eat.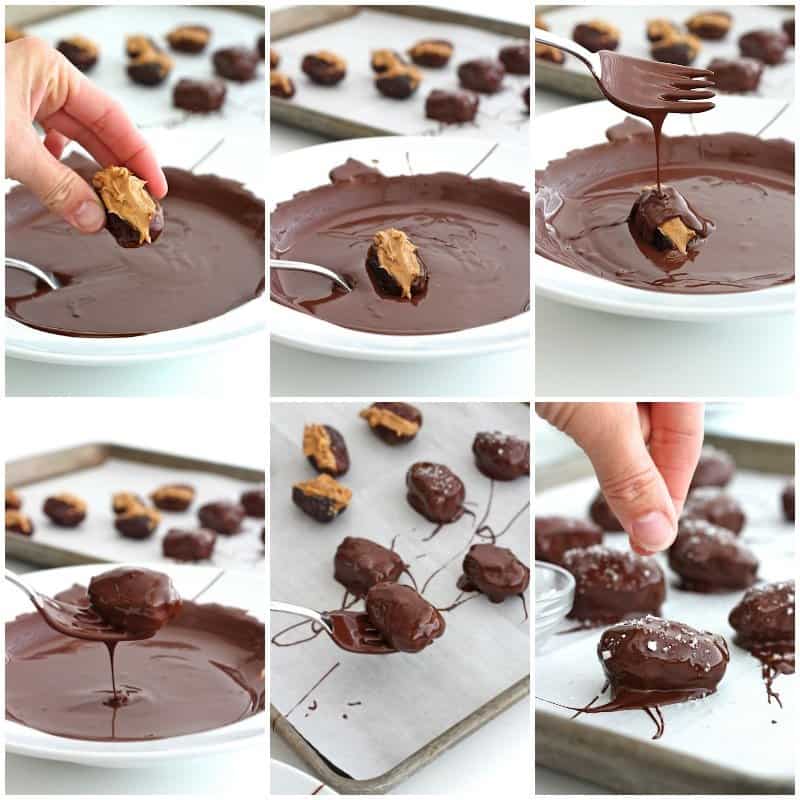 The flavor and texture combinations going on with these dates will have you oohing and ahhing each time you eat one. Sweet chewy dates are filled with salty crunchy peanut butter then coated in bittersweet dark chocolate with a sprinkle of sea salt to balance it all out. Delicious, both inside and out!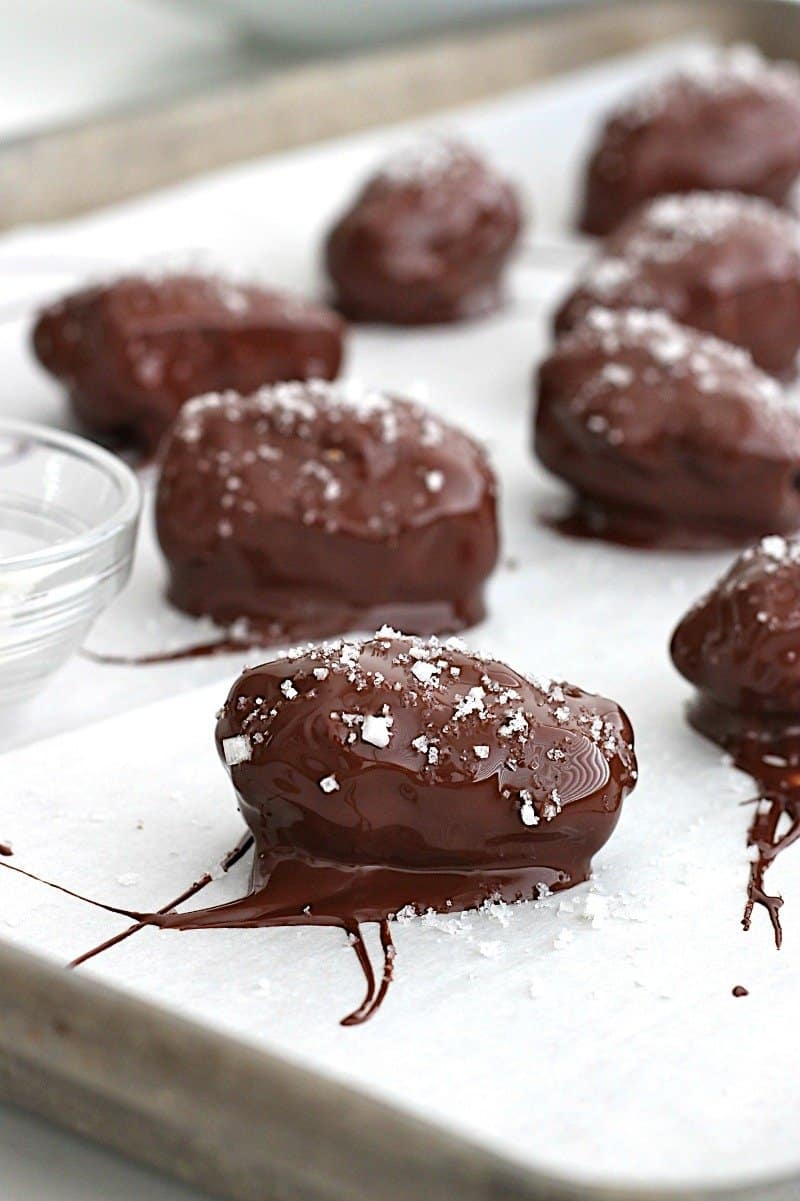 The dates give these homemade candies this taste of decadence without complicating them with lots of unnecessary ingredients. They taste like rich chocolate peanut butter truffles and FYI…they go great with red wine! ;)) You're welcome!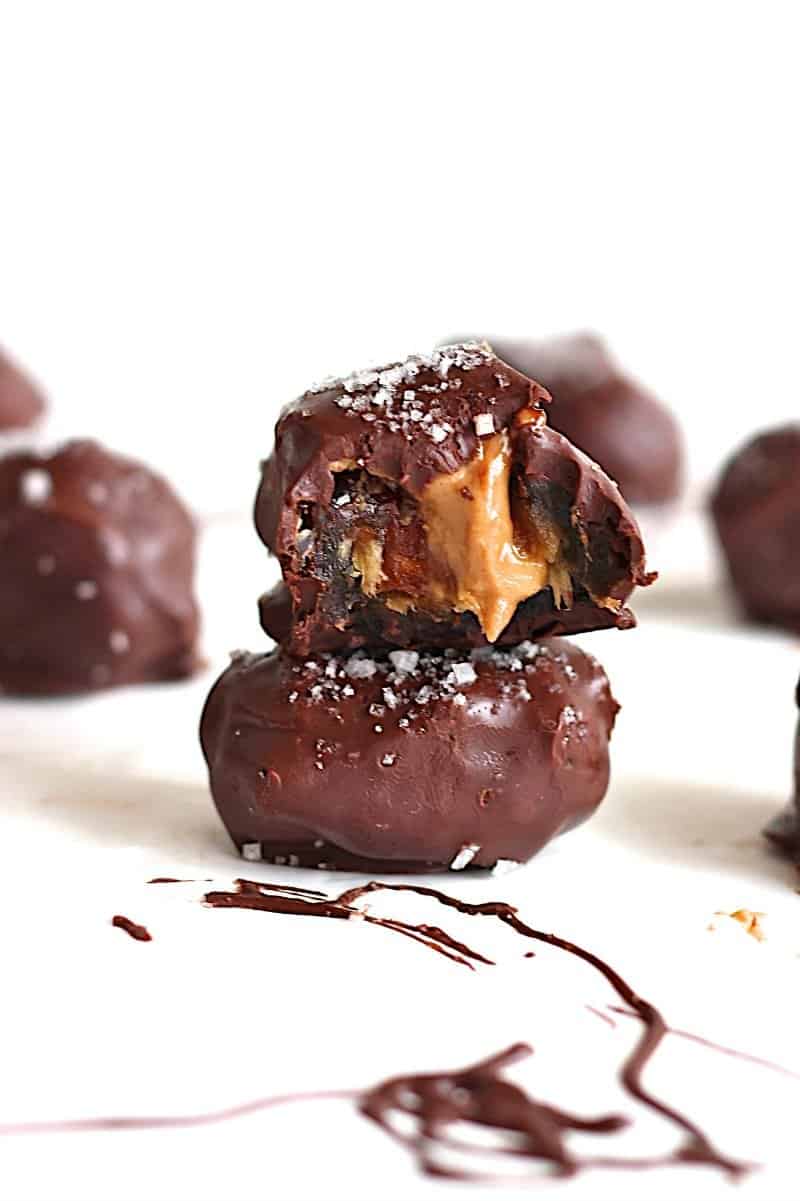 Seriously, I can't wait to for you to make these! You, and anyone who's lucky enough to have you share with them, are going to love them! Enjoy!
xoxo,


Print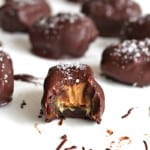 Dark Chocolate Covered Peanut Butter Stuffed Dates with Sea Salt
Author:

Prep Time:

25 mins

Total Time:

25 mins

Yield:

12

Category:

Dessert
---
Description
Just 4 ingredients is all it takes to make these dark chocolate covered peanut butter stuffed dates with a sprinkle of sea salt for a delectable sweet and salty treat!
---
12

fresh whole dates

1/4 cup

crunchy peanut butter

1

(10 ounce) bag dark chocolate chips (I use Ghirardelli)
sea salt
---
Instructions
With a sharp knife, cut a small slit across the top of each date from end to end. Lightly squeeze the date and pry out the seed. Place on a parchment-lined baking sheet.
Fill each date with a heaping teaspoon of peanut butter and return to the baking sheet. Place peanut butter stuffed dates in the freezer for 15 minutes.
Melt the chocolate chips in a shallow microwave-safe bowl for 1 minute. Stir and then return to the microwave for about 30 more seconds before stirring until completely smooth.
Remove dates from the refrigerator. Dip one at a time into the melted chocolate, coating the date and the peanut butter completely. Return to the baking sheet and wait about a minute before sprinkling the top of each date with a pinch of sea salt.
Let chocolate covered dates set completely at room temperature (or quicker in the refrigerator) before enjoying.
---
Notes
Store in an airtight container in the refrigerator. They're still great when enjoyed cold, but we like to let them set at room temperature for 5-10 minutes before eating.
This post was created as part of my invitation to the Texas Peanut Blog Tour, however all thoughts and opinions are certainly my own!