Celebrate someone special's birthday with a super-fun, super-customizable Birthday Donut Cake! It's been a sweet tradition in our family for years and I'm excited to share how we make them!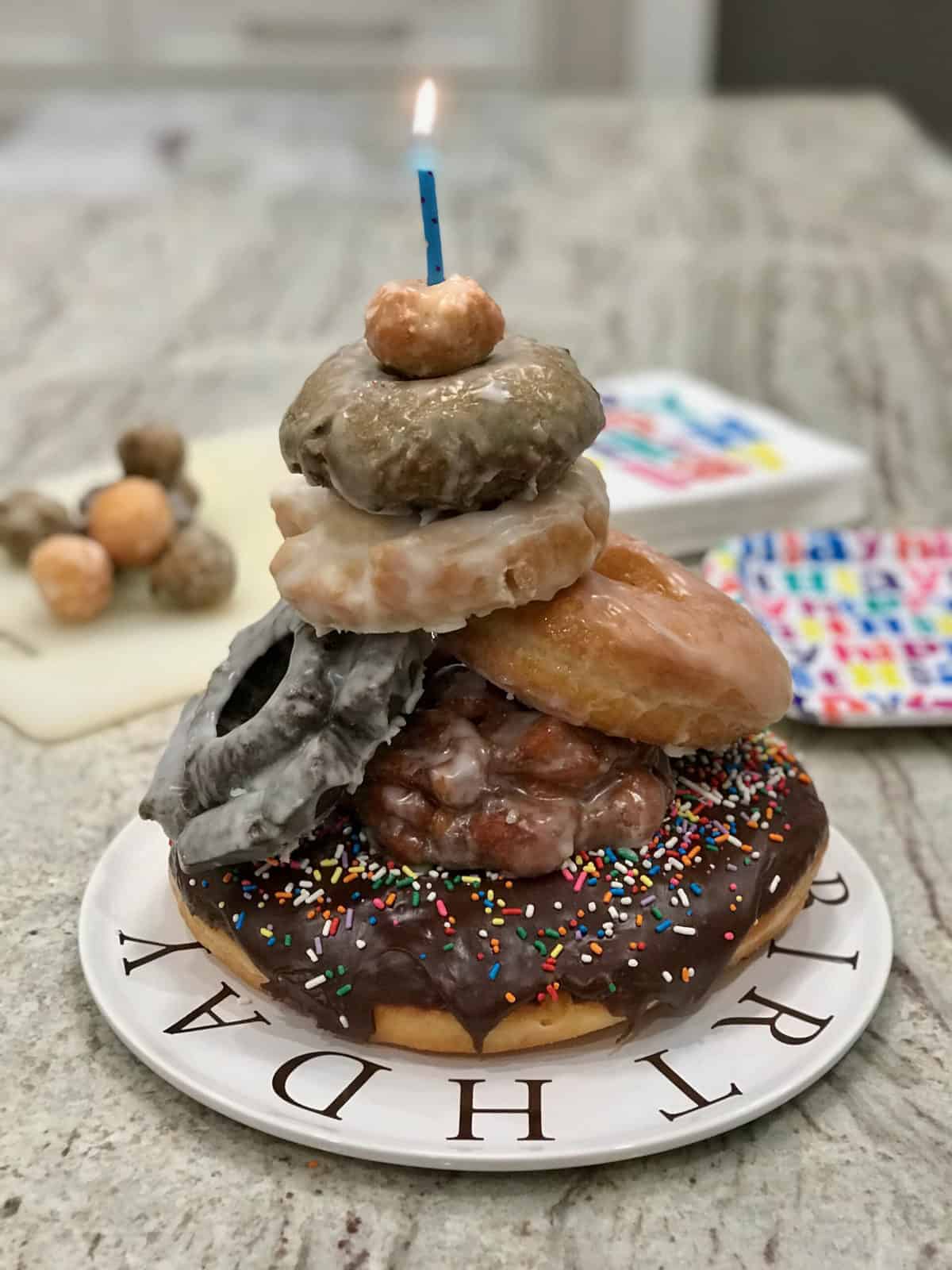 If you've been here for a while, you know my deep, deep love for donuts. If you're new to The BakerMama, exploring the hashtag #TheBakerMamaDoesDonuts will tell you everything you need to know. In short, we're obsessed. There's just something about a good, fresh donut that brings us so much enjoyment. Donuts are a Saturday morning ritual for us and anywhere we travel, we hunt down the best donuts to try. So when it comes to celebrating our birthdays, we can't think of anything better than starting the day with a delectable, super-personalized Donut Cake. It's grown to be such a fun tradition for our family!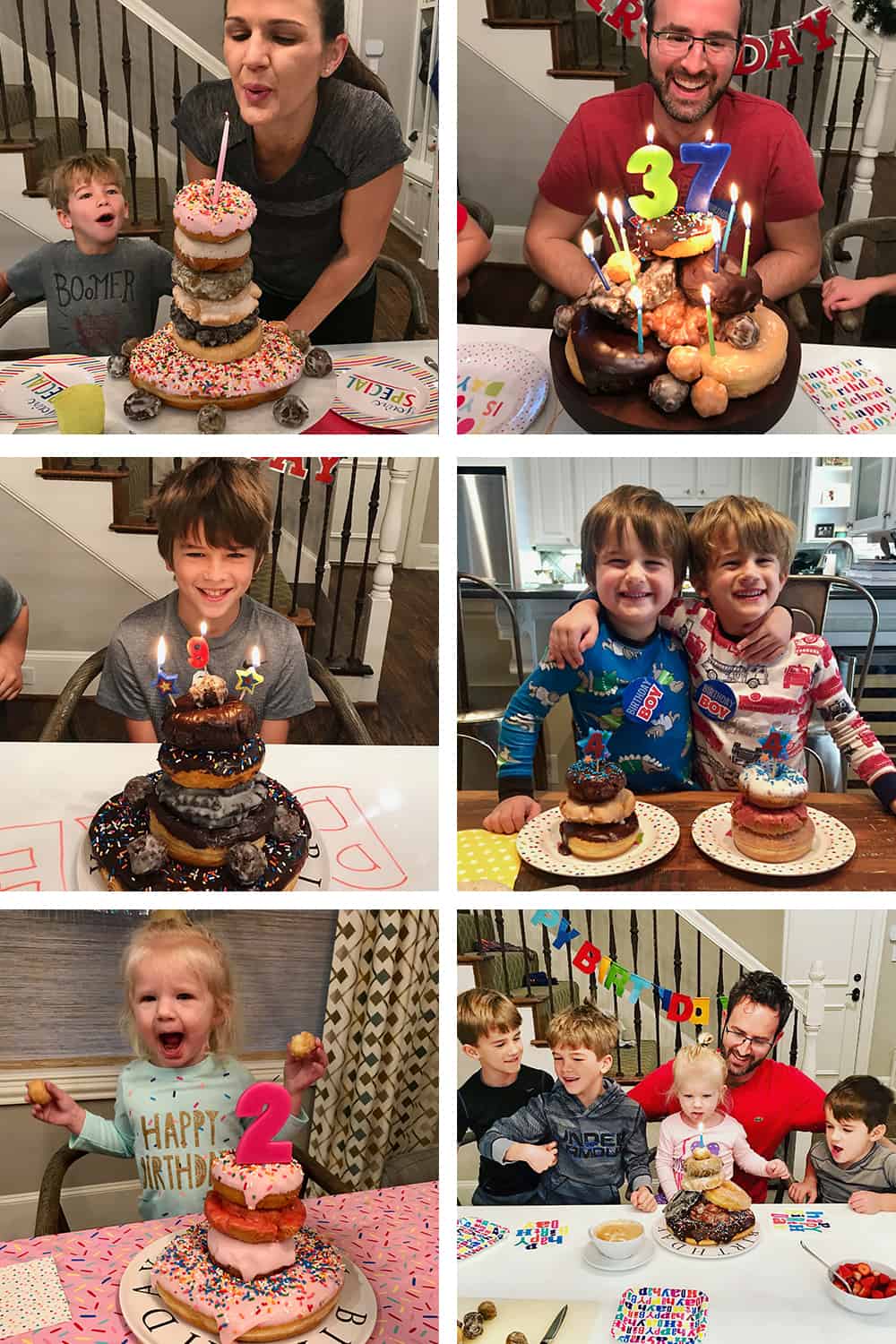 All About that (Donut) Base
It all started when we discovered the Texas-sized donut from one of our favorite donut shops, Top Pot. It measures about a foot wide and we use it for the base. Check with your local donut shop, because even if it's not on the menu, you could ask them to make one for you. Isn't she a beauty?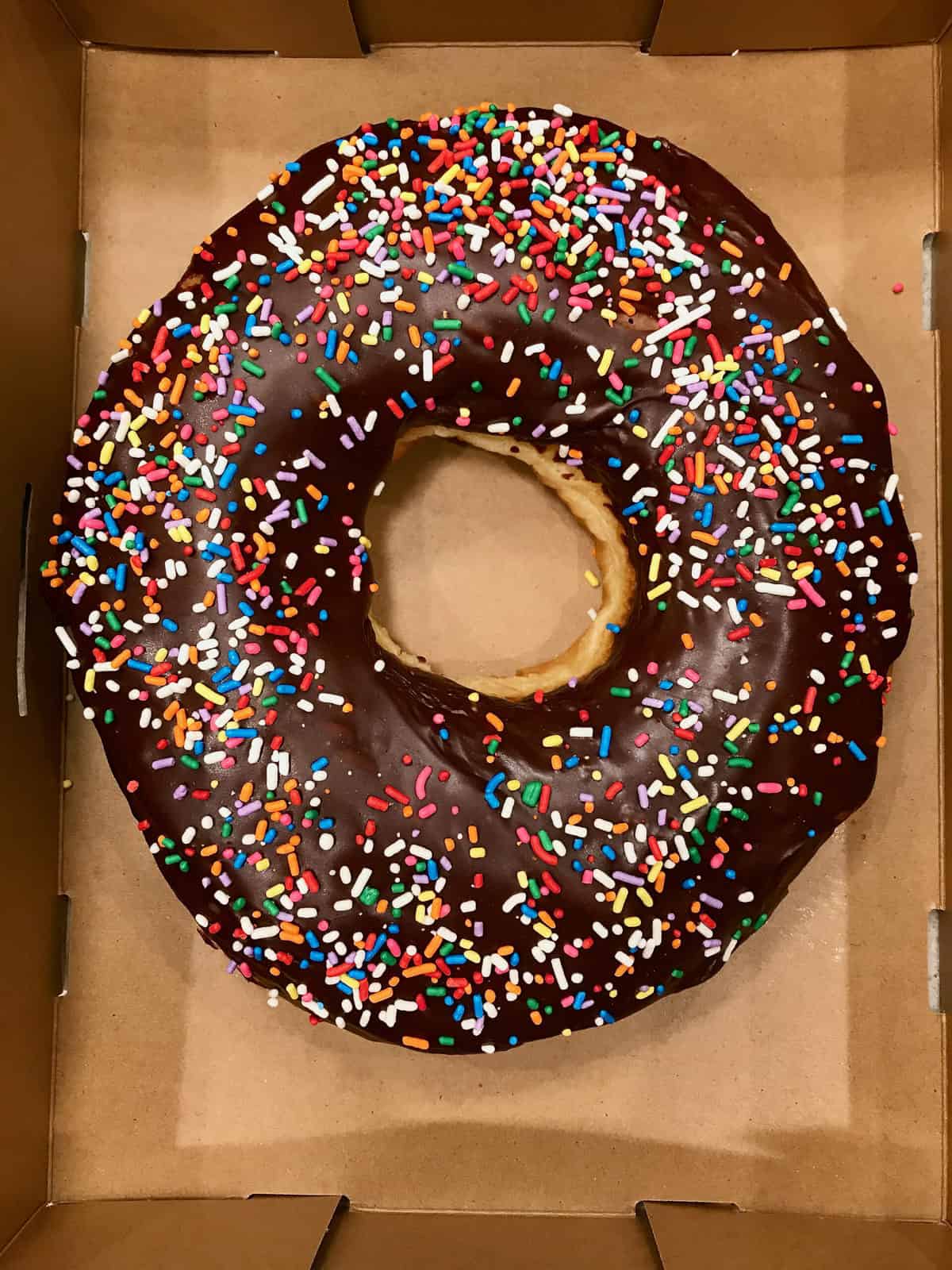 From the base, we build it up with a variety of the birthday person's favorite donuts. Cake donuts, glazed, bear claws, cream-filled. Anything goes! Since Top Pot closed here in Dallas :(, we now special-order our giant donut from Yummy Donuts and they customize it any way you'd like! They'll even write "Happy Birthday" on it. So fun!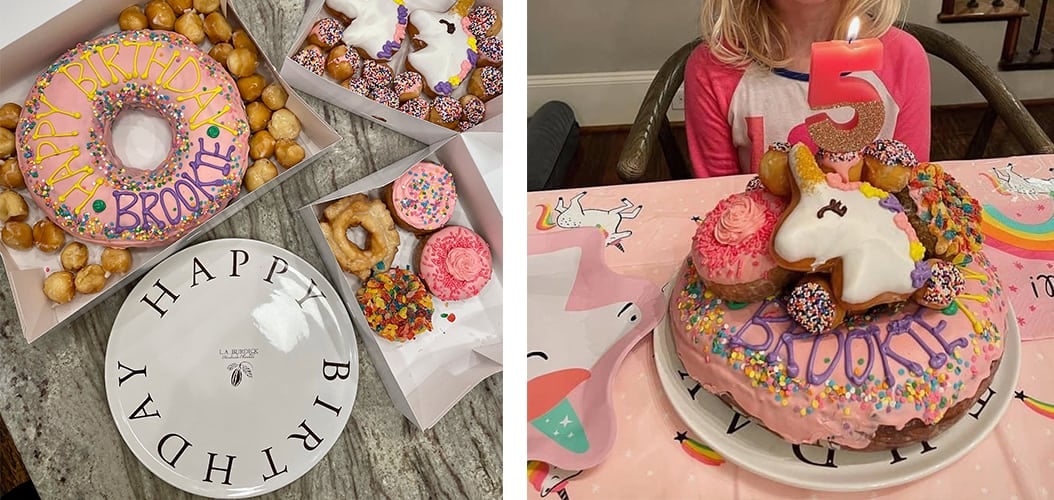 Make Your Birthday Donut Cake One-of-a-Kind
The best part is that this cake is easily personalized. Each member of our family has his or her own favorite donut selection, so the cake is different every time! There are so many ways to customize this cake and it's impossible to go wrong. We're stacking donuts into an awesome birthday cake, after all. 😉 Brookie, our youngest, only wanted donut holes for a while there, so hers was a tower of donut holes on top of the giant donut for each of us to have a "slice" of.
Once the candles are blown out, we each get a little slice of the donuts that we want to try. The birthday boy or girl gets to go first, of course, and if they want a specific donut from the cake, it's all theirs. We place any leftover donuts back in the donut box they came in and snack on them over the next few days. Tip: it's best to store donuts in a box that gets some air flow so they don't get soggy!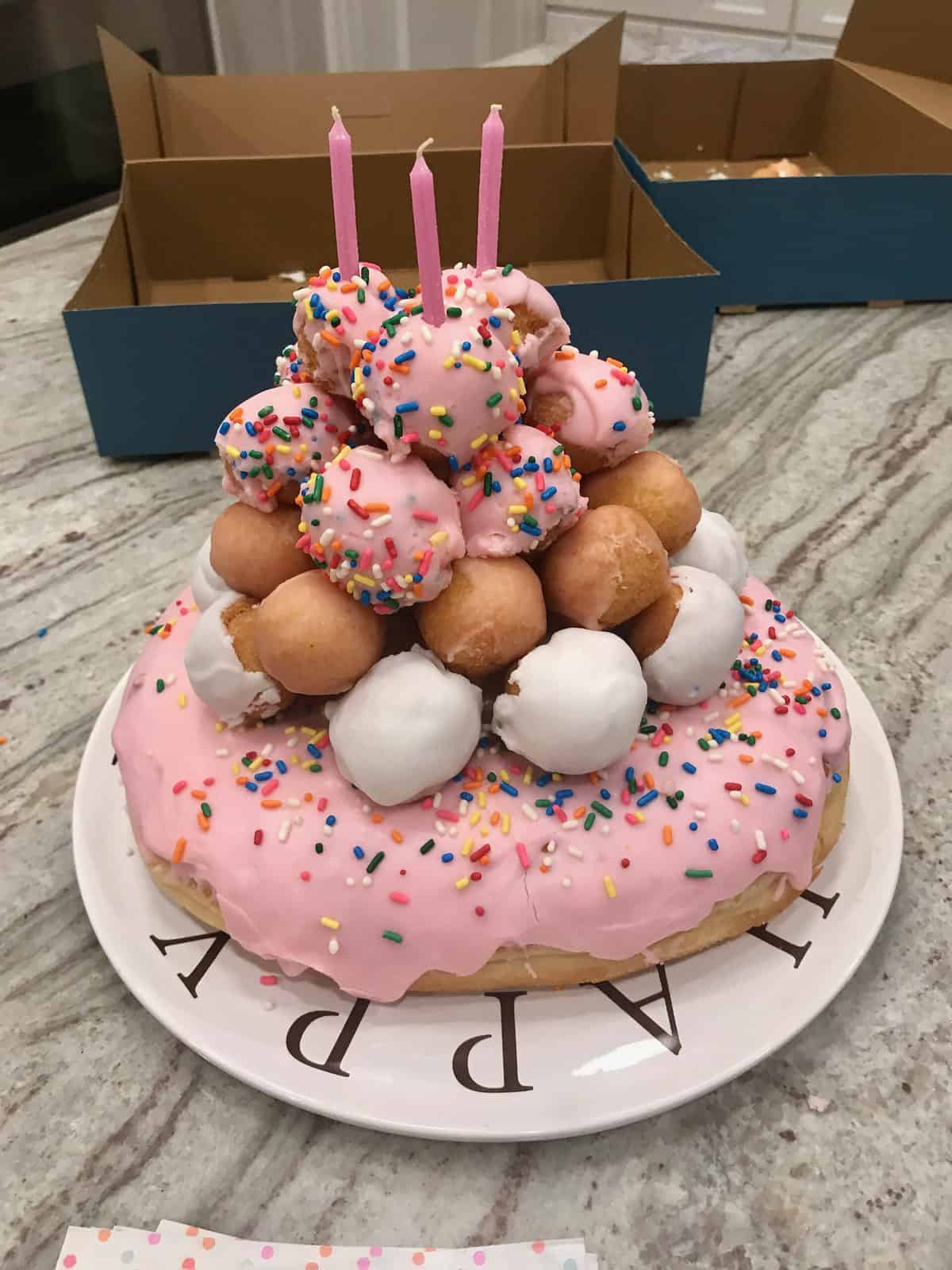 The twins may share a whole lot of DNA, but their birthday donut cakes are always one-of-a-kind. Barrett is a big fan of Oreos and Bryce is an M&M lover, so this year, their donut cakes were tailored accordingly. Delicious perfection! Who knows what their preferences will be next year, but I'm sure we'll be able to build the donut cake of their dreams.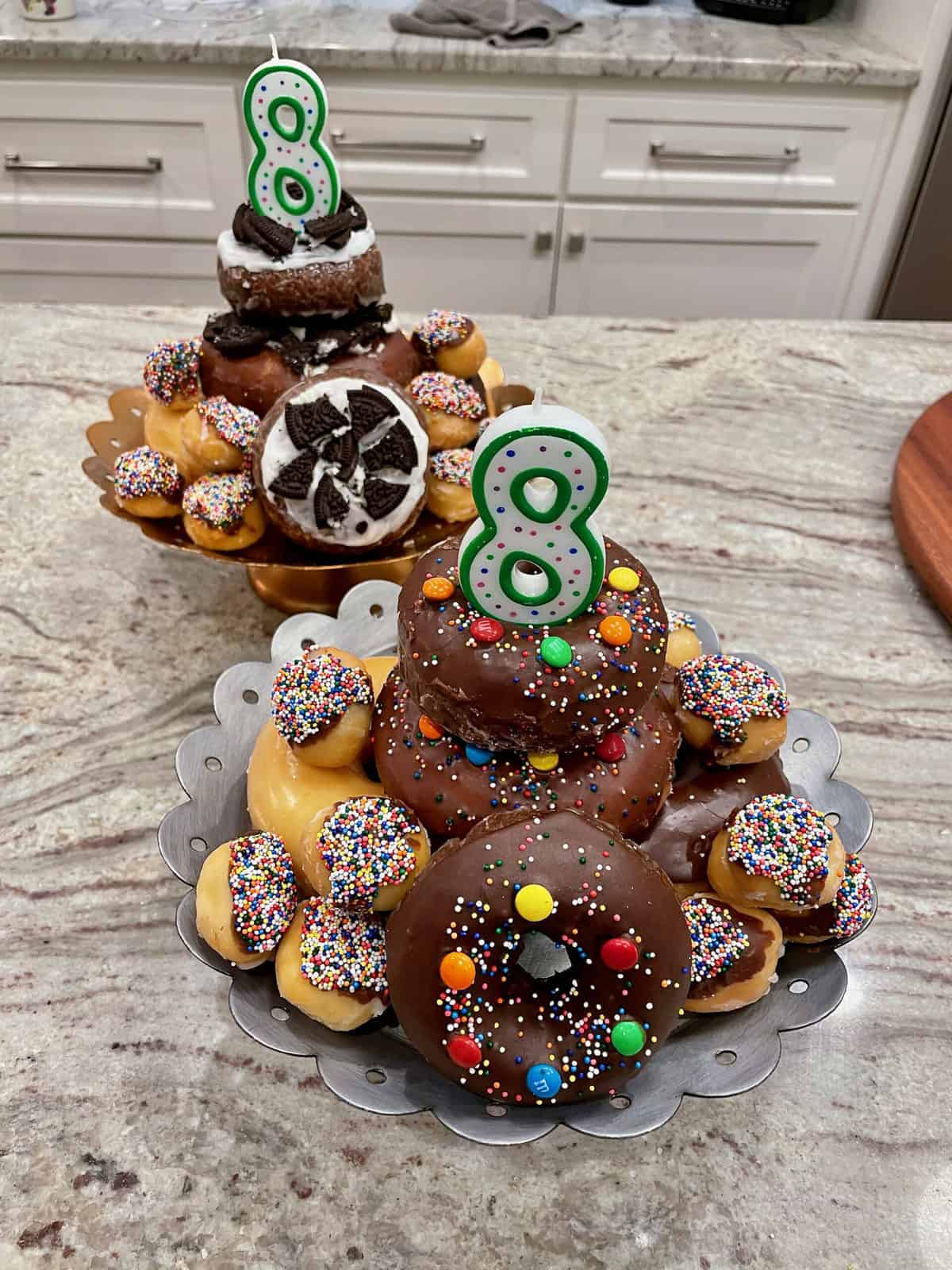 Birthday traditions are the best! And in my opinion, especially when they involve donut cakes! We've enjoyed this tradition for years, and it's certainly one we'll never grow too old for. The anticipation and joy these donut cakes bring to us is so special…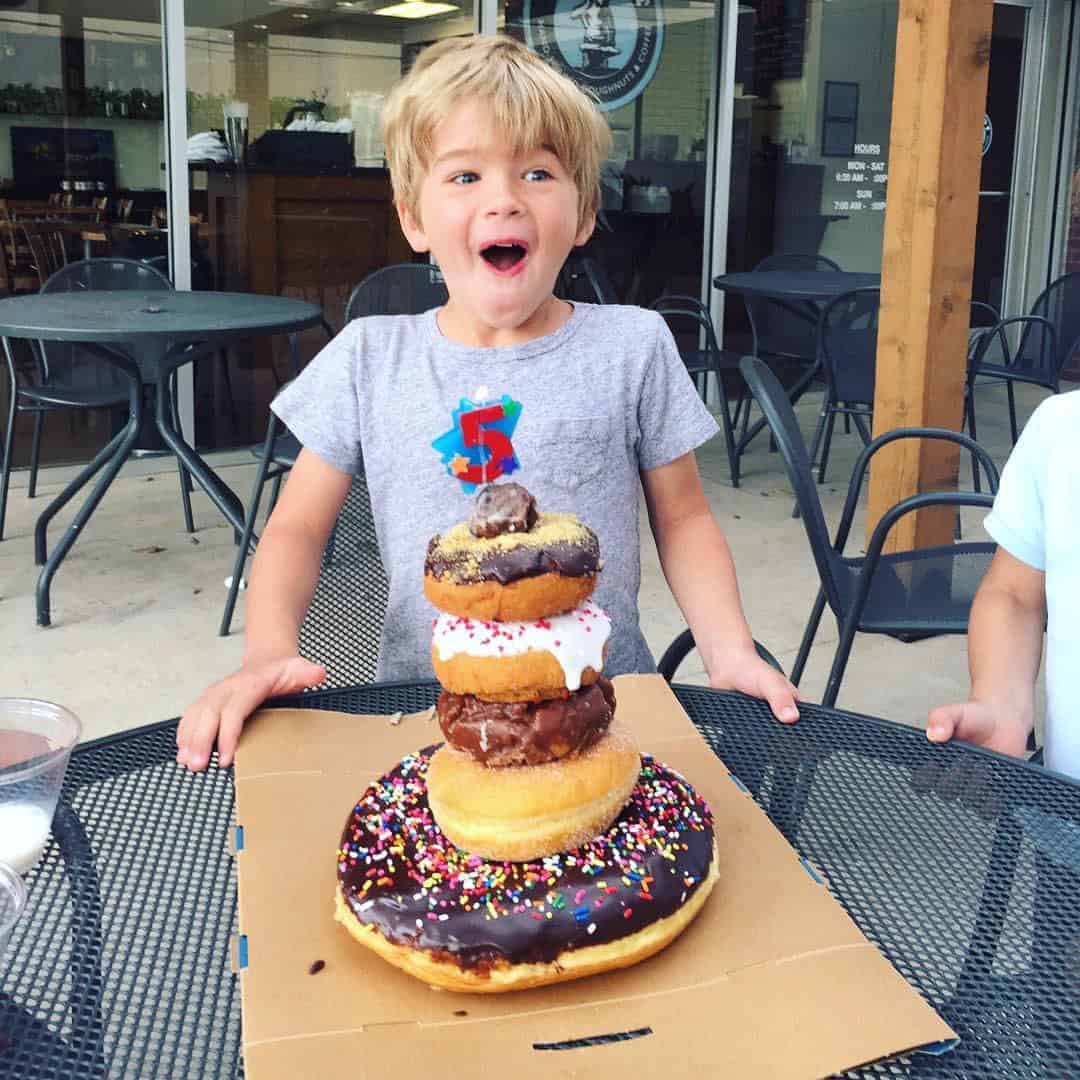 Want More Donuts (Yes, Please!)
We love getting donuts from our local donut shops, but I've created lots of easy donut recipes if you want to make your own! These 2-Ingredient Baked Cake Donuts are a favorite, for sure. Want more donuts? You can find a fun highlights over on my Instagram stories of how we celebrated National Donut Day in 2019 with a super fun Donut Board!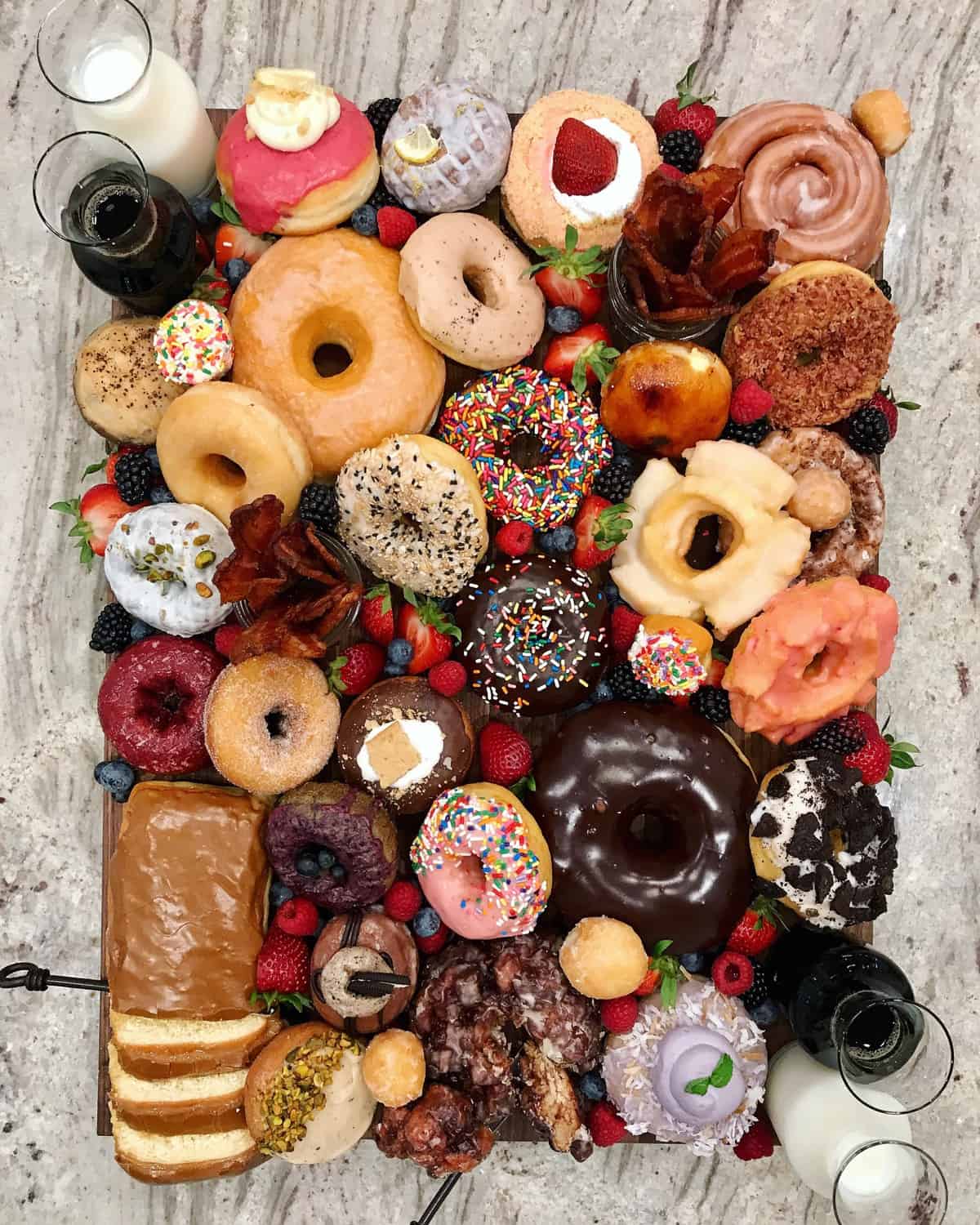 I hope you and your loved ones enjoy creating and celebrating with a Donut Cake as much as we do. When you make one, be sure to snap a picture and tag me on Instagram @thebakermama so I can see! I just love seeing how inspired and creative y'all get with the ideas I share.
xoxo,


Print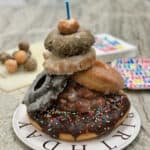 Birthday Donut Cake
---
Description
Celebrate someone special's birthday with this super-fun, super-customizable Donut Cake! It's been a tradition in our family for years and I'm excited to share how we create them!
---
giant donut from your favorite donut shop (about 12 inches in diameter)
a good selection of the birthday person's favorite donuts
---
Instructions
Use a giant donut as the base of the donut cake
Top the giant donut with a variety of the birthday person's favorite donuts
Add decorations and candles
Enjoy!
---
Notes
My local donut shop makes a giant 12″ donut I use for the base. If it's not on the menu at your local donut shop, you might have to make a special request!