Take your party snacks to haunting new heights with my easy-to-make Spiderweb Seven Layer Dip Board! With black olive spiders and a sour cream web, this super spooky twist on a favorite will leave your guests in awe!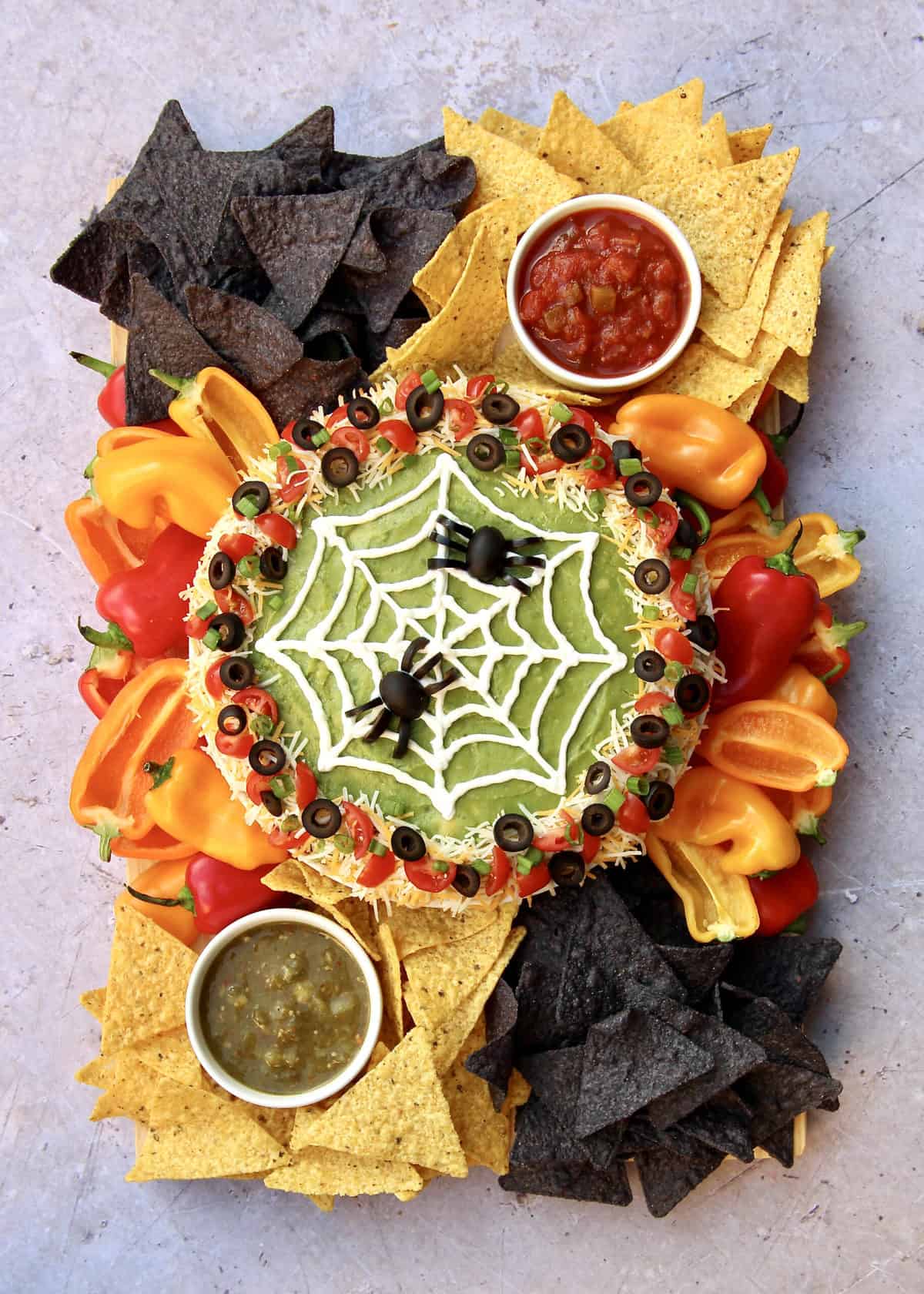 Creepy and Delicious!
What's got eight legs and tastes great on a tortilla chip? My Spiderweb Seven Layer Dip! Okay, so my olive spiders only have six legs. But seriously, how fun are these adorable arachnids? I created this recipe in partnership with my favorites, Lindsay Olives. We always have a few cans and jars in the pantry to snack on, put on our cheese boards and, of course, get creative with when making holiday eats! They're smooth in texture and nutty in flavor. So delicious!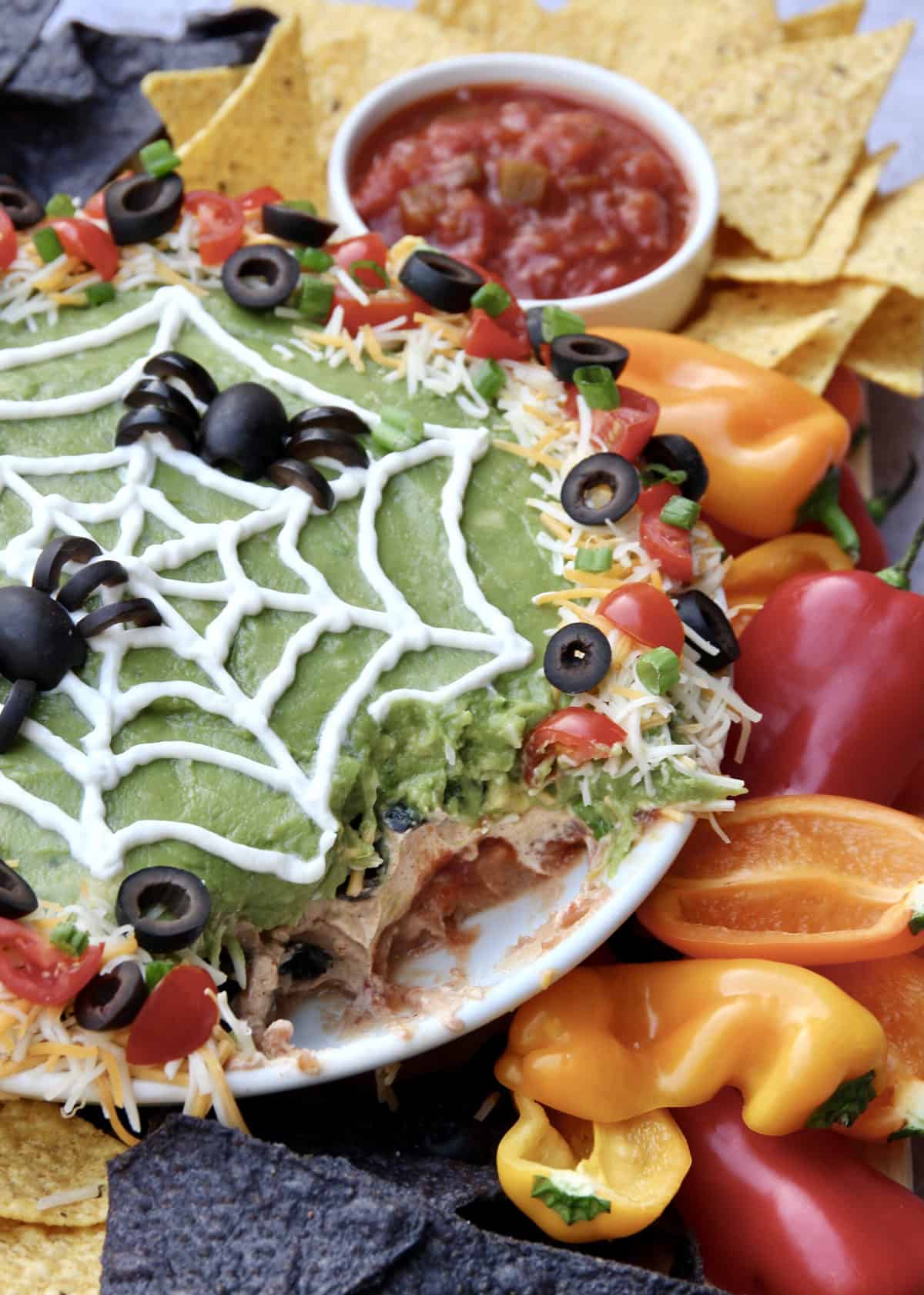 The best part of this dip isn't even how great it tastes (and y'all, it is YUM). It's how much fun it is to make and serve! My kids loved making the little spiders out of the olives. Creating this snack turned into such a silly, enjoyable family activity. The true test of party food is how quickly it gets gobbled up. And this spiderweb seven layer dip tuned out to be a winner. Gone in a flash!
CLICK HERE for the recipe to make the Spiderweb Make Seven Layer Dip and directions for building the board
Seven layers of deliciousness with a spooky cute design on top makes for the perfect Halloween party appetizer! Such an easy way to serve up something creative.
With beans on bottom, followed by salsa, spiced sour cream, Lindsay black olives, chopped green onions, cheese, and guacamole, it's layer upon layer of yumminess. Dip into it with your favorite chips and veggies (I put mini peppers on the board this time, but carrots, celery and cucumbers would be great dippers for this board, too). I also added a few salsas on the side.
The design on top is super easy to create with sour cream and the black olives make the cutest spiders. I built this board on our 18″x12″ wood board and used an 8.5″ low bowl for the dip.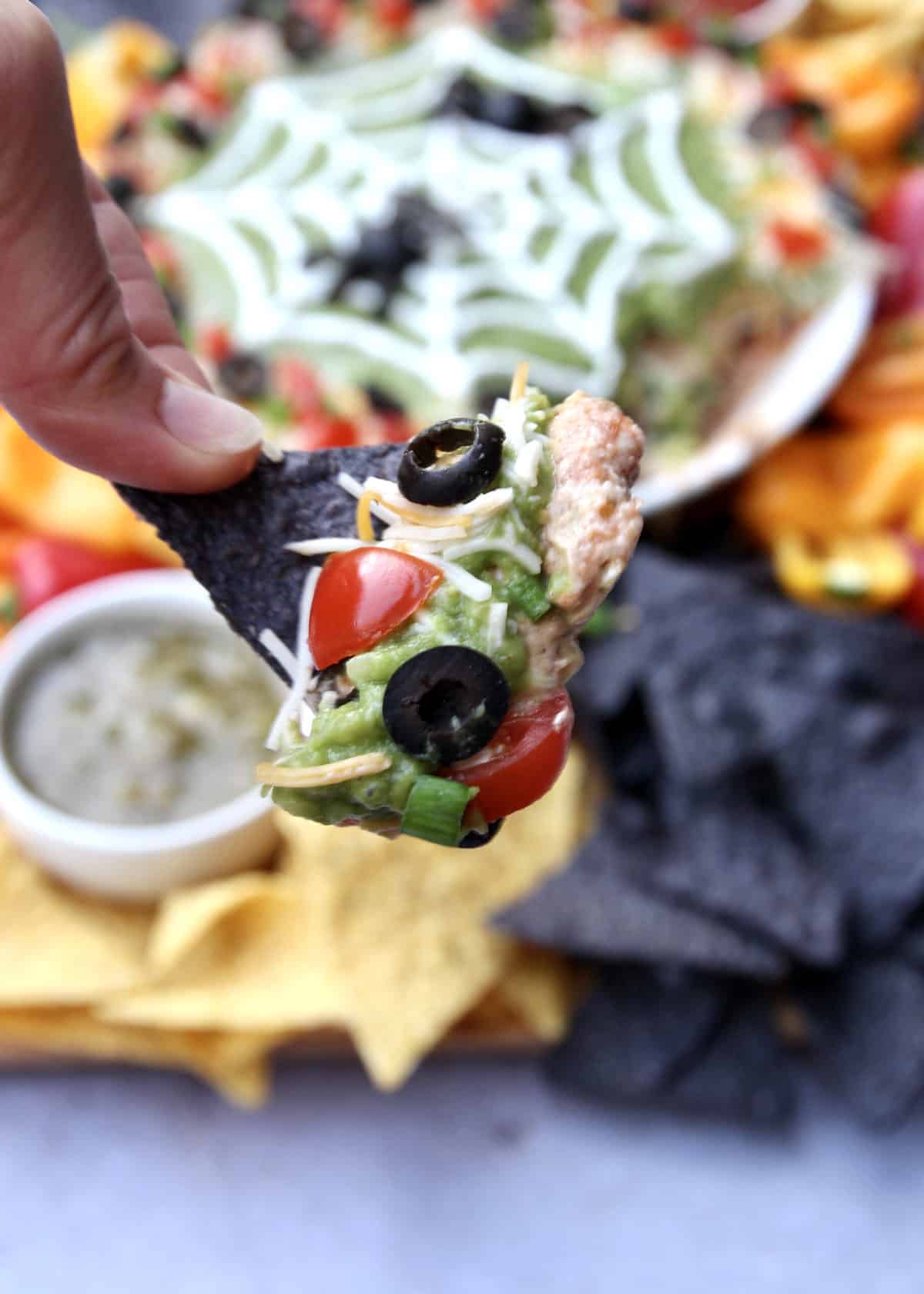 You can find the full ingredient list and instructions on the Lindsay Olives website.
Serving this board as part of the Halloween Snacks Spread from my Spectacular Spreads cookbook would make for the best Halloween night ever! If you recreate this Spiderweb Seven Layer Dip Board for Halloween, be sure to snap a pic and share it with me @TheBakerMama and @LindsayOlives
Enjoy!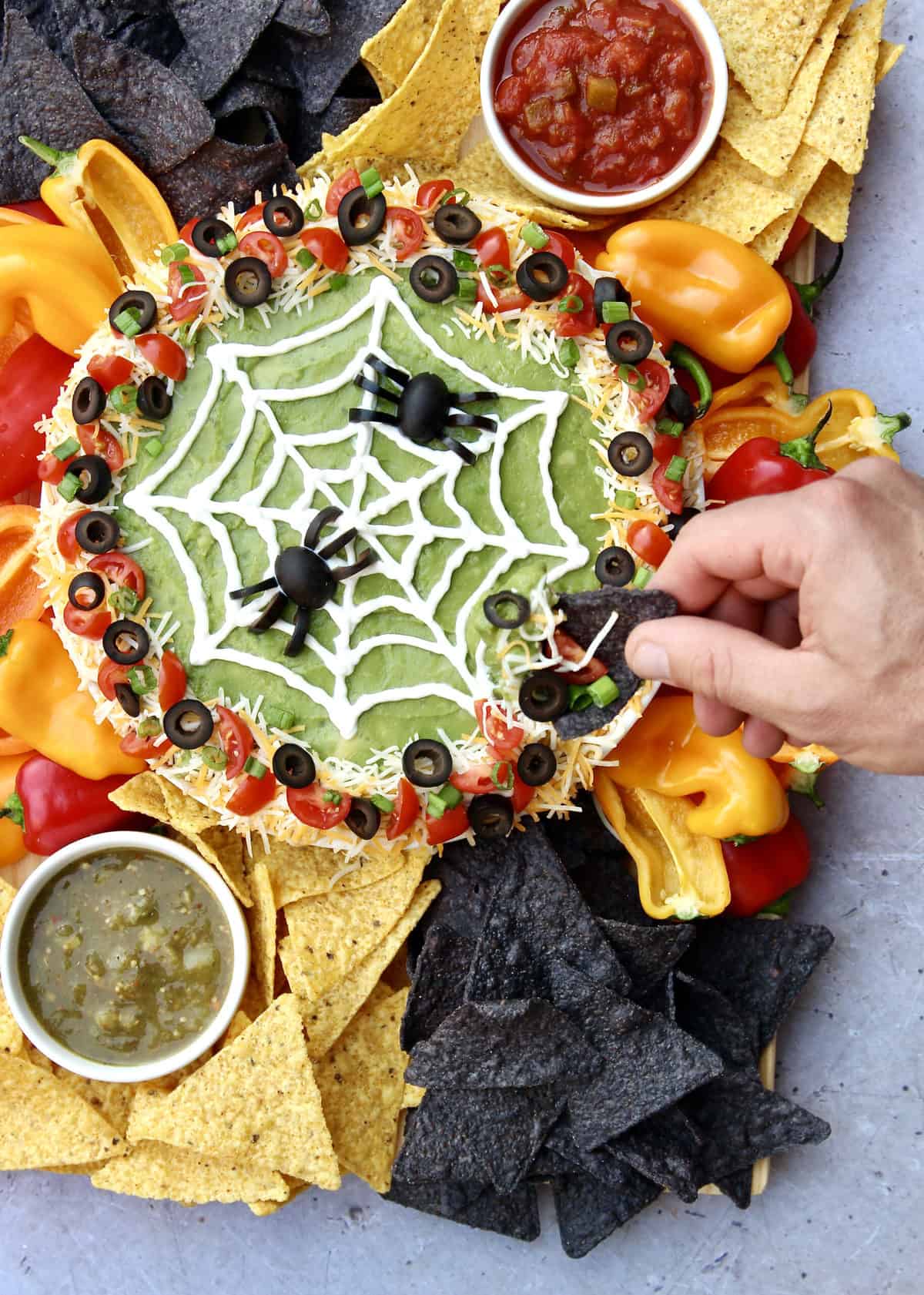 More Festive Halloween Treats
For more snack board inspiration, try my Spooky Snack Board. This Pumpkin Fruit Platter is a super cute way to serve up healthy snacks. Everyone will love this easy-to-make Kid-Friendly Halloween Snack Board for all its festive tricks and treats! This Spooky Snack Mix is a sweet, salty, easy-to-make treat they'll go batty for. And for all that candy that hangs around after the holiday, these Leftover Halloween Candy Cookies can be frozen and then baked whenever you're craving cookies!
I hope you're inspired to build this Spiderweb Seven Layer Dip for your Halloween party. Be sure to tag me @thebakermama so I can see. I love seeing your board creations!
Happy Halloween!
xoxo,