These Sleigh Mix Cookies are perfect to leave for Santa or take to a cookie exchange!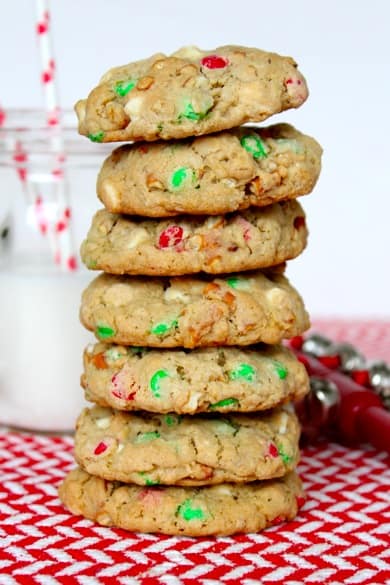 Christmas is going to be so fun for us this year! The boys are really into Santa and Baker is at the age where he really believes! He's also very interested in Santa's reindeer and elves, including all of their names, where they sleep, how old they are, and how they fly Santa's sleigh! His curiosity is so cute!
While I was setting out our Santa plates the other day, I was telling Baker that we use one of the plates to leave cookies for Santa when he stops by on Christmas Eve. He thought that was pretty cool, but he wanted to make sure the reindeer and elves, especially Rudolph and Buddy, get some of the cookies too! Yikes! How many reindeer are there again? And elves?! Oh my! I think I'm going to have to bake a whole batch of cookies just for Santa's sleigh and another batch to send back to the North Pole!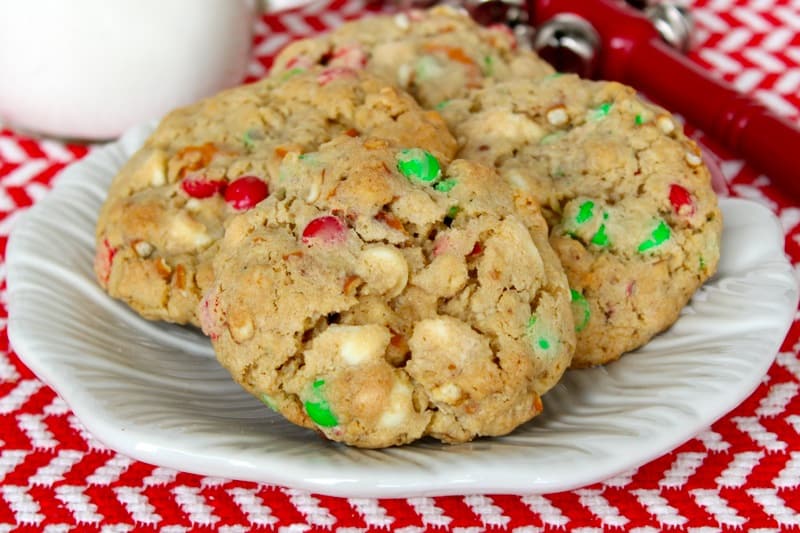 After Baker's request, we headed straight to the kitchen to create a cookie that would be perfect for Santa and all of his helpers. Loaded with oats, candy, pretzels and white chocolate, these cookies are sure to satisfy and energize the entire sleigh! They'd also make for the perfect cookie to take to a cookie exchange this Holiday season!
xoxo,


Sleigh Mix Cookies
Maegan Brown of The BakerMama shares a yummy cookie recipe that Santa and all on his sleigh will love this Christmas!
Author:
Maegan - The BakerMama
Ingredients
1 cup Gold Medal® all-purpose flour
1 cup old fashioned oats
½ teaspoon baking soda
½ teaspoon baking powder
½ teaspoon salt
½ cup (1 stick) unsalted butter, softened
¾ cup light brown sugar
1 large egg
1 teaspoon vanilla
½ cup mini chocolate covered candies
½ cup crushed pretzels
½ cup white chocolate chips
Instructions
Preheat oven to 350°F.
In a large bowl, whisk together the flour, oats, baking soda, baking powder and salt. Set aside.
In the bowl of an electric mixer, beat the butter and brown sugar until smooth. Add the egg and vanilla and beat until well combined. Slowly add the dry ingredients and mix until just combined. Stir in the candies, pretzels and white chocolate chips.
Place heaping tablespoon balls of dough a few inches apart on parchment-lined baking sheets. Slightly flatten each ball of dough. Bake for 10-12 minutes or until cookies just start to brown. Let cool on baking sheets for 5 minutes before transferring to a wire rack to cool completely.