A colorful and tasty Rainbow Cereal Cake that's fun to make and sure to sweeten any special occasion!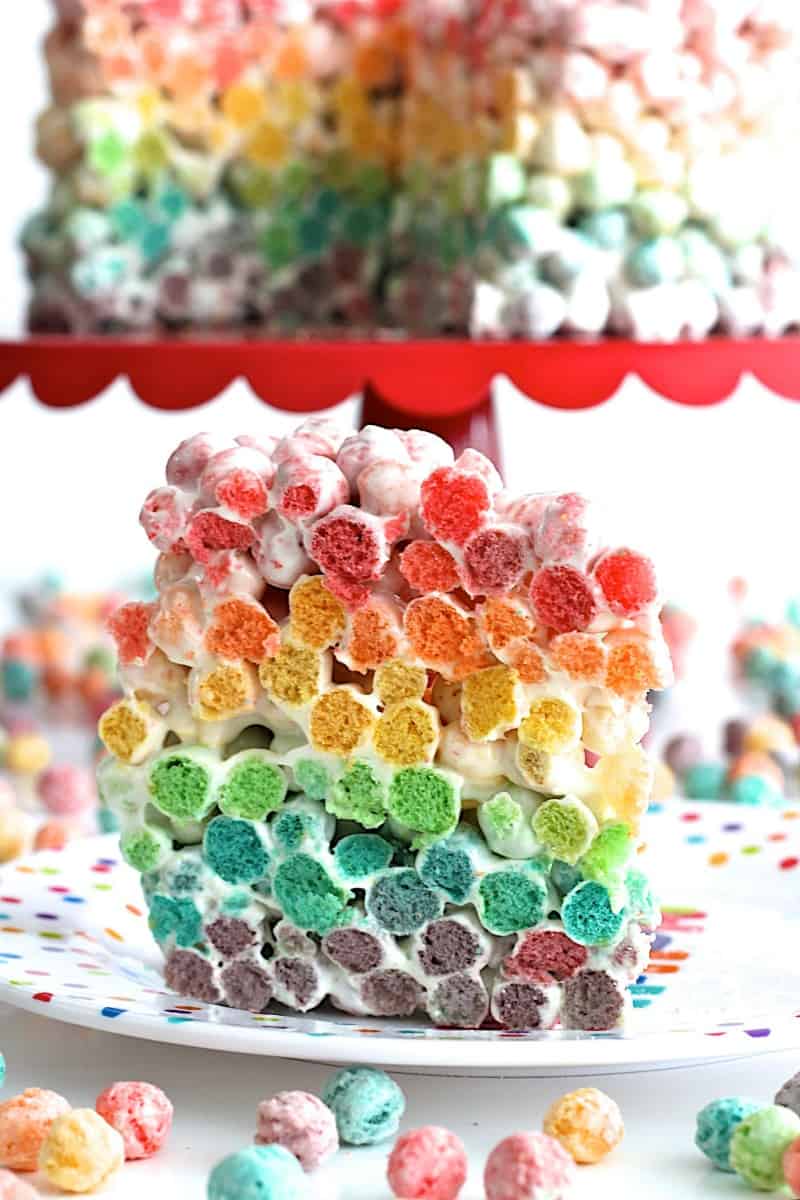 This cake makes me smile just like a real rainbow does! It's bright and cheery and full of gooey chewy fruity flavor. Everyone will go crazy over how cute, creative and delicious it is!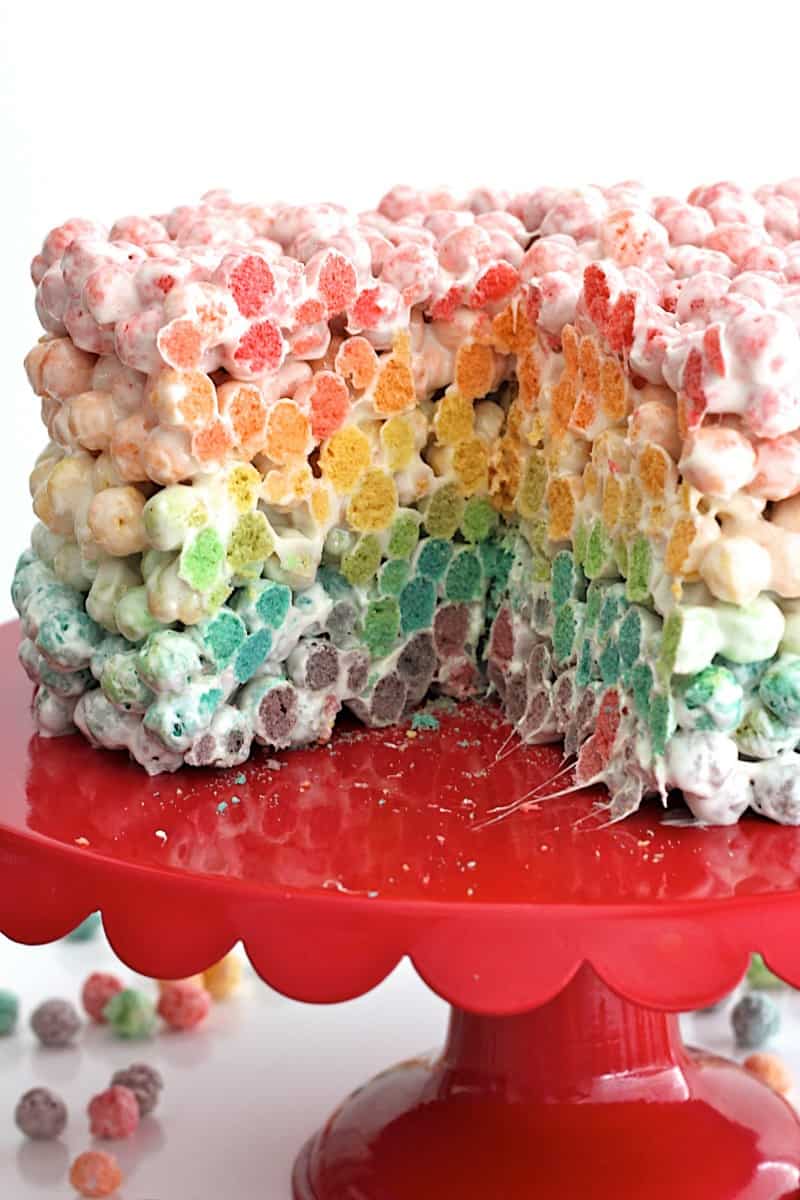 It's such a great cake to make for special occasions like St. Patrick's Day and birthday parties. Who wouldn't love slicing into this cake to discover all the bright colors of the rainbow that you can eat?!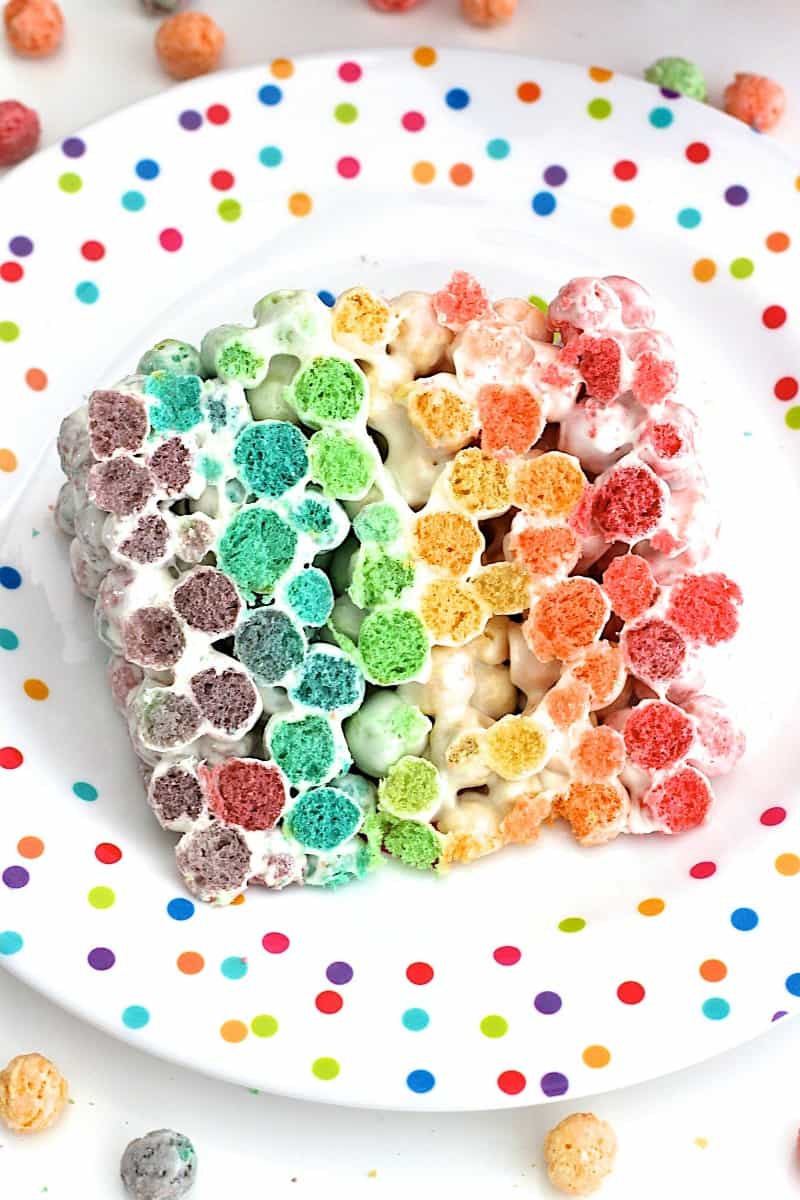 The boys LOVED helping me make this cake! From sorting the cereal, to stacking each layer and especially eating a slice, it was so much fun! They were so amazed with how it all came together.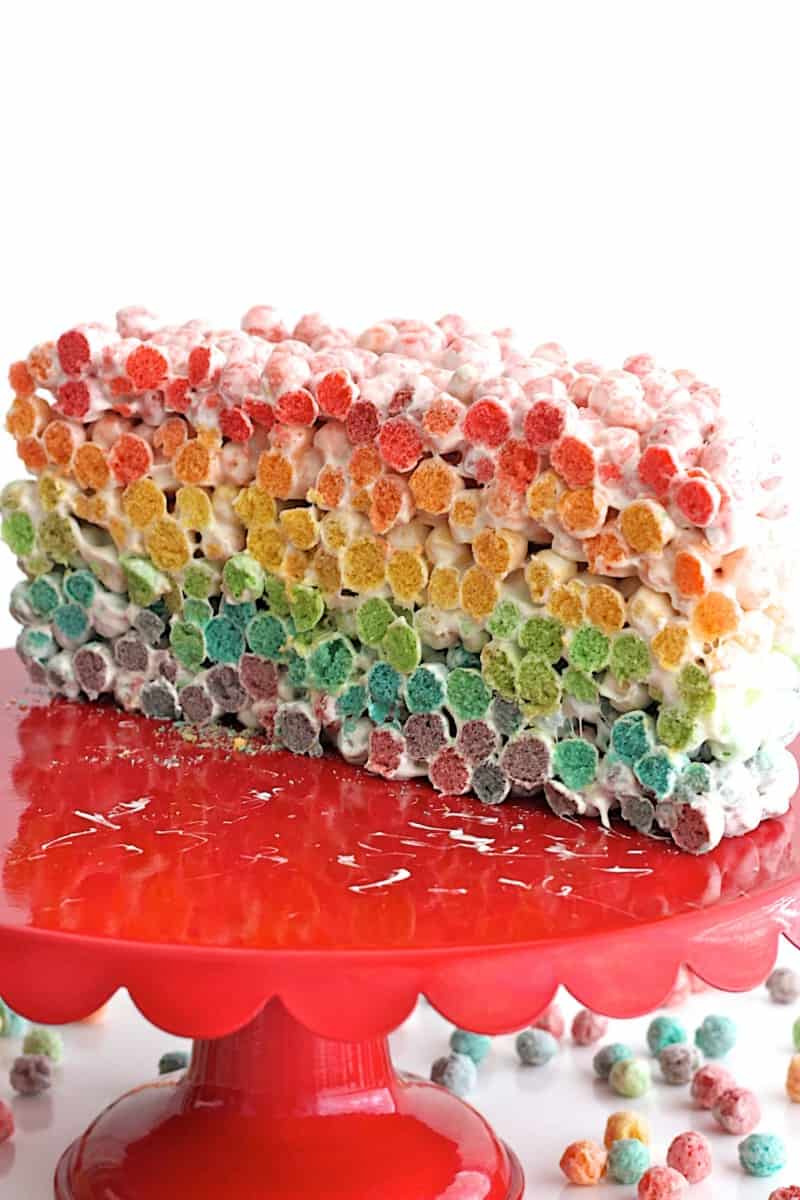 I used Fruit Loops Bloopers for the cake because it has all the colors of a rainbow, but you could use any cereal that has similar colors. The boys were thrilled when they saw these cereal boxes because we never buy this kind of cereal to eat for breakfast in the mornings. They, of course, loved snacking on it while we made the cake and especially eating it in cake form.
Just 3 ingredients is all it takes. Very similar to making marshmallow treats except you'll sort the cereal into each color first…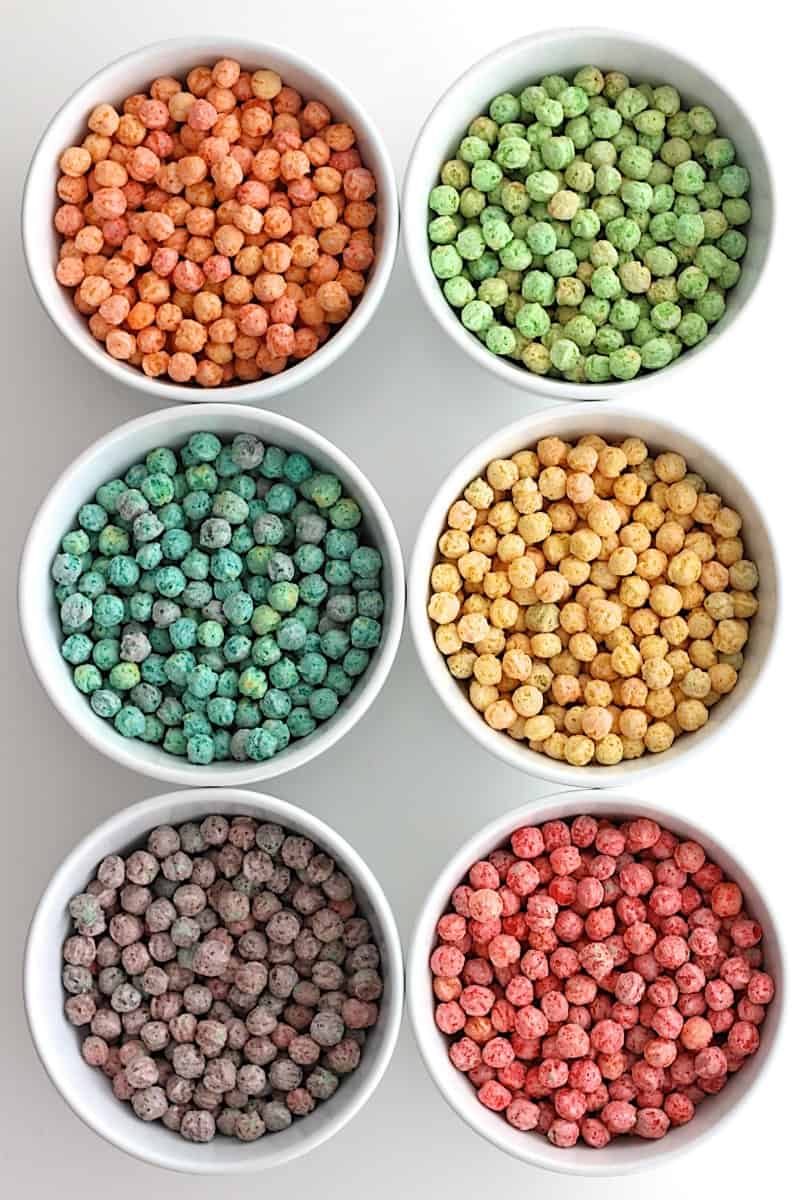 Then you'll melt 1-1/2 tablespoons butter with 3 cups mini marshmallows at a time to combine with one of the colors of cereal and then repeat the process with each color of cereal to create each layer…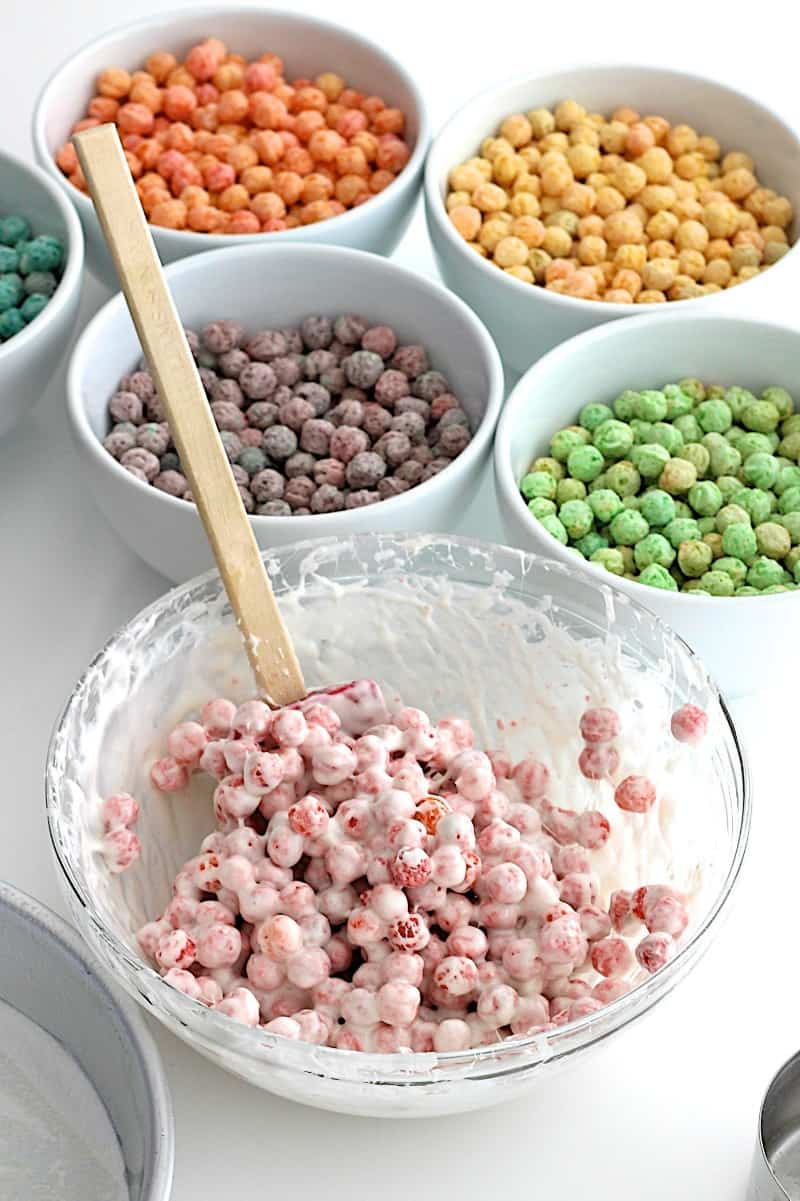 I stacked two colors (with parchment paper in between) in each 8-inch round cake pan. If you don't have enough cake pans for all 6 layers, you can stack two colors in one pan, let them cool, remove them and then stack two more colors.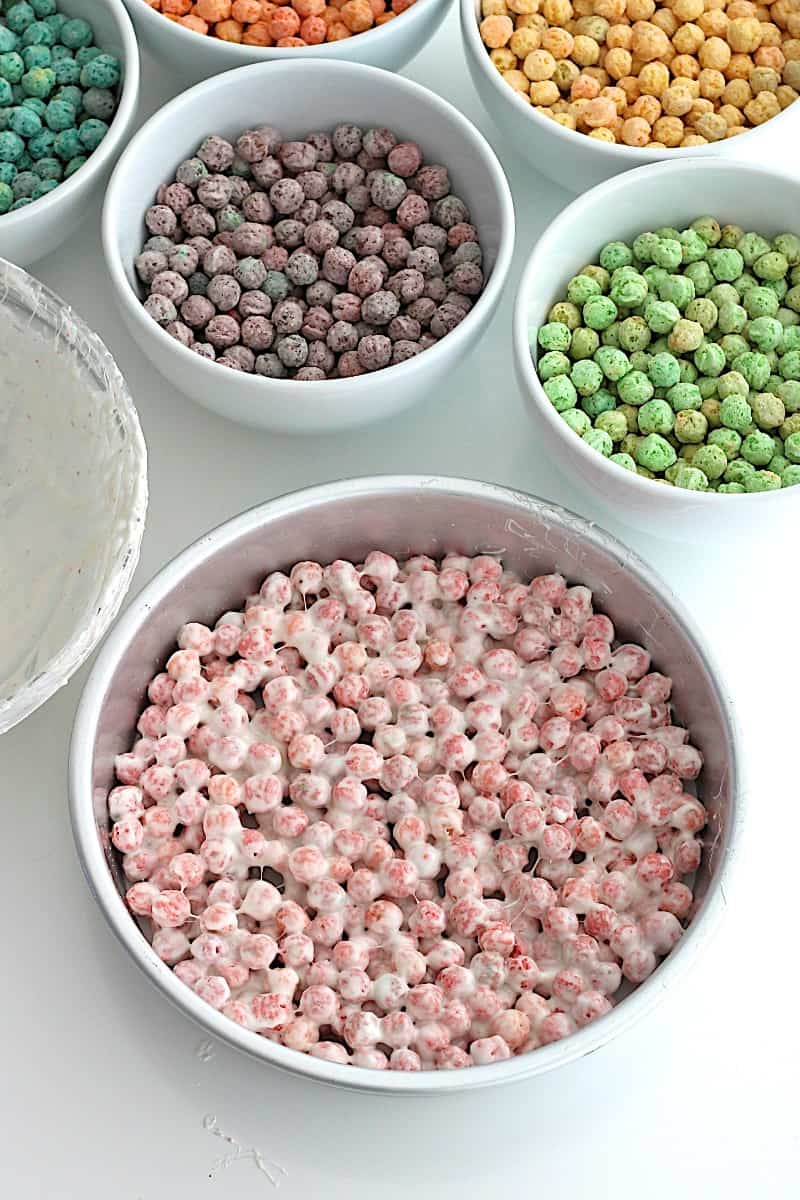 Once all the layers have cooled, you'll just stack them onto a cake stand or serving platter in the pattern of a rainbow…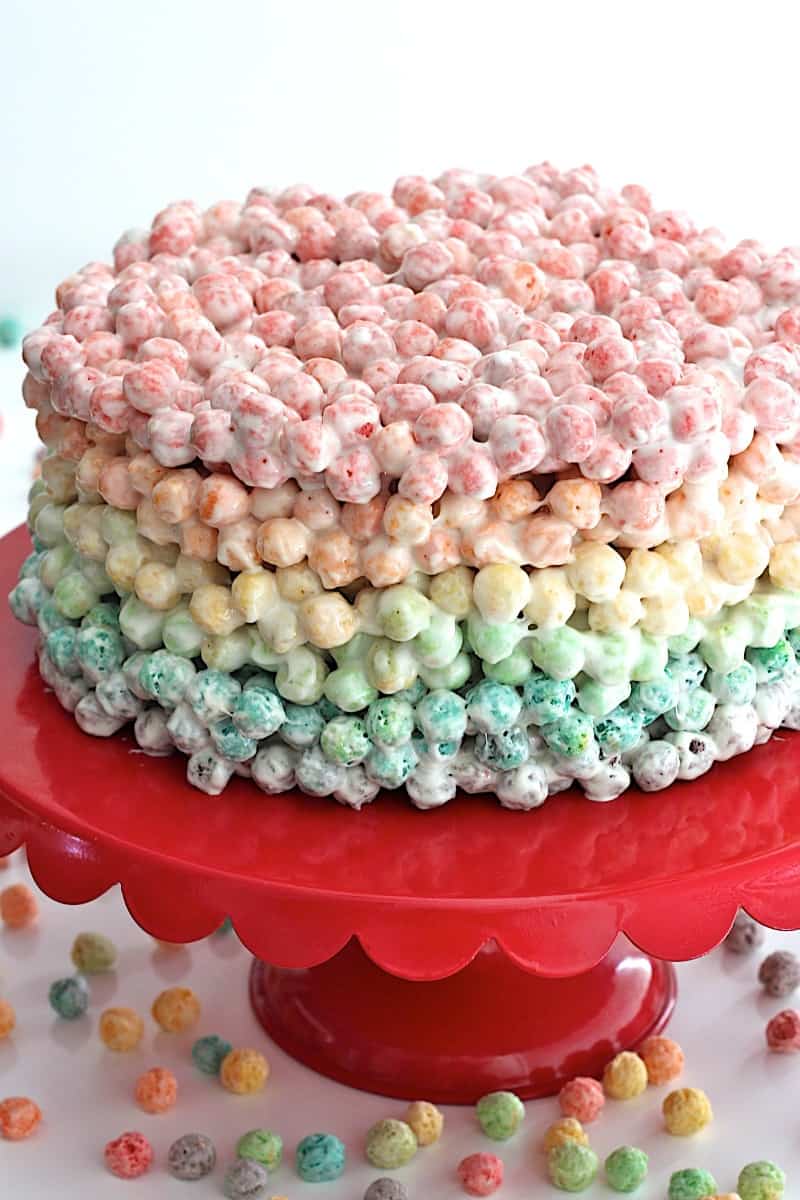 Place the cake in the refrigerator for about 15 minutes to insure it's set before slicing and serving. We just ate it with our hands. Yummmm!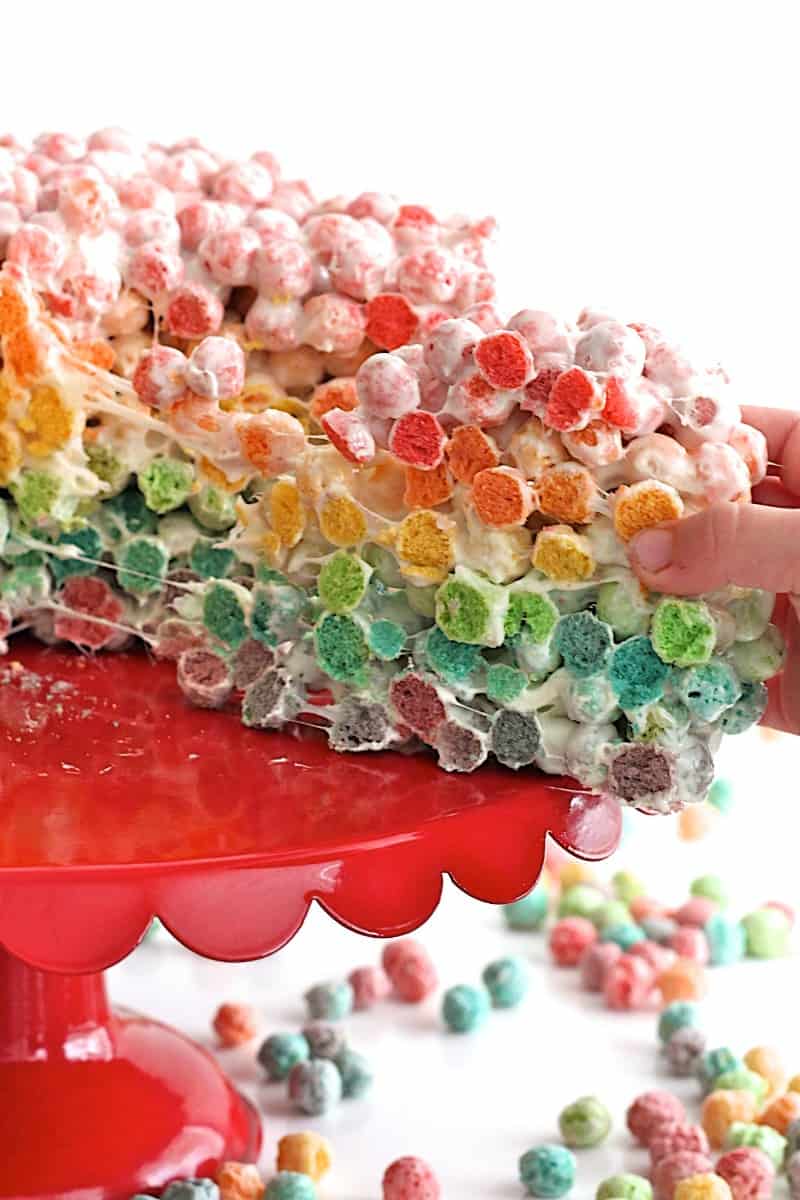 So much fun and yum going on in this simple, sweet and colorful cake! I hope it brightens your next celebration!
xoxo,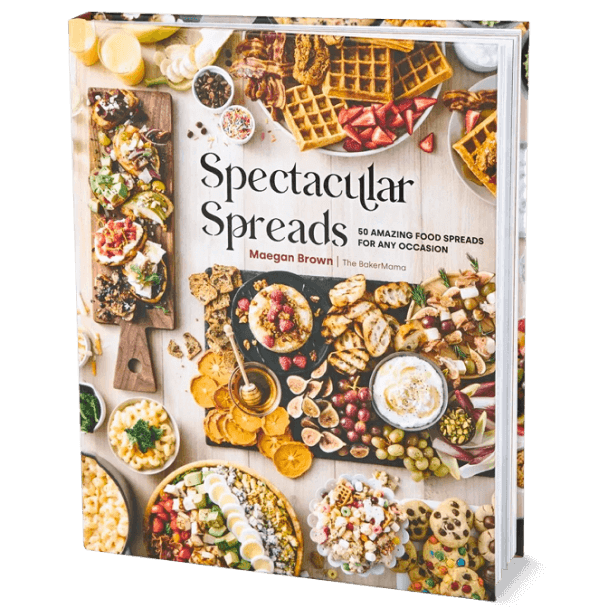 Now Available: Spectacular Spreads!
In Spectacular Spreads, we're taking it beyond the board. Way beyond. This book is all about laying out a spread that you and your loved ones will enjoy and create memories with. Each spread features exciting and simple recipes with creative twists. These unbelievably impressive spreads aren't just beautiful, they're delicious, too.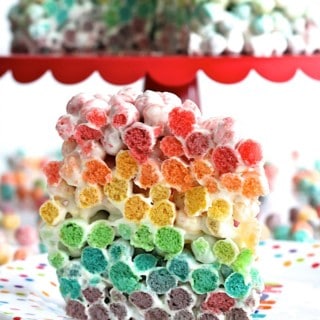 Rainbow Cereal Cake
A colorful and tasty rainbow cereal cake that's fun to make and sure to sweeten any special occasion!
Ingredients
2

9.3 ounce boxes rainbow colored cereal (such as Trix or Fruit Loops Bloopers)

18

cups

mini marshmallows

separated

9

tablespoons

butter

separated
Instructions
Sort cereal so that each color is in its own bowl. You should have about 3 cups of each color (6 colors total).

Line the bottom of three 8-inch round cake pans with parchment paper circles cut to fit the bottom of each pan. Spray each pan with non-stick cooking spray. Cut three additional parchment paper circles to use in between layers of cereal. (If you only have one or two cake pans, you will just have to repeat the process once the layers in your pan(s) have cooled.)

In a large microwave safe bowl, melt 1-1/2 tablespoons butter with 3 cups mini marshmallows for 1 minute. Stir until marshmallows are melted and smooth. Add 3 cups of one of the colors of cereal. Gently stir until cereal is well coated in the melted marshmallows. Spray hands or a piece of parchment paper with non-stick cooking spray and press cereal evenly into one of the prepared cake pans.

Place a circle of parchment paper, that's been sprayed with non-stick cooking spray, on top of the cereal you just pressed into the cake pan. You'll layer another layer on top of this layer to maximize cake pan space.

Repeat process with remaining cereal colors, marshmallows and butter, melting 1-1/2 tablespoons butter and 3 cups mini marshmallows at a time for each color of cereal. You can use the same bowl for melting the marshmallows and stirring in the cereal.

Press each color into the prepared cake pans with parchment paper on the bottom and in between each layer. Allow cereal layers to cool. To speed this process you can place them in the refrigerator for 10 minutes.

Once cereal layers have cooled, turn pans upside down to allow cereal layers to fall out. If the cereal has stuck to the side of the pan, gently run a table knife around the edges before inverting.

Begin layering the rainbow cake on a cake stand or platter in the following order, from bottom to top: purple, blue, green, yellow, orange, red. Be sure to remove the parchment paper as each layer should set directly on top of the other. Gently press down on the top of the cake so layers press into each other. Place cake in the refrigerator for about 15 minutes to let it set before slicing and serving.