This Peach Ice Cream Bread is a moist, hearty sweet bread with juicy peaches and a hint of vanilla ice cream in every bite!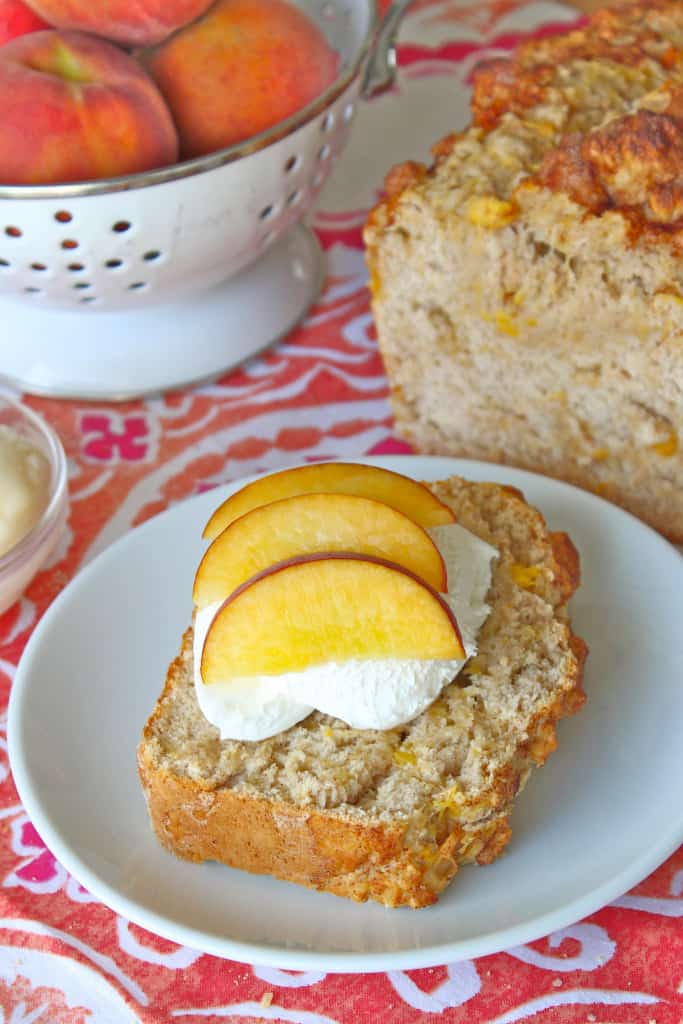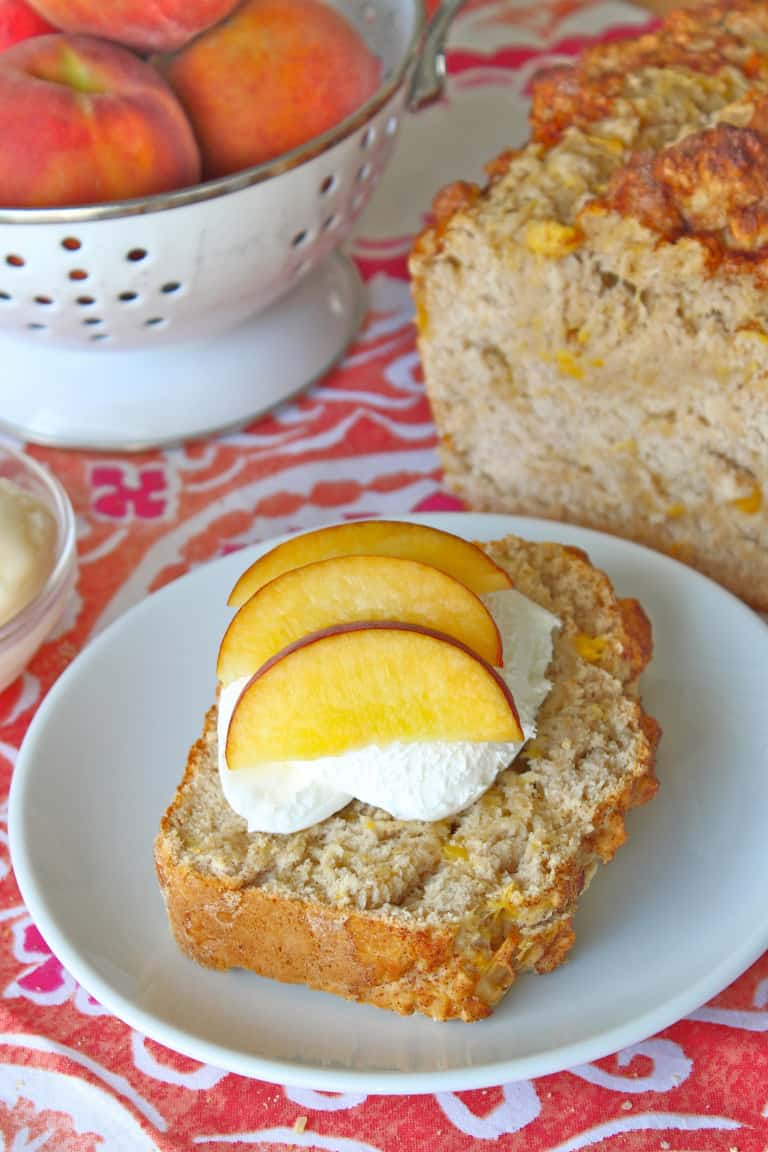 It's July and that means peaches are plentiful, especially here in Texas! Is it me or are they extra juicy and sweet this year?! I just can't stop eating them! My absolute favorite way to enjoy peaches is with a big scoop of vanilla ice cream. Whether they are sliced fresh with a sprinkle of cinnamon or baked to perfection in a rich cobbler, peaches need vanilla ice cream! They belong together! I'm obsessed with the combination and always have peaches and ice cream always on hand during the summer months.
As I was loading a barrel of peaches and a carton of ice cream in my extremely hot car at the store last week, I became a little frantic that the ice cream was going to melt before I could get home and put it in the freezer. All the way home, my mind started racing as to what in the world I would do with a carton of melted ice cream.
Throw it away? No way!
Drink it with a straw? Not a bad idea!
Bake with it? Now you're thinking!
So as I walked in the door with my melting ice cream and beautiful peaches, Peach Ice Cream Bread came to mind and so my mission began. I wanted this bread to taste just like a warm peach cobbler with ice cream on top. I also wanted it to be as easy, if not easier, than baking a peach cobbler. So I grabbed my self-rising flour, starting pealing those peaches and scooped out some of that melting ice cream. I decided to add a little sugar to insure its sweetness as well as some cinnamon to enhance the peach flavor. So 5 ingredients later, I had a loaf of Peach Ice Cream Bread baking in the oven. It doesn't get any easier than that!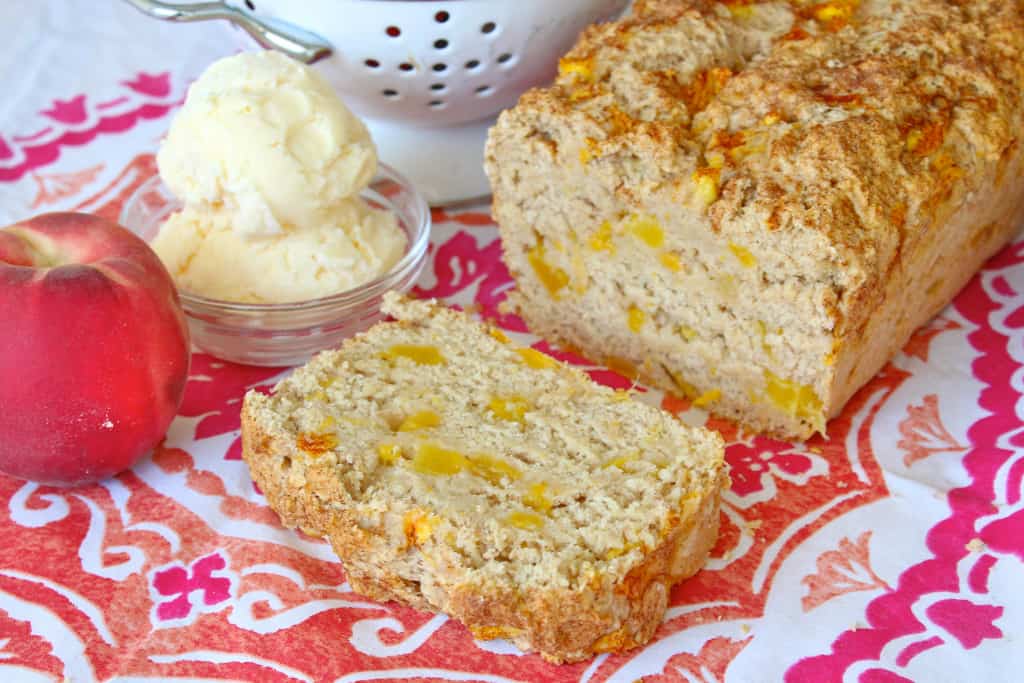 I can't even begin to describe how amazing my house smelled as this bread was baking. I am now so addicted to the smell that I'm either going to have to bake this bread every day or find a candle with a Peach Ice Cream Bread scent.
The bread not only smells incredible, it tastes incredible! It's a moist, hearty bread with juicy peaches and a hint of vanilla ice cream in every bite. We've eaten it for dessert with a dollop of whip cream and for breakfast with spread of butter. Oh and how could I forget?! I turned some leftover slices into the most amazing stuffed French toast we have ever eaten. So save a few slices for a special weekend treat!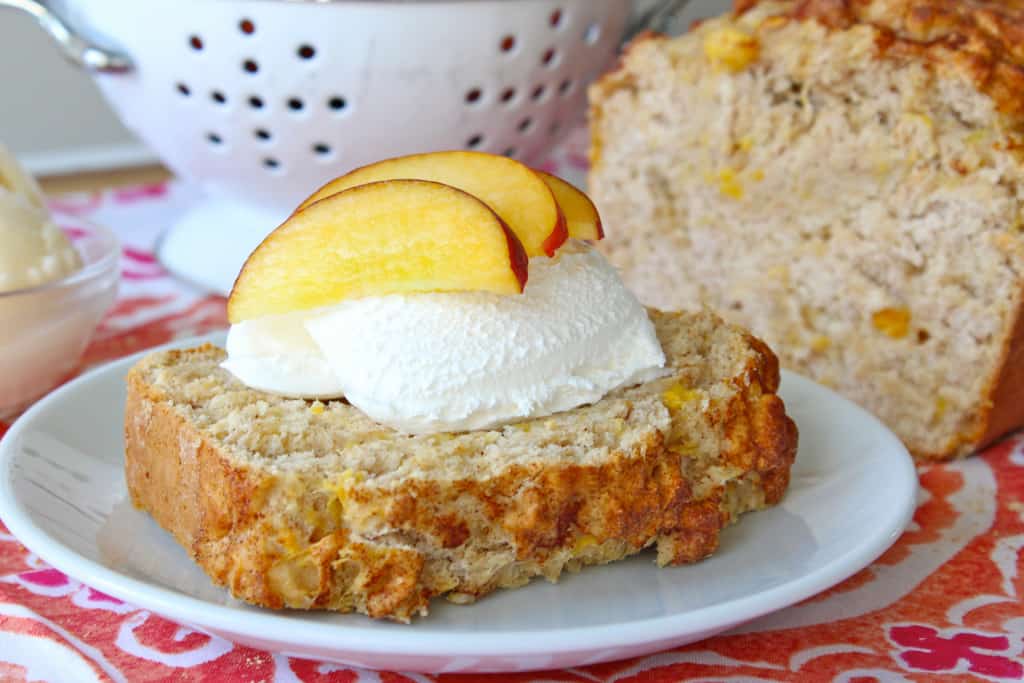 So so easy to make with just 5 ingredients.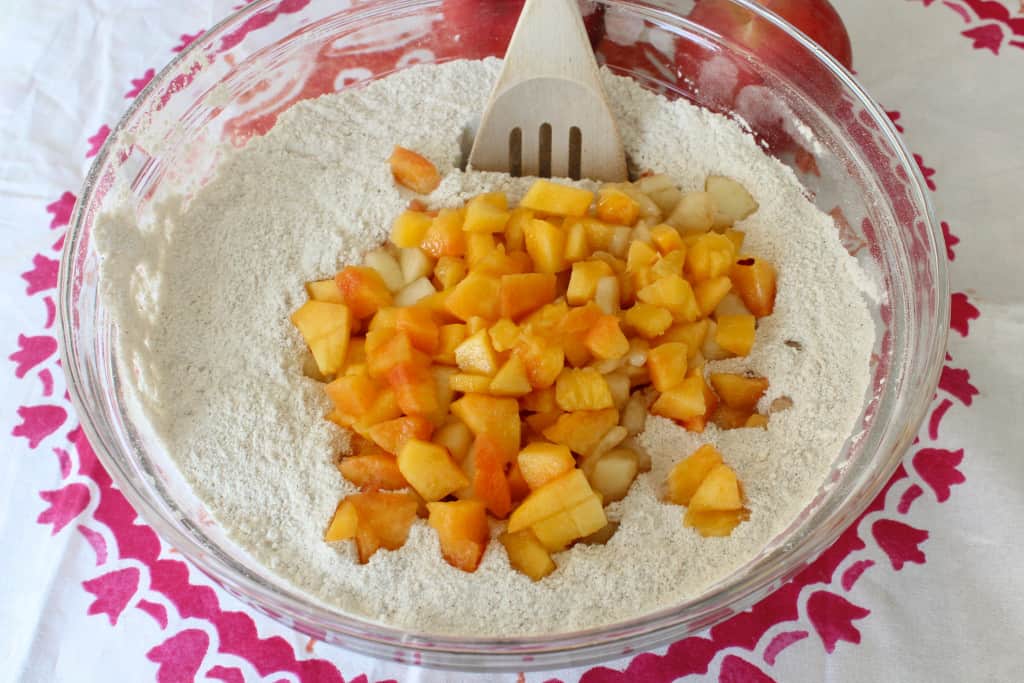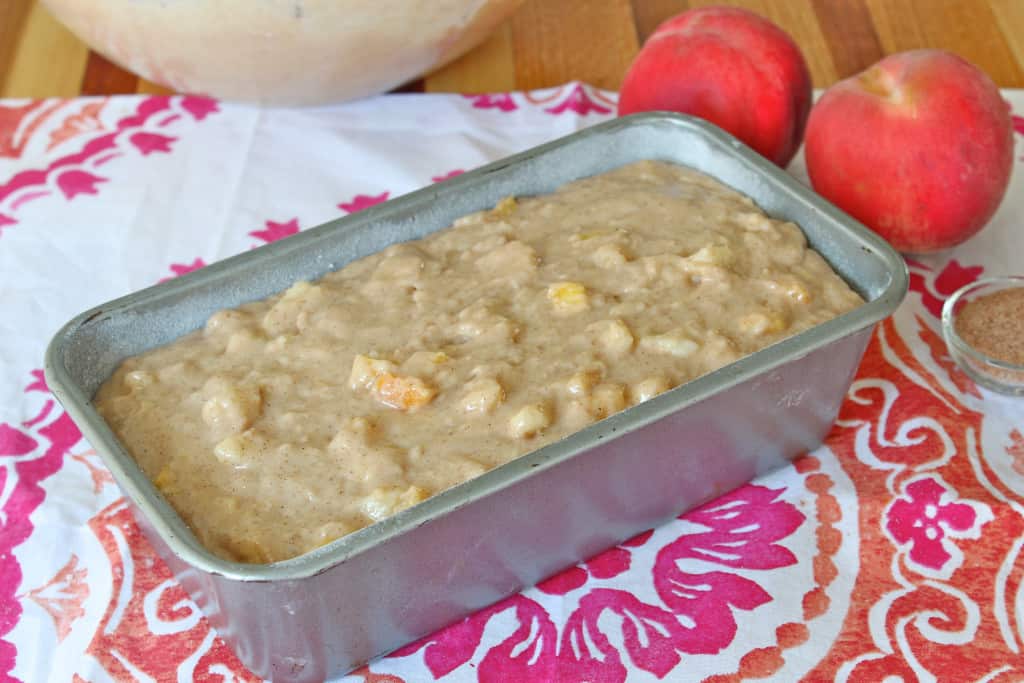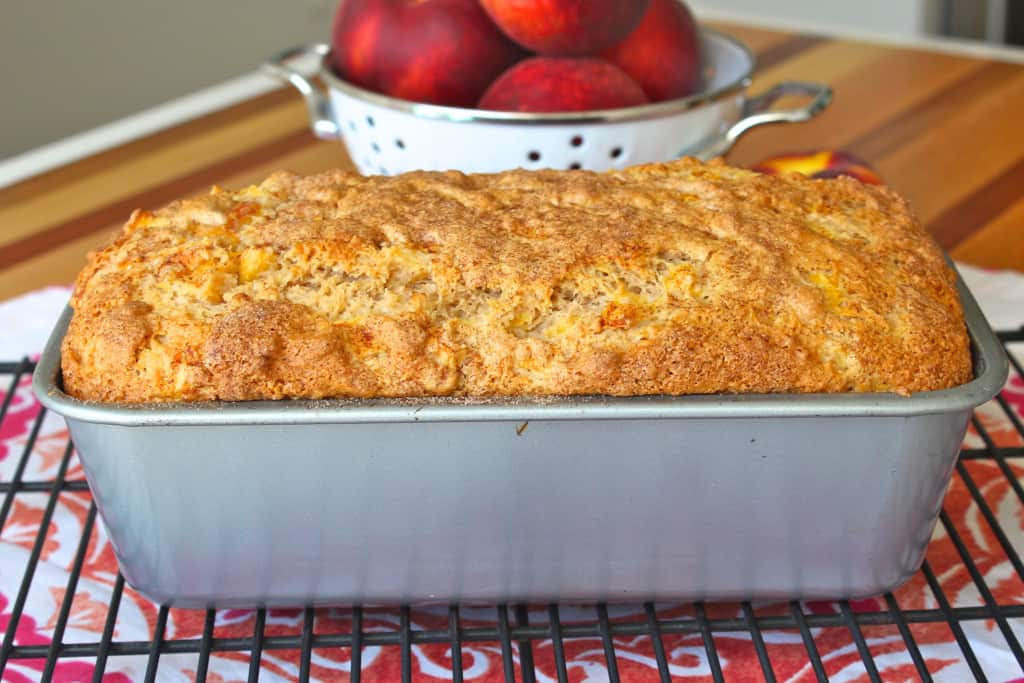 Peach love, y'all! Serve with whipped cream or ice cream to make it extra special.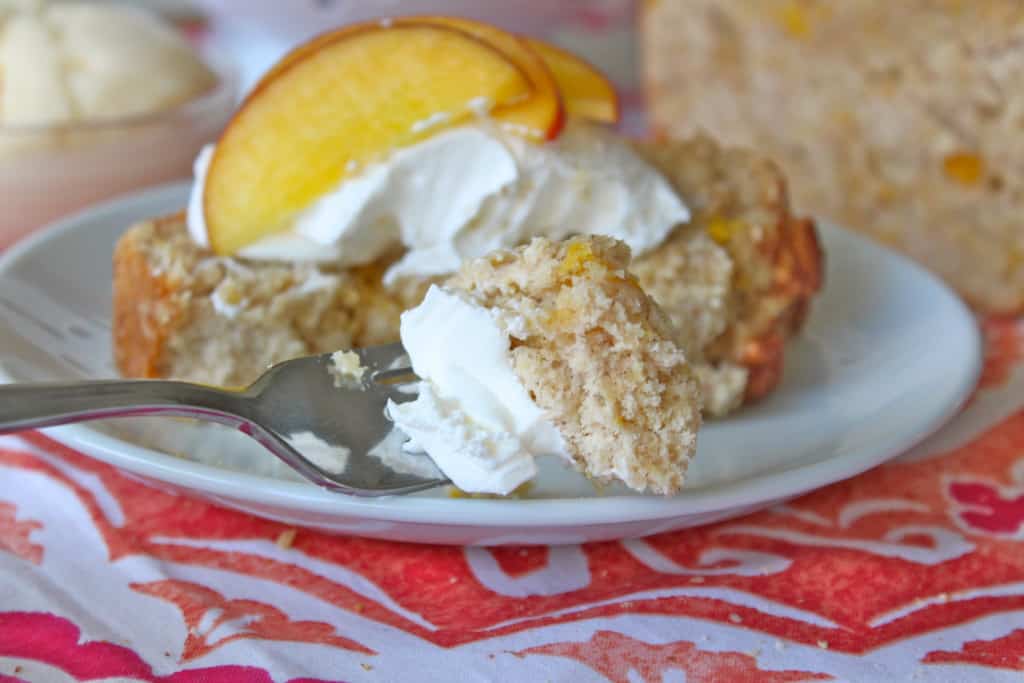 Happy Peach Season! Enjoy!
xoxo,


Print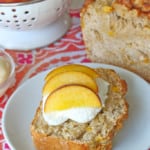 Peach Ice Cream Bread
Author:

Prep Time:

15 mins

Cook Time:

45 mins

Total Time:

1 hour

Yield:

10

-

1

2

1

x

Category:

Bread
---
Description
A moist, hearty sweet bread with juicy peaches and a hint of vanilla ice cream in every bite!
---
3 cups

self-rising flour

3/4 cup

sugar

2 teaspoons

cinnamon

2 cups

diced fresh peeled peaches

2 cups

vanilla ice cream (measured before melting)

2 teaspoons

cinnamon sugar (combine

2 teaspoons

sugar plus

1/4 teaspoon

cinnamon)
---
Instructions
Preheat oven to 350°F. Coat a 9×5-inch loaf pan with non-stick cooking spray, and lightly dust with flour; set aside.
In a large bowl, whisk together flour, sugar and cinnamon. Stir in the chopped peaches until completely coated in the flour mixture.
Place ice cream in a microwave safe bowl and microwave in 30-second intervals until just barely melted.
Pour into flour mixture and stir until well combined. The dough will be very thick.
Pour the batter into the prepared pan. Sprinkle with cinnamon sugar. Bake for 45-50 minutes or until a toothpick inserted in the center comes out clean. Let cool in pan 5 minutes on wire rack; remove from pan, and let cool completely on wire rack.
Slice & serve with whipped cream or more ice cream!
---