Fabulous french toast that's soaked with fresh orange juice and zest before being baked to golden crisp perfection and topped with a toasted pecan infused maple syrup.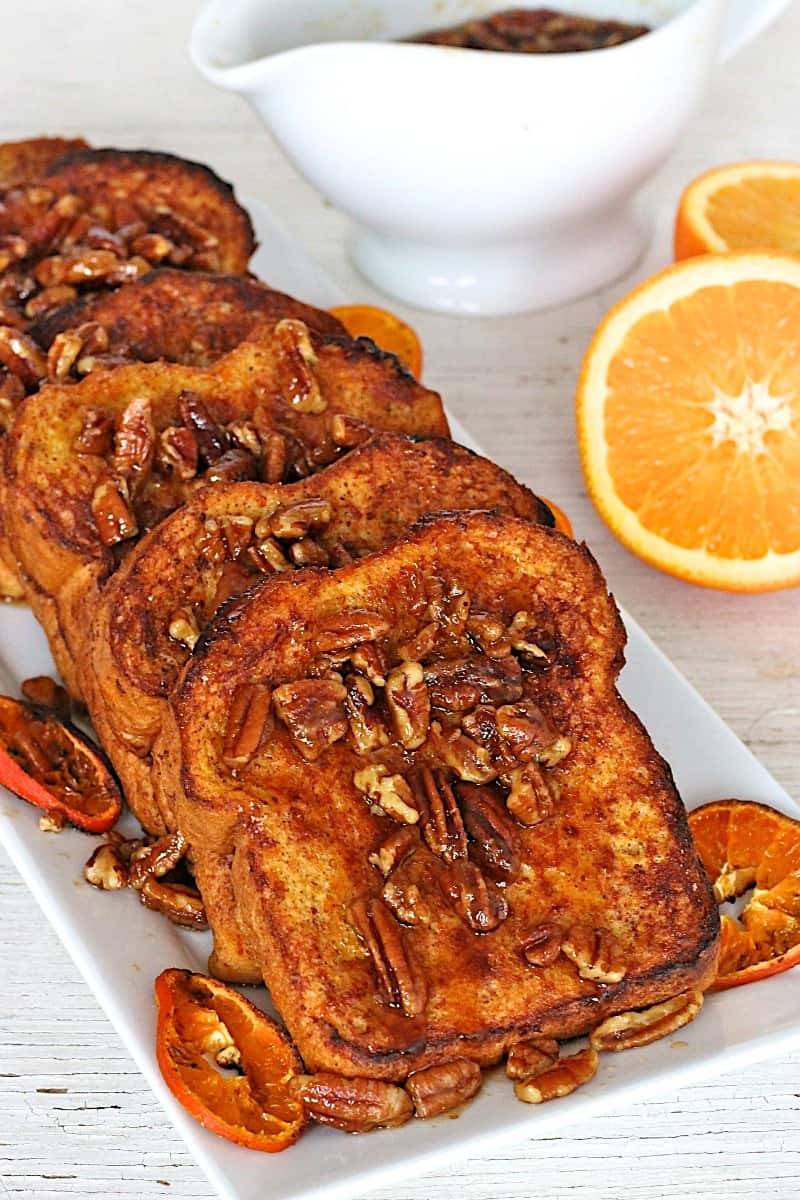 French toast is seriously the most fabulous weekend breakfast I can think of. It's super easy yet tastes so amazingly special!
I baked up this fabulous Orange Pecan French Toast in celebration of my sweet friend Caroline and her baby-to-be! Some other of her blogger friends and I are surprising Caroline today with a citrus-themed virtual baby shower! Surprise, Caroline! 🙂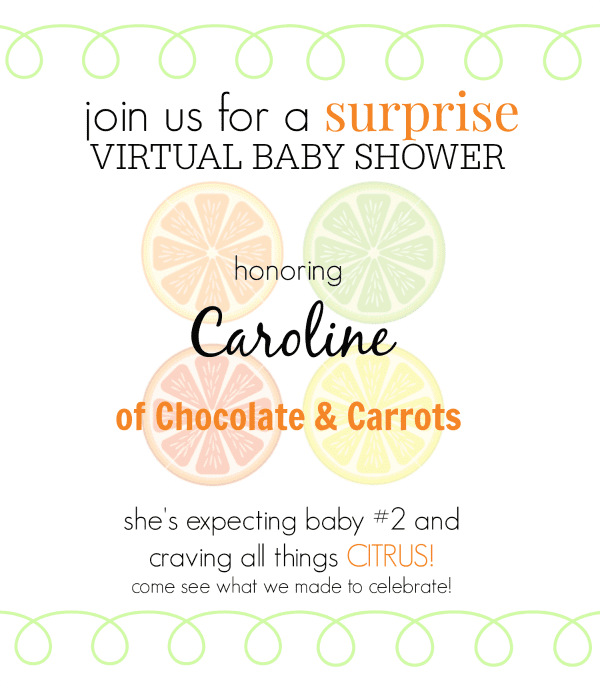 How amazing it would be if we were all together right now enjoying these yummy citrus treats with you and loving on that adorable baby bump before sweet baby is here, but a virtual celebration is so fun too!
Caroline has the most beautiful blog, Chocolate & Carrots. It's full of great recipes and glimpses into her life. Check out her About Me page. It's so creative! I've been following Caroline for years and was so thrilled when we got to meet at a food bloggers conference a few years ago. She's the sweetest and has the cutest little boy with baby #2 due to arrive any day now. I love following her weekly pregnancy updates and love that the gender of the baby is going to be a surprise! We were surprised with both Baker and the twins and I can't imagine a more amazing surprise!
Caroline has been craving citrus throughout her pregnancy so all of the recipes for her virtual baby shower have citrus in them. If you're a citrus lover, you'll want to check them all out:
We've been eating oranges like crazy lately and I've been dreaming up this delicious orange pecan french toast for weeks. It's sweet and toasty on the outside while still soft and oh so flavorful on the inside. The toasted pecan maple syrup just completes it. It's easy and quite possibly the most amazing french toast I've ever eaten!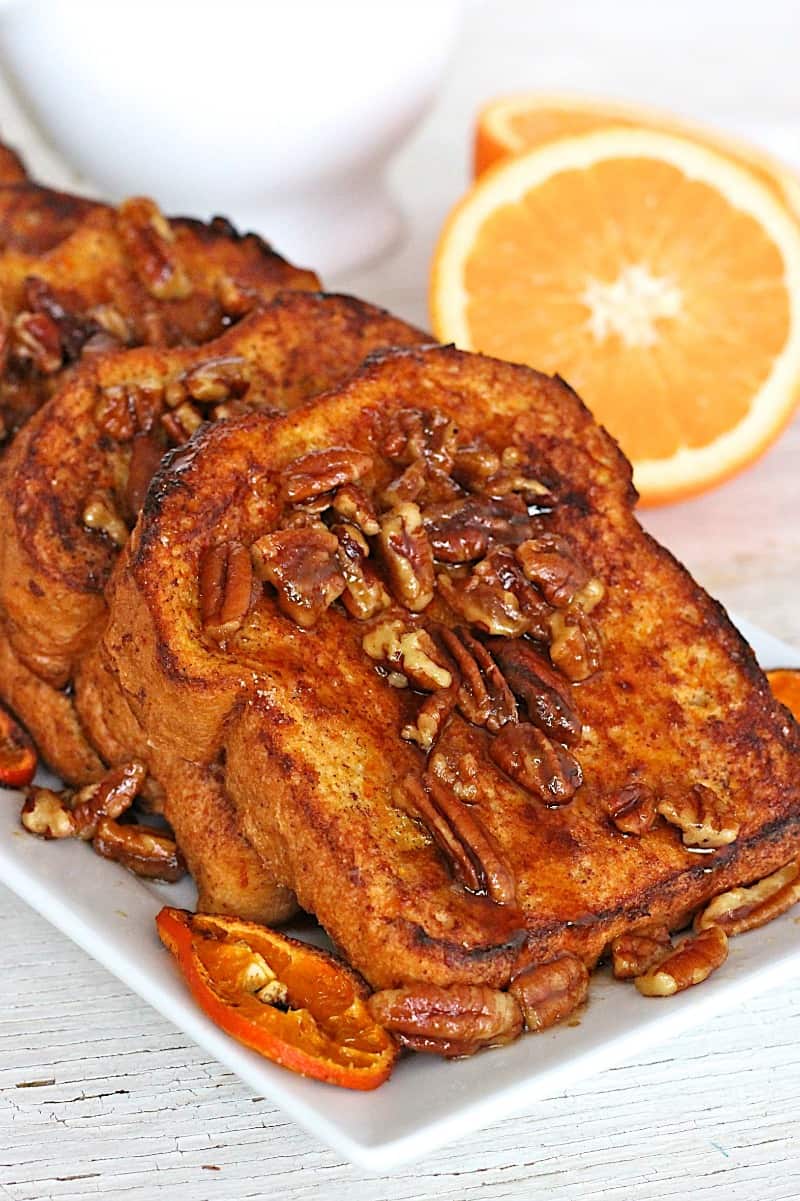 I like to bake french toast so it's all ready at the same time rather than flipping a few slices at a time and trying to keep them warm until all the other slices are ready.
You'll just soak thick slices of bread in a mixture of eggs, milk, orange juice and orange zest for about 20 minutes before placing it on a rimmed sheet pan and baking it to sweet toasted perfection.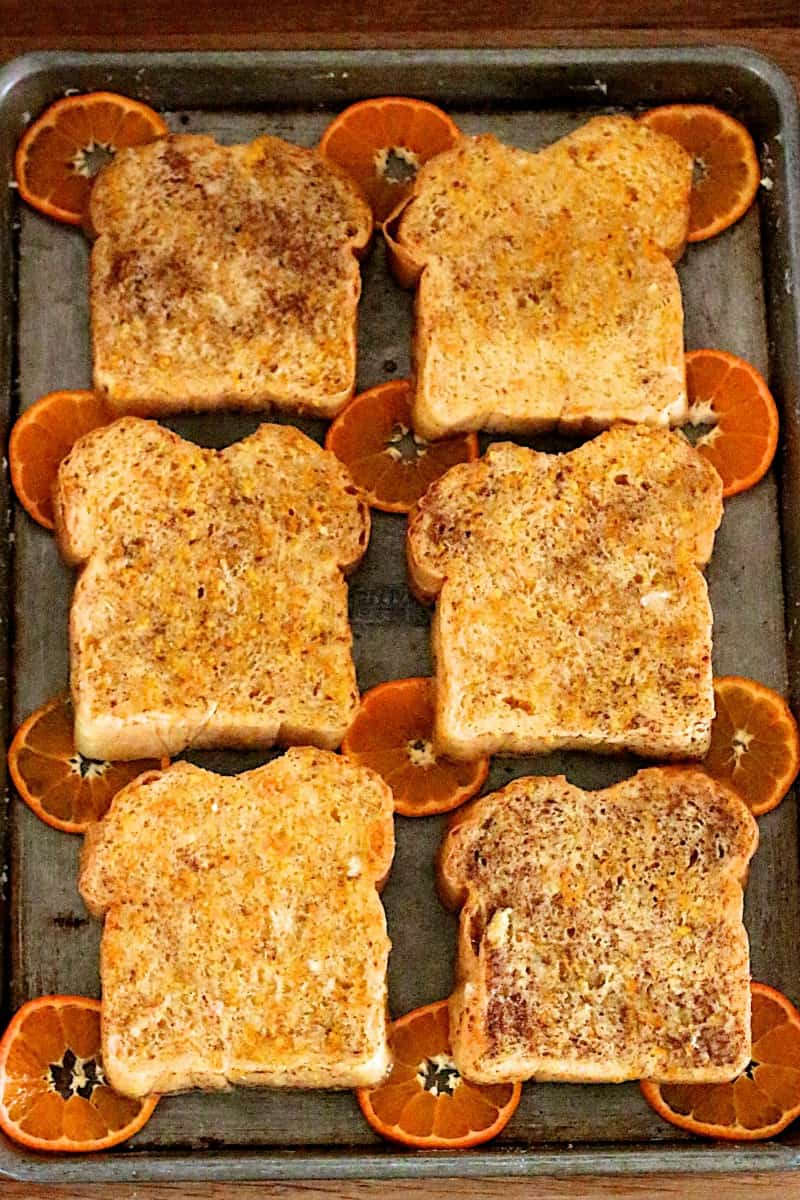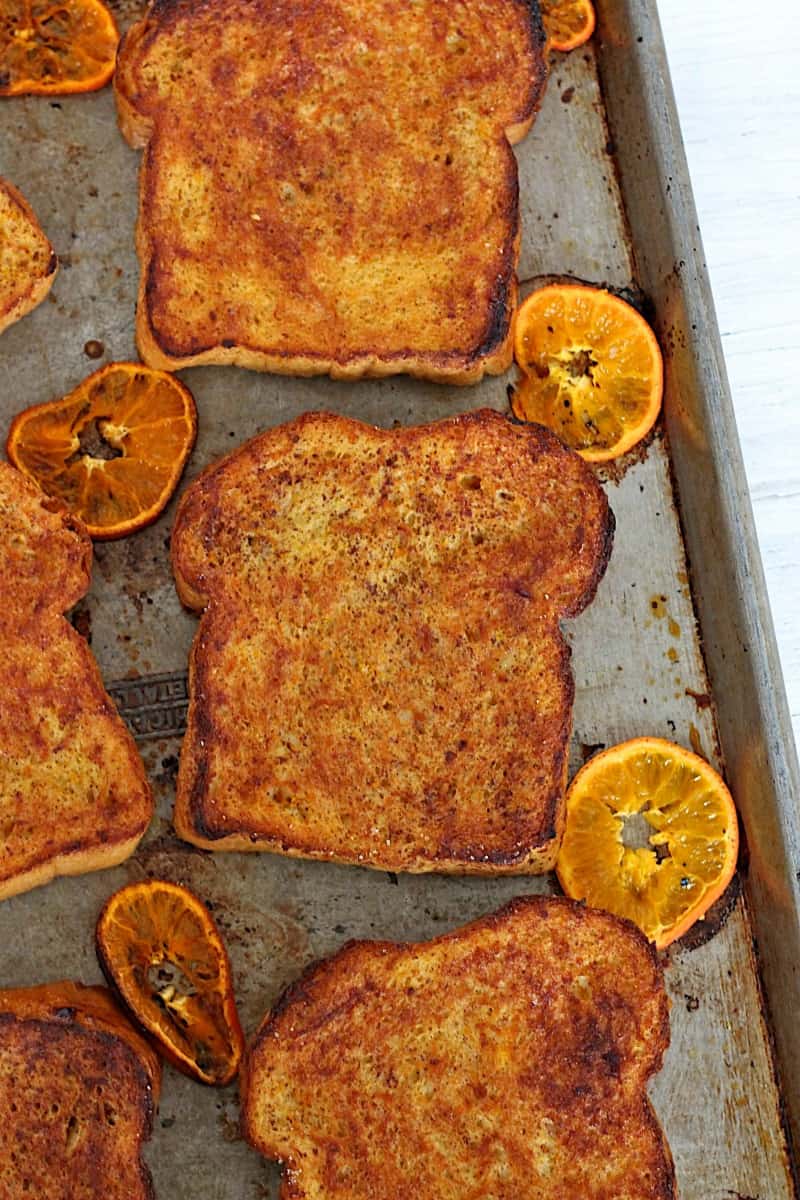 While the bread is toasting, you'll toast the pecans in a saucepan with some butter, brown sugar and maple syrup. The flavor of the toasted pecans infuses into the maple syrup and creates the most amazing topping for the orange soaked french toast.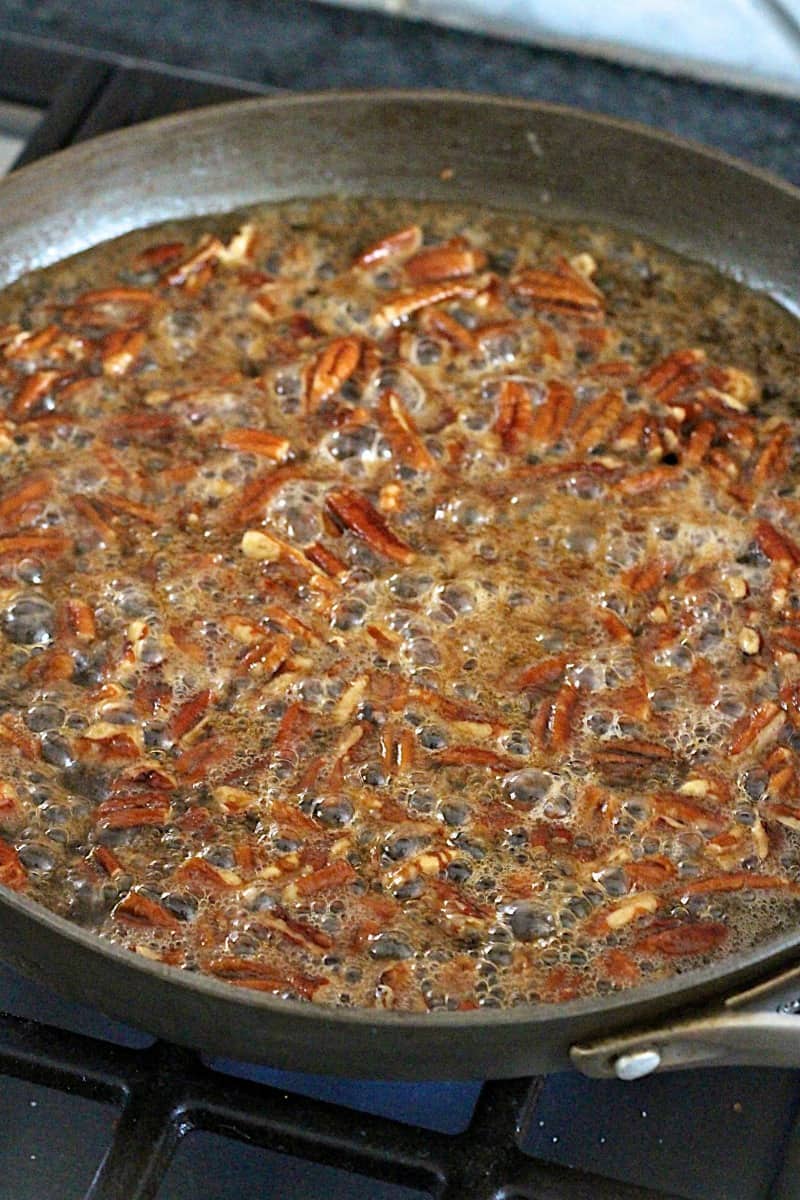 I'm so in love with this french toast that I seriously want to make it every morning of the week. It's one of those dishes that you just can't put your fork down once you've dug in.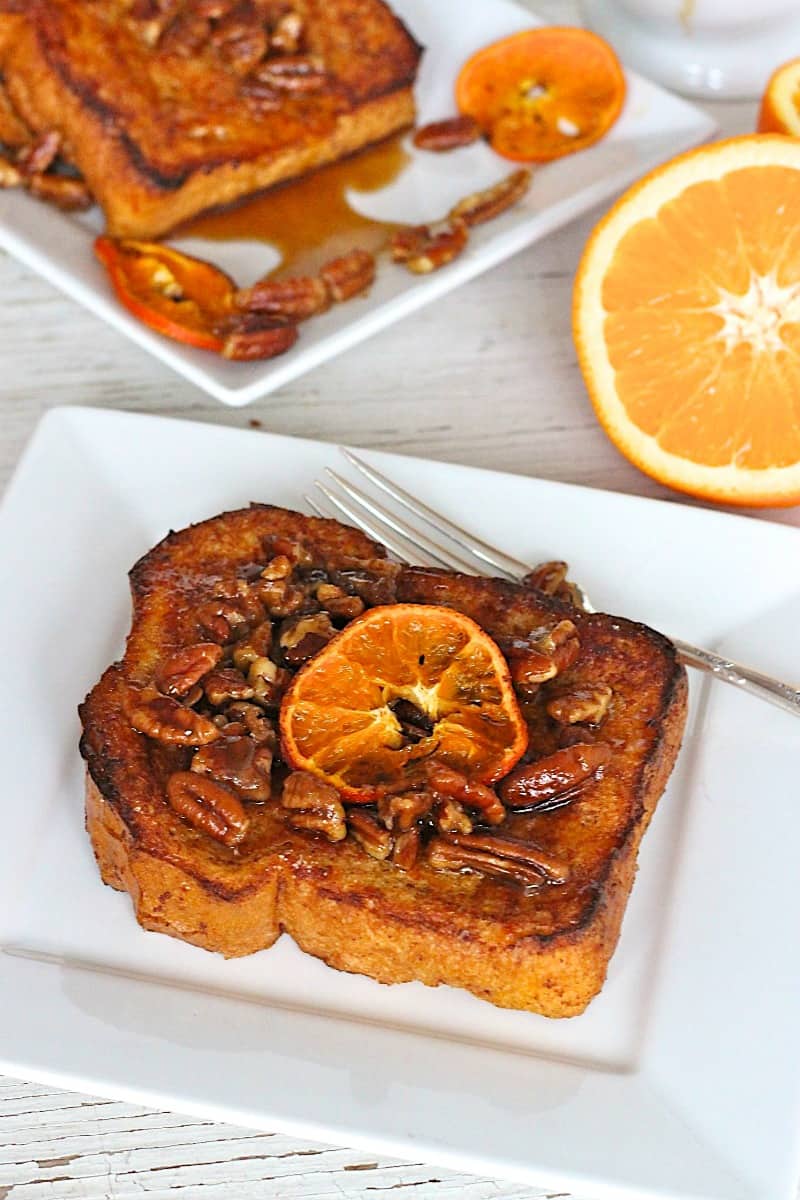 If you love oranges, you'll die over how delicious this french toast is! You've just gotta try it!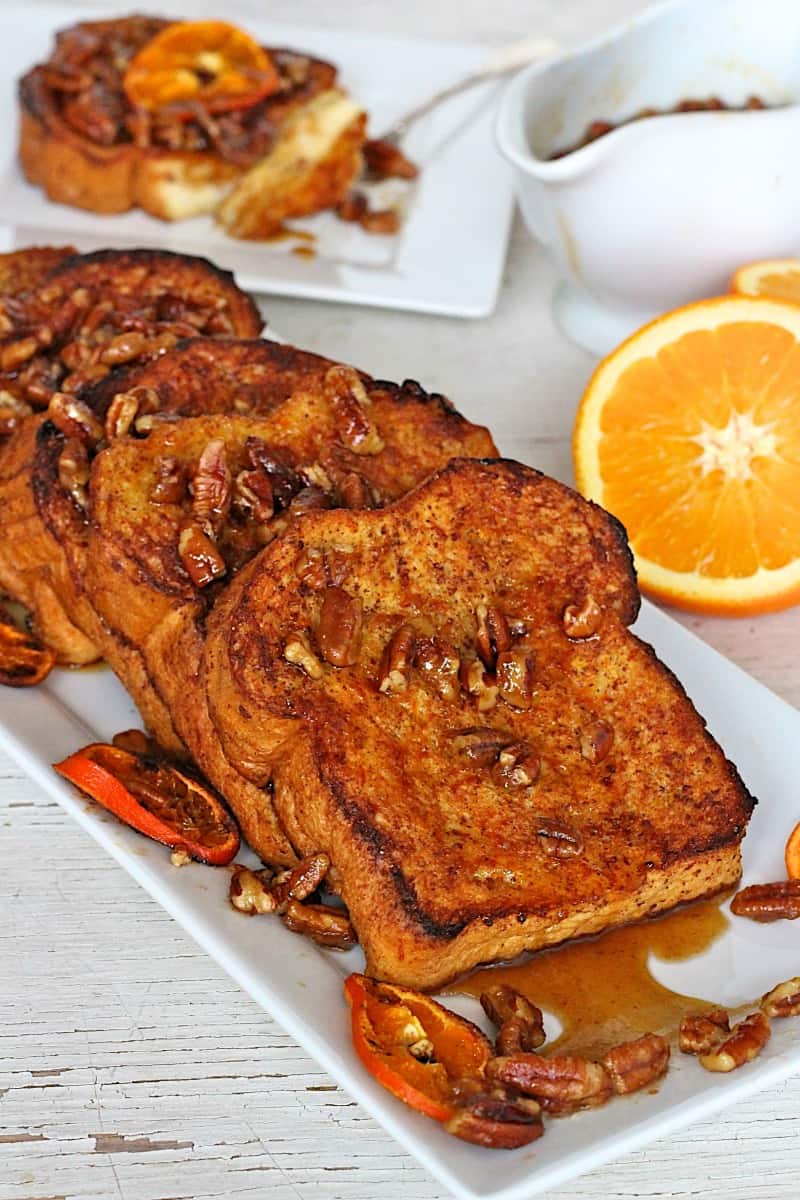 Congrats Caroline! We'll be thinking about you over the next few weeks and months as you welcome that sweet miracle into this world and adjust to a family of four! xoxo
Enjoy!


Print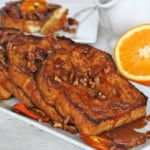 Orange Pecan French Toast
Author:

Prep Time:

30 mins

Cook Time:

35 mins

Total Time:

1 hour 5 mins

Yield:

6

1

x

Category:

Breakfast
---
Description
Fabulous french toast that's soaked with fresh orange juice and zest before being baked to golden crisp perfection and topped with a toasted pecan infused maple syrup.
---
4

large eggs

1 tablespoon

orange zest

1 cup

fresh orange juice

1 cup

milk

2 tablespoons

dark brown sugar

1 teaspoon

vanilla extract

1 teaspoon

cinnamon

1/2 teaspoon

salt

6

slices challah or brioche bread, each 1-1/2 inches thick

2 teaspoons

granulated sugar, divided

12

thin orange slices, optional
Toasted Pecan Maple Syrup:

1 cup

chopped pecans

1/4 cup

butter

1/4 cup

dark brown sugar

1/2 cup

maple syrup, divided
---
Instructions
Preheat oven to 400°F.
In a large bowl, whisk together the eggs, orange zest, orange juice, milk, brown sugar, vanilla, cinnamon and salt.
Soak the bread slices, one at a time, in the egg mixture for 10 seconds per side and then transfer to a 1/2 sheet pan. Pour remaining liquid evenly over each slice of bread in the pan. Let set for 10 minutes and then flip the toast over and let set another 10 minutes.
Generously butter or grease another 1/2 sheet pan and space thin orange slices on the pan, if desired. Using a large spatula, transfer each slice of soaked bread to the prepared sheet pan. Sprinkle 1 teaspoon of sugar evenly over the bread slices.
Bake for about 25 minutes or until the bread starts to toast around the edges. Flip the bread over, sprinkle evenly with remaining 1 teaspoon sugar and bake another 10 minutes until bread is golden and crisp.
While the bread is toasting in the oven, prepare the syrup. Place the pecans in a shallow saucepan over medium heat. Add the butter and let pecans cook, stirring occasionally, until you can smell them start to toast, about 5 minutes. Reduce heat to low, add brown sugar and 1/4 cup syrup. Let simmer until a thick syrup forms. When ready to serve, stir in remaining 1/4 cup maple syrup and transfer to a serving dish. If syrup is too thick, add more maple syrup to thin it out.
To serve, place a piece of hot toast on a plate and top with toasted pecan maple syrup. Enjoy!
---