The most delicious Quick and Easy Caramel Corn Mix of caramel corn, pretzels, peanuts and almonds. A sweet and salty treat you just can't resist!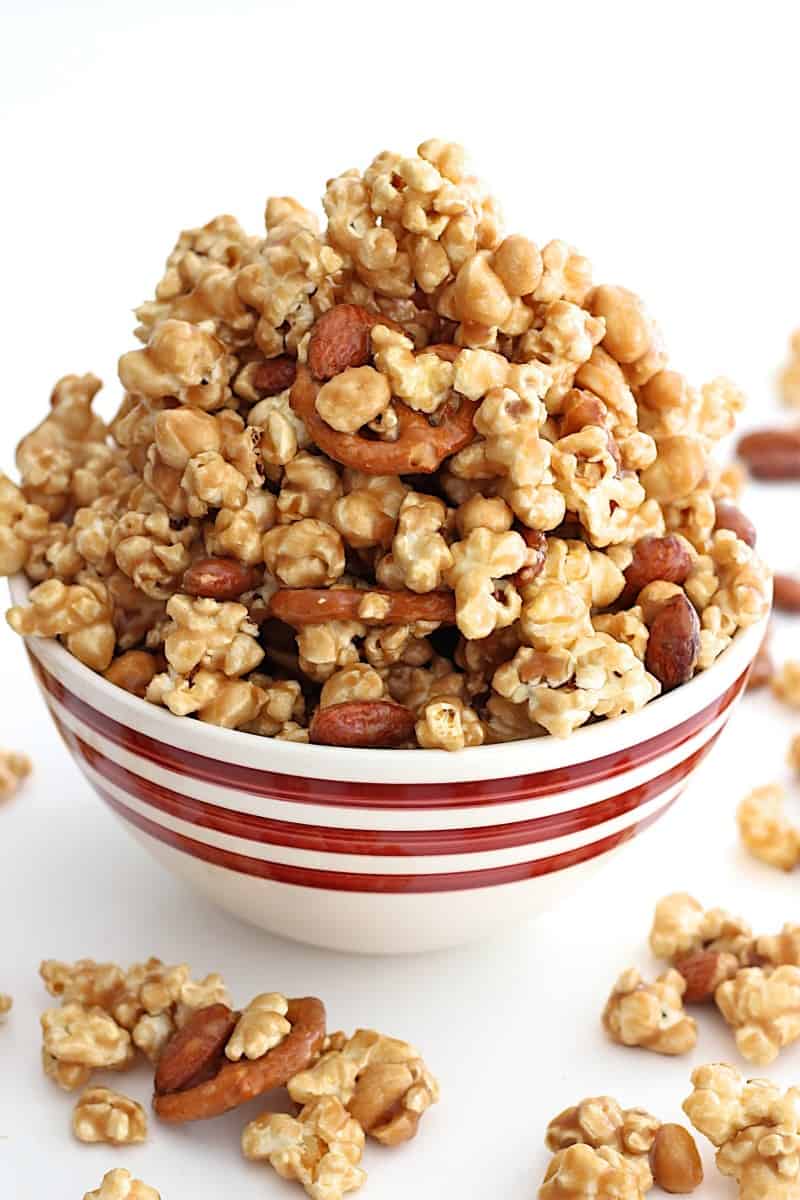 Monday nights are girls' nights here at my house. I look forward to it as much as I look forward to the weekends. It all started after I had the twins. My dear friend, Robin, would bring me an extra-thick chocolate almond milkshake (nursing & survival fuel) and help me with the twins while we watched The Bachelor. I can't even begin to tell you how much those Monday nights meant to me. With a hubby that travels most of the week, having a best friend leave her hubby at home with their kiddos and come over to help and encourage me made Mondays so special and much less dreadful like Mondays sometimes have a reputation to be. Love ya, Robin! 🙂
Even after the twins were on a good schedule and I no longer needed that extra help and those big thick milkshakes ;), Robin continues to come over and watch The Bachelor with me along with our other dear friend Meredith. I cherish Monday nights so much that I'll even give Brandon a hard time if he's in town on a Monday night and I have to cancel girls' night. haha! 😉
On Monday nights, we laugh a lot, cry a little, support each other in this crazy stage of motherhood, craft occasionally, do our nails, analyze & make fun of every dramatic event on The Bachelor/Bachelorette/Bachelor in Paradise, and indulge ourselves in something sweet. It's the absolute perfect way to start the week!
Robin still brings milkshakes every once in a while, but I've started using Monday nights to test recipes on them. Thanks girls! Nothing better than feedback from your besties. 🙂
I usually bake something or experiment with homemade blizzard mix-ins, but this past Monday we had The Bachelor and The Grammys to watch so we needed something a little more snacky. A caramel corn craving set in, but the girls were coming over in less than an hour so it had to be quick & easy. My family has a couple caramel corn-like recipes that I combined to create this no-bake version of such a favorite sweet treat.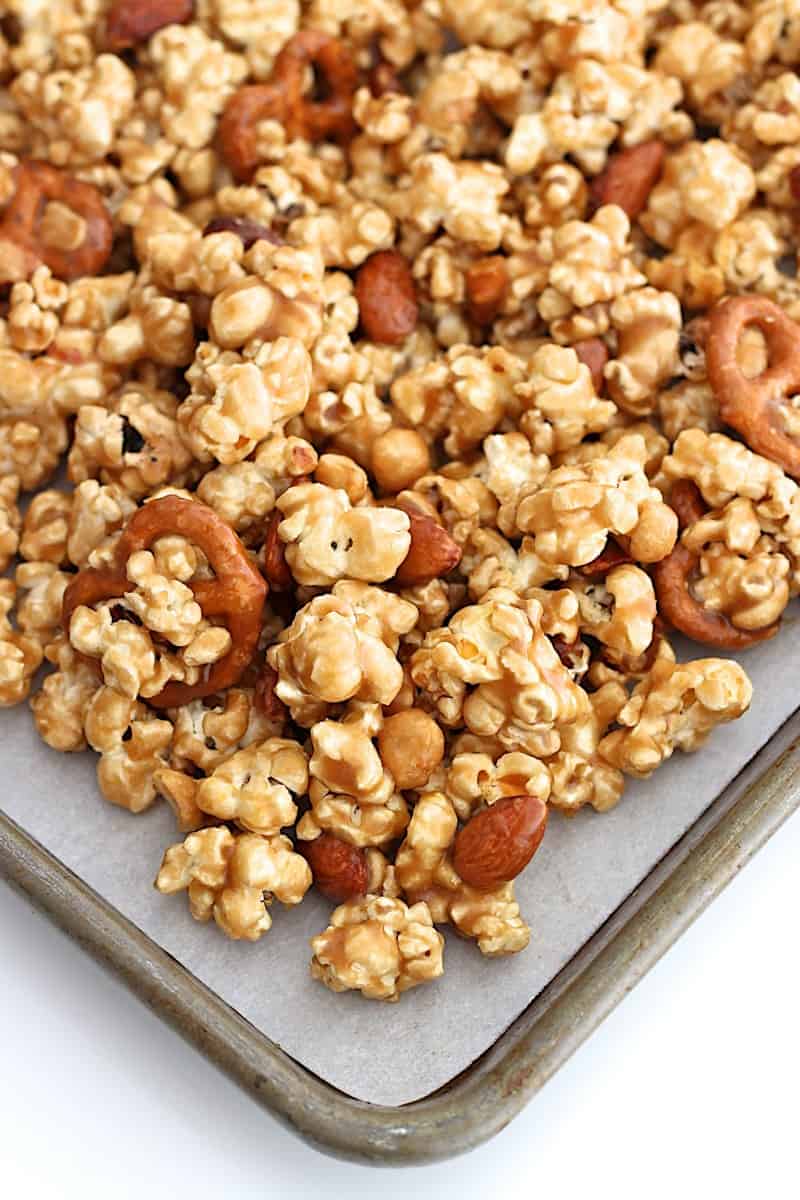 It's as easy as can be. Microwave popcorn, pretzels, roasted almonds and dry roasted peanuts are tossed in a quick microwave caramel sauce and then laid out to cool or indulge in while still warm and sticky. Mmmm…mmmm!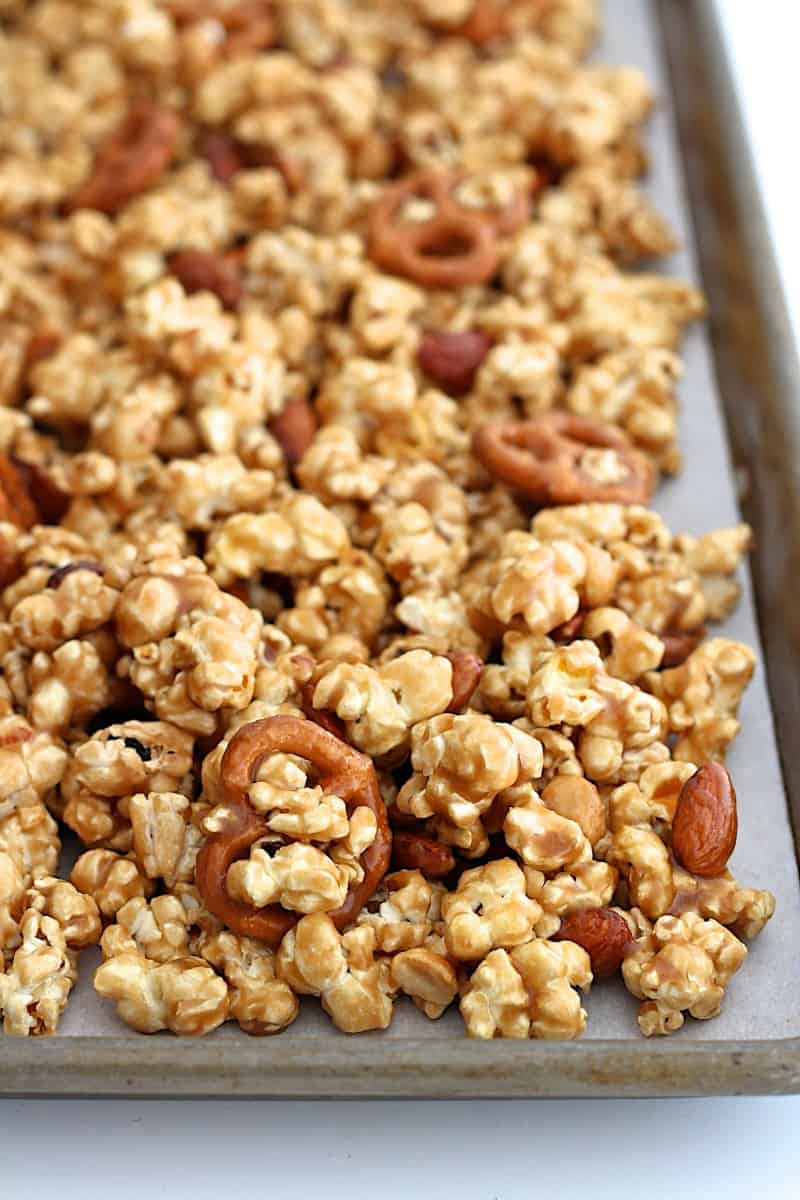 We're crazy about this caramel corn mix and love that I can have it ready to serve in about 10 minutes if people don't mind a sticky finger or two. The longer it sets, the crunchier the coating gets. After it's set for about an hour, it should no longer leave your fingers sticky.
I have no doubt this mix will be making a reappearance at girls' night as well as holiday get-togethers, game days or just a Friday movie night with the fam. It's sweet, salty, crunchy, chewy, and nothing short of snackalicious!
Oh, and I just learned February is National Snack Food Month so go ahead and get your snack on with this yummy caramel corn mix. Enjoy!
xoxo,


Print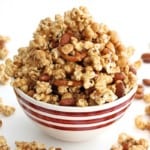 Quick and Easy Caramel Corn Mix
Author:

Prep Time:

5 mins

Cook Time:

3 mins

Total Time:

8 mins

Yield:

8

-

1

0

1

x

Category:

Dessert
---
Description
Easiest ever caramel corn with pretzels, peanuts and almonds mixed in. A sweet and salty treat you just can't resist!
---
1

(2.69 ounce) bag microwave popcorn, about 12 cups popped (preferably no butter or lightly buttered)

1 cup

mini pretzel twists

1/2 cup

roasted almonds

1/2 cup

dry roasted peanuts

6 tablespoons

unsalted butter

3/4 cup

light brown sugar

1/4 cup

light corn syrup

1 teaspoon

vanilla

1/2 teaspoon

baking soda
---
Instructions
Pop popcorn according to package directions. Place in a bowl so unpopped kernels go to the bottom and transfer all popped kernels to a large mixing bowl. Add pretzels, almonds and peanuts to the popcorn in the large mixing bowl.
In a microwave safe bowl, melt the butter, brown sugar and corn syrup for 1 minute and 30 seconds. Remove and whisk until smooth. Return to microwave for 30 seconds and remove and whisk again. Return to microwave for another 30 seconds until bubbling. Remove from microwave and immediately whisk in vanilla and baking soda. Allow caramel sauce to set for about 3 minutes.
Pour caramel sauce over popcorn mixture and toss to coat evenly. Spread mixture evenly onto a parchment-lined baking sheet and let set for 30 minutes. Stir mixture around and let set another 30 minutes before transferring to an airtight container or baggie. Mix can be served while still warm, if desired.
---
Notes
If you prefer a super crunchy caramel corn mix and have some extra time, you can bake this mix in a 250°F oven for 45 minutes, stirring every 15 minutes. Remove from oven and let cool completely before storing in an airtight container.