Homestyle chicken & dumplings with fluffy dumplings and flavorful chicken in every creamy bite!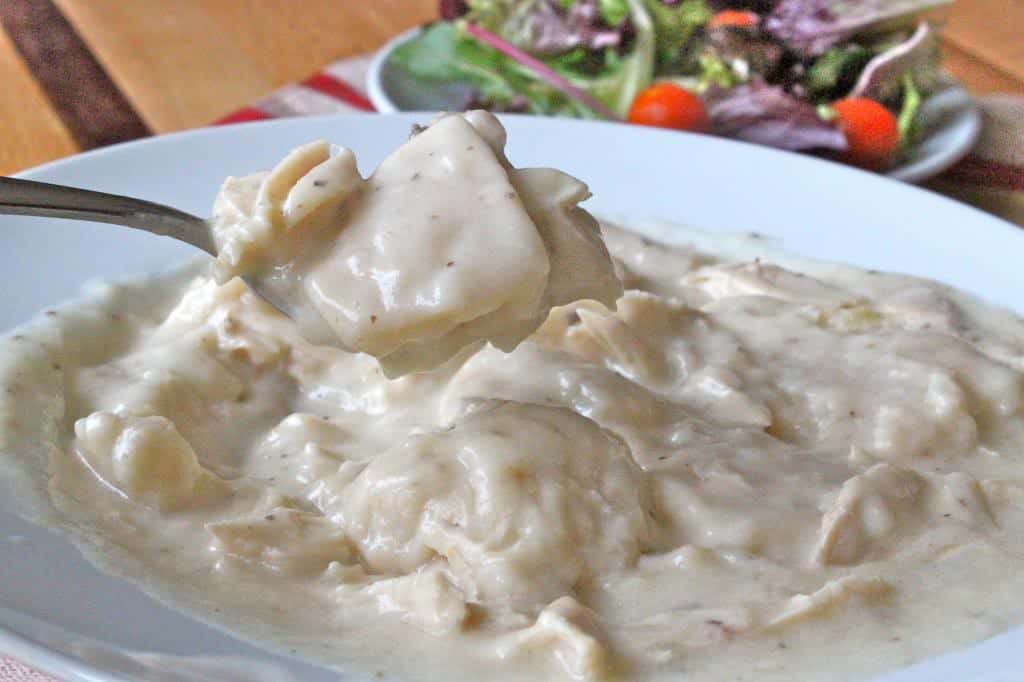 My mom came to town and I made her cook! Actually, I didn't have to make her, she always insists and I never turn her down! I certainly learned from the best!
And speaking of the best, her Chicken & Dumplings are hands down the best! My absolute favorite meal!
Growing up, my sister and I always had a special meal on our birthdays. Mine has and will always be Chicken & Dumplings! I have been eating it since as early as I can remember eating and I LOVE IT!!! Lots of fluffy dumplings and flavorful chicken in every creamy bite! It's so comforting, filling and amazingly delicious! My family pretty much has to take the pot away from the table when I start going in for fourths!
For the full post & recipe, CLICK HERE.
Enjoy!
~Maegan
This recipe was created as part of my partnership with Gold Medal Flour however thoughts and opinions are certainly my own!
Homestyle Chicken and Dumplings
Homestyle chicken & dumplings with fluffy dumplings and flavorful chicken in every creamy bite!
Author:
Maegan - The BakerMama
Ingredients
1 whole fryer chicken (4-5 pounds)
8 cups water, divided
4-1/2 cups chicken broth, divided
2-1/2 cups whole milk, divided
salt & pepper to taste
4 cups Gold Medal® self-rising flour
1 cup vegetable shortening
6 tablespoons Gold Medal® all-purpose flour
Instructions
Rinse and clean out chicken and place in a large pot. Add 6 cups water and 2 cups chicken broth. Sprinkle the top evenly with salt and pepper. Cover with a lid and bring to a boil. Reduce heat to medium and let cook for 1 to 1-1/2 hours until chicken is cooked all the way through and tender when poked with a fork. Remove the chicken from the pot and set aside to cool. Once cool, remove chicken from the bone, discarding bones and skin.
Leave the broth in the pot on medium heat and add 2 cups milk and 2 cups chicken broth. Bring to a simmer. In a jar with a lid, make a roux by combining 6 tablespoons all-purpose flour with 2 cups water. Shake well then whisk into the liquid in the pot. This will thicken the soup.
To make the dumplings, place the self-rising flour in a large bowl. Cut in the shortening with a pastry blender or by pulling two knives in opposite directions through the flour and shortening. Add ½ cup chicken broth and ½ cup whole milk. Stir with a spoon or mix with your hands until well combined. Turn half of the dough out onto a lightly floured surface. Roll to ⅛-inch thickness and cut into strips that are 1-inch wide by 3-inches long. Put strips on a pan and repeat process with remaining dough. Drop dumplings into the simmering liquid. Gently press down on dumplings with a large spoon so they are submerged in the liquid, but do not stir. Cover and allow to cook for 10-15 minutes. Reduce heat to low and stir in chicken. Allow to cook until thickened, about another 10-15 minutes. Season generously with salt and pepper.