A fudgy stout-spiked cake layered with fudge icing and oozing with caramel that's nothing short of amazing!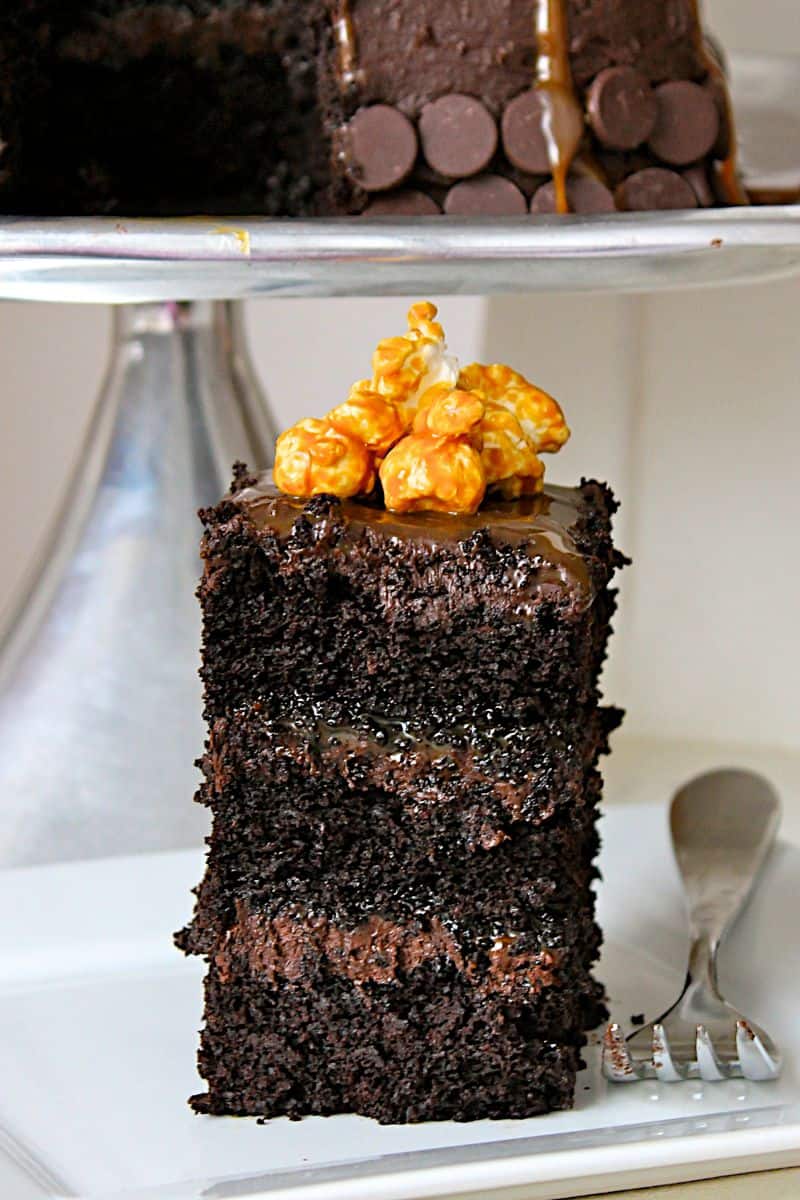 Happy Birthday to my amazing hubby and the best Dada in the world! We love you so so much!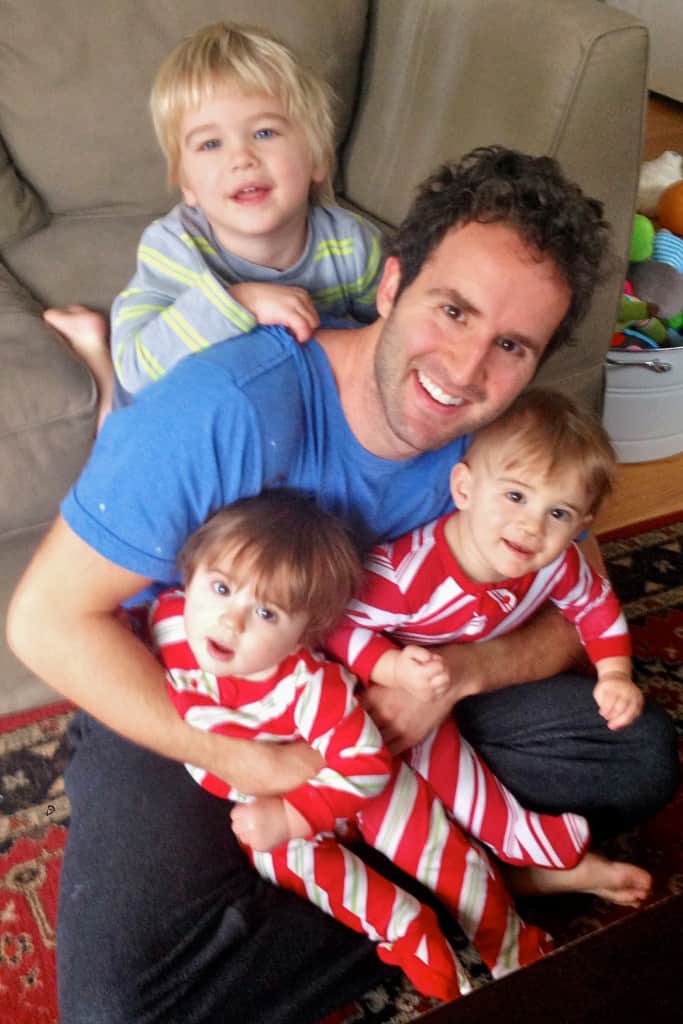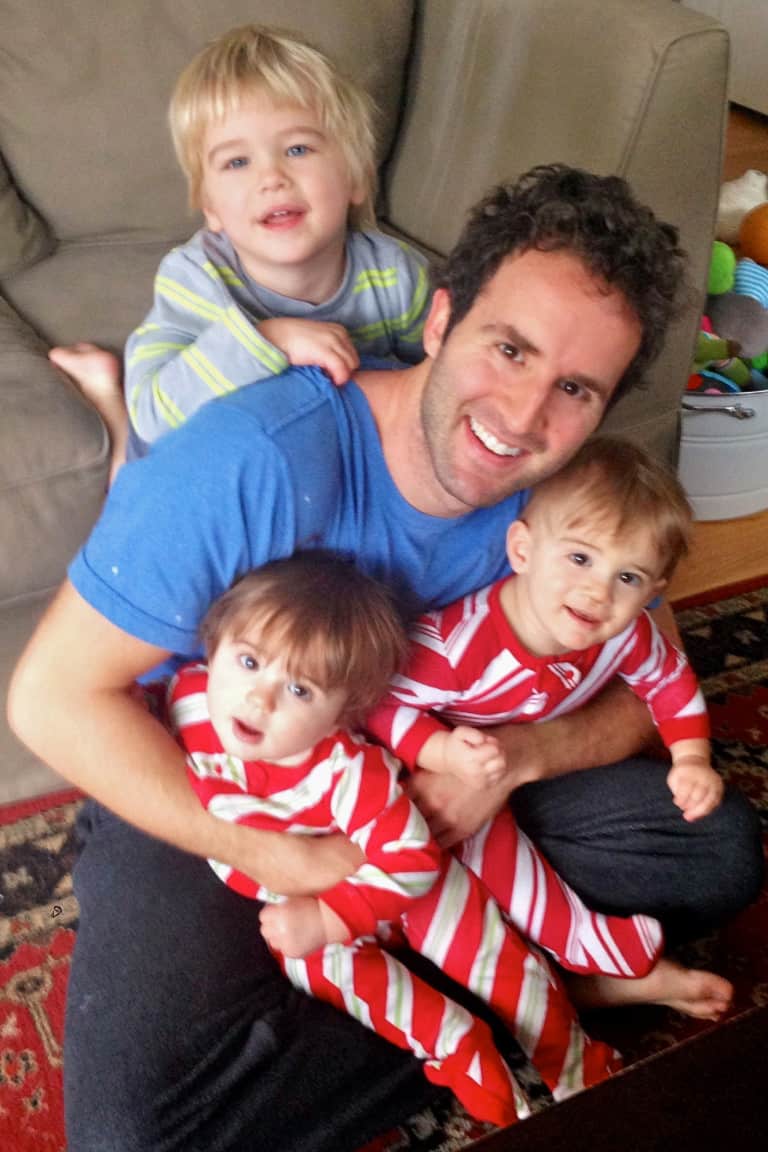 I've been trying for years to surprise Brandon on his birthday with a party, a trip, a special dinner reservation, etc. And I've failed every year…including this year! 🙂
I had this awesome Ales & Apps surprise party planned for Brandon on Friday night, but Dallas got hit by an arctic storm leaving the roads completely iced over and many without power. Very scary! Therefore, I had to tell him about the surprise and cancel the party! L He was flattered and bummed, but once he saw this cake and all the beer I had hidden, he was all smiles and ready to celebrate!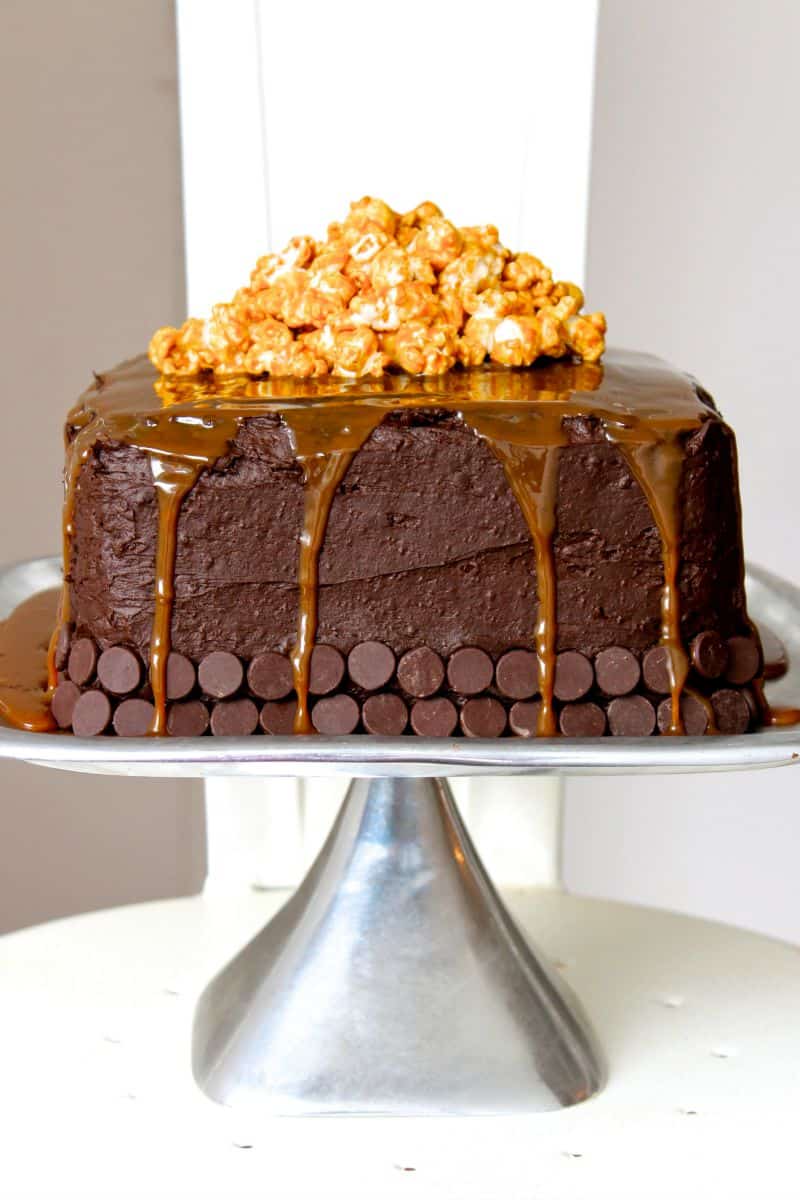 I created this crazy delicious cake to go along with the beer theme of his surprise party, but also as a recreation of a cake that we had from a bakery in Oklahoma not too long ago. And it's nothing short of AMAZING!!!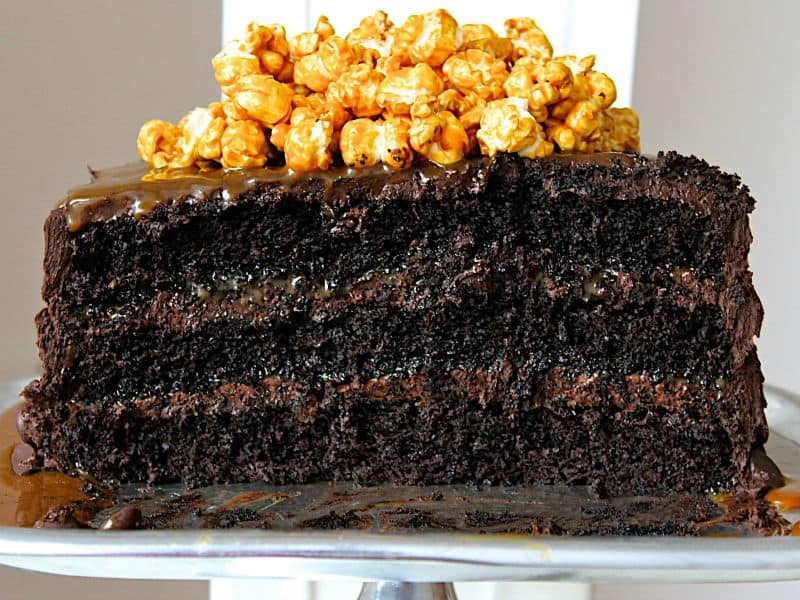 Fudgy stout-spiked cake layered with fudge icing and oozing with caramel! Enough said, right?!?!
It's the kind of cake most men would dream to have on their birthday and that's exactly why I made it for Brandon this weekend! Only the best for the best!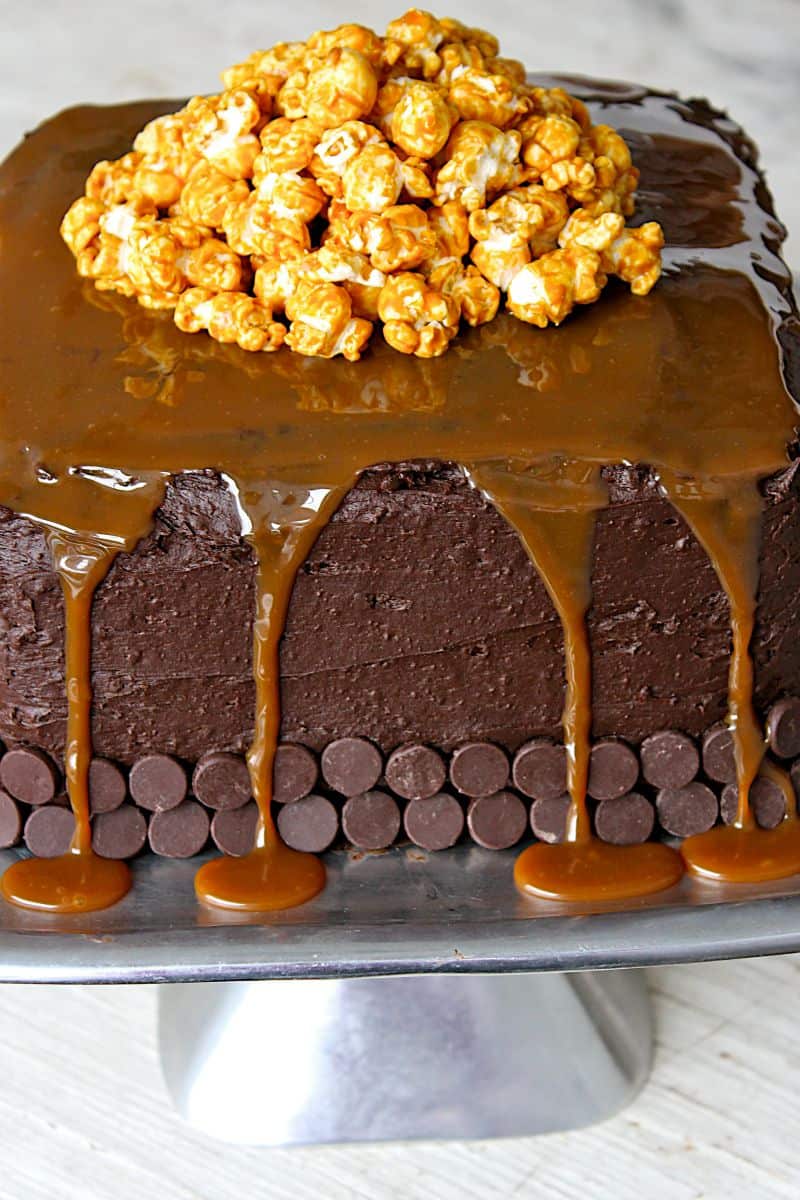 I made the cake in the wee hours of the night so I could surprise him with it at the party, therefore I don't have any step-by-step images to share with you, but it's very easy to make and spectacular to serve! Just follow my detailed instructions and you could have this awesome cake ready to serve at your next celebration!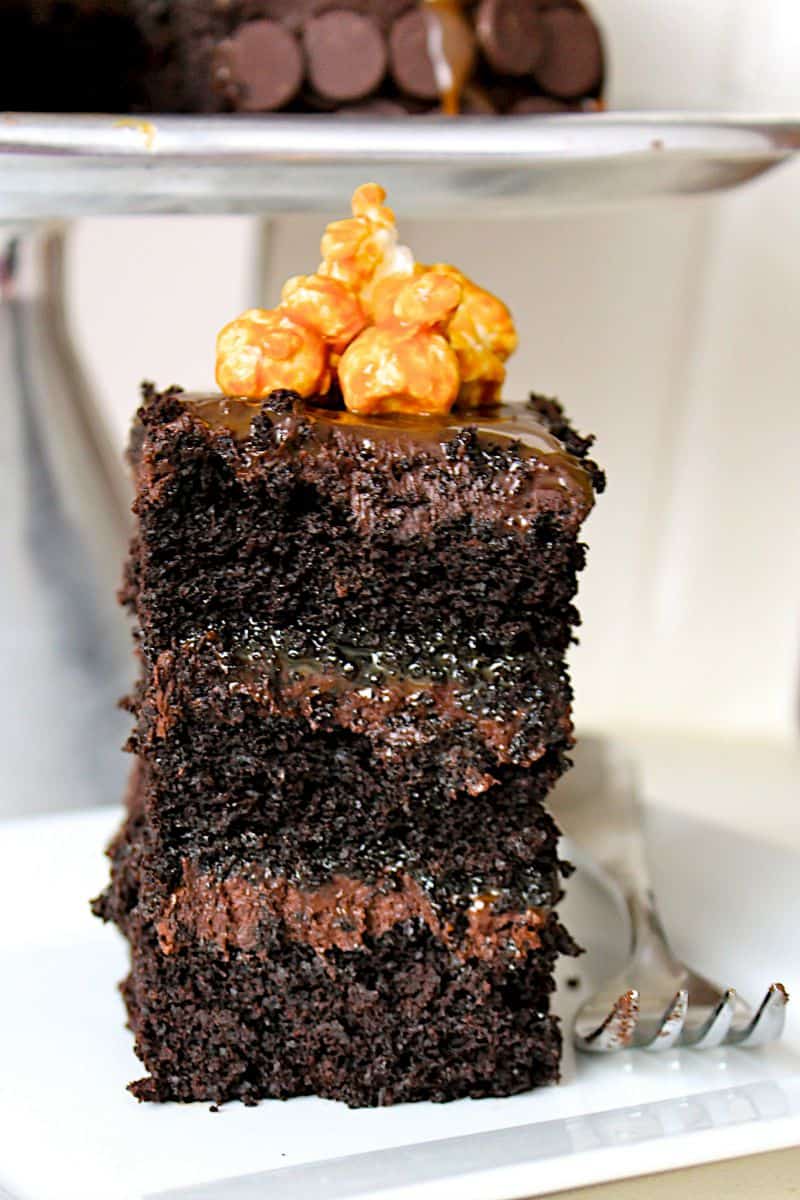 Happy Happy Birthday, Brandon!!! Now, let's finish off this cake!
Enjoy!
xoxo,

This recipe was created as part of my partnership with Gold Medal Flour however thoughts and opinions are certainly my own!

Fudge Caramel Stout Cake
A fudgy stout-spiked cake layered with fudge icing and oozing with caramel that's nothing short of amazing!
Author:
Maegan - The BakerMama
Ingredients
Cake:
2 cups Gold Medal® all-purpose flour
2 cups granulated sugar
¾ cup dark cocoa
2 teaspoons baking soda
1 teaspoon baking powder
1 teaspoon salt
¼ cup vegetable oil
¾ cup sour cream
1-1/2 cups chocolate stout beer, measured without foam
2 large eggs, lightly beaten
1 teaspoon vanilla
Frosting:
4 cups semi-sweet chocolate chips, melted and cooled
1-1/2 cups (3 sticks) unsalted butter, softened
⅓ cup dark cocoa
¾ cup powdered sugar
milk, if needed to thin out the frosting
1 (12-ounce) jar caramel topping
1 cup dark chocolate chips, for decorating
Instructions
Preheat oven to 350°F. Line the bottom of three 8-inch cake pans with parchment paper and spray the bottom and sides with non-stick cooking spray. Set aside.
In a large bowl, whisk together the flour, sugar, cocoa, baking soda, baking powder and salt.
Add the vegetable oil, sour cream, stout, eggs and vanilla. Stir until just combined. Divide batter evenly among prepared cake pans.
Bake for 30 minutes or until a toothpick inserted in the center of each cake comes out clean. Let cakes cool in pans on a wire rack for 30 minutes before inverting onto the wire racks to cool completely.
To make the frosting, melt the chocolate chips in a large microwave safe bowl for about 2 minutes, stirring every 30 seconds until completely melted. Set aside to cool.
In the bowl of an electric mixer with the paddle attachment, beat the butter until smooth. Add the cocoa powder and powdered sugar and beat until well combined. Add the melted chocolate and beat until thick yet spreadable. If the frosting is too thick to spread, beat in a few tablespoons of milk to thin it out.
Level each cake layer with a knife or leveler, if needed. Place one cake, bottom side up, on a cake stand or platter and spread with a generous layer of frosting. Then spread with ¼ cup caramel topping. Place another cake layer, bottom side up, on the caramel and spread with more frosting and another ¼ cup caramel. Place the final layer, bottom side up, on the top of the other layers. Spread the remaining frosting on the top and sides of all layers. Decorate the bottom of the cake with two layers of dark chocolate chips. Spread the remaining caramel topping on the top of the cake and let it flow down the sides.
Note: You can use a regular stout beer or water or coffee in place of the chocolate stout.