A recap of our two magical days at Disneyland and California Adventure with our three young boys, including tips for taking toddlers and recommendations on food, rides and more!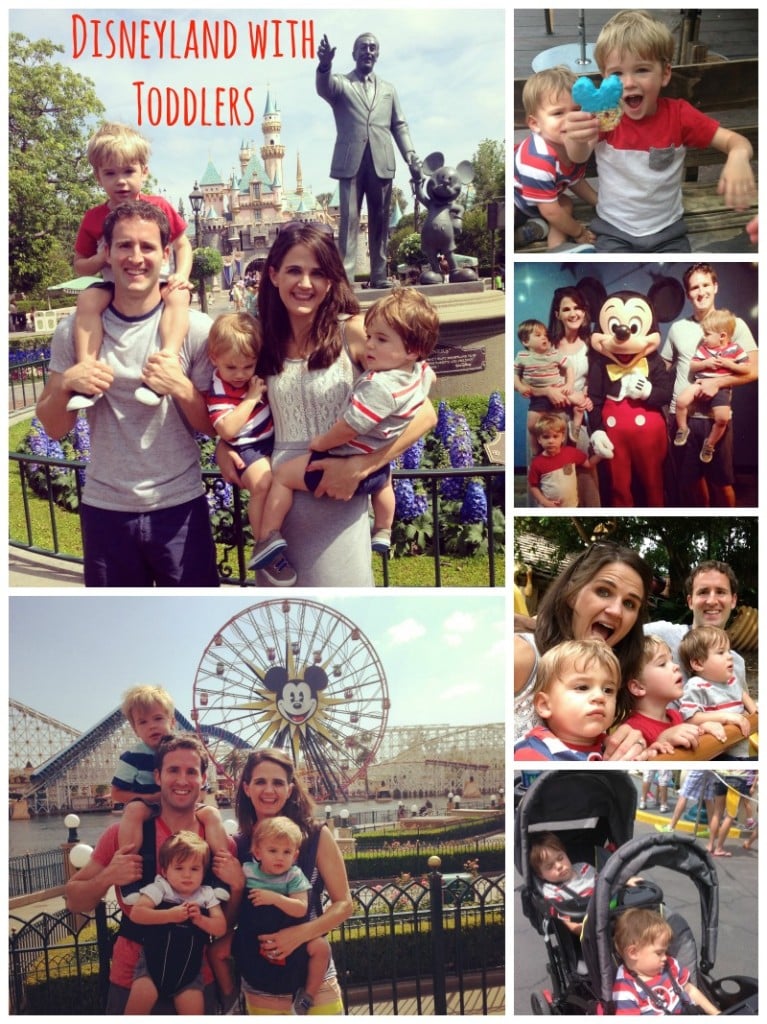 What to know before you go & what to take with you:
We stayed at a Sheraton which was just a 10 minute walk to the parks and it worked out great. There's also a hotel within the parks that would be really handy for going back to take a break, nap, etc. Although, we never found it necessary to leave the park.
A good stroller with trays, if possible, for feeding if you can't find highchairs or need to eat/snack on the go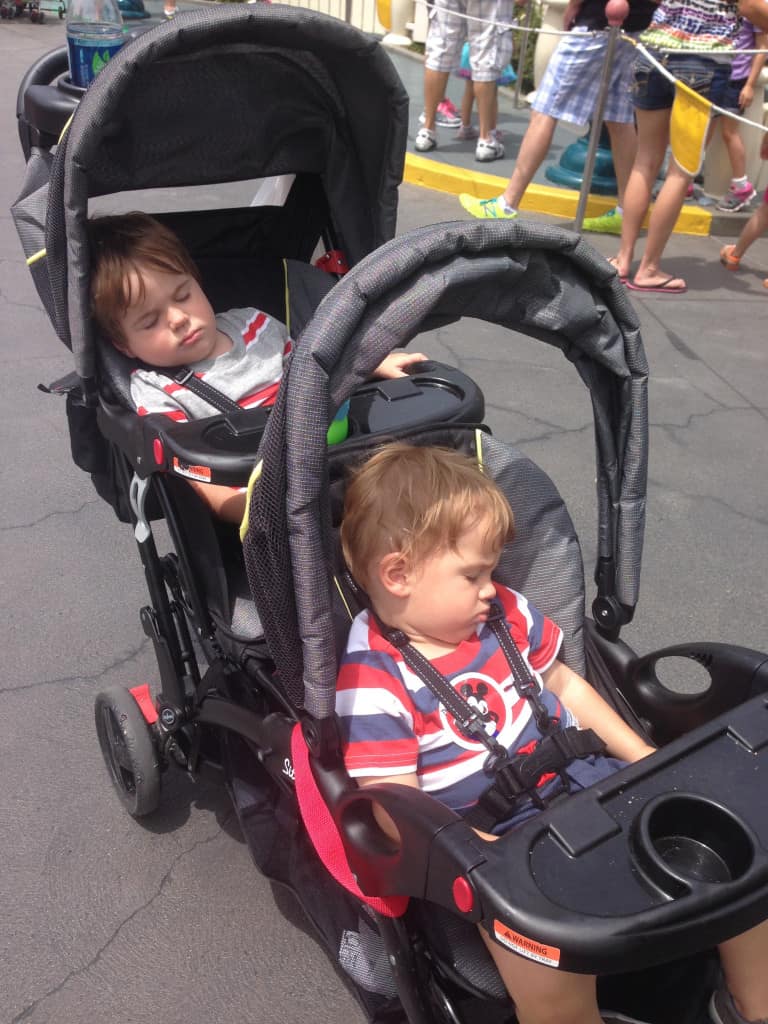 Lots of healthier snacks (fruit & veggie smoothie pouches, crackers, pretzels, grapes, apple slices, etc.) – try to save snacks for waiting in lines as a way to pass the time and distract them. The lines actually move pretty fast though.
Sunscreen, wipes, hand sanitizer
Strap on carrier, such as a Bjorn, if child is small enough (handy for standing in lines to keep them constrained)
Download the Disneyland Wait Time App before you go and use it to reference maps, ride wait times, height restrictions, ride closures, etc.
Have some games on your phone or find videos on youtube for your kids to watch while you're in line. Again, the lines actually move pretty fast, but it definitely helps on the longer ones.
Changes of clothes for everyone, including adults (anyone could get sick on anyone!)
We just used our iphones for pics, but a lot of people had good cameras with them. I just didn't want to risk breaking or losing it.
Put your name, their name, and phone number(s) on a piece of paper in your children's pockets or write them somewhere on their clothes or put something around their wrists so if they happen to get lost, there would be contact info on them somewhere.
We did a full day at Disneyland and a full day at California Adventure. No park hopper. And we were there from open to close at both parks. Our 1-1/2 year old twins would just nap off and on in the stroller and our 3 year old just skipped napping those days, but was passed out on our shoulders on the way home. They all slept really really well both nights. And napping on the go and/or missing naps didn't seem to throw them off since there was so much to see and do.
If it's someone's birthday that you're celebrating, you can get a birthday sticker that I think comes with some perks and deals throughout both parks. It was Baker's birthday week, so we got the stickers at both parks, but we failed to look into the perks and deals that came along with it. Just ask as you're walking in.
Kids under 3 get in free! Yippee!
Disneyland – what to do and know once you get there:
Get there a few minutes after the park opens at 10am because there are really long lines before they open, but as soon as it opens they get people in there quickly so you won't have to wait in a long line outside the park.
Start by going to get your picture taken by the statue of Walt Disney & Mickey with the castle in the background. Someone from Disneyland will be there to take your picture with their camera that you can then purchase online and they will take it with your camera too, which is what we did.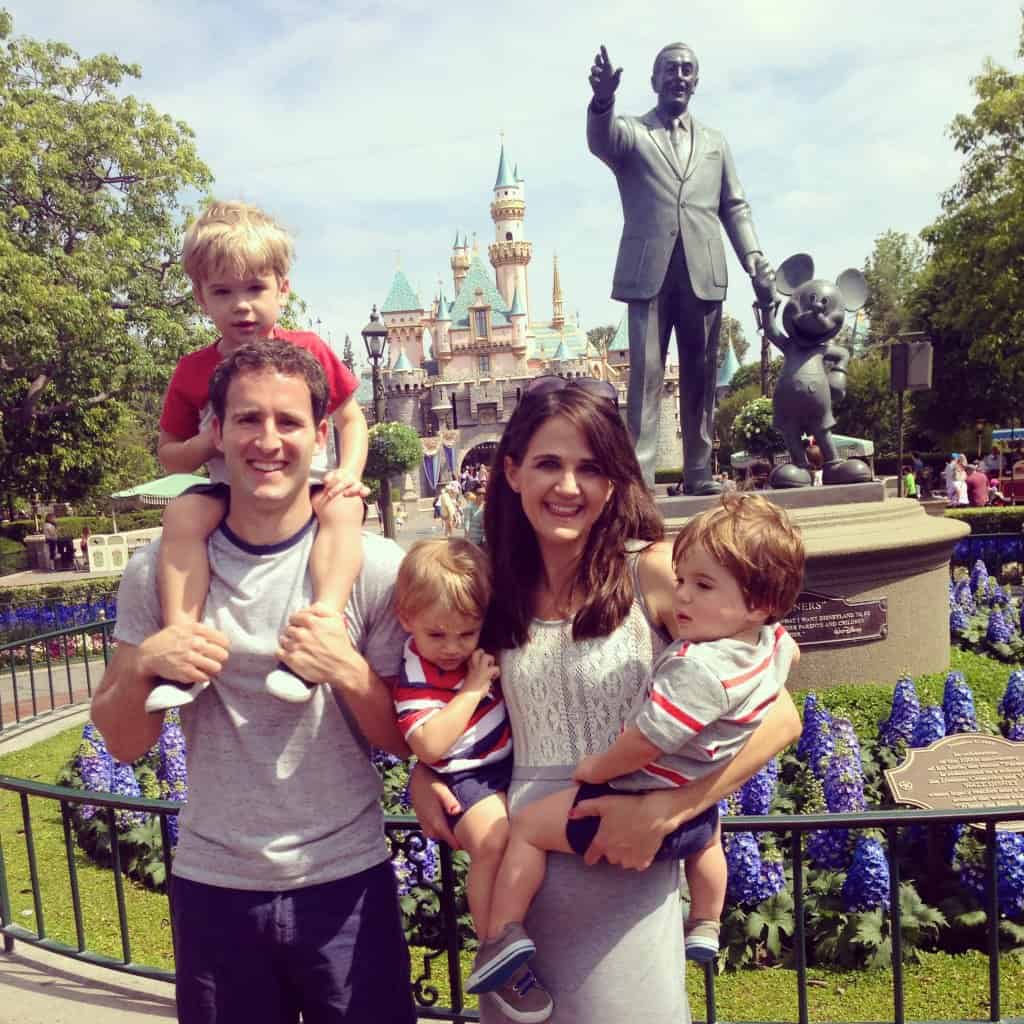 End the day with a picture on the other side of the castle at night when it's all lit up. Very pretty!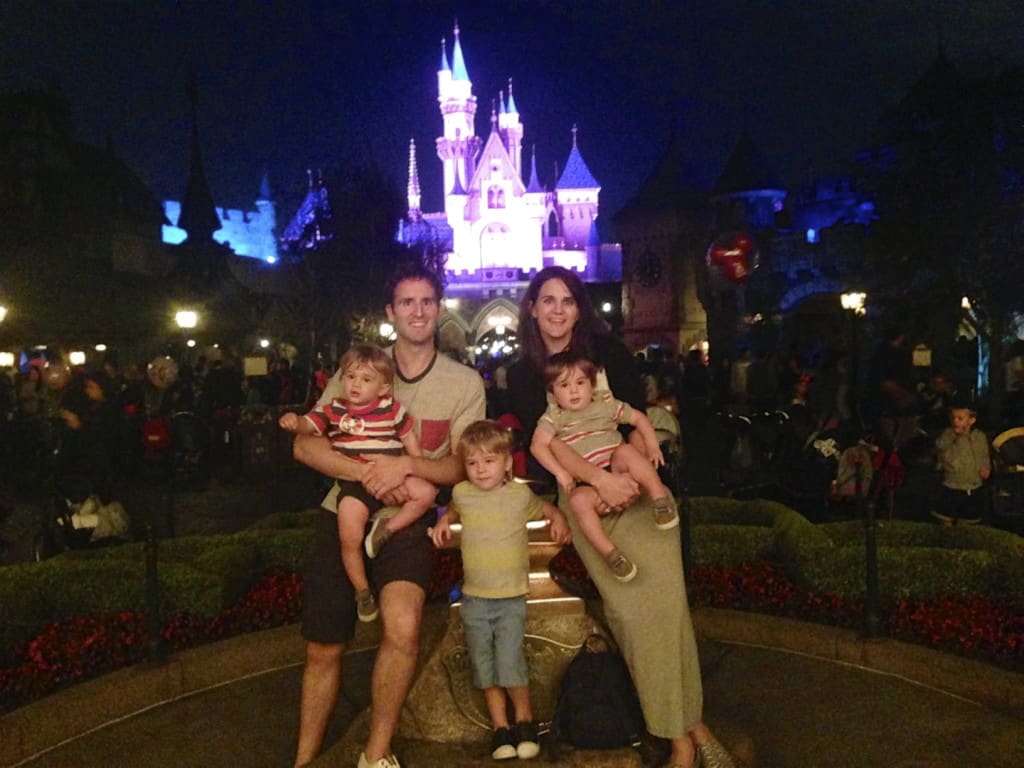 As you're walking out the gates at the end of the night, say goodbye and get a picture by the big lit-up Mickey in the grass. Baker loved it while the twins were already passed out! 😉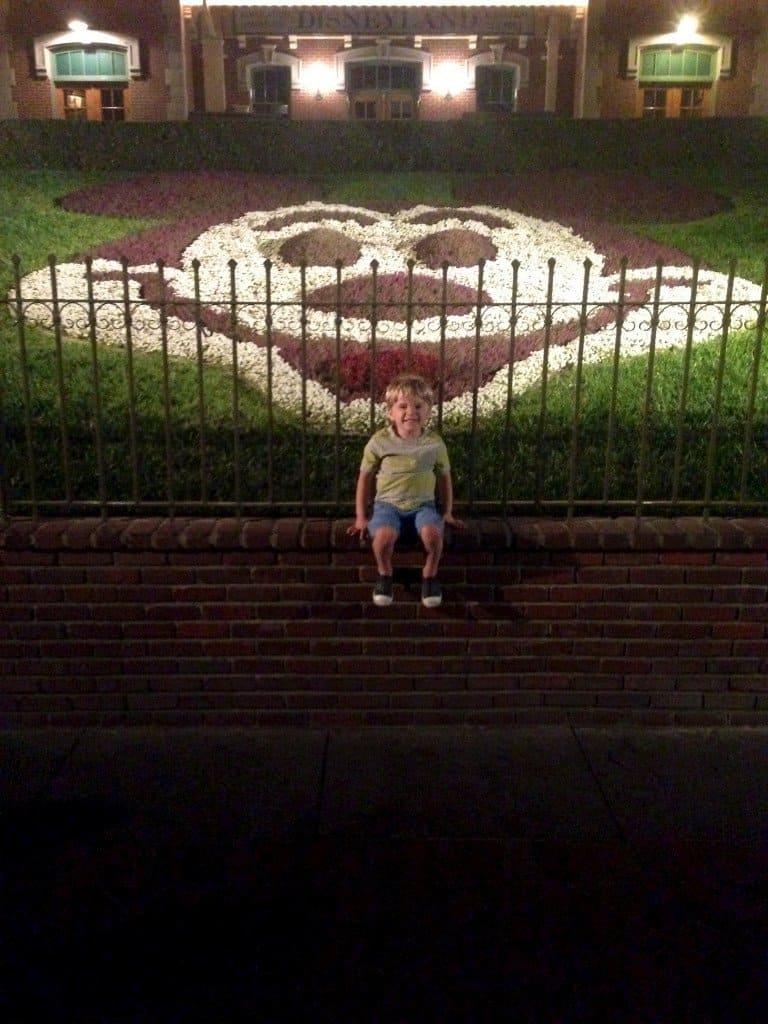 Visit Mickey and/or Minnie – worth the wait!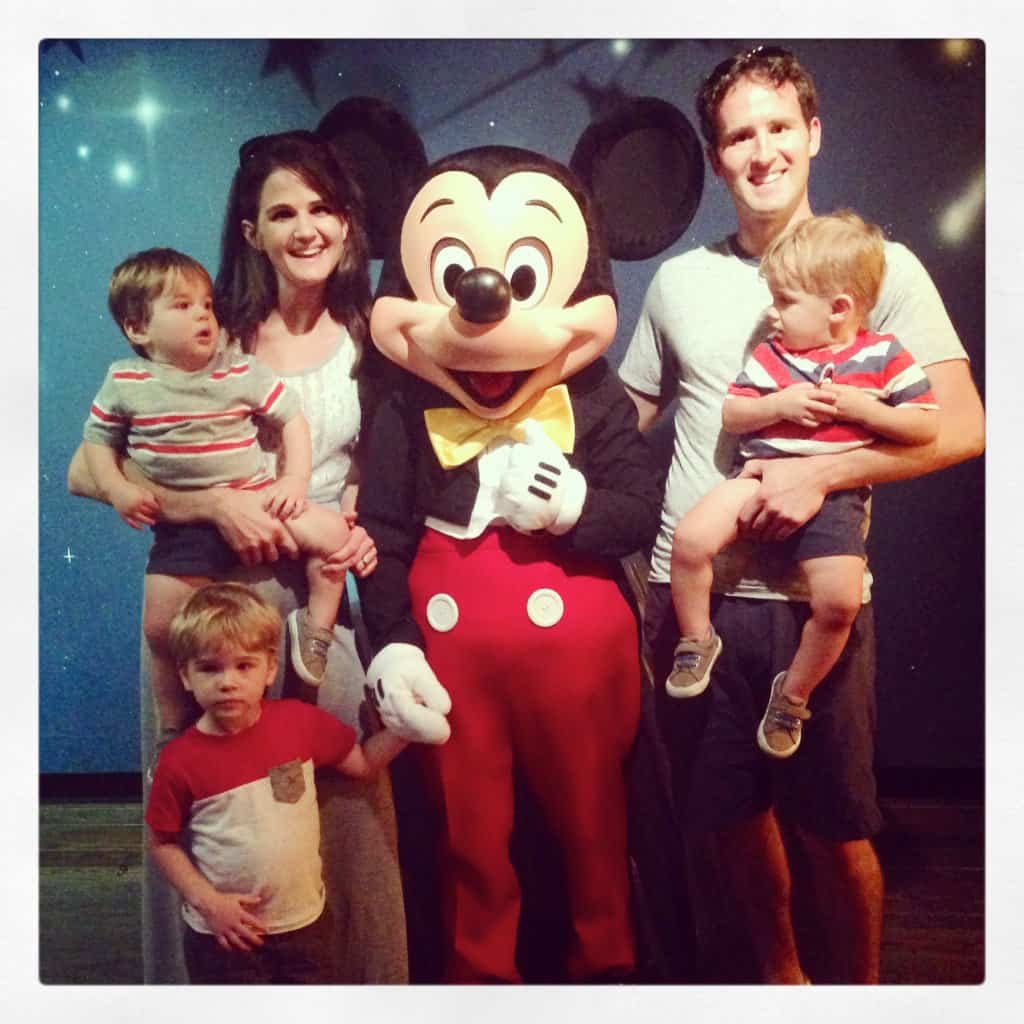 You can't take strollers in the lines, so be prepared to leave them parked out with a million other strollers. Be sure to keep valuable items on you in a backpack or purse. If your child is small enough, bring along a strap on carrier that you can put them in while you wait in line. This will save you from having to hold them, hand them back and forth or chase them through the line.
For kids that are potty trained, make sure you take them often between rides. That way you're not nearing the front of the line and all of sudden they need to use the bathroom. This happened to us, so I stepped to the side and let people go in front of us while Brandon took Baker to the bathroom and when they returned, we just got back in line. Not a huge deal, but we just made sure he went often from then on out. You can check the app for the closest restrooms.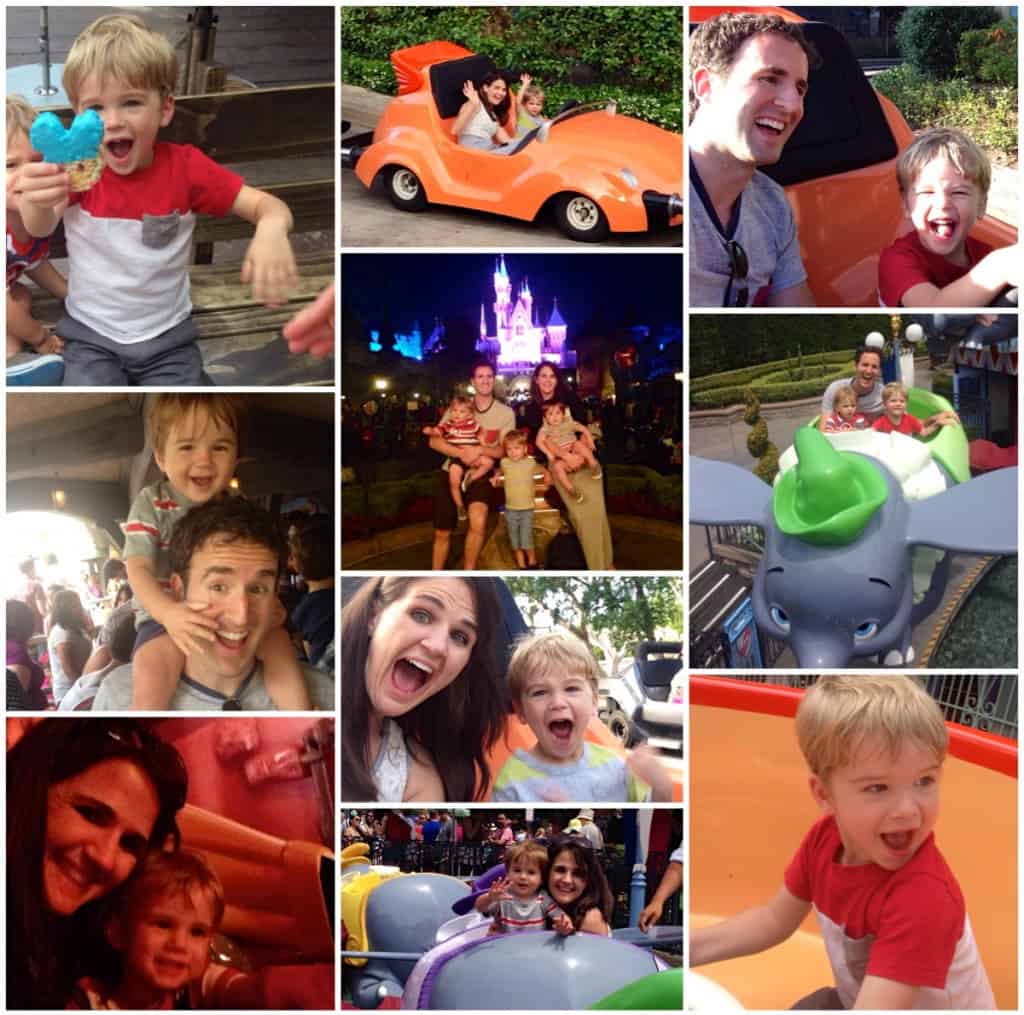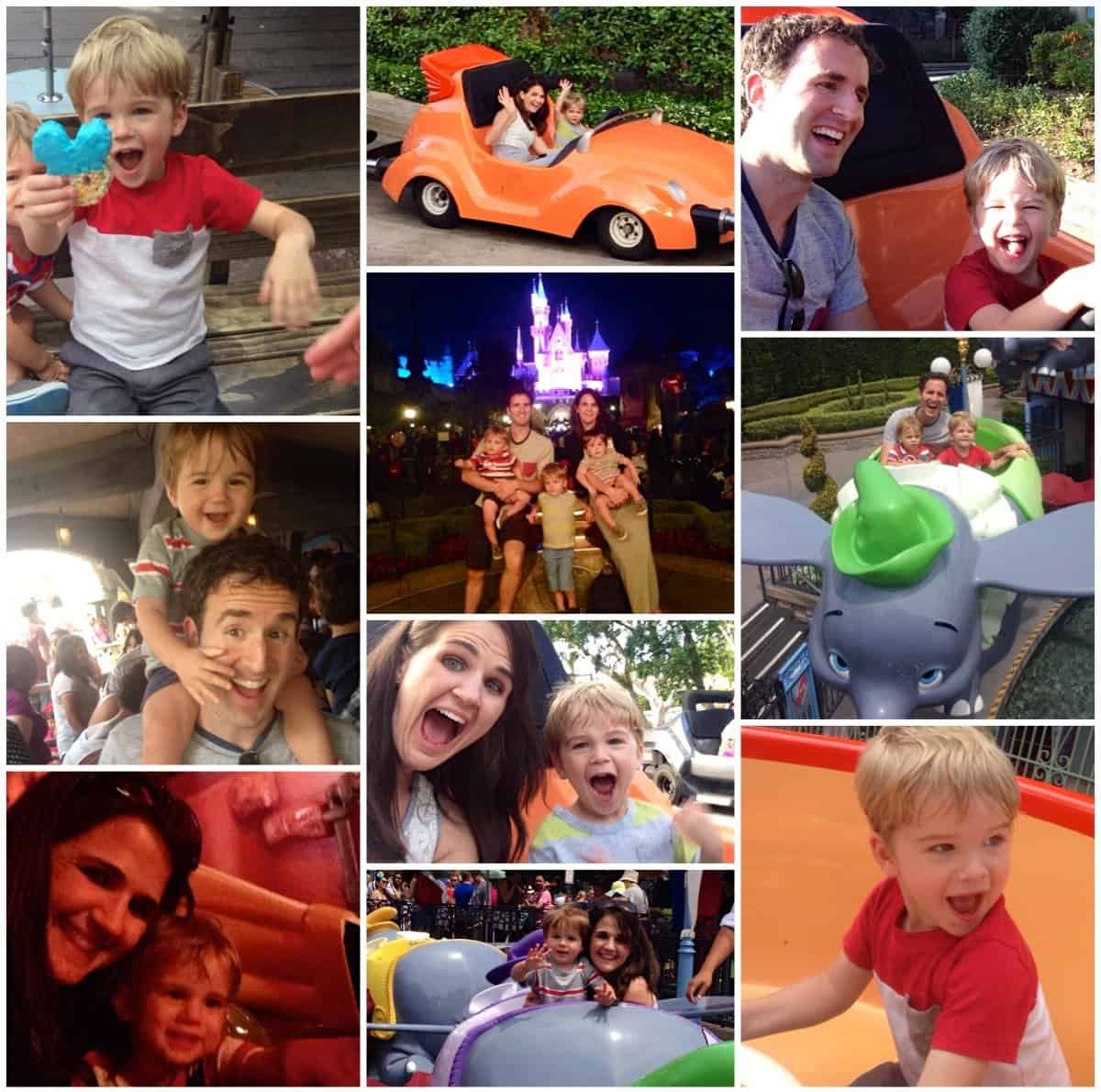 Favorite Disneyland Rides for Toddlers:
Jungle cruise
Autopia – where they can drive cars
Haunted Mansion
Buzz Light Year
Peter Pan's Flight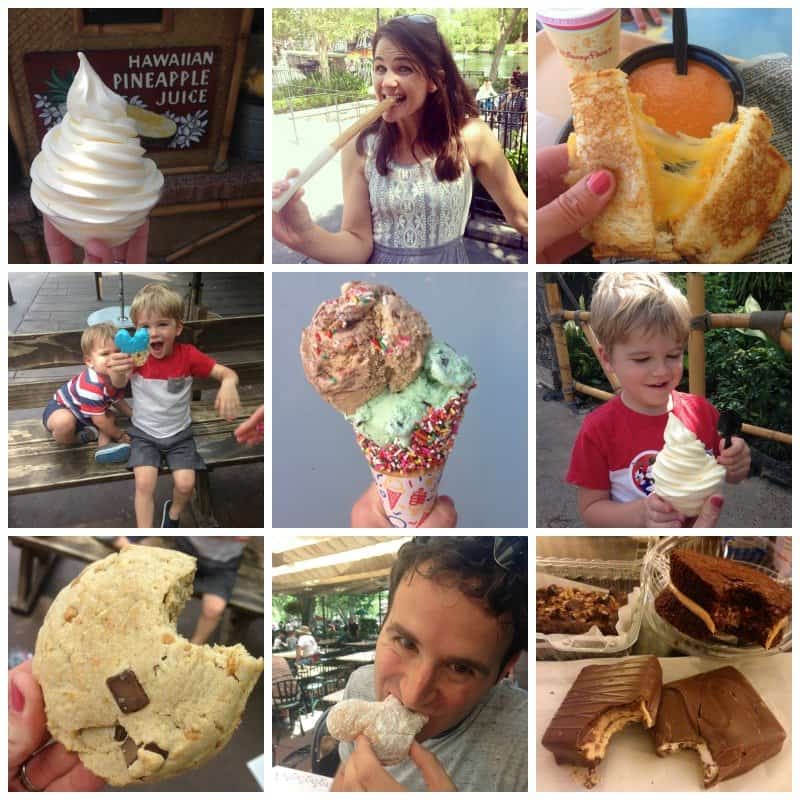 Disneyland Eats & Treats:
Churros – several locations – yum yum!
Jolly Holiday Bakery Café – grilled cheese and tomato soup, great choices for kiddos too
Gibson Girl Ice Cream Parlor – ice cream and candy shop
Café Orleans – coffee and Micky-shaped beignets
Pooh's Corner – chocolate-covered pb graham cracker, Micky-shaped rice krispie treats, cookies, etc.
Dole Whip – several locations, refreshing and so yummy!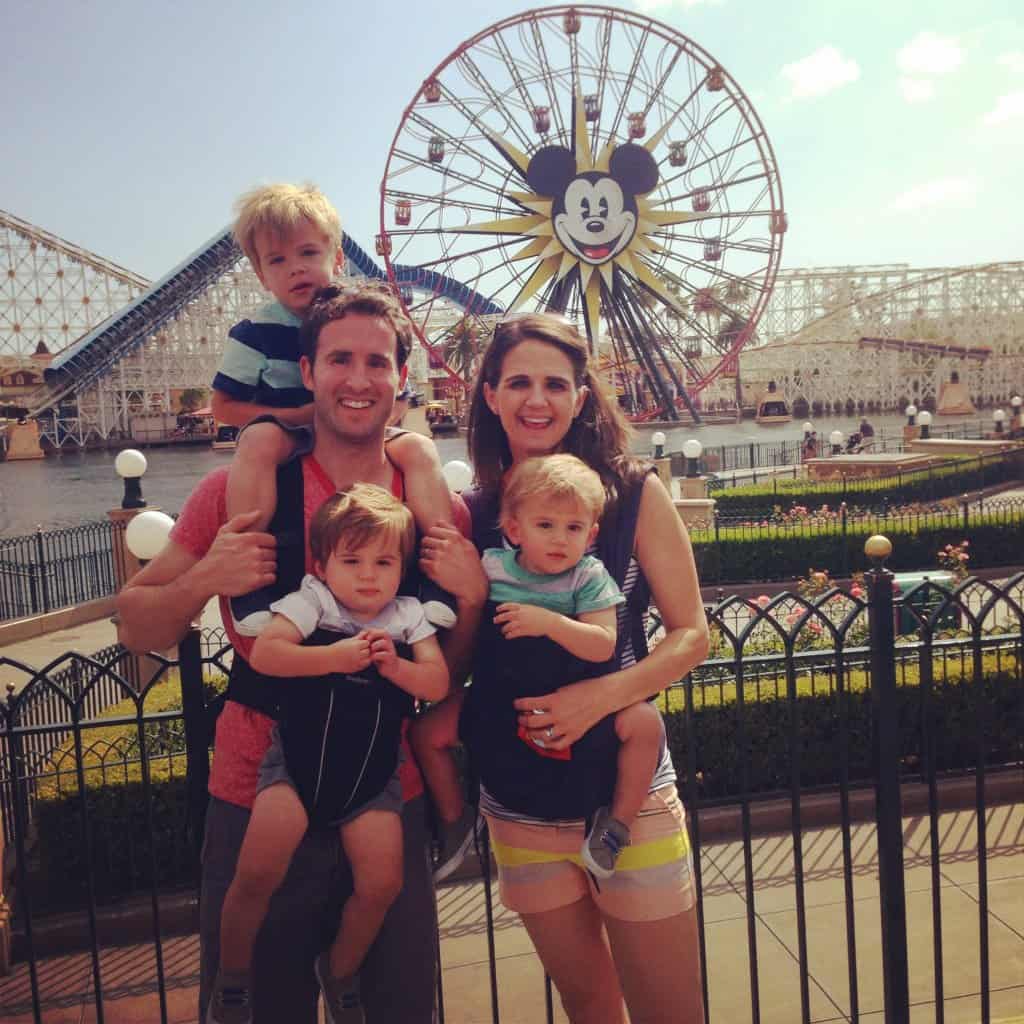 California Adventure Tips:
Cars Land – all the cars parade around and take turns stopping for kids to get their picture taken with them. Super cute!
Definitely do the Pixar Parade that afternoon with all the popular movie characters
The World of Color water light show each night is awesome! Definitely worth staying for even if the kiddos are sleeping in strollers and on your shoulder.
Ride the ferris wheel, but get on the non-rocking ones because we made the mistake of thinking it would be fun to get on the ones that rock back and forth really fast and it freaked the boys out! Oops!
Go to the Aladdin Musical Show – fun and cute!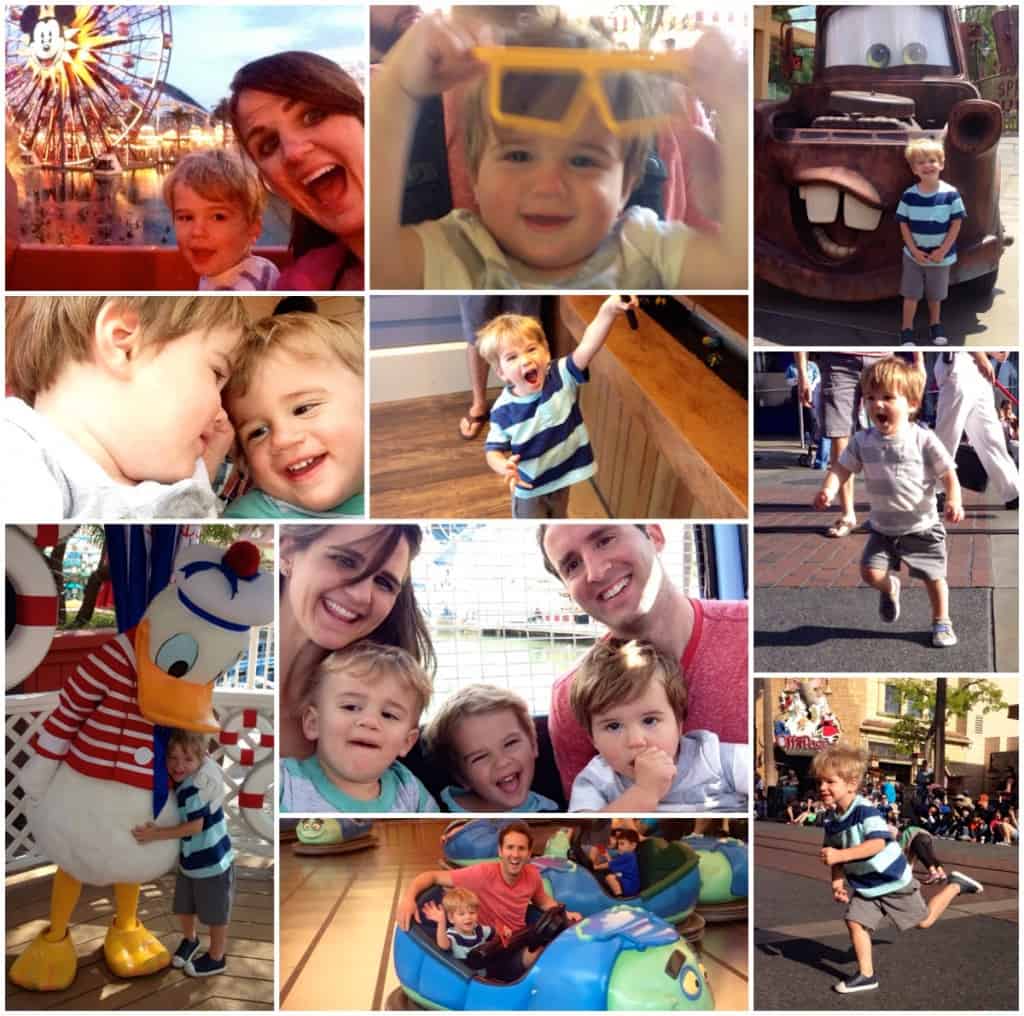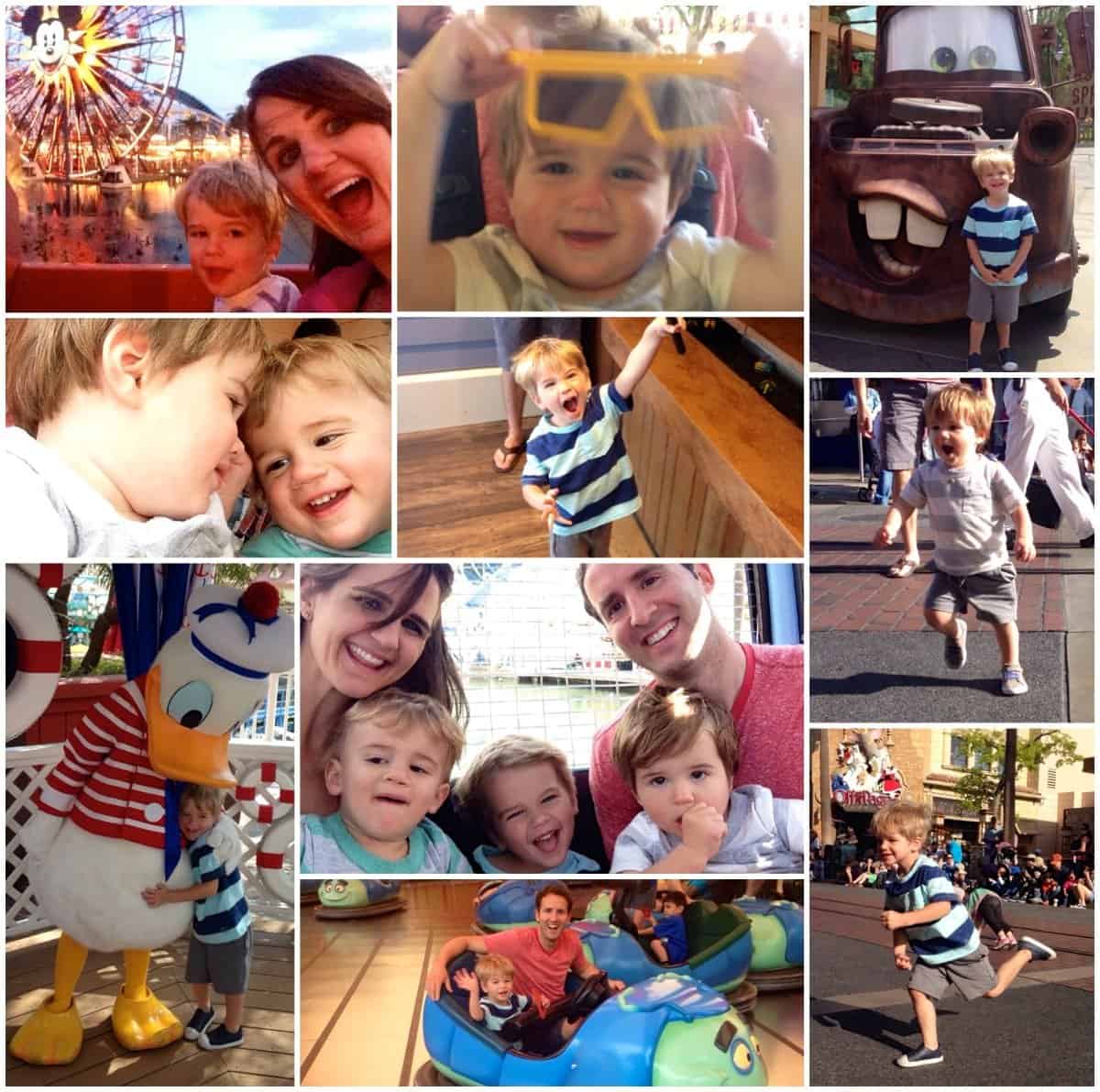 Favorite California Adventure Rides with Toddlers:
Mayters Junkyard Jamboree
Monsters Inc. ride
Toy Story Midway Mania
Luigi's Flying Tires
The Mickey Ferris Wheel (non-rocking)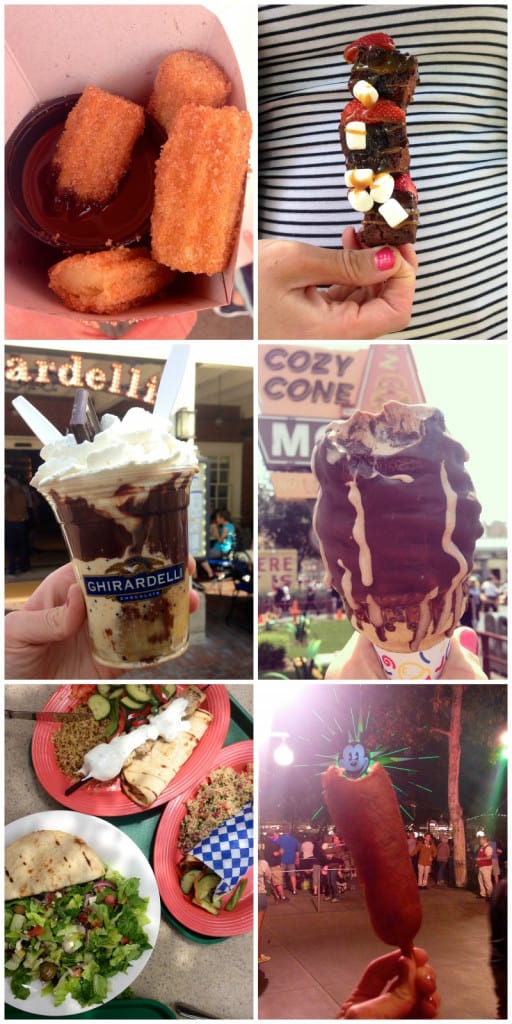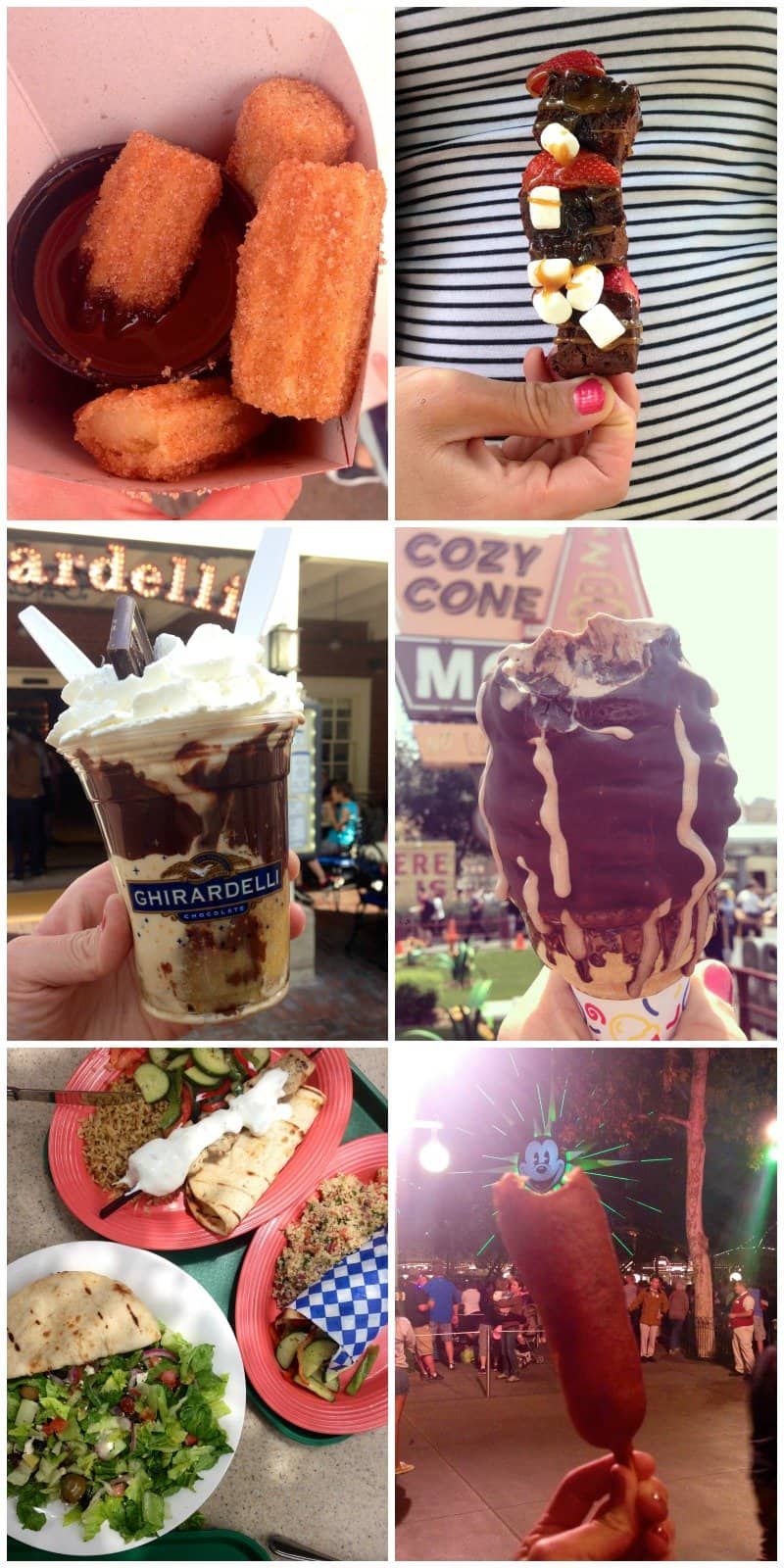 California Adventure Eats & Treats:
Cars Land – mini churros with cinnamon-spiked chocolate for dipping
Cars Land Cozy Cone – chocolate dipped chocolate soft-serve cone, some of the best soft serve we've ever had!
Paradise Garden Grill – great Greek food for lunch or dinner, brownie fruit kabob was so yummy!
Ghirardelli Café – ice cream dreams come true!
Corn Dog Castle – long line, but so worth it!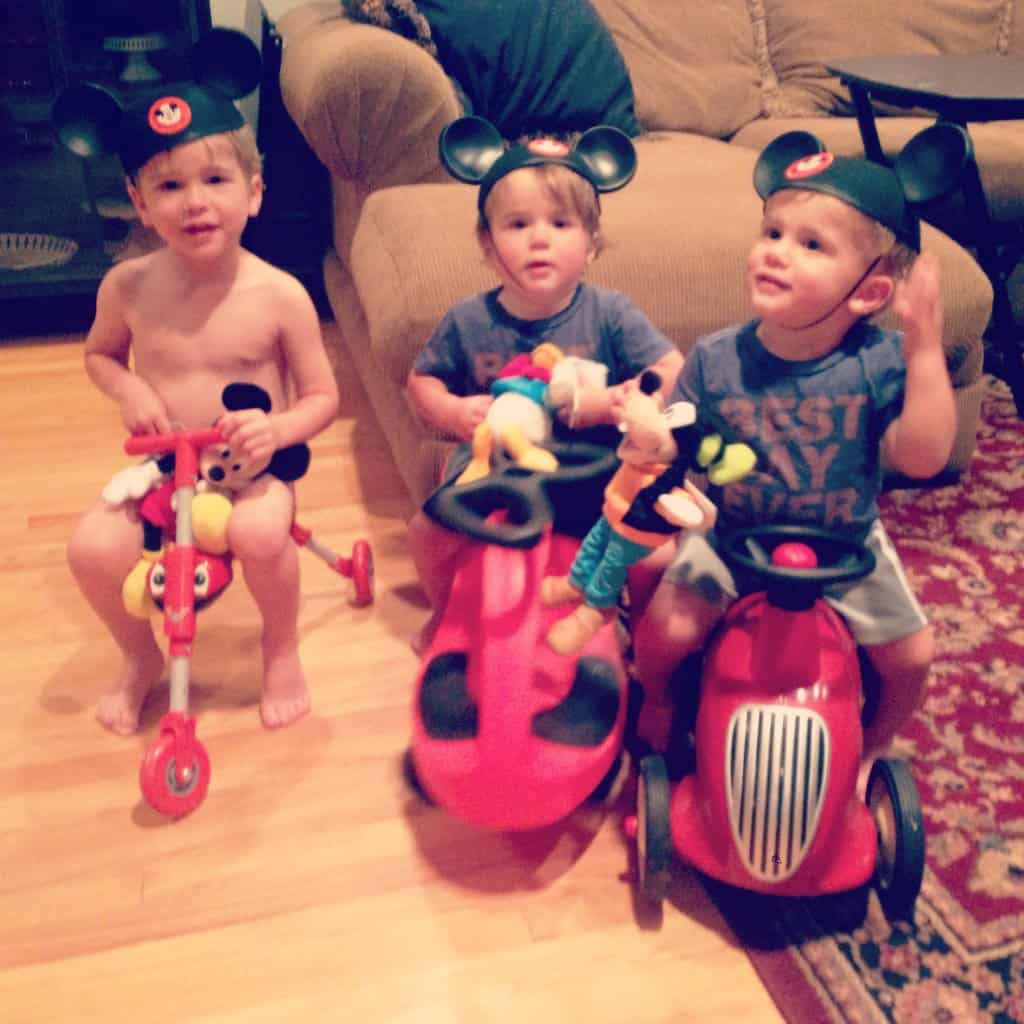 We had so much fun and lots of yum at both parks! We can't wait to go back! It was so amazing to experience the magic of Disney with our sweet boys! They still talk about it every day and wear their Mickey ears often!
If you have any questions, feel free to comment and ask! It's a big trip and we'd love to help you make it as a smooth and special as possible. And if you have any other tips or recommendations from your experience at Disney, please comment below so others can read them too!
~Maegan