Classic Neapolitan flavors of strawberry, vanilla and chocolate are layered together in this rich and buttery pound cake that's drizzled with a simple sweet glaze and made even more festive with colorful sprinkles. A great cake for any occasion!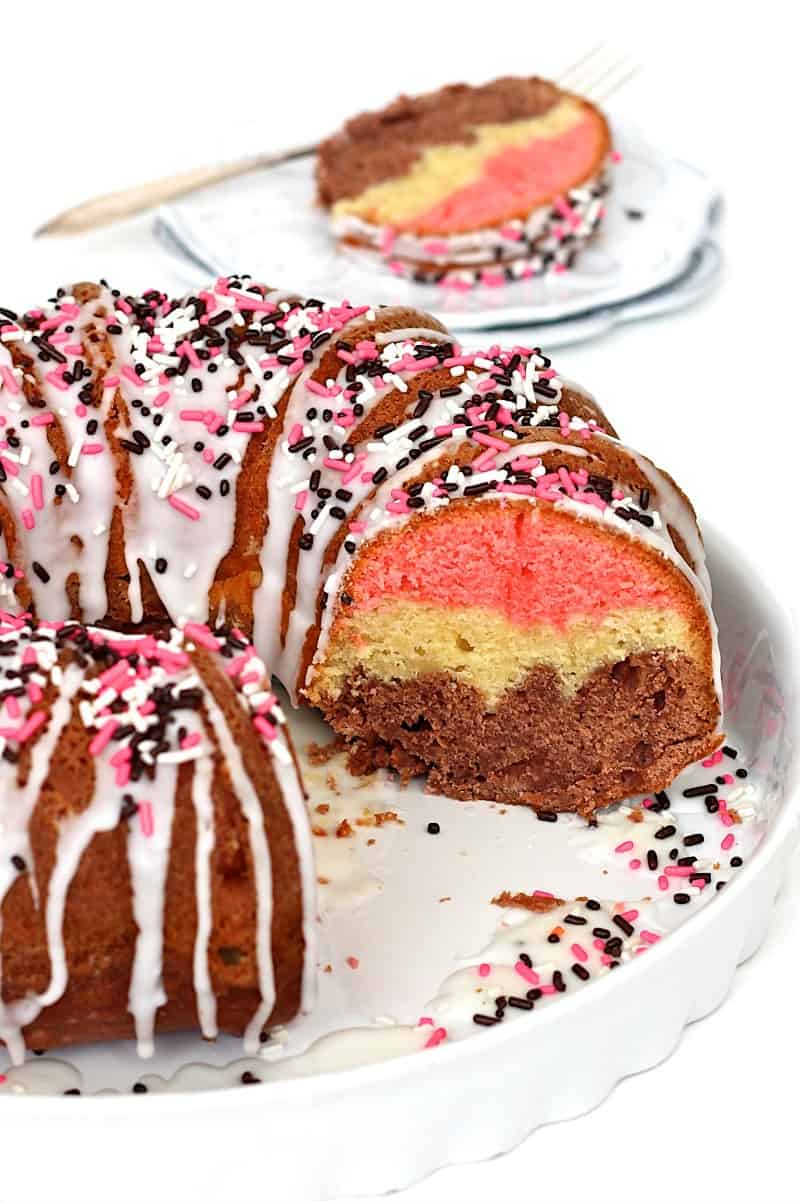 Brandon and I recently went on a little cake date to a bakery here in Dallas that only serves cake. Such a fun concept and so many yummy cakes to choose from. We ordered a big slice of dark chocolate cake and an even bigger slice of carrot cake that night, but they had this beautiful and enormous Neapolitan layered cake that I couldn't stop starring at. It's definitely on my "to try" list for next time we're there, but in the meantime, I had to run with the idea at home and boy was it fun and of course, yummy yum!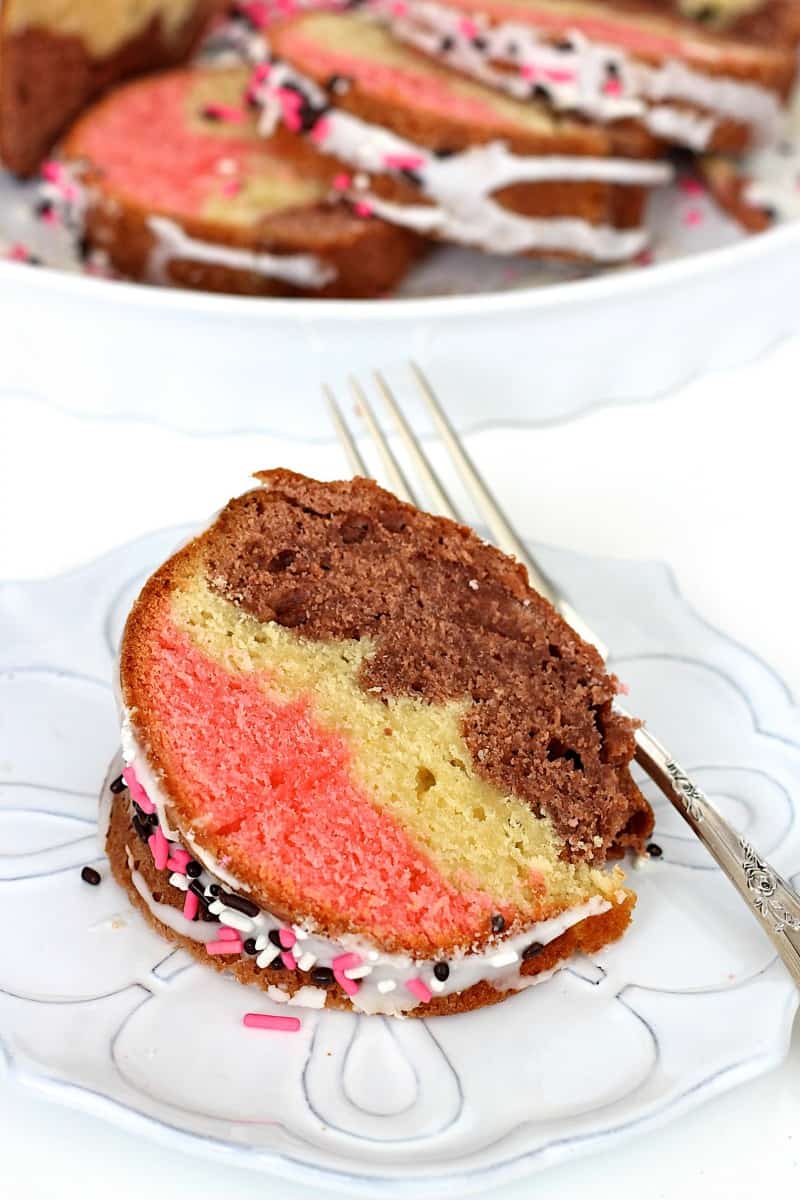 Rich layers of buttery pound cake flavored in strawberry, vanilla and chocolate come together for a flavorful and festive cake that would be great for any occasion.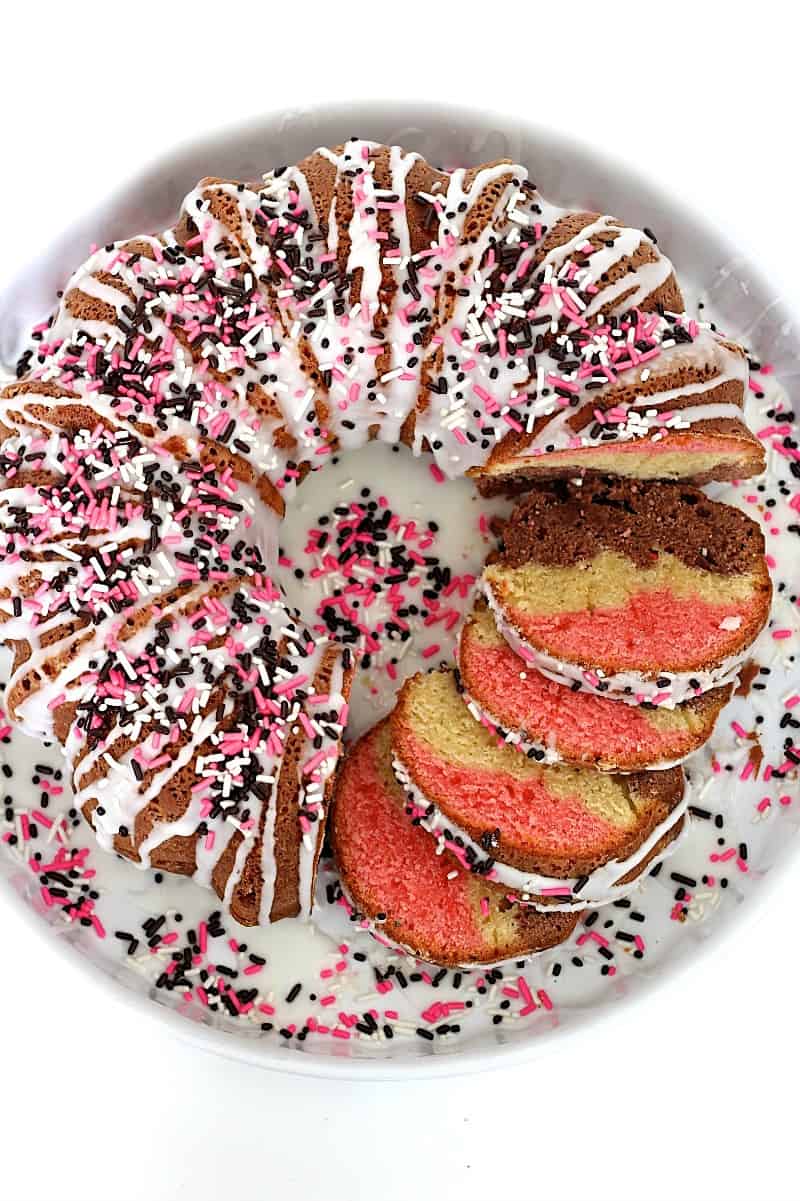 I mixed up a classic pound cake batter and then divided it into three mixing bowls to easily flavor the batter with chocolate pudding mix, vanilla pudding mix and strawberry gelatin mix before layering them in a cake pan and baking them together to create that classic Neapolitan look and taste.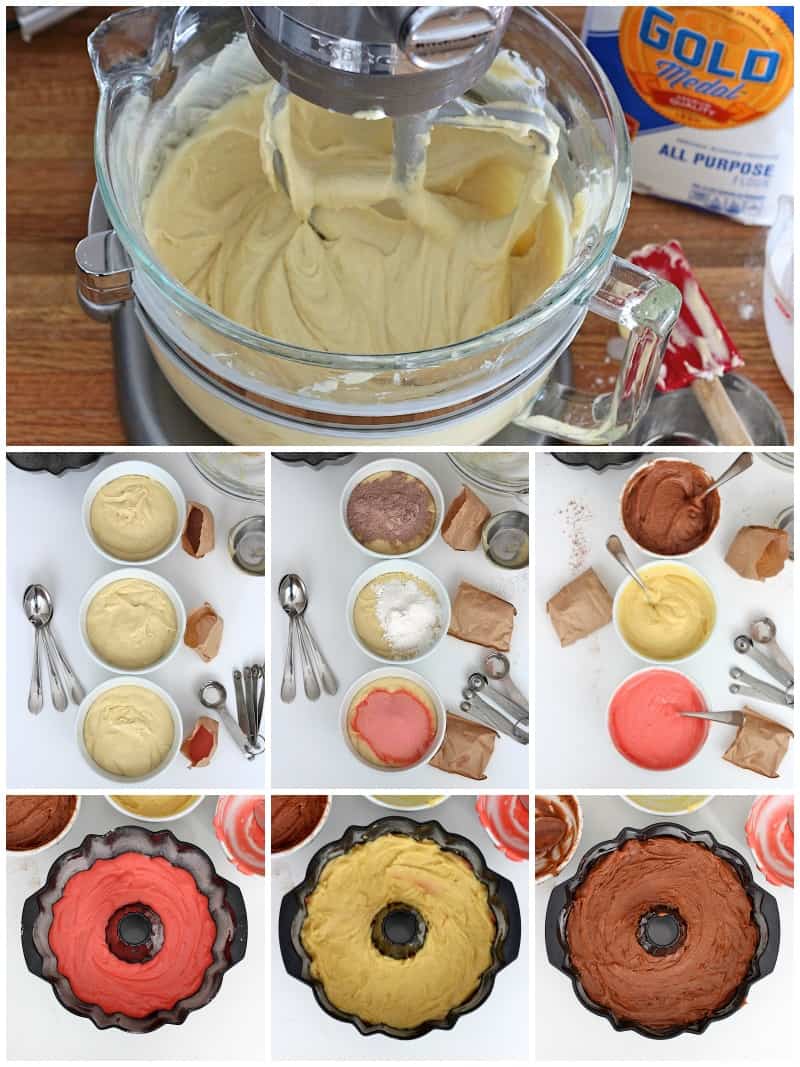 Once the cake baked and cooled a bit, I removed it from the cake pan, drizzled it with a sweet glaze and sprinkled it with colorful sprinkles before slicing in to enjoy all the fun and yum.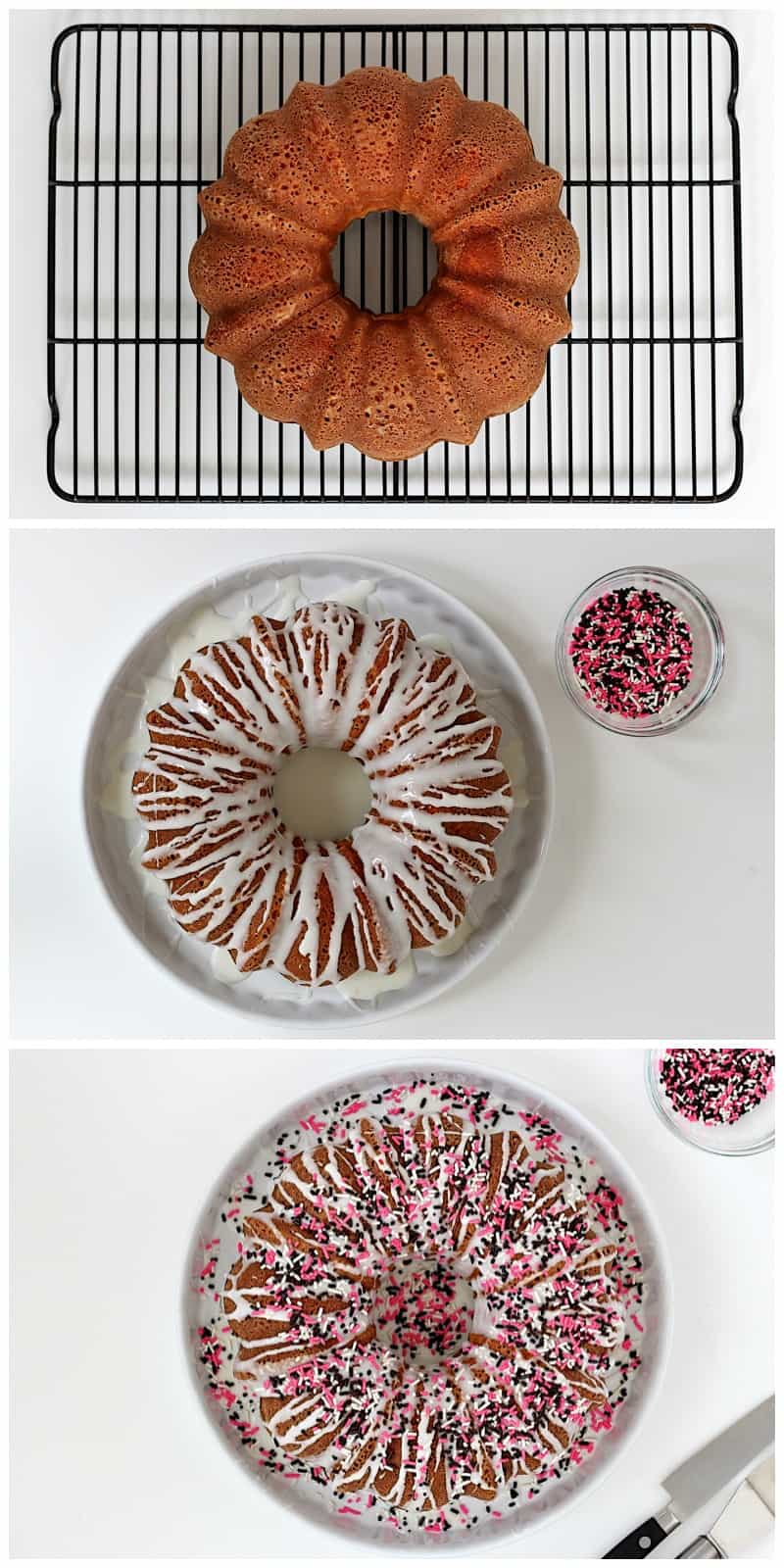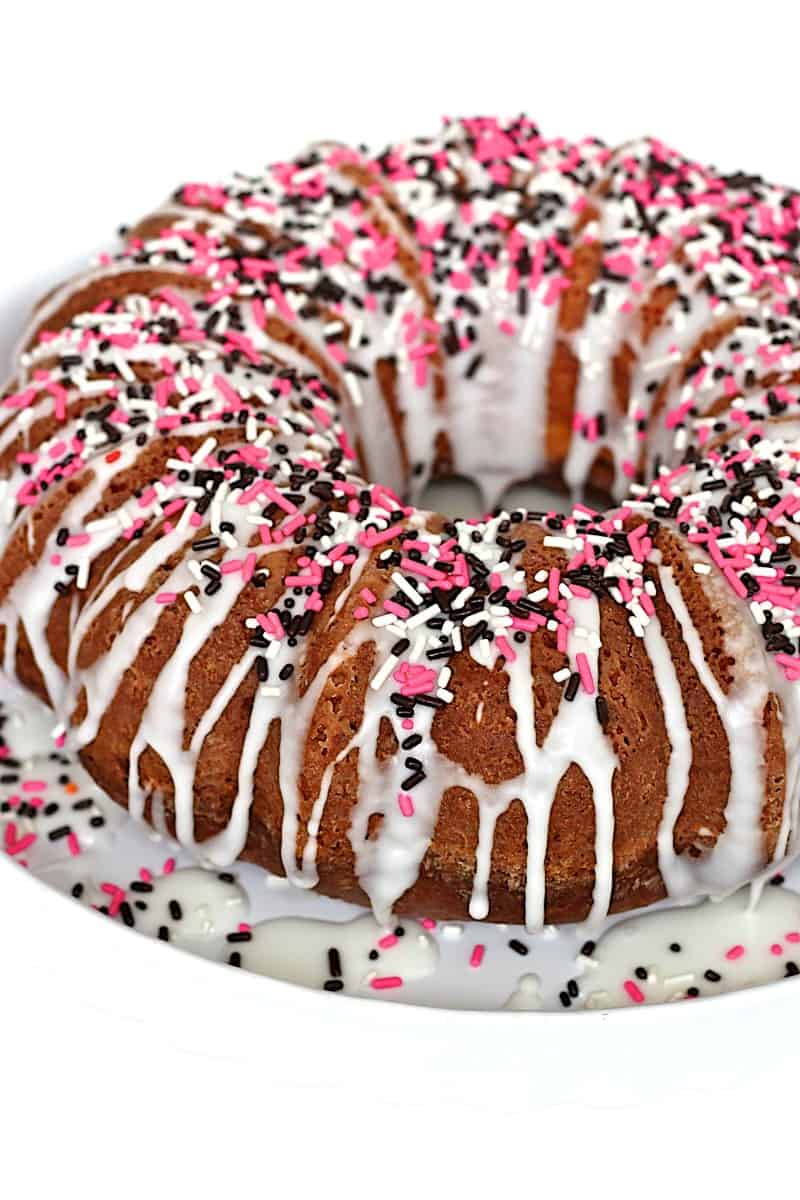 It's certainly not hard to find an occasion to bake this cake for. It's sure to excite and please everyone because it has all the classic cake flavors in one delicious slice.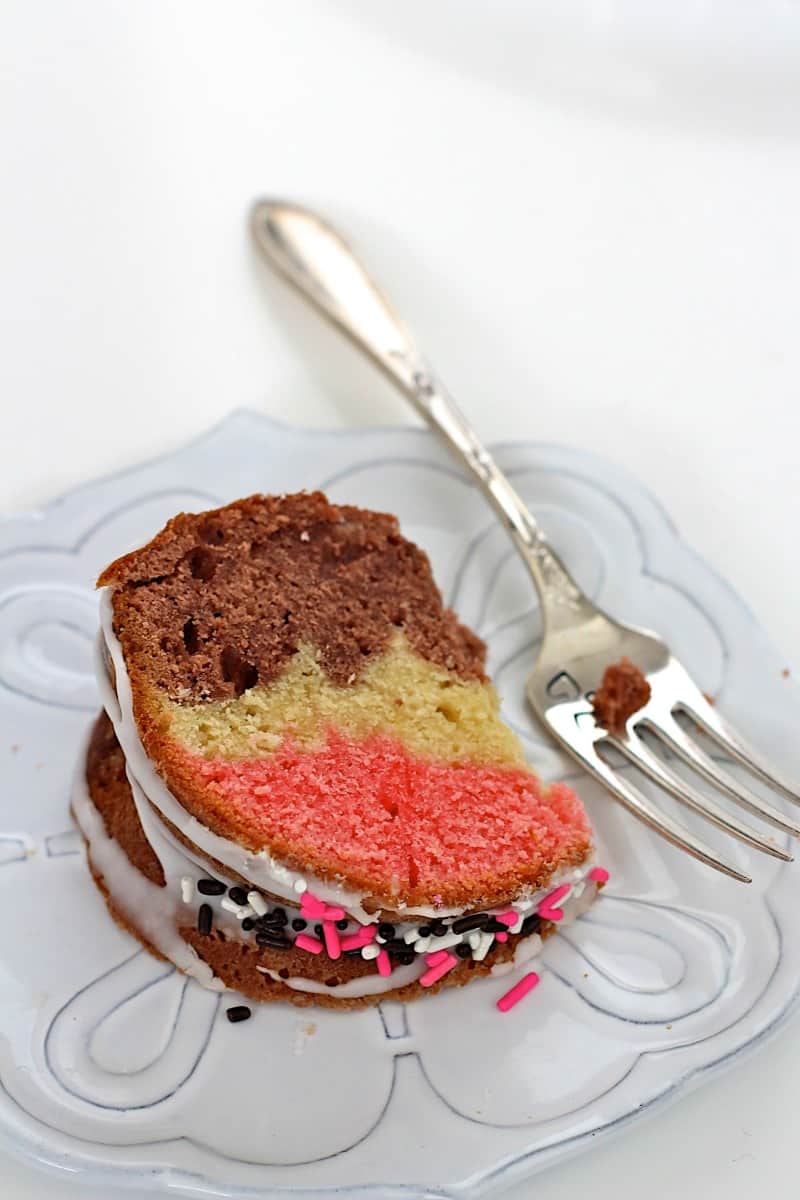 Enjoy!
Maegan
This recipe was created as part of my partnership with Gold Medal Flour however thoughts and opinions are certainly my own!
[printfriendly]
Neapolitan Pound Cake
Cake:
1 cup (2 sticks) unsalted butter, softened
2 cups granulated sugar
5 large eggs
1-1/4 cups buttermilk
1 teaspoon vanilla
3 cups Gold Medal™ all-purpose flour
1 teaspoon baking powder
1/4 teaspoon salt
3 tablespoons chocolate instant pudding mix
3 tablespoons vanilla instant pudding mix
3 tablespoons strawberry gelatin mix
Glaze:
1-1/2 cups powdered sugar
3 tablespoons milk
1/4 cup sprinkles, for decorating
Directions:
Preheat oven to 350°F. Lightly grease and flour a 10-inch round tube cake pan and set aside.
In the bowl of an electric mixer, beat the butter and sugar until well combined. Add the eggs, one at a time, and beat until well incorporated. With the mixer on low speed, slowly beat in the buttermilk and vanilla until smooth.
In a separate bowl, whisk together the flour, baking powder and salt. Add the flour mixture to the wet ingredients, one cup at a time, until just combined.
Divide the cake batter evenly between three medium-sized mixing bowls, about 2 cups of batter per bowl. Add the chocolate instant pudding mix to one bowl, the vanilla instant pudding mix to another bowl and the strawberry gelatin mix to the third bowl. Stir the batter in each bowl until the mix is well combined and the batter is smooth.
Start with the strawberry batter and spread it evenly into the bottom of the prepared pan. Next, spread the vanilla batter over the strawberry batter, covering it completely. Finally, spread the chocolate batter over the vanilla batter, spreading it to cover the vanilla batter completely.
Place the cake pan on a baking sheet and bake for 60-65 minutes or until a toothpick inserted in the center comes out clean. Let the cake cool in the pan 20 minutes before inverting onto a wire rack to cool completely.
For the glaze, whisk together the powdered sugar and milk until smooth and of drizzling consistency. Add more powdered sugar if too thin or more milk if too thick.
Transfer cake to a cake stand or serving platter and drizzle with icing. Sprinkle with colorful sprinkles, if desired.
Servings: 12
Prep Time: 20 minutes
Baking Time: 60-65 minutes
Total Time (start to finish): 1 hour 25 minutes
[printfriendly]