A Dino-Mite Snack Mix with an enticing combination of sweet, salty, crunchy and chewy goodies along with a dynamite book that is sure to excite the little dinosaur lovers in your life!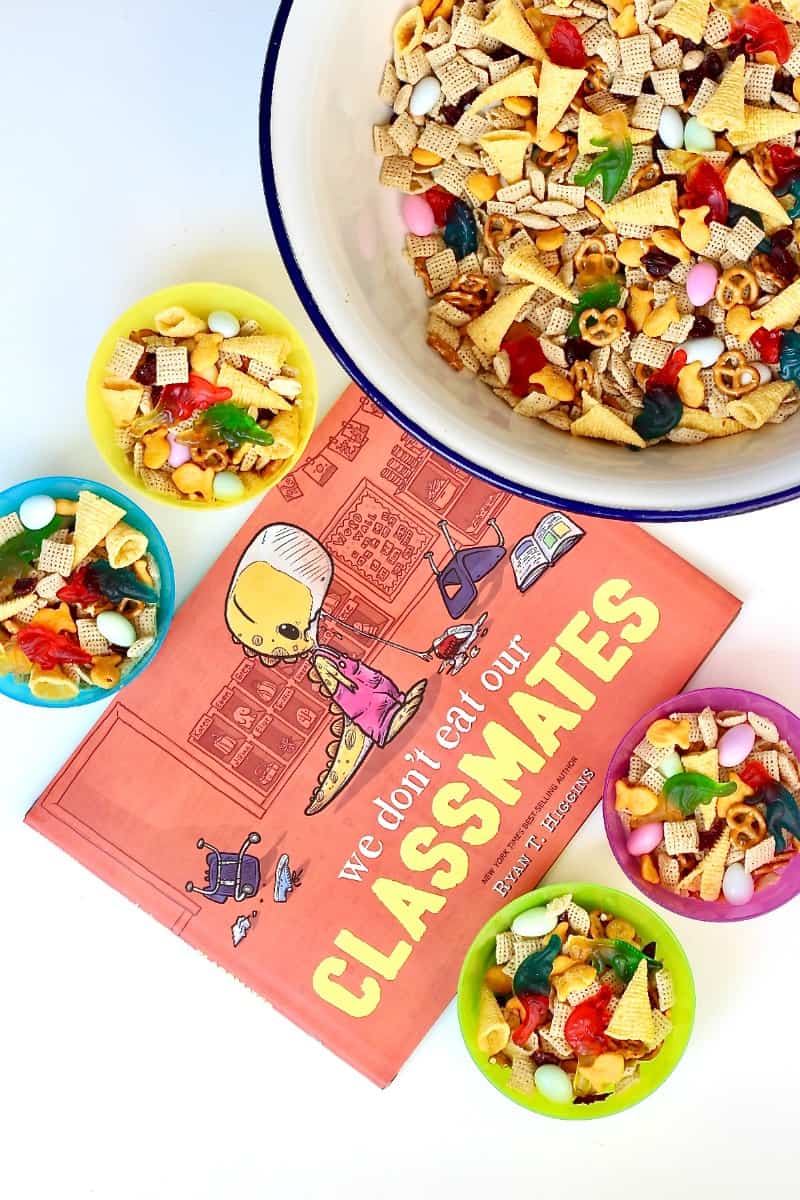 So excited to share this yummy dinosaur snack mix recipe along with our love for the new book: We Don't Eat Our Classmates by Ryan T. Higgins!
I'm so thankful we were introduced to this laugh-out-loud, lesson-filled book just in time for preparing the boys to head back to school this week. It's a big year for our family as the twins are starting kindergarten!! I seriously can't believe it. I know they'll do great, but honestly we're all a little nervous as they'll be at a much bigger school with way more kids than their preschool.
Their preschool had one class per grade, just 11 kids in the class with 2 teachers. It was intimate and all they've been accustomed to for the past 3 years. Their new school will have 5 kindergarten classes with 20+ students in each class and just one teacher per class. It's the same school Baker goes to so they are familiar with it, but I do think it will be a bit of a shock for them. Mainly because this will be the first time they've ever been in separate classes. It's certainly going to be bittersweet to see them separated. We know it will be great for them to have a little space from each other, make their own friends and have their own experiences to tell us about at the end of each day, but I know they'll miss the comfort of having each other every step of the way.
I have no doubt they'll seek each other out on the playground and as soon as they get to the carpool line. They may act like they don't like each other sometimes, but truly they are the best of buds and have never really been apart. It will be an adjustment that will hopefully bring them even closer.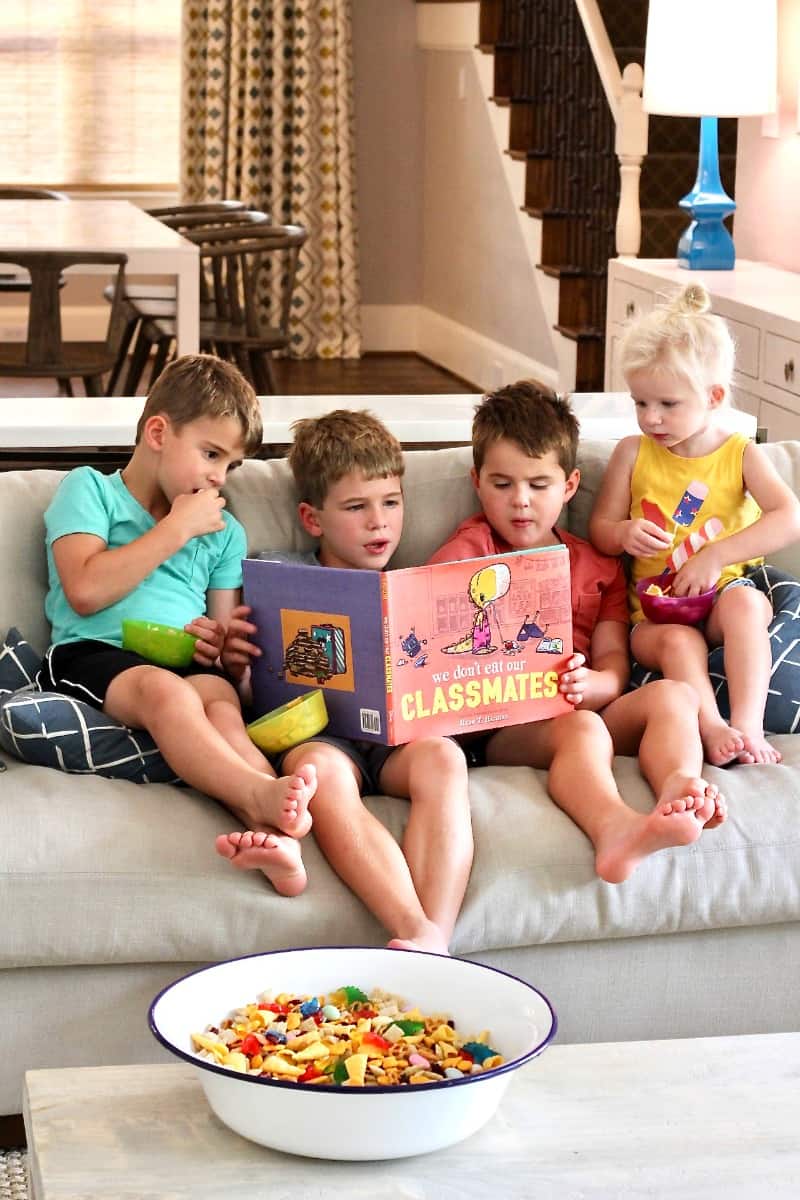 We Don't Eat Our Classmates is such a cute book with so many subtle life lessons. It's the first day of school for Penelope Rex, and she can't wait to meet her classmates. But it's hard to make human friends when they're so darn delicious! 😉 That is, until Penelope gets a taste of her own medicine and finds she may not be at the top of the food chain after all.
We've read it several times and although the kids laugh and love looking at the brilliant illustrations, they are certainly listening and learning. They ask such great questions and are obviously thinking about how they might relate to Penelope Rex's back-to-school experience this week.
The book has the great reminders: to treat others how you would want to be treated, that there are consequences for our choices, that people can change and be forgiven, and that making new friends is always possible.
I know reading this book has made the boys more comfortable and excited about starting at a new school with lots of new friends to make.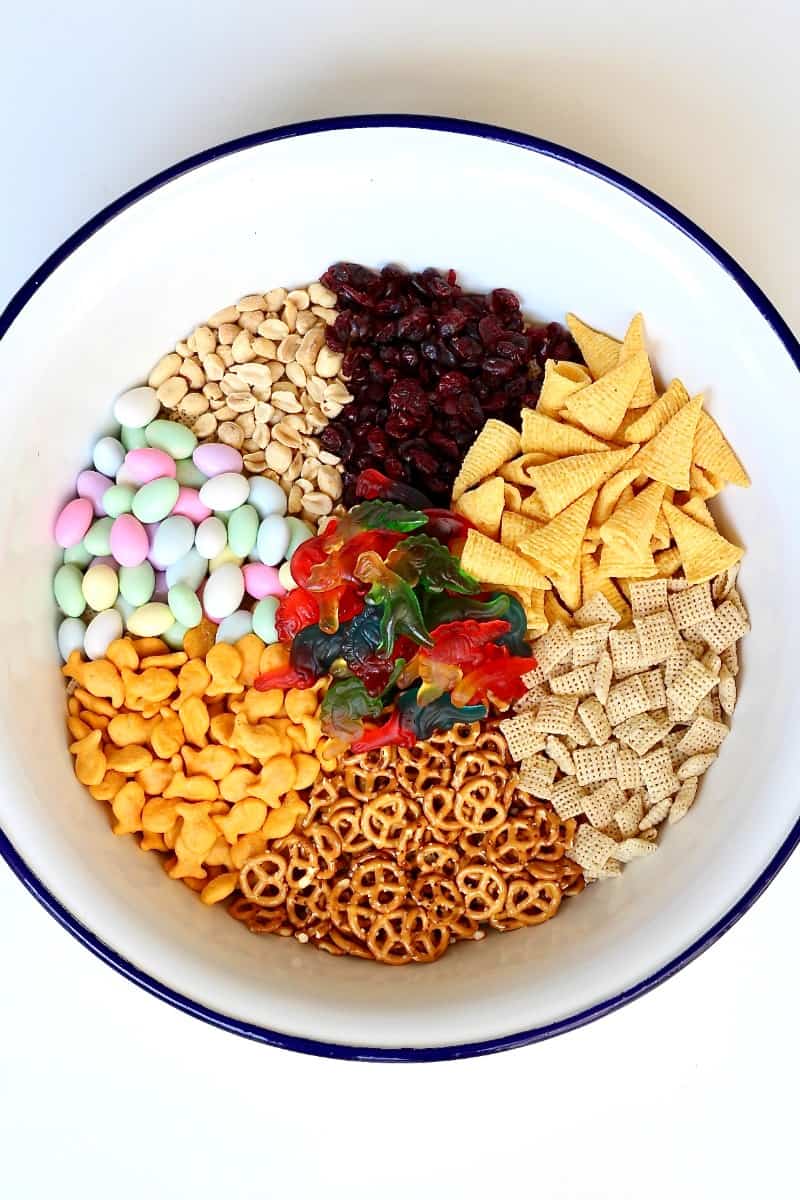 I couldn't resist making this dinosaur themed snack mix when I first introduced We Don't Eat Our Classmates to the kids. It's an enticing combination of sweet, salty, crunchy and chewy goodies. So yummy!
The mix has dinosaur shaped gummies, bugles (to represent their scales, teeth and claws), candy coated almonds (that look like dino eggs), Chex cereal, mini pretzels, dry roasted peanuts, dried cranberries and, of course, goldfish! You'll have to read the book to find out why goldfish were a must to add to this mix! 😉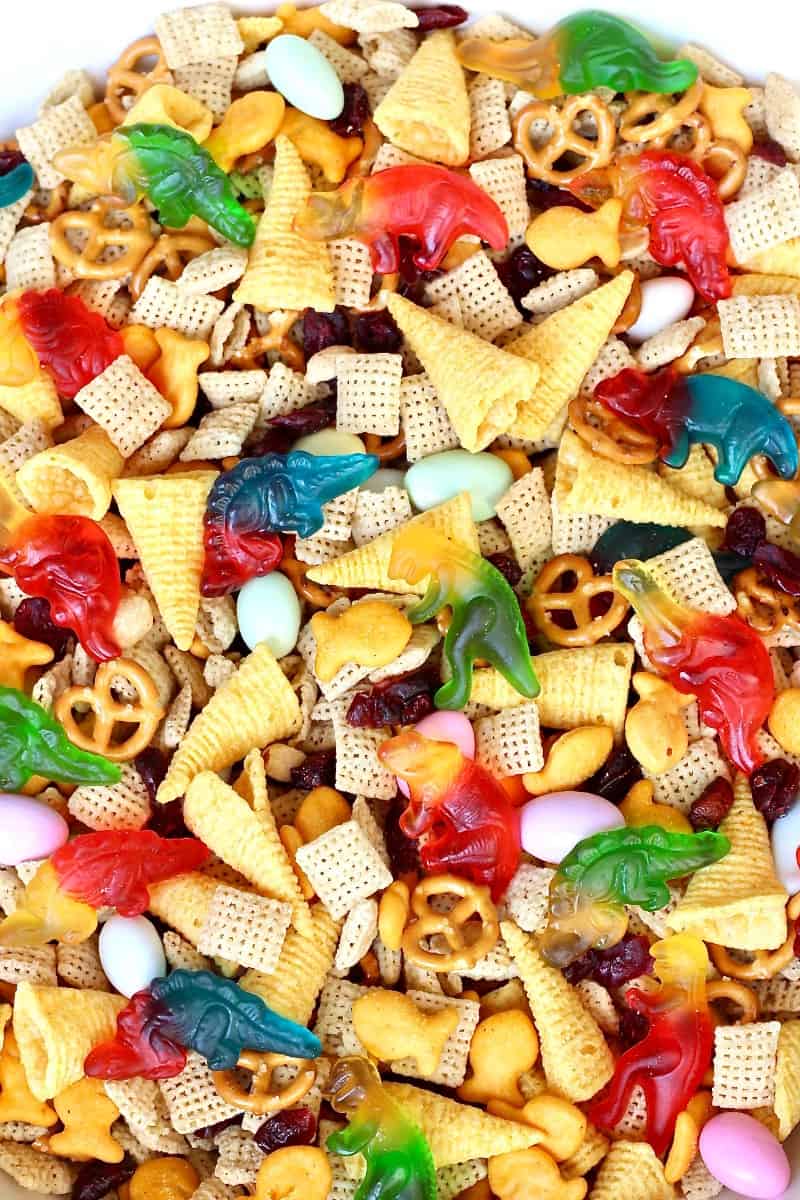 This dino-mite snack mix makes for a fun after-school snack or an adorable dinosaur themed party treat.
Wishing you and your little ones a dino-mite school year!
xoxo,


Print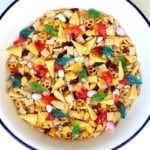 Dino-Mite Snack Mix
Author:

Prep Time:

5 mins

Total Time:

5 mins

Yield:

8

-

1

0

1

x

Category:

Dessert
---
Description
A dinosaur themed snack mix with an enticing combination of sweet, salty, crunchy and chewy goodies that is sure to excite the little dinosaur lovers in your life!
---
3 cups

Chex rice cereal

1 cup

goldfish crackers

1 cup

mini pretzels

1 cup

Bugles

1 cup

dried cranberries

1 cup

dry roasted peanuts

1 cup

candy coated almonds

2

(5 ounce) bags dinosaur gummies (I used Haribo)
---
Instructions
Combine all ingredients in a large bowl and toss to combine. Enjoy!
---